What led you into design?
It's a long story, but I'll try to make it short. When I was eight, I learned how to code my first "Hello World" page in HTML with my parent's old Macintosh computer. Seeing my code showing the content on the page gave me the biggest thrill ever! Then, my interest in developing pages got intensely piqued during the MySpace era. I would spend hours learning CSS and combining it with HTML and glittery graphics to design my profile page for everyone to see. But around junior or senior year of high school, I got my monthly issue of Seventeen Magazine in the mail. One of the headlines on the front cover mentioned finding your perfect career. I was figuring out what I wanted to do for a living. I wasn't as familiar with careers in technology, let alone anything with computers. One of the highlighted careers was a software engineer, which had the majority of things I liked doing at the time – programming websites and having them viewable to the world. From that point, I knew what I thought I wanted to do. So in college, I pursued my Bachelor's in Computer Science.
Trying to take my general courses, I thought, "I can't just make my websites; they have to be pretty too." So I took graphic design classes, completing several internships, including my UX designer internship at Lands' End that helped me finish my Bachelor's. Then, I used those credits and took the rest of the courses to get an Associate's in Graphic Design. My jobs after college were geared towards being a website designer, who could be the jack of all trades. Eventually, becoming a web application designer and developer at the University of Illinois, where I was for a lot of my career.
Over time, I kept thinking about one question: "how do we know if the applications we're creating work for the people we're building them for?" I remembered UX from my past internship and instantly bought "The User Experience Team of One" by Leah Buley. It was and still is such an inspiring book I decided to begin applying these techniques to my current job and transition full-time to a UX designer. When my then-boyfriend (now husband) and I moved to Atlanta, that's when I made the full leap into UX design, and I haven't looked back!
What does a typical day look like?
During the weekday, I wake up sometime around 7 or 7:30 to open up my phone and take a quick Japanese lesson before I get ready for work. This consists of feeding and mingling with our two cats, Opie and Marshmallow, and making hot tea and homemade yogurt with fresh fruits to take to my home office.
My workday can vary greatly depending on the amount and type of projects I work on. But, one consistency is having meetings, especially with different designers or others on product teams.
After I'm done with work for the day, which is usually around 5, I do aerial fitness. Though I've dabbled in some other aerial arts, my main focus is aerial hoop, which I currently teach once a week. Otherwise, you can see me unwinding with my husband and cats, watching YouTube, then finishing the night with a good book.
What's your workstation setup?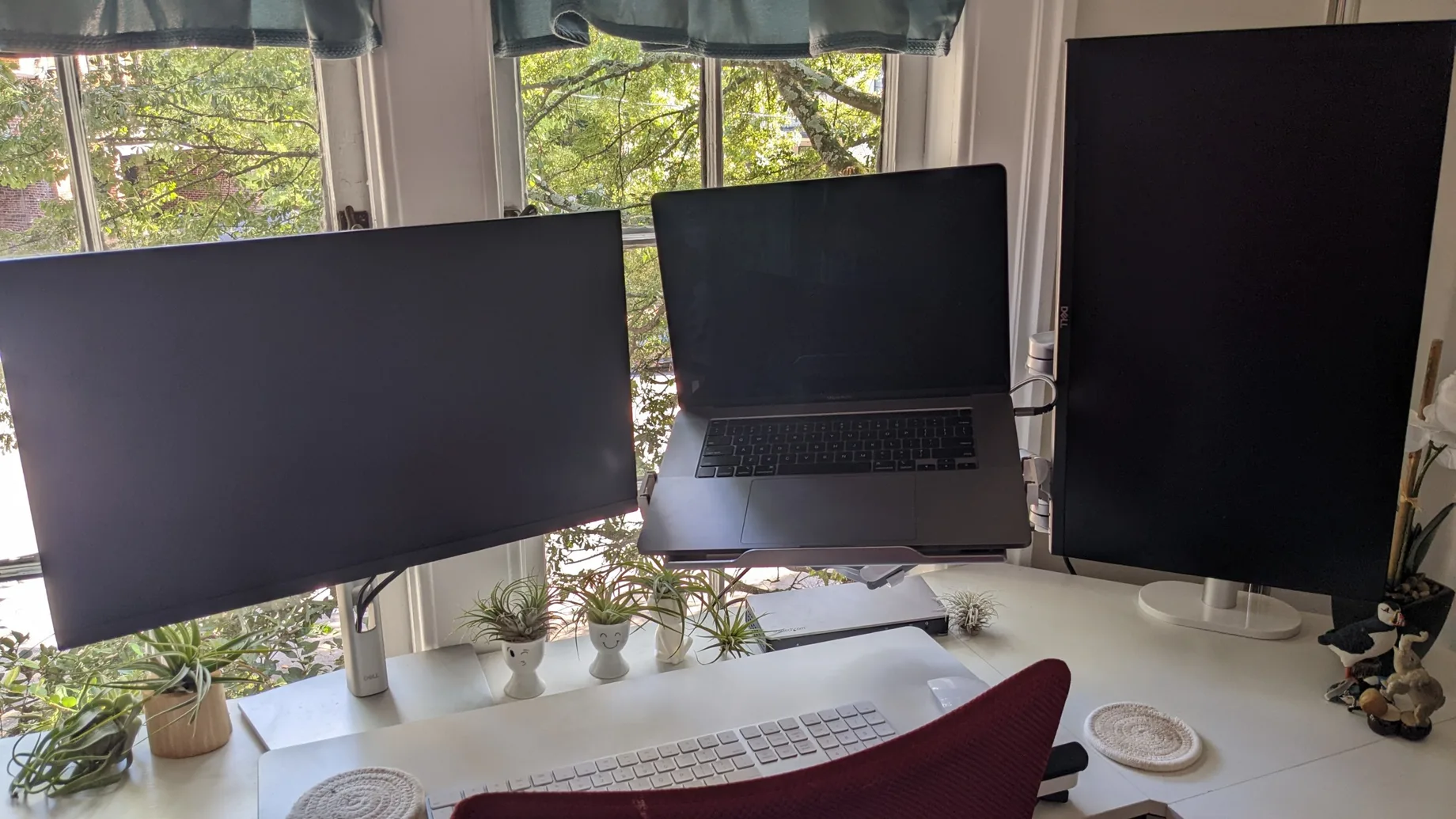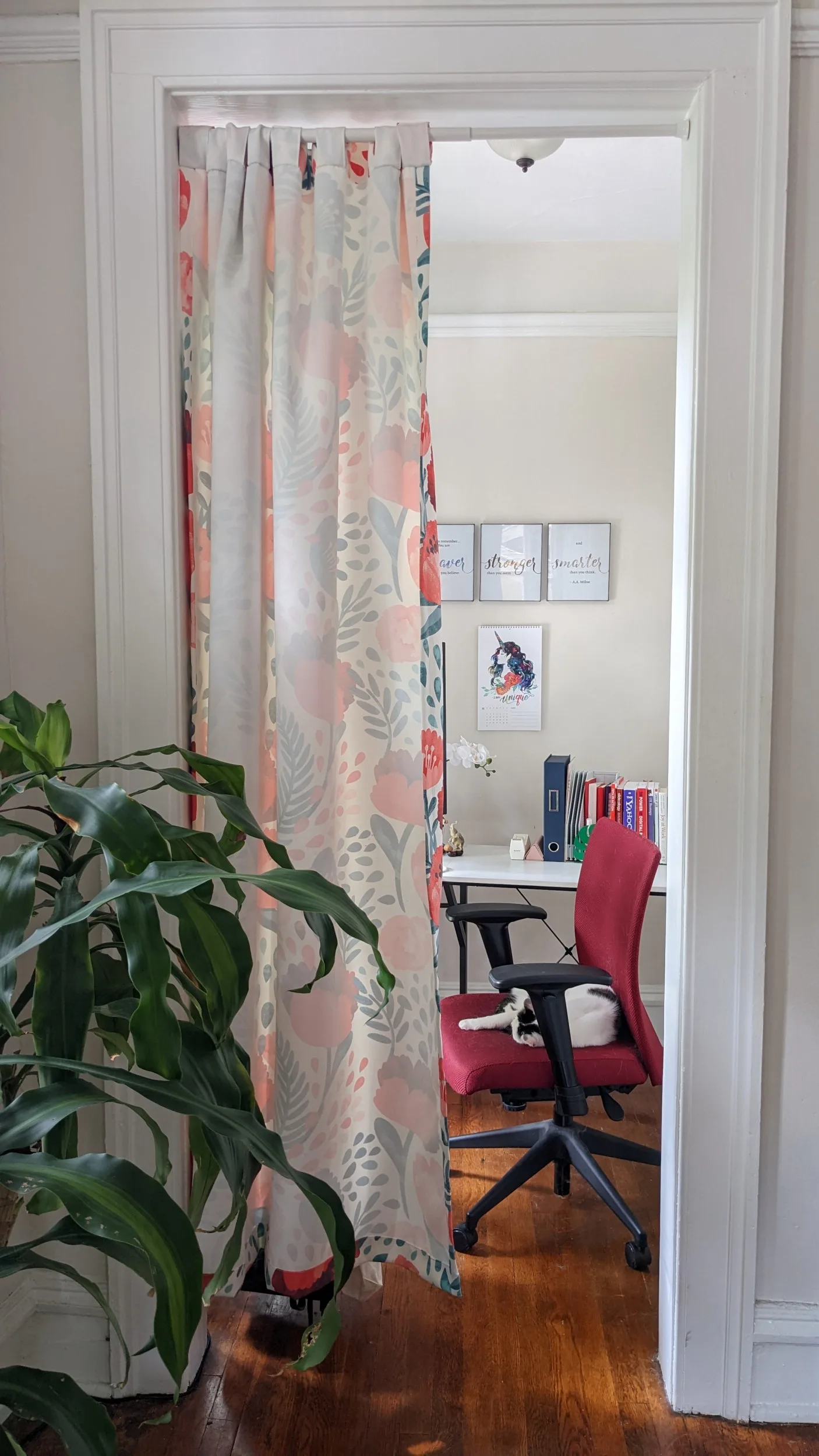 My favorite office set-up I've created is tucked into a small nook of our current place. Sometimes, one of our cats, Opie, will work for me 😉
Where do you go to get inspired?
I get the most inspired by plants, being outdoors, and aerial.
I love exotic or desert plants, like cacti, succulents, and air plants. They can be so dynamic in shape, size, and color - they can even have beautiful blooms. Like most people during the pandemic, they wanted to improve their house or apartment interior. I did this by buying a bunch of these plants.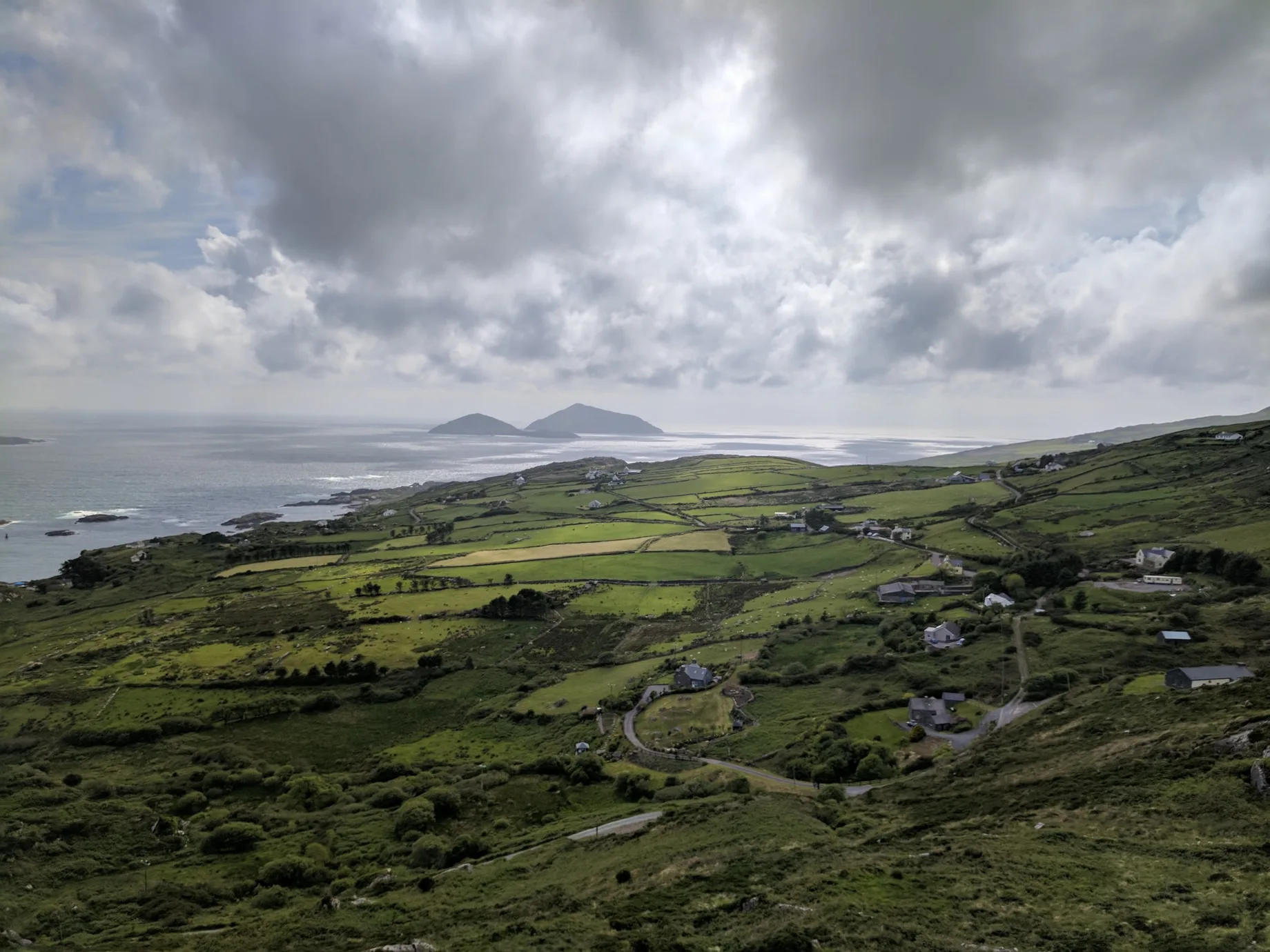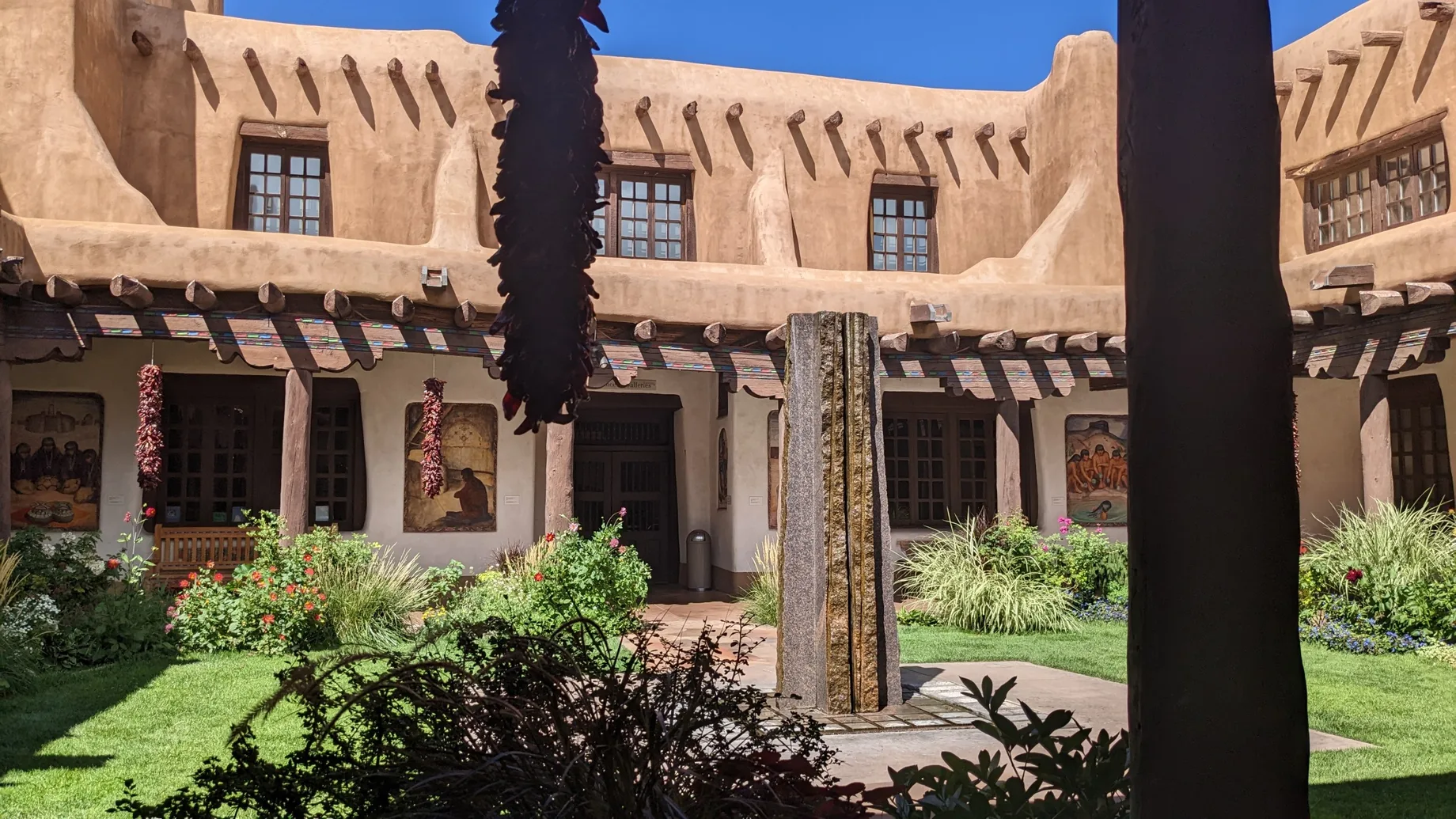 Aside from seeing the plants, you get just the general landscape and scenery in parts of the world. I've been fortunate to go to a few locations with vast amounts of sight. Even walking around the parks and neighbourhoods, you get to see all lots of neat houses and the culture built around this view.
Aerial is just so awe-inspiring! Watching different aerialists' performances, you can see their unique style, impressive physical capabilities, and how they string various movements together with their music. It gives me different ideas and inspiration for what I'd like to do.
What product have you recently seen that made you think this is great design?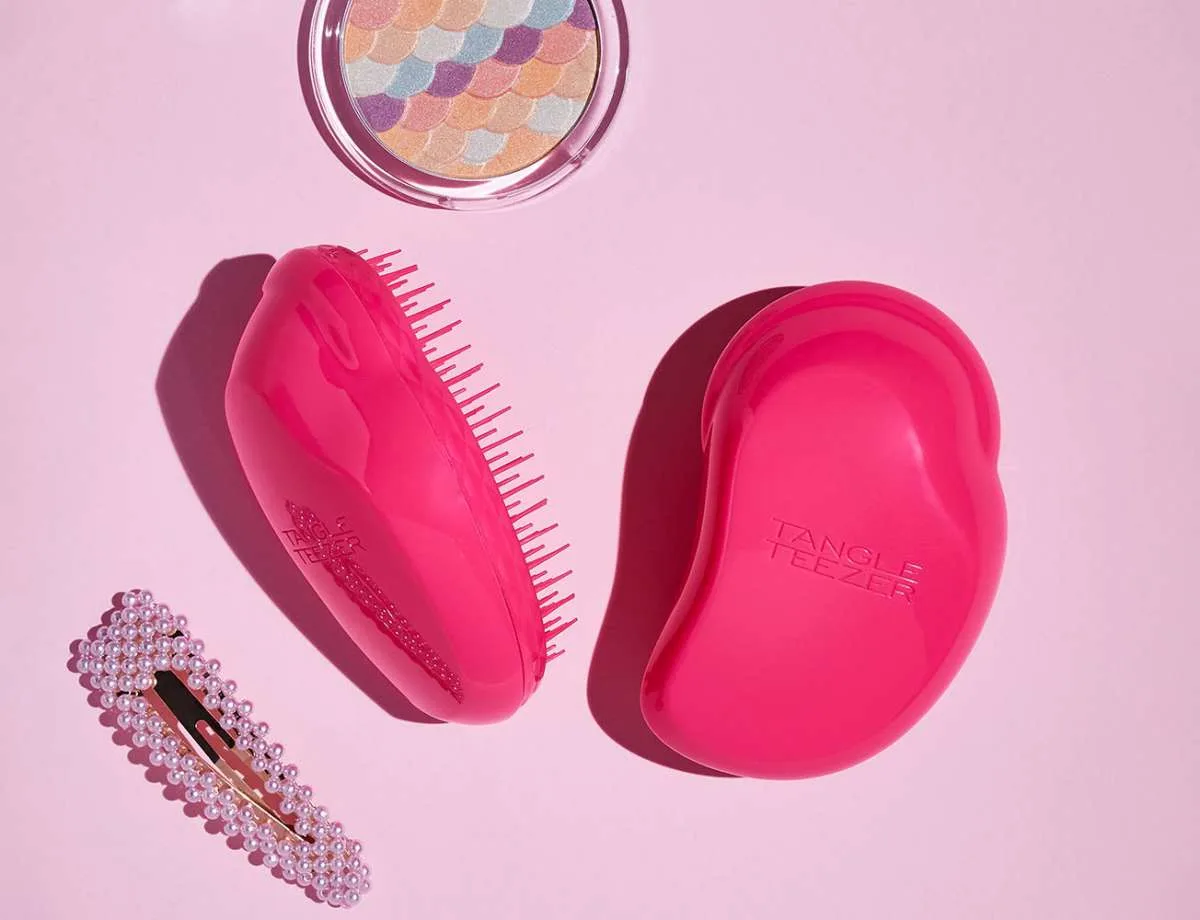 The Tangle Teezer Detangling Hairbrush, which I've been using for a few years now – works amazingly! It has an excellent design for easy hand grip and teeth that are flexible and thoughtfully designed to ensure it doesn't cause pain when combing through your hair.
What pieces of work are you most proud of?
This is a tricky question since there's a lot of work I'm really proud of, accounting for all the phases of my life and career.
One of the proudest things I've done recently is getting certified and teaching aerial hoop. Having people work on their physical health and showing different moves and transitions as a way to express themselves. One of the most inspiring parts of teaching is watching the students showcase their choreography to convey themselves through dance.
What design challenges do you face at your company?
One of the fun types of projects I'm passionate about working on is various privacy and security experiences. Unfortunately, these experiences usually don't get all the love they deserve because they're built or updated for the company to be legally compliant. Over the past few years, more and more people are becoming aware of businesses using their personal information. They want more control over what's being used and how. Privacy laws around the world, like the California Privacy Rights Act (CPRA) are being passed in the United States, which helps people fulfil this goal. I love the challenge of driving more understandability, ethics, and joy in these designs with the various business partners across the business.
What music do you listen to whilst designing?
Any advice for ambitious designers?
Take improv classes
One of the best things one of my mentors ever recommended I do. It helped me immensely with my public speaking skills and the start of my journey to building my self-confidence. I'd be so nervous, relying heavily on practicing 20+ times and reading my cue cards to remember what I would present. Then during the presentation, I'd deviate and forget where I was because of my nerves. Improv was a great way to practice thinking on my toes, reminding myself that I only know the information and no one else does. It's also okay if things don't go as planned because sometimes the best things happen this way.
Be empathetic to everyone
We're engrained to understand and empathize with what the person using our product is going through. Sometimes, we forget to also empathize with the people on our team or other teams we're working with. It might not be possible to get precisely the desired experience due to technology, deadlines, or other restrictions we might not know about. Working collaboratively to make the best product or experience possible will come a long way.
Practice makes progress
We've all heard the saying "practice makes perfect" – whether we wanted the perfect portfolio, project, or whatever other skill or thing you're working on. But it's a misconception. We're all human, and nothing will ever be perfect.
Anything you want to promote or plug?
Feel free to reach out and connect with me on LinkedIn.
Check out the Ethical Design Network if you'd like to learn more about ethical design.