What led you into design?
When I was nearing the end of high school, I wasn't really sure what I wanted to do. I had looked at some schools for accounting because I was pretty good at math, but it was far from a passion. Luckily, while making j-cards for my band's rehearsal tapes I thought "You know—this is what I really want to do." I made a last minute decision to go to school for visual design at UMass-Dartmouth.
For some context, I started there in the fall of 1996—a great time to get into digital design. I started working in Macromedia Director and immediately decided that I was going to make educational CD-ROMs for the rest of my life. This definitely ignited my interest in web product design (even though that wasn't really a thing yet). Most of my classmates were there to make art and express themselves. All I wanted to do was make products that other people would enjoy and find useful.
It was also during this time that I started building Angelfire and Geocities sites for my band and other local bands. There were obvious parallels between CD-ROM authoring and web development, but the Web was still the Wild West and I felt working in Director gave me much more control over my finished product. Of course, that feeling of control is something I would have to eliminate years later as I fully immersed myself in web development.
For my first two jobs out of college, I created educational apps in Director and Flash (first for grade school students and then for the Department of Defense). Around 2006, I discovered folks like Dan Cederholm and Brian Oberkirch and became interested in—and then obsessed with—the idea of building social web apps with web standards and bulletproof CSS. I made the switch and have been happily building social web apps ever since, first with BatchBook a web-based social CRM, then PatientsLikeMe a social site and research platform for patients with life-altering conditions, then HubSpot where I worked on their social monitoring and publishing apps, and now Dribbble.
What does a typical day look like?
I'm a father of three and I work remotely, so there is really no such thing as a typical day. I'm a huge proponent of the remote work lifestyle as it allows me time with my family I wouldn't have otherwise. At this point, I'm relatively certain I wouldn't be able to integrate back into a traditional office environment.
I tend to start my day quite early (as soon as the kids head off to school). I usually start around 7–7:30 and work the first hour or so on the treadmill doing treadmill-friendly tasks (like catching up on Slack, GitHub issues, feeds, etc.). Then I relocate to one of my other workspaces in the house. I live in the mountains in New Hampshire, so my go-to workspace changes depending on the season. In the summer, I love working from a picnic table on our porch. In the winter, you'll probably find me in a comfy chair next to the wood stove.
We're a distributed team, so the morning is for building things, sketching, or thinking about what's next. As more of the team comes online, more communication starts happening in Slack and the occasional video chat.
Depending on my kids' after-school schedule, sometimes I disconnect in the early afternoon and catch up in the evening. I try to make sure working at night doesn't become a habit, but I often prefer breaking up my day like this. It gives me a nice mid-day deadline for sharing something I'm working on and gives people time to try it out and provide feedback. Then, when I hop on later I have something actionable to work on.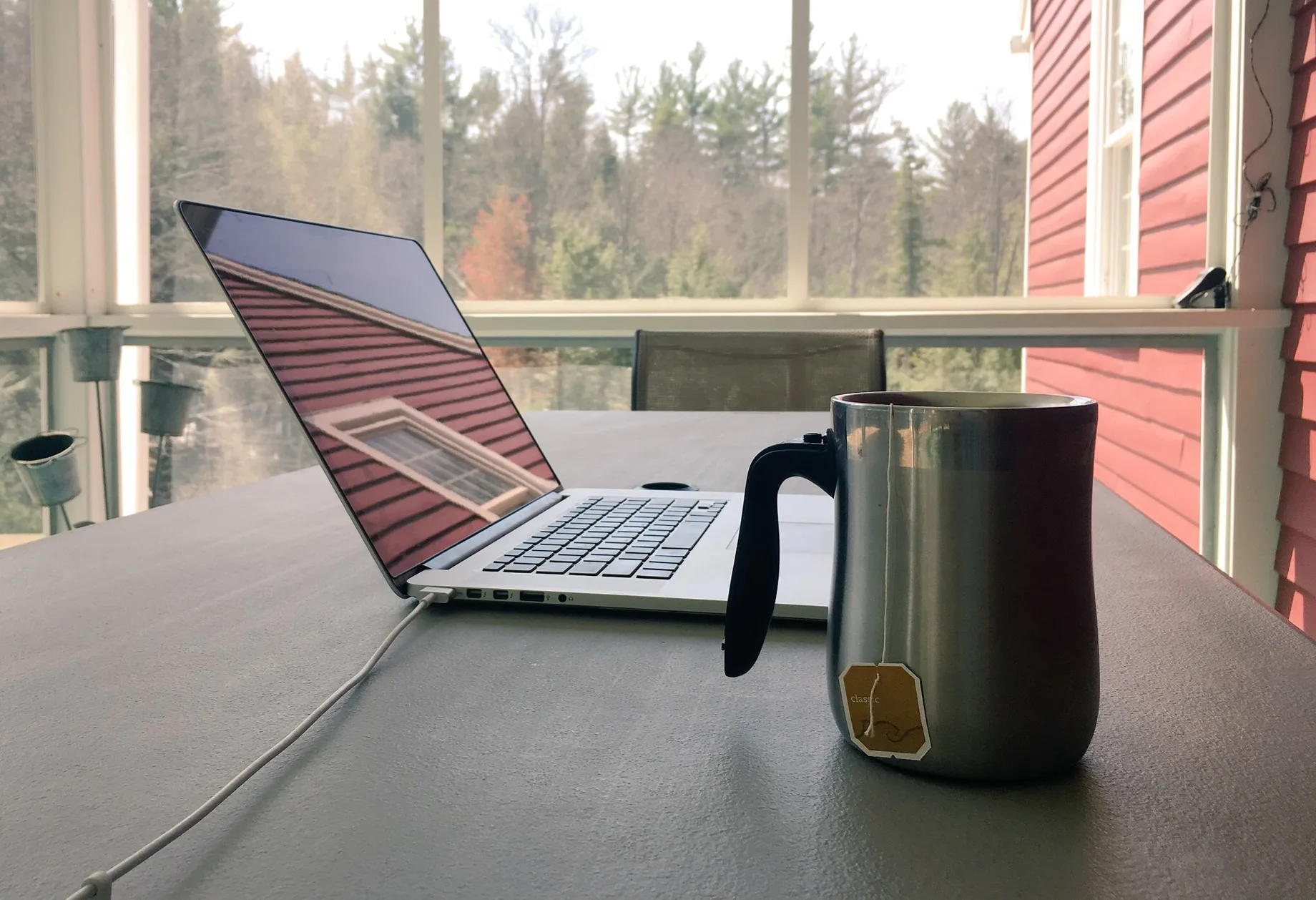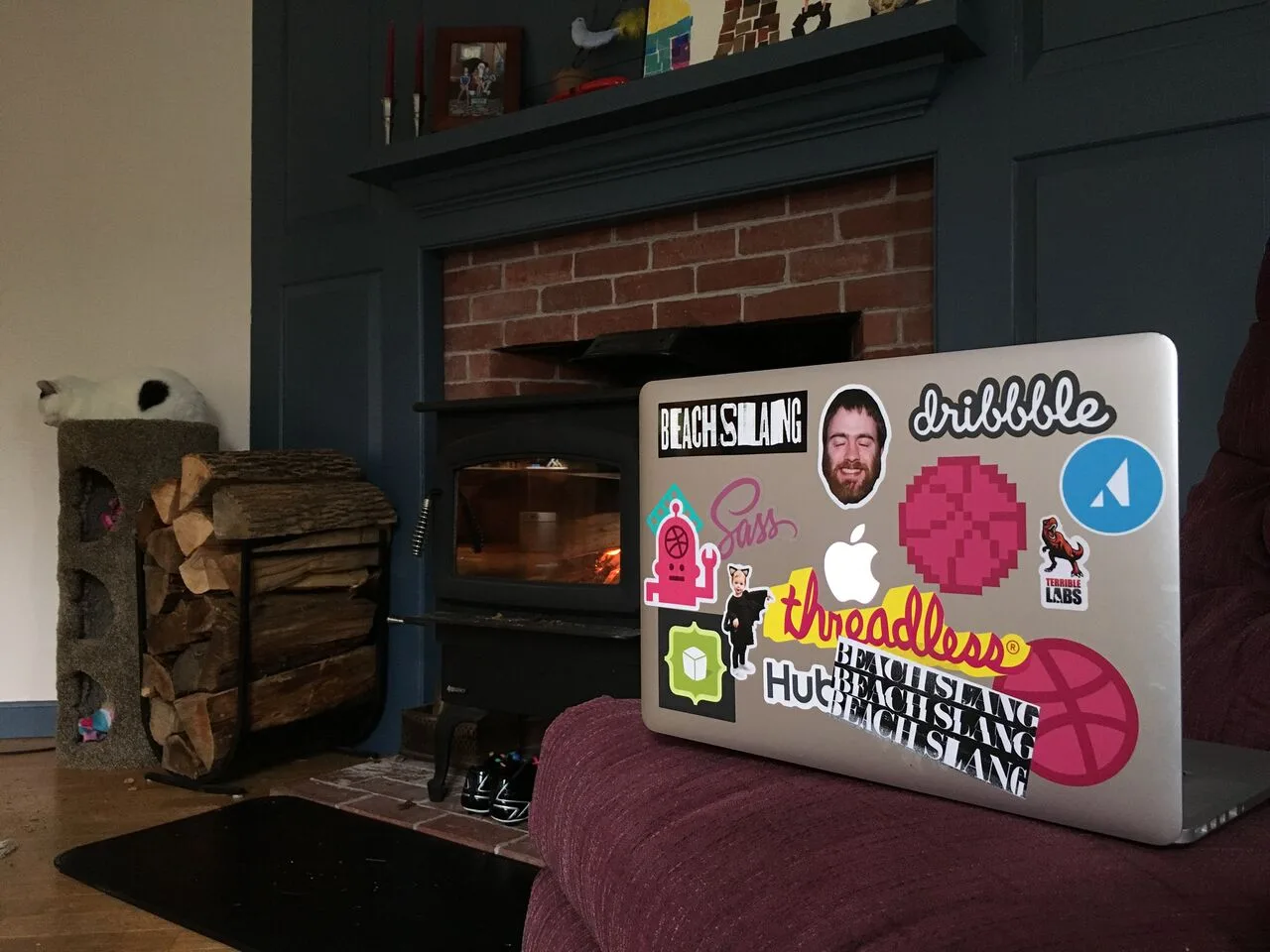 What's your setup?
I use a MacBook and an iPhone. It's been years since I've used any type of input device or external monitor. Because of this setup, I'm quite nomadic and comfortable working from anywhere (with decent wifi). I've probably worked at ten different libraries in the last year. Last week I worked from a cottage by a lake. Next week, I'll work from my in-laws' house in Massachusetts.
I generally like to work in code (I use Sublime Text) as quickly as possible. For me, Sketch has traditionally been used for quick mockups before building. But recently some larger, longer-term projects have me using Sketch (along with Invision) a bit more deeply.
I won't bother sharing a screenshot of my Dock because I keep it hidden and use Spotlight to launch apps. But here's my iPhone home screen—it's mostly the typical social stuff and a handful of apps to feed my recent German football obsession.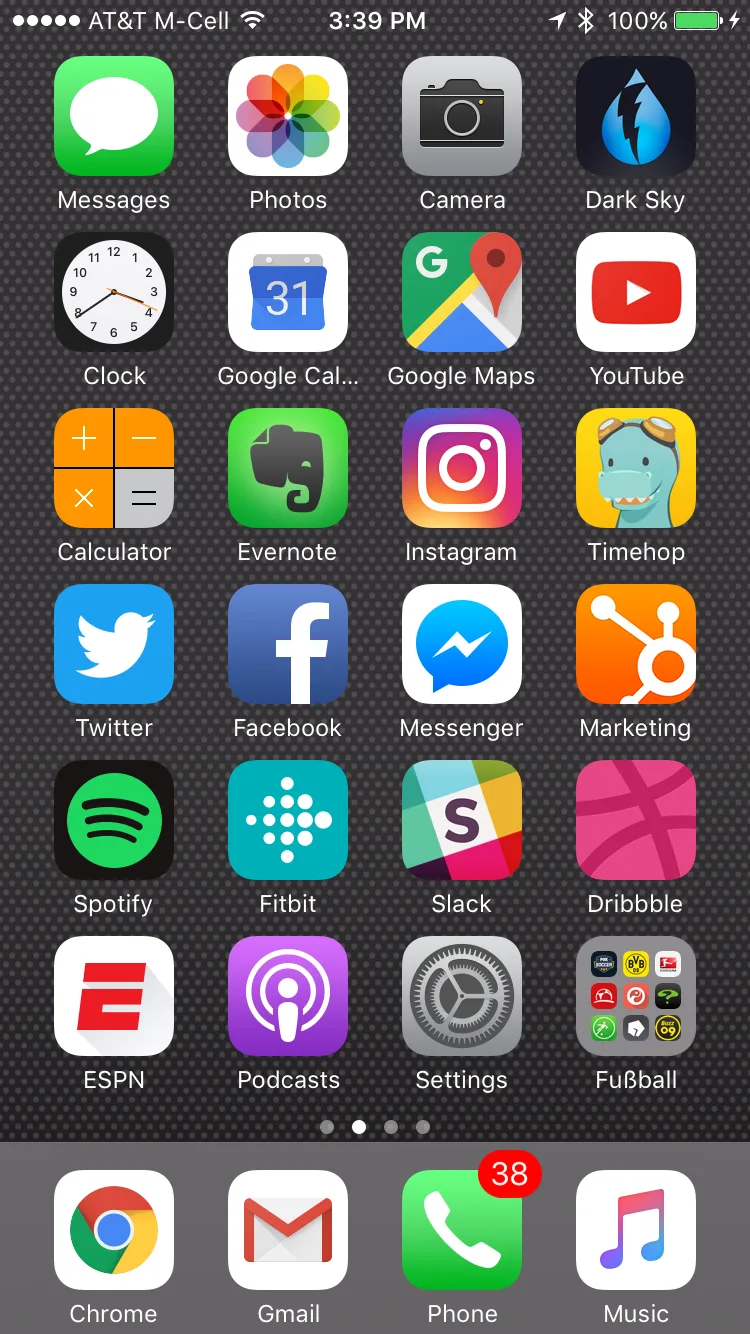 Where do you go to get inspired?
Naturally, for me it's Dribbble. If I need some visual design inspiration for a new UI element, I'll do a quick search to see how others are handling it, weighing the pros and cons of each approach. Otherwise, I mostly let the folks I'm following on Twitter or chatting with in Slack bring the best articles to my attention.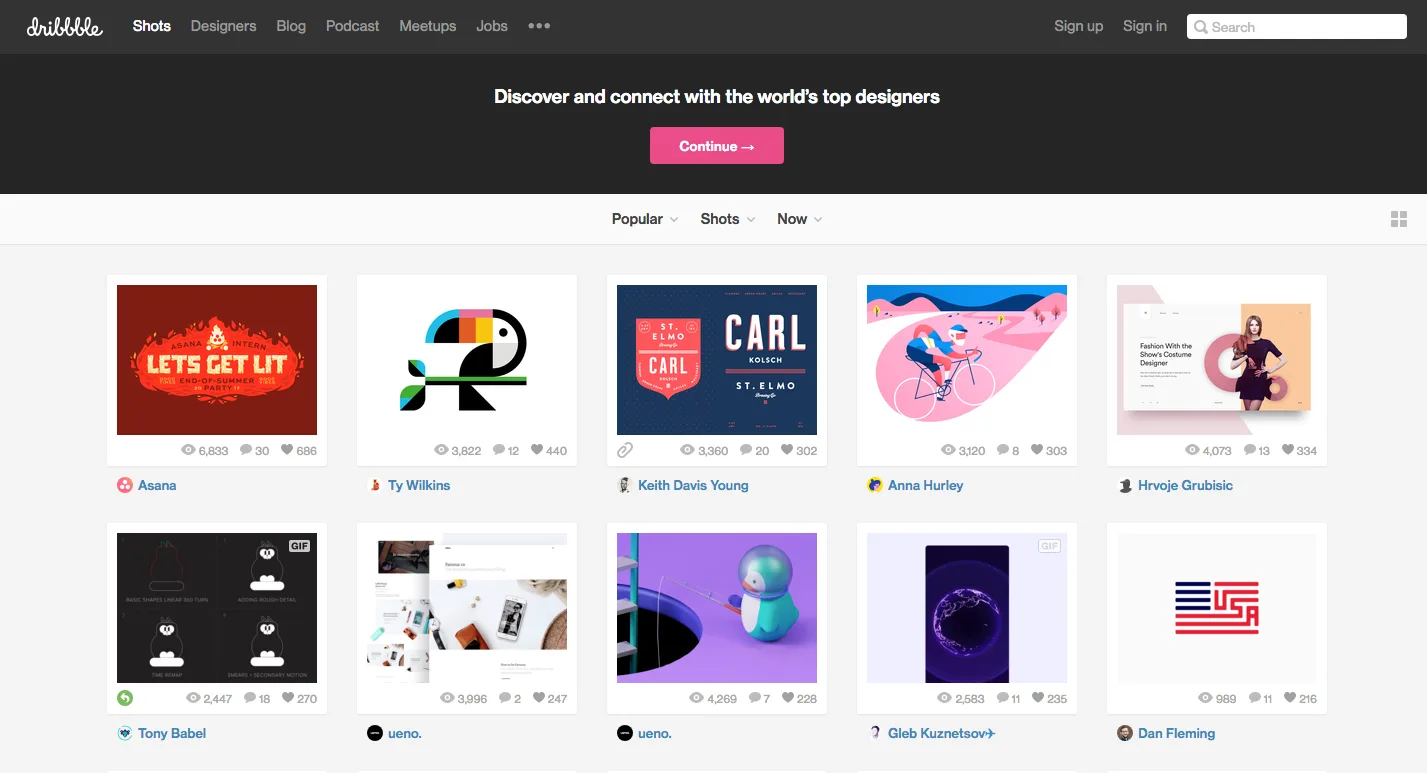 What product have you recently seen that made you think this is great design?
I'm not really a big gadget guy, but I love my FitBit Charge 2. I previously had two Charges and destroyed them simply by wearing them so much. In addition to a ton of new software features, the hardware of the Charge 2 was completely redesigned to be much more durable. I see this one lasting for quite a while.
What pieces of work are you most proud of?
At Dribbble, the last big feature I released was the Customizable Profile. As more and more people are using Dribbble to find and hire designers, many designers are starting to use their Dribbble profile as a portfolio. Last year we released a product called Playbook, an instant portfolio powered by your Dribbble shots. We've now added many of Playbook's features to your Dribbble profile so you can present your work by recency, by popularity, or in a custom order of your choosing. Another goal of this release was to encourage more designers to post experimental and playful shots by enabling them to hide some shots from their profile.
I'm also quite pleased with the work I've been doing under the hood at Dribbble. In addition to creating an internal pattern library, I've also spent a lot of time optimizing our shot grid. The grid is now ultra responsive to your device, your viewport size, and even your shot size preference.
Outside of Dribbble, my most recent project was helping the wonderful Sports-Reference team with the responsive redesign of Baseball-Reference.com, Basketball-Reference.com, and all of their other sites. That was certainly one of the most well-received redesigns I've ever been a part of.
What design challenges do you face at your company?
An obvious challenge of working for Dribbble is being the designer of a site for designers. The bar is obviously very high. If you release anything short of your best work, the community will let you know. On the other hand, if I release something that solves real user needs, works well in all scenarios, and it's well-executed, they're also going to let me know that.
Another challenge we face is figuring out how we can improve the site while staying out of the way. Dribbble, obviously, is all about the work of the designers uploading their creations. We need to ensure that we don't inject too much of ourselves in interfaces they are using to share with the world (other designers, hirers, etc.) who they are. While some UI designers may like to innovate and impress, I strive for a more subdued elegance.
What music do you listen to whilst designing?
Because I work remotely, I tend to listen to a ton of music. It's a huge part of my life and something that really fuels my workday. I rather obsessively track my favorite albums this year and recently went back and retroactively listed my favorite albums from each year since 1991.
This playlist features nine of my favorite bands from the current decade (and the tenth track is from my own album).
Any advice for ambitious designers?
Don't be afraid to throw things away. When we start planning a new, relatively large undertaking at Dribbble (or anywhere else I've been before) I always volunteer to sketch what the entire ecosystem of this new app/feature/whatever could look like. I let the team know I have no emotional attachment to this artifact and explain that it is simply a baseline for us to work from. By doing this, we can see the entire undertaking holistically and not in a vacuum. Then we can see how one change can have a ripple effect on everything else.
If you're not throwing things away you aren't replacing them with anything better.
Anything you want to promote or plug?

At Dribbble, we just launched our new iOS app, so if you're an iPhone or iPad user I recommend you check that out. Outside of work, my long-standing side project is the Hall of Stats. I'm a bit of a baseball historian and sabermetrics nerd on the side and the Hall of Stats is an alternate Hall of Fame populated by a mathematical formula. Lastly, I dabble in punk rock and dropped a record in 2015 (and have more on the way).