What led you into design?
My journey into design began as a photographer. I loved capturing portraits of people and also did event photography for extended family. I had to learn how to use Photoshop to design photo books for the pictures I took at those events.
Fast forward about 3 years later (2019), I made a new friend who's a designer and super passionate about it. His enthusiasm for design rubbed off on me, and I started thinking about it more seriously. That was when I decided to actually learn about it.

I began to read design blogs, followed a ton of design accounts on Instagram, and joined any design group chat or community I could find. I eventually found out about UI/UX design and decided to give it a shot. I signed up for the Daily UI challenge and I haven't looked back since.
What does a typical day look like?
My day starts around 6am with a trip to the gym. Once I get back, I freshen up, light a scented candle, and jump into my first standup meeting of the day. The rest of my daily routine depends on what I need to get done.
Before I start working, I try to make a list of the things I need to get done – both personal and work-related. On the days I feel super organized, I use Trello + Planyway to organize my to-dos. This is super helpful because it keeps me from feeling too overwhelmed by all I have to get done.
Throughout the day, I balance attending meetings, responding to messages on Slack, reviewing work from other designers on my team, and working on my own tasks.
When I'm done working for the day, I try to check off any remaining personal tasks on my list. Then, depending on my mood, I either work on personal projects, scroll through social media, read a book, or do all three.
What's your workstation setup?
Where do you go to get inspired?
I have a couple of sites I visit when I need inspiration. Like Mobbin, Nicelydone, Landbook, Webflow Templates, Awwwards.
I also go through a couple of my friends' portfolios because they do such amazing work.
What product have you recently seen that made you think this is great design?
Not exactly a "product" but I'm a sucker for amazing web experiences. They make me feel happy just by looking at them. I'm also a sucker for good music. Recently, a good friend (and one of my favourite developers ever) built a site that shows what song he's listening to on Spotify at every moment. It literally updates faster than the Friend Listening Activity feed on Spotify (I tested this) 😅
You can check it out here: https://twitter.com/seyi__xo/status/1587138381330485248?s=20&t=P1dbzZtUWkEUJRvdc0d8rQ

Also, I'm such a Notion fangirl. I think it's an amazing product and a lot of thoughtfulness went into some of the features it has - even the seemingly unnoticeable ones that you don't realize you need until you find yourself expecting other applications to work the same way.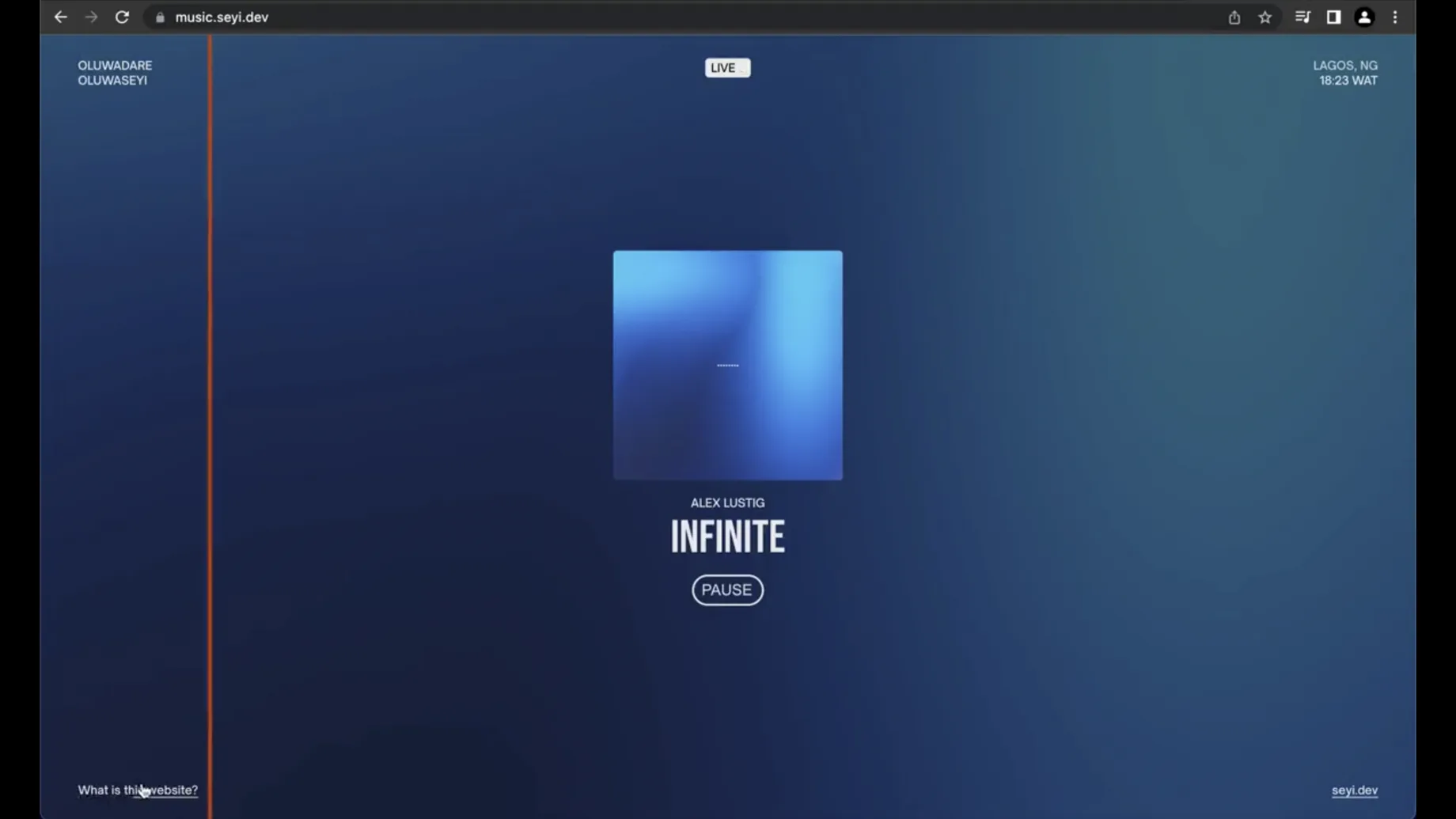 What pieces of work are you most proud of?
I'd say the CRM tool I work on at my current job. Earlier in my career (heck, even when I first joined the company), I wouldn't have been confident in my ability to do what I do today. It's the work I'm most proud of because it powers the entire organization. Every team needs it to do their jobs and deliver services to our customers.
It's a lot of work and a lot of responsibility, but I'm proud of it.
What design challenges do you face at your company?
I'd say prioritizing and juggling multiple things at once.
It's a fast-paced environment where we're constantly building new stuff or improving existing stuff and it can get pretty overwhelming, especially with the context switching that happens most times. 
Also, sometimes, because of how overwhelming it gets, it's easy to want to skip certain aspects like creating user flows or wireframing and jump straight to design, but I'm learning to prioritize what's really important/urgent and pace myself while still delivering excellent work that I'll be proud of.
What music do you listen to whilst designing?
Any advice for ambitious designers?
It's easy to get overwhelmed by all the information out there. It's easy to compare yourself to people who've been in the field way longer than you have and begin to look down on yourself and the progress you've made. But don't.
Understand that everyone's journey is different, and don't neglect your process to try to emulate someone else's. It doesn't always work. Give yourself room to learn, grow and improve at your own pace. Don't rush your process.
Anything you want to promote or plug?
I have this really cool Life Dashboard template on Notion. It's got everything you need to manage your finances (monthly budget and savings), plan your travels, be more intentional about your friendships, track your reading goals, document your skincare routine, and keep track of important life events. I've been using it for a little over a year and it's honestly made my life so much easier. You can get it here: https://selar.co/hcw9

I also have a couple of Lightroom mobile presets that I created and put up for sale because a lot of people tend to ask how I edit the pictures I post on social media. You can get them here: https://selar.co/m/aderinsolaoluwafemi