What led you into design?
When I was 8 years old, I saw a website for the first time. It looked like a book and a computer game at the same time, and the idea of getting any information I wanted almost instantly excited me. I began to sketch the first "website layouts" in my notepads—mostly about robots and kitties.
The following path was almost linear: art school, my first attempts at programming, a bachelor's degree in graphic design, and prizes in design competitions. The childish idea of designing websites about kitties had transformed into the goal of helping people with their education and daily life tasks on the Web while bringing joy to these routines.
What does a typical day look like?
My day can vary significantly depending on my location: whether I am at my base in Berlin or traveling.
If I'm at home, I brew some coffee, do my usual morning routines, and get to work. The work begins with a "meditation": planning and analyzing the current projects. I check the list of tasks that I make for myself every Monday and select some of them for that day. During the analytics phase, I look at the Google Analytics dashboard I created to see if my current working project has standard metrics (e.g., no sudden drops in the number of site visitors, something that would require my urgent response). I also chat with customers and the team to see if there are any new inputs. This is my favorite part of the day as it helps me stay focused.
I spend time with Figma, Github, and Zoom calls until the evening, occasionally breaking for a run in a park or (more) coffee with my wife.
Of course, when we travel (and we do travel a lot), this routine changes—every morning and/or evening, we have long walks, visit new locations, and work during breaks. I think that the combination of travel and work increases productivity—on trips, you are not torn between small daily activities and can focus on your tasks. Also, you can switch easier from work to leisure.
But if you're in a country where the time zone is totally different from the client, you need to adjust your daily routine significantly, e.g., you might have Zoom calls until midnight. It's essential to ensure a stable Wi-Fi connection: to prepare, you can ask Airbnb hosts to send you Speed Test screenshots and buy a special SIM card with enough available gigabytes of traffic.
On the Evil Martians team, we've been practicing this remote and distributed approach for over 17 years, long before it became mainstream. All my colleagues live in different countries, and many of us travel, so anything we can do asynchronously, we do asynchronously, trying to minimize the number of calls.
What's your workstation setup?
I don't have any particular setup. Just my MacBook and headphones for Zoom calls which I bring to any available space. This minimalist approach makes work from anywhere pretty comfortable.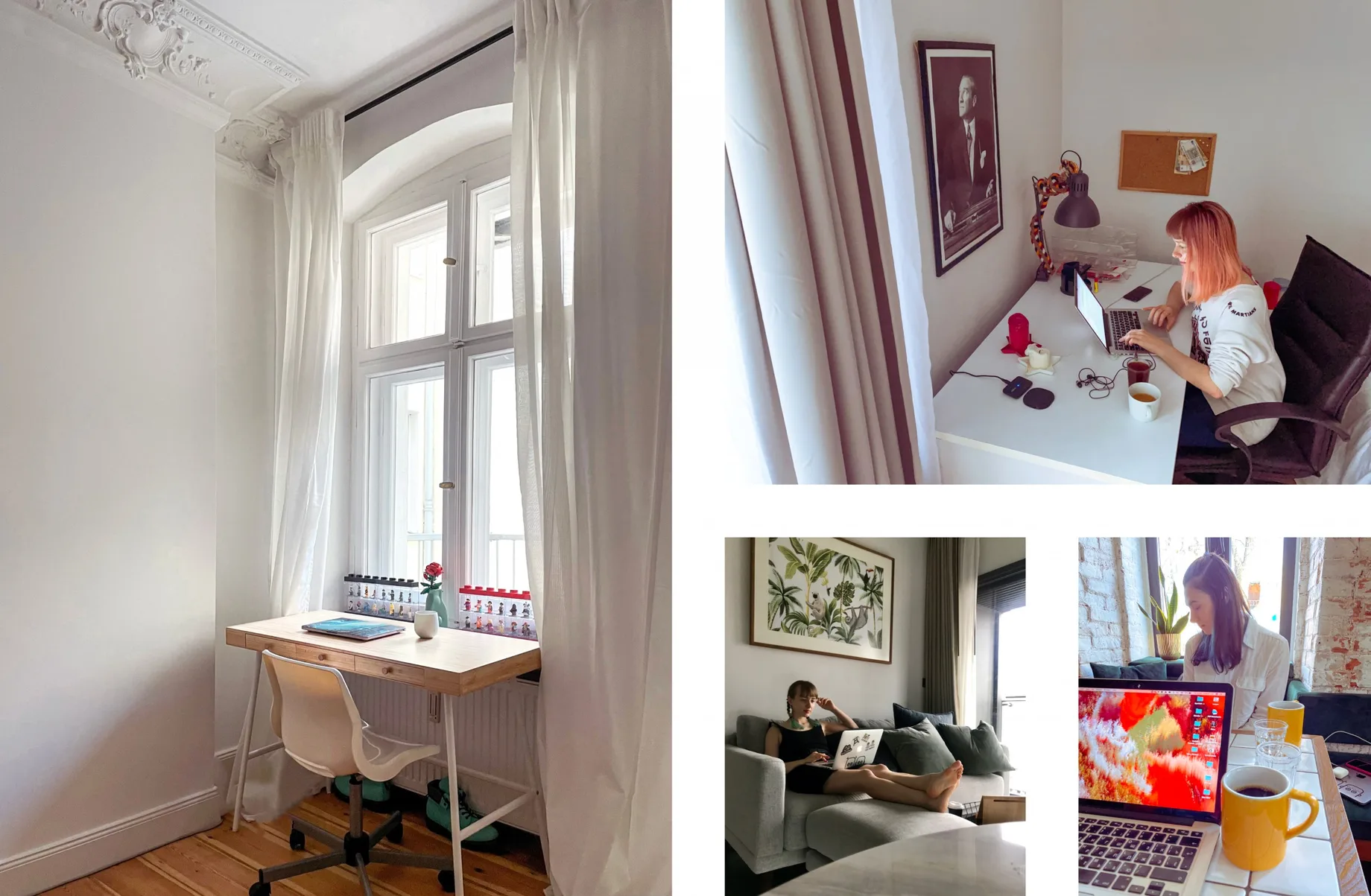 Where do you go to get inspired?
Travel is the most inspiring activity for me. I understood this fact when I lost it during the lockdown at the peak of the Covid pandemic. At that time, I didn't leave my house very often. The lack of new stimulation almost killed my creativity. It was a nightmare.
While traveling, on the other hand, you don't have to apply any extra effort to pour a stream of new ideas into your brain. A completely new environment surrounds you: language, writing, nature, smells, architecture, and colors. You just need to absorb them like a sponge and apply everything to your work.
While visiting the Majorelle garden in Maroc, I learned not to be afraid of saturated colors and my works started looking like this one.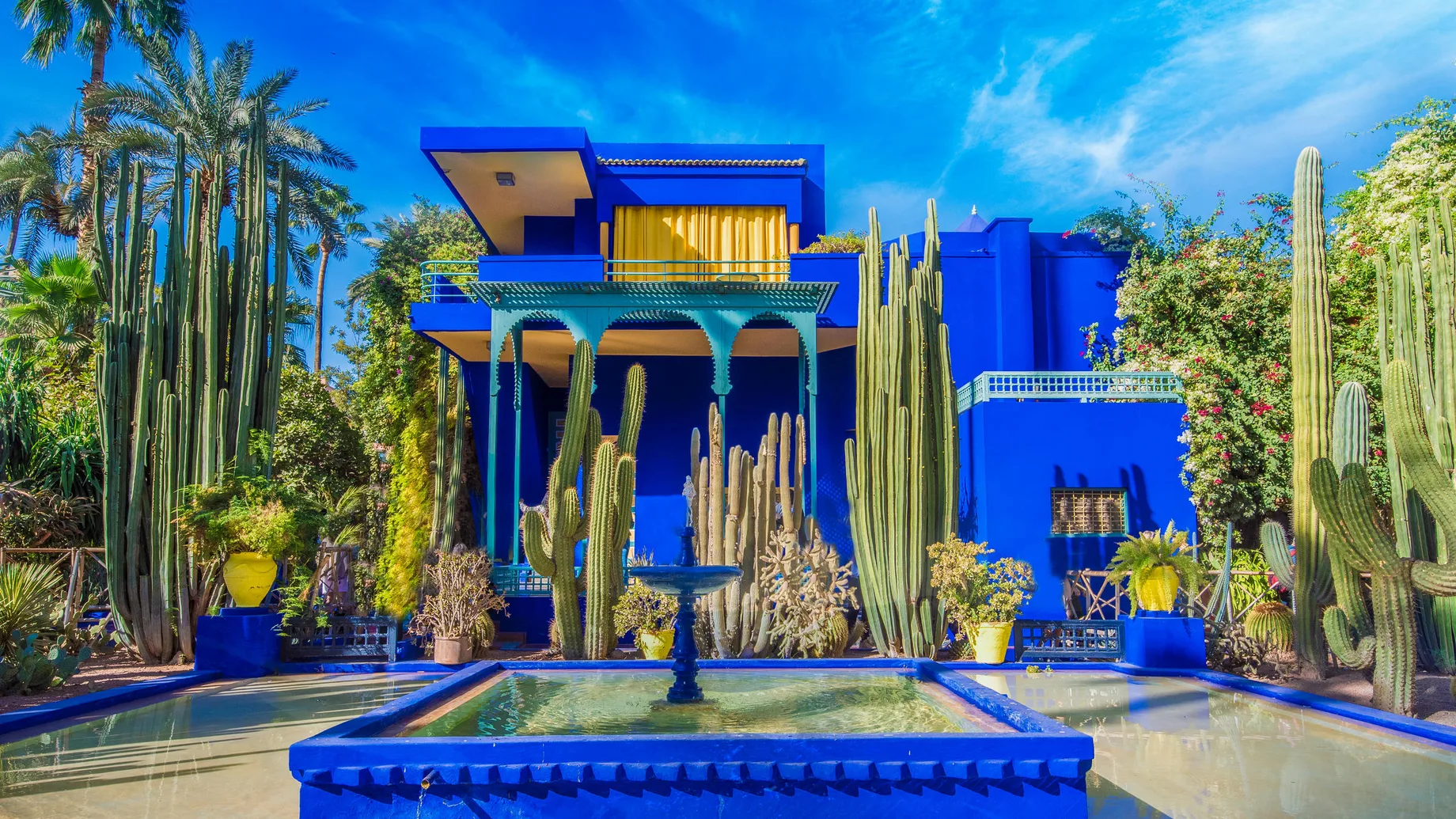 And a random Chinese magazine found in a Cyprus bar showed how cool the combination of outlined Chinese or Japanese characters and Latin text could look. Later I used a similar typographic approach to design our company's website.
What product have you recently seen that made you think this is great design?
Spun chair by Thomas Heatherwick. It looks futuristic and very comfortable to sit on, but it also has an entertaining spin function: you can make full turns by redistributing your body weight, so you feel like a kid on the playground.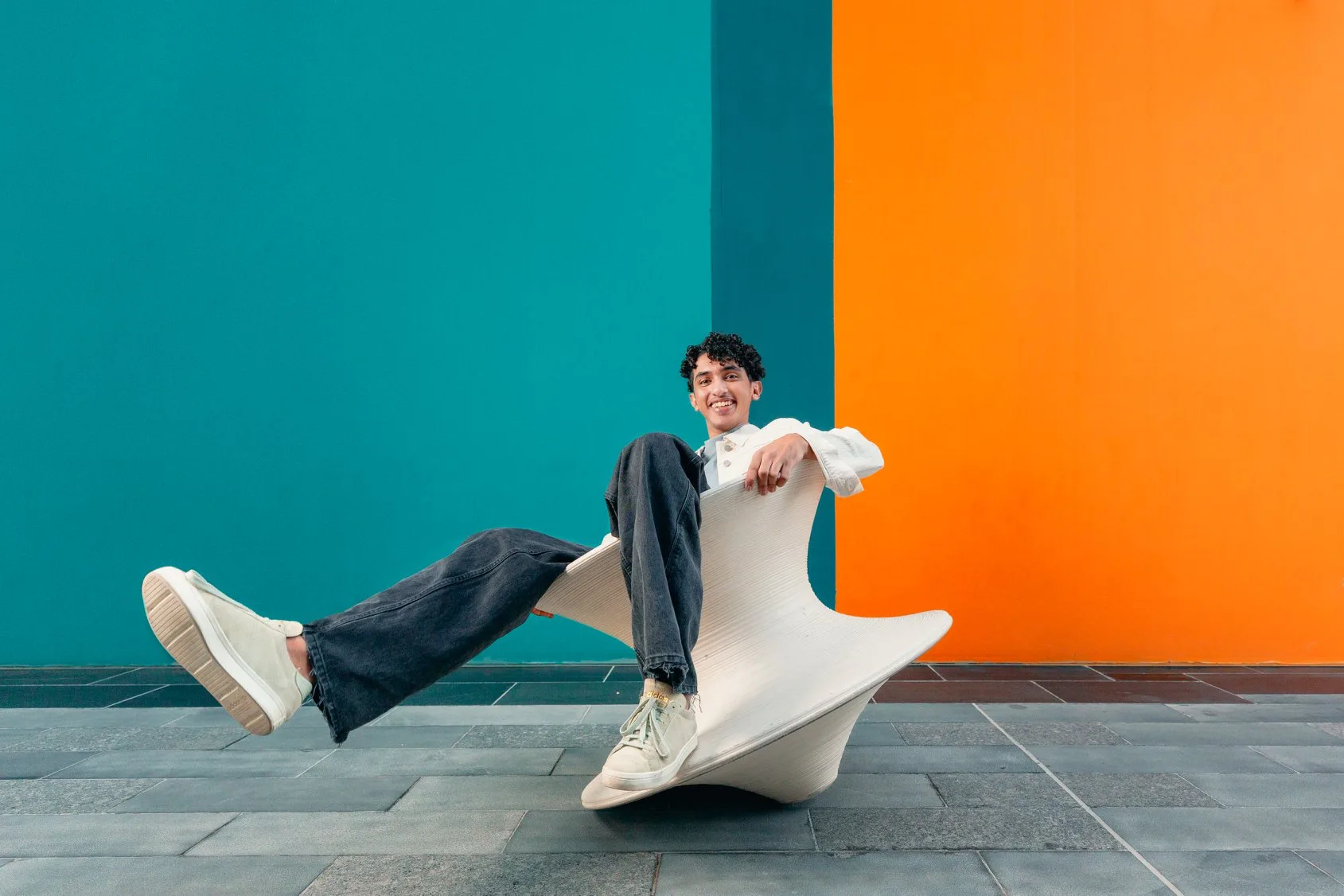 The Iconic LaBoule by Villeroy & Boch. It's a plate set that assembles into a colorful ball—the perfect combination of functionality, compactness, and, again, a bold, playful shape.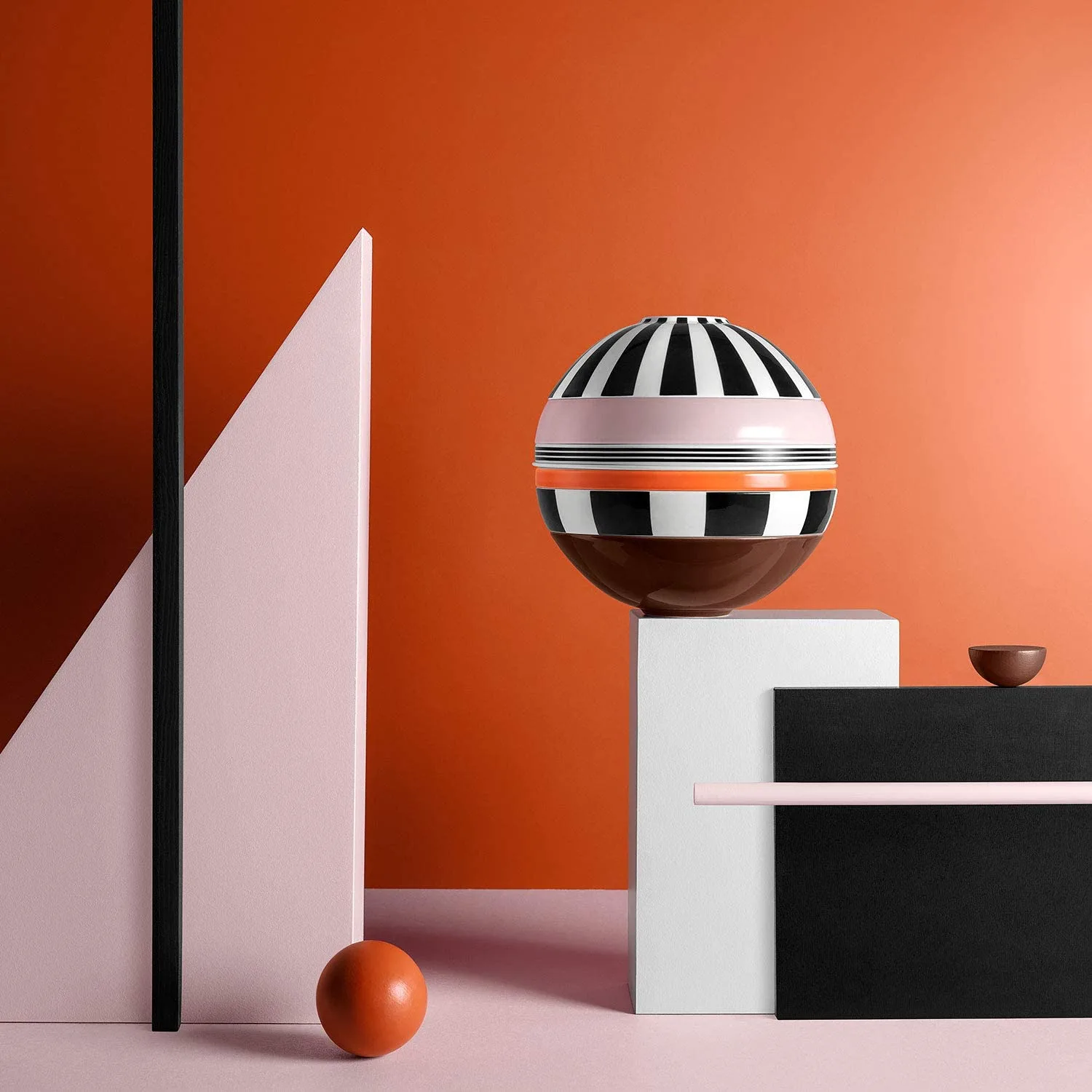 LEGO—the embodiment of modularity and reusability. Each LEGO model looks like a design object and interior decoration. I even have a separate cabinet just for them.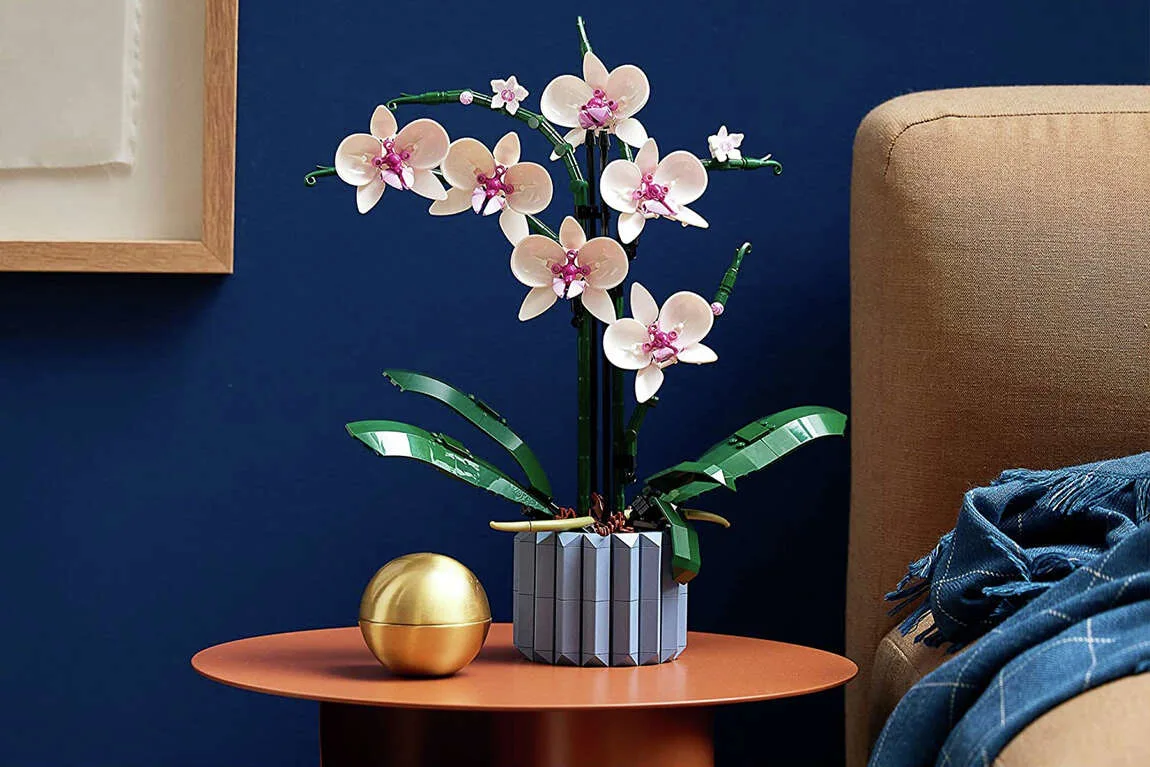 Yes, you caught me: the splendid design, for me, is a combination of impeccable functionality and the joy the product can give. I adhere to the same principles in my work on web design.
What pieces of work are you most proud of?
Whichever one I just finished. Every single project I worked on comes with a huge effort, so it's really hard to name my favorite child! At the moment, that's the website of my company, Evil Martians. On the one hand, it's like a Wikipedia for potential customers and our own team; on the other, it's a sample of a bold and joyful style that distinguishes us from other boring and formal IT-related websites. Already, this design has been recognized by Awwwards and the CSS Design Award.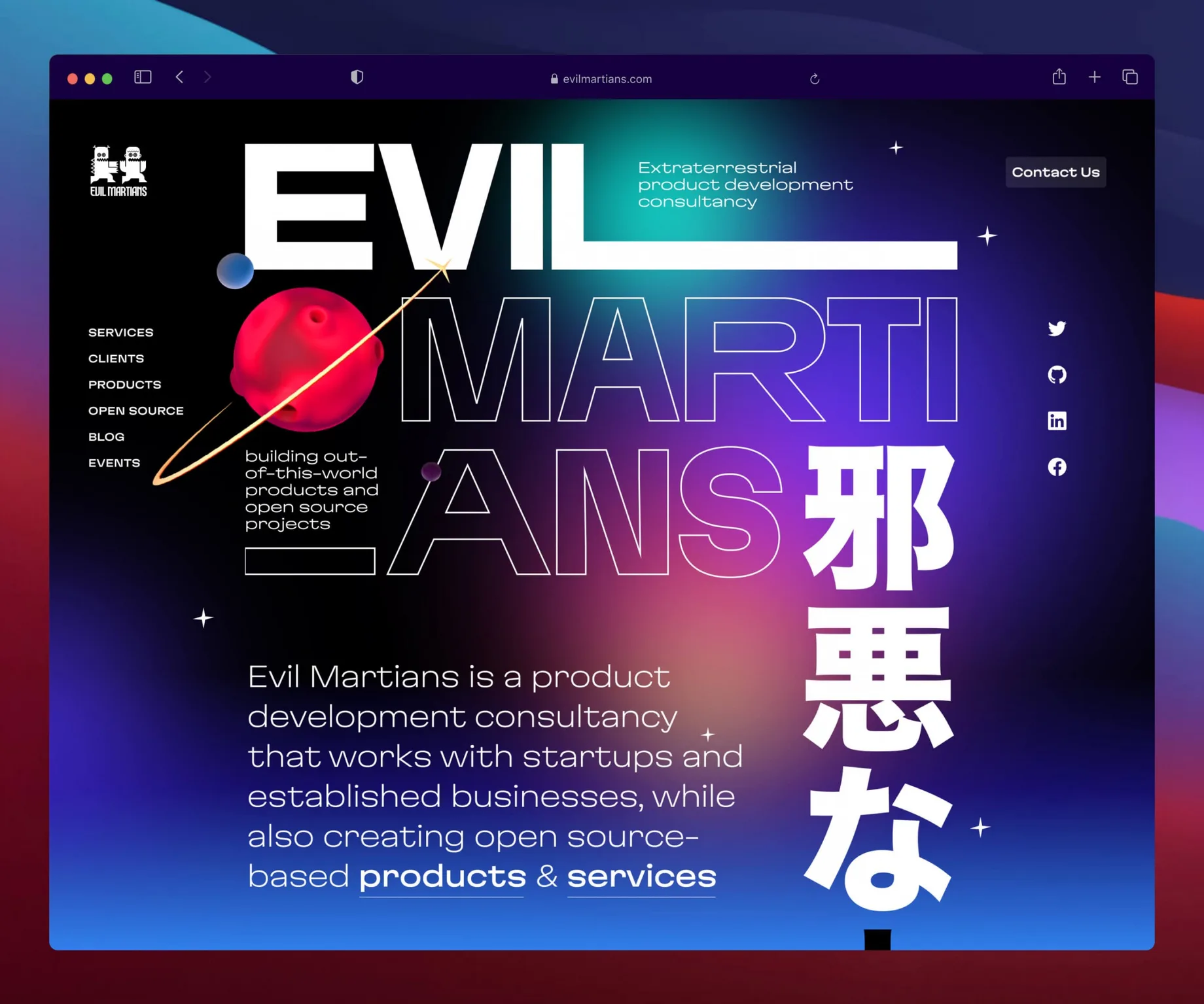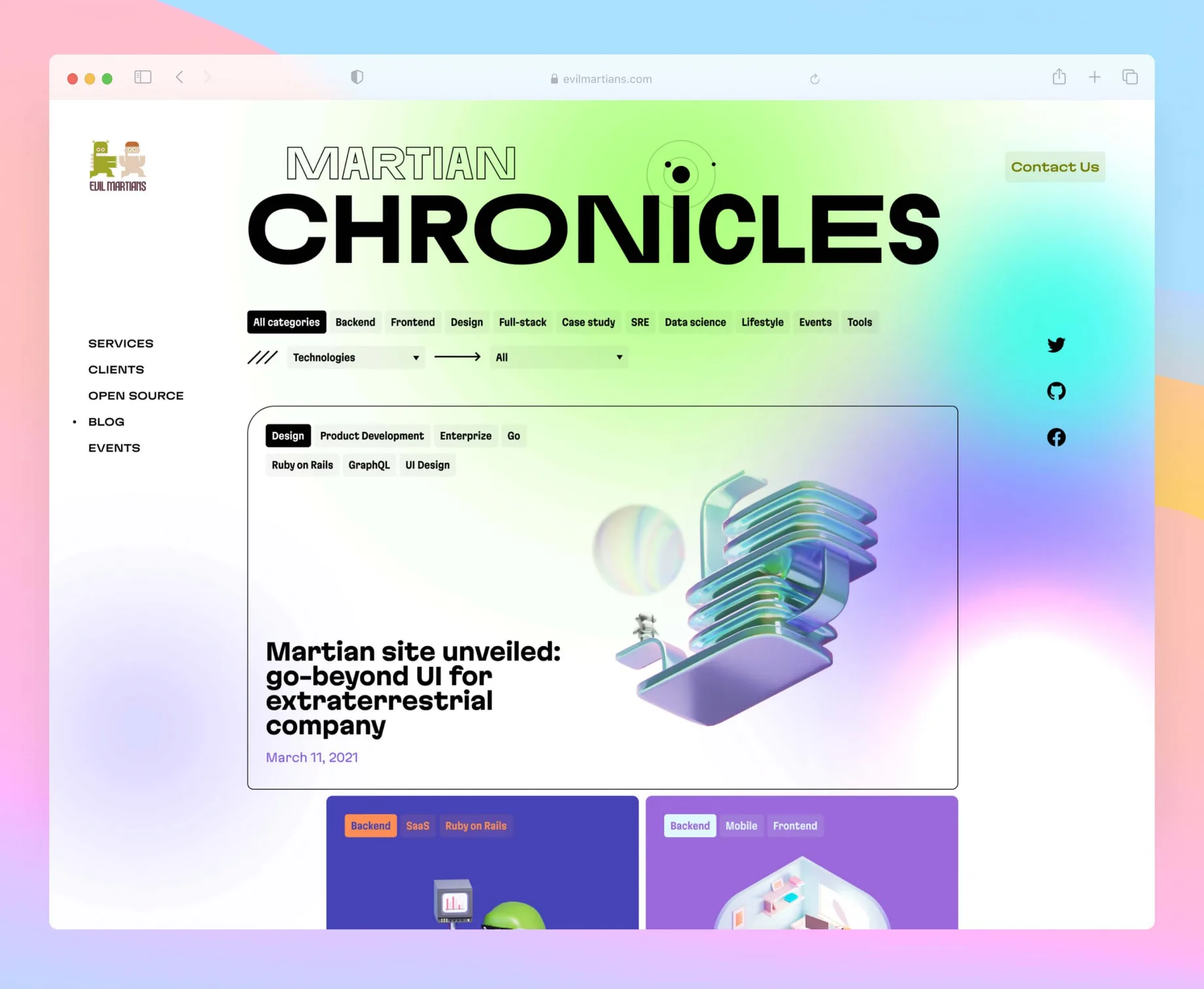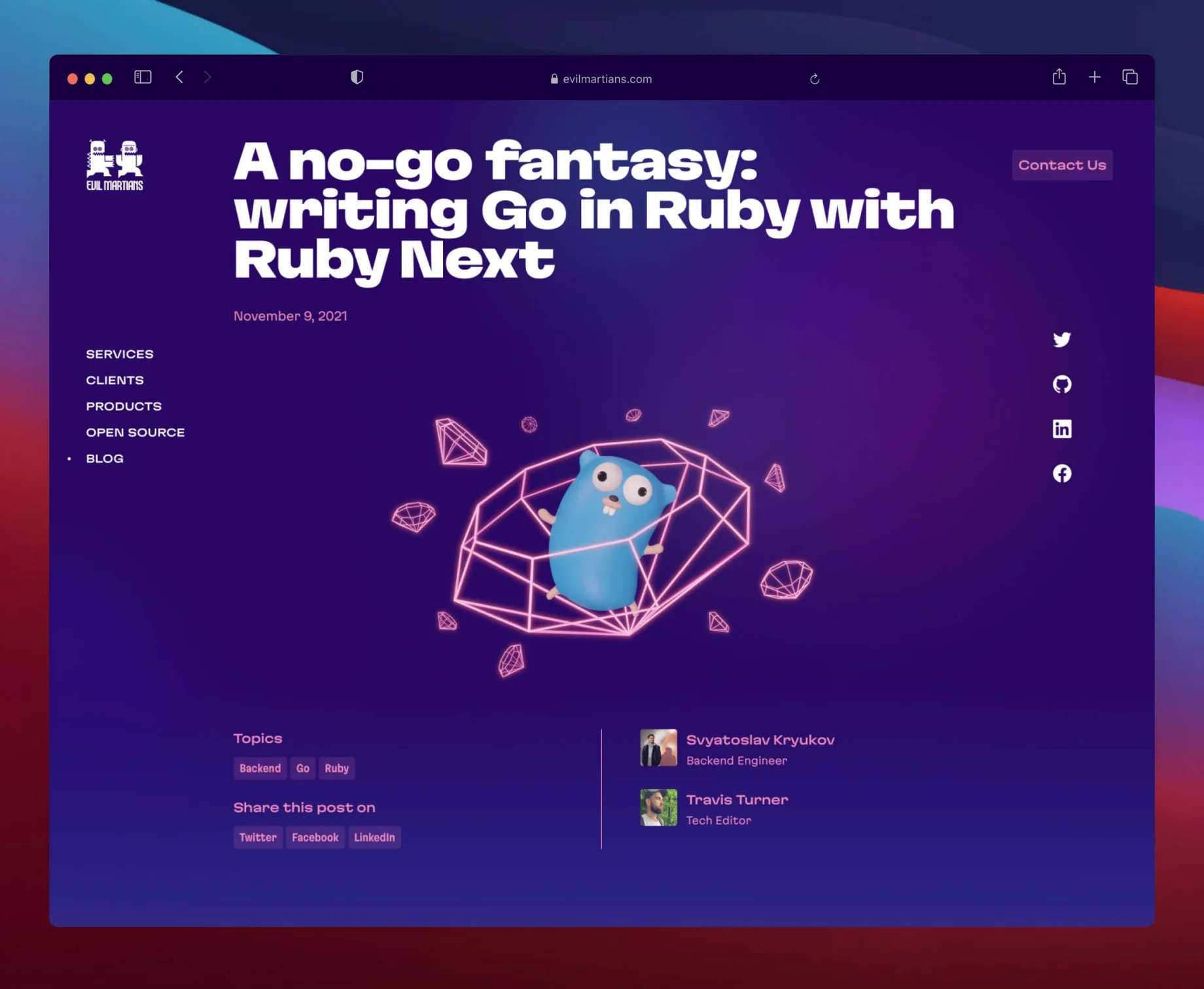 I also find inspiring my recent kinetic typography works
What design challenges do you face at your company?
Evil Martians is a product development consultancy. We have internal commercial and open source projects (for example, imgproxy and logux—whose sites I also designed), and customer projects—when a startup or a large business reaches out to us for help with product development.
At the same time, we don't have a typical manager or analyst roles; all of us are engineers (including designers, who also code). That's why each team member has a product mindset.
So the most challenging thing for me is to maintain focus while under the torrent of incoming information from colleagues, customers, and the outside world. I need to prioritize tasks that provide the most value and stick to creating product designs that solve customer problems, bring profit, and make the digital world a more beautiful place.
What music do you listen to whilst designing?
Any advice for ambitious designers?
I'm sure the key to the spectacular design is a better understanding of your own personality.
If you are a strict and minimalist person, you can't expect to be so perfect at designing abundant psychedelic objects. On the contrary, a flamboyant and artistic person may subconsciously resist strictness and formalism.
If you prefer to envisage a future, you may find it more tricky to design something in the style of the late Middle Ages. And, if you're a feminist, you might want to reject the proposal to create a website for a company with all-male boards.
Who are you? What are your strengths? What do you care about in this world? Clarify your principles, and create designs accordingly. That will also help you to love your job absolutely.
Anything you want to promote or plug?
If you need any help in designing and developing a product, no matter how complex it is, contact us at Evil Martians. We'll support you at every single step—from brainstorming an idea to delivering a ready-made solution, from zero to launch. 
Read how we help designers and engineers to create better products for a better world in our blog.