What led you into design?
My path to design is a bit unconventional. I actually spent almost a decade working in Consulting and M&A, but I never felt truly fulfilled. Photography was my creative outlet during that time, but I knew I wanted to do something more. Then, when the pandemic hit, I started looking for a better path for myself and came across the concept of 'Ikigai' which really resonated with me. That's when I decided to teach myself design while working my full-time job.
I've always had a passion for design and technology, even from a young age. I remember building my first website when I was 10 years old, using whatever tools were available to me. I guess you could say it was in my blood - my dad ran an agency and I would watch him work with Adobe ImageStyler, Dreamweaver, and Flash whenever he was on the computer. I loved mimicking what he was doing and soon enough, I was building websites using HTML/CSS.
When I look back on my journey, I realize that my diverse experiences have all contributed to the kind of designer I am today. In math class, I loved geometry - moving shapes around and drawing lines. It's not so different from what I do in Figma now as a designer. And even during my time in consulting, I found myself enjoying making beautiful PowerPoint presentations and using systems thinking to solve complex problems. My previous jobs cultivated my business knowledge - something that comes in so handy as a product designer.
What does a typical day look like?
I'm definitely not a morning person, but I try to make the most of my mornings by having a slow start and doing some exercise. Usually, though, I end up hitting the snooze button a few times and getting up around 8 am.
To kickstart my day, I always need Music and a cup of fresh coffee. When I start work at 9 am, I usually check my Slack messages from the previous evening to catch up on what's been happening. At Passionfroot, we have a daily stand-up at 10 am — it's a time for us to connect as a team, share updates, and have some fun with off-the-wall prompt questions like "If you could only eat one food for the rest of your life, what would it be?". A great way to start the day feeling connected in a remote work environment.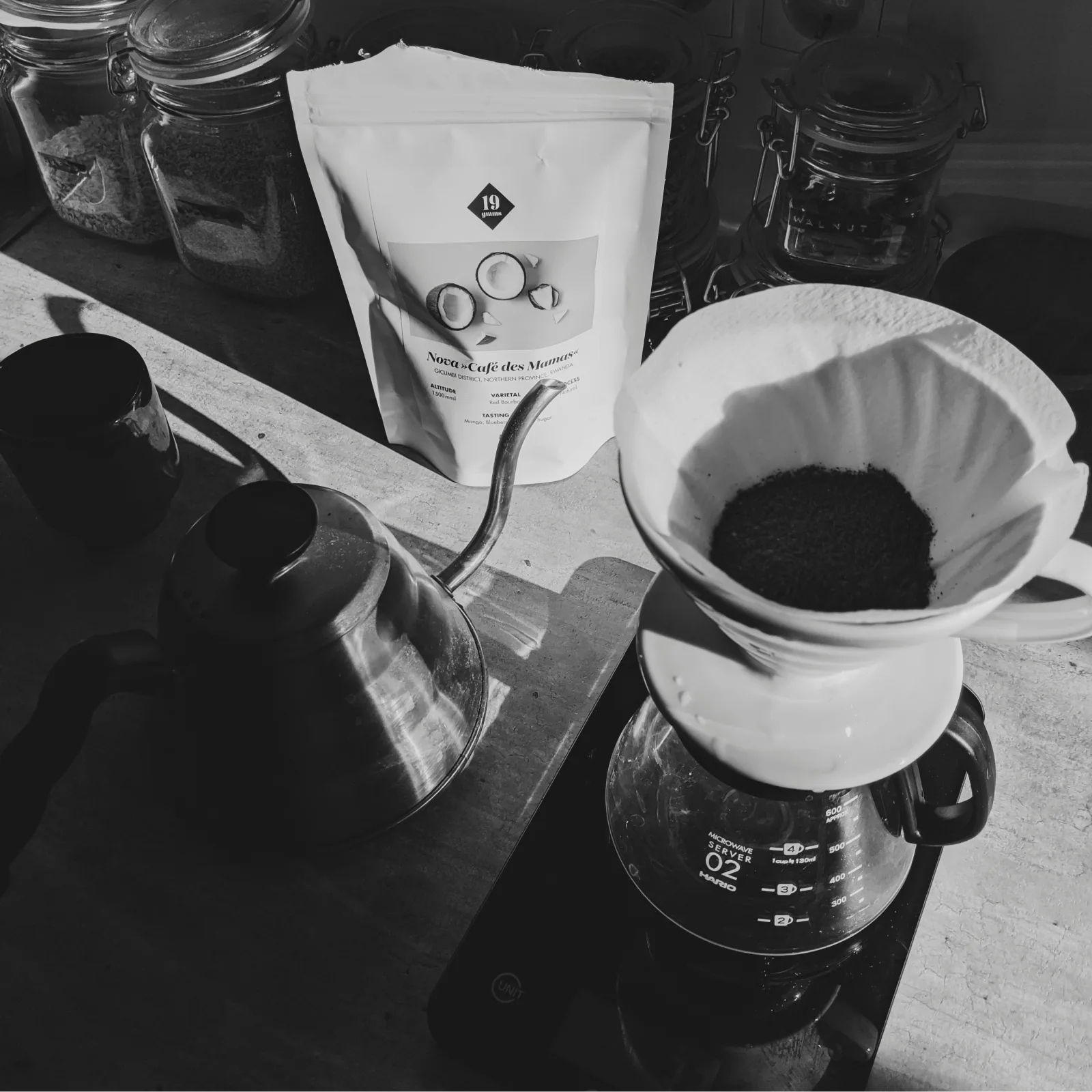 During the mornings, I like to focus on creative work like jotting down ideas in my notebook or doing some visual explorations. In the afternoons, I tend to work on more detailed and high-fidelity designs. We try to avoid scheduling meetings on our 'focus days' so we can really buckle down and get things done.
After work, my wife and I like to take a walk to get some fresh air and clear our heads. We both work from home, so it's a nice way to break up the day. Then, we'll usually make dinner and watch some videos on YouTube or whatever streaming service we're into at the moment. And sometimes, if I'm feeling particularly inspired, I'll do a bit more work in the evening.
What's your workstation setup?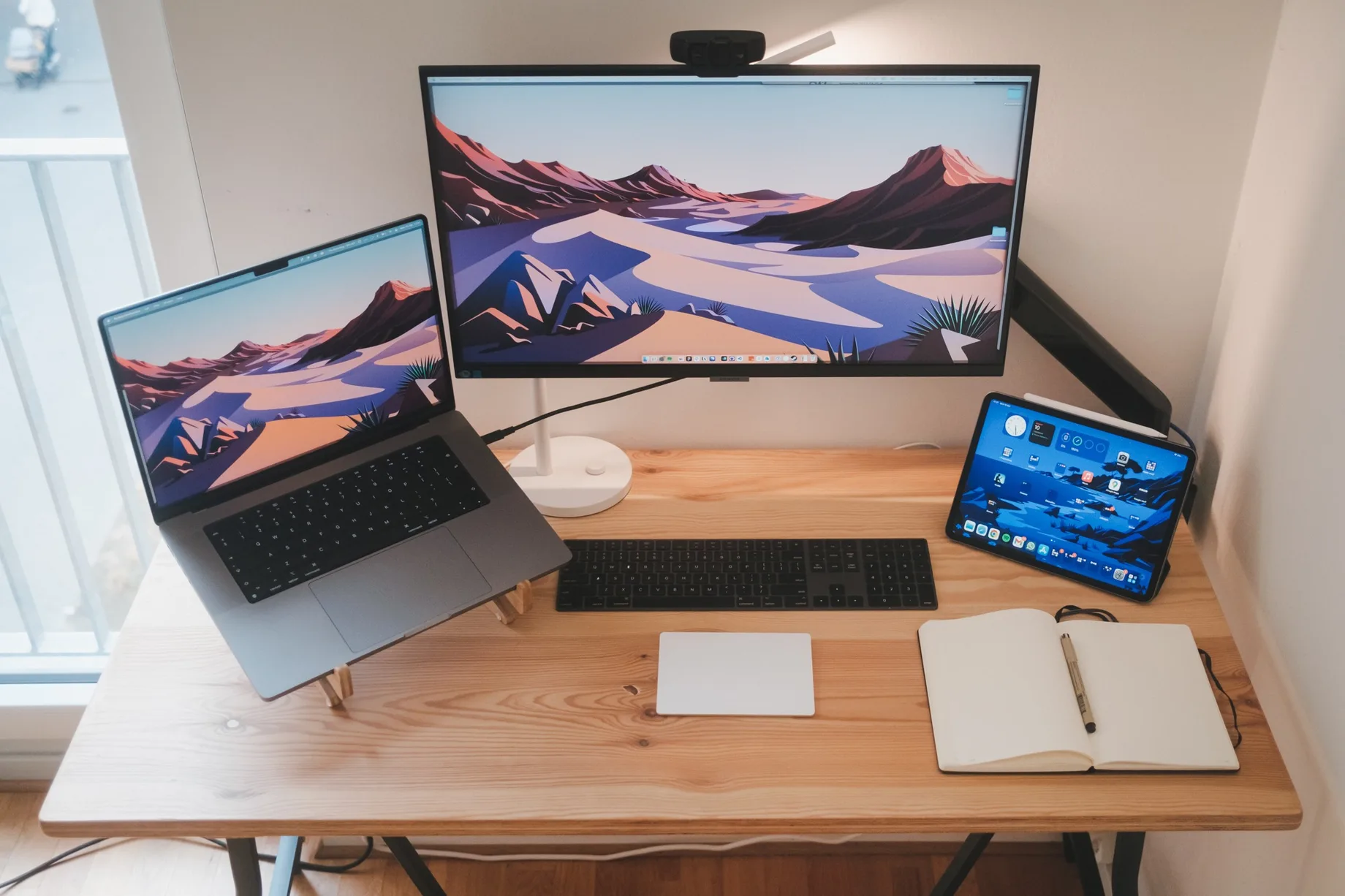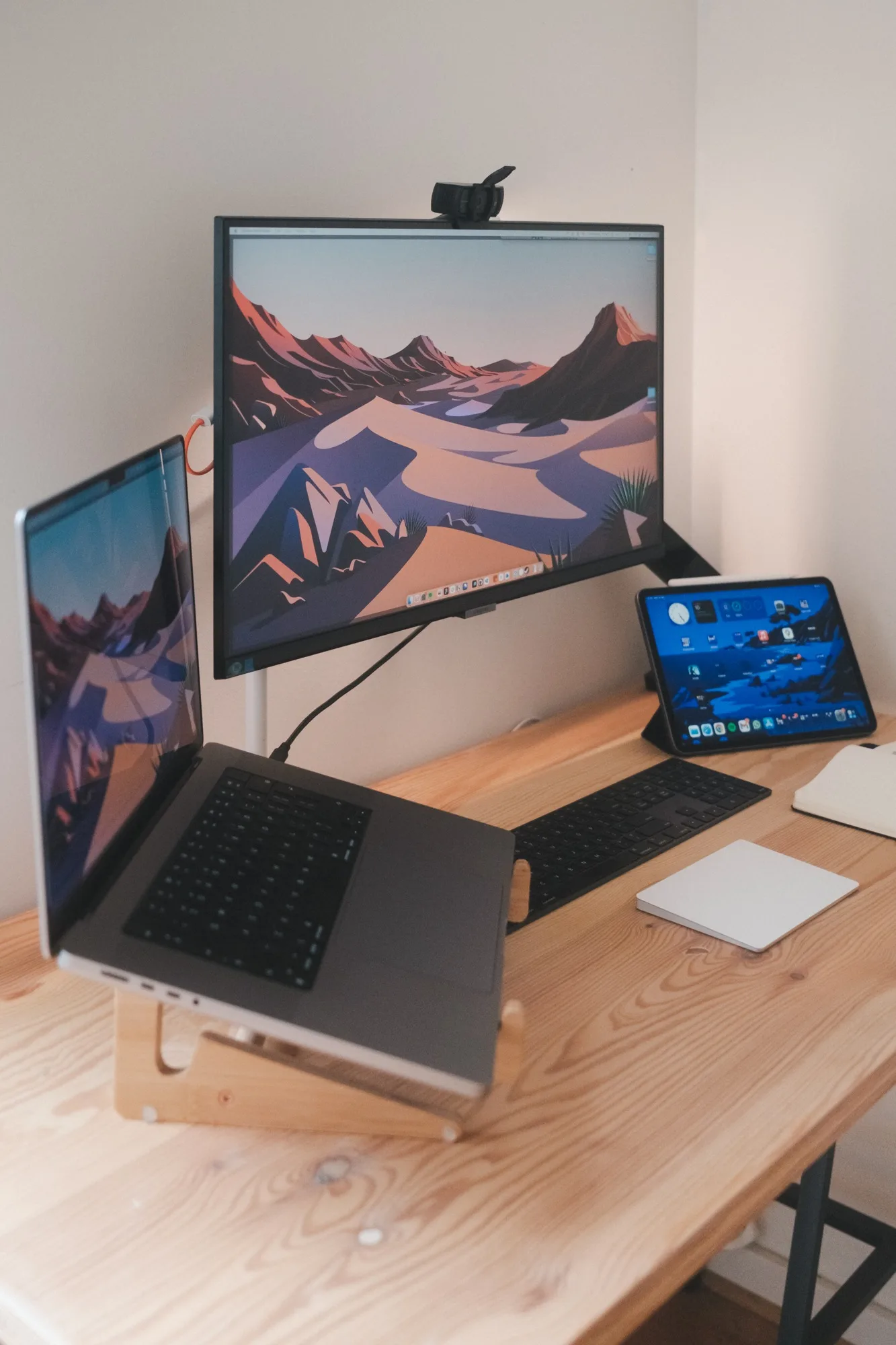 Where do you go to get inspired?
When I was first starting out in design, one of my mentors gave me some great advice: find inspiration in all kinds of design and art. I started exploring different areas, from type design and logos to interior design and architecture.
Over time, I discovered that the two things that really get my creative juices flowing are nature and coffee shops with bright, open spaces.
There's something about being in nature that is grounding and meditative, which is crucial for designing digital products that serve real people. It helps me disconnect from the noise of social media and trends and get back to the basics.
On the other hand, there's something about being in a bright, spacious coffee shop that really energizes me. With my music playing and a notebook and pen in hand, ideas just start flowing. It's like a creativity boost that I can't get anywhere else.
What product have you recently seen that made you think this is great design?
Wow, that's a tough one. But if I had to pick, I'd say Arc by The Browser Company is one of my favourite products these days. There are tons of browsers out there, but Arc's tab management and user profiles just work so seamlessly. Everything just feels buttery smooth. Plus, their Split View feature is a game-changer. I'm having a hard time going back to Chrome after using Arc.
And have you heard of Marou chocolate? It's a Vietnamese speciality brand that I think has an amazing design. The packaging by Rice Studios is just stunning. As someone who grew up in Vietnam, I feel a deep connection to the traditional Vietnamese patterns mixed with modern graphic design. It's like East meets West, and the bars themselves taste absolutely delicious.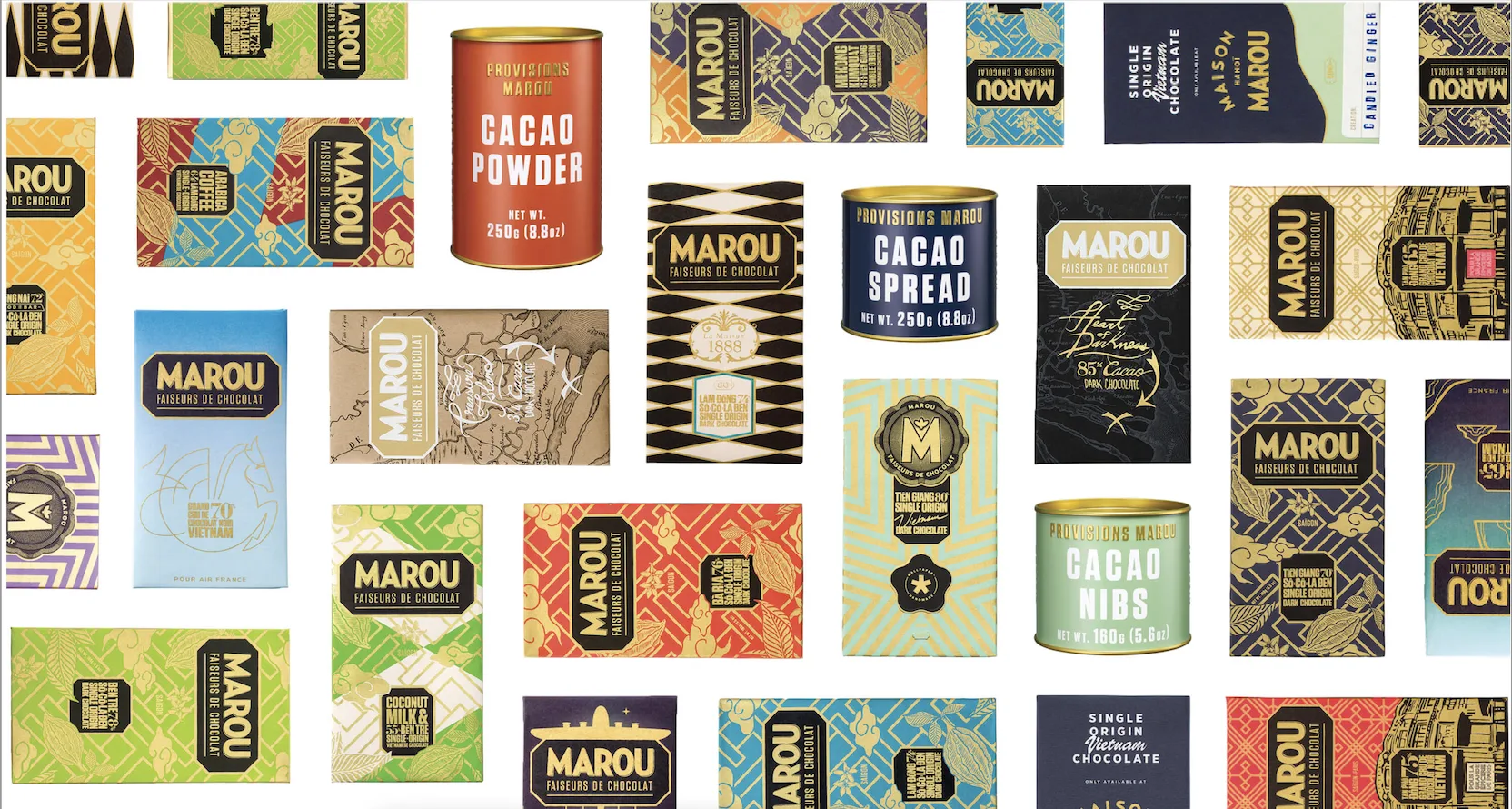 What pieces of work are you most proud of?
It's hard for me to pick one piece of work I'm particularly proud of. I'm always my own biggest critic and feel like there's always room for improvement.
Recently, I've been putting in a lot of work on Passionfroot 2.0. I can't spill all the deets just yet, but it's gonna be pretty epic. Building a great product takes a lot of time, and in an early-stage startup where things move at the speed of light, you can't spend so much time on a design. But after countless iterations, I'm feeling pretty good about how everything is coming together and can't wait to show off the upcoming features.
At the end of the day, what really makes me proud is when our users love our product. There's nothing quite like that feeling of validation as a designer.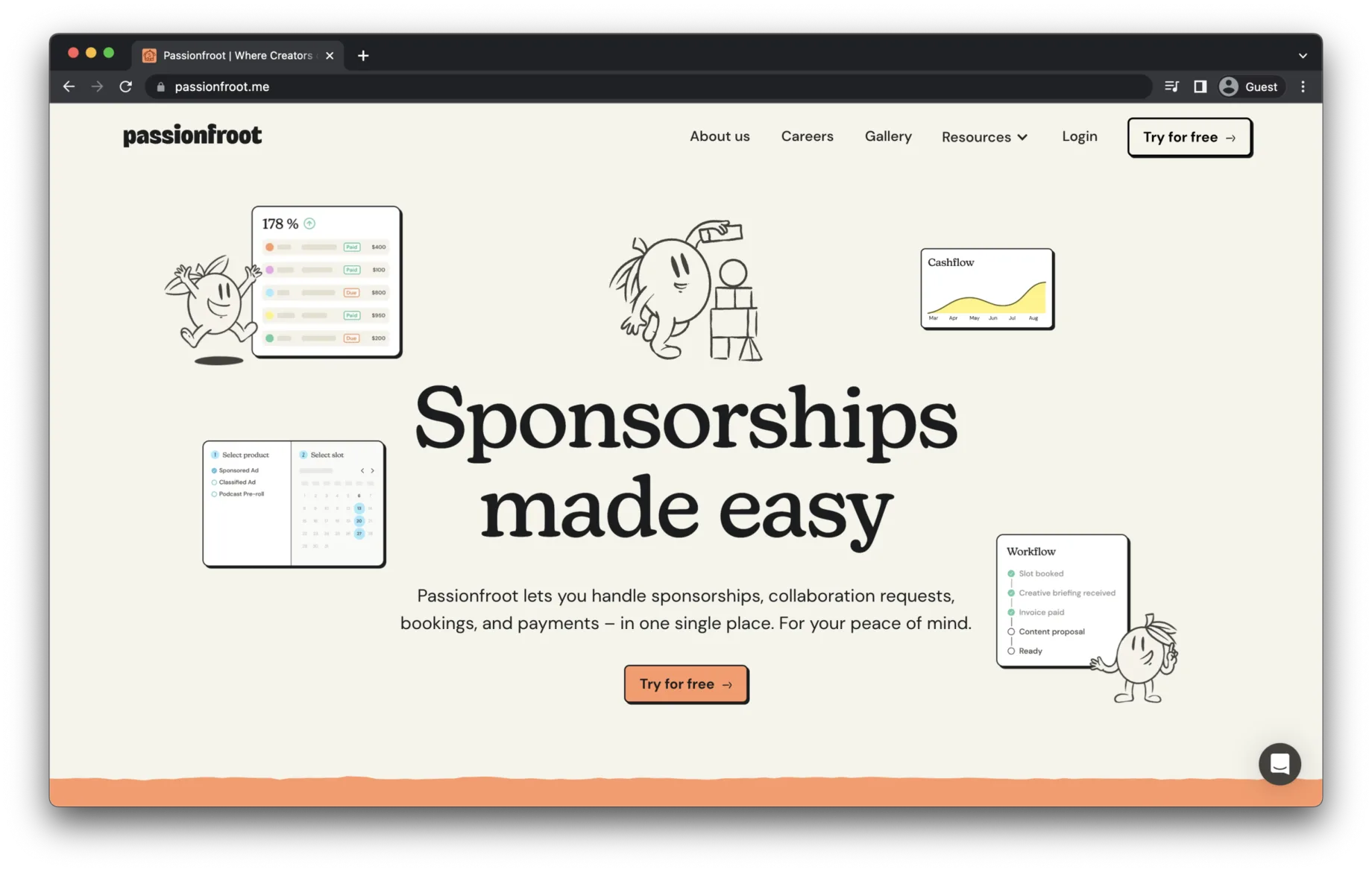 What design challenges do you face at your company?
It's finding the right balance between speed vs. quality. Since we're a small team of just 10 people, everyone's time is really precious. Our main goal is to achieve product-market fit, but it's not always easy to decide when to prioritize getting something out quickly versus taking the extra time to perfect the small details. As a designer, it can be frustrating, but in an early-stage startup, we have to ship fast to learn and iterate quickly.
What music do you listen to whilst designing?
Any advice for ambitious designers?
Always stay curious, keep learning, and stay humble. There's an infinite amount of knowledge out there, so it's impossible to master it all. I find it so inspiring when I see older people who are willing to listen to younger folks as if they're hearing something new. They have so much more life experience, and yet, they're still open to learning new things!
Most of us experience some level of imposter syndrome at some point. Some people might be better at hiding it than others, but the important thing is to embrace it. Feeling like an imposter means you're pushing yourself out of your comfort zone, which is necessary for growth. If you haven't felt that discomfort in a while, it might be a sign that you've been in your comfort zone for too long.
Anything you want to promote or plug?
If you're curious about the Creator industry and want to learn more about making a living as a Creator, be sure to check out Creators on Air, a podcast from Passionfroot. In each episode, my colleague Akta has a conversation with a fellow Creator on topics such as managing a business, achieving a work-life balance, and monetization.
For those who prefer reading newsletters, you should definitely check out Frootful Creator. It's delivered every two weeks and provides you with the best insights on growing and sustaining your Creator business.