What led you into design?
I've always been multidisciplinary in my interests and pursuits. Before my university days, I was actually very interested in arts and science, and started my own independent newspaper with friends, wrote and performed live poetry, and studied astrophysics. I eventually graduated with an Economics degree and went on to work in the music industry before finding my way into design.
The common threads that have always woven my interests together are a deep appreciation for the diversity of human experiences and enthusiasm for connecting. As a first-generation American, I grew up navigating different cultures and very aware of the breadth of perspectives between contexts. Put simply, I'm fascinated by how people (and things) behave and am happiest when I can be a catalyst in bringing them together.
In the music industry, I felt my most authentic when I was connecting people with each other and the experiences they loved, whether that was producing a live event or marketing an upcoming record. Once I realized that the EQ, communication skills, and creative problem-solving that came naturally to me were all assets I could leverage in the world of design and technology - which I've always loved - I ran towards design and never looked back.
In this way, I see my progression into the world of design not as a pivot, but as the most natural evolution from what I've already been doing my whole life.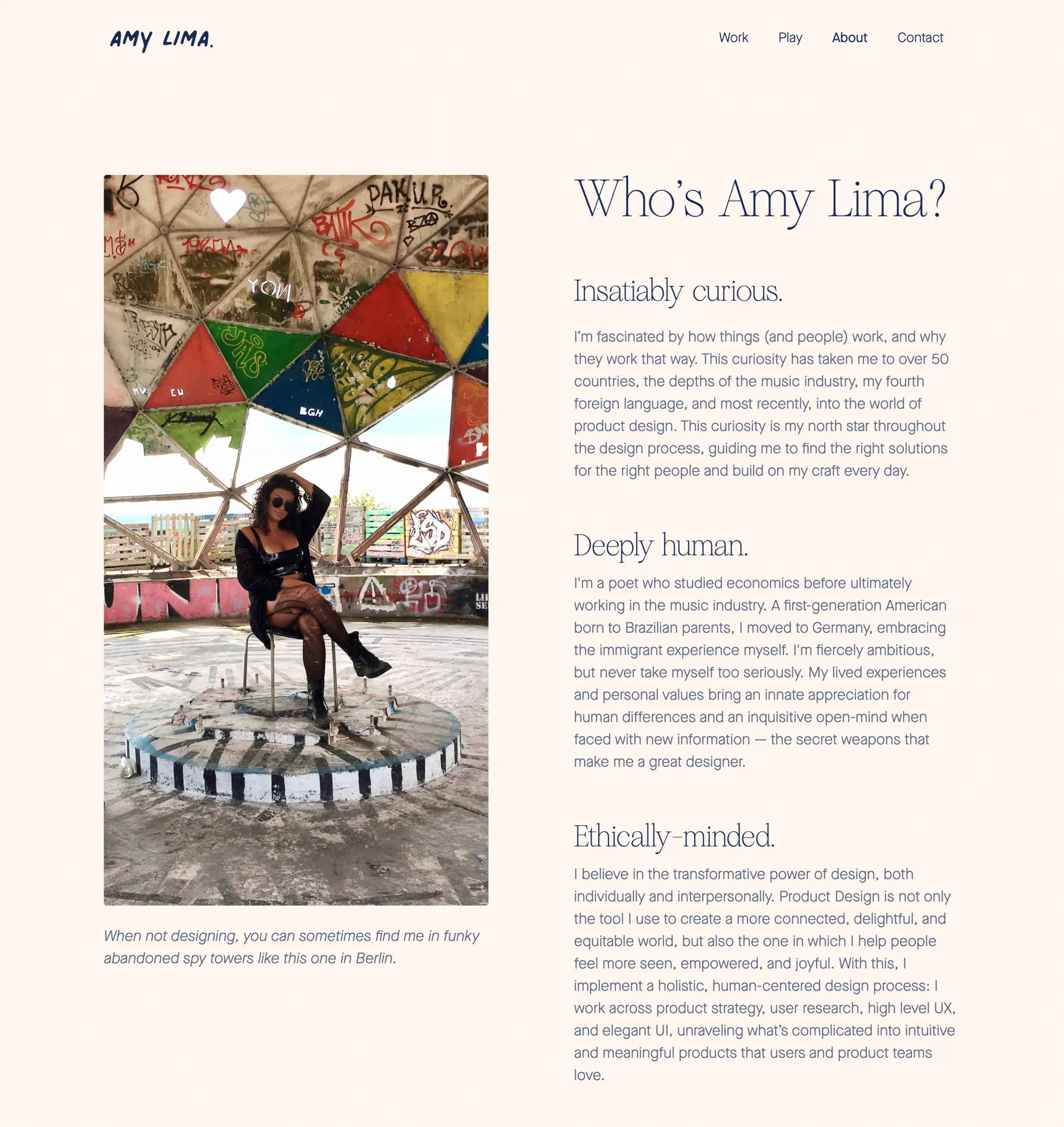 What does a typical day look like?
I'm usually up between 6 and 7am and read through my newsletters, respond to personal emails, and plan out my day while having my morning coffee.
From there, I'll either have a French class (twice a week), or I'll weight lift (the other three days a week) before officially starting my workday. Challenging myself in pursuits outside of design, from learning foreign languages to powerlifting, keeps me grounded and helps me stay motivated in my creative practice. It reminds me that progress is never linear, solutions are often fluid, and good things take time.
With most of my team based on the West Coast and myself in NYC, I have a solid focus block from 9am – 12pm to iterate on designs and push projects forward before my first meetings. My days typically consist of 2-3 hours of meetings and 4-6 hours of design time. I'm very lucky that Pinterest highly values work-life balance and mental health, so my schedule is pretty flexible, and I always have time throughout the day to have lunch, take a quick stretch, or have screen-time breaks between meetings.
When I'm done with work (usually around 5-6pm), I'll either dabble with freelance or personal projects before eventually unwinding by hanging out with friends, painting, reading, or watching the latest documentary on my never-ending queue.
What's your workstation setup?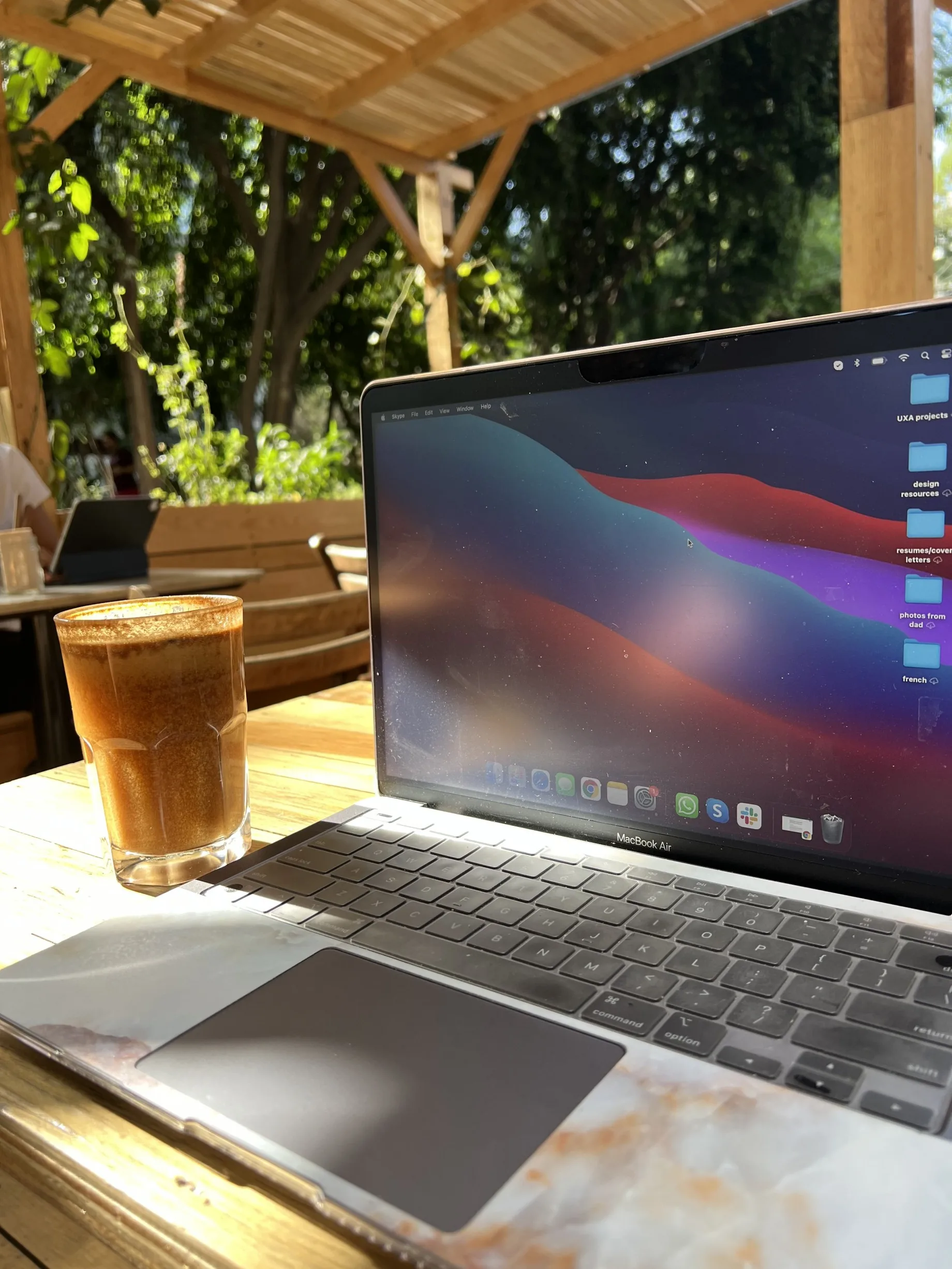 I intentionally keep my work setup pretty minimal, and actually (to the terror of most designers) don't often utilize a monitor in my day-to-day. This allows me to be flexible while working remotely (which I love) and have a change of scenery when needed, which is often to a new cafe – preferably with an outdoor patio.
Where do you go to get inspired?
Most of the time, I gather inspiration by looking outward.
Travelling has always been my most direct source of inspiration. I grew up a third culture kid between America and Brazil, have explored a sizable chunk of the globe solo backpacking, and have lived abroad on several occasions –needless to say, I'm happiest when I'm immersed in different cultures. I'm constantly amazed by the unique history, passion, and vibrancy found in each little corner of the world, and often think back to my experiences abroad when I'm stuck in a creative void.
With the pandemic keeping me from travelling as often as I'd like, I turn to my closest and most beloved muses: music, food, and nature.
I'm endlessly inspired by haunting lyrics, clever wordplay, and artistic expression; revisiting one of my favorite live performances or albums will always instantly jolt me with inspiration. Equally so, I consider food to be an art form, and am nothing short of obsessed with well delicious and crafted eats, from simple street food to creative culinary experiences. Most accessible (and perhaps cliché) of all, nature keeps me humble by reminding me what a tiny spec I am in our big world, a vastness that always sparks awe in me. Coupled with the rich palette of the outdoors, from the texture of the sea to the gradients of the sunset, connecting with the natural world is a necessity for me.
Often, however, I look inward for inspiration.
I'm fascinated by human resolve and how we, individually and collectively, persevere in the face of extreme obstacles. I'm exceptionally inspired by stories of triumph from historically marginalized groups and immigrants.
My father immigrated to the U.S. at in 1976 at 17 years old with no network, funds, or cultural conditioning (including any grasp of the English language). A lifetime (and many setbacks and redemptions later), he's the successful owner and operator of his beloved small business, a steel plating and metal finishing factory. My dad often shares stories from his young adulthood, navigating the hurdles and cruelties he faced to make a life for himself. These stories always put things into a razor-sharp perspective and spark a flame of inspiration to do hard things, supersede, and create my own legacy.
What product have you recently seen that made you think this is great design?
I'm a massive fan of all things Poolsuite. I'm obsessed with their vintage print-inspired design, and their seamless expansion from digital radioplayer to physical products to Web3, with all their careful attention to detail and delightful microinteractions, has been so exciting to follow.
What pieces of work are you most proud of?
While I'm proud of many of the experiences I've crafted alongside my exceptionally talented teammates, I'm particularly proud of the design advocacy work I've been able to contribute to the design community.
I recently helped conceptualize, plan, and facilitate an accessibility and inclusivity workshop that will soon be extended as training everyone in the Pinterest design org. Ethical practices are central to my design philosophy, and being able to promote and foster a more inclusive product culture on an organizational level is a huge personal milestone for me.
I've also spearheaded a partnership between Pinterest and Useful School, looping in diverse leaders in our design org as guest speakers for design students of color. Championing marginalized voices in the industry is a never ending pursuit of mine, and being able to loop Pinterest into that work has been a meaningful achievement.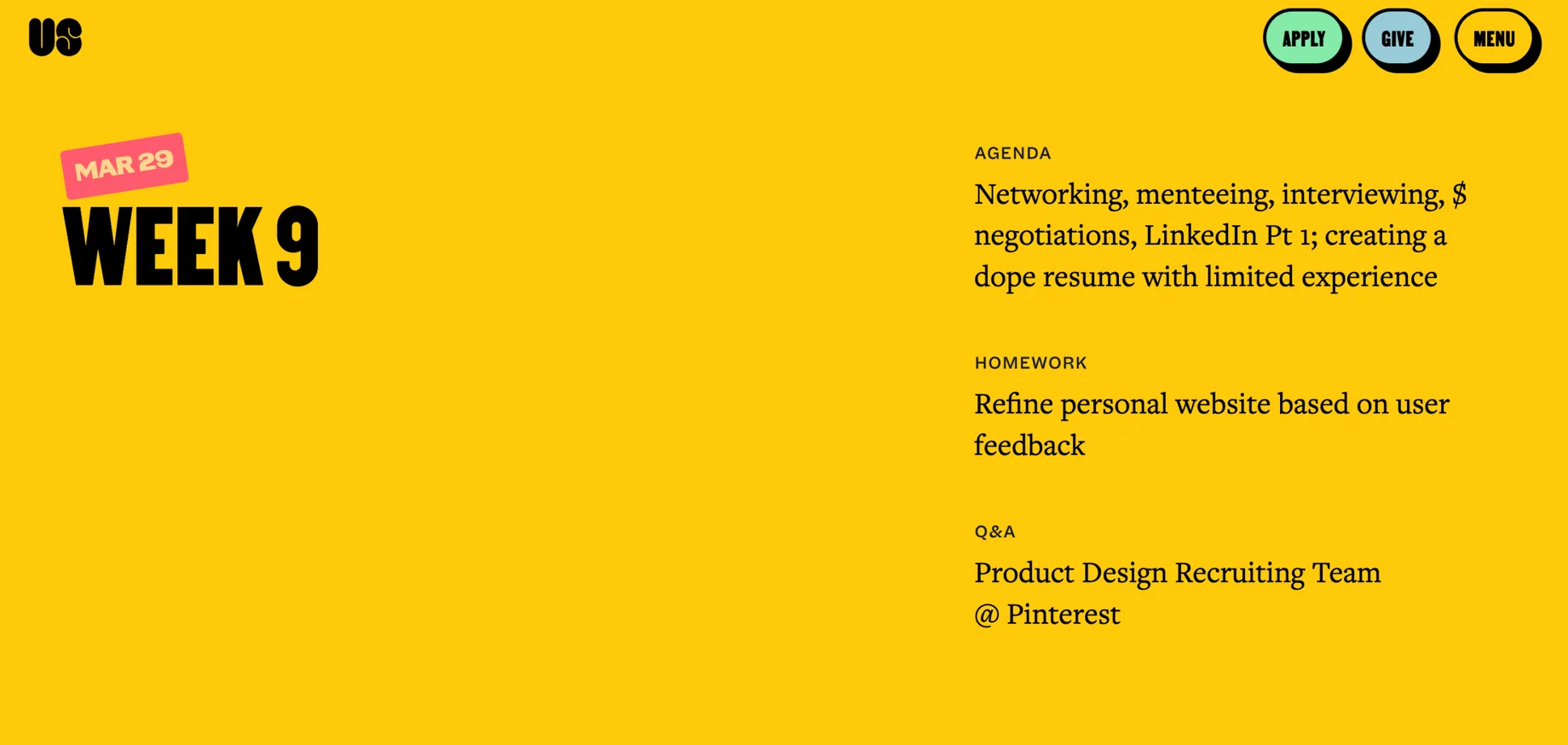 What design challenges do you face at your company?
Currently at Pinterest, we're rethinking the creator community landscape from the ground up, which naturally comes with many challenges. Working on a beloved platform used by millions is a pretty high-stakes gig, especially when you're tasked with shifting the paradigms of content creation and community engagement.
Beyond that, our team is very intentional with what kind of engagement we bring to the platform: we want to foster genuine connections and encourage meaningful content creation on the platform rather than encourage mindless scrolling or drive vanity metrics. This means working closely with research to investigate very specific user needs, as well as thinking outside the box to solve these design challenges.
These also happen to be all the things that make the job so exciting and rewarding, though, so I can't complain!
What music do you listen to whilst designing?
Any advice for ambitious designers?
Embrace a growth mindset. Don't strive to be the best (no one is); instead, commit to being a little better today (in any regard) than you were yesterday, and never rest on your laurels. We overestimate what we can accomplish in a day and greatly underestimate what we can accomplish in a year – the compound effects of continuously learning and improving your craft will pay off massively down the road.
Collaboration over competition. I'm a big believer in peer networking and seeing your mutuals as partners to work with and empower vs. adversaries to work against and climb over. Leverage your peer network as a group to learn from, and normalize not gatekeeping knowledge, resources, or opportunities from each other. Someone else's success doesn't limit your opportunities to shine, and we all get ahead by bringing each other up. This mindset can also lead to new work and learning opportunities from a network that's typically overlooked.
Let people know you exist. Life-changing opportunities rarely come knocking at unknown doors. Identify your core values and unique positioning as a designer, and share your story, perspective, and progress as often and authentically as you can. Establishing your presence within the design community doesn't need to be as heavy-handed as creating content or becoming a thought leader; simply sharing your design opinions and work already puts you a step ahead by not waiting until a job application to do so.
Anything you want to promote or plug?
What inspiration means to me, originally presented at Pinterest's design offsite (1:24).
Unconvo, the new home for book communities and super wholesome startup where I moonlight as their founding and sole designer.
Some of my favorite design education and community organizations that have been pivotal in my personal and professional journey: Designlab, HmntyCntrd, Design to Be, Memorisely, SuperHi, ShiftNudge, Figma Academy, and ADPList.
A huge thank you to my dear friends and mentors Alan Walker, Miguel Makes, Anna Brenner, Jarvis Moore, Nicole Locklair, Dann Petty, Liz Wells, Brian Ignacio, Marcio Soriano, Gui Seiz, and Mark Manalaysay, all of whom have taught me invaluable lessons and championed my growth from day 1.
Feel free to say hi on Twitter or LinkedIn, and check out my latest work on my portfolio! ✨