What led you into design?
In elementary school, my mom signed me up for calligraphy classes. I took those classes for a few years, but it was definitely my intro to typography.

By the time I was in high school, I was playing around with BBSs, the hacker art scene of the 90s - ANSI art, and the first wave of consumer internet subcultures. I was fascinated with computers as a kid. My father had Prodigy on his work computer- one of the predecessors to America Online. I remember being in my first chat rooms as a kid in the early 90s before AOL was available to the wider consumer market

Before I had access to Adobe, there was Kid Pix. A kid-focused graphic design tool, much like Photoshop, but with training wheels. I spent hours at home creating banners and posters and all kinds of artwork with it.

I was also super fortunate that my high school had graphic design courses as an elective. I spent almost the entirety of my free time making flyers and mix-tape art for my friends' punk bands on the school's Photoshop account. This is where my initial dream was conceived - to work in the music industry and design album art for musicians.

As my interests and exposure matured, I began combining my interest in art and design with my fascination with computer apps and ventured down the path that led me to be a product designer.
What does a typical day look like?
I usually wake up around 7 am, but I've never been great at setting alarms or responding to them, so usually I let my body wake me up with is ready.

The early part of the morning is usually spent responding to emails, social engagements, and crafting an outline for the items I need to accomplish in the day.

I began a consistent gym routine about 7 years ago, and I've found it works best for me about mid-morning, right before lunch. So, around 9 I usually head to the gym for an hour or two. I've noticed exercise is really great for taming my hyperactivity. It's a great way for me to tire my brain out a little so I can focus once I return to the office.

By 10 or 11 am, I'm putting down my lunch and sitting down to re-assess my plan for the day. I don't drink coffee, so I try to keep my meals light - usually a protein shake with bananas, papayas, and peanut butter. If I eat too heavily I get sluggish early in the day.

By 11 am, I've likely cranked up the lo-fi beats and have started my first focused sprint on design work. This usually lasts a few hours before I need a break to reset. During rest times I spend time with the cat, go up to the roof for some sun, or take a little walk to the park to touch some grass.

I may do this cycle a few times during the daylight hours as I'm still maintaining my hyperactivity - then as the sun sets I find my best work and strongest focus come into play.

I set the vibe with all the lights in the apt and get ready to work into the evening. I definitely perform the best from 5 pm - 9 pm and sometimes later depending on how engaged I am in the project.

Around 10 pm I start to wind down - sending my last round of emails and social engagements before closing work on my income-generating projects to put a little time into my passion projects.

I try to have all of my devices off by 12 or 1 am so I can get around 6 hours of sleep to do it all again the next day.
What's your workstation setup?
My desk is fairly minimal, with a horizontal monitor for my core design work, and a vertical monitor to separate browsing, emails, and social communications. 

I do all of my illustration on my iPad, and a 14" MacBook Pro for design work. I chose the smallest, most powerful device so I can bring my work travelling without compromising too much on computing power.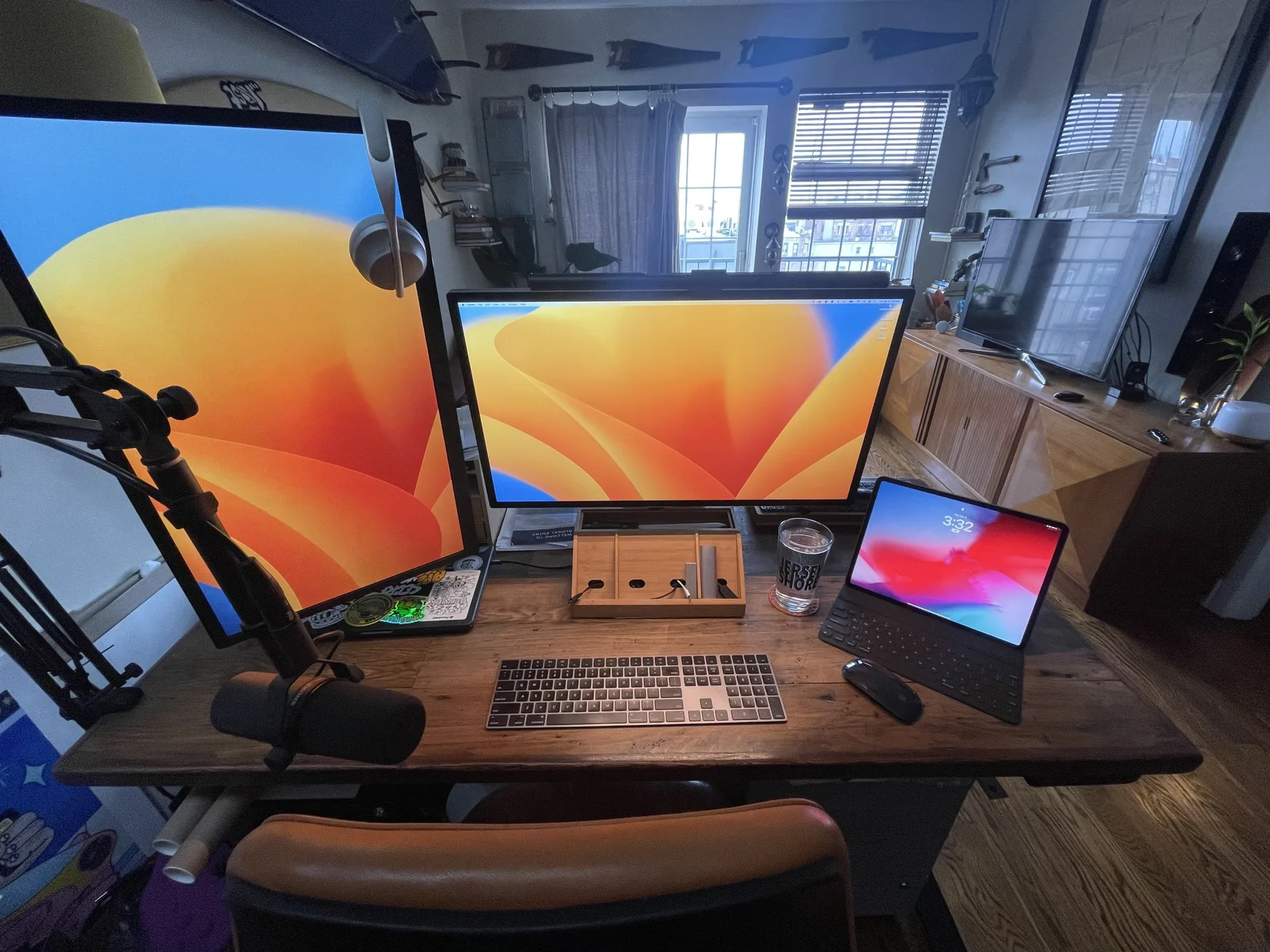 My studio space, on the other hand, is a bit more representative of my personality and of my style - more maximalist, with artwork, collections,  and antiquities from all over the world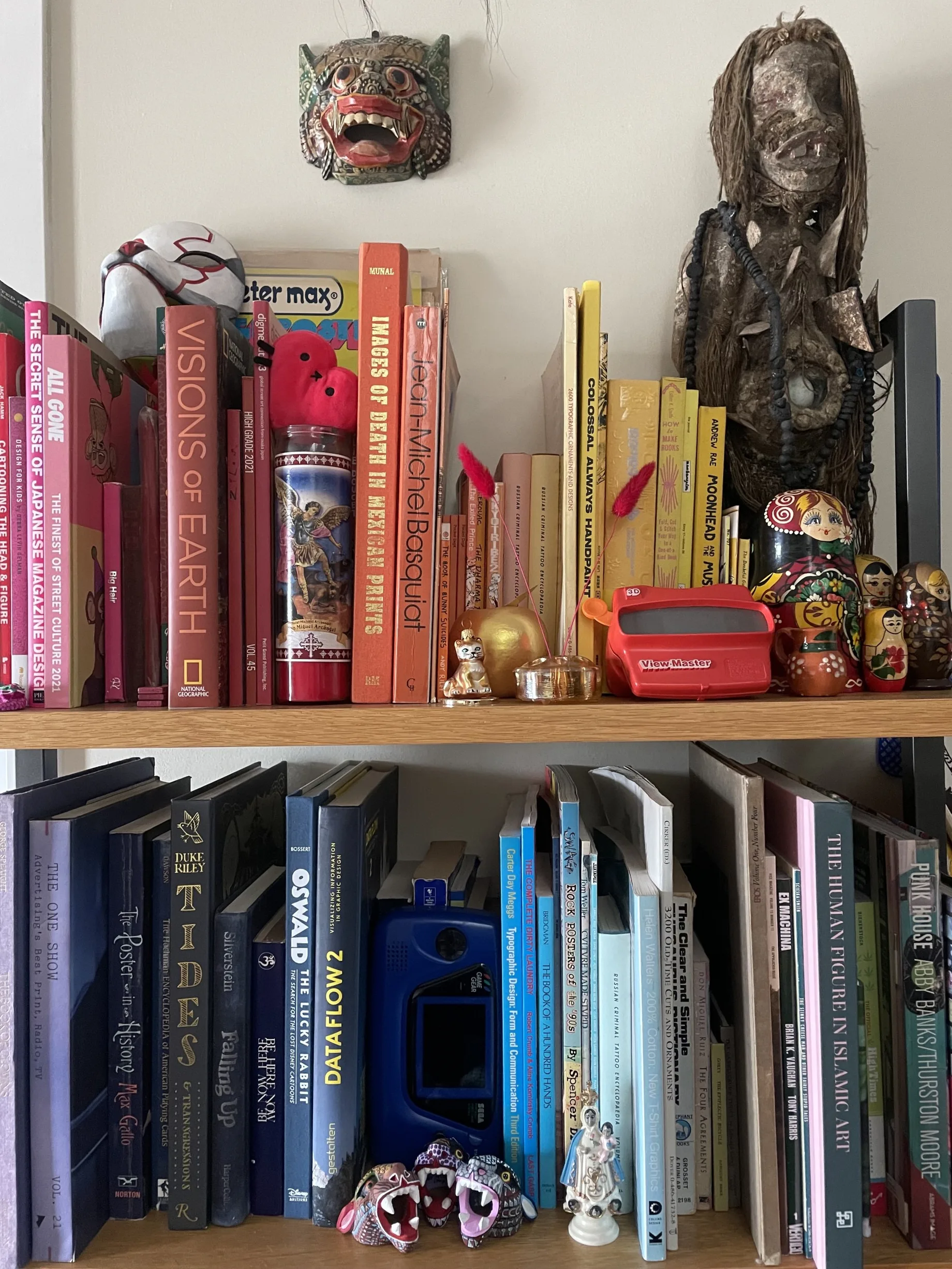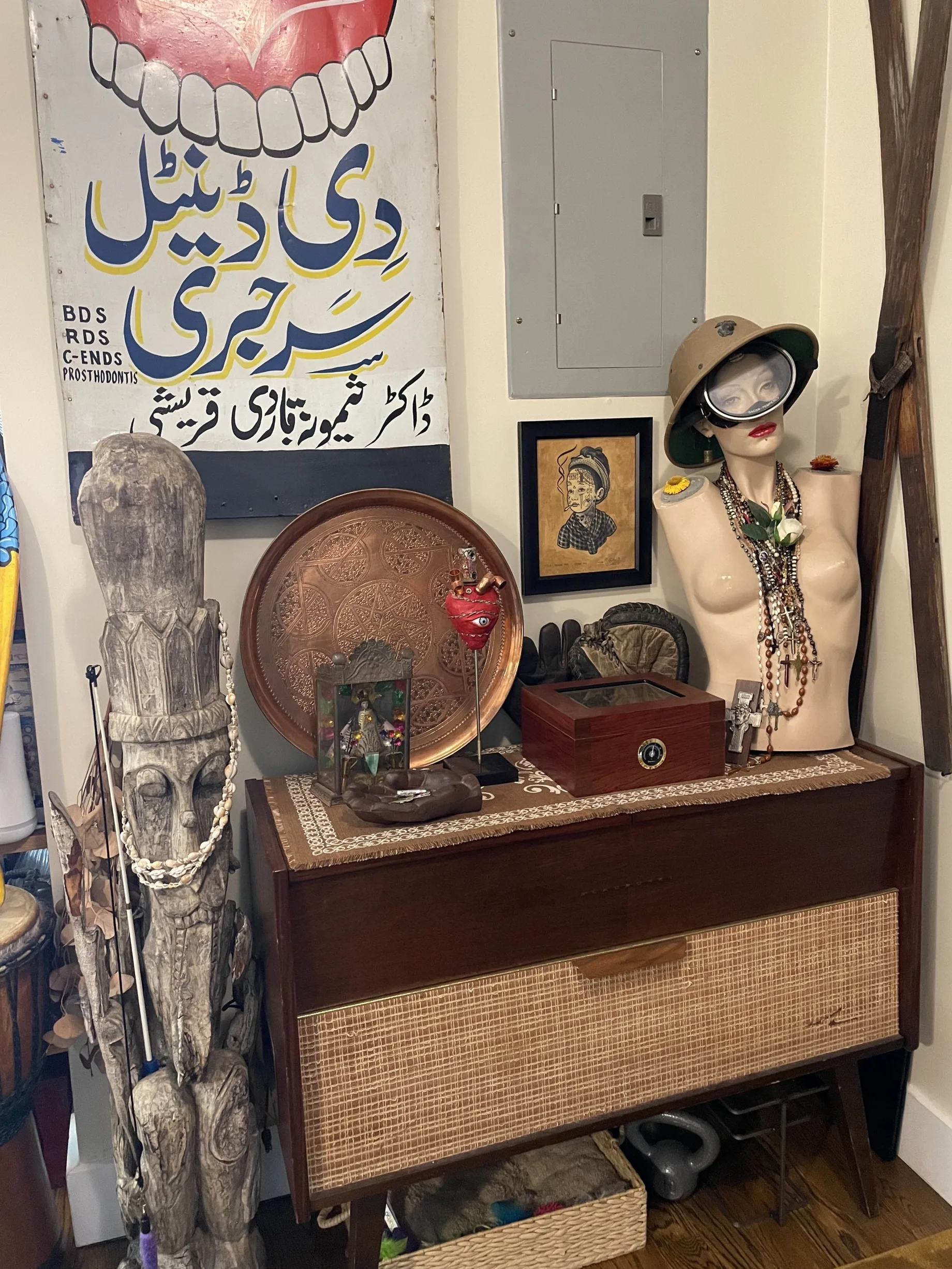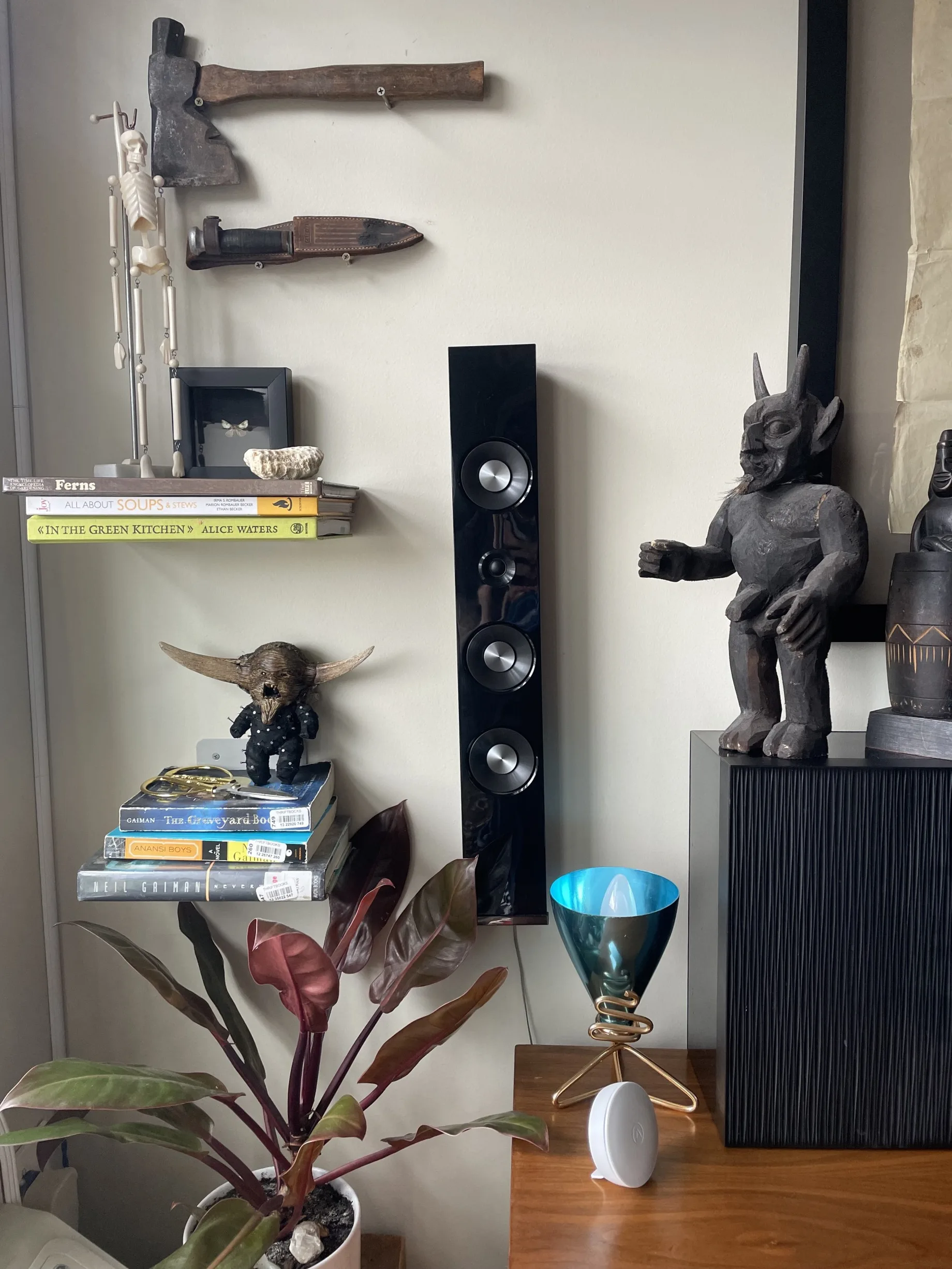 Where do you go to get inspired?
I get the most inspiration from travelling, meeting people, and immersing myself in experiences I don't find at home. I'm constantly inspired by the human experience, other people's stories and methodologies. I try to get out of my comfort zone as frequently as possible to gather all the possible inspiration I can from culture, art, and other people's lifestyles around the world.

Additionally, I pull a lot of inspiration from elements I was heavily exposed to in my youth. These inspirations are much more apparent in my art than in my design, but still very relevant to my overall art and design story -Looney Tunes cartoons, the 70s psychedelic artwork of Peter Max, and 90s internet hacker art subcultures are a few places I go to for inspiration as they were all breakthrough art styles in their respective spaces, and styles that impacted me heavily during my growth and development period.
What product have you recently seen that made you think this is great design?
I was extremely impressed by the Coolcats Cooltopia exhibit at the 2022 NFTNYC.

As a designer that has worked in the web3 space for more than 6 years, I've seen it struggle for mass adoption.

What Coolcats achieved with their installation was really representative of the transition from crypto to web3, and the new category of users now being onboarded into the space.

They outfitted an entire warehouse space with an immersive Coolcat-themed IRL experience, somewhat reminiscent of a theme park experience at Disney.

There were attendees of all ages there, playing with the games, running through the contests for bounties, and using their tokenized winnings to exchange for merch.

It was a magical end-to-end experience that showed the potential for web3 brands to transcend their speculative, fintech-related image into a family-oriented one.

It was a really thoughtful display of brand and design that may contribute to the onboarding of the next billion users in the space.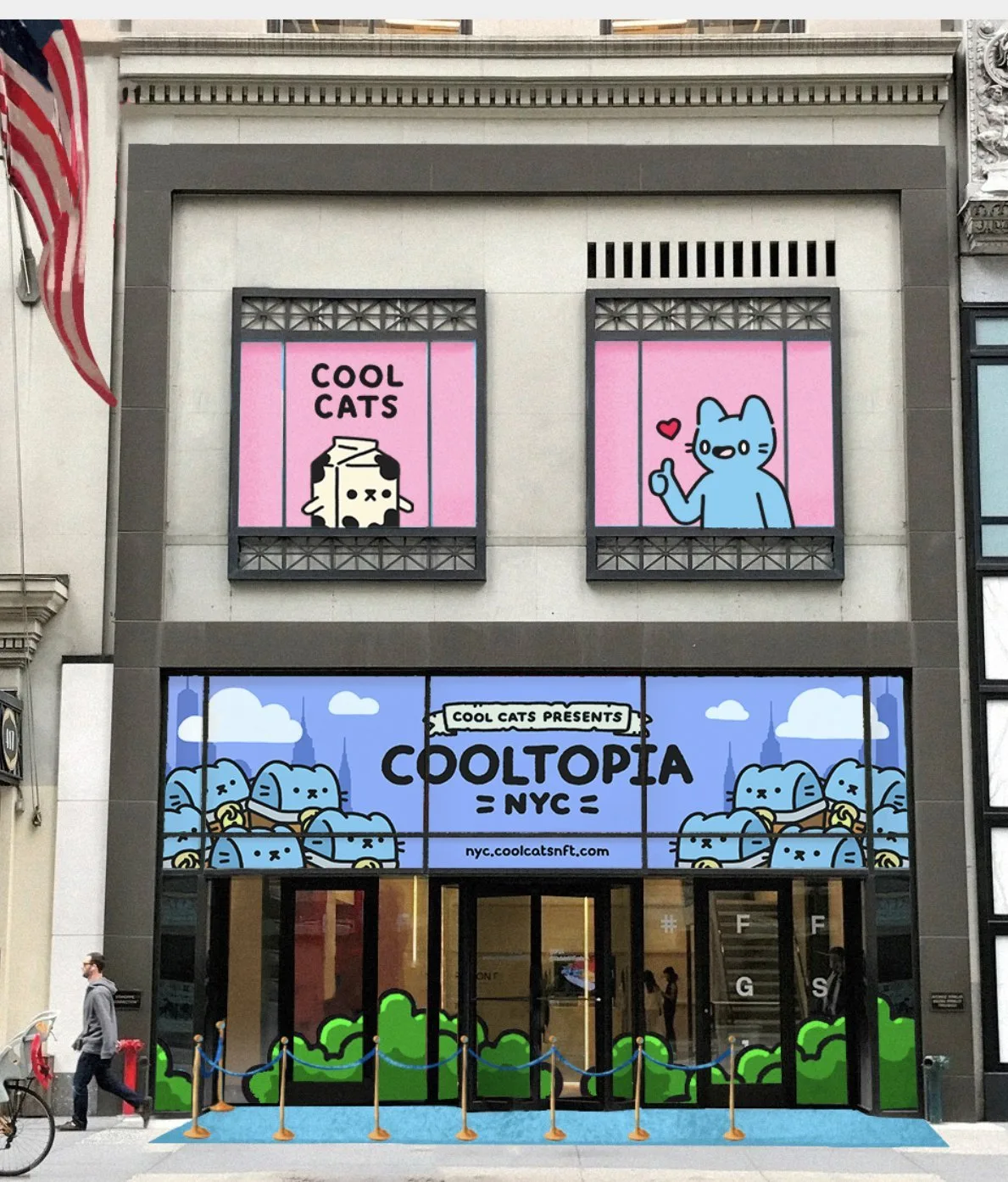 What pieces of work are you most proud of?
I'm incredibly proud of the brand I've curated for PizzaDao / Rarepizzas, and the contributions around the growth of the organization. It's certainly not something I did alone, but it represents a body of work at the intersection of so many interests of mine.

It was a project that was conceived during an emotionally challenging time during the pandemic when a lot of creators were starving for interaction, engagement, and inspiration. People were struggling financially, feeling detached, and yearning for a beacon of positivity.

RarePizzas was birthed in Clubhouse during a conversation about social goods, pizza, and web3. I was one of the first few folks that came into the project as an experienced designer and saw a huge opportunity in what some of the others were trying to build.

This room in Clubhouse, "The room about nothing" was my introduction to one of the most creative and impactful journeys of my entire career.

I helped design a platform and brand around the NFT release, a launch that raised nearly $1m in a month. We would then use the funds to throw the world's largest pizza party - collaborating with pizzerias all over the world - and giving out money to feed their communities pizza. I also designed a number of highly coveted merch drops and continue to contribute to the creative direction and branding of our events and online platforms.

Working with a team of pizza lovers, engineers, artists, musicians, and meme lords, we built a globally recognized web3 brand. We've fed people hundreds of thousands of slices to people in over 70 countries. Threw a few parties with Cheech and Chong. And we've maintained a brand as the most authentic and trustworthy community in web3. Always true to ourselves, true to our mission, and always keeping it weird as hell.

I feel incredibly fortunate to have worked with some really great people on something that impacted so many lives globally, and doing so while making super fun art and building a community of awesome, pizza-loving individuals.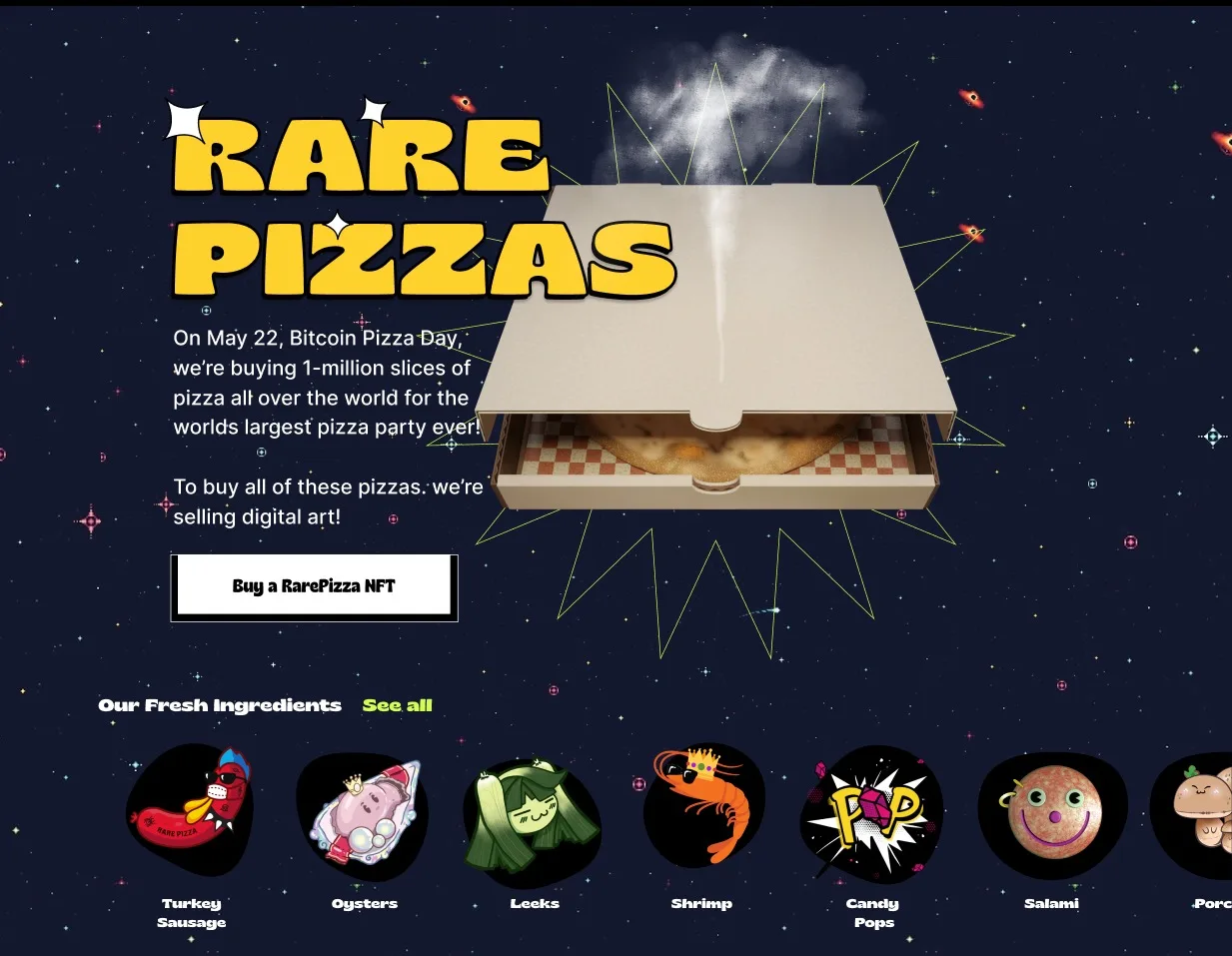 What design challenges do you face at your company?
I think one of the biggest design challenges at any company currently is how to create a strong, unique brand and brand experience in a world that's looking to systemize and streamline everything.

The movements around material design and minimalism have led to great improvements in production speeds, unification, and scalability, but I also think they've contributed to homogeneity.

As noise in social spaces increases, and brands start to resemble each other, how do new brands maintain their unique characteristics in a way that is scalable.
What music do you listen to whilst designing?
Any advice for ambitious designers?
Have patience, listen to others, and don't lose your sense of self.

Being a designer can come with a host of emotions as you try to navigate various personalities, clients, and other stakeholders. Do your best to listen to these people. Learn their stories. Their experiences are what's driving your work. Empathy is curated in these learnings

You likely became a designer because you wanted to explore your creative side. While the design is more analytical and calculative than creative, there are still ways to inject your personal vibes into your work. Try not to let uniformity impact your personal style. Don't lose your sense of self.

Try to remember what it felt like as a kid to explore, use your imagination, and create new things. Not many people are fortunate enough to still know what that feels like.  When things get tough, remind yourself of this, because as a designer, you get to do it every day.  
Anything you want to promote or plug?
PizzaDao is always looking for contributors to continue driving the mission to feed the world pizza. It's an incredibly altruistic organization that is always looking for creative volunteers that want to get involved.