What led you into design?
My original path was in illustration. Art had been pretty much the only subject I was good at in high school and so illustration was the logical choice for me when choosing what to study at University. However, I quickly realised that while drawing and painting were fun as a hobby, it didn't really gel with me from a career and commercial point of view. I also had quite a lot of arguments and disagreements with my tutors, so much so that I eventually dropped out.
Back in high school (over 15 years ago now) I started to learn HTML, CSS, and Flash as means to get my drawings and comics online to share with my friends, but it never occurred to me until later that I might be able to make a career out of it. After dropping out of University - and with the illustration industry soured for me - I decided to give it a shot; I cold-emailed around 20 web agencies in London (where I was living at the time) asking if they had internship opportunities. Only 1 company got back to me! Even though I had zero design experience (aside from my personal side projects) and no degree (it was a bigger deal back then) they decided to give me a chance. I had a 3-month internship with them where they chucked me into the deep end of web design, real-life projects, dealing with clients and the tech industry as a whole. I learned an enormous amount in that 3 months - both about work and life - and I'm very grateful for my time there. After my internship ended they offered me a full-time position, and I guess the rest is history!
What does a typical day look like?
The first thing I do when I wake up (around 8 am) is checking my phone for any emails or Slack messages that have popped up during the night. I run a remote company and work with people based all over the world so often there will be a bunch of things that have happened overnight for me to check up on. This may seem a bit extreme as the first thing to do in the morning (before I even get out of bed!) but it actually helps me wake up. If there are any urgent things I will respond to them right away, but mostly I like to just take it all in and then I can think about things while in the shower and also while walking to work.
I used to work from home, but recently I moved into an office space nearby. I enjoy getting out of the house and having a bit more of a separation between home and work (yes I realise checking work emails in bed is contradictory to this!) plus in Brisbane almost every day is beautiful and sunny, so it's nice to get some fresh air and sun on the way to work. Once I get into the office I will respond to any emails or messages that need action, have a quick glance at Dribbble, Twitter, etc, and then start getting on with my work for that day.
During lunch, I always make sure I get out of the office and go for a walk to get some fresh air and let my brain relax for a bit. I spend a lot of time in front of devices all day, so it's good to take a break and let myself reset. The thinking time is also useful if I'm ever facing a tricky design challenge, the walk usually helps clear my thoughts and come to a solution. Plus, again, beautiful Brisbane weather!
Regardless of how busy I am I will usually try and leave the office around 5 pm. The workday hasn't necessarily ended for me but I like to get back home to my wife so that we can spend some time together, even if that time is spent just sitting on the sofa while she watches TV and I do more work on my laptop! I usually spend this time in the evenings catching up on more emails, Slack messages, updating Tello/Jira, getting back to new leads, sending invoices, reconciling Xero, etc. Basically, admin stuff that isn't super fun but you need to find time for. If it's a quiet evening then I like to catch up on my gaming. I'm currently playing (and loving) God of War on PS4.
What's your setup?
I recently got the new iMac Pro, which I absolutely love! It's a beautiful machine, has more power than I'd ever need, and that black keyboard and mouse!! I also have a 2016 MacBook Pro 15" which I now keep at home for evening work.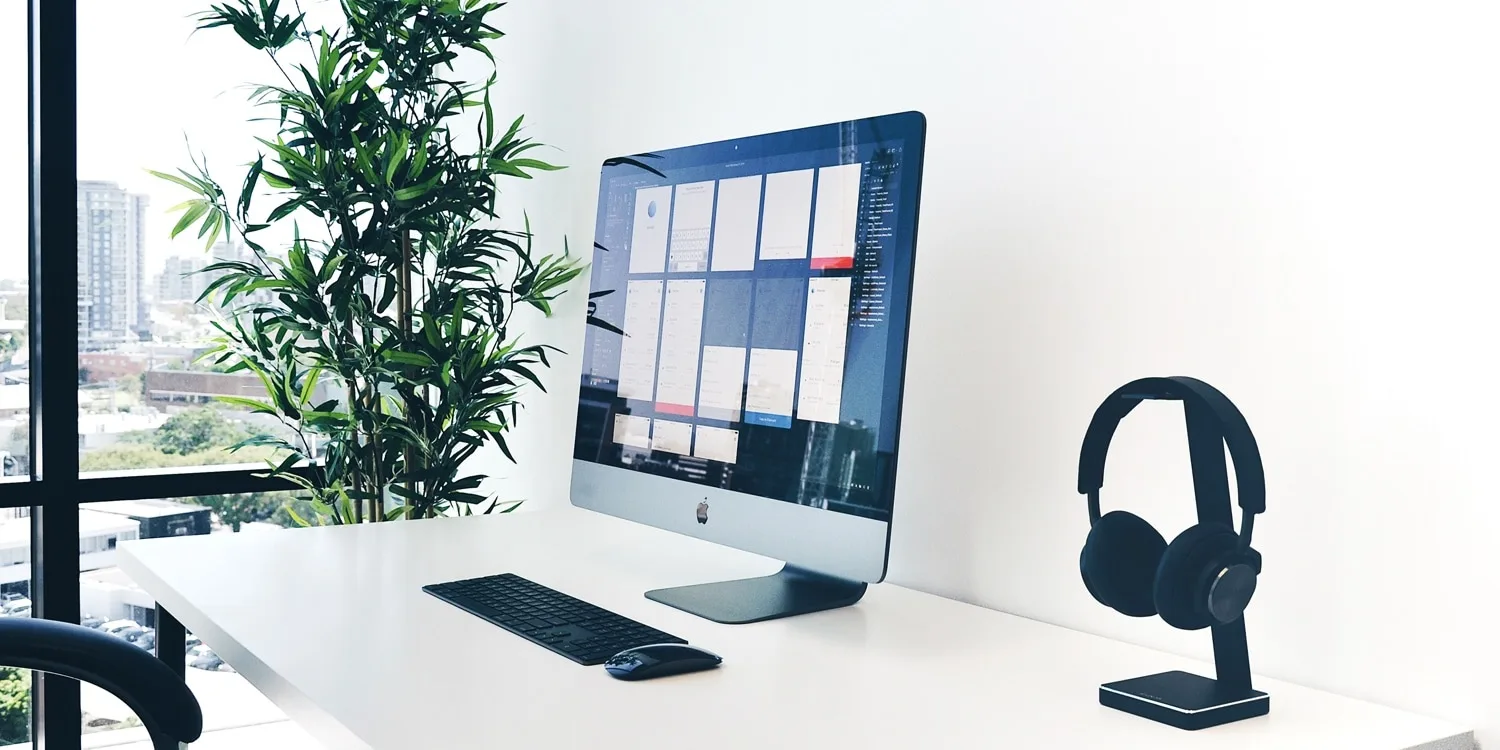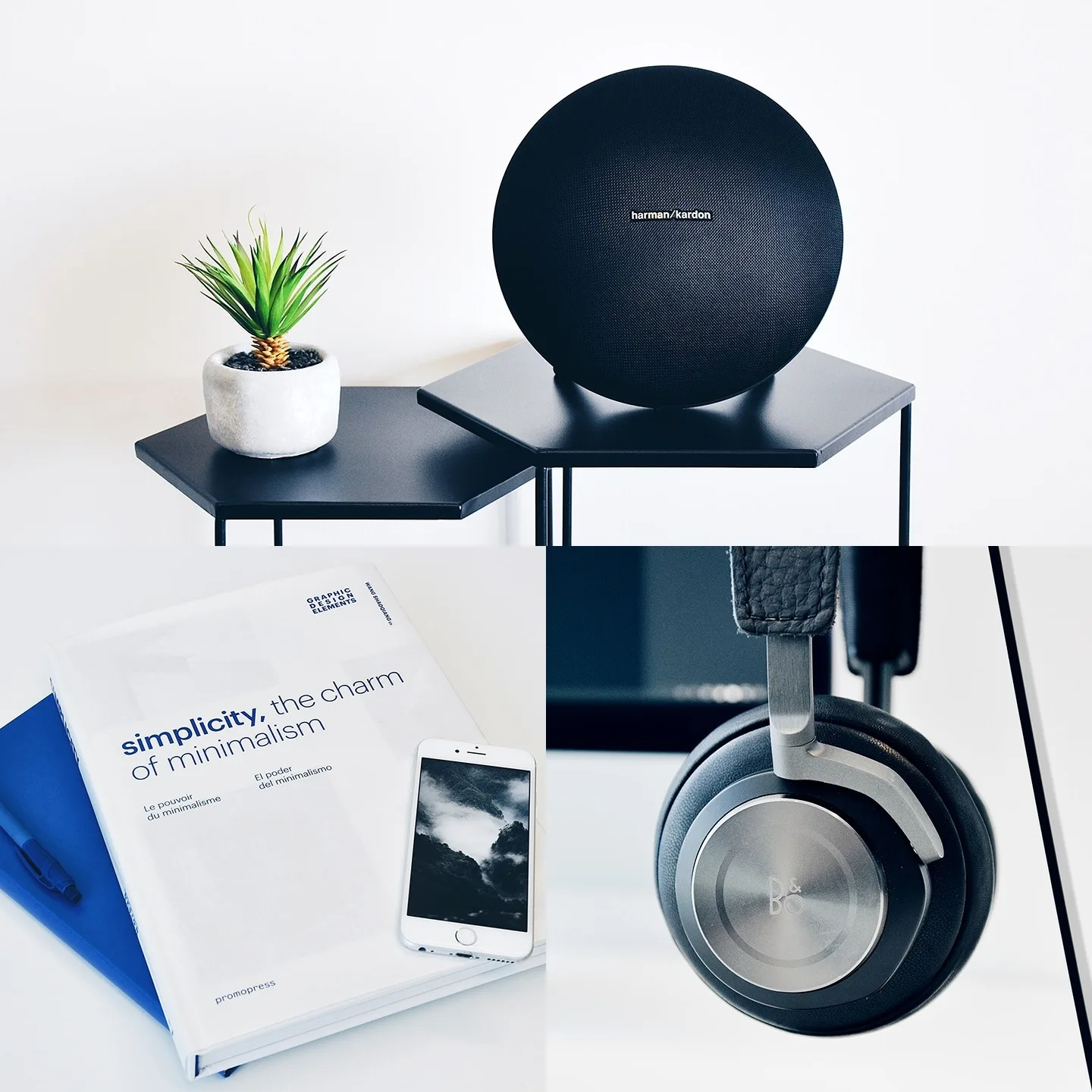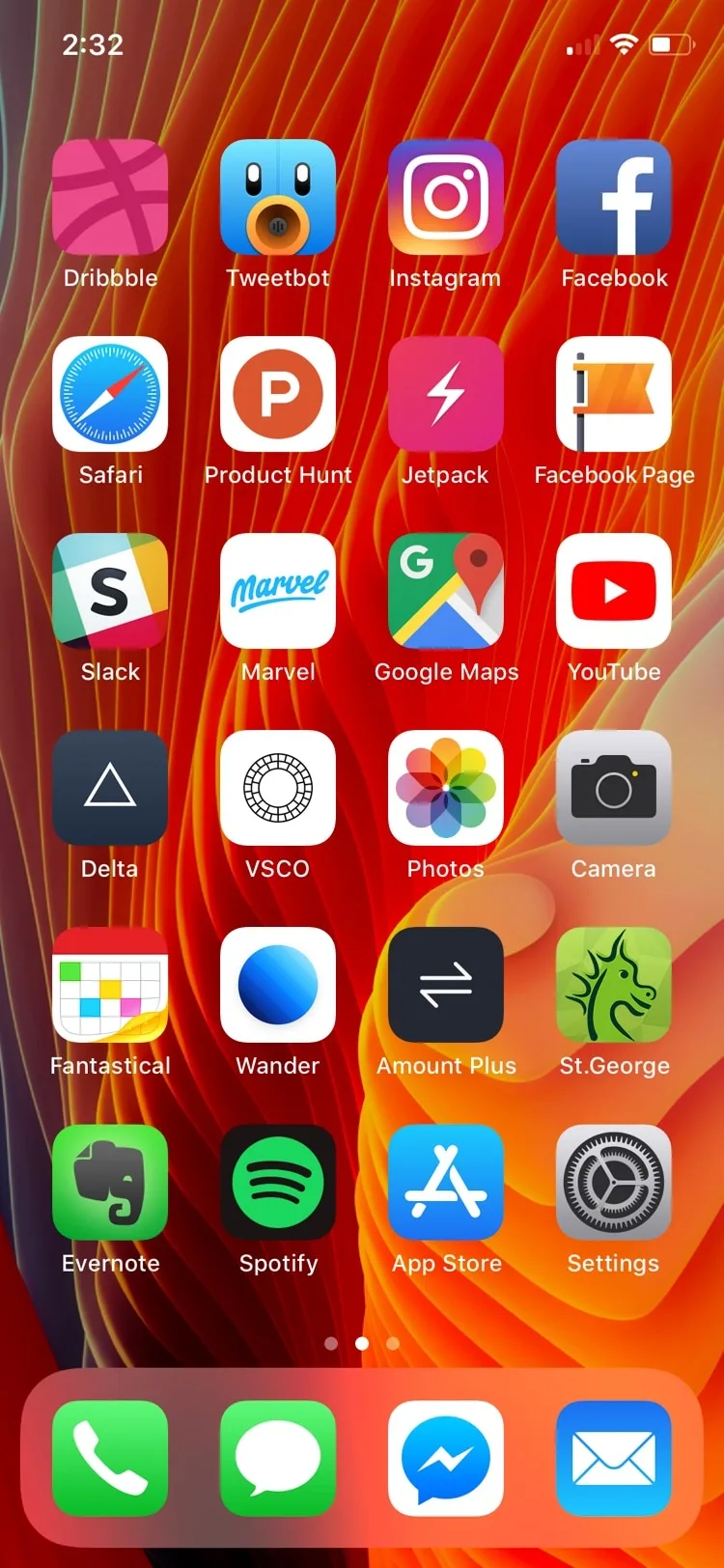 Where do you go to get inspired?
The main source for me is still Dribbble. There are just so many fantastic designers there and every day I see new work that makes me go "damn, I need to get better!". It's that constant struggle that drives me forward and pushes me to improve my craft.
Some other sites that I frequent include UI Jar, Land-Book, pttrns, Product Hunt and Designspiration.
I also follow a bunch of design studios that in my opinion produce consistently amazing work, including Cuberto, Bien, 3drops, Ramotion, Balkan Brothers, Yummygum and Netguru.
What product have you recently seen that made you think this is great design?
My favourite product at the moment has got to be Webflow, it has literally changed my life as a non-coding designer! For those that don't know, it's a web app that allows you to build websites without writing a single line of code. There have been some similar products in the past but in my opinion, these guys have really nailed the product challenges and user experience. It has some very powerful features like CMS collections, animations, Zapier integrations and eCommerce allowing you to build some pretty complex sites. It truly is an amazing product and they have a brilliant website as well.
Marvel is another great product that I use every day for prototyping. I've been using it for over 5 years now, and it's great to see the team go from strength to strength. They also just updated their website which looks awesome. Go check them out!
Some recent websites I'm loving at the moment include Hiway, Stripe Billing, Toggl, GT America, Uber City Guides and Webflow eCommerce.
As for apps, some of my favourites at the moment include VSCO, Jetpack Hashtag Assistant, Amount Plus and Stripe Dashboard. I also really dig the new App Store designs, they did a great job there, especially with the "Today" section.
What pieces of work are you most proud of?
At Overlay, we recently launched our first internal app called Wander - a simple world time app designed for people like myself who deal with a range of time zones on a daily basis. While the features are very basic at the moment, it's the first side project I've actually followed through with and launched, and we've received a decent bunch of positive comments and feedback so far. We're currently working on some cool features for v2 which we hope to launch later in the year.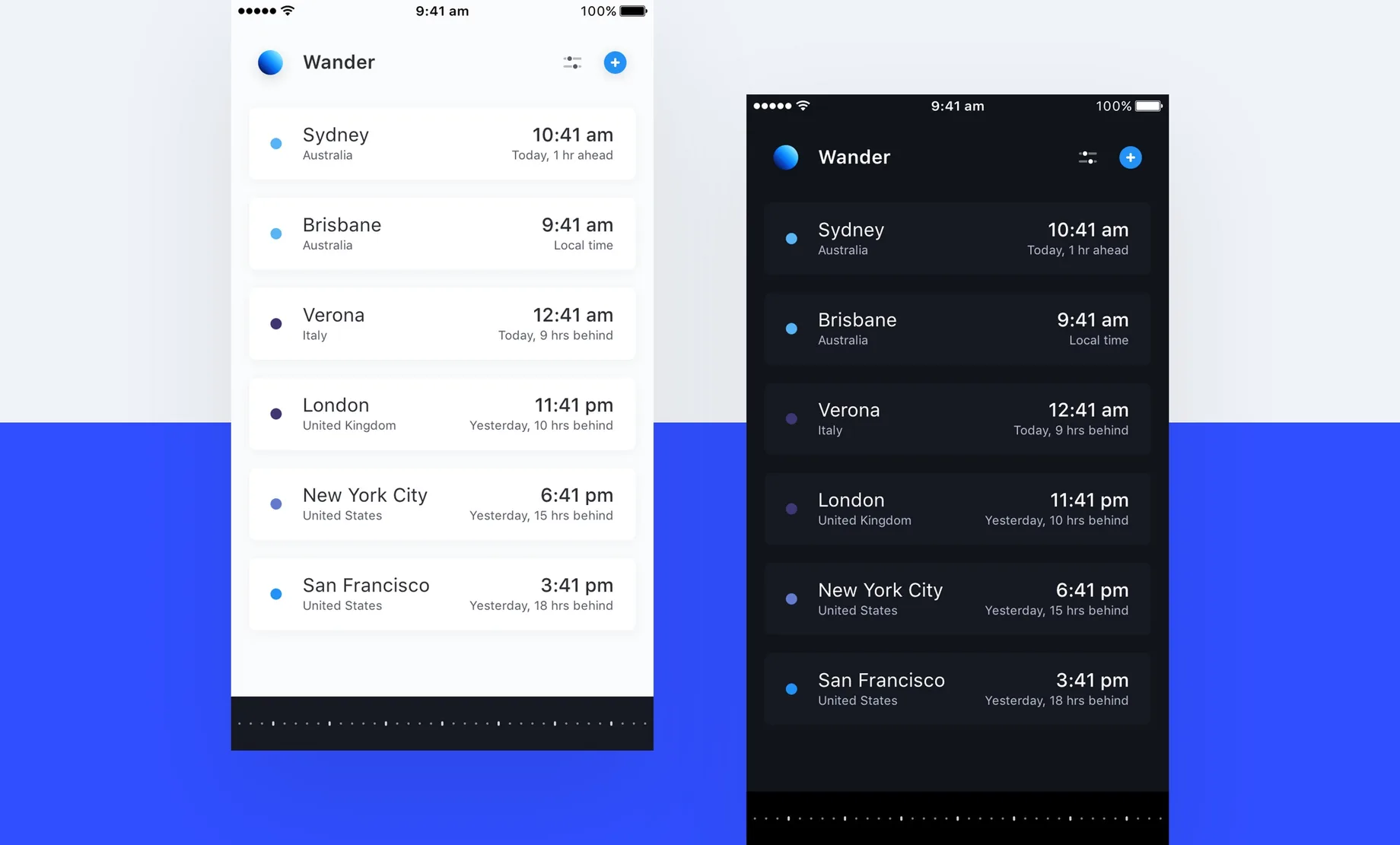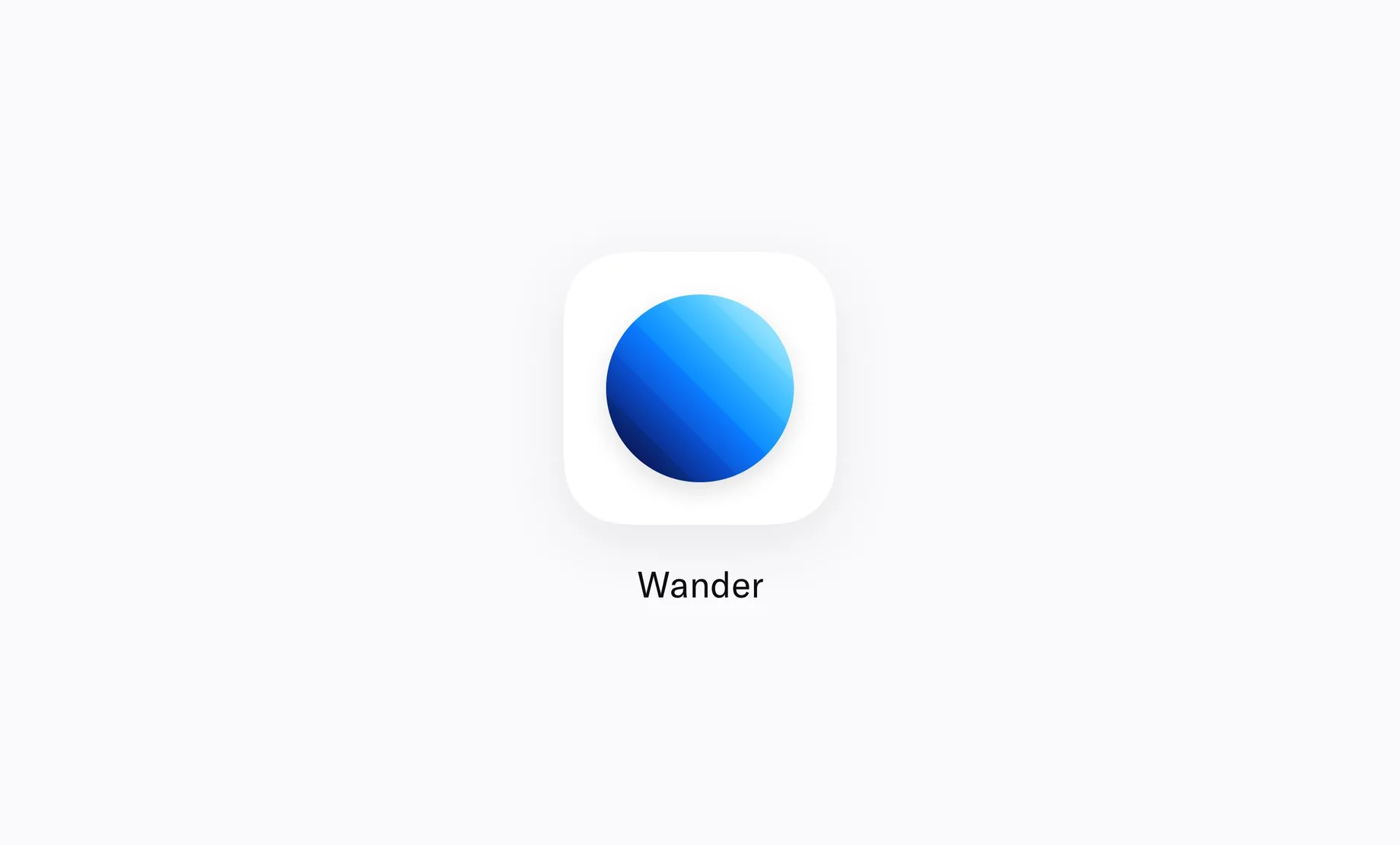 Another recent(ish) project I worked on that I enjoyed is Paw Me Up - a social network app allowing dog owners to connect locally, make friends and arrange "doggy play dates". It was just a 1-week project to come up with an initial concept and prototype for the client, and while the app never ended up seeing the light of day, I'm quite happy with the bright and friendly UI I created.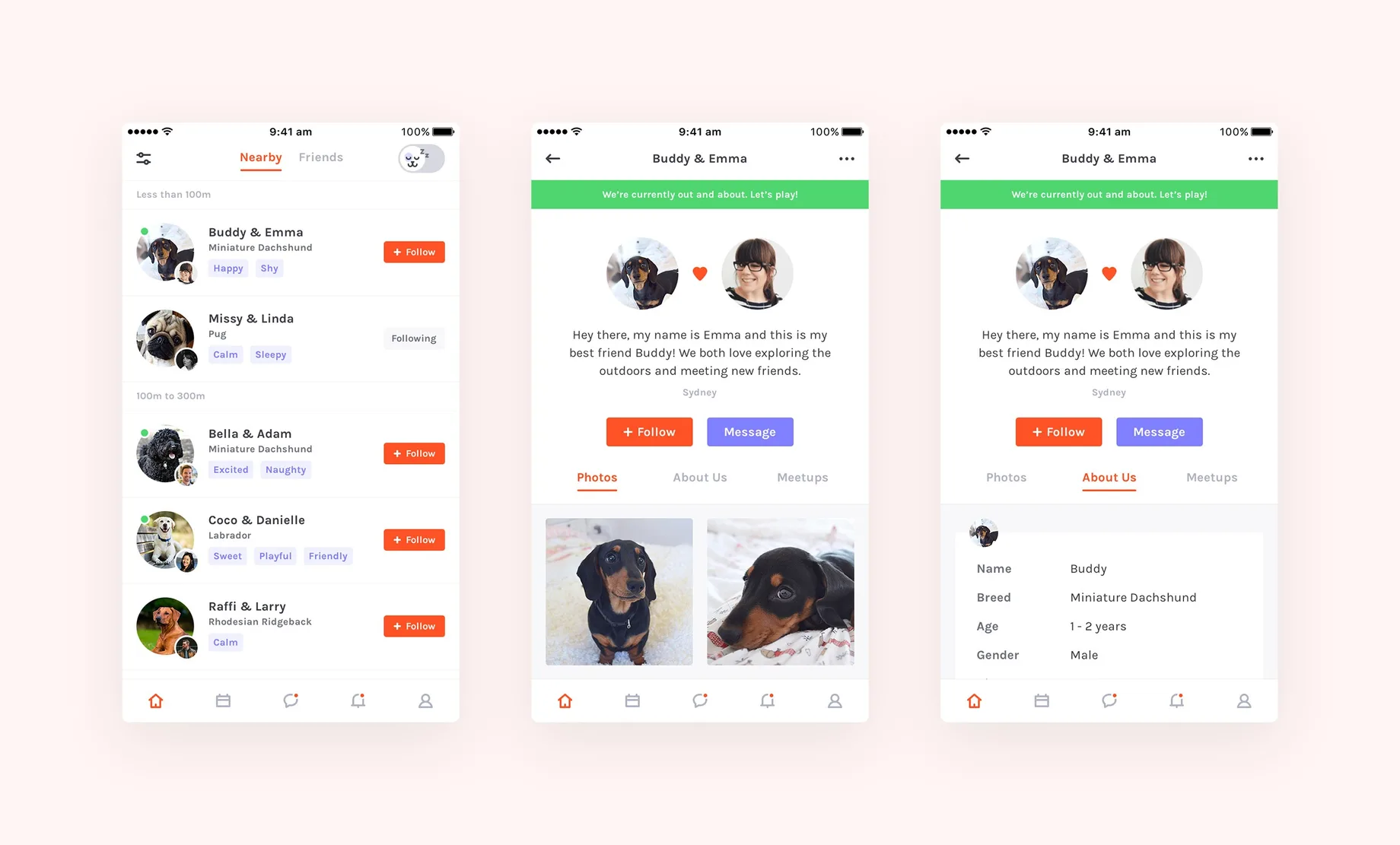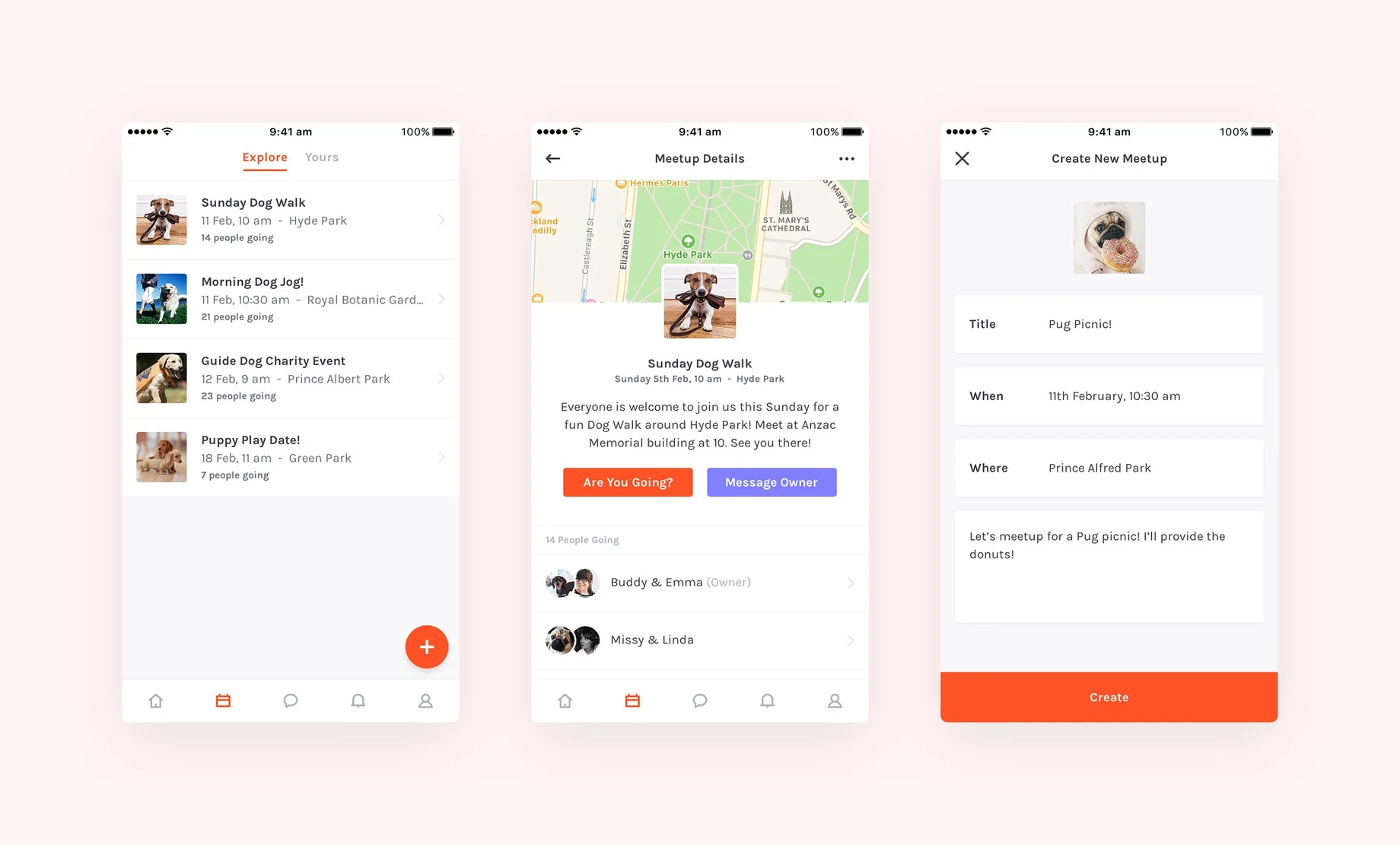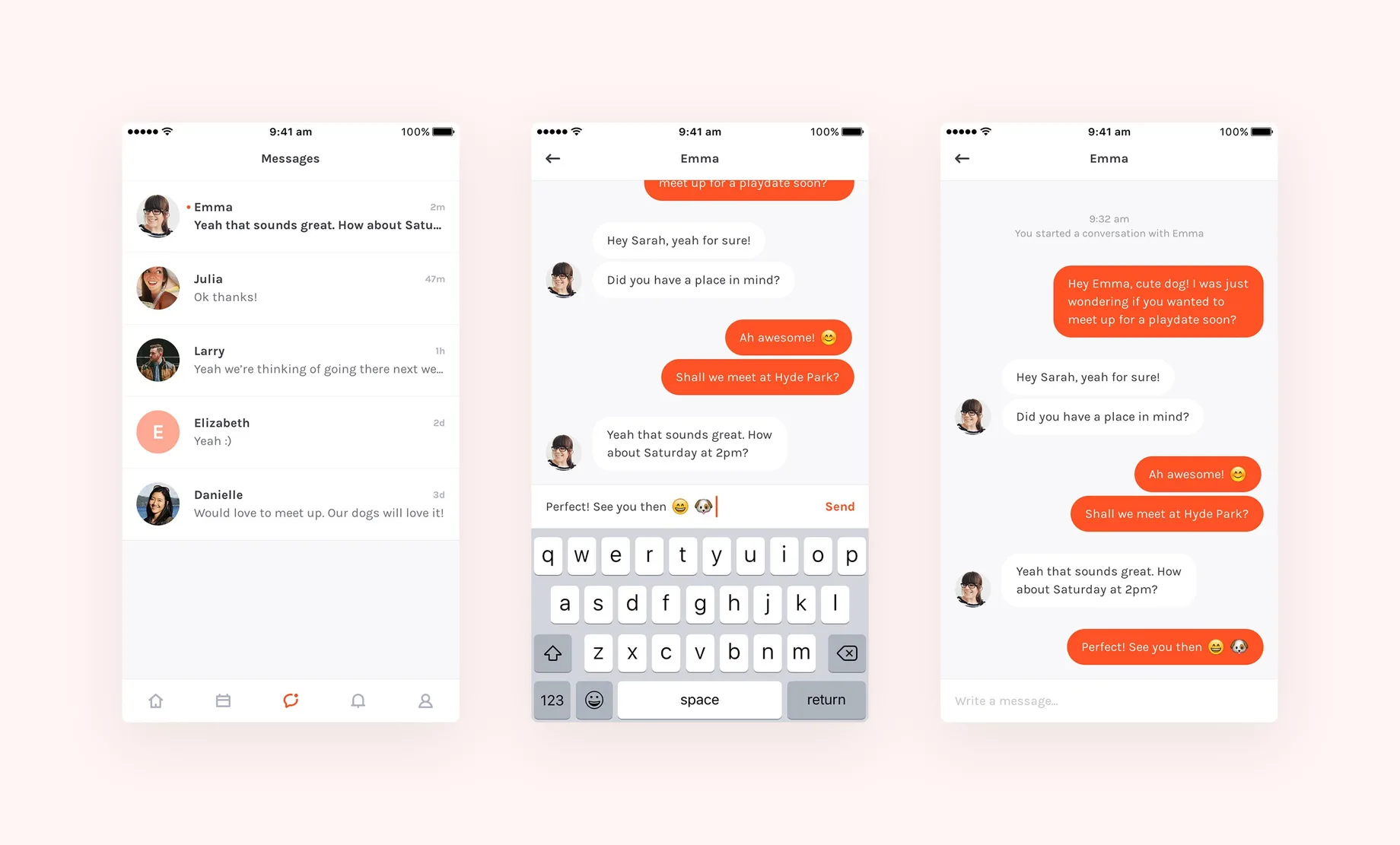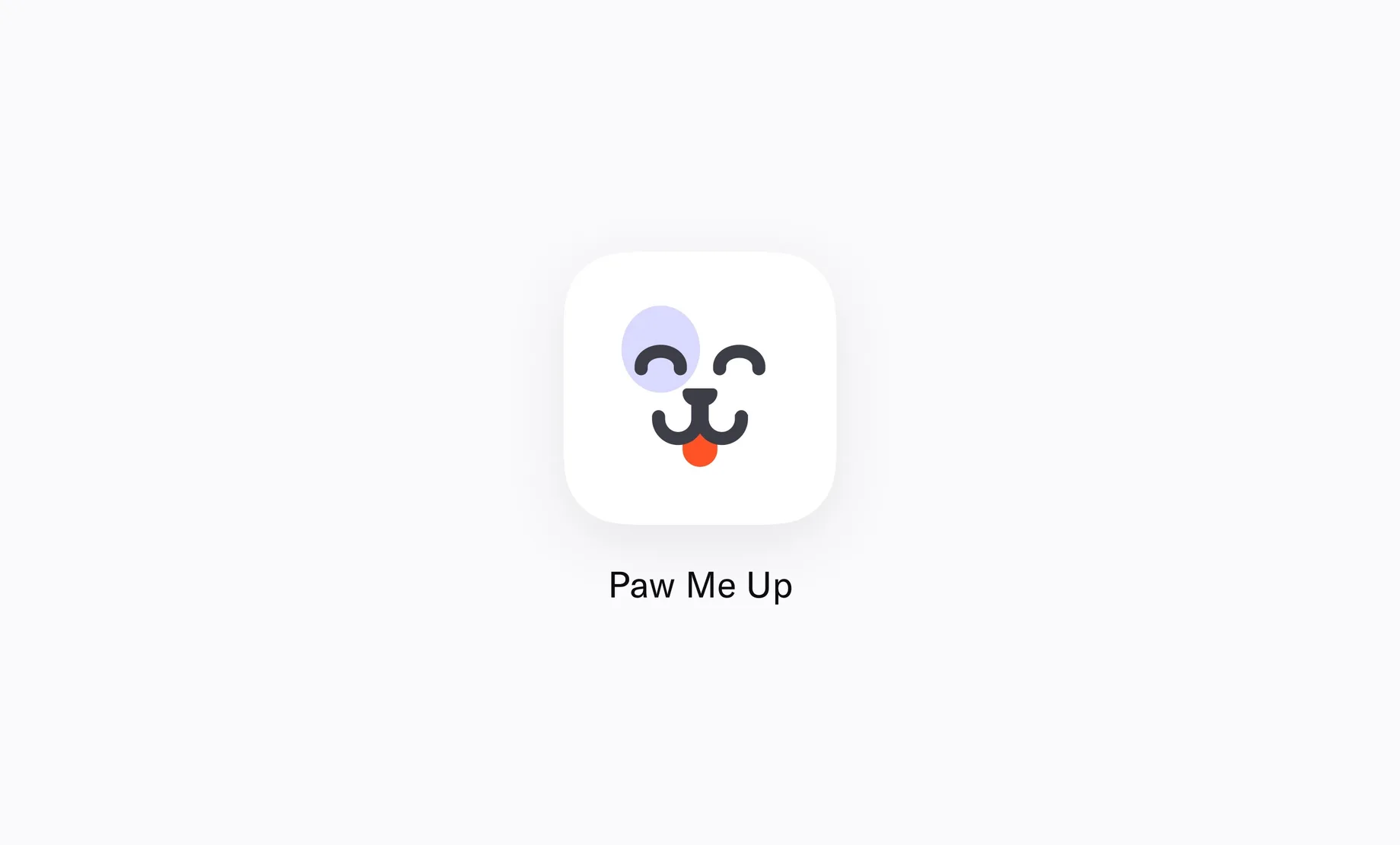 What design challenges do you face at your company?
One thing I always come up against, from a design point of view, is the battle between time and quality. Those clients that want your best, but in the shortest time frame possible! It's something I think a lot of freelancers and studio/agency owners face. When I used to work in-house for other companies, I feel like there was more time to,, to think about things for a while, come up with a few possible routes to take, explore options a bit more. But when dealing with client work, I feel like I have to go with my gut a lot more. Some clients are great and really understand the importance of trying things out and making mistakes (and the benefits that can create long-term), but then you also get those clients that just want the solution right away, so you have to make do and just try your best to not screw things up! I think it takes a bit of experience to learn what generally works and what doesn't, you have to have made those mistakes to know not to make them again. Which is why I think it's important for younger designers to spend a few years at agencies or startups before going out on their own.
As a small business owner, there are also other challenges involved, which you don't really have to deal with when working for someone else. Having to wear other hats other than "designer" and being able to manage your time effectively can be challenging. There is a lot of admin work involved and also a lot of pressure to keep bringing in new work to maintain and grow the business. It's something I'm still pretty new at and didn't really come naturally to me.
What music do you listen to whilst designing?
Any advice for ambitious designers?
Firstly, practice, practice, practice. Design is a craft and a skill, and just like any other skill, it requires dedication, discipline, and hard work. Constant hard work. There's always something new to learn and areas to improve on, so never let complacency get in the way of that. Remain humble, stay hungry, be prepared that there will always be someone better than you, and use that to drive you to work harder at your craft.
Secondly, remember that behind every great interface is a great experience. Making something look beautiful is fine, as long as the function it's supposed to perform doesn't get lost in the process. There can be a bit of confusion and mixed opinions on the role of a UI designer vs a UX designer, but for me, if you call yourself a designer but don't ever think about the experience, then you're more like an artist. If that's what you're going for then that's cool, but if you want to be a designer it's important to always remember what design is supposed to achieve.
Lastly, as I mentioned earlier, if you're just starting out in design, I'd recommend going to an agency or startup for a couple years to learn from others and work on your craft before worrying about going out on your own. I see a lot of young designers fresh out of school trying to make it as a freelancer - maybe because of the allure of flexible work hours or making more money - but working for yourself, as fun and freeing as it can be, can also come with complicated, time-consuming and even stressful baggage. Baggage that can easily distract and stunt your growth as a designer in the early years.
Anything you want to promote or plug?
You can follow Overlay on Dribbble, Twitter, Instagram and Facebook as well as checking out our website Overlay
Shoutout to some friends and people I think you should be following: Marco Sousa, Cam Macbeth, Ben Bate, Jonno Riekwel, Natalie Harper and Caroline Lewandowski.
Finally, if you're in or around the Brisbane area, check out the Product Design Meetup group and the UI Design Meetup group, maybe I'll see you there!