What led you into design?
I was raised by designers: my father's side of the family is from Thailand, and my parents designed a handbag line that was produced there in collaboration with my uncle. Growing up, my parents would let me tag along on their business trips from Rhode Island to NYC, where we would go to trade shows.
There, I'd be surrounded by creatives and entrepreneurs from all walks of life, so from a young age, I was drawn to the creative industry and hoped to own my own business some day. At the time, I had no idea that my entrepreneurial spirit would lead me to type design. During college at Parsons School of Design, I met my future business partner and husband Lucas Sharp, a very talented type designer. In 2015, we founded Sharp Type, a digital type foundry.
What does a typical day look like?
For context, there are eight of us at Sharp Type full-time, plus a cadre of design collaborators. We operate remotely, so our team is spread across the world: Spain, France, Hong Kong, New York City, Los Angeles, and San Francisco. We're a truly global foundry. As CEO of a small studio that's growing every year, the nature of my role is multifaceted, but alongside Lucas, I'm establishing the tone and direction of the company. Even though our team is relatively small, or maybe because of this, it's important to understand the dynamic amongst our employees so that I can support, protect, and push them to do their best work. My background is in graphic design and branding. I'm not a type designer, but I've had to develop a holistic understanding of the art form from an aesthetic as well as technical standpoint.
I'm based in SF–the latest time zone–so my day starts early. Typically, after I wake up, I'm immediately on a group call with our team. Fostering a collaborative creative culture requires a "big picture" overview of not just our studio, but the greater typographic landscape. The type design industry is in a very exciting time when there's a lot of innovation happening, so it's essential to stay current and think ahead of the curve, but it's also a field that is beholden to the typographic exemplars of the past, not to speak of the essentials like accessibility, inclusiveness, and, of course, readability. A fundamental part of my job is figuring out the best ways to connect our exciting concept-driven design ideas to a pragmatic and innovative business strategy. We have a lot of great product releases in various stages of production, so figuring out how they all fit together is also its own creative challenge.
After my morning check-in, I'm typically brainstorming new ideas for the company, strategizing on our marketing plan, outlining product releases, managing clients, and routinely speaking with our lawyer about licensing. That said, my favourite times are when I have an opportunity to concept and produce a creative project like I did during this past holiday season: we did a Sharp Type "Holiday Yule Ogg" (pun intended), a live four-hour video of a traditional Yule log fire, using custom cut letters of our typeface, Ogg Text. This was a way for us to do something different and fun–not just from a marketing standpoint, but for ourselves as creatives.
What's your workstation setup?
Where do you go to get inspired?
One of my favourite ways to find inspiration is through my team. Every Monday during our meeting, we share something interesting that we did in our free time. This is a great way to learn about what's going on in the world through them. Lucas and I also give our designers Fridays to work independently on their own type designs. Being able to look over their proofs and seeing their work progress from sketches to publishable typefaces over months–and even years–is a source of constant inspiration that I think is unique and really special.
There's also nothing better than visiting antiquarian book stores, which is our favourite pastime when Lucas and I are travelling. We have found books dating back to the 13th century that have been fodder for upcoming product releases or promotional materials.
Finally, we love visiting the Letterform Archive in San Francisco and digging around their archives. It's a non-profit with an incredible collection of historic and modern books and print materials about lettering, typography, printing, and graphic design.
What product have you recently seen that made you think this is great design?
Anagha Narayanan's new typeface blows me away every time I see it. It's called Ilai and is published by Universal Thirst. We first met Anagha as an applicant of my non-profit The Malee Scholarship, where she was recognized as a "Woman of Typographic Excellence" for her incredible craftsmanship and talent in type design. Ilai was part of her portfolio, and we immediately knew that she was going places. It's a beautiful take on the Tamil script, and, as Anagha puts it, a "modern execution of 1960s psychedelia". You don't have to understand the script to appreciate its beauty. Her understanding of form is undeniable, and the fact that she took it a step further and made it a variable font is just another display of her incredible talent.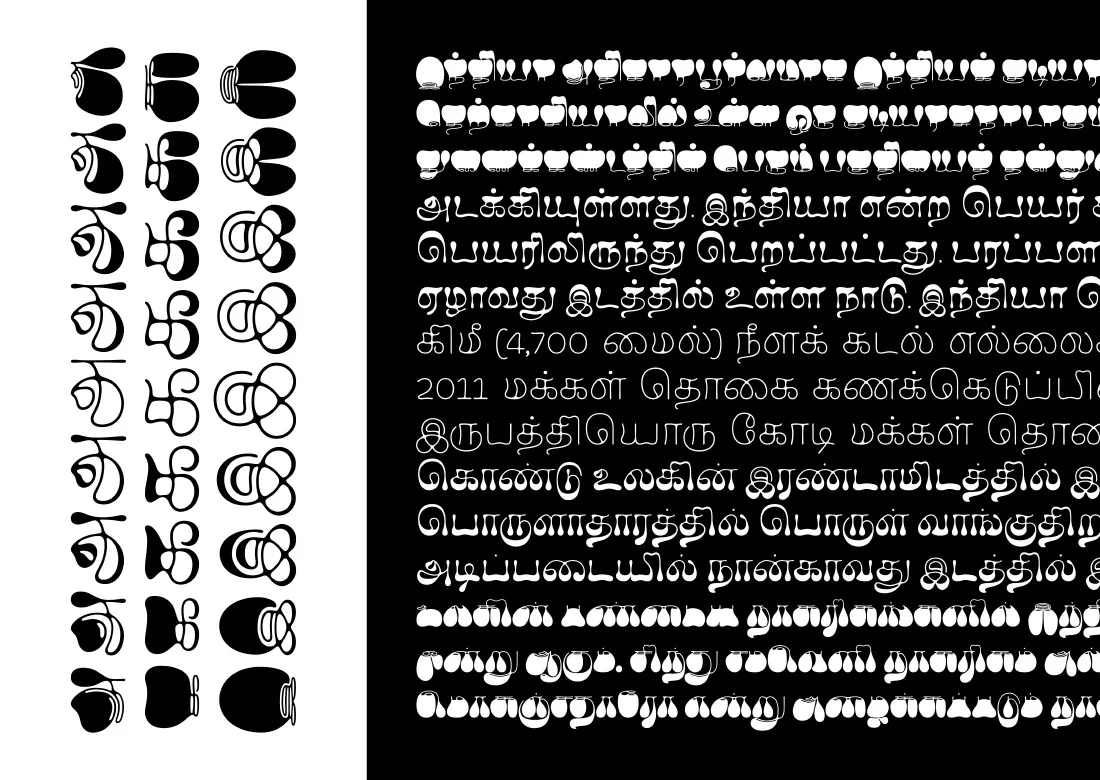 What pieces of work are you most proud of?
I have a personal relationship with our entire library of typefaces for various reasons, but the "OGs" in our library hold a special place in my heart. Ogg is one of our oldest and most well-recognized fonts. For years after its release, it consisted of just one weight in roman and italic. I pushed for a long time to expand it and was so happy when we finally released the superfamily, consisting of four new weights and an entire text family to match.
We released Sharp Grotesk when Lucas and I lived in Granada, Spain for two years. It debuted when we launched our website and was our first official release as a type foundry.
Lastly, I am very proud of our non-profit, The Malee Scholarship, which we launched three years ago. We founded it to support women who come from underrepresented backgrounds and who are entering the type design industry. Each year, we grant $6,000 USD and a 6-course mentorship program to a recipient, and we also recognize other applicants for their contribution to the field. It has become a great source of pride for me. Each year I'm always so touched to read incredible stories from applicants from all over the world. It has taught me a lot about the world, and our industry as a whole, for which I'm very grateful.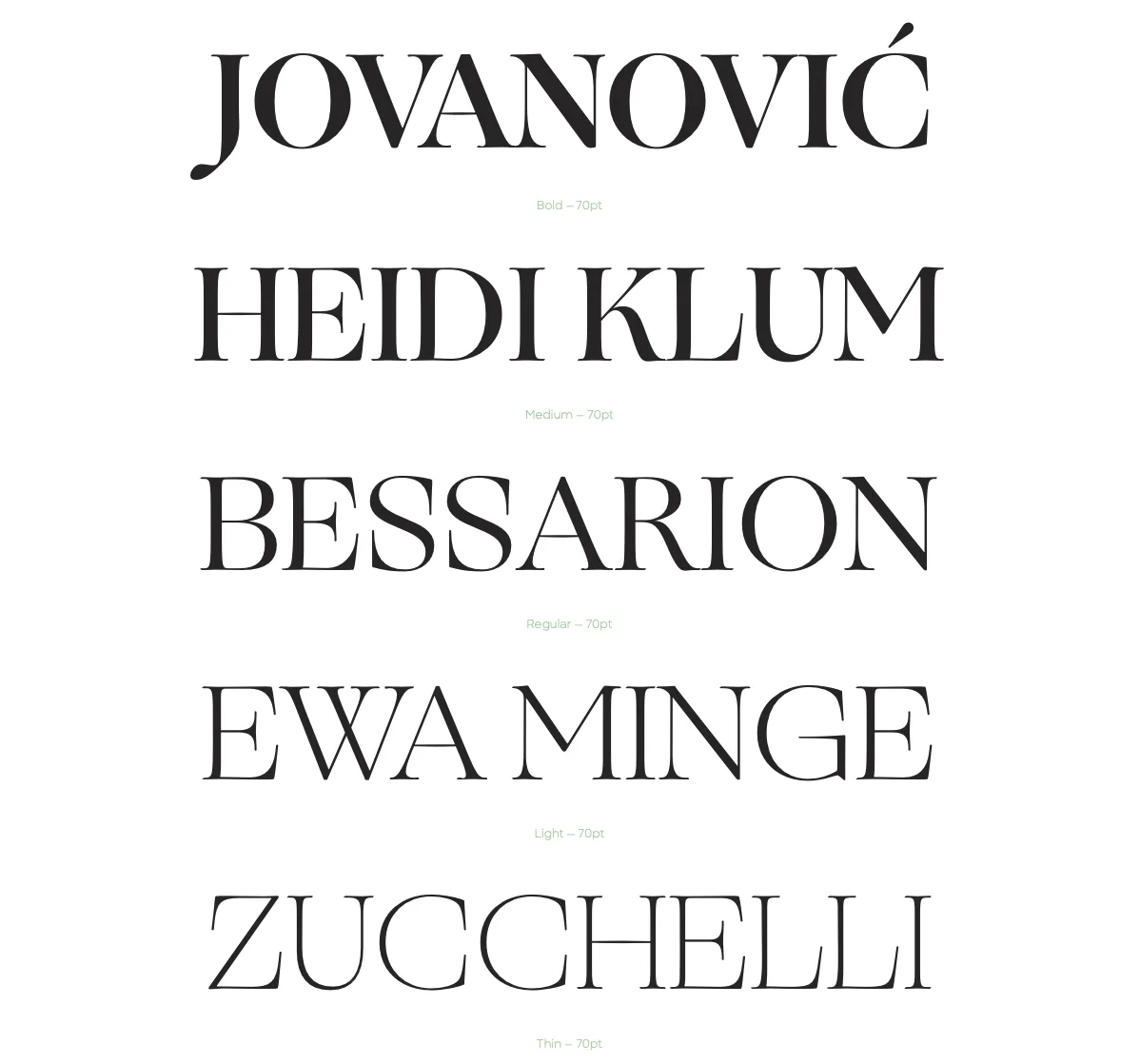 What design challenges do you face at your company?
Type design is a very complex craft, and the greatest challenge we face in that regard is timing. We cannot rush what we do, but we also want to release a product when it may be most fitting for that particular moment in design.
What music do you listen to whilst designing?
Any advice for ambitious designers?
Becoming a type designer can be difficult. There are a lot of barriers to entry, especially financially when it comes to licensing the design programs, buying educational and reference books, and enrolling in notable type design programs to truly learn the craft. The type design community, however, is incredibly inviting and supportive of one another. My advice is to reach out and find your local community, so you can learn without necessarily having to spend your life savings. Within the US and a bit beyond, we have Type Thursdays, The Letterform Archive, The Alphabettes, and individual type designers who offer mentorships, host meetups and offer free education. Take advantage of these resources, and build your own type-community. Finally, when it comes to getting representation for your work, find out your options and make a decision that works for you, whether that means selling on My-Fonts to get your feet wet, working with a boutique foundry, or even starting your own.
Anything you want to promote or plug?
We just released a new humanist sans serif called Ghost, which we invite everyone to check out. Also, please learn more about my non-profit The Malee Scholarship at themaleescholarship.org. Whether you're a prospective applicant or someone who is interested in supporting our cause, I'd love to hear from you.