What led you into design?
Design has always been a part of my life, and even before I started my career in design, I was fascinated by it. When I was 6 or 7 I can vividly remember my aunt painting a storyboard by hand for a popular Kids' Bank in the 80s (BOB-T) and it was completely captivating. My mom was a super talented artist, so it was a natural progression for me to pursue art in school.
The art room for me wasn't a class, but rather a club where a few friends gather to create – it's here that I grasped the concept of 'craft'. Straight after school, I spent a gap year surfing in the US. Through surfing, I met some incredible designers and illustrators – when I saw them creating with such passion, something clicked for me. From then, I was hooked and honestly, I haven't shifted my attention away from design for 20 years.
What does a typical day look like?
My day starts early at around 6 am. Having 2 kids (6 & 3 years old) as natural alarm clocks means my wife Kimi and I are up with them. I try to stay off my phone for the first hour of the day (always a struggle, especially when working on projects based in the US) to start the day more intentionally. If I can, I try to exercise before I start the workday.
My first stop after school drop-off is coffee, then straight to the studio where I start the day. I'm genuinely excited to sit down at my desk in the morning – the studio is a sanctuary for me, where I can just get lost in design. Unless I have a meeting in the evening, we try to have dinner as a family, and a run around the garden with the kids before they head to bed. Kimi and I get to do some solid work at night when things are quiet, I've always preferred designing in the evenings, but getting enough rest is important for mental stamina, so bed by 11 pm is my cut-off (unless there is a deadline).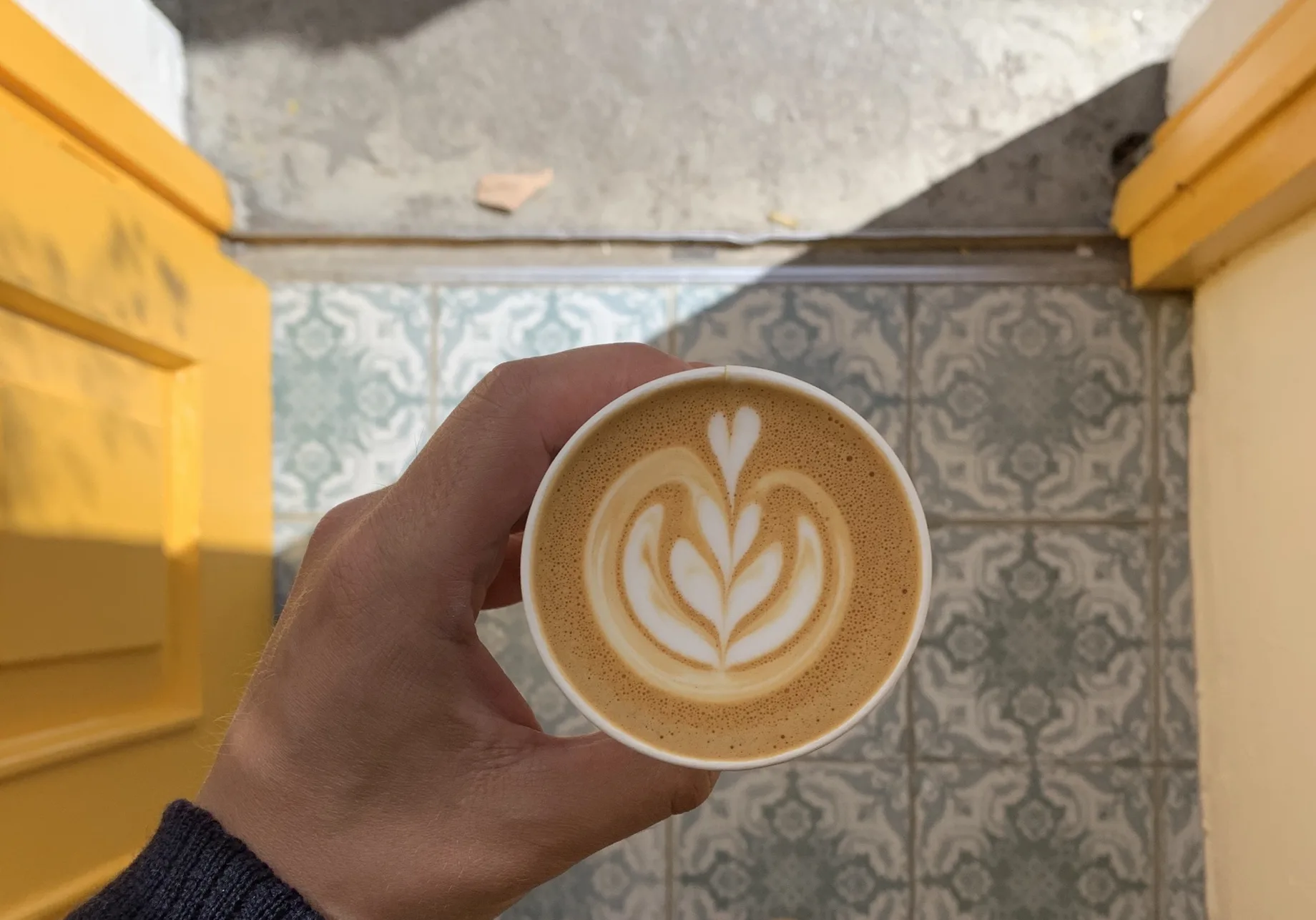 What's your workstation setup?
Simple! I don't function well in clutter. My space typically morphs into whatever project I'm busy working on, so my space becomes a canvas for post-its, sketches, reference materials and loads of books. I usually flip between my iMac and MacBook depending on where I feel like working – winter days feel better working at home in front of the fire.
Where do you go to get inspired?
This is layered for me. I'm most inspired when my mental state is set to ultra-chill, and surfing is the best way I achieve that balance. Beyond the endorphin rush, there is something out there in the water that brings me back to my best, most creative self, especially in Ireland where the elements are wild. So it's the ocean that inspires me, ideas just unlock and flow after a solid surf.
I don't look to the design space for inspiration, as it starts to feed into some generic aesthetics we see out there, so going where design isn't is often a good place for me to start. Social media is a wormhole I try to avoid, the less time designers spend scrolling Instagram for inspiration the better, but it's also a really busy space for me where I've made great connections with truly talented people. The DMs have led me to some pretty exciting and inspiring projects. Finally, music. Music moves people, it sets a tone for our emotions and can put you exactly where you need to be in the moment. I have to listen to music while I work.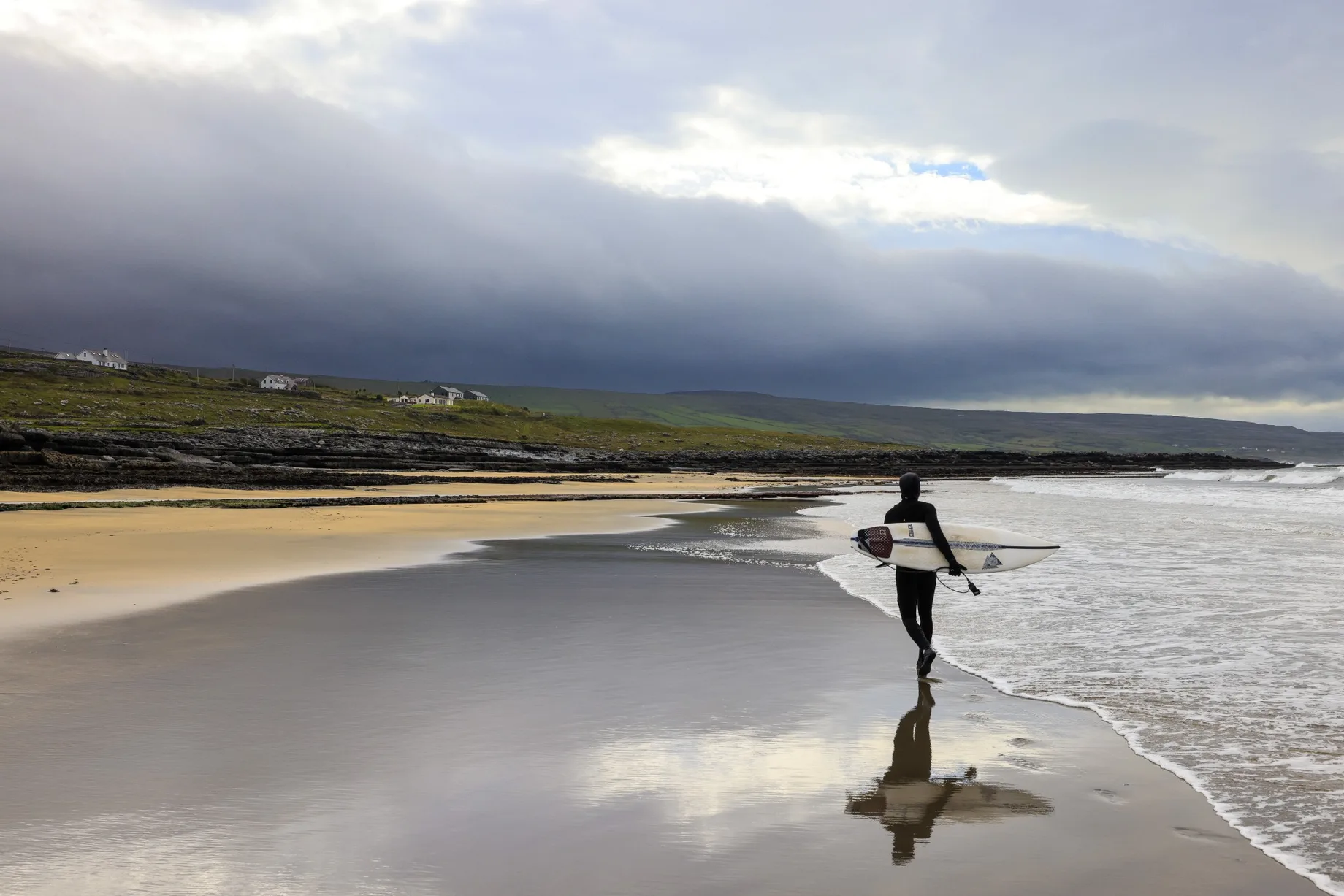 What product have you recently seen that made you think this is great design?
There is a grassed bridge built over the motorway on the way to Galway City from our town, and its sole purpose is to provide safe passage to animals that need to migrate across the motorway. It's a really great design, but the reason it exists (its purpose) is what makes me smile whenever I drive under it.
What pieces of work are you most proud of?
I worked with Selema Masekela in 2020 on the identity for his podcast What Shapes Us. He is one of the coolest, most open-minded clients I've designed for – everything just flowed, he put in as much time on the strategy as we did, and no idea was off the table. Right from the first stages of strategy, there was a really deep sense of commitment and creative energy and from that, a standout identity emerged.
I take every project I work on pretty personally – can't help it to be honest. If I commit as a partner, it's all-in for me. It's important that I feel proud of every piece of design produced at PARSONS and every project makes me feel good for different reasons.
Working with HERO allowed me to play more heavily in the digital space, it's the confident type that gets me excited. For BEAUT, it was the tactile, fluid result of the identity that makes me happy when I reflect back on the identity and how it travelled to packaging.
More recently I worked with my long-time mentor Brian Collins, as a Creative Director of one of COLLINS design teams. Not only did every person on the team know how much you need to ask of yourself as a designer to produce a remarkable identity, but the projects defined the idea of potent collaboration and hard-crafted design. Brian's ability to filter, focus and take design-forward is incredible. COLLINS has not published the project case studies, so there isn't much I will say about them, other than the work made me proud.
What design challenges do you face at your company?
Time. The world is moving at a radical pace and when the goal posts move out on a project, but the deadline doesn't, it becomes more about prioritization, communication and realistic deliverables.
What music do you listen to whilst designing?
Any advice for ambitious designers?
If you're just starting out as a designer, put in the hours. Question everything, read, experiment, make a ton of mistakes - you won't be sorry with where it all leads you.
Anything you want to promote or plug?