What led you into design?
Design has always been part of my life. My mom was an interior designer, graphic designer, and painter who moved to New York to get her masters in interior architecture at Pratt Institute. And since she was a single mom, I was with her every step of the way, accompanying her to the office and classes. While she was pulling all-nighters, I would have free reign of the art studio and I would use students' discarded materials to make sculptures and lego cities. She was always teaching me about form, function, color theory and exposing me to design history. It's pretty remarkable how she was able to turn some of the most stressful times in her life (she moved to the U.S. from Jamaica with only a few hundred dollars and a seven year old) into some of the most fun times in my life

So creativity has always been my closest friend. When I was in high school (and the internet was becoming more of a thing), I got really into websites and branding. I would create all these imaginary brands and businesses in my head, and I would wireframe, sketch logos, and write mission statements in my notebook.

What does a typical day look like?
I work remotely and since I'm on the east coast and most of the people aIl work with are on the west coast, my mornings are pretty flexible. I try to do things that give me joy before I get settled into work. It reminds me that there's more to me than the job I do everyday. That might look like meditating, playing guitar or piano, reading, or skateboarding before work. Even if all I managed to do in the morning was scroll mindlessly on my phone, I always go outside to breathe in some fresh air and meditate, even if for a few minutes.
Then I jump into work, catching up on notifications and answering slack messages. Working remotely means I need to be more intentional about achieving work-life balance. So I've been working on making my schedule more manageable. When I have back-to-back meetings for hours, I'm pretty exhausted at the end of the day. So I try not to put pressure on myself to get a lot of work done on those days. It helps me stay focused and present during those meetings as well. When I don't have days full of meetings, I try to block off a few hours on my calendar and shut down slack (to varying levels of success) so I can get some strategic thinking done and tackle my deliverables.
Now that it's consistently sunny in Atlanta, I try to go skating most days after work. I picked up skateboarding, roller skating, and longboarding in the pandemic. They help me get out of my head and into my body and keep me from spending all day sitting at my desk. Plus, with skateboarding, I'm fulfilling my X-games-loving childhood dreams.
What's your workstation setup?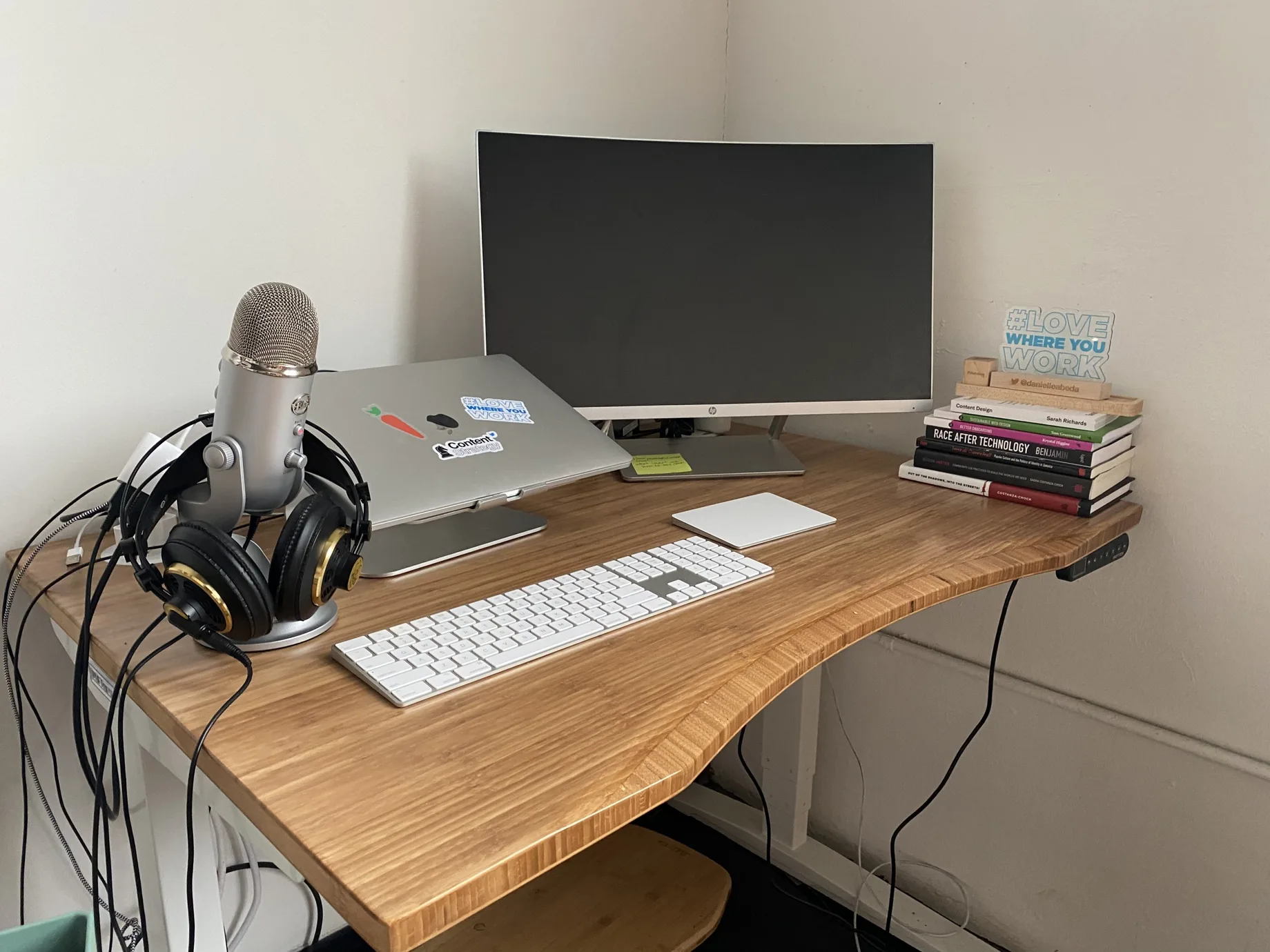 Missing from this photo are a few half-filled notebooks I use to draft content and to scribble notes I won't be able to read in the future.
Where do you go to get inspired?
I get inspired by traveling and exploring. It doesn't have to be a big international trip; just being exposed to new sounds, smells, and stimuli is enough. I love learning from the way other industries, like fashion, architecture, furniture design, interior design, urban planning approach design. Spending time in nature and being intentional about rest is everything. It's good for me, period. And it has the added benefit of filling my creative cup.
What product have you recently seen that made you think this is great design?
I really enjoy Moleskine's Timepage and Action apps. They make the most banal activities—looking at my calendar and writing a to-do list—something to look forward to. The way they design their interlocking experiences shifts my thinking from This is what I have to do today to Thank you for helping me prepare for my day. I feel ready to get started now. And it just has this cool factor with the little sounds and color schemes. You can tell it was designed with care.
What pieces of work are you most proud of?
Recently, my team and I Tweeted a bunch of health concepts we've been working on as part of a series of design sprints. I love that we get to think big about better ways to approach our safety controls and share those early concepts with our customers for immediate feedback.

What design challenges do you face at your company?
There are so many problems to tackle in the health space and the need is so great, it's easy to get overwhelmed or overwork myself. It's hard to detach because our work impacts the safety of people on the platform. But my manager always reminds me that "it's just a job." As much as I love my work, it's not all that I am.
What music do you listen to whilst designing?
Any advice for ambitious designers?
Be kind to yourself. The work isn't going anywhere. Ambition is great, but are you taking care of yourself? Are you doing things that bring you joy? Who are you outside of work? At least, these are the questions I try to ask myself everyday.
Anything you want to promote or plug?
I'm lucky enough to know some great people and orgs that are doing cool, important work.
Check out my friend's Jotxrecuerdos podcast (@jotxsyrecuerdos), which documents queer stories from the frontera
Order my friend Zeba Blay's (@zblay) book Carefree Black Girl
Support Charis Books, local Atlanta feminist bookstore, and Southern Fried Queer Pride (@sfqpatl), a local Atlanta queer community org
Support my friends' community-focused garden work (IG @blackfemmegardens) by sponsoring a garden
Say hi on Twitter and IG @danielleabeda
And for all my queer and trans creatives of color, I would love to feature you on @qtpoccreatives