What led you into design?
Two moments in my life, 13 years apart. The first is when I took apart my parents old Macintosh and learned about the people who made it. The second was when I got my first job in the industry as a web developer.
I can't remember a time where I wasn't obsessed with making. Like most children, it started with LEGO, but once I discovered the screwdriver, the rest of my childhood was spent taking apart old appliances and electronics from thrift shops. Eventually, I would learn how to put them back together and reconfigure the parts with a soldering iron and a Dremel into my own creations. I'm still very inspired by bricolage artists like Tom Sachs.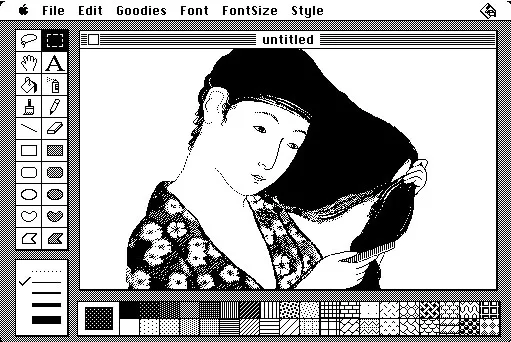 MacPaint, 1984
At the same time, I discovered my parent's old Macintosh and fell in love with the software on it. Growing up with parents who cared about craft gave me an appreciation for detail at a very young age. Some part of me could feel the love that people like Hertzfeld, Atkinson and Kare put into Mac OS.
When my parents replaced it, I took it apart and discovered the signatures of the Macintosh team engraved on the inside of the plastic case. Seeing these signatures on the inside of a product connected the dots between the machines I had been fascinated by and the people that make them. This would start a life-long quest for design excellence and a bit of an obsession with Apple.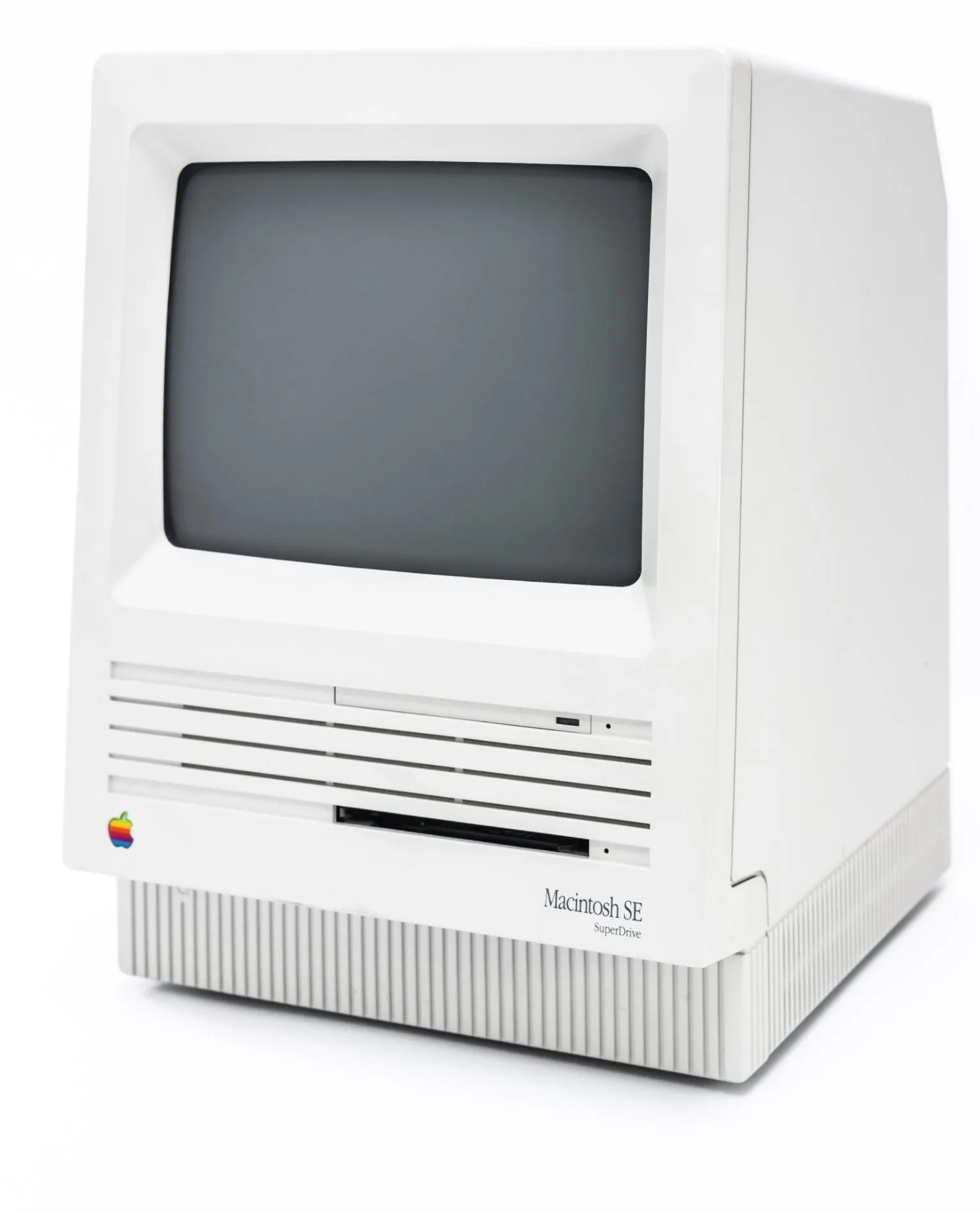 Noticing my affinity, my parents bought me my own Mac, which was huge of them. It was a Powerbook G4. I acquired Photoshop and Dreamweaver and started getting into designing and building websites, sometimes even for profit.
After studying science in university, I taught myself a little design and a lot of code in the evenings after my job as a consultant. I was obsessed again. I got really excited about iOS. I designed and built an app for the iPad and a game for my iPhone and sent them both to Teehan+Lax. Eventually, Geoff Teehan gave me a job as a junior developer on his team.
Seeing the attention and love that Geoff's team put into product design, was when I realized that websites and apps were a serious pursuit. I learned more about good product design in a year there than I have in the four years since. I left to co-found my first start-up and the rest has been in the elusive pursuit of crafting a really great software company with my co-founder Mike.
I actually only recently decided to call myself a 'Product Designer'. I have a deep appreciation for beautiful code and still write quite a lot of it. I am also a founder. I suppose you could call me any of these ¯\ (ツ)/¯
What does a typical day look like?
I wake up at 6ish, stretch, shower, and sometimes meditate. On Tuesday and Thursday, I take my dog on a walk. On Mondays, Wednesdays, and Fridays I run five or ten kilometres. I cycle in to work nearly every day, getting into our office at around 9ish.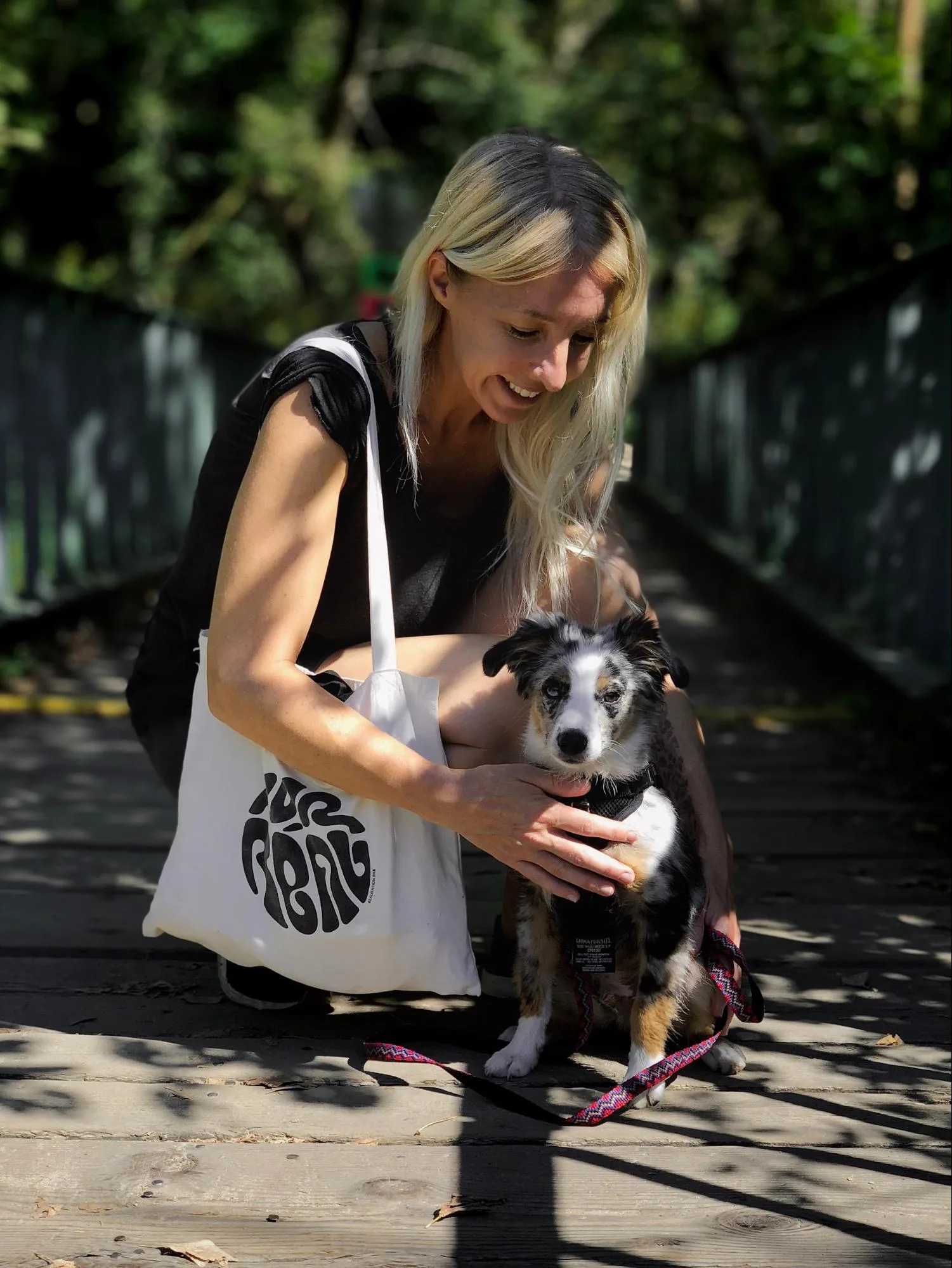 My workday depends on the day of the week. I organize my week around maker's days and manager's days. On Mondays, and Fridays, my days are filled with "necessary evil".
These days involve emails, calls, coffees, reading, searching for the right people and principles to grow design at Ada. If it isn't hiring, it's meeting with the leadership of our team and charting the course for Ada's roadmap and vision with my co-founder Mike. I'm also often in product-related meetings planning, researching, scoping or reviewing features for our desktop and chat applications.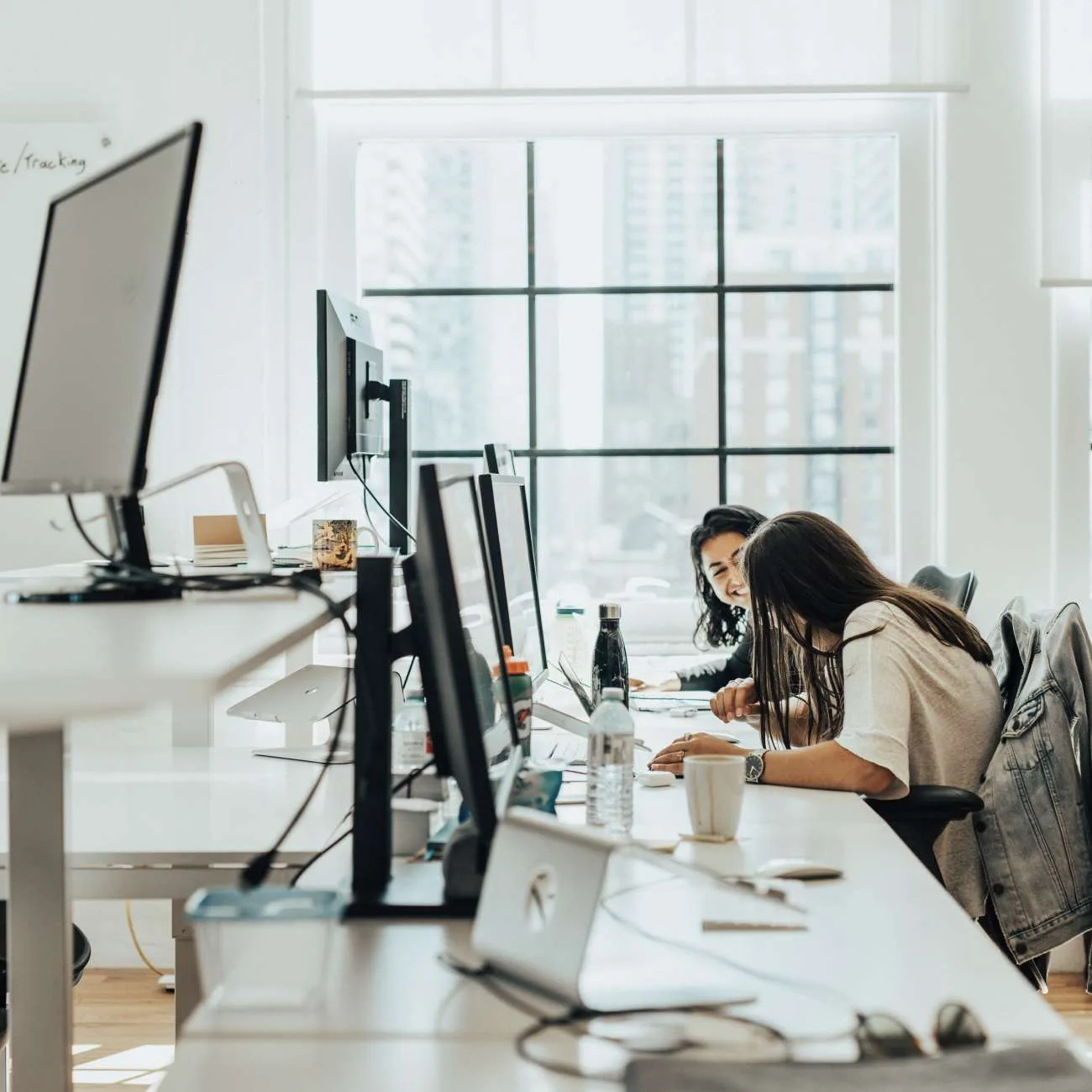 On Tuesdays, Wednesdays, and Thursdays, my entire day is open for deep design work. This is when I take the outcomes of all those conversations and turn them into sketches, designs, and code.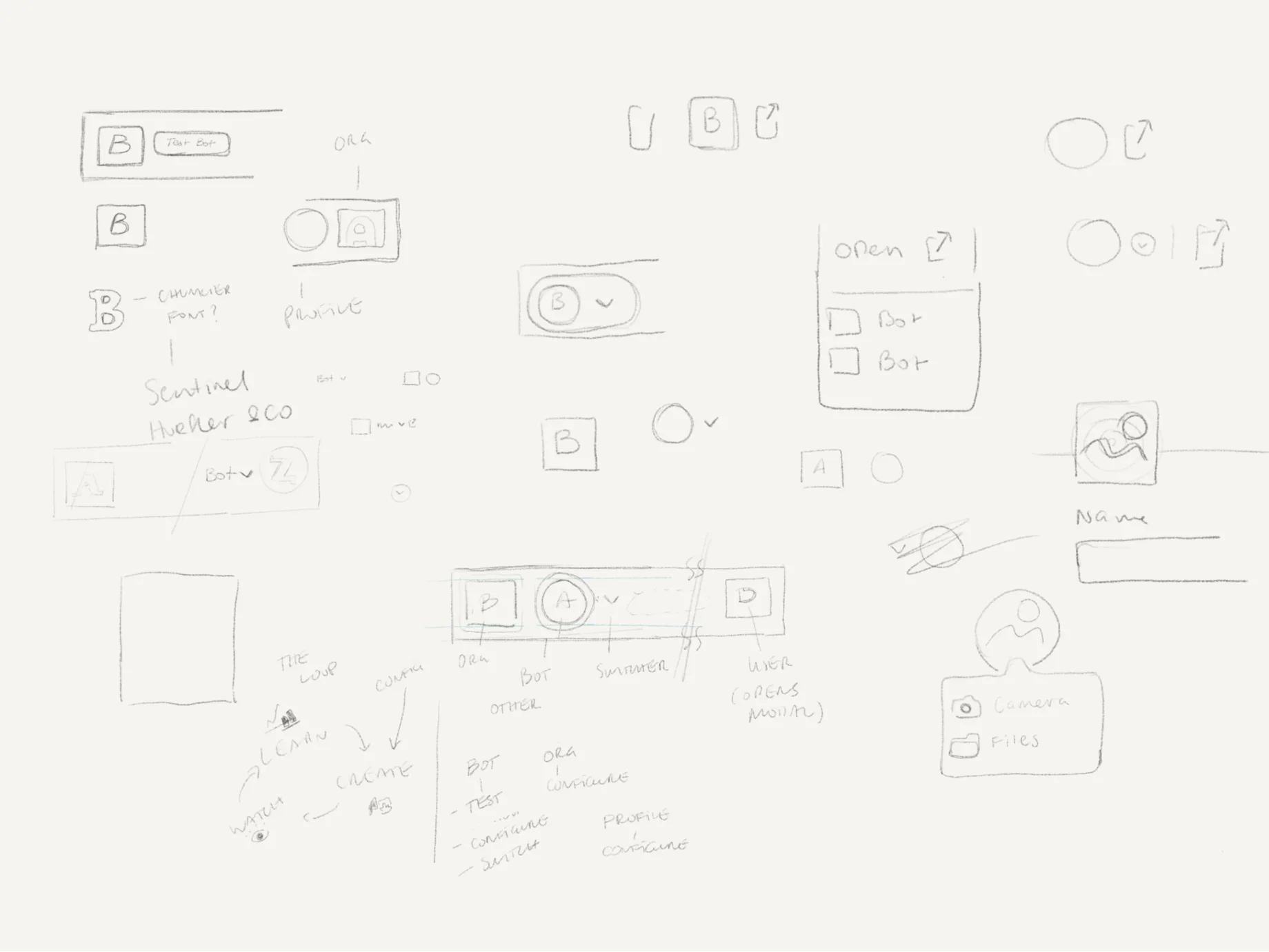 Evenings are spent with my wife Monica, catching up with friends, sports in the park, reading a book, or watching a movie.
What's your setup?
At home, I have a Mac Mini connected to a 5K monitor. At the office, I have a 15" MacBook Pro connected to the same monitor. I also use an iPad Pro with Pencil to sketch designs with Paper by FiftyThree. I consider my Apple Watch a tool as well. My desk at home is very special to me. It was originally designed by Charles and Ray Eames and is part of a set which I am slowly collecting.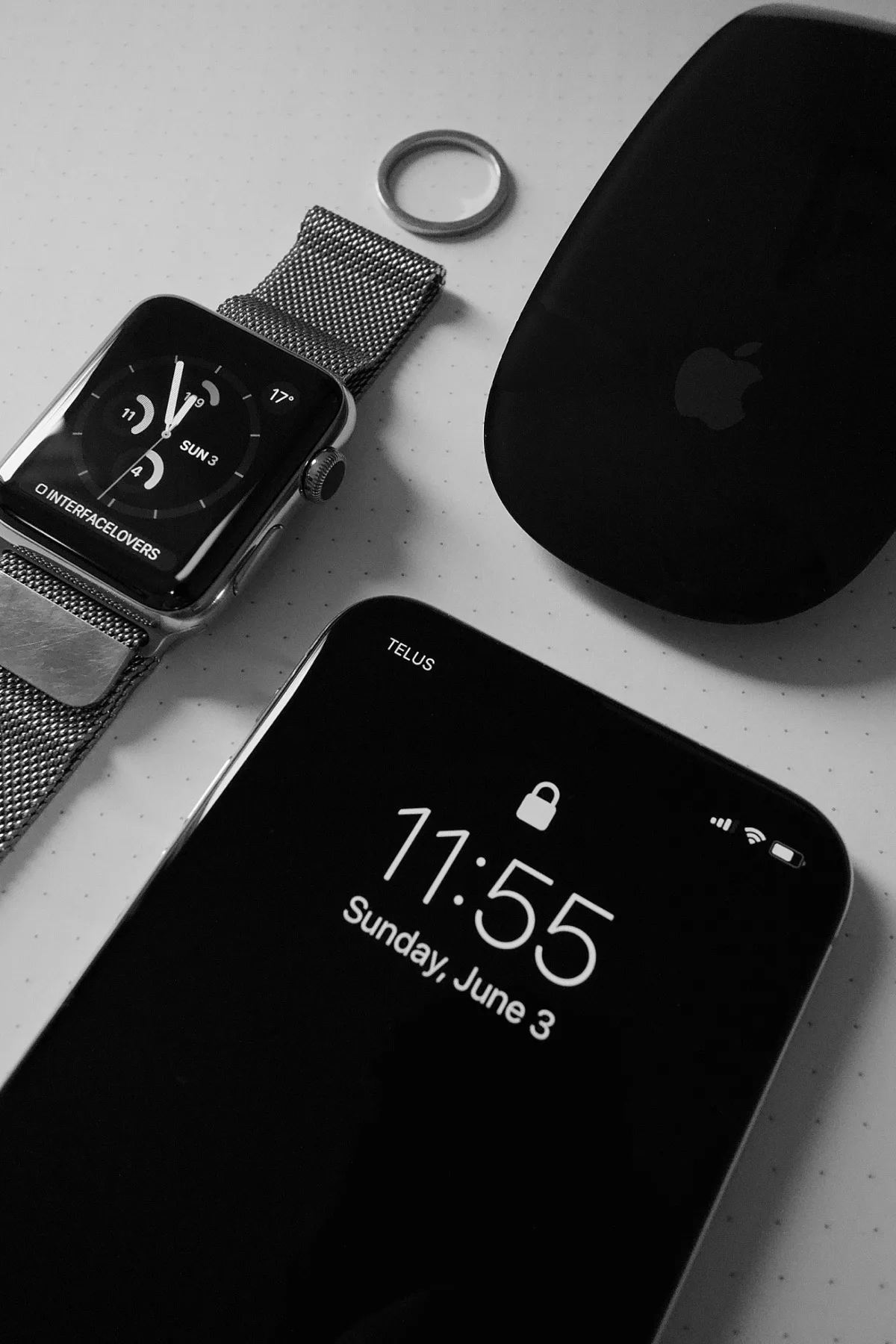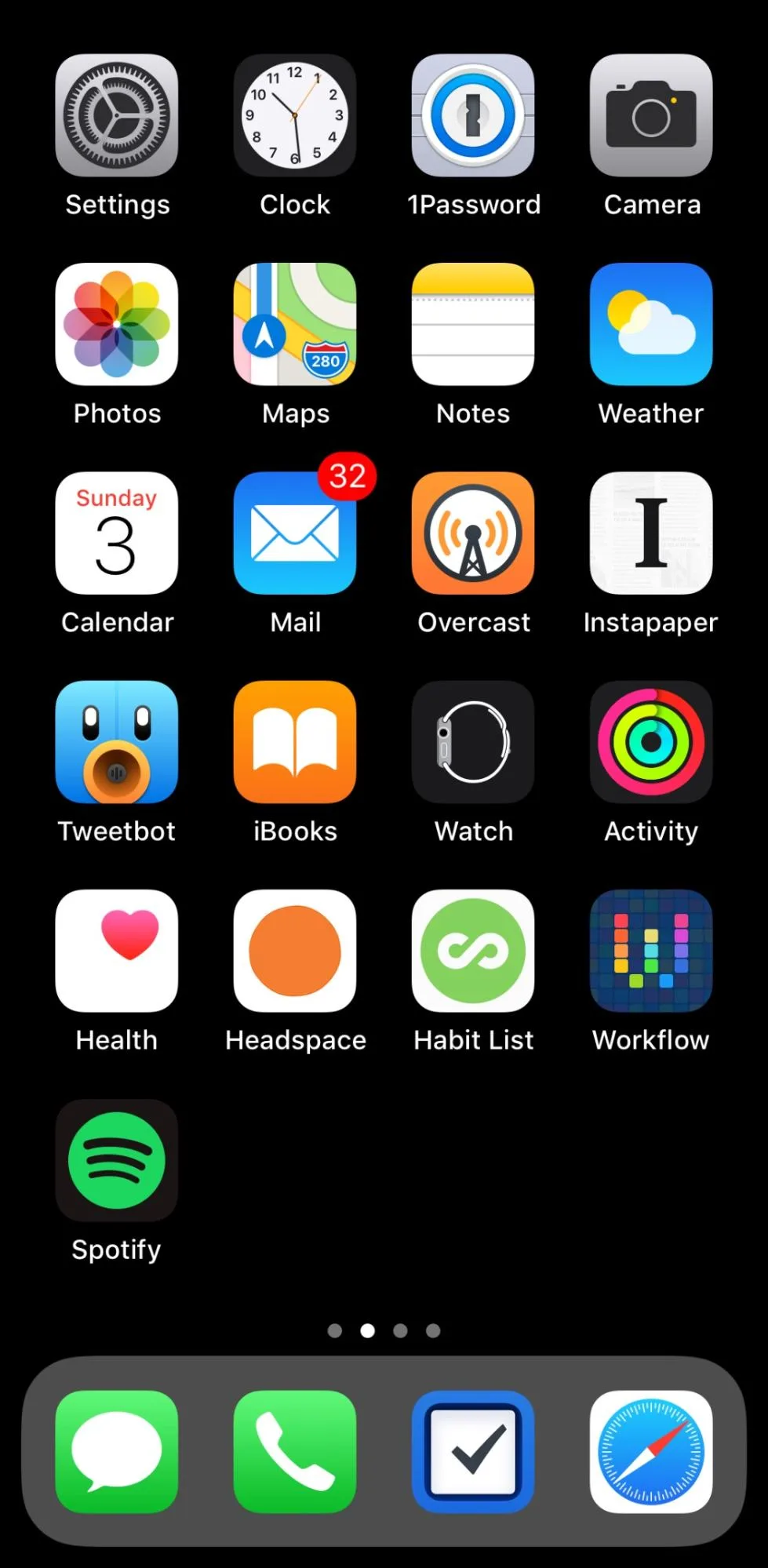 For productivity, I use Things and Notes. To design, I use Figma and Framer. To code, I use Sublime Text or Xcode, depending on the task.
Where do you go to get inspired?
Lately, I've been inspired by the work of Bret Victor and have been listening and reading the content on his site WorryDream. I also love the work of Mike Matas, Brandon Walkin, Louie Mantia and Andy Chung. I often look at how they're solving problems if I'm stuck.
Besides that, my world, especially my digital one, has been set up to provide constant inspiration. I'm very careful about who I follow on social platforms so that Twitter, Dribbble, and Instagram have become useful tools for inspiring my work.
Lastly, I try to read and listen to books as often as I can (I still have many to read!). I find books have the highest proportion of value to time of any other medium. If you learn to listen to audiobooks at 1½ speed while travelling and working out, you can essentially multiplex learning and health.
This site and Offscreen magazine are good sources as well.
What product have you recently seen that made you think this is great design?
Things
This is the bar for Ada's design team. Their level of interactivity, of friendliness and of focus makes it the best productivity tool I've ever used. I use Things every day, all day. I can't say enough about this product and this team.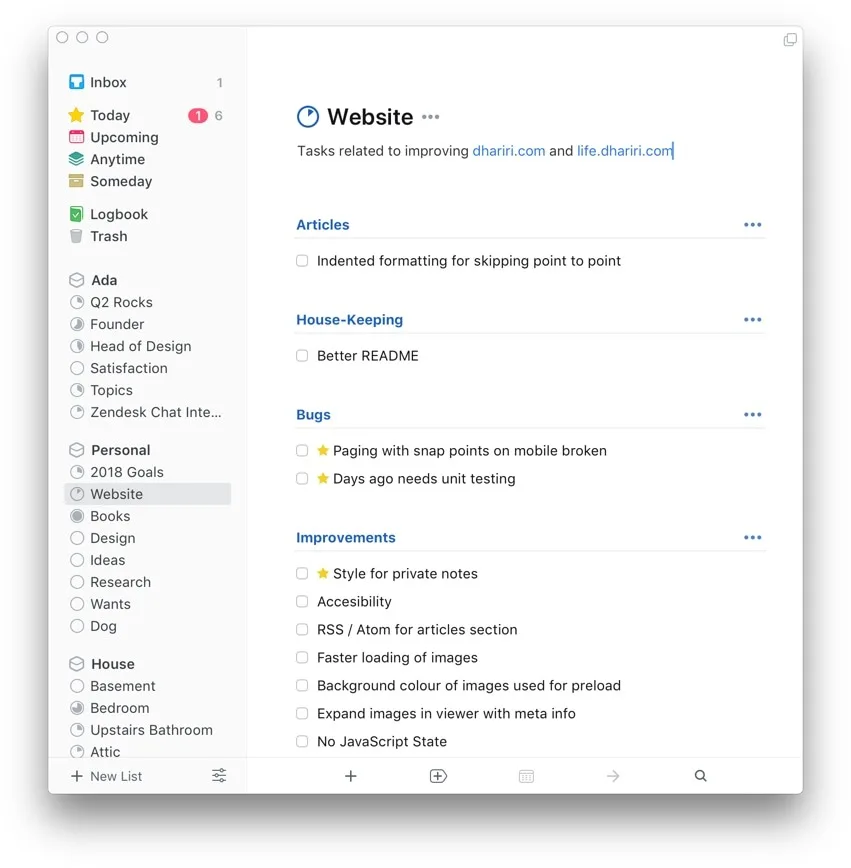 Notion
It's early days for Notion, but the team has their head on straight and is pushing the product in all the right directions.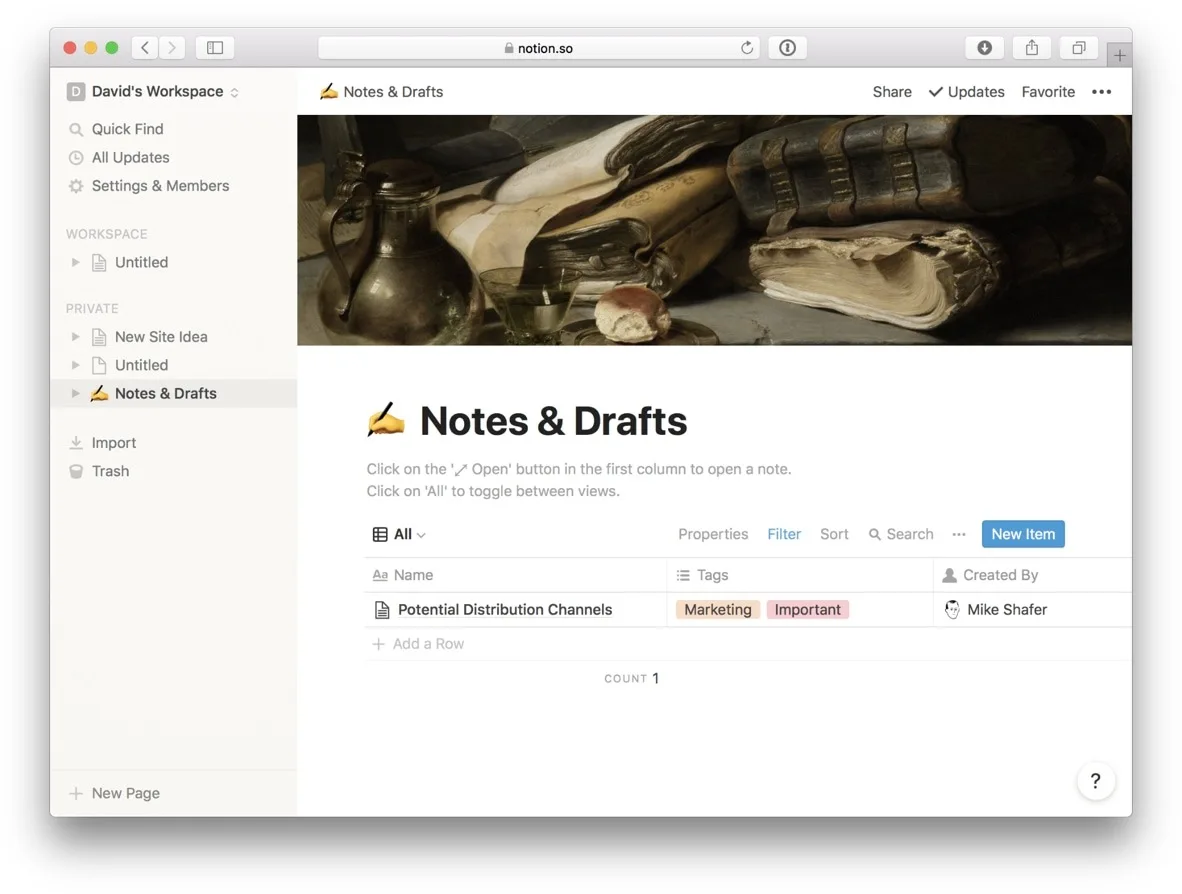 Paper by FiftyThree
I use this tool to sketch concepts every day. It's very intuitive and has just the right amount of constraint so that it remains fast to use when compared to others in the space like ProCreate.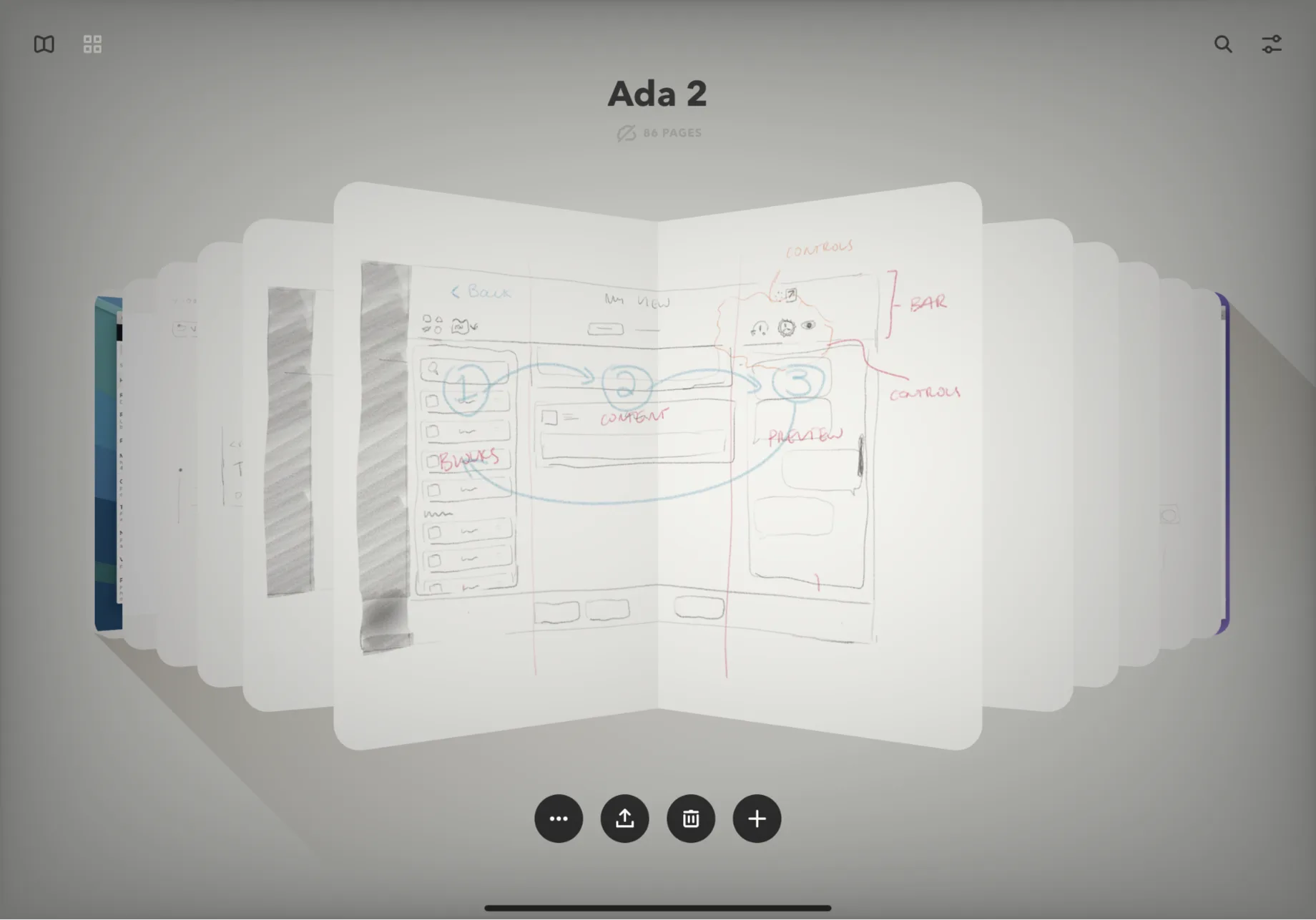 If you're interested in seeing more products I admire, I encourage you to take a look at my list on Twitter.
What pieces of work are you most proud of?
I honestly haven't built anything yet that I'm 100% proud of yet. Ada is probably the closest I've come in my career.
Being a founder, designer, and developer means having the tools to make a vision reality, but it also means sacrificing that vision to meet the constraints of every problem in each of those roles. It's a constant game of re-balancing, requiring the suppression of competing instincts in each role.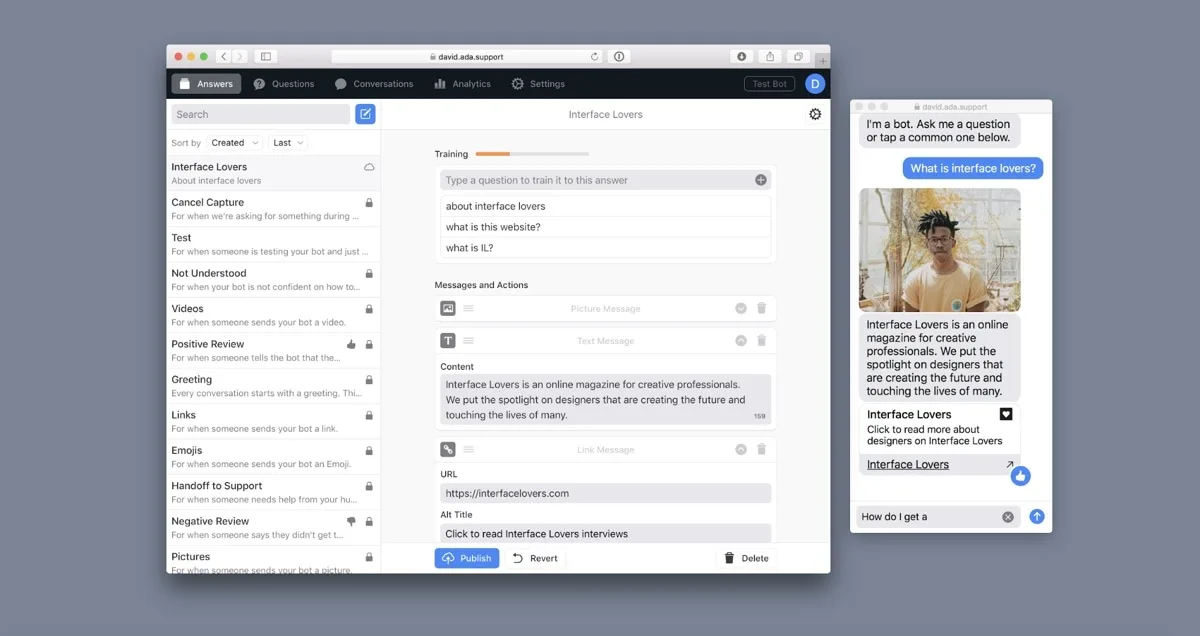 My function for pride in my work is one part impact and another part craft. Volley, the last product I designed, had a much smaller impact, but was closer to my ideal level of craft. Ada has been much faster to grow, which means it's rough around the edges in ways I'm uncomfortable with. That being said, it's had a much larger impact.
I measure craft by the meeting of successive sets of standards I've set for myself, based on the work of my heroes. The first set is "Does it work?", the second is "Is it simple?", and the third is "Does it delight?". I've never made anything that's passed all three sets, but I hope to one day.
What design challenges do you face at your company?
Mess
Making interaction concepts in machine learning and programming simple for our customers, who often have no knowledge of either. I'm very inspired by the work of Bret Victor (DynamicLand), The Workflow team (now Siri Shortcuts), and Alan Kay (Smalltalk). Even with their pioneering work, there is a lack of established patterns to draw on when designing these interactions. I could spend my entire career trying to solve these types of problems. I love it.
Providing a familiar, accessible web chat experience where established patterns do exist and need to be well understood and tested. Literally, anyone needs to be able to talk to Coinbase's support automation in any language, on any device at any computer experience level.
Communicating the value of a brand new category of software (automated customer experience) that challenges and resonates with the enterprise SaaS market. This has been the hardest challenge for me because visual design is not a set of skills I practice often. Thankfully, we're growing a visual design team around this problem at Ada.
What music do you listen to whilst designing?
Any advice for ambitious designers?
I'm figuring it out just like you are, but here are some things I live by:
Find your heroes and watch them closely. Try to do what they do. Learn what they learned from reading the books they read. Who were their heroes? Who do they follow?
Less, but better. This means saying no to most things and focussing on the most important things in your work and your life. It sounds easy, but most people are spread too thin across too much to do truly great work (including myself).
Take care of yourself. Some of my energy over the last few years has been spent forming habits that encourage good health. I've found that sleep, relationships, fitness, food, meditation are all critical to having a clear mind and doing my best work. The discipline it requires affects other things positively as well.
As an aside, two books I come back to often are Meditations by Marcus Aurelius and Principles by Ray Dalio. They are both filled with wisdom for living well.
Anything you want to promote or plug?
I'm building a design team here in Toronto. If my answers resonated with you and you're looking for an opportunity to do your best work and help me define what great design is, I would love it if you messaged me on Twitter.