What led you into design?
Design came into my life by accident. My dream was to be a film director and spent quite a few years in my teens borrowing VHS cameras to shoot the ugliest short films you can imagine. I needed to get better at it so I studied Audiovisual Communications in my hometown, Valencia in Spain. Then, in the last couple of years, I took some Photoshop classes and realized that more than feeding my Steven Spielberg soul what I wanted was to keep my brain entertained with creative challenges, and started my relationship with design.
Right after finishing university, a couple of friends and I thought naively that we could make a fortune with design and started a digital design studio. Since then I have had fun making mistakes, embracing chaos as a way of evolving my career and learning design is a quite satisfactory way of spending your professional energy.
When I look back I'm proud to see that design brought me great opportunities of meeting interesting people, working in different countries, having a broad point of view of what design is from Brand to Advertising, to Digital Design, to Film, to Product. I worked with very popular brands in a diverse range of creative challenges. I shared experiences and worked with amazing designers. I cannot complain about the result of that "accident".
What does a typical day look like?
I've never been a person of routines, but as I was getting older I've started to realize that getting organized and trying to have a daily cadence was doing good to my mental health and my relationship with others.
However, before the Covid19 pandemic put everything upside down I was more strict with that. I even did that crazy thing of waking up at 4:30 AM to meditate, go to the gym and be ready for a workday at 7 for a couple of years. It was good but looking at it retrospectively I think it wasn't that healthy for me.
A typical day in my life right now is not anything special to write books about it but hey, you asked, and I'm happy to tell you what I do.
I usually wake up at 7 or 8 AM in summer while my son is still on vacation. I guess it'll be more around 6:30 or 7 AM when he starts school in September.
Mornings pre-Covid were quite stressful sometimes, but working from home, made things very convenient and easy. It's one of the great perks we have at Twitter that let us work remotely for as long as we want. It's great to organize the day and find the right work-life balance.
So after a quick breakfast with the family, I go to my home studio to start my workday.
I work as a Director of Product Design at Twitter and my team is distributed across the USA, and mostly my team is based on the West Coast and I'm in Brooklyn. Meetings usually start at noon, so my morning block from 9 AM to 12 PM is perfect to have a good focus time to organize the day, review work and define some actions for the teams.
My day from noon to the end of the workday really depends on the day of the week and the workload. Project reviews, meetings with leadership, 1:1s, etc. Very active and productive days.
I usually finish my day at 6 PM and spend some quality time with the family, trying to decompress from spending the day at work. I live close to the best park in Brooklyn, Prospect Park, and it's very refreshing and a luxury to have such beautiful green space in the middle of the city.
Right before dinner —I'm from Spain, and that means late dinners — I do some intense workout with my rower. Rowing is a very interesting sport that, not only is good for your body since it delivers a full-body workout, but also has a meditative aspect with the cadence of the body moving back and forth. I like those 60-90 minutes of "intense active meditation" that I do every day while I work out.
Depending on the mood and the day I spend some time before going to bed reading or doing some side projects (Design, photo, film, music... it really depends) to keep my creative muscles active and going broad.
Around 12 AM it's time to unplug and get 7-8h of sleep that is as important as being active.
Balance is everything.
What's your workstation setup?
Before working from home was the norm, my workstation was my couch and my laptop and if I wanted to go fancier I plugged it to my wacom and a monitor. But everything changed when we were forced to be at home during the pandemic. So it was better to invest in a studio setup I'm happy with and serves multiple purposes.

I design, animate, write, make music and even sometimes watch some movies here.

A list of a few things I have here:
DELL 34' Ultrawidescreen
Mac Mini M1
Wacom Intuos M
Focusrite 8i6 Audio Interface
Rode NT-1A Mic and a Rode PSA-1 Mic Stand
KRK Rokit5 G4 monitor speakers
Gator speaker arms
Ergotron monitor arm
Philips Play Light Bars
Uplift Standing Desk
Fully Hag Capisco chair
And some books and music gear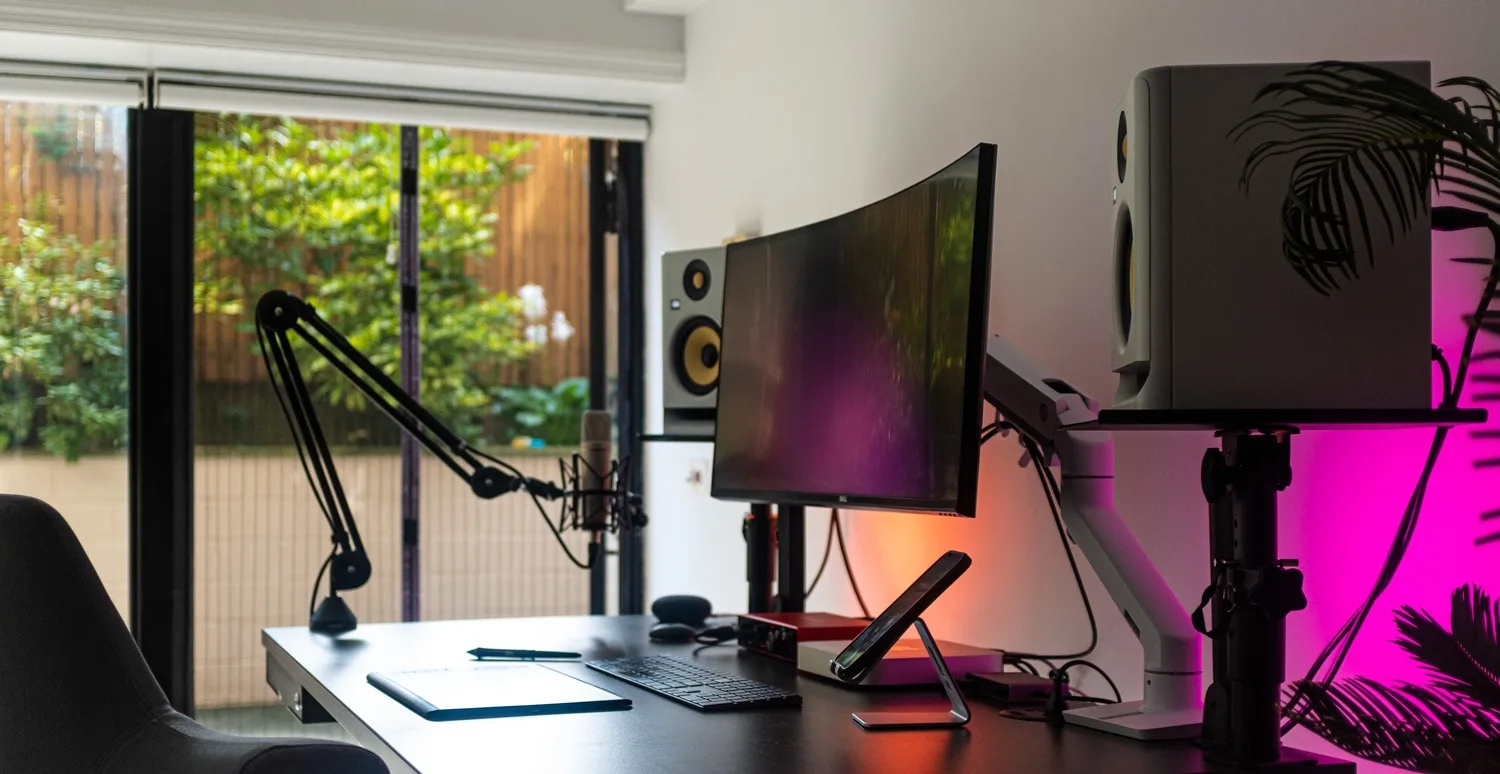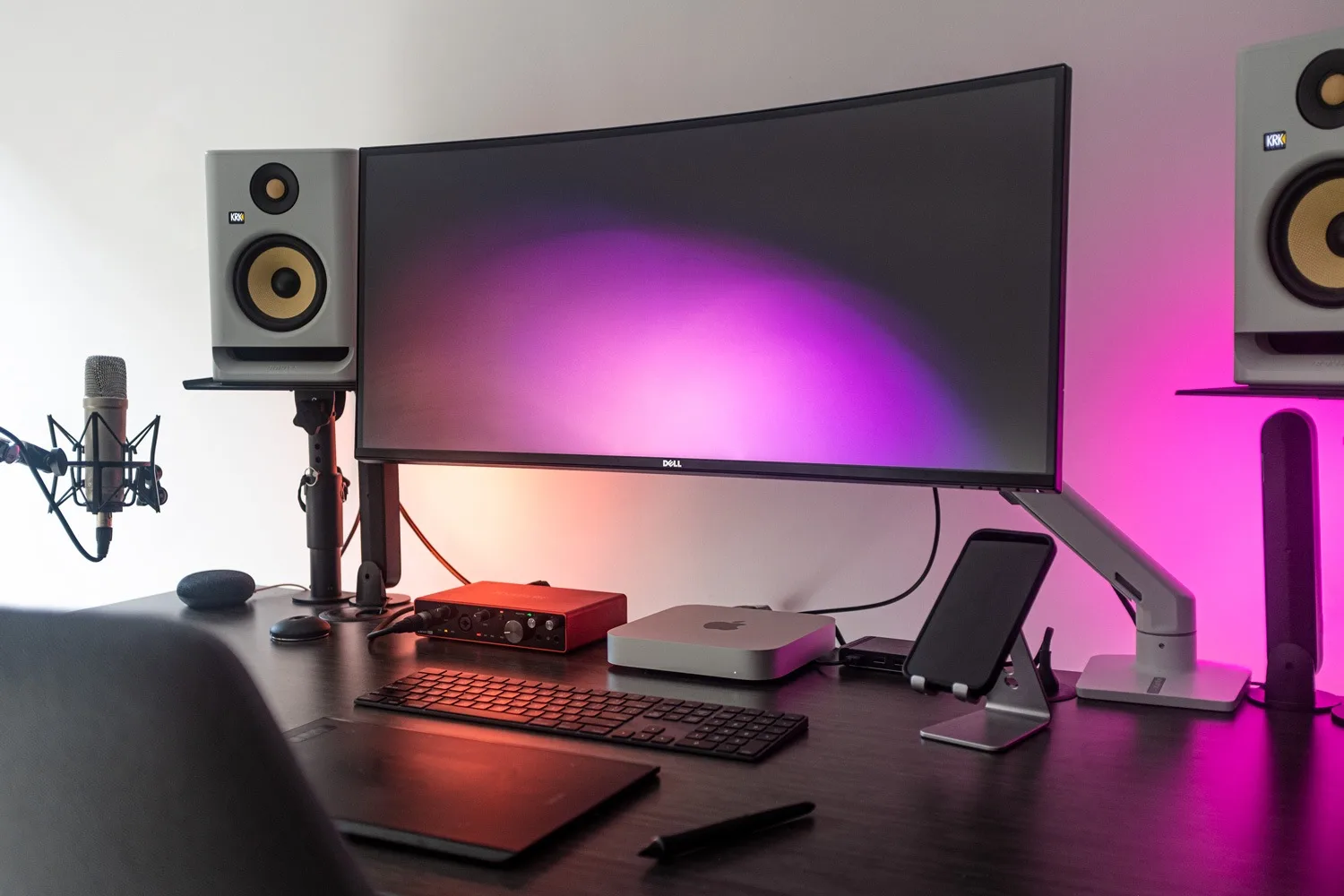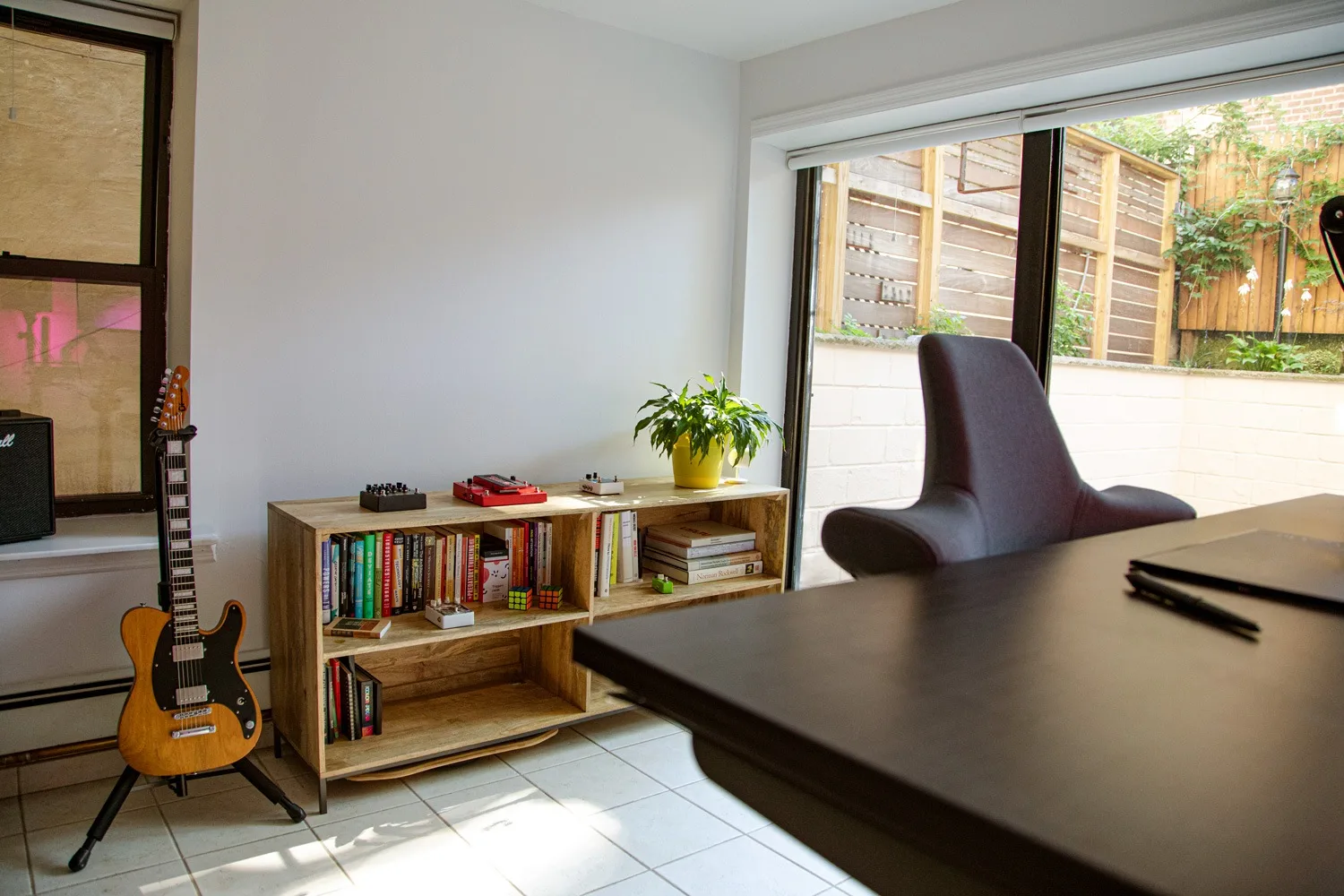 Where do you go to get inspired?
Besides visiting the classic online places where you usually go to get your dose of beautiful pixels, one thing that I always try is to get out of my discipline and try to find the points of connection with design. It could be reading a book, watching a movie, going for a walk and looking around. It looks like it's pretty cliché as well, but I really like to see how I connect the dots with things that I randomly experienced in the past.
I also usually encourage people to "love what you hate", sometimes exploring creative areas you don't like at all is a source of inspiration because you have more tools for remixing when you want to come up with something new.
If everybody gets inspired in the same places, does the same things and articulates them the same way, there's not much to get inspired with or to be able to inspire others.
What product have you recently seen that made you think this is great design?
I mentioned before that I like to do rowing workouts. I recently moved to a new apartment and there aren't gyms nearby, so I looked for options to be able to work out at home and was considering buying the same rowing machine I used at the gym.
Then I discovered Ergatta, which combines everything you can ask from a design perspective: a classy, modern and elegant piece of equipment and a superb, motivational and entertaining digital experience
One of their main selling points is they wanted to make people work out at home and feel they bought a piece of equipment that when not in use could blend with the furniture of your apartment. And this really does, a beautiful waterrower made out of wood that can be stored vertically and looks like a nice piece of modern art.
But in my case, although I really value physical design, they seduced me with the digital design side. An amazing gamified experience that is a refreshing angle in a world of fitness where instructor-led experiences are the norm.
The beauty of the UI design, the way is connected with the fitness experience of rowing makes it a great combination.
I actually work out harder than ever before, and design is the main component that delivers that experience.
What pieces of work are you most proud of?
It's very common for a designer to have a love and hate relationship with the work. When I look at past work I'm not only seeing the final result but the process, the good ideas that didn't make it to the end, the moments where we had that eureka moment or were in that dark place feeling lost, so sometimes that feeling of being proud lies more in the way we managed to deal with the journey than the destination itself. It's all about context.
I had the fortune to work for very well known companies and loved the work I've done for them, but somehow it's more satisfactory the work you do for smaller companies where you usually have more time and money constraints but at the same time more freedom and trust from the client.
Since I have to highlight some I'll go with the work we did at Ueno for Cowboy, an electric bike company from Belgium that came to us when they were basically starting with big dreams and a prototype. We helped them with strategy, brand identity, digital, product and marketing comms. I really enjoy covering all areas in the creative process. Now, 4 years after, they evolved the brand keeping the essence and became one of the industry leaders. And personally what I love is that they became good friends and I cannot be more proud of it.

What design challenges do you face at your company?
I'm quite new at Twitter and every day is a learning experience. The opportunity is exciting and there are a lot of things to improve and problems to be solved. At a personal level is a real new adventure. It's my first in-house experience, and although I've designed a lot of products and experiences in the past, doing it from the inside is very rewarding. You get a new dimension of things and look at the problems from different angles.

Working on improving the experience of a platform that is used by millions of people might be a bit overwhelming and it requires, focus, commitment and have a willingness to learn and adapt to the needs of the audience.
What music do you listen to whilst designing?
Any advice for ambitious designers?
I would frame it as the three things I'm trying to repeat to myself every day that are in three dimensions. 1. You 2. Your work 3. Others.
In the dimension of "You": Have tolerance with imperfection. Imperfection is beautiful. You don't have to be the best, you don't have to be always right. Your design can have mistakes. Failure is part of the process. So don't get trapped if things are challenging and you have roadblocks. Those are inevitable. But always have a positive attitude against imperfection and failure. It's always ephemeral.
I like a quote from Myles Davis that encapsulates it well: "If you hit a wrong note, it's the next note that you play that determines if it's good or bad."
In the dimension of "Your work": Be always curious. Curiosity is a driver, it's the one who makes you innovative. Embrace a bit of chaos, let things get messy. The worst thing that can happen to your designs and to you is that you get comfortable and become predictable. Learn new things, learn things you like, learn things you don't like.
And for the dimension of "Others": Be generous. As a designer, as a teammate, as a leader, be generous with your knowledge, with your time, with your presence. It's very stupid to get territorial and protective with ideas. Be that person people look for advice, be a positive force to work with.

But if I have to choose a universal piece of advice, I always liked one of the values we had at Ueno: "Life is short. Enjoy it." Being a designer is a blessing, we're fortunate to have this job, let's spend time enjoying it :)
Anything you want to promote or plug?
I'm quite easy to find online, despite the fact my name is the same as a few celebrities, but here we go with the links that will make it even easier if you want to say hi!
Personal website: navarro.co (yeah, I cannot call it portfolio until I find the time to add proper love into it)
Twitter: @davidnavarro
Instagram: @davidnavarro
LinkedIn: https://www.linkedin.com/in/dnavarro/