What led you into design?
My path to design was a bit of a winding road. Once I got past the princess and astronaut stage, like many children, my dream job was heavily influenced by the world around me. I can remember obsessively watching "Legally Blonde" and if you had asked my eight-year-old self I would've told you I'd be a lawyer.
Fast-forward a few years, I discovered a show called Mad Med, and it was out with Woods and in with Olsen. I was in awe at the mix of boss mentality and logical application of creativity. I craved the fast pace, the fancy suits, the brilliant campaigns and that's exactly what I pursued.
Fast-forward again, took up an advertising focused major and was interning at an agency. Not long after being in that environment, learned it wasn't for me, turns out I was more of a T-shirt and jeans kind of girl. But this is where I fell in love with the idea of a career in creativity, I tended to gravitate to the designers corner of the office. Long story short, I picked up graphic design as a minor, which soon became my major and the rest is history.
What does a typical day look like?
Well, thankfully I work for a virtual first company, so my day can look like whatever I need it to, but I do have a few rituals. I usually start my day with a workout, Peloton run and yoga classes have been my most recent go to's. Post workout and mandatory "caffination", I like to start my day with reading/thinking tasks. So I may be sifting through research, reading through project analysis, checking emails and slack threads or catching up on a medium post or two. Midday is usually reserved for collaboration, so team syncs and brainstorms and critiques (oh my). This is usually swiftly followed by what I like to call heads downtime to execute, which for me might mean prepping for a design led workshop or auditing flows or of course designing components or screens. Sprinkled in between all the madness, you may also catch me: having impromptu dance sessions or tossing a squeaky dog toy or two.

When it's time to wind down, you'll probably catch me on the couch with my pups and my partner catching up on the latest Netflix Top 10.
What's your workstation setup?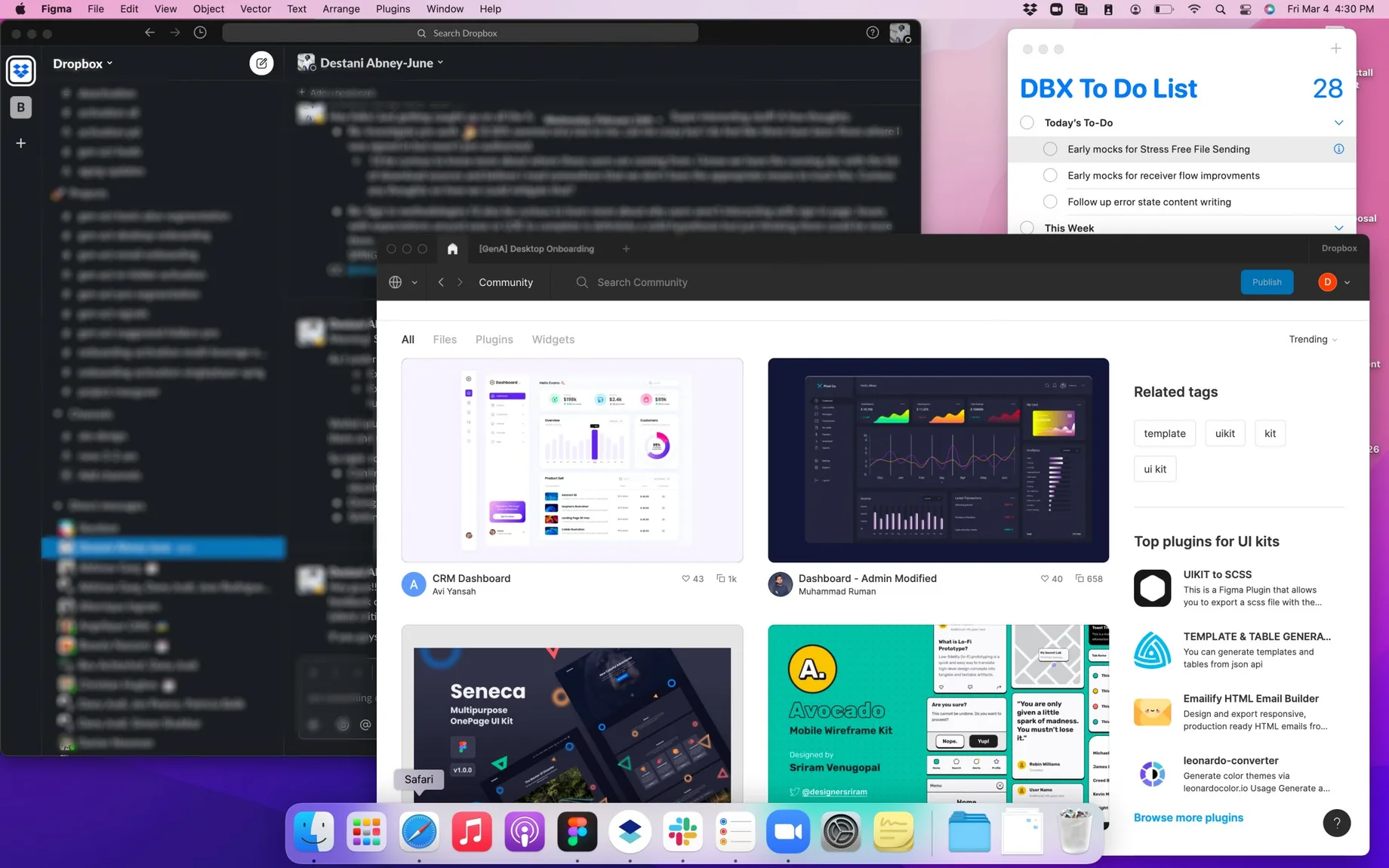 Where do you go to get inspired?
Short answer: everywhere!

More tangible answer: When using other products with great UX.

Harder to explain answer: When watching others create, no matter the medium. I recently watched a documentary about jazz musicians creative processes 🤯.

Controversial answer: I also get inspired when exploring sites like Dribbble. Though not all the stuff there is rooted in data or standard UX practices, it's nice to see what people create when they push the bounds and explore beyond reason.
What product have you recently seen that made you think this is great design?
This will probably sound very nerdy so a little context, I spent the greater part of three years working solely in the mobile app space. Ever since, I can't see things when I use apps now. For a while, I've been obsessed with the scroll transition on Google's new"ish" app. If you pay attention as you scroll, just as the full Google logo disappears, the search icon transitions to be a "G". Now this is not groundbreaking or experience altering by any means, but I've grown to appreciate the nuance in creating small, tasteful "delight" moments in an experience. I think sometimes we can be so focused on the numbers and big pictures that we forget humans are emotional creatures and a little "oh cool" moment can go a long way.
What pieces of work are you most proud of?
I'd probably have to say the work I'm most proud of is the redesign of the AutoZone Mobile App. Not because it was super innovative, but because it was impactful. The original app had been released in 2010 and was never updated, so a small team and I took the challenge heads on to revamp it. It's the first time I felt a sense of ownership over my work and was able to tangibly see how my role had an impact on not only the business but also in users lives. Bonus was, this project helped support the push to shift towards user centred design as a company.
What design challenges do you face at your company?
This is probably a challenge many large companies face, but large org + multiple products + speedy growth means many designers moving quite quickly. Add to that the virtual environment, it can be difficult to keep up sometimes. You don't really have those bump into each other in the hallway and chat about what you're working on moments. I've personally had to learn to be very intentional about reaching out to co-workers to connect and share. As we settle in to Virtual First, I imagine there will be some bumps. However, there have already been amazing strides from all the work done to build the Virtual First Toolkit to leadership testing out initiatives like cross-functional critiques, so I think the virtual forward future remains pretty bright.
What music do you listen to whilst designing?
Any advice for ambitious designers?
I leave a message I wish I could leave my past self: Don't be afraid to fail, take risks, embrace feeling (appropriately) uncomfortable, it's a catalyst for growth and remember to enjoy the ride.
Anything you want to promote or plug?
I think first, my Dropbox Design fam, feel very blessed to work for a great company with such great people!

Also, a few folks whose work or words inspire me & might inspire you too: Jasmine Friedl, Simon Hua, James Mathias, Anne E Cook, Julie Zhuo, Andrea Ballo

Lastly, shameless self plug: feel free to say hi on Instagram, or Twitter, and check my portfolio and blog.