What led you into design?
My love of art started at a young age. Drawing was one of my favorite pastimes as a kid. I'd spend countless hours sketching characters from Dragon Ball Z, Marvel, and DC comics.
If you'd asked my ten-year-old self what I wanted to be when I grew up, I would've definitely told you "a comic book artist."
I've managed to hold onto a few of my drawings through the years. Looking back on these sketches sparks some good memories for sure.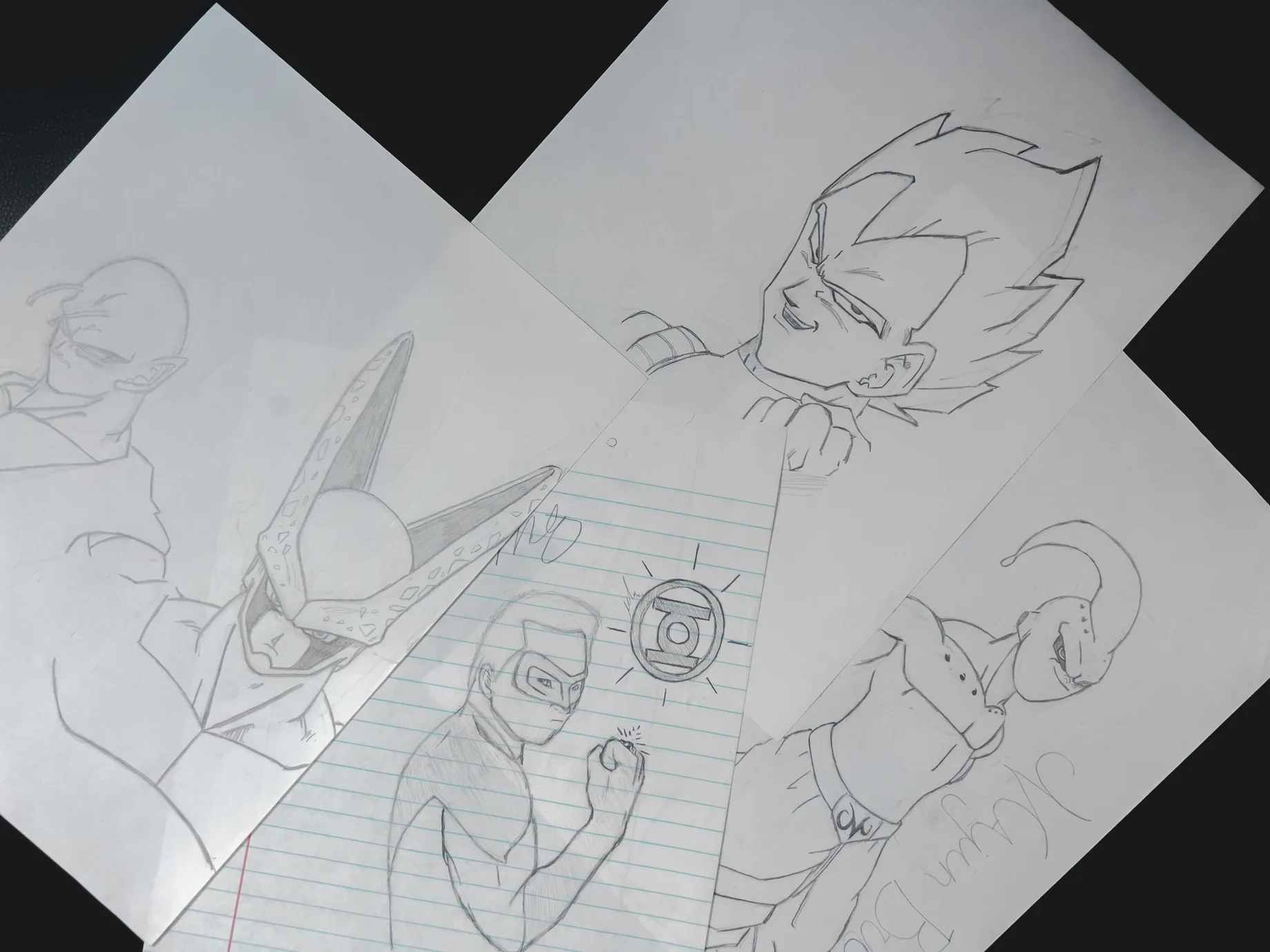 I can pinpoint the exact moment when design piqued my interest. Oddly enough, it was from my high school food teacher, Mrs. Ford. A few months before graduation, she asked the senior class to take an aptitude test.
For context, other teachers also asked the senior class to take an aptitude test, but many of us were reluctant to engage and take the test seriously. However, I told myself I'd give the test a fair shot this time. My results are what led me to where I am today.
That's when I discovered Graphic Design for the first time. I had no idea that design jobs were a thing. I was intrigued and wanted to read/watch everything I could get my hands on. The rest was history.
In short, a random aptitude test and lots of curiosity led me to design.
What does a typical day look like?
Most weekdays look something like this:
8 am – 8:30 am: This is when I usually roll out of bed to kickstart my morning routine. I'll get myself ready for the day and meditate for at least 5 minutes. If my kids are still asleep, I'll squeeze in some writing time until they wake up.
8:30 am – 11:30 am: I don't typically start my workday until noon, since the client I support is headquartered on the West Coast. So, I preferably use this time to play and bond with my two kids.
11:30 am – 12 pm: Usually a mix of eating breakfast, sipping coffee, and planning my workday.
12 pm – 3 pm: Deep work time to do creative exploration and get other important tasks done.
3 pm – 3:30 pm: Lunch time.
3:30 pm – 8 pm: Meetings and jam sessions with my team. I'll also use this time to catch up on emails and Slack messages.
8 pm – 9 pm: Weight training at the gym.
9 pm – 12 am: Decompressing from the day, eating dinner, and spending quality time with my wife.
What's your workstation setup?
Where do you go to get inspired?
Aside from observing UI/UX design stimuli, I also like to observe design and creative processes that aren't directly related to my discipline. There may already be a term for this, but I call it "indirect inspiration."
Observing these indirect sources opens my mind to new ideas and challenges me to appreciate the core principles of the work and how it was created.
Here are some of my favorite places to get indirect inspiration:
Tumblr. Surprisingly, there are some curated pages with inspiring collections. I've included a couple of my go-to's below.
https://mydesignobsession.tumblr.com/
https://aestheticssensibilities.tumblr.com/
Pinterest. Depending on what I'm looking for, I'll start with a basic keyword like "album covers." Once I find something that catches my eye, I'll click on it and look at the related Pins at the bottom of that Pin. From there, I'll keep repeating that process, exploring the many Pin holes.

Documentaries. Whenever I want to observe creative process, I turn to documentaries. It's inspiring to see how designers in other disciplines approach problems. Although their challenges differ from mine, I can usually find something to apply to my creative process. If you're interested, I've included some great documentaries below.
▪ The Abstract series on Netflix
▪ Light & Magic on Disney+
▪ A Spark Story on Disney+
▪ Japanese designer Oki Sato on his playful approach to design on Youtube
What product have you recently seen that made you think this is great design?
I came across the Opal C1 webcam recently, and it stood out to me.
For starters, this product embodies many of Dieter Rams' principles for good design.
There are two aspects that I particularly love about the Opal C1 webcam: (1) The stark, minimalist aesthetic and (2) the matte finish.
I also appreciate how much thought and detail the Opal team put into the packaging design. I refer to this as the "chef's kiss" moment for the product. Again, according to Dieter Rams' timeless principles, "Good design is thorough down to the last detail."
What pieces of work are you most proud of?
Like most creatives, I'm biased toward my most recent work.
Professionally, I've been working under an NDA for over a year. Throughout this time, I've had the opportunity to lead the UX efforts on some pretty rewarding projects for one of the world's largest tech companies. (I know that sounds vague, but unfortunately, that's all I can say without getting into legal trouble.)
On a personal note, I'm always working on side projects to expand my skill set and explore new areas of design. Over the past few months, I've been dipping my toes in Blender. Here's a collection of 3D work I'm most proud of: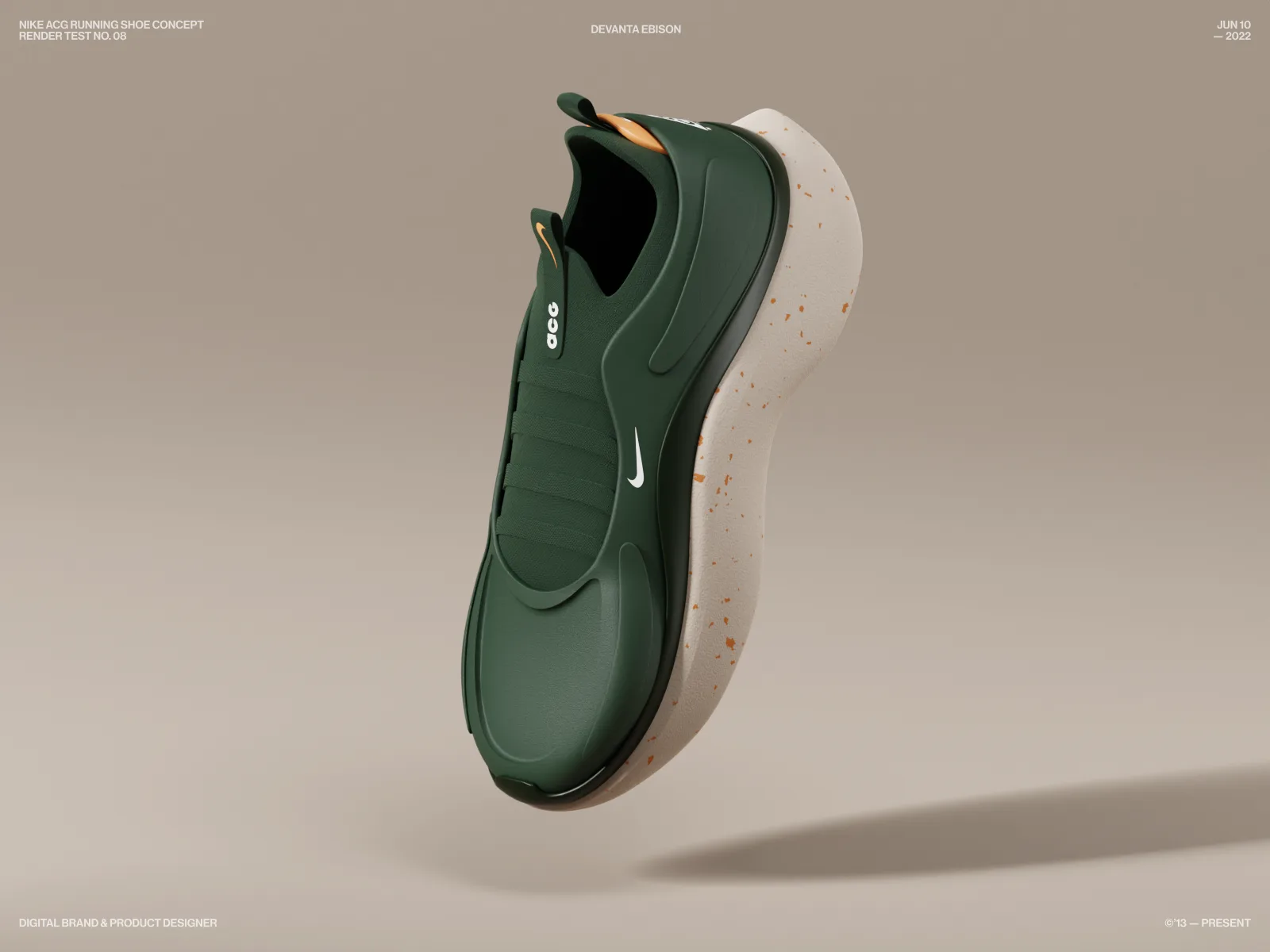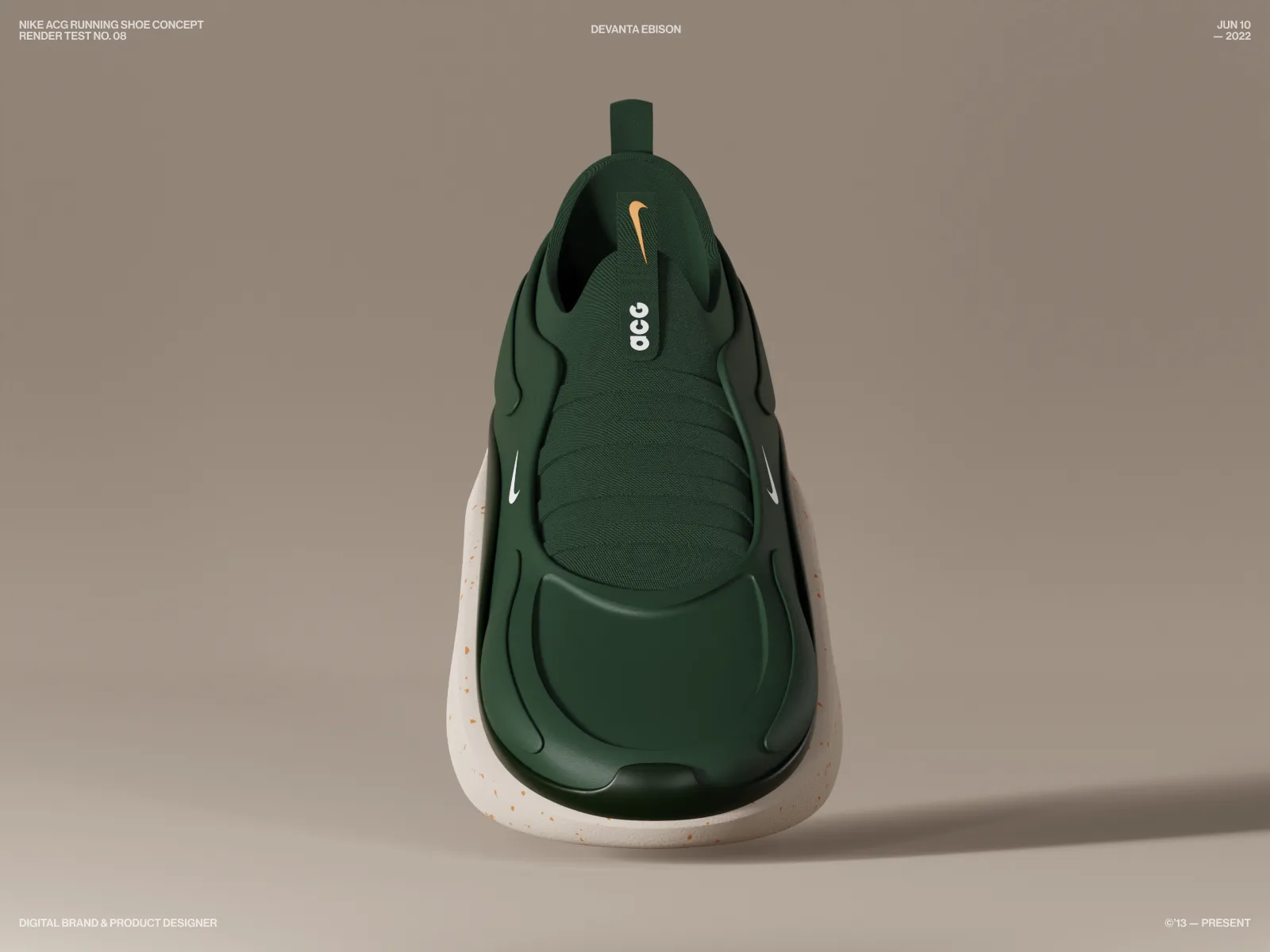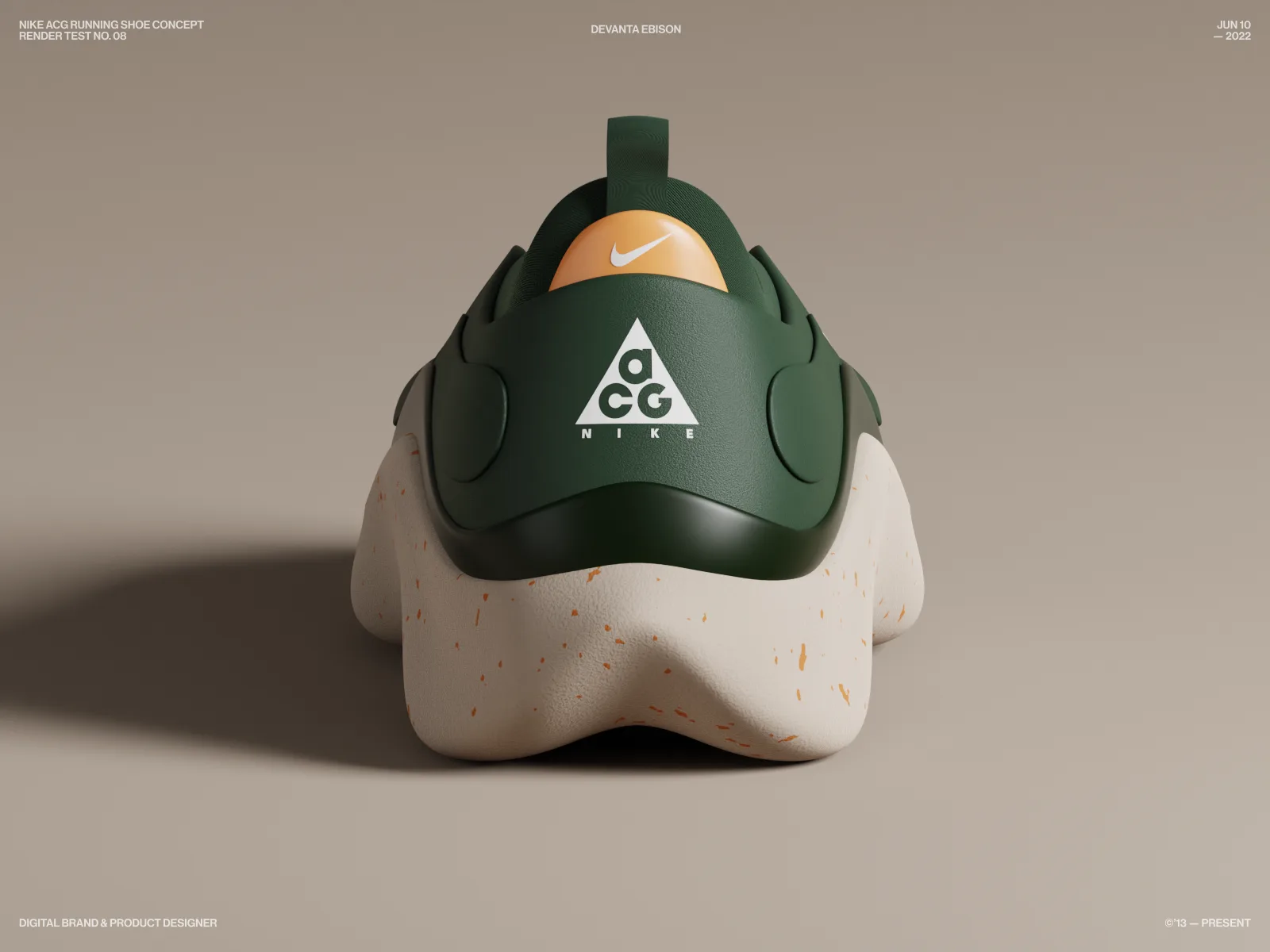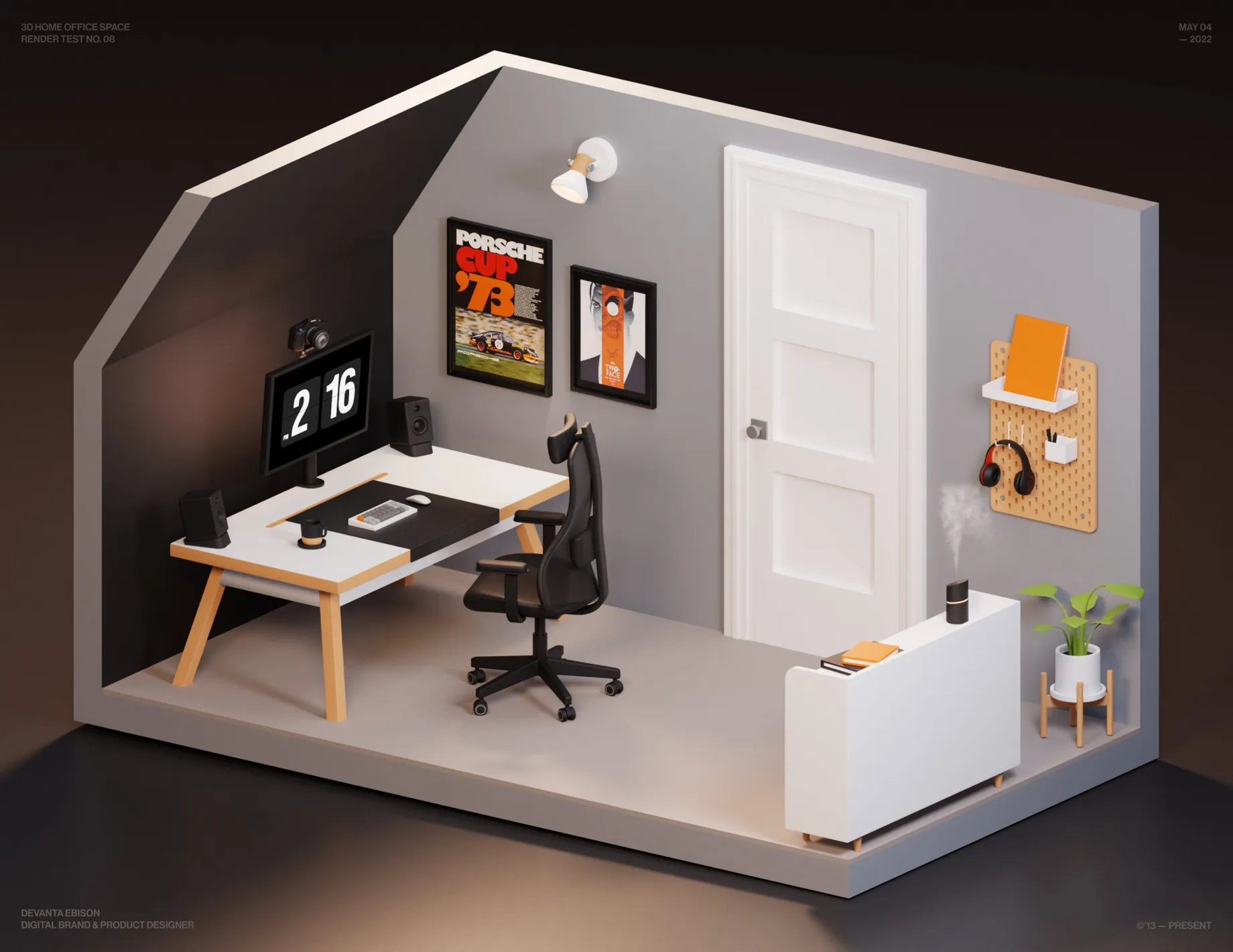 What design challenges do you face at your company?
The client I support is a global tech company known for creating innovative products, services, and experiences.
Our biggest design challenge is maintaining (or exceeding) the bar for excellence that millions of customers have come to know and love about the brand.
Although it can be overwhelming to live up to those expectations, I love it because it keeps me on my toes.
What music do you listen to whilst designing?
Any advice for ambitious designers?
Build relationships and be easy to work with. This will get you much further in your career than simply being a great designer. In other words, don't neglect your soft skills.
Learn to accept design feedback. I strongly believe that getting design feedback from people you can trust is one of the fastest ways to improve your work and grow as a designer. To do this, try detaching yourself from your work and ask for feedback regularly.
Learn how to write. This will help you communicate your ideas with clarity. There will always be a high demand for designers who know how to present their work, rationale, and thought process.
Be thoughtful. Every element within the design should have a purpose. This mindset challenges you to be more intentional about your design decisions, which naturally leads to better work.
Diversify your inspiration sources. This will help you avoid straight-up copying another designer's work. Take it a step further by looking outside our industry for inspiration.
Anything you want to promote or plug?
I'm currently in the process of building Halftime Academy. The goal is to establish a friendly resource that helps creatives confidently learn UI/UX design, grow professionally, and get inspired.
Give me a follow on Twitter @devantaebison to tag along for the journey. That's also where I share works in progress, things I'm learning, and other helpful resources.