What led you into design?
In short, this moment right here.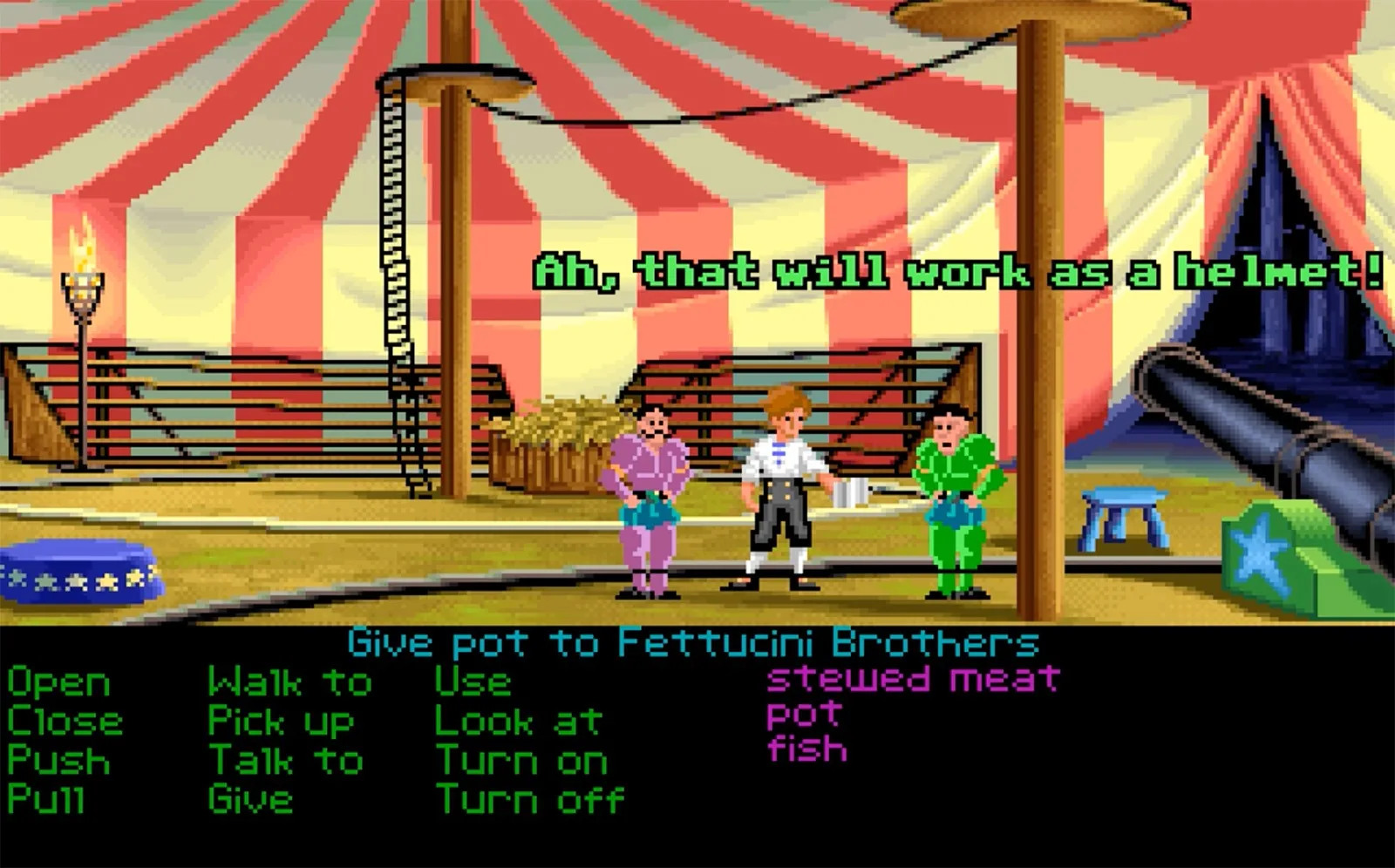 This shot is taken from a point and click adventure game called Monkey Island, published in 1990.
As a non-English speaking five year old, I accidently stumbled upon the solution of giving the Fetuccini Brothers a pot from my inventory as a safety gear for a stunt. As the hero pulled the pot from his pants, I remember the sensation of my heart dropping, knowing I've done something right. Little did I know, that was the first moment out of many in which gaming would shape my path towards becoming a product designer.
Although I was always drawn to design as a teenager, from doodling comics in the classroom to messing around with Photoshop, it wasn't clear to me back then that this was the route I would take. For some reason, I had the misconception that graphic design is not a job I can make a living off of.
I guess life was trying to nudge me in the right direction, because at the age of 22 I found myself working as a conservator of historic wall paintings. There, I created elaborate models of graphic patterns based on ancient paintings lost in time in multiple houses and historical sites across Israel.
During that time, I met a friend who told me "Elad, have you ever heard of a field called Visual Communications? I think it'll be a good fit for you." I was so lost back then, I replied "Ok, I'll try!" – and sure enough, I embarked on a four year journey studying something I wasn't even entirely sure of.
Everything changed in my third year of school. It was time to select a major, and with the rise of smartphones (I had just gotten my first iPhone 4) and user-oriented design, I selected the obscure-titled major "Interactive." It was there during my first web design class that everything fell into place. 
I felt as if UX/UI were a language I've always known, largely due to the fact that it was so well-ingrained in my experience with games, computers and software from a young age.
What does a typical day look like?
I'm a new dad, so I wake up pretty early to be with my son. After I drop him off at daycare, I take a shower to properly wake up and restart. Then, I take the bus to work. (Even though it's only a 20 min walk, Tel Aviv can get insanely hot and I don't like arriving sweaty to the office.) Next comes coffee, and only then, I can speak to people.
A typical day at the office is a blend of meetings, tasks, hands-on design work and iterations. I often have multiple one-on-one sessions with product managers, designers and developers in order to prioritize and push forward projects, but also brainstorm, ideate and improve our current design and flows. 
I try reserving focus time to work on my daily tasks, and generally am as prompt as possible. I also love guiding and mentoring designers, so that takes a pretty big part of my day.
When leaving the office, I always walk back home in order to clear my head. I often listen to music or talk to family or friends on the phone. When I get home, I'm either with my son and partner or heading to the gym. Before going to bed, I usually watch shows like The Office, or get lost in the vast world of YouTube.
What's your workstation setup?
The office has a standard open-space look and feel, but when I want a change of scenery I sit in one of our living rooms – the sunlit environment, plants, and cozy furniture are too good to pass up. My desktop background is taken from one of my all time favorite video games, Celeste.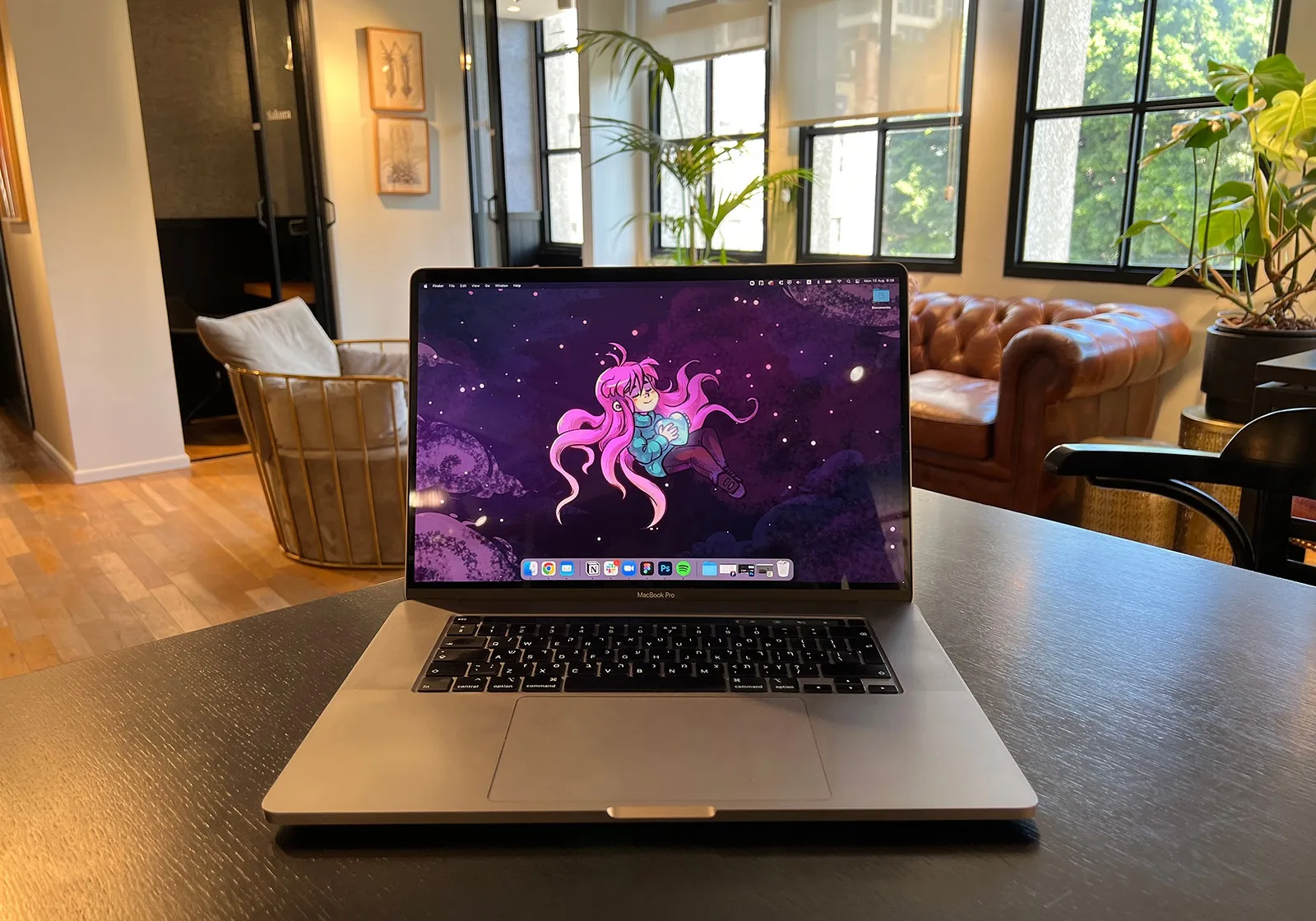 Where do you go to get inspired?
My default browser tab is set to muz.li which is a great inspiration board Chrome extension, and even when I'm not actively looking, having it open in background while working on my bigger screen helps me get a glimpse at colorful shots of relevant projects and websites.
When I need to get inspired or focused, I mostly listen to video game soundtracks. Something about the memories of me playing with my older brother at our parents' house helps me relax and remember times when everything was possible. It also makes me recall the games' visuals and stimulates my imagination.
Another thing that inspires me is baking. Specifically cake decorating. It's a hobby I picked up recently and it gives me a chance to work with my hands, experiment, make mistakes and combine multiple passions like designing and following instructions.
What product have you recently seen that made you think this is great design?
I think Slack is doing a fantastic job. I've been working with the app for years, and I'm always surprised with how they incorporate new features seamlessly into a robust environment. We sometimes tend to overlook software that has basic capabilities like chatting and corresponding within work organizations, but I actually think that these are the most difficult platforms to nail, since the user is super aware of their needs. 
I was told once in a video editing class that a film that's well edited, is one you will not notice the editing in. I still think this is a convention I take with me and think about in regards to products.
What pieces of work are you most proud of?
I'm really proud of every style guide system I've created over the years. I created one for every company I worked for; a startup called SaferVPN (today Perimeter 81), Fiverr, and now Lemonade. Unfortunately, I'm unable to share screenshots of these projects due to their internal nature.
While working at Fiverr, I had the chance of creating a feature called Studios, giving users the option of hiring several freelancers at once (aka a Studio) to help with their projects.
One of my proudest pieces of work is still the final project I did in design school: a mobile virus skipping from one phone to another and infecting it with religious content, gradually making the user religious. This project was meant to criticize religious coercion in Israel and is still very emotional for me.
What design challenges do you face at your company?
During my time at Lemonade, I had the opportunity of migrating our product design team into Figma, and with that, started a proper style guide for our back office systems. Today, I'm also working on our customer-facing style guide, and both these systems require a great effort to build, organize, and maintain properly.
I find that the hardest part of creating a style guide is actually not the design itself, but rather making a broad decision and sticking to it. It's always easiest to break your own conventions, but much harder to create a solution that is flexible and scalable enough from the get go.
Another challenge I face at Lemonade has to do with maintaining the high standards we have for design and UX across the company. Processes can take a long time, and every small detail matters. Having said that, it's definitely more of a blessing, and I think that's what makes us stand out as a company. Also, the designers I work with are probably the most talented people I know.
What music do you listen to whilst designing?
Any advice for ambitious designers?
Tons! First of all, find a unique skill that you excel in and use it to your advantage; whether it's standing in front of an audience, being a mentor, writing micro-copy for fun, or mastering the art of files management. When you're the absolute best in something (it doesn't always have to do with design skills per say), it defines you and sets you apart as a designer. Our creativity doesn't stop at designing, and it can and should help us reinvent ourselves over and over again.
Second, find ways to stay up-to-date. Being a designer these days is not always easy, especially having to keep up with new tools, methods, trends, and capabilities. It sometimes feels like we're expected to be a jack of all trades, but if we play our cards right, finding the best ways to stay updated can be made simple. I recommend joining online groups and communities, watching tutorials, reading the occasional article, and most importantly, having a few designer friends that help you stay informed.
Last but not least, don't overdo it. It's easy to get exhausted in our line of work, whether it's physically, mentally, or creatively. After all, who among us doesn't have a folder labeled with "Design for Friends" with endless projects they've been asked to help out with? That being said, take the time to rest and rejuvenate, and do it guilt-free. Learn to handle your tasks and prioritize. When you're ready to get back to work, make some coffee, listen to your favorite playlist, and get back to it at your own pace.
Anything you want to promote or plug?
LinkedIn: https://www.linkedin.com/in/elad-naider-518850b6/
Dribbble: https://dribbble.com/eladnaider
Instagram: @eladnaider