What led you into design?
I grew up dreaming about being an astronaut and landing on the moon. Then, that dream morphed into wanting to be an architect to ideate the tallest buildings - to get to the moon. But the thought of designing buildings all day killed that idea little by little and forced me to look for something more…big-hearted. I knew I wanted to contribute for a better community.
Then I found out about industrial design, which considers a wide range of human aspects to offer a solution through day to day products. Industrial design seemed to be the obvious choice for someone who likes to have a range of possibilities to fight boredom. Someone like me.
After I graduated, I landed an internship as a visual designer. What I enjoyed the most was redesigning webpages for the people inside the company; to make their lives a bit easier, to make their jobs a bit more joyful, to have a workspace a bit more delightful.
Little I knew that thing had a name: User Experience Design.
What does a typical day look like?
I like to have a balance between routine and improvisation everyday.
First thing in the morning nothing could beat a training session or a yoga flow or an early run. The thing is to move! After that, I like having breakfast at home, then head to the office while listening to one of my playlists. This space and time is one of my favorites throughout the day - since it's kind of a 'me time'. Once in the office, I catch up in relevant Slack channels and possible missed DMs.
Right after, I take a look at my calendar to see how the day looks like. Either sunny (no meetings) with little chance for rain (a standup or 1:1), or with a thunderstorm (meeting after meeting after meeting). I prepare according to the occasion, always with my notebook at hand.
Around midday, it's time for lunch in the office. I like to meet with different colleagues from other areas - and of course, my design team! - throughout the week so there's always something different to talk about and catch up.
Later in the day, I go to our coffee bar and order my favorite: a matcha latte with almond milk. This smooths the rest of the day and gives me a break to set a new focus or plan for the next day.
My (work) day ends around 6 p.m., when I can follow up on pending tasks of side projects, or wind down reading. Once I arrive home, I have dinner with my family, and we discuss about everyone's day and latest happenings.
Before heading to bed, I practice German - to remove some rust! - and meditate for a well deserved night sleep.
What's your workstation setup?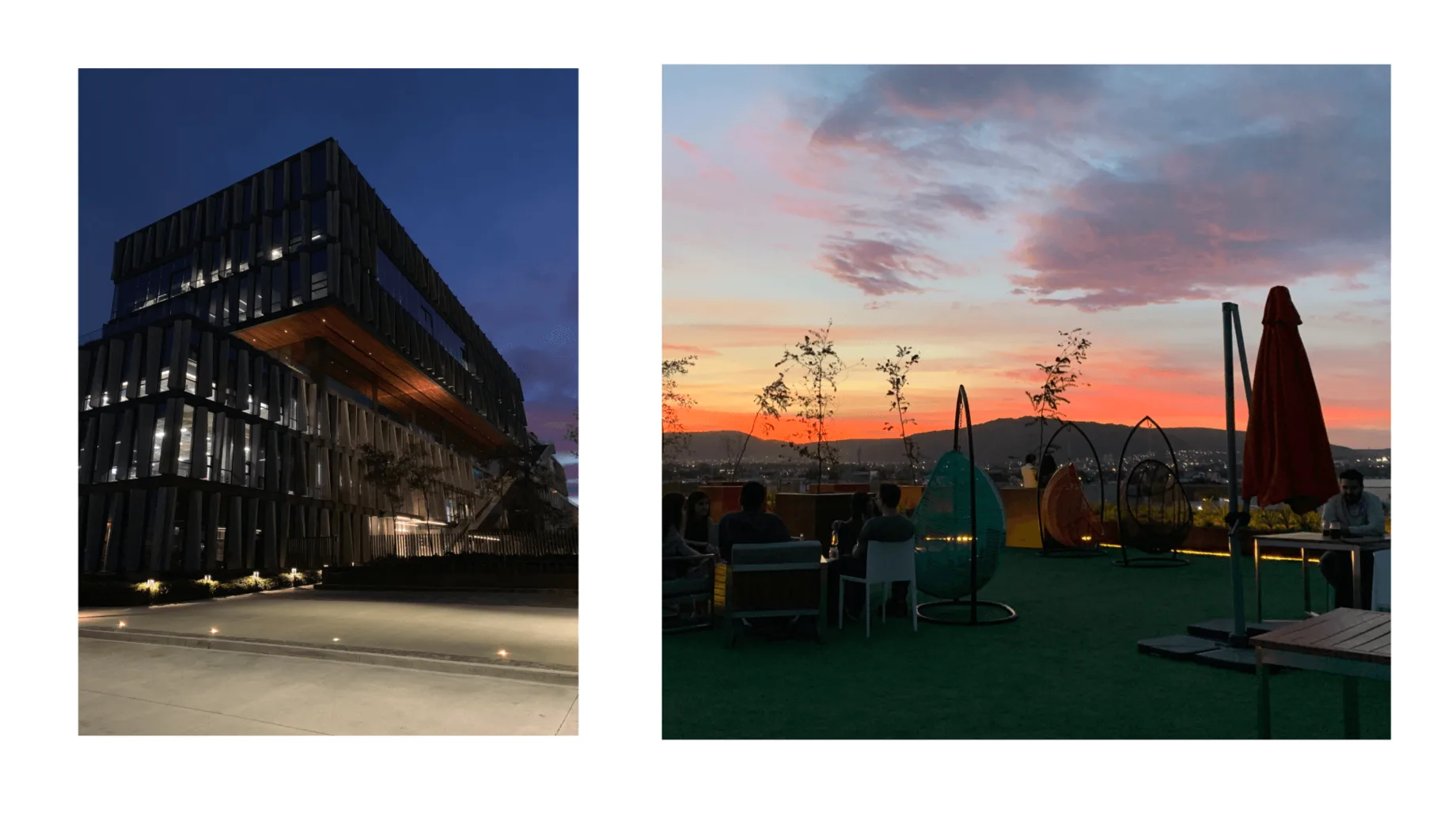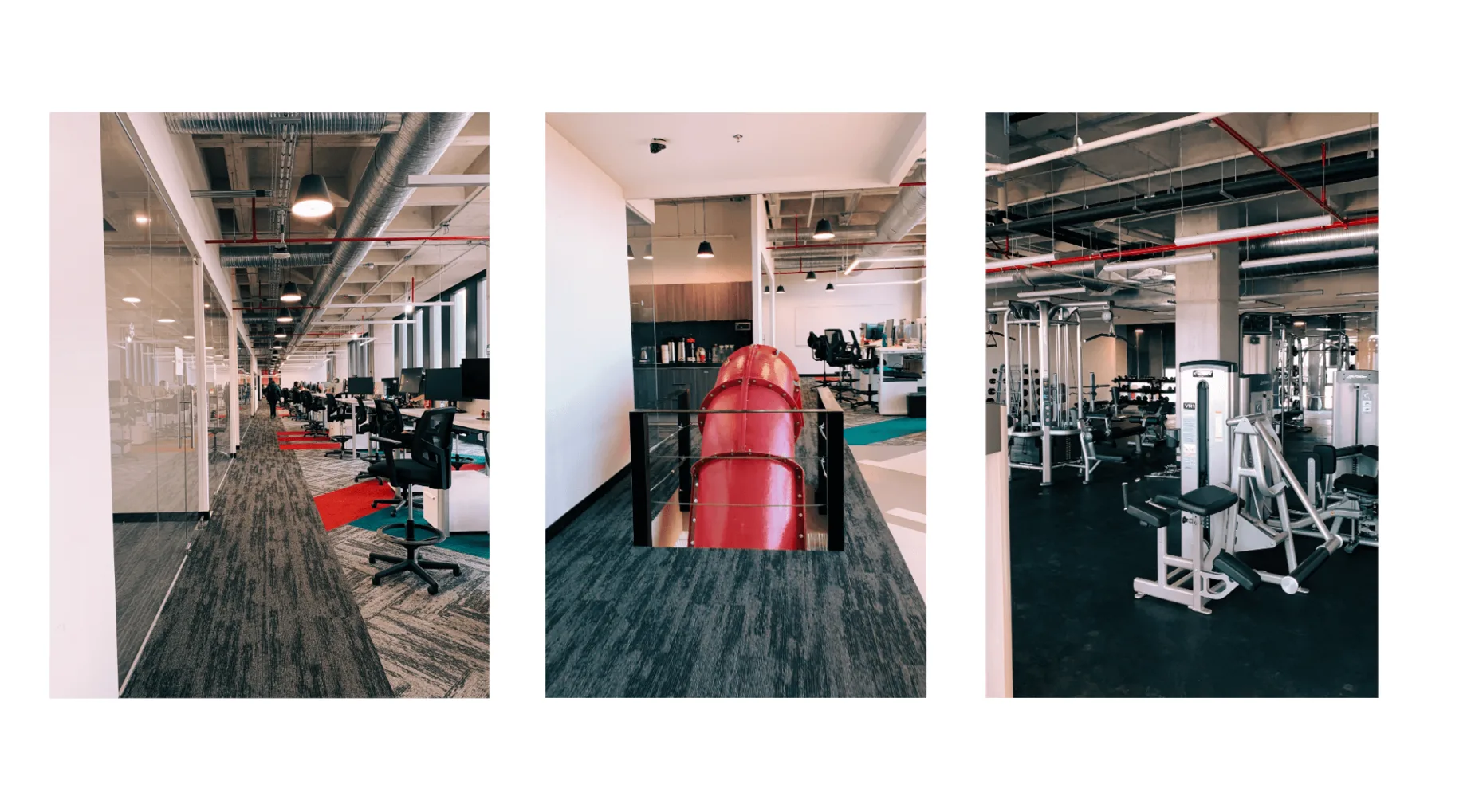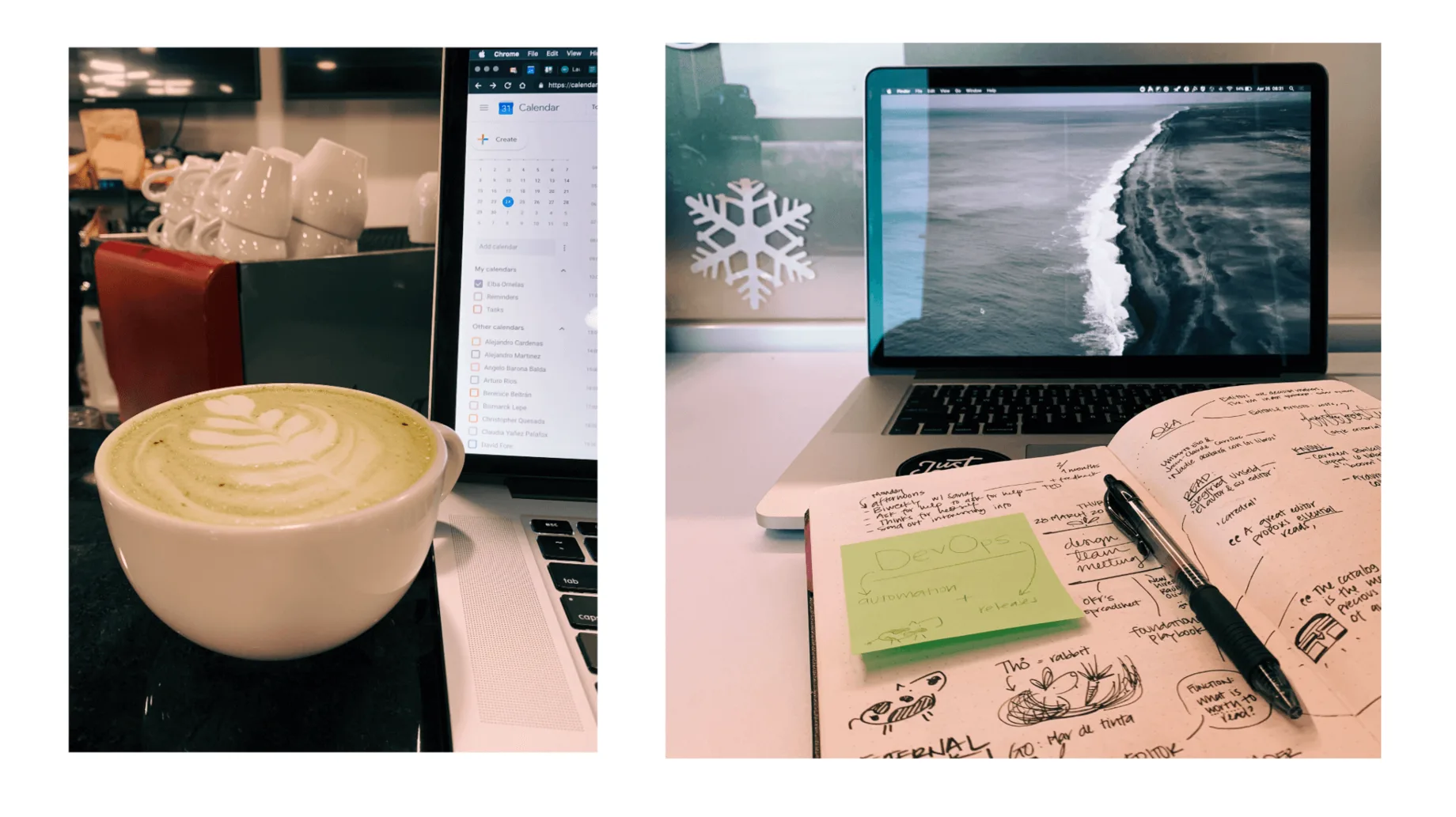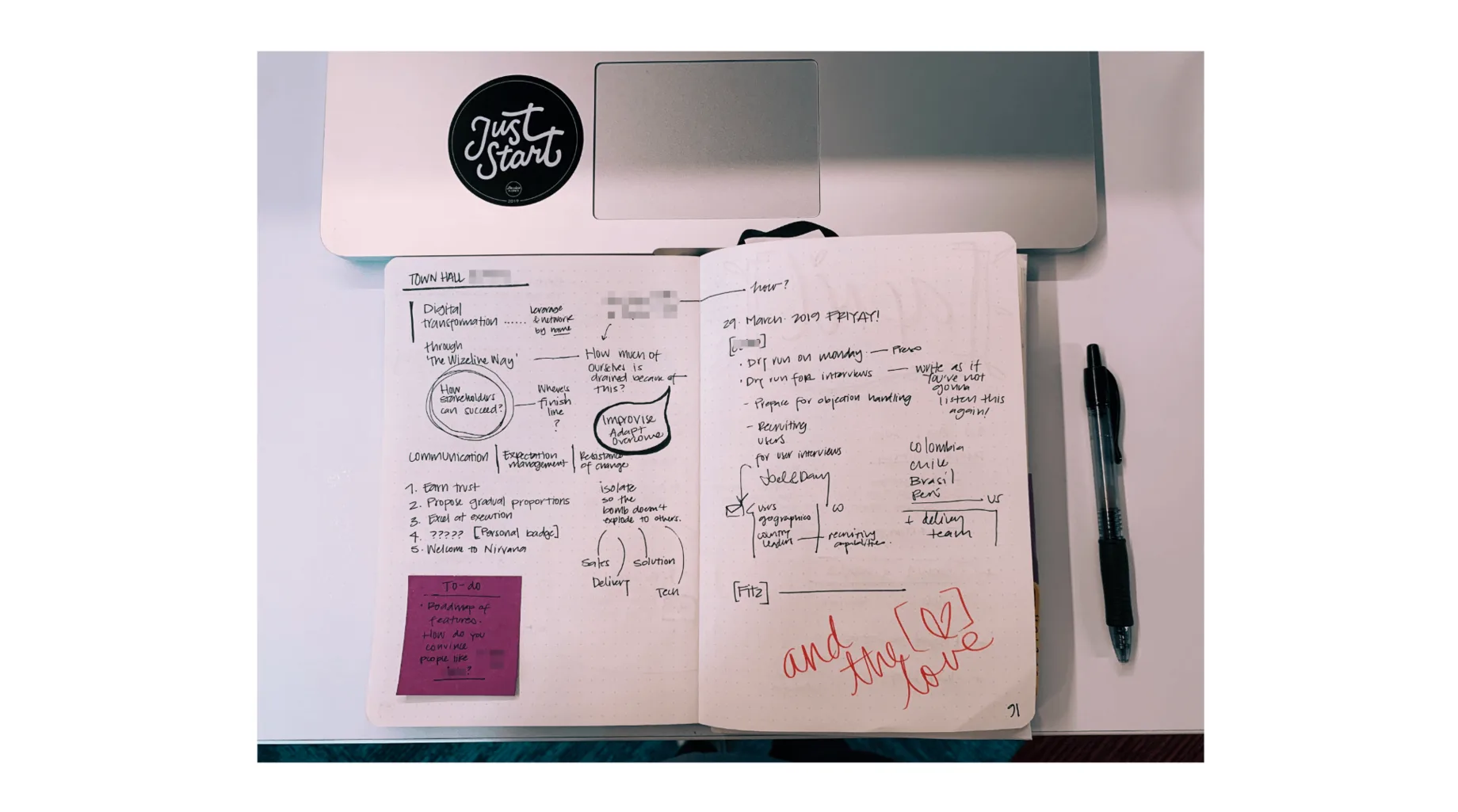 Special thanks to Clark Tibbs, who is the author of this photo, and award-winner because I haven't changed it for 3 months now.
Where do you go to get inspired?
Inside myself. Let me explain.
It's true I haven't had any (good) ideas right in front of my screen(s). Hence, I get a wild struck of inspiration while I'm away from them – while I drive back home, when I prepare some tea, when I go out for a morning run, even when I head to sleep. It is in these moments when I get to connect ideas and voilà! Plus, if I get lucky, I get to share such ideas with my teams and that's when momentum arrives, too!
Of course, such ideas need to come from somewhere, and I look into non-design related books, some channels in YouTube, well-known patterns, and even past research for previous projects. Everything helps, but it rarely gives me an immediate answer. That's when off-screen time helps.
[Here's my list of non-fiction maybe-design related books.]
[Make sure to visit this YT channel, this one, and this one, too!]
[Watch some patterns here.]
[For past research, I use Pocket. I'm a tag nerd. 🤓]
What product have you recently seen that made you think this is great design?
I'm currently obsessed with Blinkist. Not only the mission it has as a product seems benevolent to me, but it's designed with love.
It gives access to a wide variety of non-fiction books, through comprehensive and actionable 'blinks' or snippets. At the end, it also suggests similar books to what you read, you can highlight relevant passages, and sync with Kindle. Oh, did I mention they also have the audio options?
What pieces of work are you most proud of?
One of the internal products at Wizeline for which I happen to be the product owner. This product focuses on minimizing food waste from our offices and envisions a better relationship with our environment, using technology. It's called Foodie.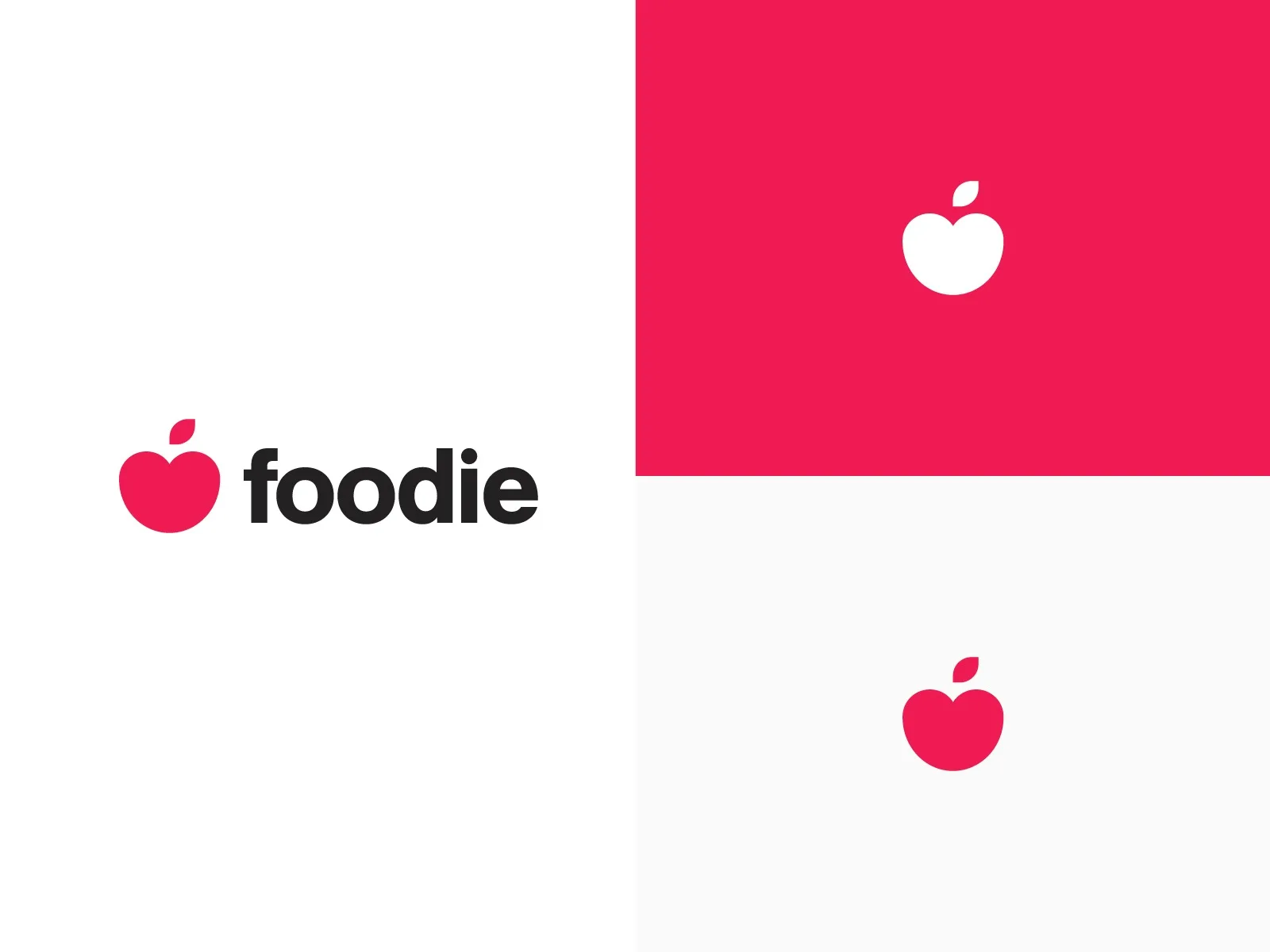 Credit: Goes to our magnificent designer Guillermo Becerra.
It's been a tremendously fulfilling experience for me to see how this product went from ideation, execution and iteration, and launched recently to the company - with nothing more but big plans for the future.
I've had the chance to lead the design efforts, listen to users' feedback, conduct research and testing, and promote our vision throughout the company. Along with the Technical Product Owner, we've leaded a team that's constantly learning while doing, and building a solution to bring happiness and positive impact to our community.
A challenge? Yes.
A fun one? Definitely.
What design challenges do you face at your company?
Quality time for research activities. At Wizeline we have a fast environment, and allocating enough time for research is quite a challenge! Naturally, negotiating this with clients has become a must-have skill that I've been lucky to develop and practice for the past year. There's still a lot of room for learning and fine-tuning, of course!
What music do you listen to whilst designing?
Any advice for ambitious designers?
Say 'yes' one time less than 'no'.
I've learned this the hard way, and if you're starting out your career, you might feel like the world is yours to eat. And that's true. But don't let it become overwhelming or you'll get burned (hopefully not in a literal way). And if you have some path covered in your career, a serious introspection might be soothing for the rest of the path you're about to walk!
Make sure you say 'yes' to the kind of opportunities that will leverage your networking skills, challenge your knowledge or comfort zone - remember nothing grows in there.
A mantra to remember: It's either 'F*ck yes!' or 'No'.
Anything you want to promote or plug?
Sure thing!
I like to craft different playlists - if you enjoyed the sample from this entry, you will definitely like this one. If you're into shoegaze vibes, this one is for you. And if your soul is happy with lo-fi tunes, this one is ready for you.
Last but not least, I wrote about my experience going from intern to full-time. It's 10 minutes long. There. I warned you first.
Stay tuned for more entries to come this year!