What led you into design?
Design has always been a passion of mine since childhood. Before I could speak, I began drawing. As far as I remember, I wanted to be a designer. I created my first piece of digital art on my grandfather's computer when I was four years old. My deep curiosity and a constant desire to learn made me get into the UX/UI field.
When I studied UX & UI Design, I took this route because I enjoy studying customer behaviour and finding new ways to reach the target market, I am also empathetic, and I enjoy coming up with new, creative approaches to solving problems with simple solutions. I am enthusiastic about designing for the end-user, giving a strong focus to detail and attention to design quality.
What does a typical day look like?
I'd say that there is no such thing as a "typical" day. It highly depends on the project and which phase we are in. Almost every day, I start my day swimming at an outdoor nearby pool at Playa Vista, CA. Currently, I work remotely for Fabric as the Lead Visual/UI Designer, whose headquarters is located in Seattle, Washington.
Every Monday morning, our team meets to plan the upcoming week, discuss updates, prioritize our tasks, and organize multiple projects in a fast-paced, agile environment. As part of my job, I develop compelling visuals, innovative and functional web designs, as well as generate ideas, concepts, and designs for Fabric's brand.
I collaborate with cross-functional team members such as the marketing team, UX architects, developers, and stakeholders to develop groundbreaking designs across marketing channels. At the end of the day, I love learning and staying up to date with new technological trends.
What's your workstation setup?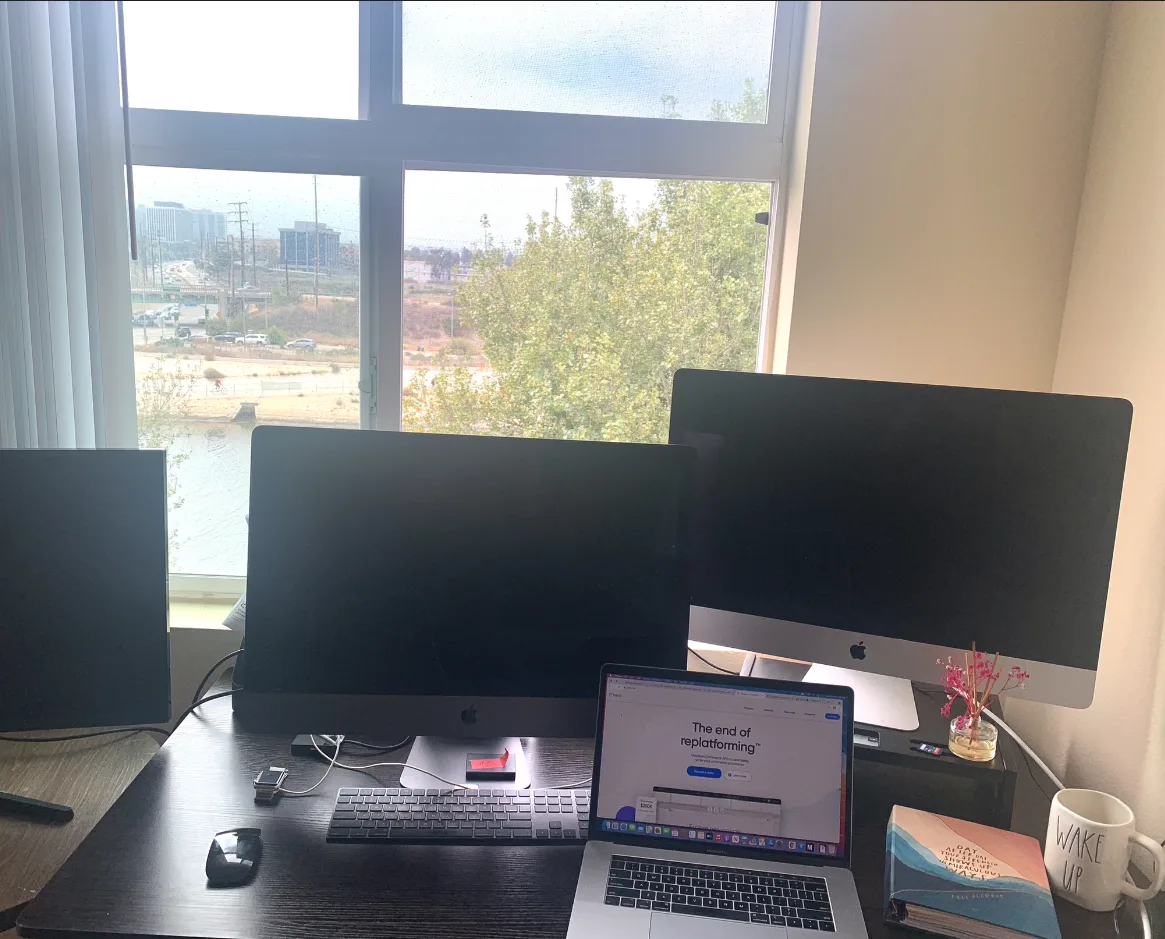 Having the opportunity to work remotely is great. I enjoy taking walks around my neighbourhood in Playa Vista. Known as "Silicon Beach" due to the presence of many tech giants here, such as Apple, Google, Apple, Microsoft, Yahoo, Youtube, etc, making it a great place for networking.
Where do you go to get inspired?
Design is not limited to the digital world, but instead, everything we use in our daily life is designed for human ease. From the cup of coffee you drink every morning, to the smartphone you're holding. I love travelling - it's a great way for me, not only to learn new things and immerse yourself in a new culture, but it also provides a constant urge to continue learning and get inspiration. I love to travel the world and observe UX things in real life. Every time I travel, I notice every detail, from buildings and signs to elevators and jets.
What product have you recently seen that made you think this is great design?
Recently, I visited the nearest Amazon Fresh store in Inglewood, and I was impressed by the Amazon Dash Cart, a smart shopping cart that lets you check out without a cashier. On the cart, there is a touchscreen and other hardware components that automatically detect what items you've placed inside and even how many of those items you've picked up.
What pieces of work are you most proud of?
I'm proud to be part of Fabric's design team. Fabric is a modern commerce platform that gives retailers tools to create world-class shopping experiences for mid-market enterprises. Customers like Juicy Couture, ABC Carpet & Home, and Universal Lacrosse trust Fabric for its open and modular design, allowing them to be live in weeks without having to re-platform. Fabric is a force multiplier on retailers' existing technology investments proven to grow digital revenue by up to 3x.

Also, I am proud of the design of Experly, a demand-driven experiences marketplace. Our team at Eworx S.A. developed an AI-based system for generating personalized experiences based on user expressed needs, enriched profiles, and lifestyle patterns. The platform matches "demand-side" and "supply-side" with a continuously expanding rich set of functionality, surpassing competitors' quality, innovation, and value. The platform is in the development phase and will be available soon.
What design challenges do you face at your company?
In my role at Fabric, I make complex ideas understandable with visually appealing conceptual graphics for B2B enterprise clients. Understanding the right balance between business needs, customer experience, design, and Fabric's brand is crucial.
What music do you listen to whilst designing?
Any advice for ambitious designers?
Embrace your failures. Acknowledging mistakes is also important for moving on. A designer's path is not predetermined. In general, there is no good or bad design. Keeping your design style is the thing that helps you stand out from the crowd.
Make changes. Be curious and Start writing the new story of your working life. Transform your life from mere duty to real passion. This is a real success.
Anything you want to promote or plug?
My aspiration was always to find a way to make the world more beautiful through design. Design is a way of life, and visual communication is the universal language that everyone in the world can understand, regardless of their nationality, age, or background. I am so lucky to have found a job that allows me to integrate my two passions, art and technology.

I would like to encourage designers not only to stay on top of new technological trends, but it is also essential to staying up to date on the world and how it's changing. The role of the designer is often central to how people experience new technology; they define interfaces, interaction models like chatbots, voice interaction, gestures, and AI-driven products.

I'm happy to connect with you on Linkedin Profile