What led you into design?
My path to graphic design was a bit circuitous. I was always creative, but I was much more focused on conventionally "academic" subjects, particularly the STEM fields, growing up. In college, I was part of a five-year dual bachelor's program between Brown University and RISD, where I studied Cognitive Science and Graphic Design respectively. Going into school, I thought I wanted to be a scientist, but I unexpectedly fell in love with graphic design instead.
My area of focus within Cognitive Science was visual perception and colour processing, but graphic design quickly felt like a more immersive and hands-on way to examine the subject of vision; through design, I could see how individuals responded to different colours, forms, and patterns in real-time, rather than in an empirical vacuum. On top of that, I loved the fact that a career in graphic design allowed me to tap into a wide range of skills, like writing and photography, and to always be learning about a new industry via my clients.
What does a typical day look like?
My personal disposition is somewhat anti-routine for whatever reason, so my "typical" day is pretty atypical by nature. That said, I currently teach part-time at RISD on Mondays and Wednesdays, so on those days I usually wake up and walk my dog (a 10-year-old beagle mutt) with my partner and grab a coffee on the way. When we get home, I'll answer a few emails, or maybe do a bit of piecemeal work and planning for the week ahead before taking the bus downtown to class.
On days when I'm not teaching, I do some version of the same thing (more emails, more work) in an arbitrary order based on my mood and meeting schedule for that day. I do try to take a break from work to have a sit-down lunch or go with my partner to take the dog out in the afternoon when I can. But unfortunately, as a remote freelancer, I do seem to find myself stuck in meetings for at least 2–3 hours every day, which makes my ability to have uninterrupted work, or break, time more difficult.
In the evenings, I'll see some friends locally, watch a movie, or work on one of my million unfinished craft projects (I'm currently three years into making a single latch hook rug).
What's your workstation setup?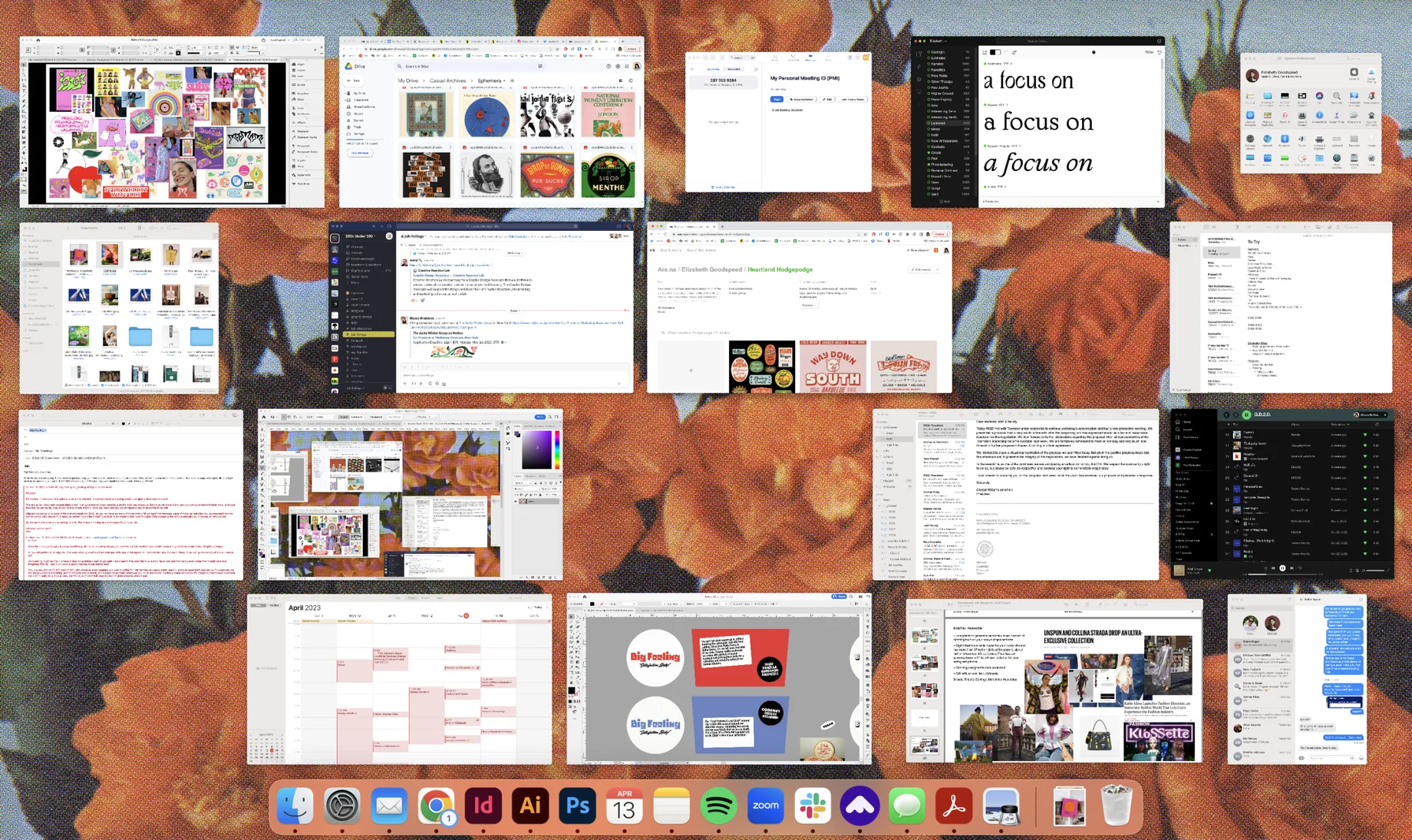 Where do you go to get inspired?
I've found that the best way for me to stay inspired is by looking at primary sources from the past (like printed ephemera) and being intentional about what I choose to reference. Some special areas of interest are vintage cookbooks, QSL (ham radio) cards, and counterculture magazines from the '60s and '70s.
I'm especially passionate about "folk" design as well—that is, design by non-designers—and how makers throughout history have utilized the limited technologies of their era in unexpected ways to make unique work.
What product have you recently seen that made you think this is great design?
I'm a huge fan of the LA-based cannabis brands Rose. Every part of their brand is thoughtfully considered, from stunning photography and art direction to a beautiful editorially-led website. I'm particularly fond of their packaging, which combines classic print techniques (embossing, die-cuts, foil, etc.) with really cool custom typography and illustration.
I think they embody what I see as a very post-DTC brand approach that's emerging in the industry—less focused on maximum recognition or a copy-paste level of similarity across products and more focused on a constantly evolving & bespoke editorial exercise. In the same sphere, I also love Pure Beauty, which brings a real sense of humour and a fashion-forward eye to the cannabis space, particularly when it comes to photography. They've set so many art direction trends that I later see trickle down to other industries—like oversized props—and also always seem to work with amazing photographers far before they blow up.
What pieces of work are you most proud of?
I recently published a Riso printed zine called How to Live on Love that features an essay on the history and design of romance novels, as well as a wide assortment of lettering samples pulled from erotic pulp covers spanning 1945-1985. It was a special project as it's an idea I've been working on very sporadically for almost 5 years and one that pulled together so many of my interests in one space—archival research, lettering, writing, queer culture, print, art direction, etc.
I'm also quite proud of the work I did this year for a new tween magazine called Anyway. I worked as the brand's creative director and designer, creating everything from the branding to the full editorial system and art direction for all stories in the inaugural issue. I really love creating for this age group and it was really impactful to be able to work on a project that helps to expose a young audience to important topics like climate change, gender expression, and mental health, as well as fun things like recipes and quizzes. The identity plays with colourful and retro-inspired motifs that allude to the golden age of children's media on screen (think: Sesame Street and The Electric Company) and classic kids' magazines like Highlights and Nickelodeon Magazine.
What design challenges do you face at your company?
I'm a company of one which can feel sort of like being three kids in a trenchcoat—so I think the hardest part is having to be my own boss, employee, producer, copywriter, and design director! That said, the ability to really lean into being a multi-hyphenate is also one of the things I love most about being independent!
What music do you listen to whilst designing?
Any advice for ambitious designers?
Pace yourself! It's great to be ambitious but you don't have to get everything done all at once. I regret not spending more time earlier in my career, before my work schedule got more hectic, to go on vacation and spend time doing things that inspire me like going on long walks or hitting museums.
Anything you want to promote or plug?
I write a newsletter about graphic design history called Casual Archivist—every issue focuses on a different collection of ephemera, packaging, or editorial design.