What led you into design?
Music, fashion, and the urge to market and sell my products & merchandises, including the vinyl records, mixed CD compilations, t-shirts, baby tees, and our jackets via the eCommerce web site that I've personally designed and developed and launched successfully back in the mid 1990s for my indie dance record music label called Step Ahead Records with my big brother, DJ Aou, who's also a dynamic DJ/music producer for our eccentric dance music record label.
What does a typical day look like?
Waking up quite early (around 6a.m.-ish) and have my first mug of coffee in order to be more awake, started spinning some eclectic neo disco house tracks and do a roughly 20 - 30 minutes non-stop mix set of soul, funk, acid jazz, post-punk/new wave/new romantic genres of music right on my DJ coffin, consisting of a pair of Technics 1200s, Pioneer CDJs 850, Numark mixer with a DJ Controller (whenever I am not spinning my preferred 12" vinyl records). Workday then typically begins around 9a.m.-ish and I would begin by reviewing the status while combing through the latest updates of all UX/product design team's JIRA tickets for each product areas within our company's products/platform. From then onward, it's pretty much attending scheduled meetings with the PMs, the Engineers, and our Product Designers for each product squads througout the day. At least once a day, I'd get booked for the Pair Designing session(s) with my direct reports where we would just riff and explore various IxD patterns and whatever else UX-centric in order to steer towards the most user-friendly design concepts/solutions for each product squads that engage our in-house product design team's services.
What's your workstation setup?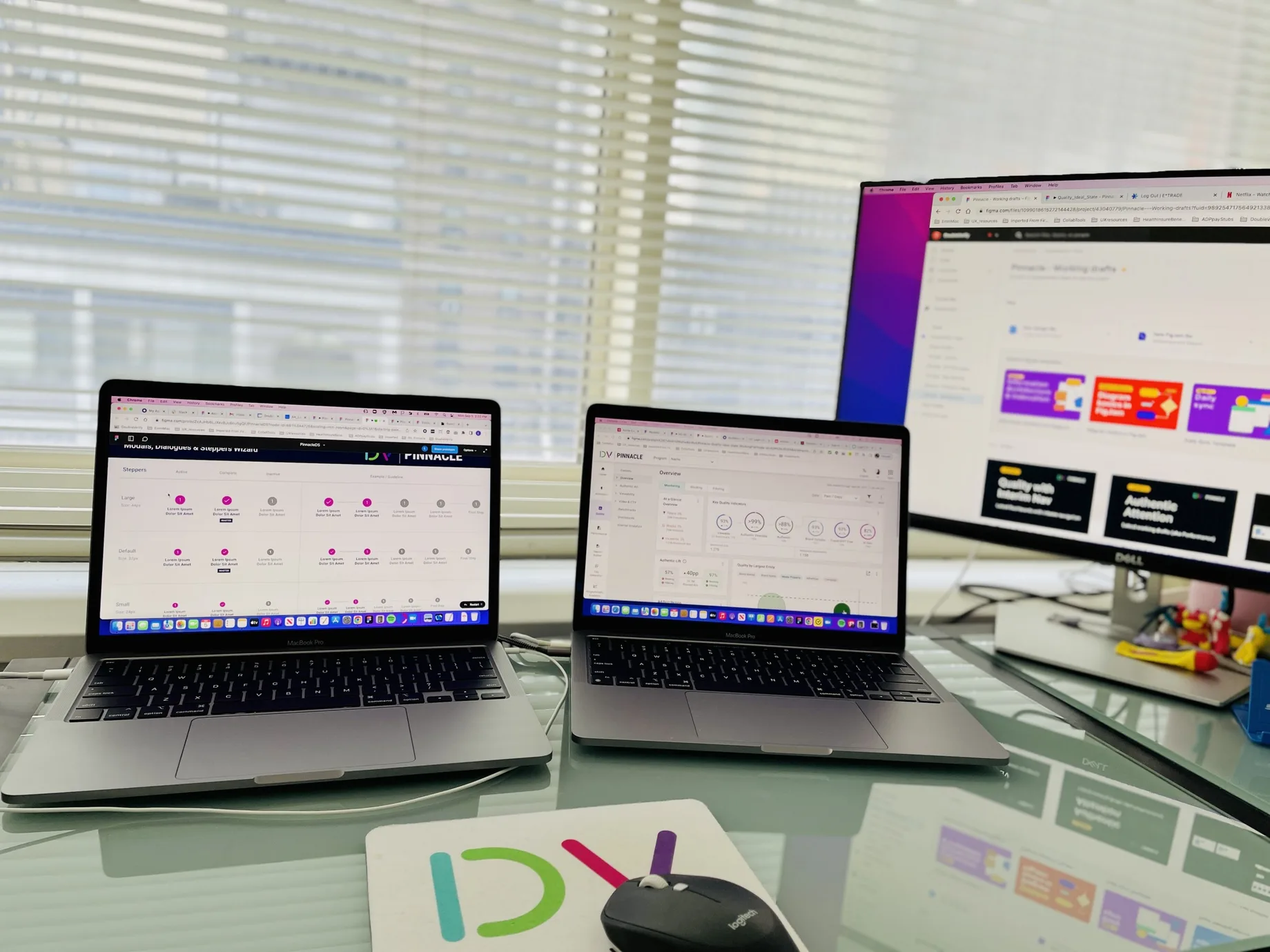 Where do you go to get inspired?
Music, Fashion, and the daily chores & tasks as a human being and a father to a 9 years old daughter would typically do when we are not working.
What product have you recently seen that made you think this is great design?
Our DV Pinnacle 2.0 design concepts/solutions are pretty awesome and quite user-friendly, according to how the test participants/actual users/clients of DoubleVerify have been giving their user satisfaction rating on my recommended overall redesign concepts for the platform.
What pieces of work are you most proud of?
From the UX/Product Design works, I'm still very proud of the web-based self-servicing video ads provisioning and debugging tools that I designed for Google DoubleClick for Publishers platform back in 2014 - 2015, then in 2018 through early 2020, it was the web-based self-servicing multi-asset classes trading products/platform for the world largest Asset Management company - BlackRock, and the currently 'curating in progress' Design System that I've been formulating for DV Pinnacle at DoubleVerify, the premier self-servicing SaaS AdTech products/solutions company that I've been serving as the Director of Product Design/Head of Product Design for the organization since June 2021 - present days.
What design challenges do you face at your company?
The apparently low UX maturity within the company as my in-house Product Design team is in its formative/founding phase and we are still very small although we've been very efficient and effective with our constantly improving UX/product design workflow & our preferred Lean UX design process that my design team has been proactively incorporating into all of our UX/product design initiatives for the projects that have been prioritized thus far.
What music do you listen to whilst designing?
Any advice for ambitious designers?
Keep on honing your design craftmanship through actual design projects and be willing to listen to the users as well as the product stakeholders whom you'd be working and collaborating with.
Anything you want to promote or plug?
Stay Humble, miFellowDesigners!