What led you into design?
One of my favorite childhood memories is learning how to use watercolors with my grandpa who started his own design firm in the 60's. We would paint still-lifes, like bananas and oranges, and he would throw in tips to shade the yellow with a contemporary purple for a rich shadow instead of just black.
In elementary school, I got a "My First Sony Electronic SketchPad" that displayed drawings on our family TV, and I was hooked, spending all of my free time obsessively drawing houses, animals, and apple trees. Over the years, I graduated to Kidpix, Dabbler, and eventually Photoshop where I would watch tutorial after tutorial trying to replicate magazine ads by removing my friends' teenage acne and blemishes.
By the time I was halfway through high school I knew I wanted to be a designer. I think those countless hours playing with digital art tools gave me a leg up in college and set a foundation for the rest of my career focused on digital design.
What does a typical day look like?
Every day starts with a hardcore snuggle session with my long-haired dachshund Olive, before she asks for breakfast and a morning walk. I try to drink coffee like a good Brooklyn designer, but it makes me twitchy so I settle for a few sips of my SO's cold brew.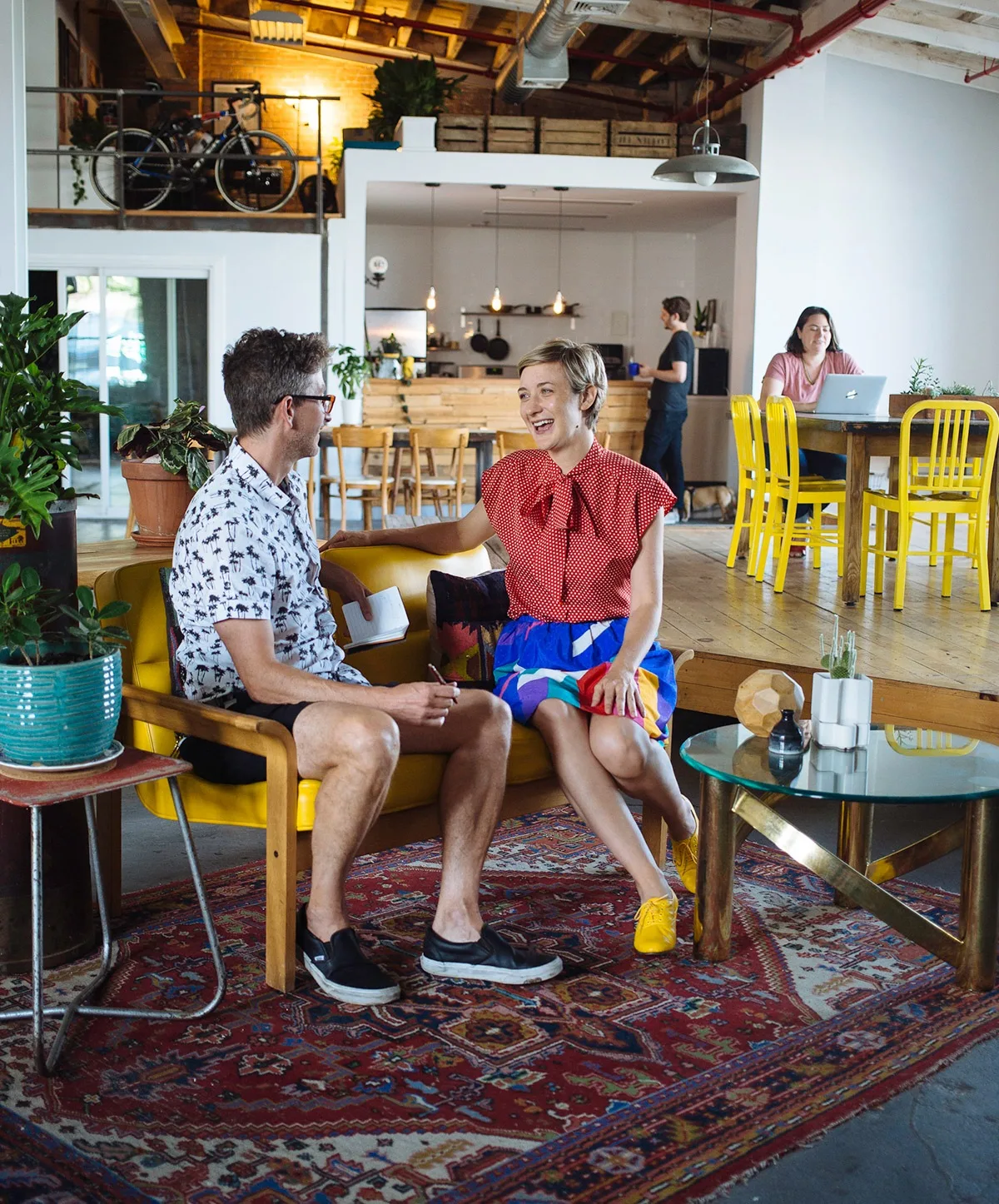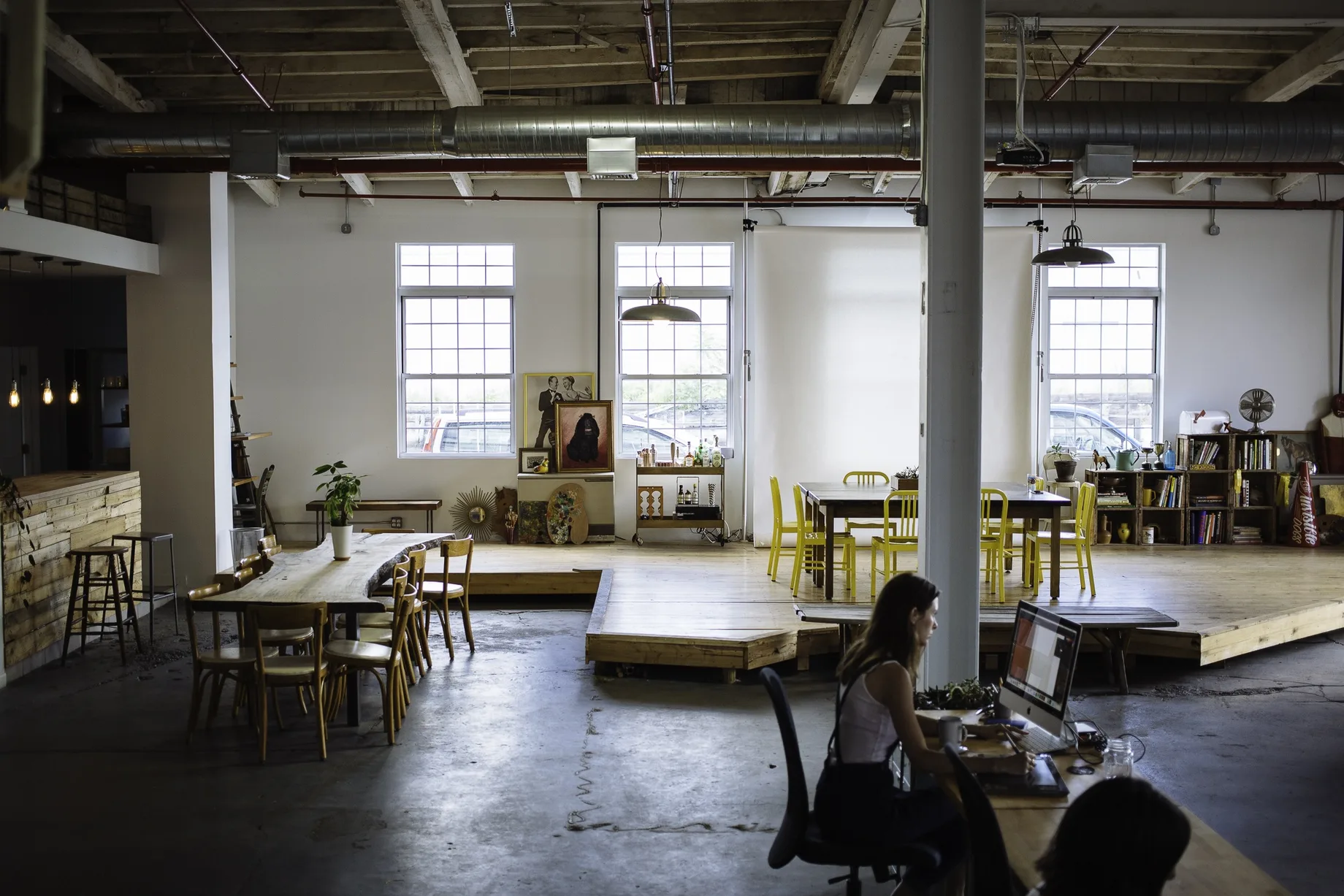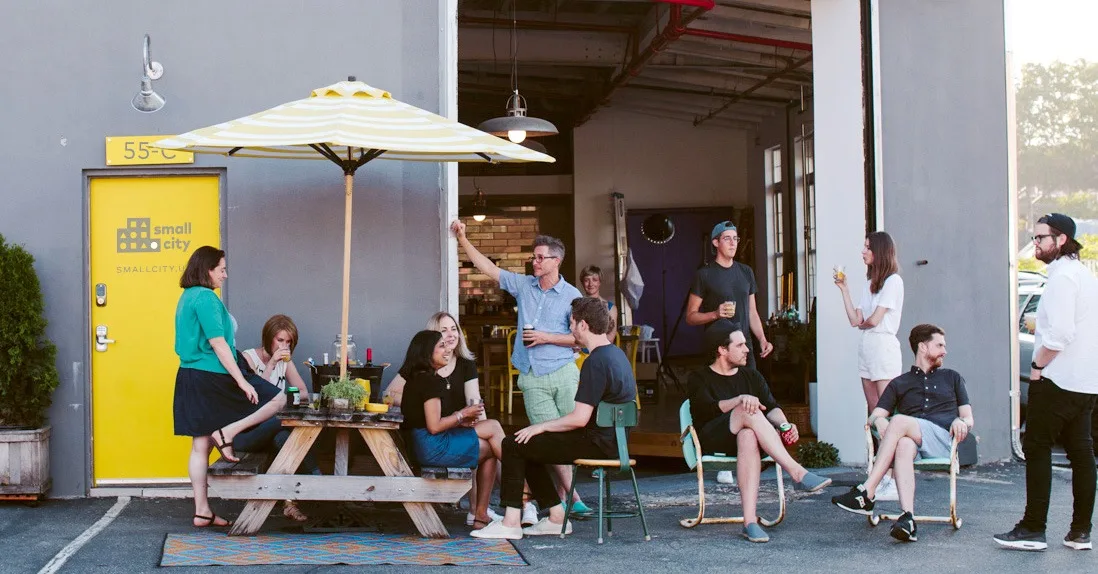 My work life begins when I walk into Small City, a coworking space in Gowanus. The community, support, and collaboration I get from being around so many talented and ambitious people have given me countless opportunities for my career.
A typical work day varies a lot as a freelance designer, and contrary to what students might think, most of it isn't creating new UI's in Sketch or assembling stylish mood boards. In the earlier phases of a project, I'm exploring product concepts and getting buy-in from clients—which means a lot of conversations about business goals, brainstorming, google docs and keynote presentations.
During later stages, I'm creating sketches to test with users, refining user experience flows, creating visuals and animations, and working with developers to make sure the designs are feasible and implemented correctly.
If it's Thursday, I'm looking forward to a Wine-down session with my co-working mates, where we celebrate making it most of the way through the week with a glass of red.
What's your setup?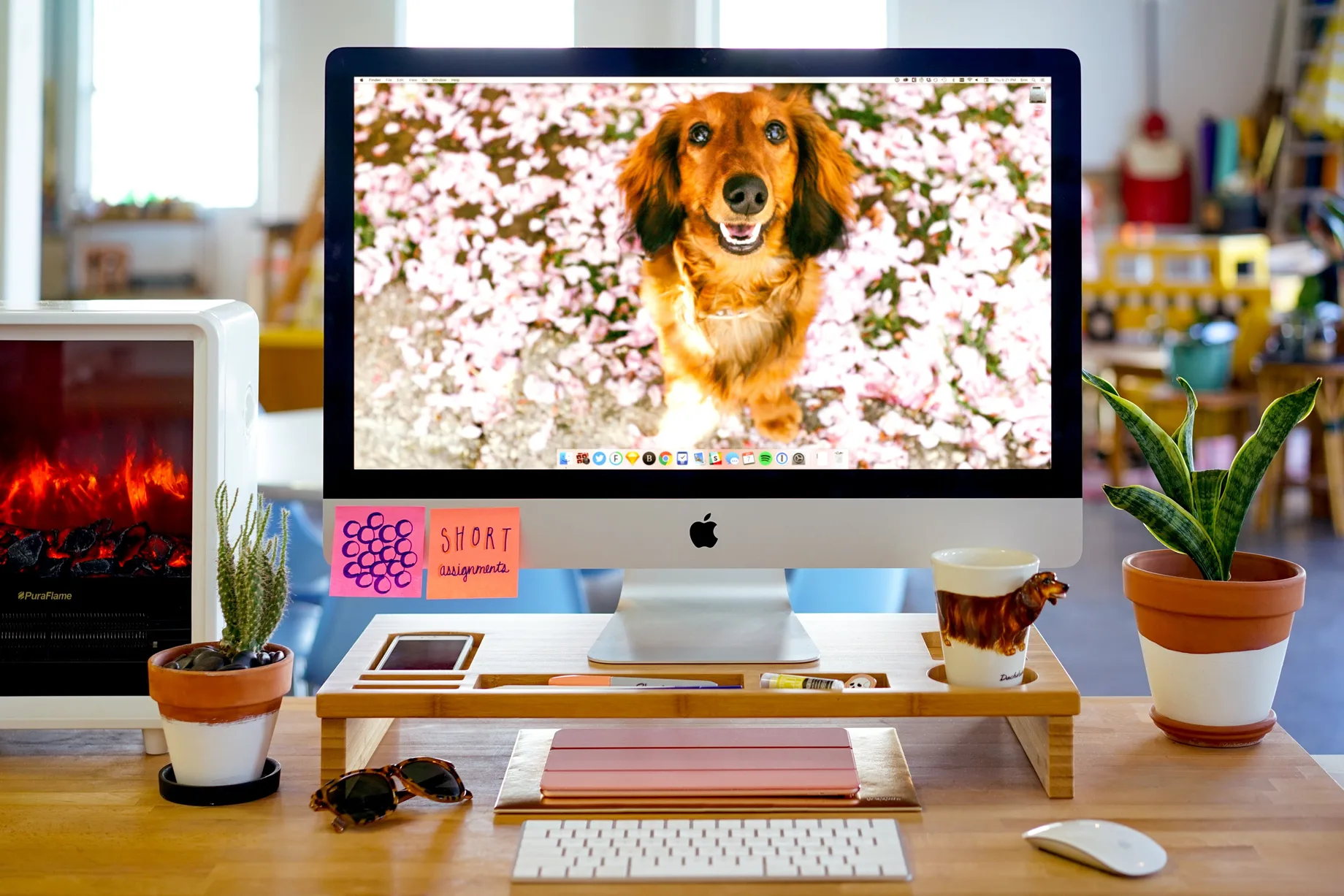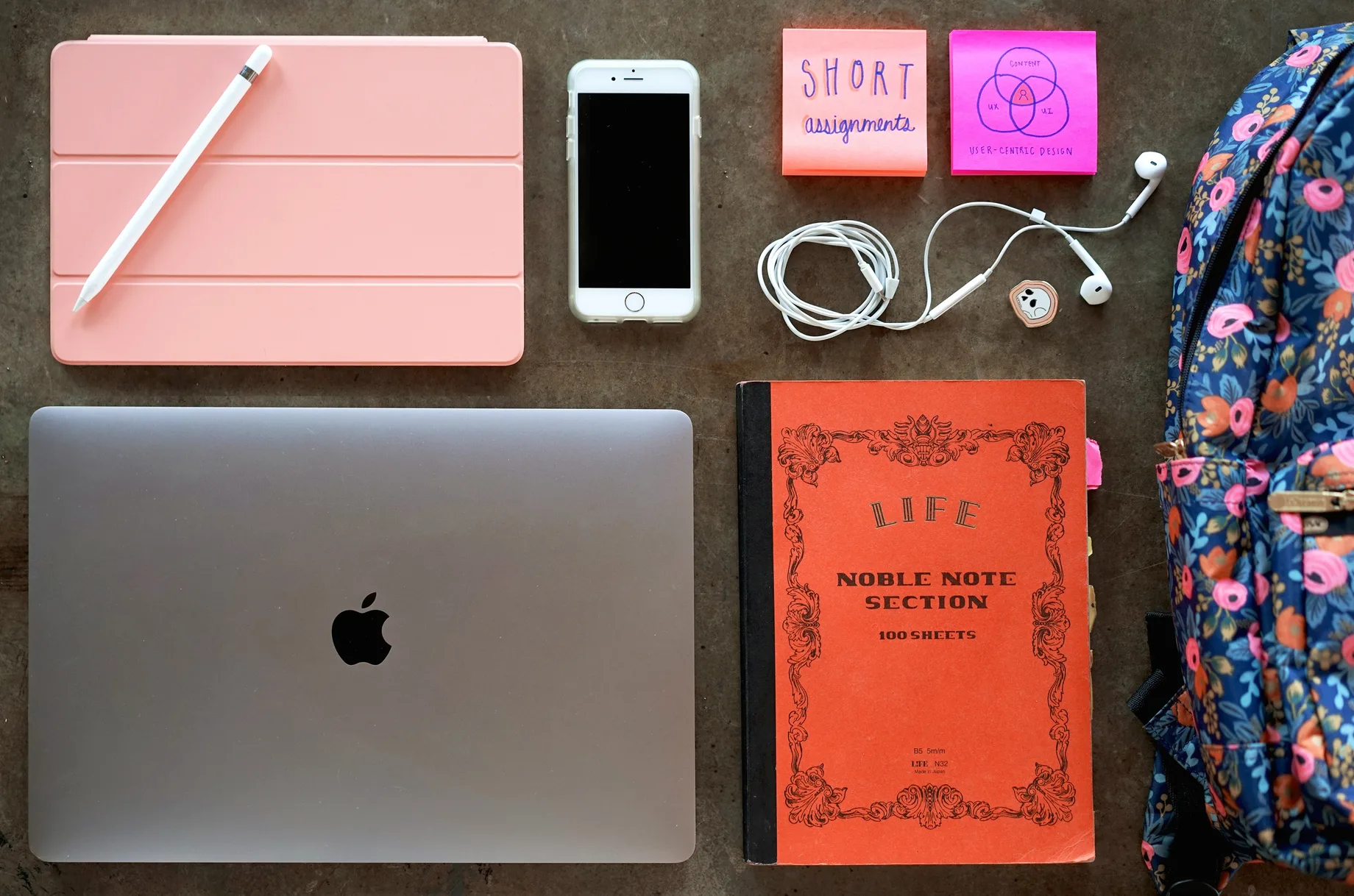 When it's cold out, my workstation revolves around my Pura Flame faux-fire heater and leopard print Snuggie combo. My most comfortable possession is a Herman Miller Embody Chair which is crazy expensive, but worth every penny. I also have an iMac for, you know, work. My Rifle Paper backpack carries a mobile workstation: MacBook, iPad w/ the pencil, a felt-tip black Papermate pen, and most importantly a LIFE Noble Notebook.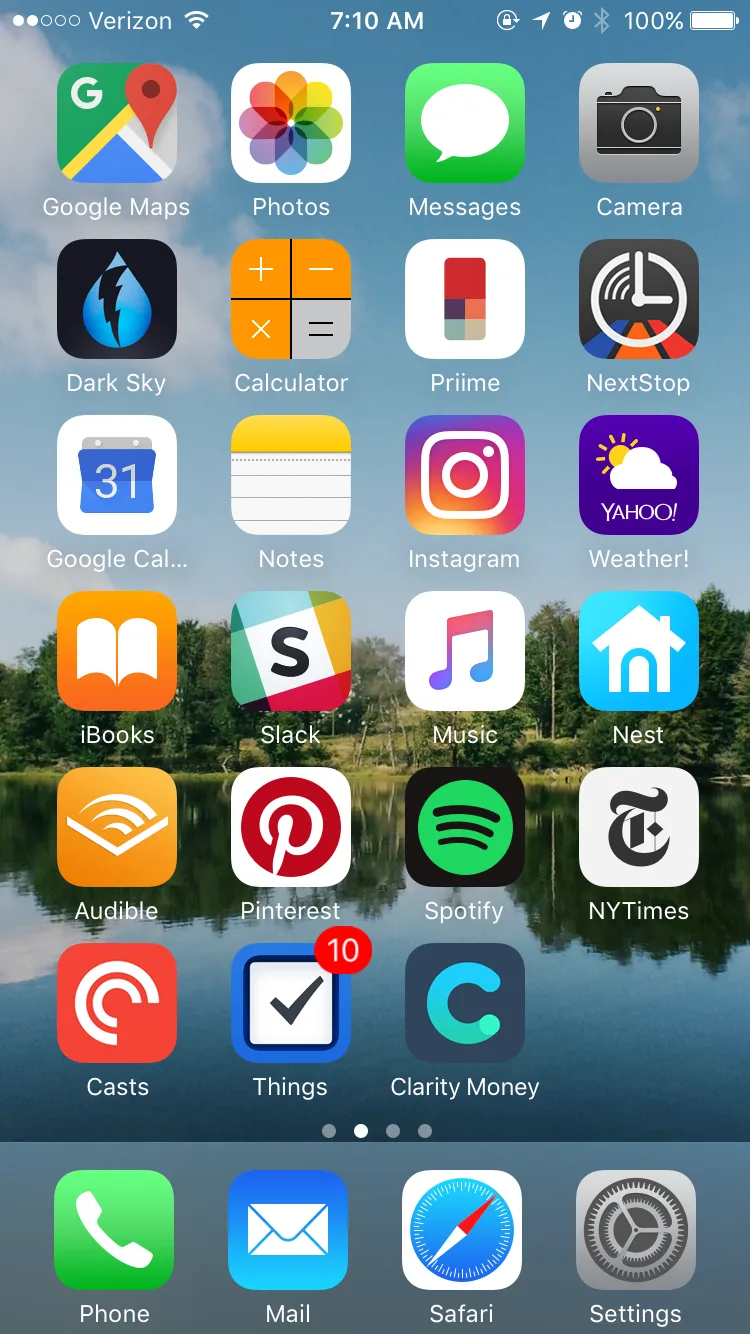 Where do you go to get inspired?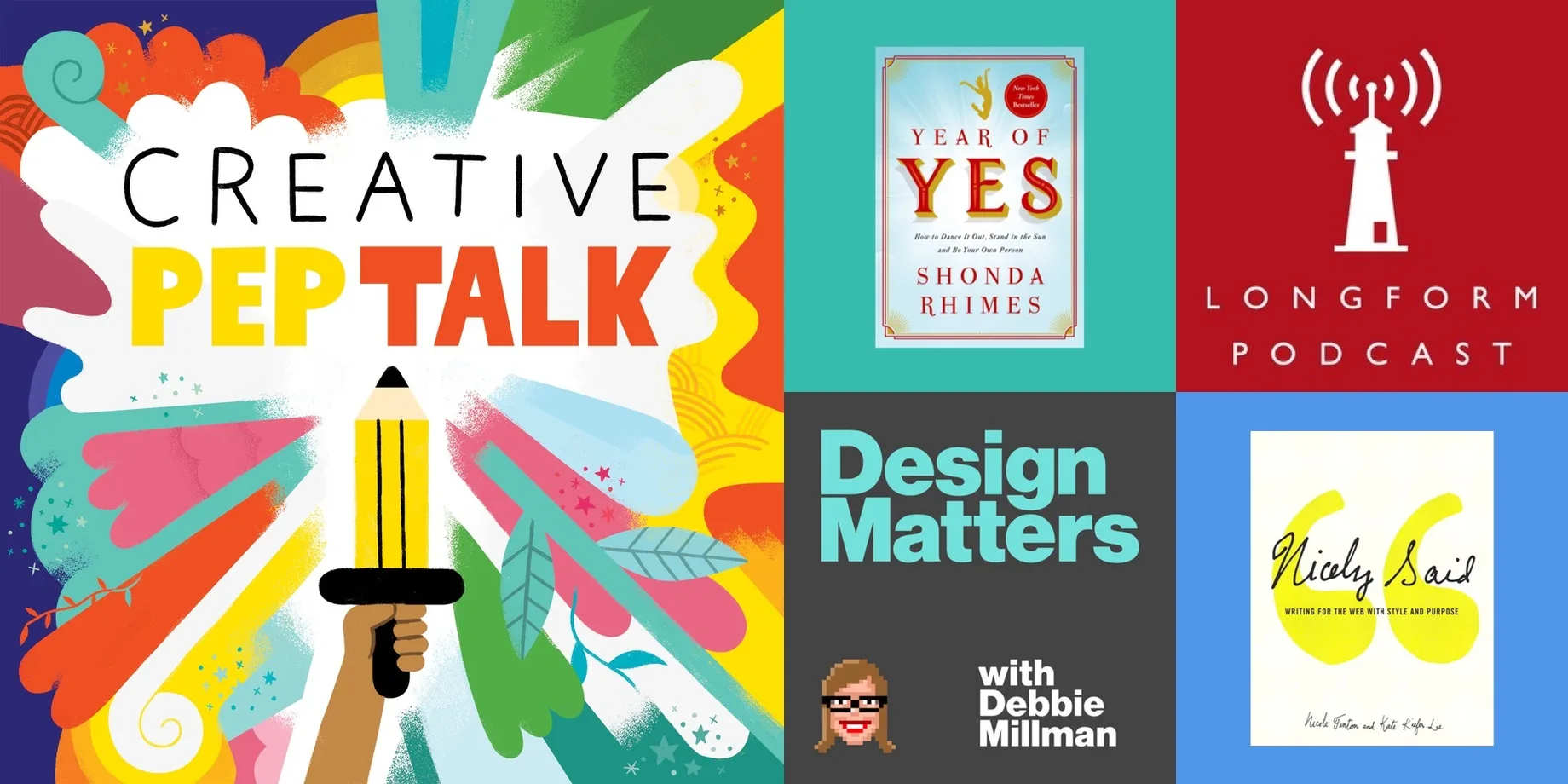 The hardest thing about getting inspired is knowing that I need it. When I start hitting roadblocks in my work, taking a long walk with a few podcasts:
Creative Pep Talk: Episode 105 How to Kick Self Doubt in the Booty
Design Matters: Interview w/ Alexander Isley
Longform: Episode 144 w/ Cheryl Strayed
A few books I've been most inspired by reading:
Mindset by Carol Dweck
Nicely Said by Nicole Fenton
Year Of Yes by Shonda Rhimes
It's worth noting how hard it is to feel inspired if you're overwhelmed. In that case, I suggest trying Anne Lammot's advice from her book Bird by Bird on starting any writing endeavor with "short assignments." To me that means starting with the easiest and quickest part of the task at hand, even (especially) if the approach feels counterintuitive.
What product have you recently seen that made you think this is great design?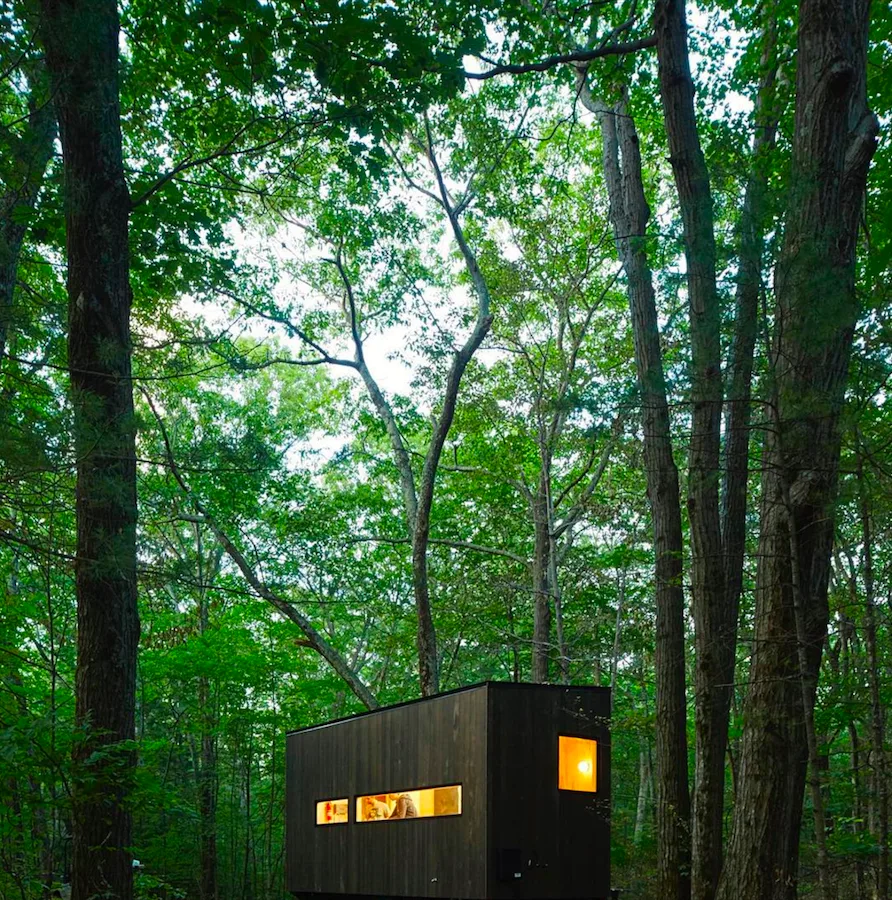 Photo by
@pherberperformance
Photo by
@pineandpalmjournal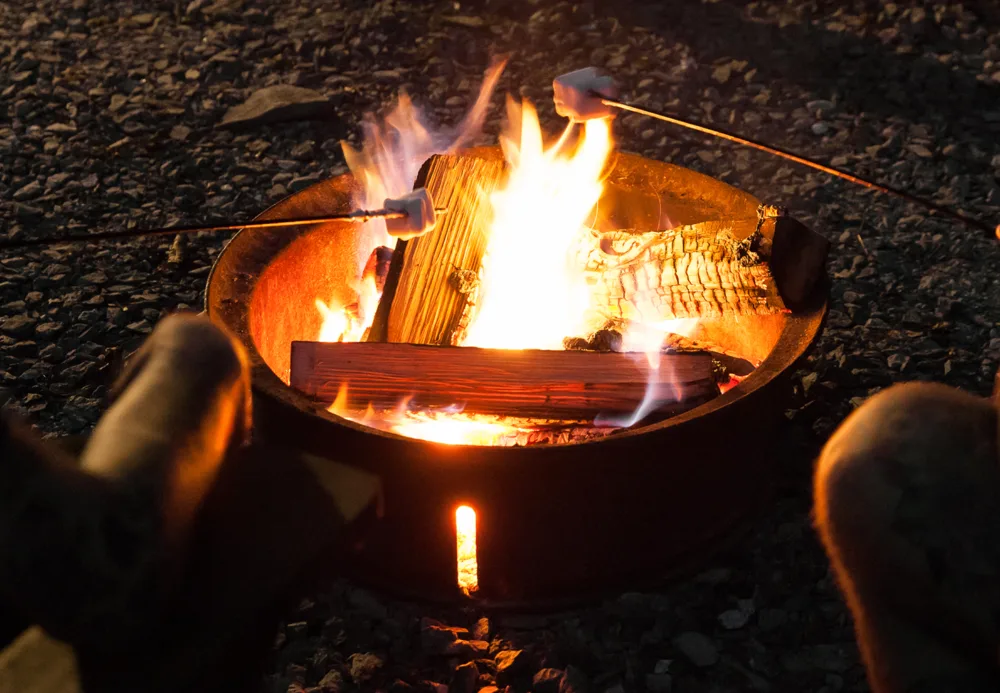 Photo by
@getawayhouse
This Summer my SO, Olive, and I needed to get out of the city. Badly. We wanted a cute cabin in a scenic area with lots of hiking, but had no idea where to look. A friend told us about Getaway House, which assigns you a sleek modern cabin with big windows in the Catskill Mountains minutes from obscenely gorgeous waterfalls and aqua-blue swimming holes. Setting up a fire for s'mores every night listening to crickets and chill tunes made us seriously second guess our lives in the gaseous abrasive world of NYC.
The experience was a detailed, well orchestrated, complete package that surprised us with the tiny touches you'd never see in a traditional hotel. They anticipated and solved the problems that paralyze a lot of city-dwellers:
It's guaranteed to be 3 hours or closer to the city so you don't have to worry about intense travel.
Every part of the customer journey was taken into account, from planning the trip online, to the onboarding when we arrived, to experiencing the surrounding environment in a local way.
They had a s'more kit.
What pieces of work are you most proud of?
One project that I'm really proud of is my work on the RetailMeNot iPhone app, which won a People's Choice Webby Award for best mobile shopping experience in 2015.
At the time, RetailMeNot wanted to elevate the user experience from something users only glanced at in the checkout line, to a true shopping destination where they could find more value before, during, and after a shopping excursion. In order to support the full customer shopping journey, they embarked on a redesign of their iPhone app store page.
I was hired by RetailMeNot's digital agency FreeAssociation to lead the content strategy and UX improvements.
The process began by gathering insights from casual RMN users to extreme-deal hunters and coupon clippers. I noted patterns in their pain points (both with the app, and shopping for deals overall) and created aspirational prompts to guide the initial low-fidelity solutions.
Some of the prompts included:
Help me shop smarter
Make it personal to me
Help me trust and understand the deals
Make me feel great about my deal hunting skills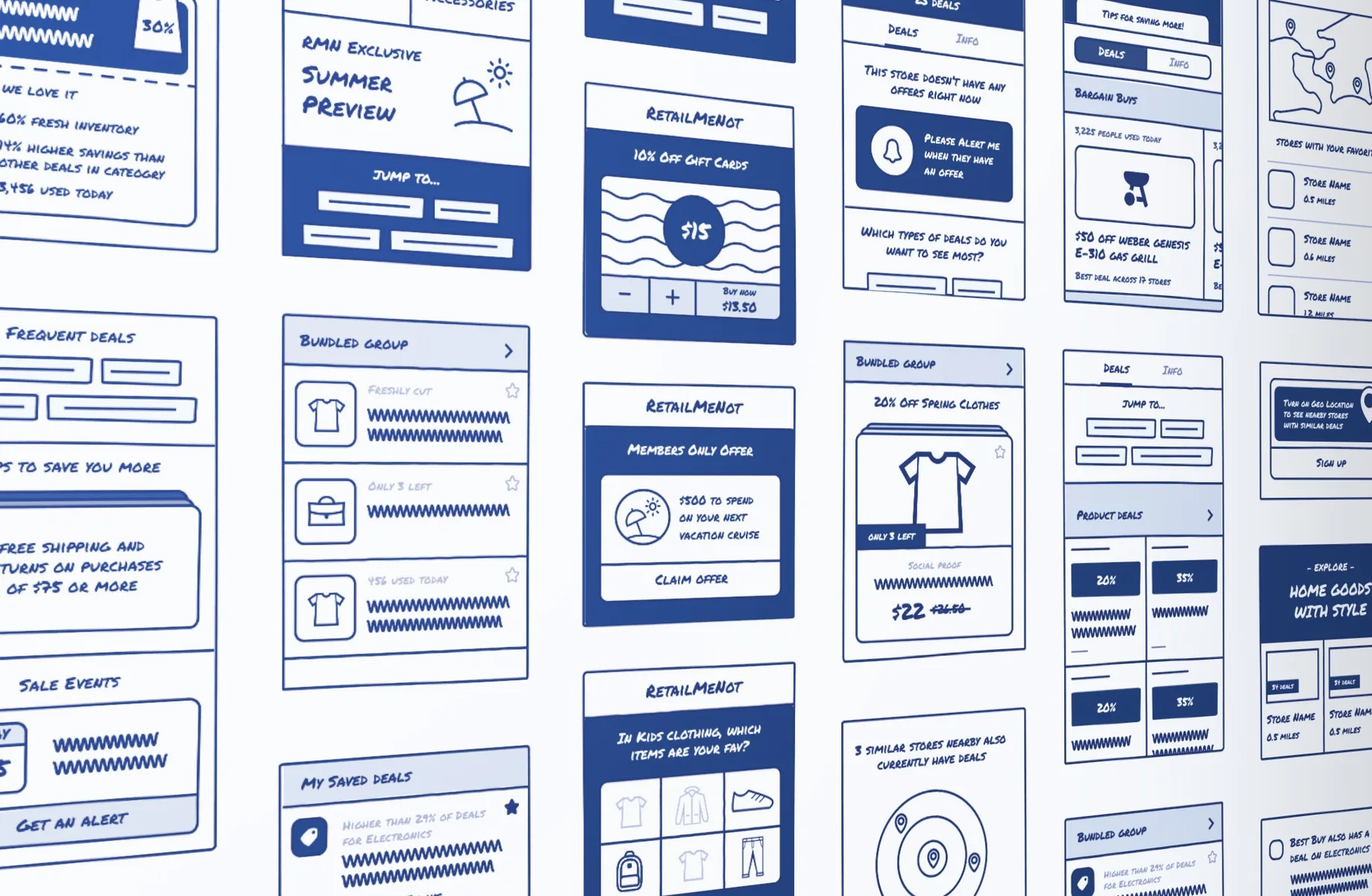 One of the primary pain points with the store page was that it was hard to parse; it was just a long list of deals without any hierarchy or personalization. My explorations focused on bringing more meaning to the list through strategic bucketing and labeling, and using the prompts to ideate on new product display modules, time/location modules, and empty states.
We tested the low-fidelity sketches with users to figure out what resonated most, and then refined those into high-fidelity wireframes. The final deliverables included examples of retail, travel, and food/dining store pages, all using a modular design system.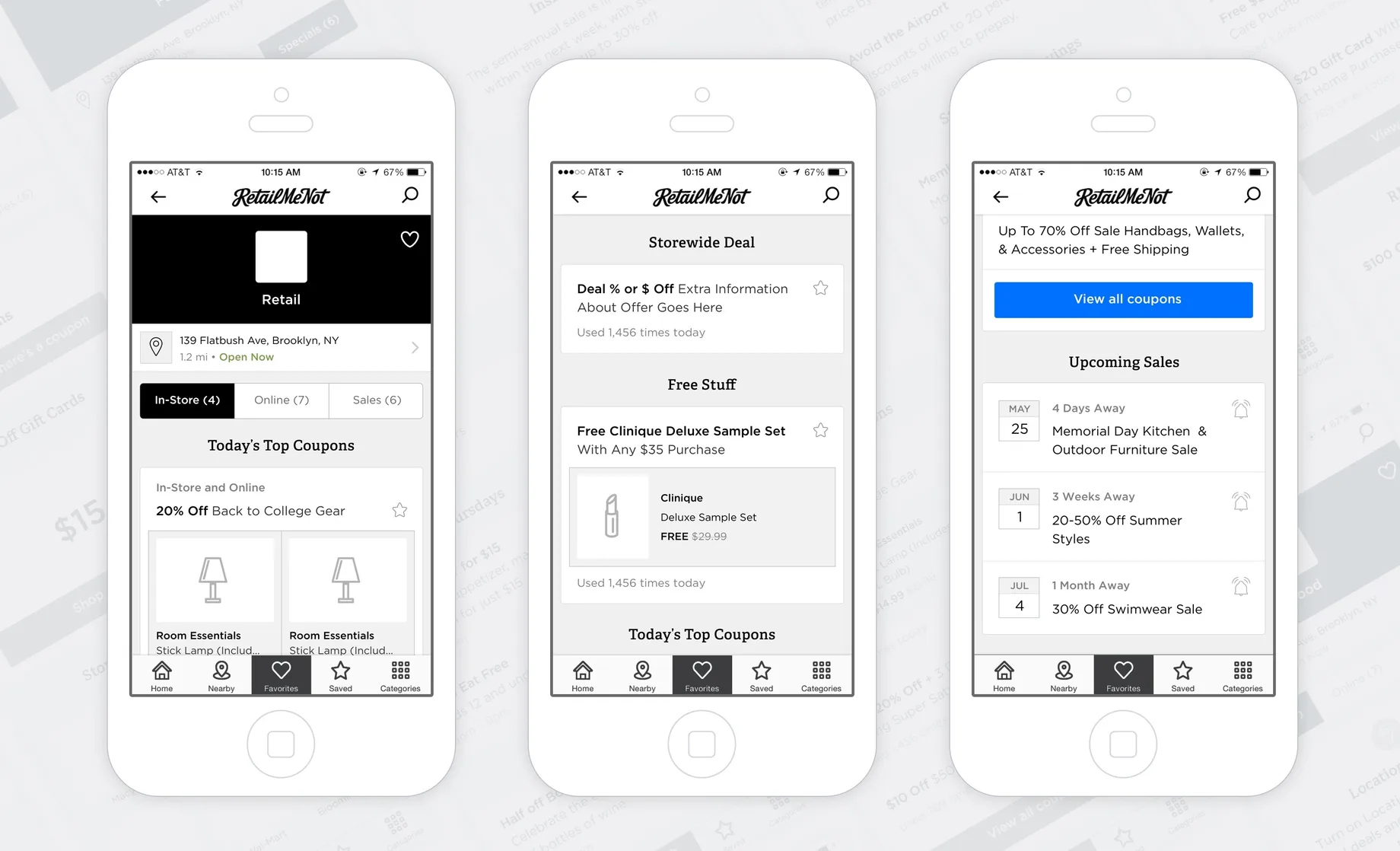 RetailMeNot's internal team was slated to carry out the visual design and development, so I created a well-organized sketch file of the design components for them to use as a reference moving forward.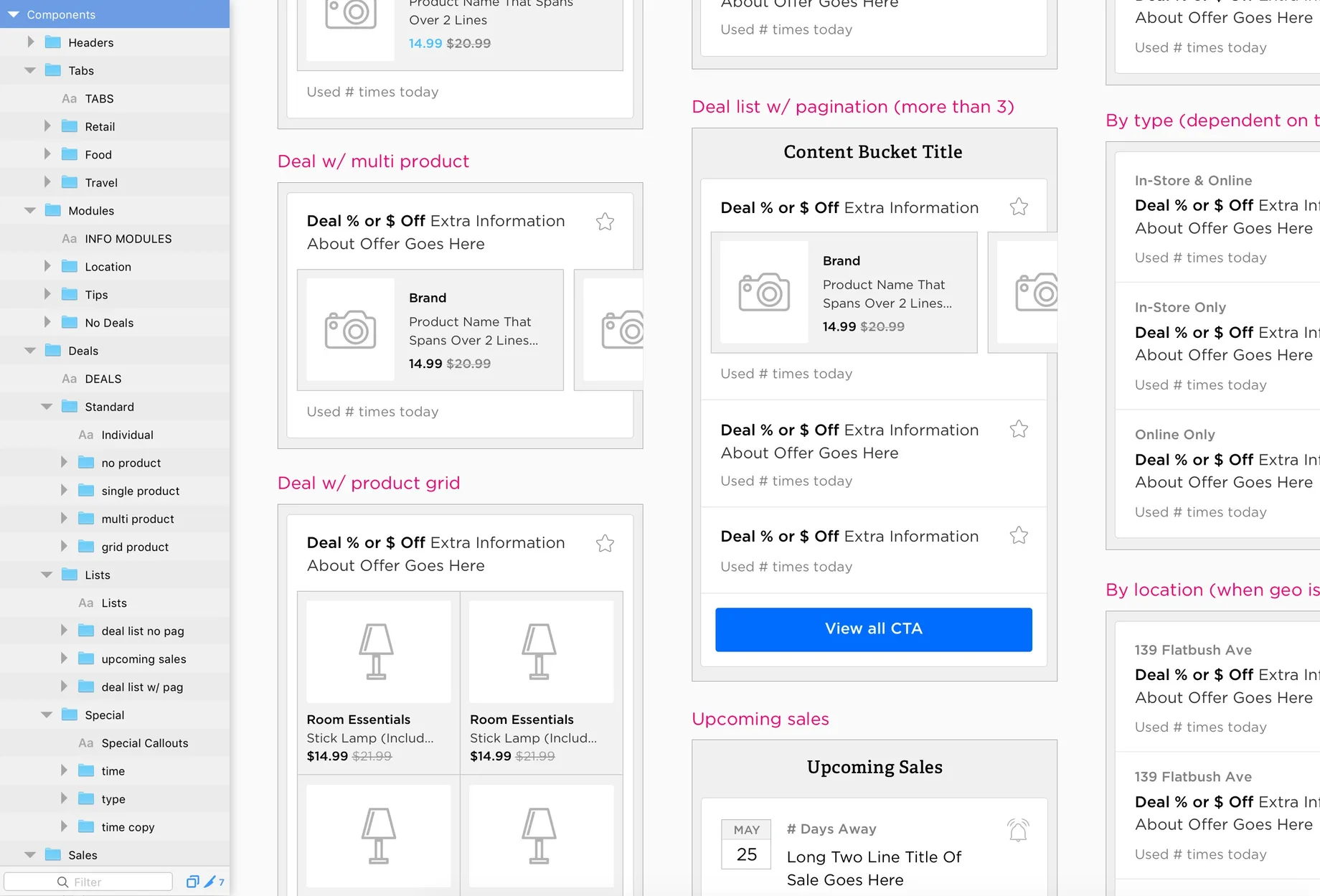 The true reward of working on this project was its thorough and thoughtful design process. From a clearly articulated challenge, to taking the time to research and explore, to informing the content strategy, and ultimately testing and refining a design system that worked across multiple store types. This process resulted in a design that brought more value to the users, and the business. Problem solving at its best :)
What design challenges do you face at your company?
Being freelance means wearing a lot of hats and constantly switching context. A busy day can include new client pitches, user testing, execution, and presenting work all at random times, often intermingled. It feels great to be mid-way through a project with a solid direction and nothing but time to focus on the task at hand, but that can be a luxury in freelance life.
What music do you listen to whilst designing?
Any advice for ambitious designers?
The advice I have sounds like every common trope you'll read on a top 10 list for ambitious people, but surprisingly, some of them have helped. Surrounding myself with peers who are doing what I do, but better, forced me to set my bar a few notches higher. Finding a mentor and periodically buying them coffee in exchange for specific sage advice is incredibly helpful. You should also save rainy day money and wear sunscreen.
Anything you want to promote or plug?
My own services as a contract product designer, of course! You can find more work and detailed case studies on my site at madebyeno.com.
I also want to thank my best friend Jessica Harllee for proof-reading this interview, as well as my talented SO Mike Edmonds who shot my portrait photo.