What led you into design?
I don't remember it that clearly. During my school years, a lack of interest soon made it clear that science and languages were not my strong points, but that free, creative work with colours, shapes, letters, and picture compositions were. My older brother also helped me to make a decision for myself through insights into his design studies and the challenges of having his own design studio (big up Büro Bum Bum). This decision, as well as my passion and curiosity to try out new things, led me to study design — which ultimately turned out to be the right path for me and my close future.
What does a typical day look like?
I started to incorporate daily routines into my everyday life very early, and they are very important for me (especially since my two children are born). These routines have developed and consolidated over the past years. I get up at 7:15 a.m., get the kids ready for the day with my wife, turn on the coffee machine and take a shower. I use the time in the shower to prepare myself for the day and mentally sort out the things that need to be done (work and private). Then I make myself an espresso and spend time with my two children. A little sport now and then.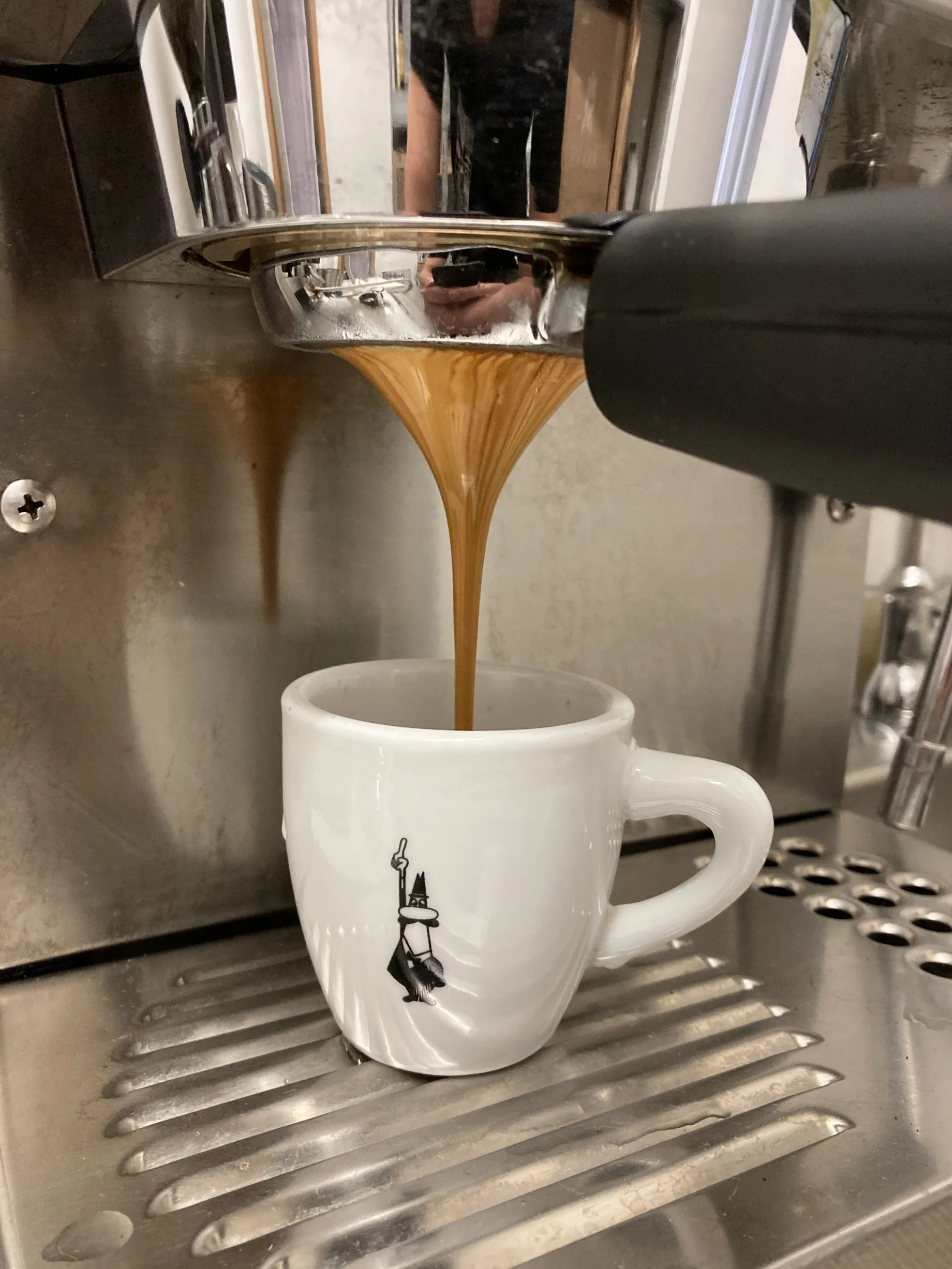 Around 9 a.m. I cycle or walk to the office — espresso number 2. As good as every day at around 9:30 a.m. I call Christian in Hamburg to bring each other up to date, we make a plan for the day or the next few days, divide up tasks and responsibilities and start the day with the first ToDo / Task; of course we also talk about everyday things. We work until the lunch break around 12:45. Our shared office in Stuttgart usually has lunch together. Either we cook or we go eat something. After lunch break (Espresso number 3) another status update with Christian. Maybe a short walk with the kids.
We usually try to divide projects in such a way that we work on one project in the morning and one project at noon so as not to get lost in the respective project. Most of the time this works quite well. At about 3 p.m. espresso number 4. Shortly before closing time at about 6 pm, last update with Christian, washing up, have a beer and then home by bike or by foot.
No Overtime, no work on weekends!
What's your workstation setup?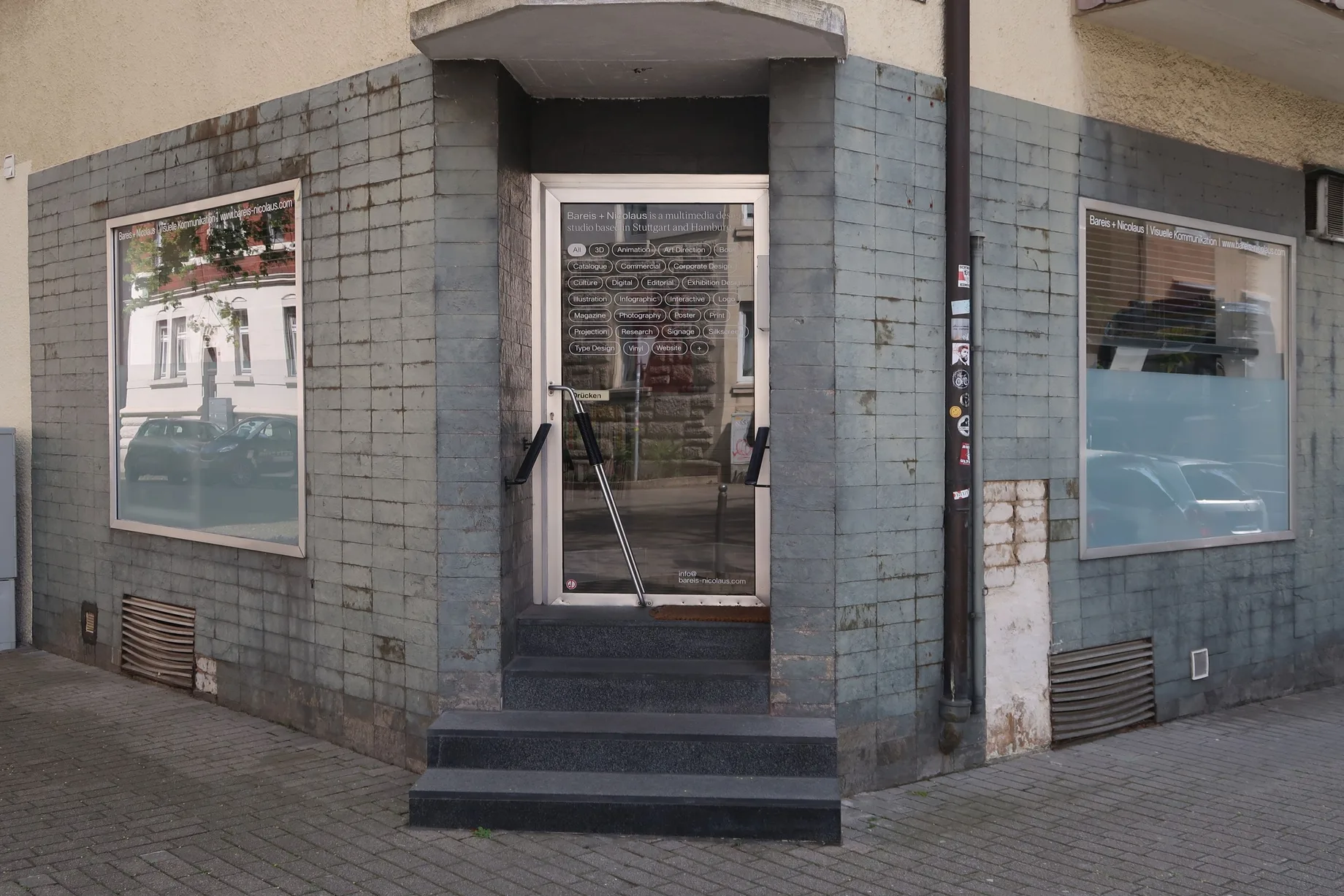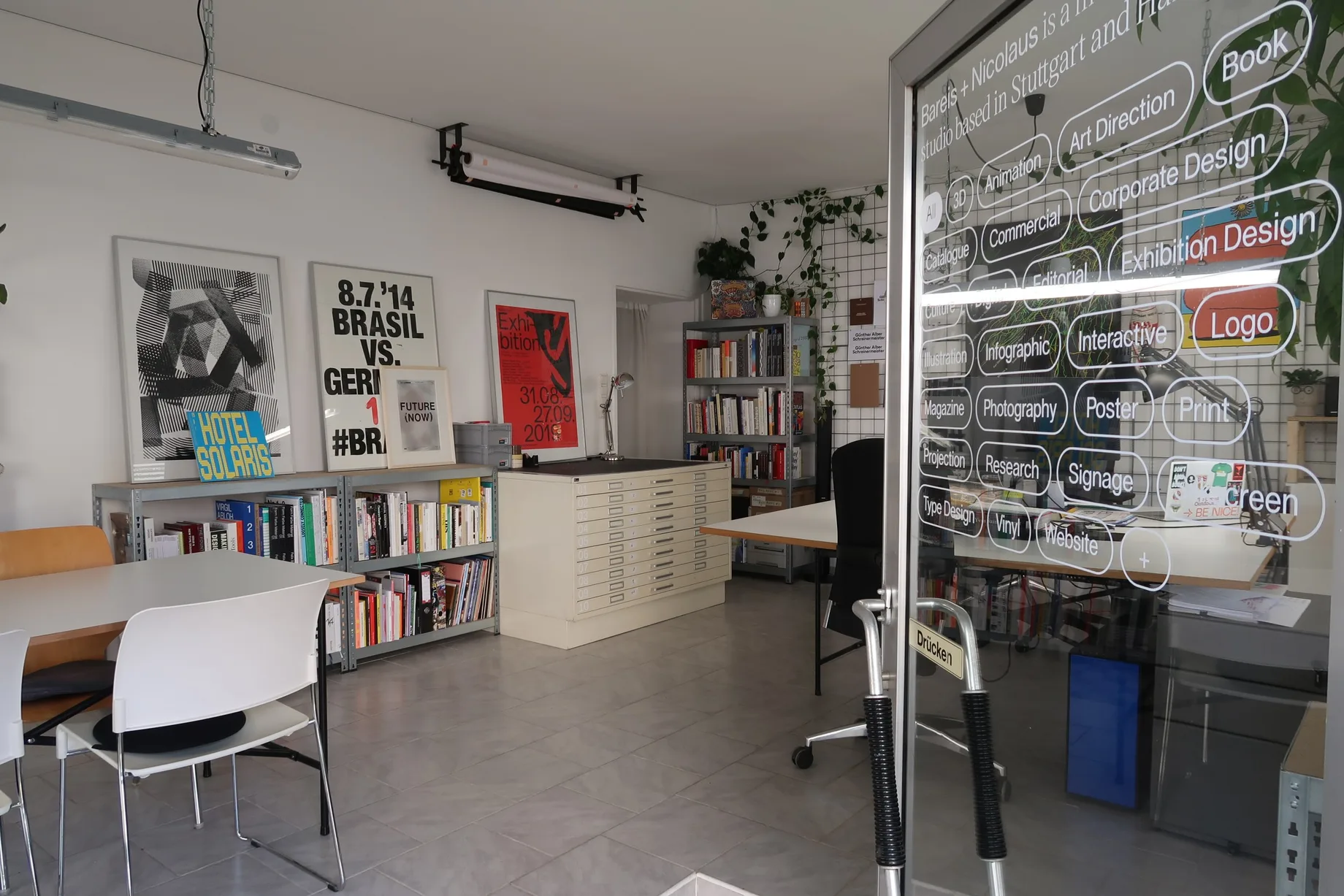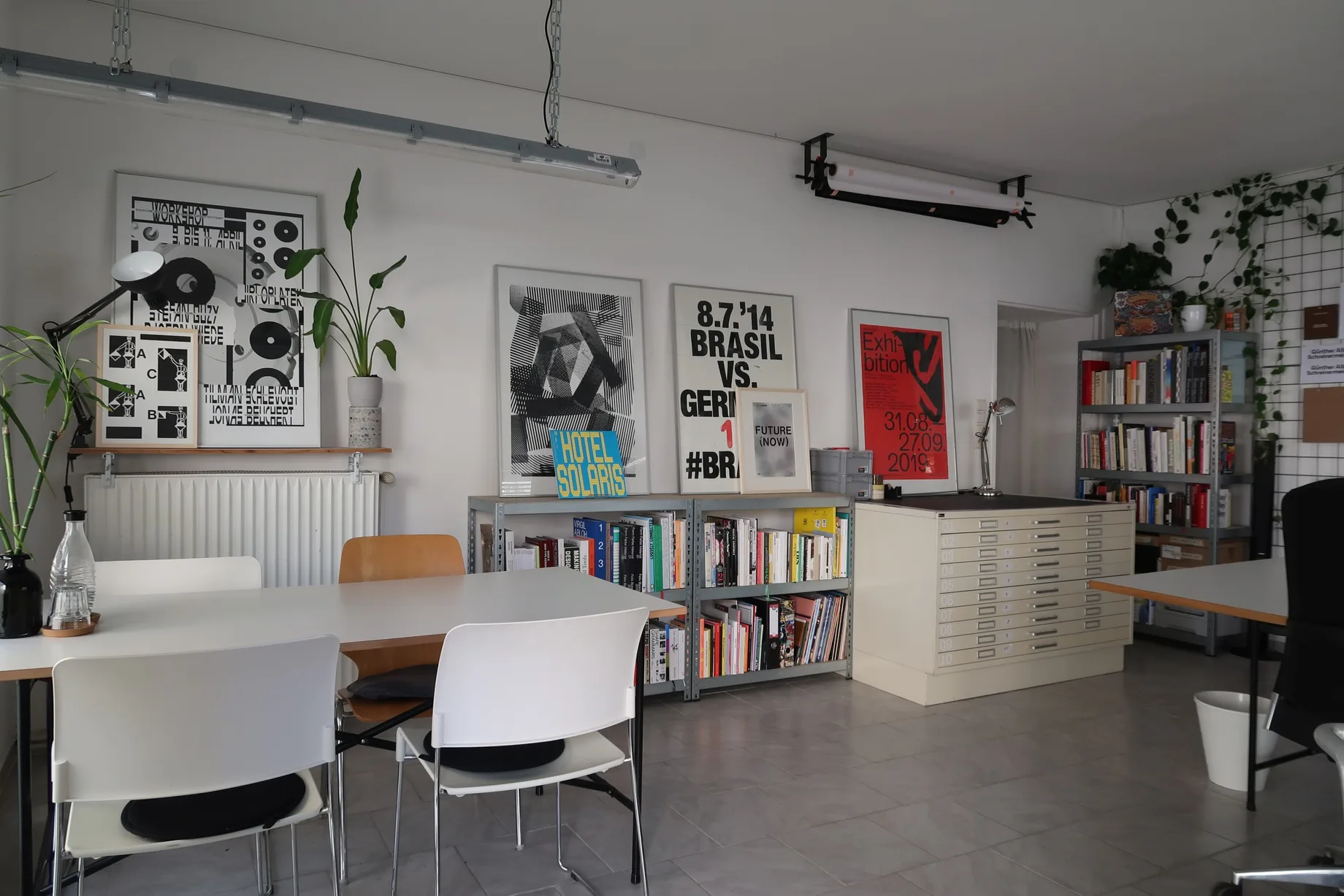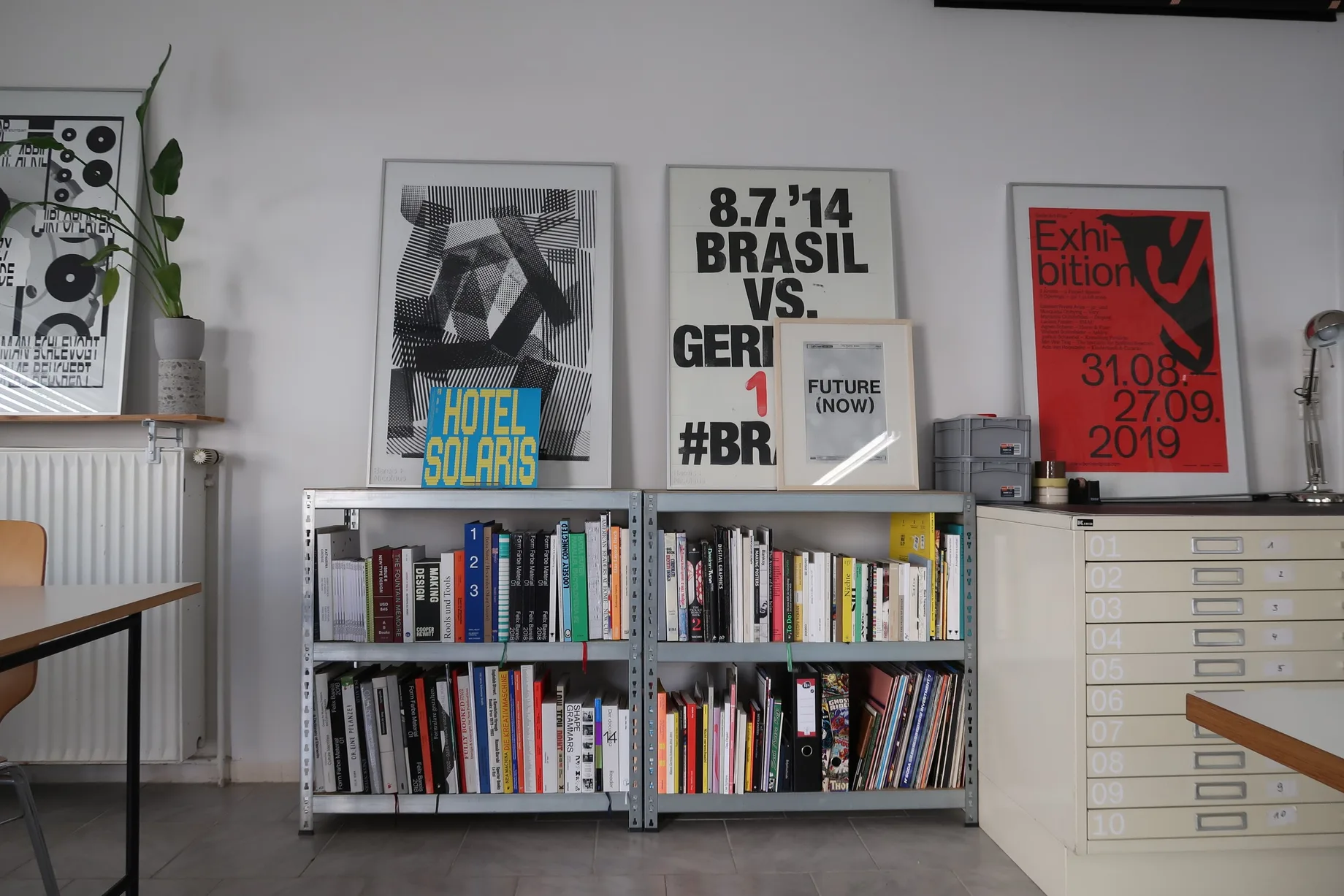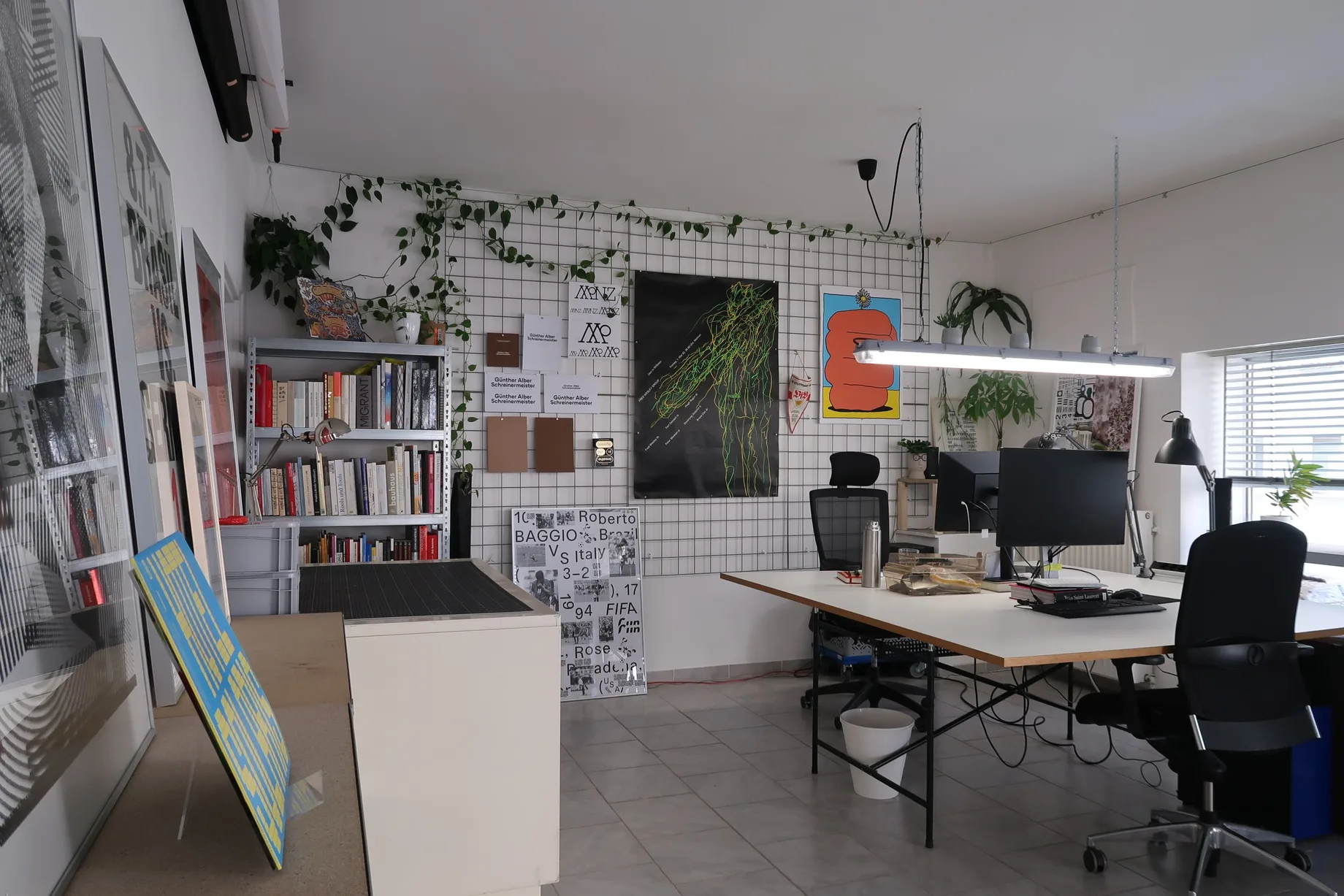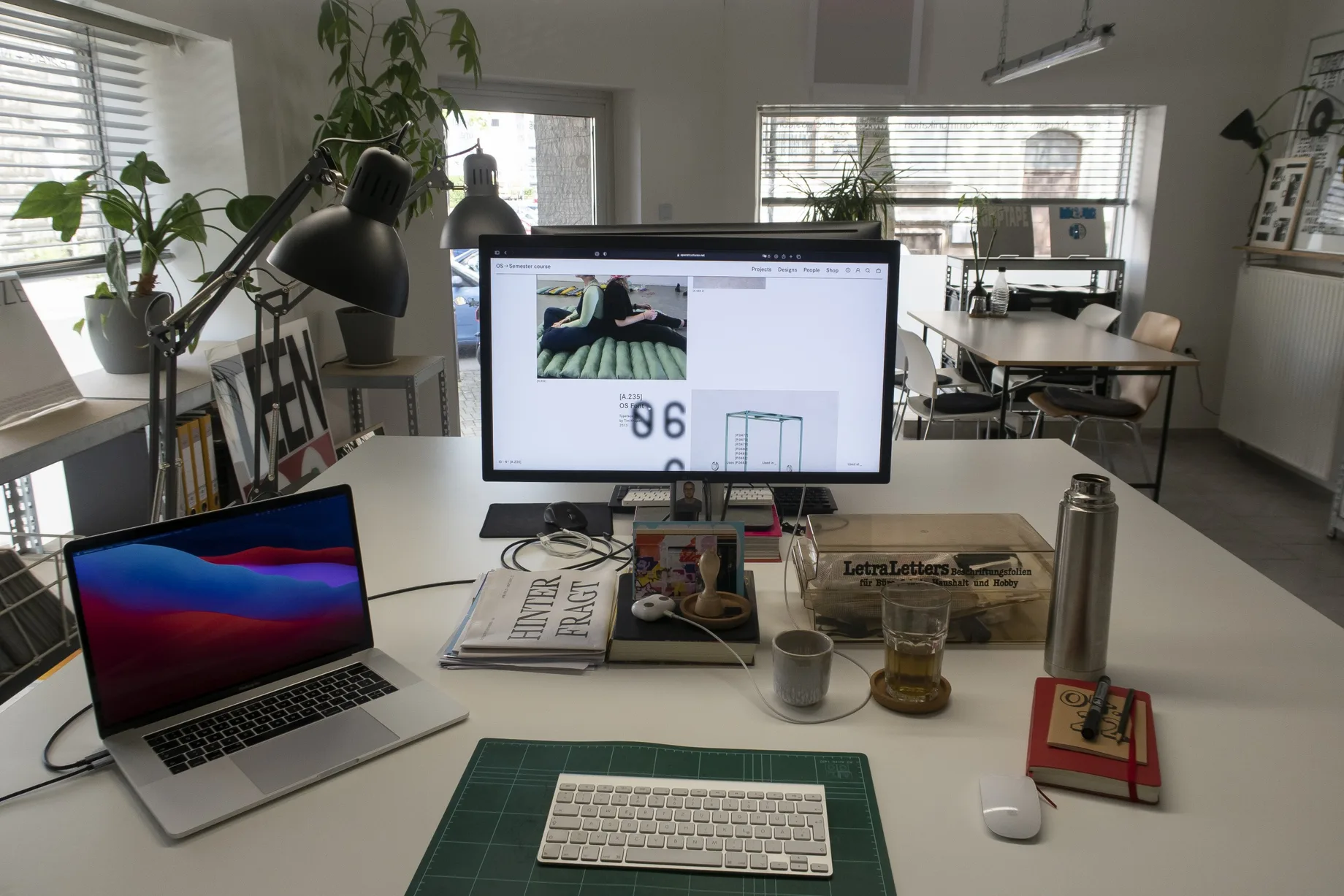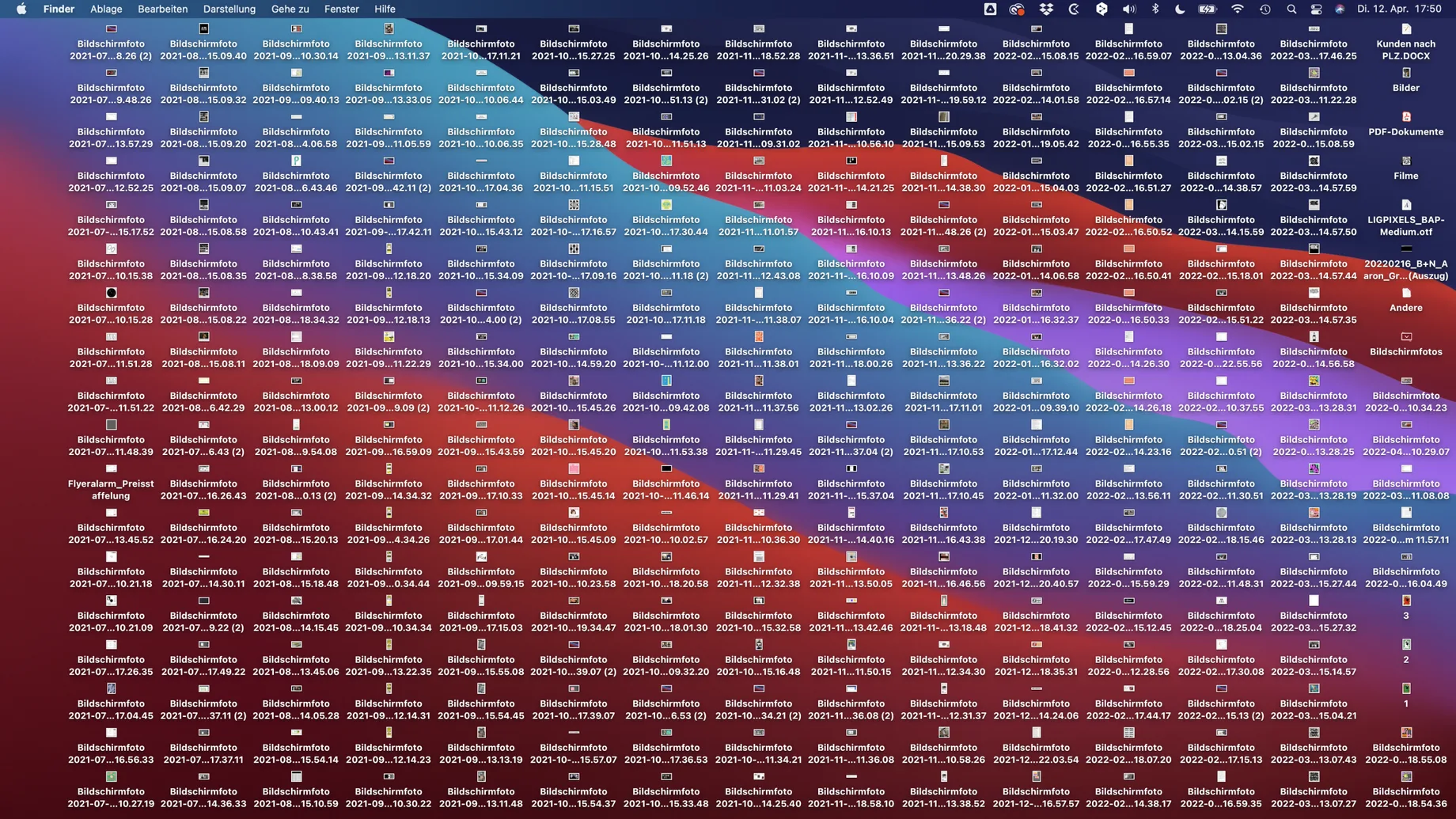 Where do you go to get inspired?
There are of course many sources of inspiration that graphic designers use and claim for themselves, but it is precisely the sources and resources that seem insignificant in the daily stress that are for me the least important.
For me, the main source of creativity is in everyday life and in my personal world, away from all screens and design. As a visual thinker, you are constantly taking in things that you have to sort through and then incorporate into your work process — it is very significant for me to write these things down, photograph them or save them on my mobile phone.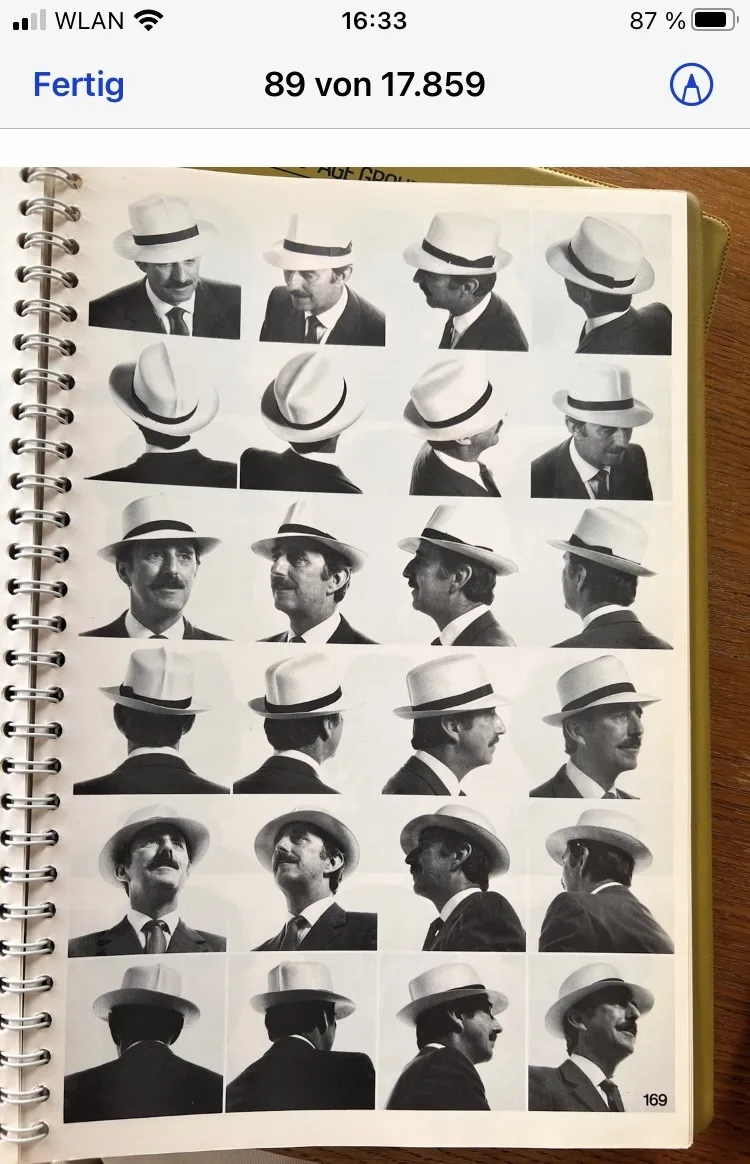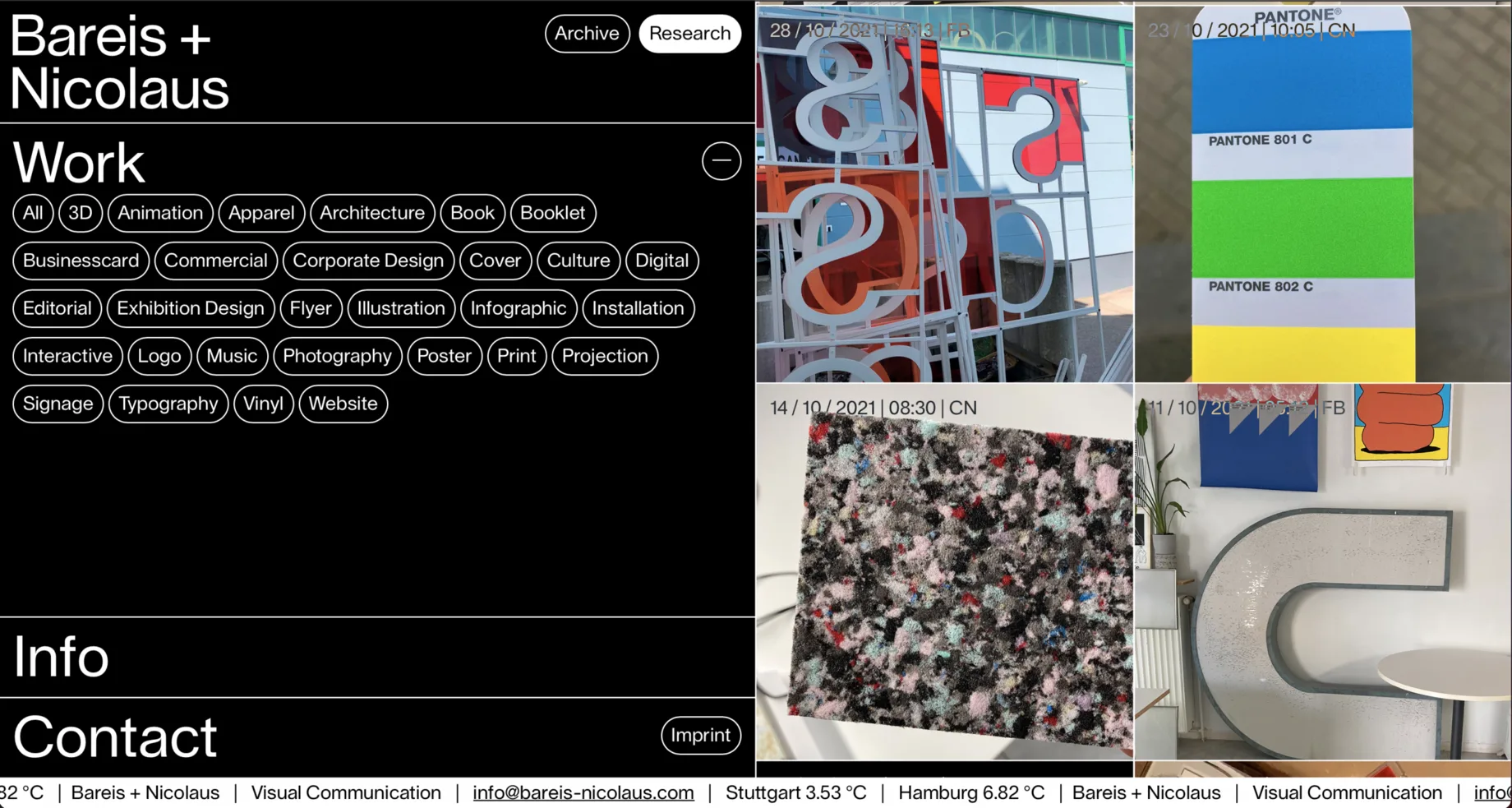 For 20 years I have been attending (almost) every match of my football club, and over time, this passion and contact with people from different walks of life (with a common goal) has become another great source of creativity for me. It's very hard to describe, but the lived emotions, ecstatic chants, breaking out of the mundane and interpersonal exchanges with a wide variety of people enriches my creative thinking immensely.
This passion opens up new perspectives for me — beyond the »graphic bubble« and also allows me to switch off completely from time to time.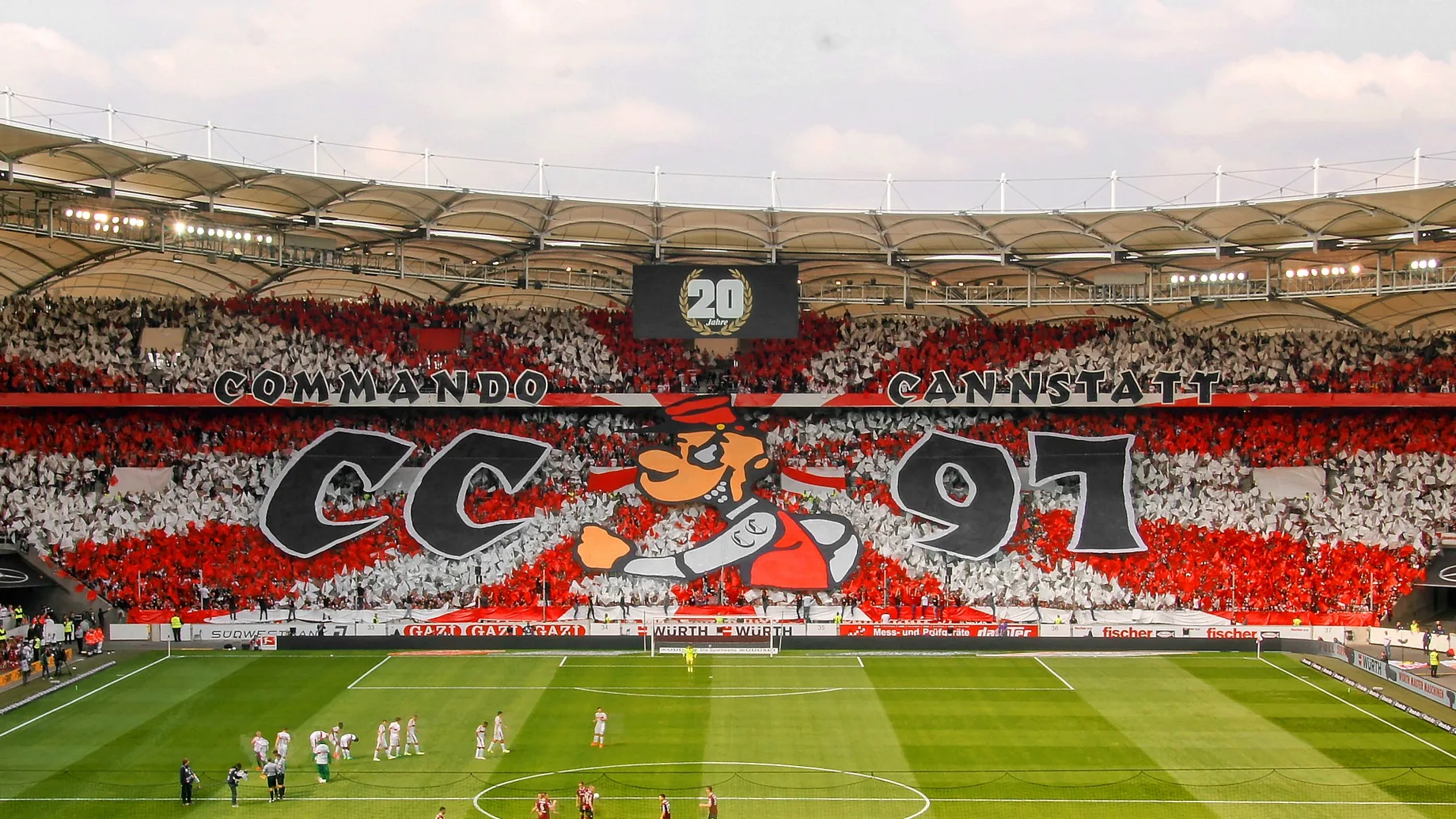 Another attempt to generate my personal source of inspiration / creativity is a kind of personal stock photo database that divides everyday images of objects etc. into form, colour, and materiality I've been working (sometimes more, sometimes less) on since 2018. This way, conception, and image creation phases are individualized, and you develop a workflow that ideally stands out from any search engines. A heart project that will probably and hopefully never end.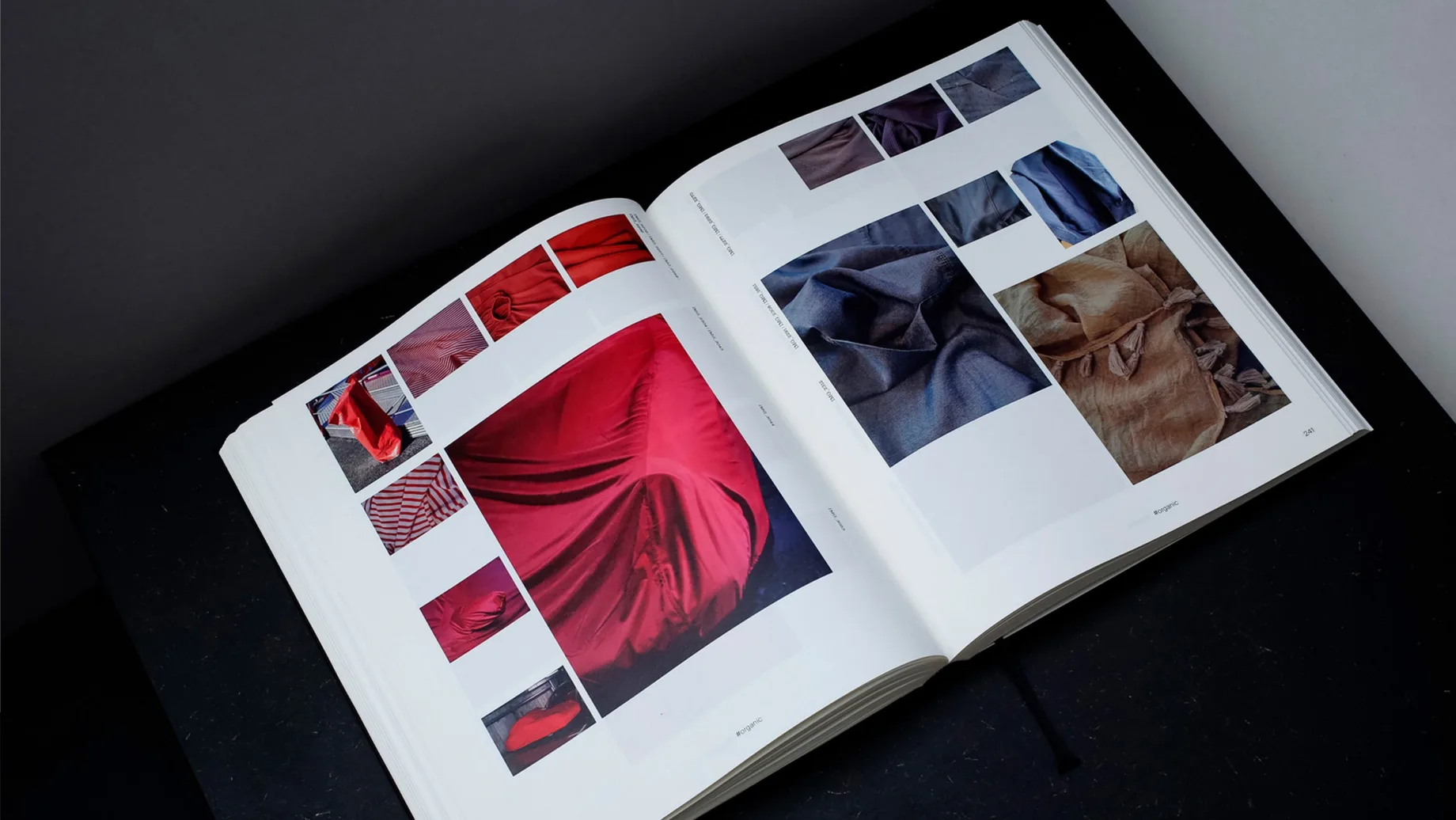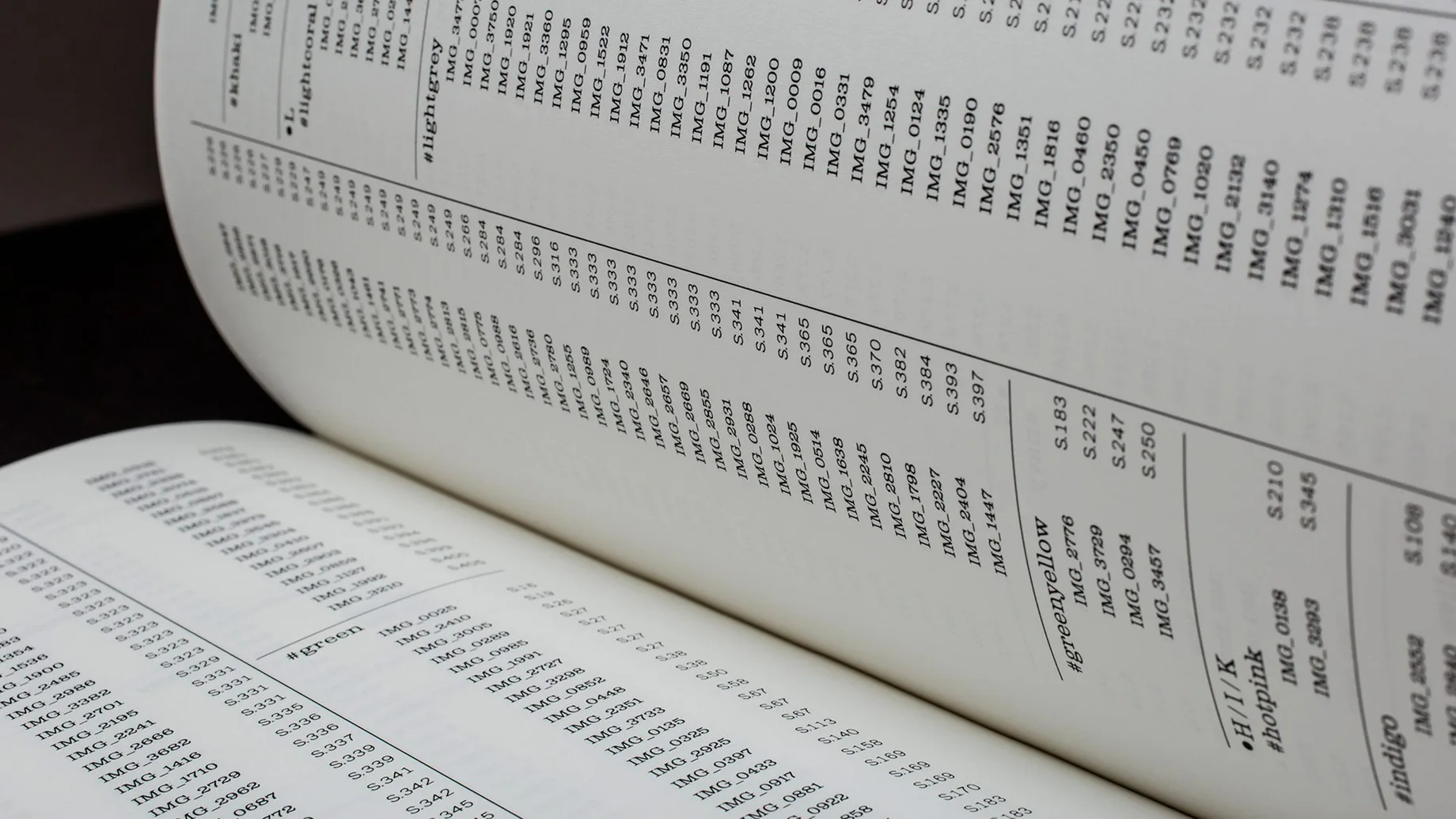 What product have you recently seen that made you think this is great design?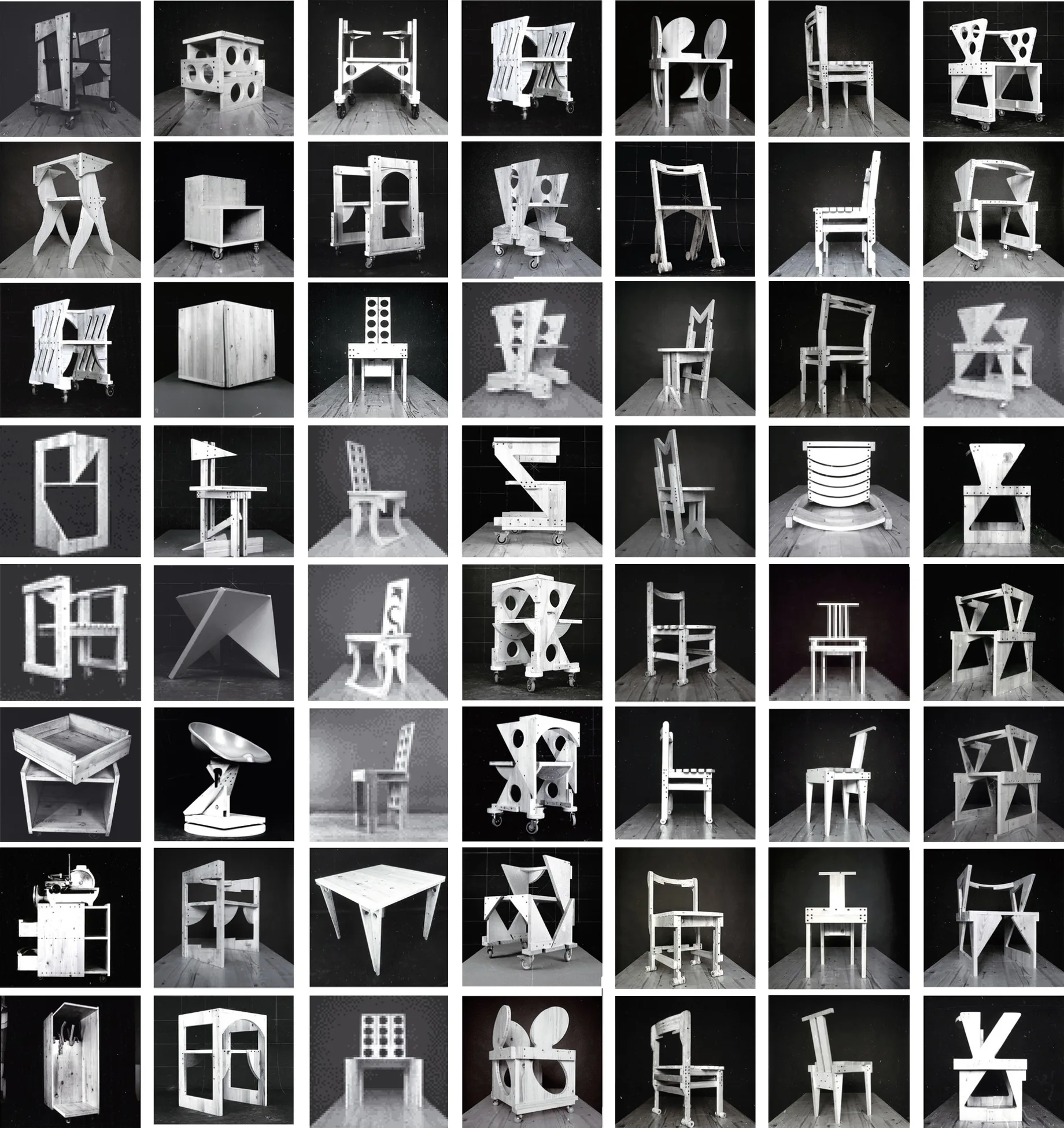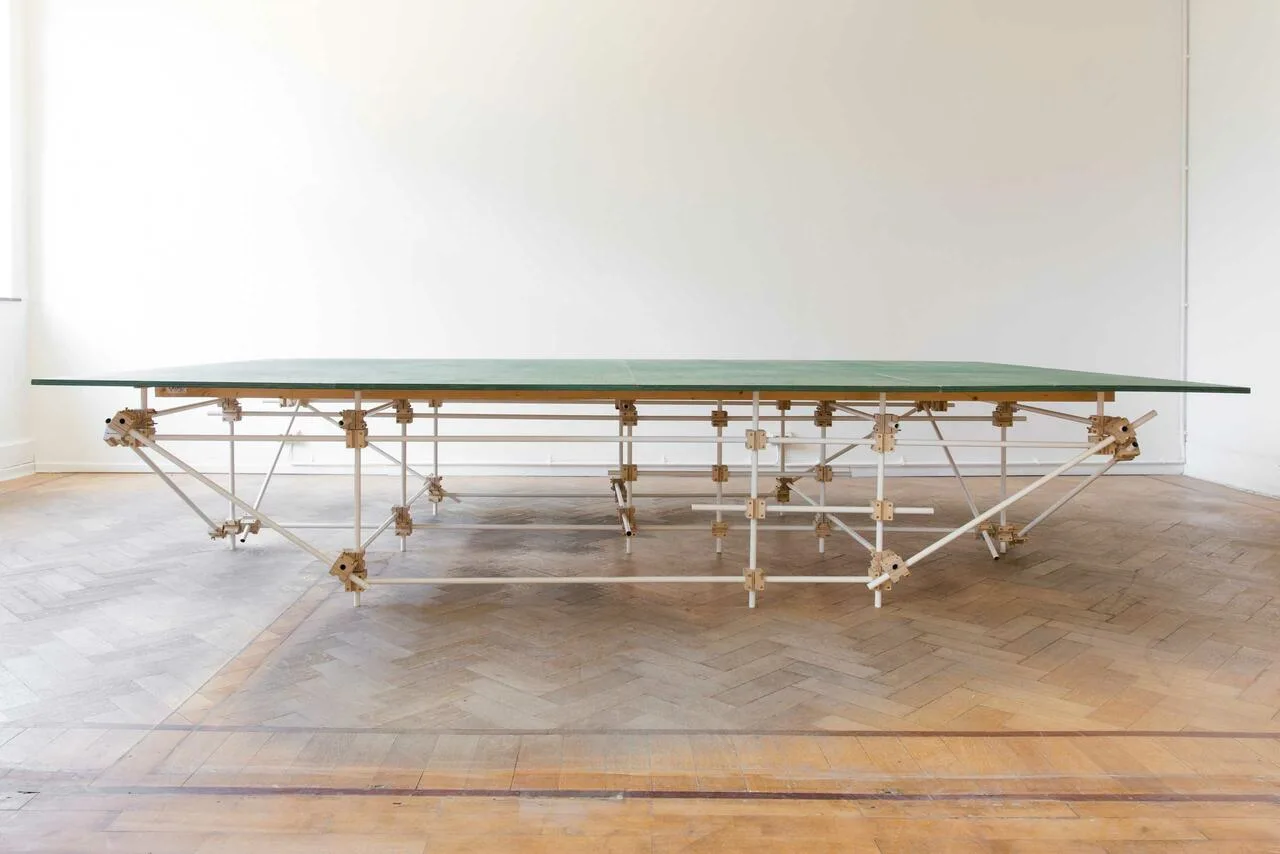 What pieces of work are you most proud of?
For the third year in a row, we are currently working on the conception and development of the exhibition »INBETWEEN — Music and Graphic« at the Hamburg Reeperbahn Festival 2022. As Europe's largest club festival, it offers several hundred programme points around the Reeperbahn in Hamburg over four days every year at the end of September and is one of the most important meeting points for the music industry worldwide.
The exhibition »INBETWEEN — Music and Graphic«, which we conceived, designed and implemented, puts the visual component of music (graphics and moving images) in the foreground. This component was previously non-existent at the festival.
In close cooperation with the festival team and with a lot of own initiative, we created an interactive exhibition at the interface of music and graphic design at the festival. Multimedia content connects different visual disciplines in the music business and so far over 200 creative artists from all over the world via an experimental, audiovisual level. In addition, there was a series of diverse panel discussions by international guests from the graphics and design scene.
The aim is to further develop the basic idea of merging music and graphics and to establish the exhibition as a fixed programme item at the Reeperbahn Festival in the coming years with new, surprising, interactive content.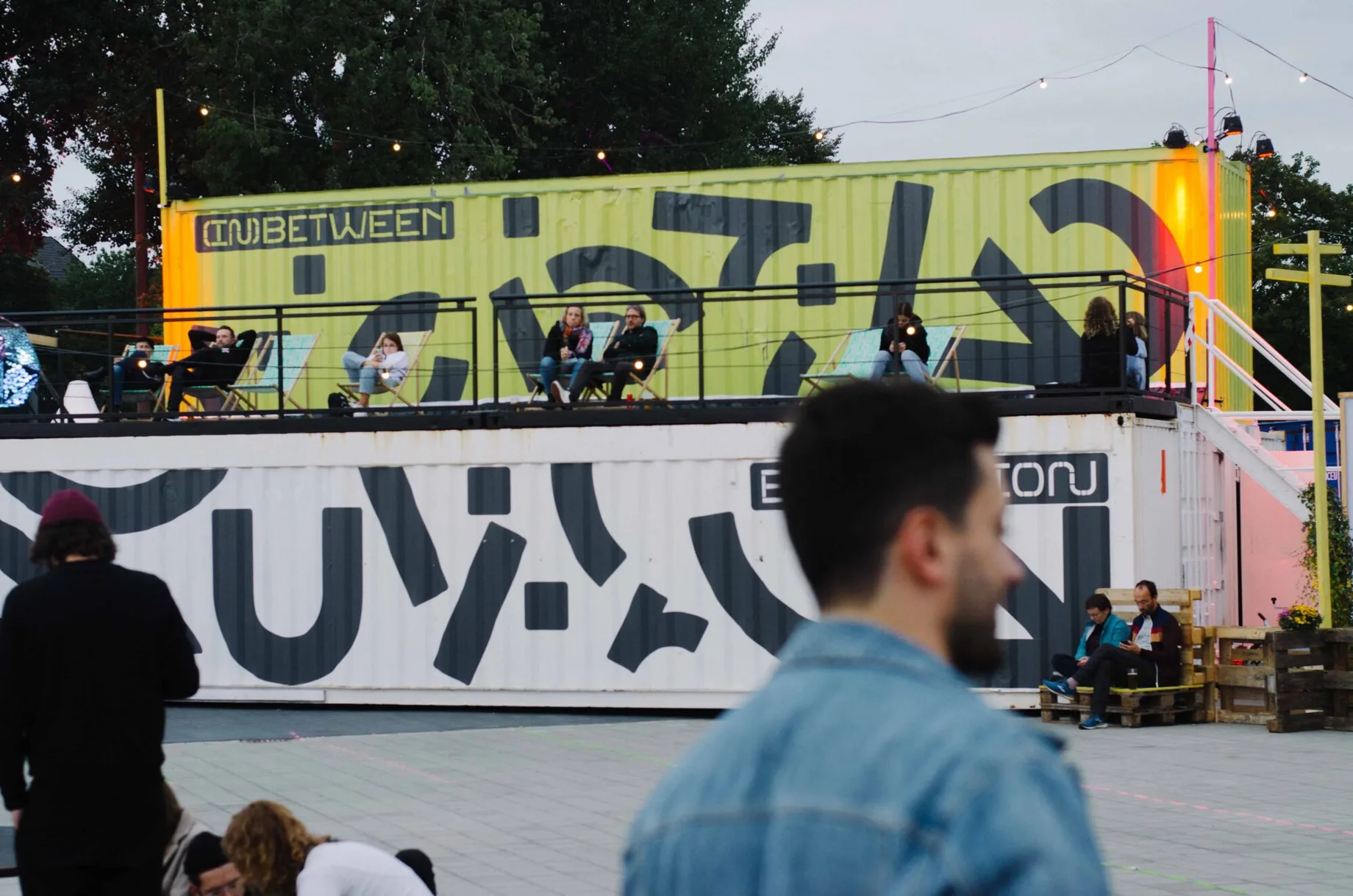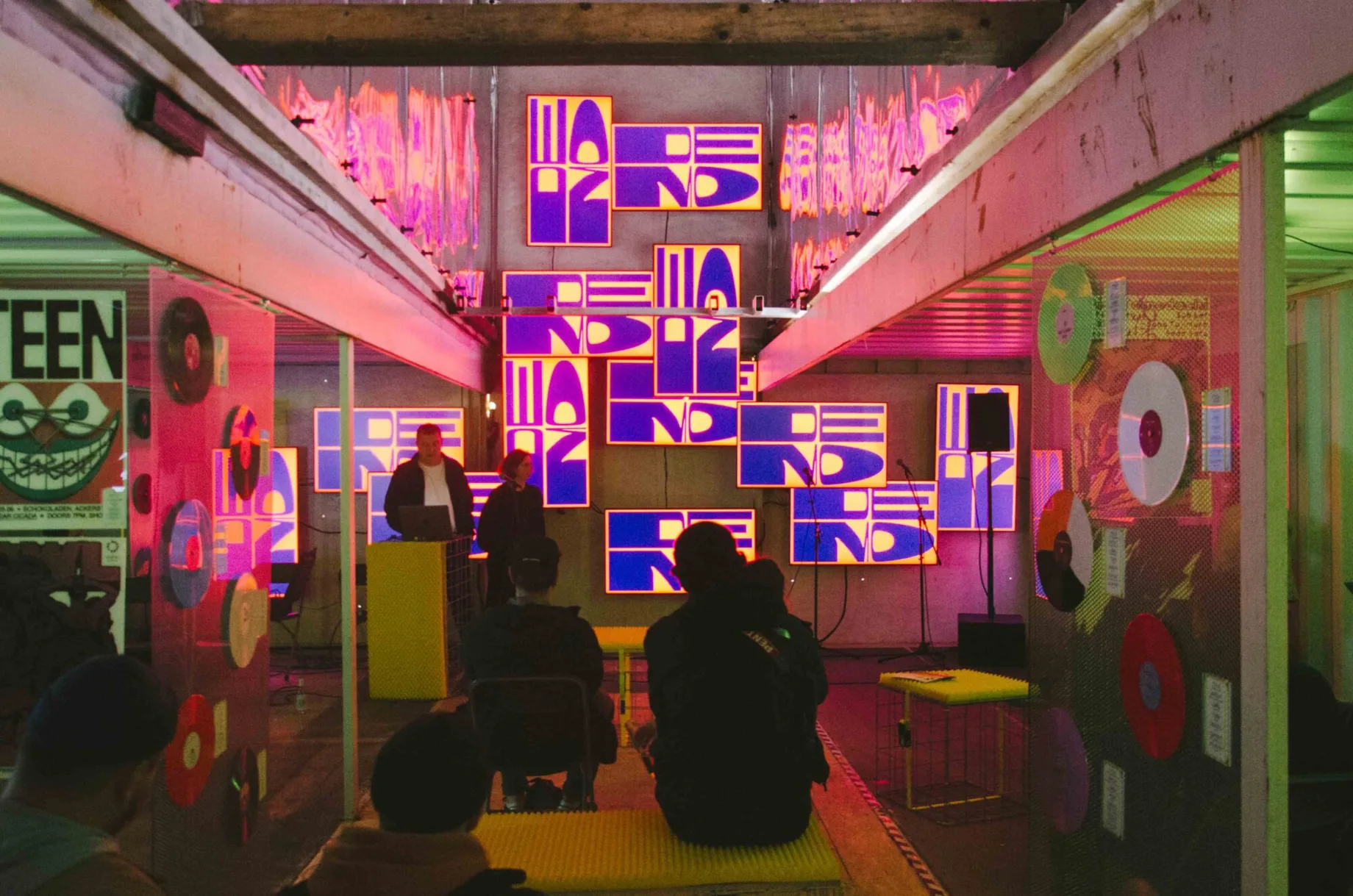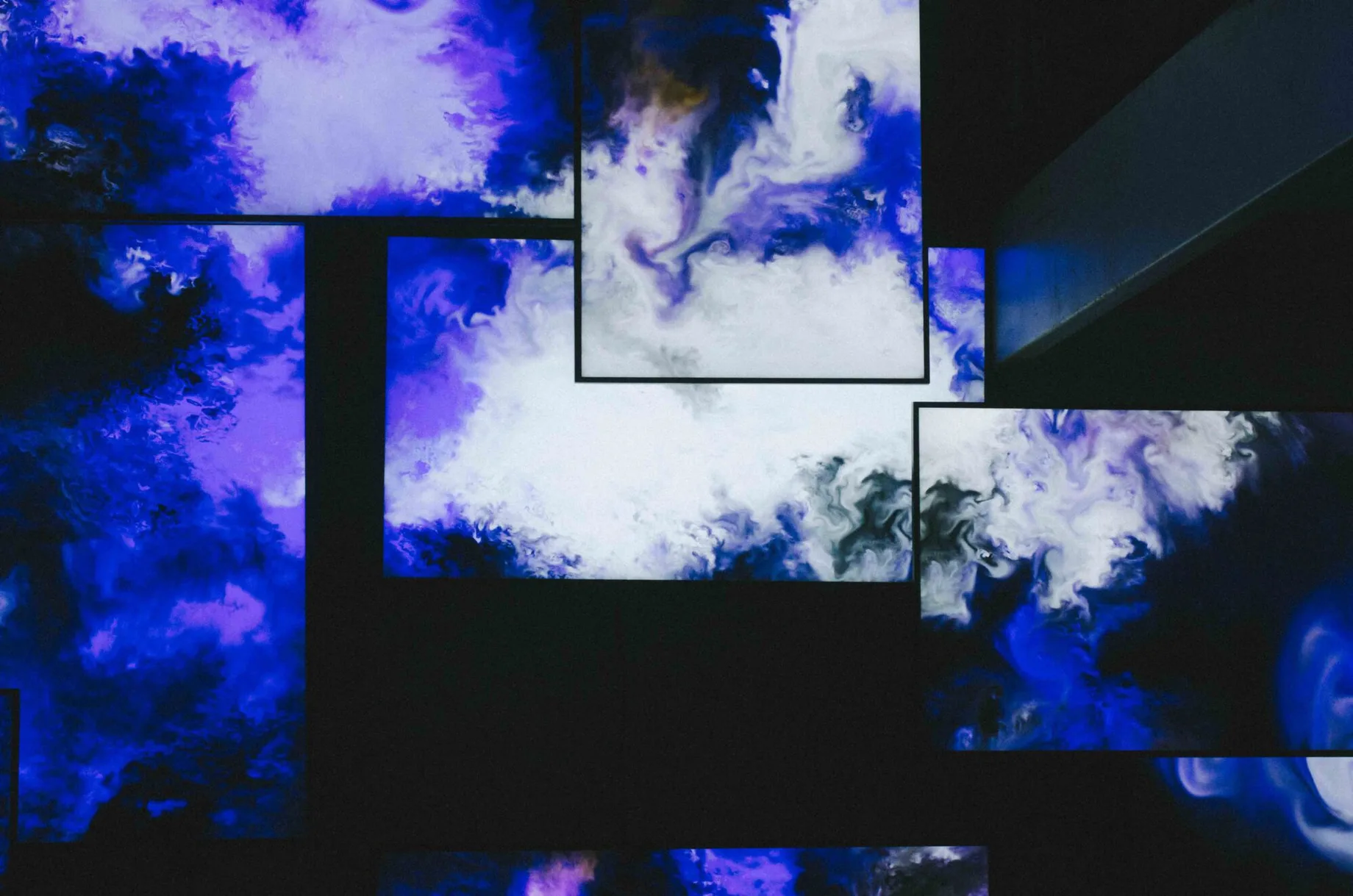 What design challenges do you face at your company?
I think one of our strengths is the flexibility of not being tied to places. Even before the studio was founded, we lived and worked in different places. This circumstance requires the utmost trust and personal initiative from the very beginning. It also allows us to stretch our network of creatives and clients across a large geographic area. As a relatively young Studio, we are lucky to work for very different sectors and clients — we are very grateful for that.
Lately, it's mostly identities or corporate designs for companies, campaigns for public / state institutions, exhibition design and lots of artwork in the field of music (digital / print). We develop a clear, modern visual language with a focus on materiality and typography. Depending on the scope of the project, we bring in suitable colleagues from the creative network already mentioned — but always keeping in mind how we can grow our small team gently and organically.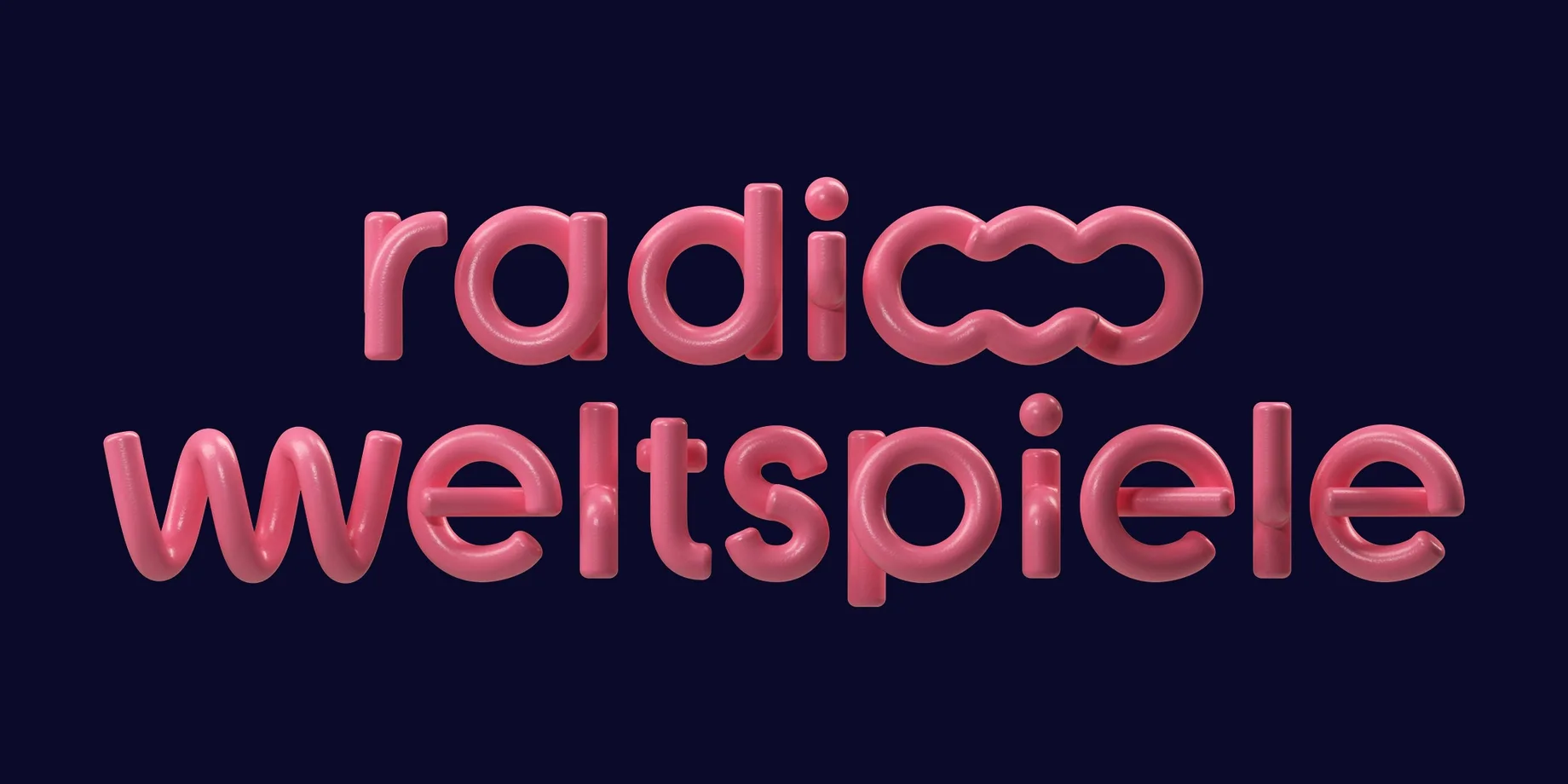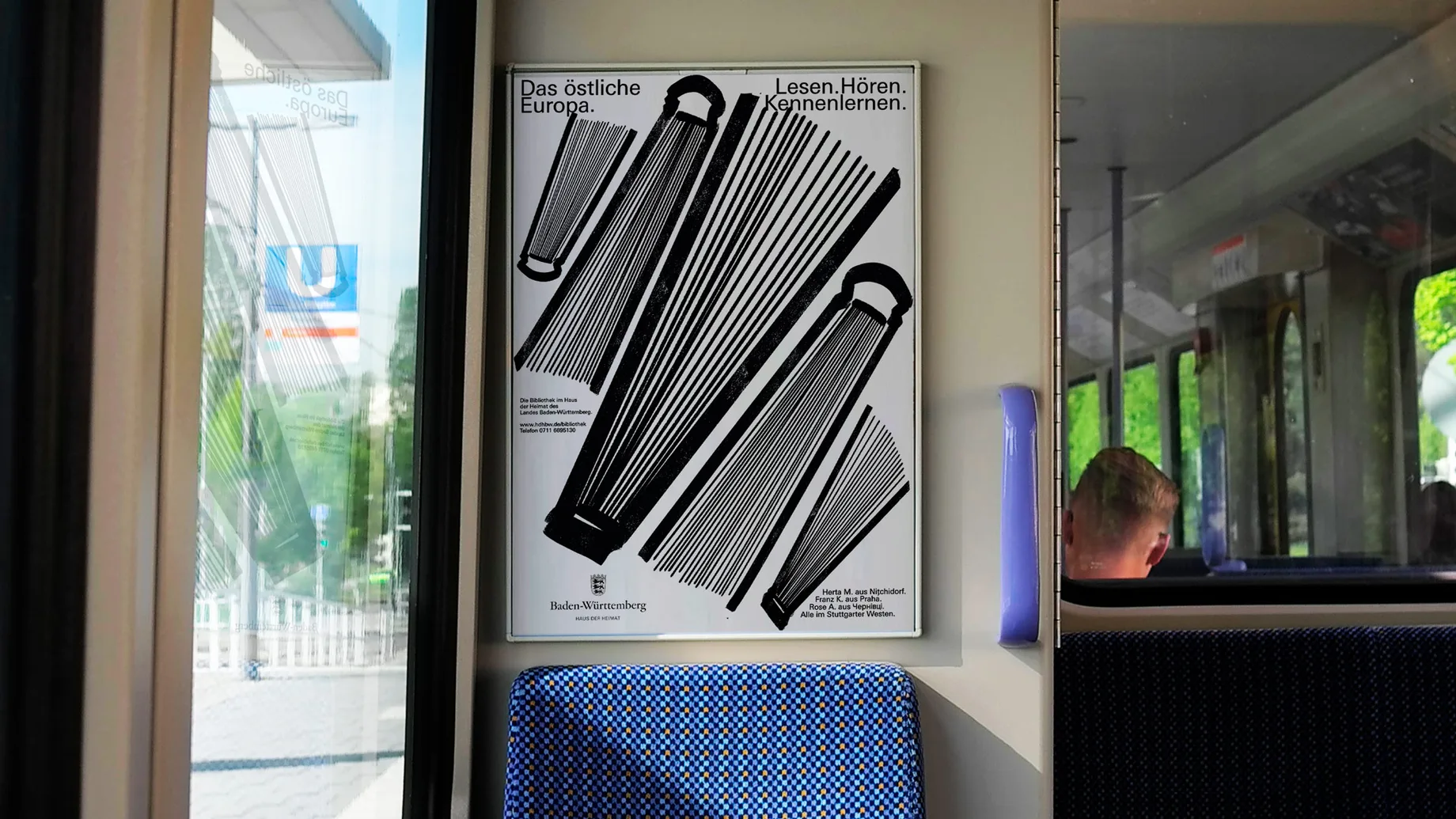 In addition to our commissioned work for our clients, we have integrated a period for free / personal work into our working week bit by bit since the beginning of our studio. On Fridays from 1 pm we try to work on free, self-staged projects (graphic, typographic or artistic, experimental), or just use this time to visit museums and exhibitions. The only constraint on these tasks: you have to tell the others about it and share the result(s). These free, partly experimental works enrich our commissioned work immensely.
What music do you listen to whilst designing?
Any advice for ambitious designers?
It's a little too easy to say: do your own thing. But I think hard work, curiosity, fun and reliability are keys to finding your own path and creative mindset. In addition, it is very important to question things and decisions again and again and to correct them if necessary. In fact, with every single project you learn new things or face new problems and that makes working as a graphic designer so super interesting and exciting.
But also keep in mind to create space for yourself, not to work overtime if possible and to enjoy weekends and time with friends and family. At the end of the day, it's »just« a job.
Anything you want to promote or plug?
We are currently working with the Reeperfestival team on the conception and implementation of a »Call for Entries« for the upcoming festival in September. We are looking for digital EP / LP covers and animated artworks of all genres. The open call will probably start at the end of June. Follow our Instagram to stay up to date.