What led you into design?
Oh, that will be a long history; grab a drink, and let's go.
My history with design starts back with my childhood in Rio. I spent a lot of time watching animes and cartoons and drawing my favourite characters. I was fascinated by all the magic animations like Toy Story brought to my world. My passion for video games and animated series/movies accompanied me throughout my teenage days and definitely moved me in the direction of design. It pulled me closer to art and creativity. Over time, the passion transitioned a bit. I studied classical guitar for years, played in bands, designed the logos and covers for our recordings, and even worked as a recording assistant in a music studio. This is to say that art was always next to me as I grew.
In Brazil, when we are 18, we need to decide what we will study in university. Based on what I described before, the options were pretty clear to me: music, design, and architecture (I was also fascinated by the complexity of big buildings and how those totems tell people's history). I spent months looking for more information and talking with friends who had already started studying it. I still can't explain, but I just felt drawn to design. My mom was actually relieved when I finally told her, "Ma, I'm dropping music, I love it, but it is nothing more than a hobby – I will apply for design". Even funnier is that she is still not sure about what I exactly do.
I had a blast exploring graphic design and all the possibilities I had working on projects from that point on. University also allowed me to experiment with different types of art, from woodcut printing to live-model drawing, which, thinking back, definitely played an essential role in developing the generalist mindset I have today. After working in small design agencies back in Rio, doing a range of things from retouching underwear models for packages and ads to flash ads for coupon marketplaces, I fell in love again, now with the possibilities of digital products. I was the first in my curriculum to develop an app as a graduation project, and shortly after that, I received a scholarship from DAAD to come to Germany.
In Braunschweig, a small city west of Berlin, I dove deep into art, design, and technology intersections. I got to experiment with multitouch tables, make short films, design apps, and even a 360º movie, which received an award and a couple of nominations in Fulldome festivals. I had so much fun, but I had to make another tough decision there. During my last semester at university, I joined a small team founding a startup back in Brazil. It was so exciting to start our own thing, and being the only designer taught me lessons I couldn't get anywhere. As I fell in love with designing solutions that could actually help people, and my studies were coming to an end, I decided to follow that path. Since then, I have been diving deeper and deeper into product development, have worked with many great people, built a crazy amount of products, and don't regret anything.
Ah, and if you ask about my first "design project," it was a wooden spinning top. When I was 9 years old, my neighbours and I bought a bunch of them, one for each. So, we customized it to differentiate them and know which one belongs to whom. One afternoon, I remember we all got together with some colour markers and made our own styles. I don't have any pictures from this moment, but it is alive in my mind as one of the starting points.
What does a typical day look like?
I usually start my day at 5:00am. Until 6:30/7:00, I use the time for myself, checking the news and private messages, catching up with some work, and brewing some fresh coffee. I just love how peaceful the world is at that time. I like to use that early part of the day to give myself some time to catch up on news, articles, and any workpiece that would need an extra push on because this early window is the best one for me to focus. During the warmer seasons in Berlin, I use some time in this slot to get a morning walk and catch up with a podcast or an audiobook.
My working day starts officially at 09:00, and it goes typically around the standard team ceremonies like planning, check-ins, and standup. During the day, I set some blocker times in my calendar for some focused time. I keep an eye to adjust if I'm needed in a team session or testing, but it is important to be consistent about it and respect those windows to avoid the routine of getting carried away by too many meetings. As we work project-based on BCG DV, it is difficult to be very strict about routines in the day-to-day, but I feel like the morning consistency helps me get ready for the day.
What's your workstation setup?
My setup is pretty simple. I used a 15 inch MacBook Pro and repurposed an old iMac as a second screen. Additionally, I have my AirPods, Bose comfort, and iPad Pro for illustrations and notes. My latest addition was the standing desk, which helped me with some back discomforts.
Where do you go to get inspired?
I'm a big believer in the power of generalists. My path passing through music and random small gigs, like onboarding cruise ships or restocking vending machines, taught me a lot about people and ways of working. Because of that, I often seek inspiration in the outside world. When I get really stuck, nothing helps better than taking a break and going for a walk. The ways' people interact, or even a pattern in graffiti, can spark ideas. In a way, I feel like my brain processes and works on ideas while doing random things like walking, taking a shower, and soaking in some sun while watching small boats on the Spree River.
Besides that, I have a couple of go-to pages I use when looking for more specific things. Some good examples are Muzzli, Dribbble, Medium, and specialized pages like Awwwards, Mobbin, and Instagram specialized profiles. This mix of digital sources and external impulse help me get inspired and "unstick" myself when needed.
What product have you recently seen that made you think this is great design?
AirPods is what I would pick here. I just love how practical and convenient it is to have them around. They are like a key to my own thoughts, something easy to carry around and step out of noisy places into my own zone anytime. It allows me to move freely around without thinking about cables and is an excellent fit for the ears. When I compare my work headphone, besides the size and bulkiness, the simplicity in connecting to my devices is crazy. I love how you just fit them in your ears and hear the sound signal when connected and ready, with no buttons pressed, etc.
What pieces of work are you most proud of?
A couple of years ago, I was part of the team in an Industrial IoT venture. We build a companion app for the factory shop floor to measure efficiencies and recommend improvements to achieve production goals. Besides the great team we had there, I especially liked the chance to do qualitative research with operators. The highlight was when we identified through the feedback loops that people on the shop floor could not feel the notifications to check the system. With all the grease and gloves together with the protective gear, they couldn't hear or feel the vibration, so we had to get creative in informing them about it. So we developed an additional visual notification system, almost like an IRL push notification, connecting a smart light device with our data on the cloud through Raspberry Pi. Instead of relying on operators to feel a vibration or hear a sound, we light up with some colour an entire section where they always have someone on.
A second project I am proud of is my side hustle, called "The cow of the day." I draw cows daily to help me recharge, calm myself down and process information. Drawing cows was my way to cope with all the stress and limitations of my day-to-day work has, which helped especially well during the pandemic. It works as my escape valve to all the daily constraints I work on and gives me a different perspective. But also, it is my "psycowlogist," as I tell people, because I can reflect on what happens during the day and take whatever frustrating or happy moments out of my chest. I started shortly before the whole COVID kicked in, and keeping the consistency in reflecting on days and happenings was an essential part of dealing with everything going down in the world. I talk more about my learnings here, but this cow changed my life for good.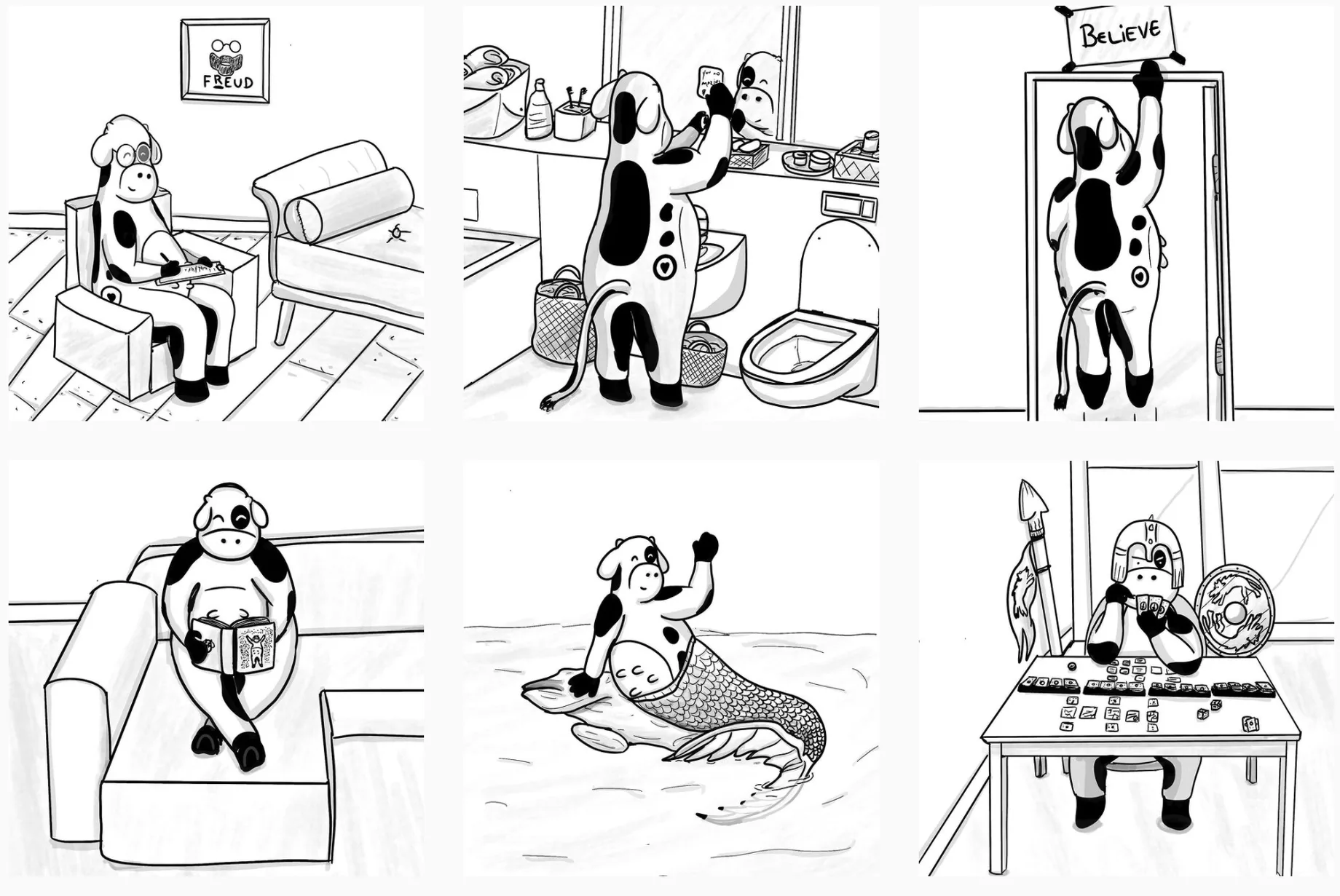 What design challenges do you face at your company?
When I hear that question, the one thing that comes to mind is time pressure. It is not a constant challenge but rather something that comes up depending on the case I'm working on. Sometimes deadlines are tight compared to our ambitious goals, so you have to be very intentional on how, what, and when to work on topics. And sometimes, we will have a bit more time to work through the issue with a bigger team, which allows us to share the load and get to the end-line in a "smoother way" - if that is possible. We deal with it and have worked well before to notch up the communication, making sure we have a lot of transparency and clarity in discussing to-dos and plans. There is no easy way around it, but it gets me, at least, moving.
What music do you listen to whilst designing?
Any advice for ambitious designers?
Designing products is not about making them look nice, but solving real problems. Einstein said, "If I had an hour to solve a problem, I'd spend 55 minutes thinking about the problem and five minutes thinking about solutions" – invest in defining the problem, and the execution will come naturally.
Be humble. A design degree does not entitle you as the owner of the absolute truth. If the people who should use your design don't see its value, your design won't live long enough. In my career, I learned that giving people in the team a voice when designing a solution is so powerful. It is important to know when to kill your darlings, this is part of the process, and if you are not ready to go through it, the struggle will hit you harder. Even more important is to listen to the people who will interact with your product. Your solution is irrelevant without people to benefit from it. A quote from Frank Chimero that got stuck with me says: "People ignore design that ignores people."
Try to look beyond your design work. The impact of design goes deeper than the visual work and understanding how your design affects the product, especially the company you are working on. You have to understand the road map or the long-term view of a product. This helps you to negotiate deliverables, feasibility, and the bits of work you should focus on more. Taking this look into the future enables you to avoid problems down the road.
Lastly, don't be afraid to step out of your comfort zone and try things out. Steve Portigal talks about the two waves of creativity. The first one is a dump of the obvious ideas you had sitting around in your mind. If you try long enough to reach the second wave of ideas, you will have a higher chance of coming up with something new because your brain has enough time to mix concepts and push to the next level. So, don't give up after the first brain dump, stretch it a bit further, and try to get the 1st drop as fast as possible, so you have enough time for detailing the best ideas later.
Anything you want to promote or plug?
Two things:
1. My side project, "The cow of the day" go check it out and leave a message or a follow if you like it!
2. I offer free design mentorship through the ADPList platform, so if you need to chat about any design topics, book a session here: https://adplist.org/mentors/flavio-bezerra