What led you into design?
Well, the question might as well be "What led you out of design?"
I'm an Artist & Illustrator that started off in design. It used to be my dream to be a (brand) designer and to help people find their voice in a visual way.
But, once I got there, it made me unhappy and made me realize it wasn't a good fit for me. I briefly tried to find my footing in product design and tech, and that was even further from what I was seeking. I started dabbling in illustration from the moment we had to "learn" Adobe Illustrator in uni, and I kept doing that until I found myself abandoning design altogether.
Then illustration became my job. I've been freelancing as an illustrator ever since, and have recently started painting. It was never my dream to be an artist, such a thing felt forbidden in some way as if you can't just go out and... paint. Turns out you can.
What does a typical day look like?
Every day starts with coffee, I only drink one cup a day typically so it's important that it's good coffee. I grind my beans and make a nice brew in my pink Moccamaster coffee machine.

After that, I'll bike to my studio most days. I love slow mornings so it's not uncommon for me to start the day a little bit later. My weeks are split into days that I paint and days that I work on the computer. Even if I'm very busy with illustration work, Friday is always for painting.
At the moment paint days are very important to me, I'm teaching myself to work with oil paints, which is challenging and really fun. I haven't been painting for too long and I have to say it's really satisfying to learn something new that isn't digital. With paints, and especially oil paints, lots of unexpected things happen; that element of surprise is that makes it exciting for me.
On a computer day, I work at my desk on my iPad Pro. A lot of my digital work looks like it might be vectors, but I actually prefer drawing everything by hand in Procreate, giving the shapes a bit more life than vectors can do.
I love to cook so after work that's something I look forward to. Occasionally paired with a glass of natural wine, always paired with cuddles from my cat or boyfriend.
What's your workstation setup?
Where do you go to get inspired?
I really try to limit how much I'm looking at endless streams of "inspiration" on platforms like Pinterest, Behance, or Instagram, as I feel like it's too passive. I get most of my inspiration from doing things like taking a walk, cooking a meal, reading a book, some mindless doodling. Inspiration takes some work, but usually in different mediums than my usual. Fashion can also be very inspirational to me, as it's a lot about colour and texture, which are my favourite ways to create contrast in my paintings, too.

I also really enjoy listening to interview podcasts, as it's very fun to hear how people approach their creativity, that really helped me get over that notion that there's a certain way I should be doing things.
What product have you recently seen that made you think this is great design?
I love Linnéa Andersson's works, especially her murals.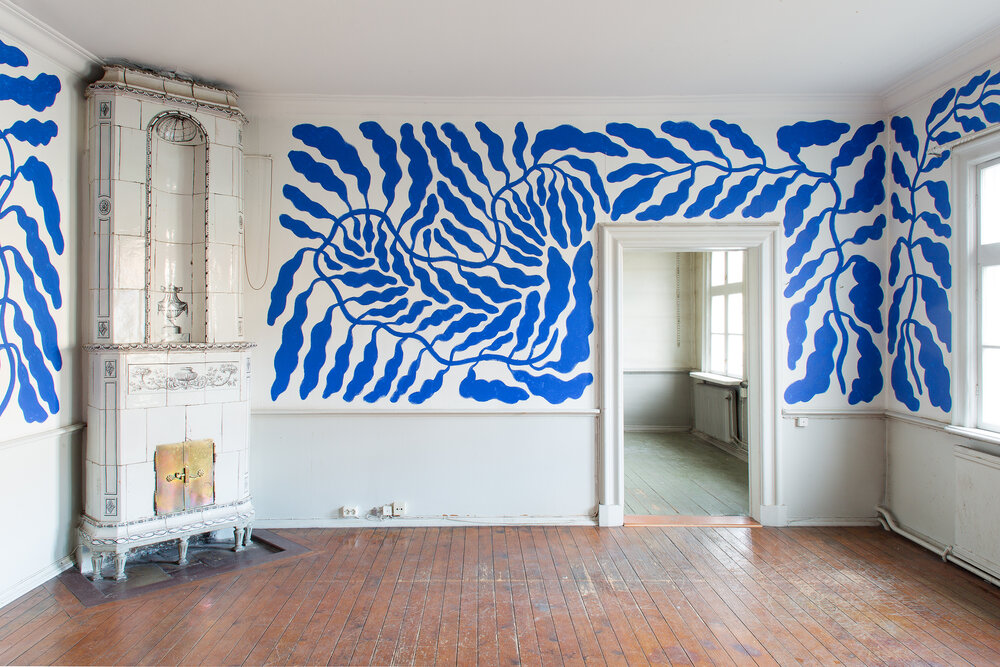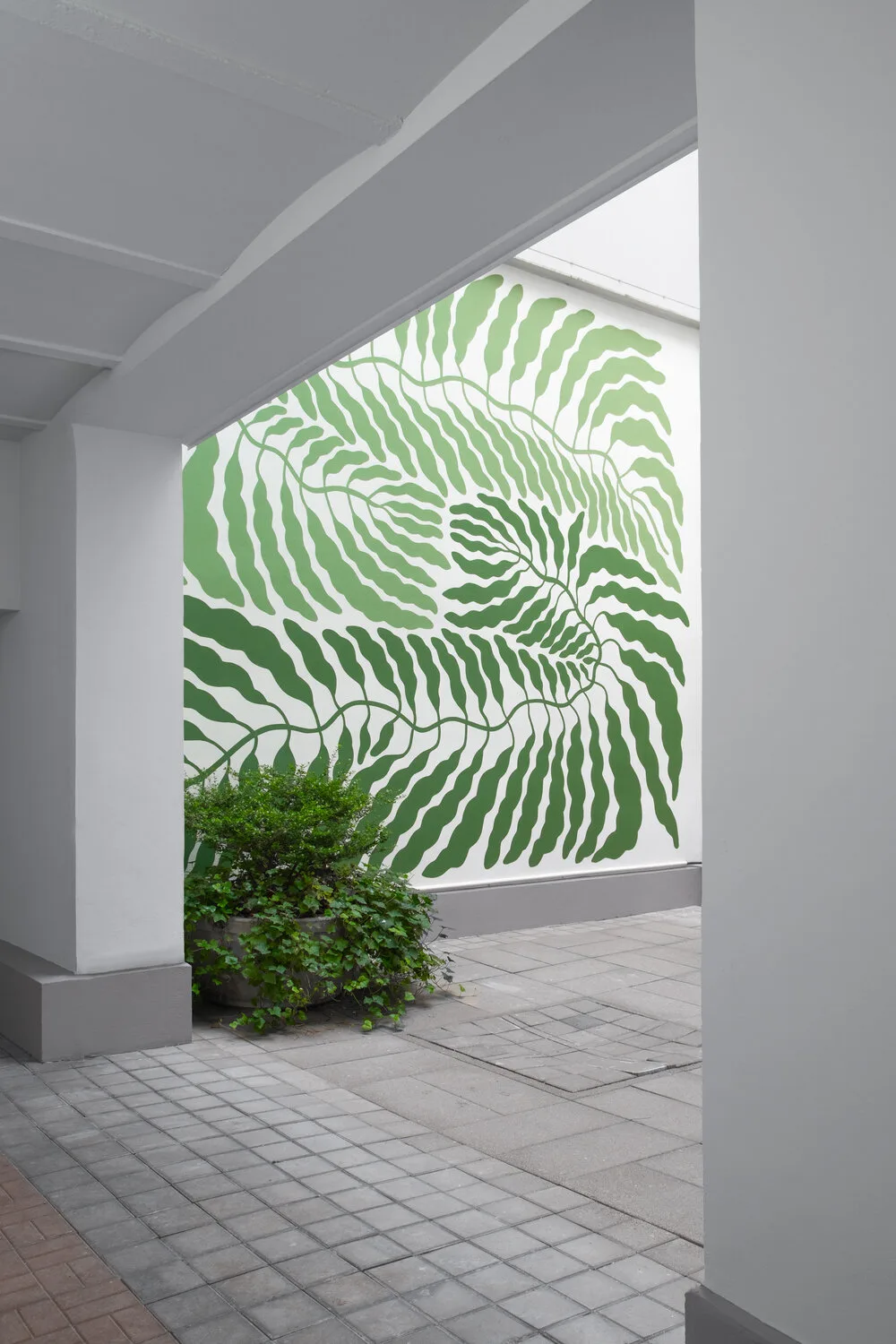 What pieces of work are you most proud of?
At the moment I'm teaching myself how to paint with oils and that's very, very exciting to me. The colours, textures, and accidents that happen on the canvas are everything. The piece that I'm the proudest of right now is this very vivid orange hand with the colourful background. It's an exercise in embracing a lot of colour and a more messy approach to the canvas.
What design challenges do you face at your company?
The biggest challenge I face in my company is kinda always "how do you profile and promote your company/services on the internet", especially as I've been showing more and more of my paintings and less digital work. Its kind of a puzzle how to say "I'm doing art" and "please hire me for your commercial projects" at the same time. Though that's something that will have to find its way through time. Shifting your career a little bit always is nerve-racking, but it brought me a lot of satisfaction every time I make a shift.
Taking time off is another thing that will be forever challenging. Yes, I take random afternoons off but I'm very bad at taking a few weeks off, for instance.
What music do you listen to whilst designing?
Any advice for ambitious designers?
Don't take it all too seriously, rest, walk, take an afternoon off every now and again. If you found something you love doing I think it's good to nurture that rather than deplete it as soon as possible.
Also, just do that thing you have been meaning to try. You really have nothing to lose, there's no rules!
Anything you want to promote or plug?
Sure! Follow me on Instagram to see more of my paintings and process videos, or on Twitter. And don't forget to have a look at my shop and portfolio.