What led you into design?
It wasn't very straightforward. As a kid I used to spend a lot of time reading books, comics, and watching Japanese animes. I was fascinated by the power of words and images and what makes a good story; I imagined myself being a journalist or a writer for a while.
It took me some time to find my way. While studying marketing in England, I discovered Photoshop and spent full weeks trying to recreate a playing cards game from a famous RPG, Final Fantasy 9.
I decided that I needed to shift and after getting my degree I took a loan and spent two years at a design school in Paris. Even though I was initially more interested in illustration, this experience opened my eyes on so many things, especially typography and motion design. My passion for graphic design only grew from there on.
What does a typical day look like?
My schedule varies from one project to another as I have clients in the US and in Europe. I'm not super strict about my morning routine and I tend to sleep more if I feel like I need to. What matters is that I start my day fresh and rested.
I start my day slow, have coffee, listen to the news, do a 30-40 minutes design roundup, and/or rate a few sites on Awwwards as I am a jury there. I'm usually more focused in the morning so I try to avoid meetings in this timeframe. I like changing working places, I switch between home, a coworking space next to my place, or another coworking space where I meet other freelancer friends. It also depends on what phase of the work I'm in, some phases require isolation, others benefit from confronting elements with a peer or a colleague. I usually try to stop working around 6 or 7 pm, and then disconnect from work until the next morning, either by meetings friends, going out to exercise, or just resting at home.
What's your workstation setup?
I tend to dislike routine and I got used to working on laptops without an extra screen (except for After Effects which otherwise becomes too uncomfortable), so I often change locations to work. Home is good if I need to focus for a while, and I also love working from a coffee shop or a coworking space when I have numerous smaller tasks (the one shown below is Helou, drop by if you get a chance, people there are so lovely!).
Yup, I totally cleaned up my desktop before taking these two pictures.

Where do you go to get inspired?
That's a pretty vast question. Of course there are classic platforms like Awwwards, FWA, Typewolf, Muzli, Maxi Best Of, It's Nice That, and Lovers Magazine :)
But really I think that we can draw inspiration from pretty much anywhere. Sometimes a typographic mistake on a poster in the subway can spark an idea that I'll quickly write/draw on my notebook and save for later.
In my opinion it's crucial to find inspiration outside of the design world in order to come up with fresh perspectives. It could be anything you like, for me the obvious ones are: museums, movies, mangas/comics, architecture, objects, video games, books, etc. Most of the time I don't get an idea that directly translate into design, but I think it's a good thing to feed your brain with as many interests as possible and let it do the work in the background. I see it as an incubator: the more seeds you plant, the more, eventually, they will grow and turn into something that you'll be able to use somehow.
Also, it may sound obvious, but talking about design and art with your peers is also a good way to change your perspective on things and get new ideas.
What product have you recently seen that made you think this is great design?
This is going to sound a bit geeky, but I recently started playing a game on Nintendo Switch called Zelda Breath of the Wild. It's actually from 2017 but I don't play very often. The thing that makes this game so magical is actually something that matters a lot in design: the details.
The trick is that the level of detail is so high and the world so vast that most players won't see a fifth of all that there is to see. At best. But they will feel the density. This kind of sensation will, quite logically, reinforce the user's trust in the experience, product, site, app, etc. Even more importantly this will also increase the emotional connexion that the user will have because he/she will automatically be incentivized to spend more time in the experience, which will leave a memorable trace.
I think this could be tied back to what good old Charles Eames said: "The details are not details. They make the design."
What pieces of work are you most proud of?
Upwork
This is the latest live piece I've worked on. In a nutshell, this project was all about applying an ambitious rebrand to a heavy design system. I feel like the key to success in this kind of large rebrand exercise is to reconcile all the moving pieces and dependencies so that the result really ends up being a more comfortable and pleasing experience for the end-user.
Plus this project received a Typewolf SOTD, and as a long-time fan, I felt pretty blessed.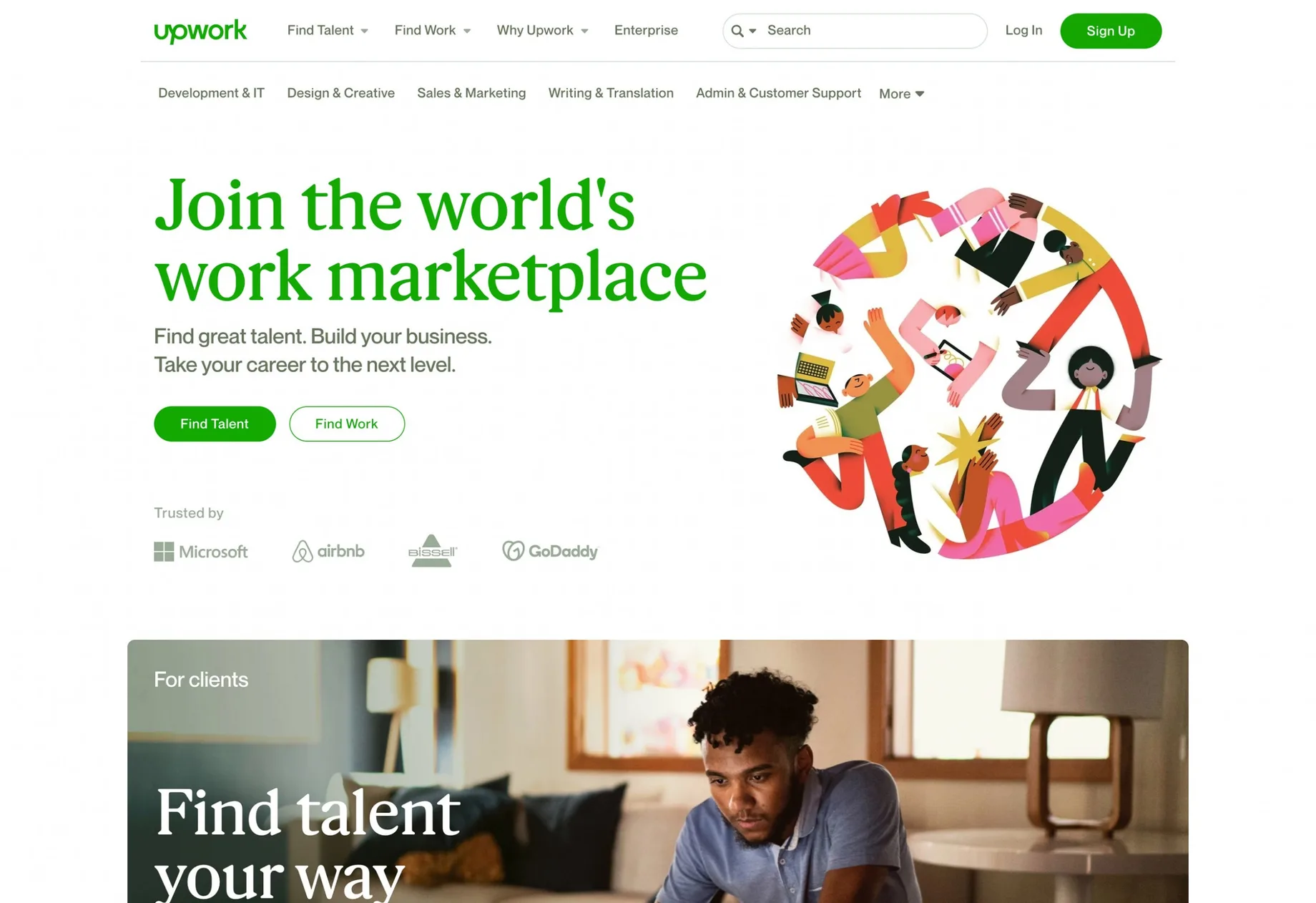 Squadeasy
This was a very challenging and super fun project to work on. The brand was far from being mature and there was a lot to be done on the product side as well. As opposed to Upwork, the team was pretty small, but the gap to be filled was huge. As numbers later showed, this kind of quirky new brand we put together proved effective and brought the attention we were hoping for.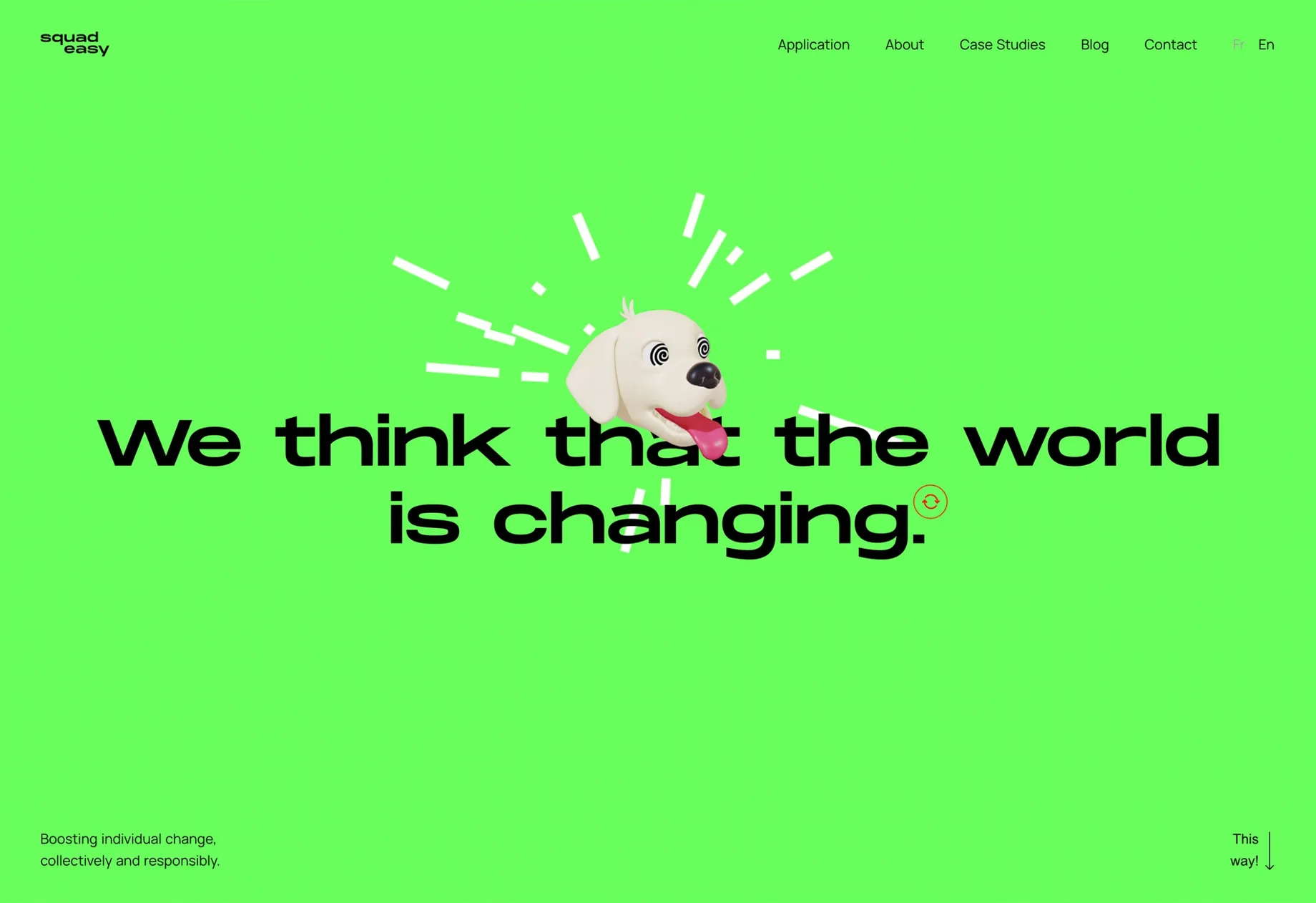 Reuters and Harvard Business Education
These two are simply milestones achievements as they are organizations I look up to, and it was such a pleasure to work on their brand.
Similar to Upwork, we were dealing with complex dependencies and large design systems that needed a significant upgrade. Reuters ended up getting a Digiday Media Awards (among other accolades), and the feedback from users was pretty amazing.
What design challenges do you face at your company?
I wouldn't say that my current situation is nearly as tricky as my debut.
While it has been and still is a very exciting journey, there were bumps along the way. Primarily, it took me a while to discover my passion for graphic design. I also had a skewed perception of what makes a good designer. I was convinced that it was mostly about talent when in fact it was 99% about work and perseverance. Growing up, graphic arts/design was not of interest to anyone in my circle. I discovered those career possibilities while I was studying marketing in college and it took me a while to get over the imposter syndrome. Feeling late to the game and disadvantaged in that sense pushed me to work harder and constantly seek new experiences.
I also struggled understanding how to reconcile substance and shape because I really love the craft behind graphic design and I'm a huge perfectionist. Sure, most graphic designers are, but I used to go through endless rabbit holes, not knowing when to stop or if this would really make a difference in the end. I discovered after a lot of trials and errors that I was sometimes focusing on the design craft while neglecting the idea behind the design.
What music do you listen to whilst designing?
Any advice for ambitious designers?
There is a piece of advice given to me at design school that helped me a lot going through hard times in my career. A teacher said: "there are going to be times when you will get work that doesn't fulfill your expectations, and maybe sometimes no work at all, when that happens don't fight against the wind and make time for side projects that make you happy because eventually, this is what you will be hired for".
Perseverance and pleasure are the ultimate keys to success in my opinion.
Anything you want to promote or plug?
I wish my next portfolio was ready but that is going to take a few more months, so I'll go with the current one: