What led you into design?
Acceptance.
I initially honestly didn't know what to do with my life once I finished high school. I somehow managed to get out of school on a never-ending series of good grades, which as weird and cocky as it may sound isn't a blessing at all, as I honestly didn't have any clear idea of what I was supposed to do after that.
My parents expected me to go to university (cost of higher studies in Belgium isn't like in the US, it's actually really affordable thanks to a different educational system and taxes). Younger, they both weren't allowed to finish high-school, because this is what you used to do back in the days, especially coming from the really humble background they were raised in. So, they had kids, my dad picked a job in a factory, and they moved on with spending the rest of their life making it right to us.
Long story short, in the end, none of my three older brothers decided to go to university, so my parents were encouraging me to do so, because "I had the capacity to do it" according to them, but especially because they would have dreamt to have access to it when they were my age. Turned out I did go and ended up studying a year in computer science, while genuinely hating 90% of my courses (mostly shared with civil engineers). This is a super unexpected turn of event which got me to reconsider this.
As a kid, super nerdy me read the Lord of The Rings a couple of times, and when movies started to get released, I got really excited about it. One evening watching the appendices on DVD, I discovered the 3D work of Weta Digital, which lead to one of those rare epiphanies I'll most probably never get again in my life. I could actually get paid to do creative stuff. The idea always sounded silly to me before that. I ran the idea to join a computer graphics school to my parents, who accepted to let go of their healthy ambitions to have at least one of their kids go to university, to allow me to go study in a local college. That's pretty much it.
Well...That wasn't that short. Sorry about that. I'm always talking and writing too much.
Actually, I'm not sorry.
Next question!
What does a typical day look like?
6:00 I'm up. 5:30 if my son decided otherwise.
Apart from the usual total race at home to get kids ready for school and nursery, it currently involves a lot of driving on my part as I'm temporarily living on the other side of the country with Dorine, my wife-to-be, to finally get at the office for most days of the week.
Most days, as last year we officialised remote working at the office, meaning team members can actually work from their home some days of the week, and avoid the pain of driving, traffic, stress and possible hazard all of that may involve.
The good part? I have an extremely high consumption of music (and actually movies), and all this driving time allows me to enjoy it from pretty early in the day, to pretty late in the evening.
As I'm not only designing, but also partly running the agency, my day is then divided (not evenly) between business development, listening to music, checking with the design team, designing on some projects, preparing decks for upcoming projects, giving a hand on others, trying to drink more water, having operational or project-based meetings, meeting with new potential clients, getting up to pee too many times because I finally decided to drink my daily 2 liters of water, preparing more decks, writing down stuff in to do lists I can never actually empty.
Somewhere between 5:30pm and 6:30pm, I jump back in my automobile to start part of my second day: calling my partner in the Chicago office to debrief about the current state of affairs, projects, and plans for an hour and a half.
7:45-ish ( or 8 if traffic sucked ), I'm finally home to make a sanity check on Dorine who had to run family operations while I was gone, eat something while chatting, and possibly crash in front of a movie before crawling to bed, or start a third day if I'm late on some projects.
The perks of being independent and running a company.
What's your setup?
So...I think I'm going to run out of pictures of people smiling at computers, pointing their fingers at random things on screens, so I'll just leave you with a video shot by a former intern of Dogstudio (Thanks to Jonas)
My setup...well, I was going to clean up my desk, but I hate to pretend I'm a typical obsessive designer with a workspace coming out of a Swedish design magazine.
I don't like clutter, but I don't like the fake absence of life, so I even added some notes for you (lucky you)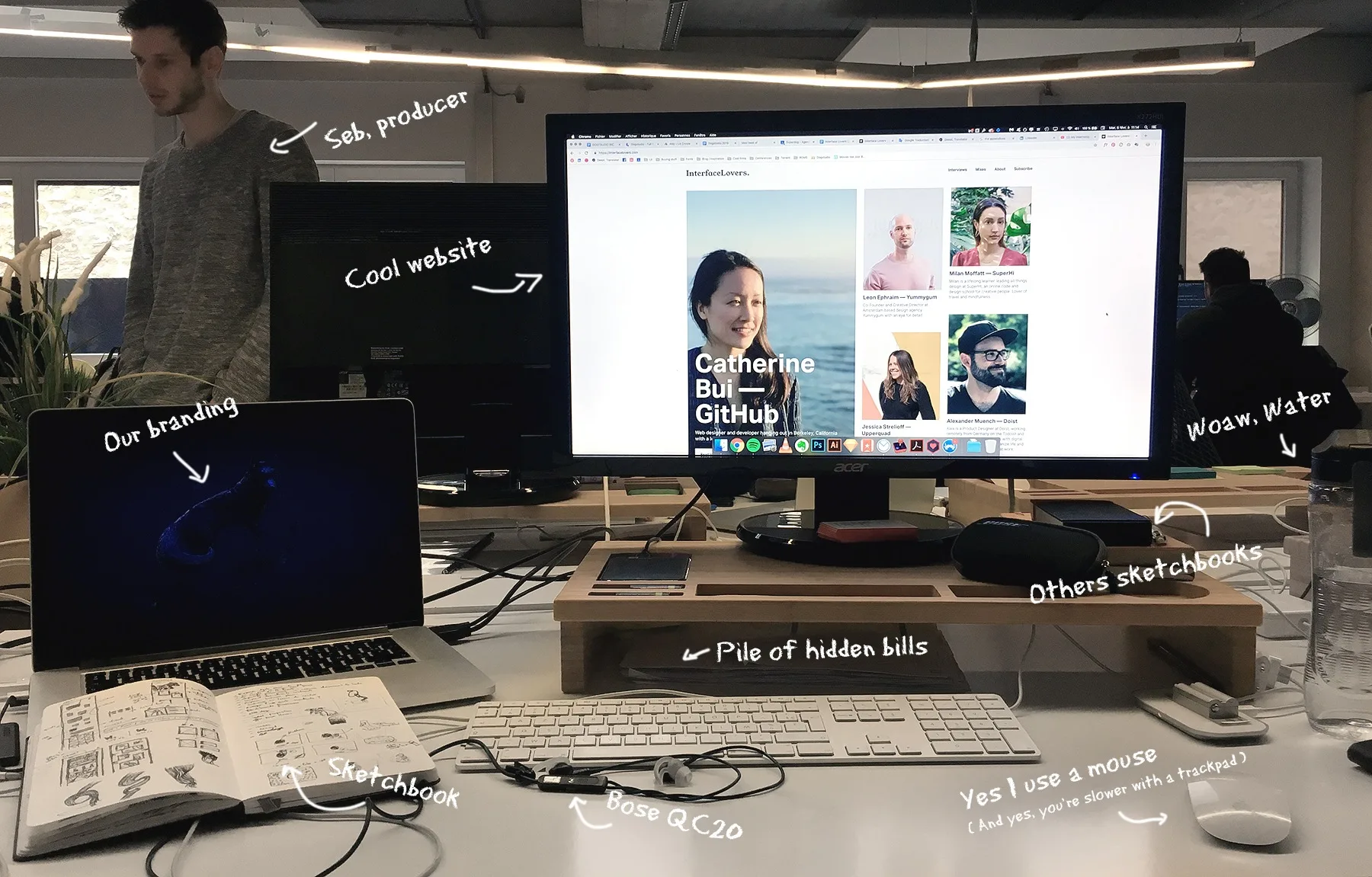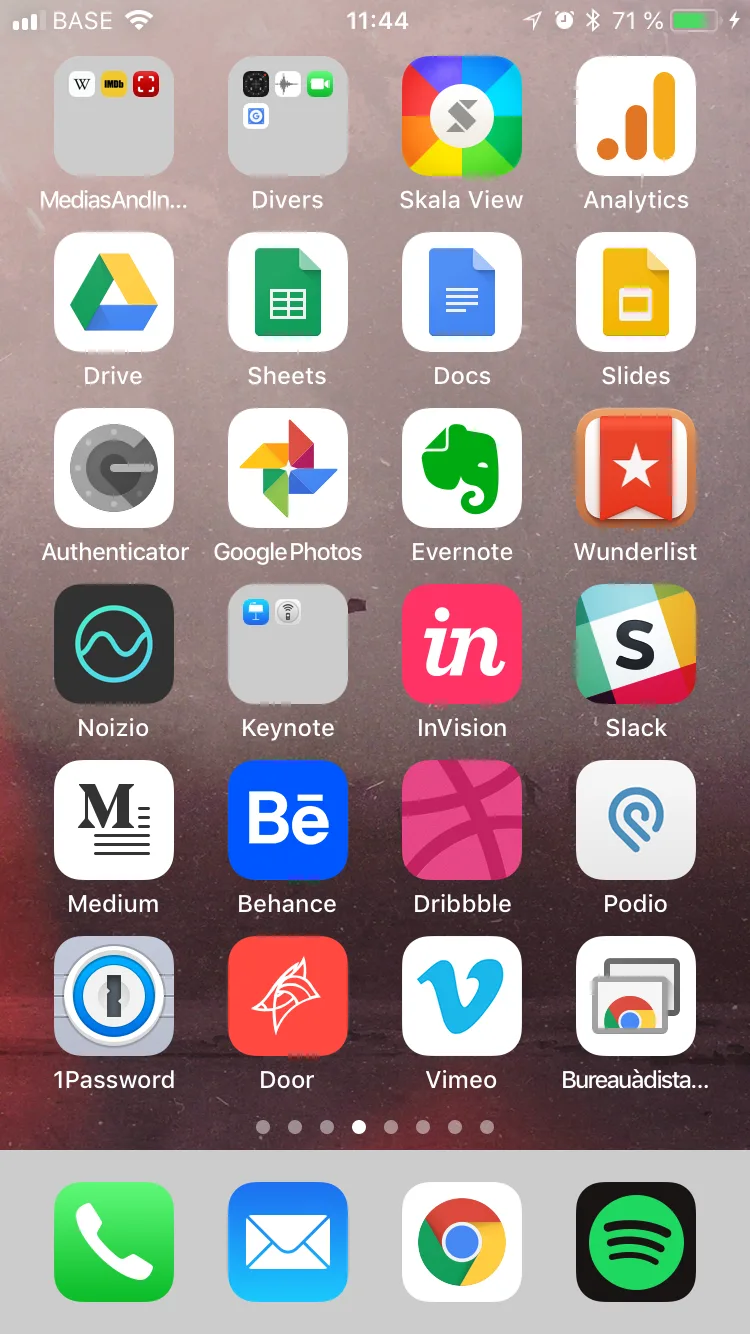 Where do you go to get inspired?
Pretty much anywhere, but could be Behance, Awwwards, FWA, Dribbble, Fast Company, outside of the office, watching conferences and drawing in my sketchbook
What product have you recently seen that made you think this is great design?
Well, I just got a kid, and as a fresh parent, the thing I'm most amazed off is how well humans are engineered :) Everyday is more fascinating than the previous. Now, honestly, I'm not spending that much time reviewing other products. If I appreciate an interface or something, I'll try to point at the small details which change the whole experience, but it's easy to go round and round by repeating what's been done
What pieces of work are you most proud of?
Good question, I'm not going to go back to the baby answers again, so I'll divide my answer between a few projects. After a few years now, I'm still proud of the work we did in revamping the website of the Museum of Science and Industry of Chicago, that amazing and huge museum in the Midwest. It was a real challenge on so many levels, and as we were definite outsiders on a major American project, it felt even better to get a shot at it.
I would also say, in the last couple of months, we wrapped up a permanent installation for the Navy Pier of Chicago which allowed us to physically interact with people, collect live feedback, and adapt the product as we were building the experience. This was definitely where I feel we'll be digging more in the future.
What design challenges do you face at your company?
I would say the same as we always faced: building things which work and feel right, and not building them the way everyone else does, because, you know...everyone else does, so that must be good. We always embraced our right to question, to challenge, to confront, and so far, it proved to be the right thing to do.
What music do you listen to whilst designing?
Any advice for ambitious designers?
Stop being entitled.
Most of the design veterans such as the great Shane will eventually tell you they started their career by also accepting crappy jobs, worked their ass off on seemingly not interesting pieces of design, but eventually, it's those years who built them the most as designers. They learned how to make the most or nearly nothing.
I personally hate hearing/reading designers complaining they're not working with major brands, a year after going out of school, as some of us waited for that shot for years. You can build amazing products with barely anything, all you need is the capacity to create your assets yourself.
Ho...and please F**** learn to use Photoshop properly, product design software like Sketch, Invision or Figma have their limits, you shouldn't shape the quality of your work under those constraints.
Anything you want to promote or plug?
Yes. Always have a sketchbook with you, and finally…
...don't listen to me!