What led you into design?
I was always doing arts and crafts as a kid: drawing, painting, cross-stitching, making sculpey jewelry, sewing, cutting up t-shirts. And I've always been into computers; when I was 13, I used money from my bat mitzvah to buy a computer and was instantly obsessed.
In middle school, I learned a weird form of HTML to color my AOL profile (anyone else remember this??) and from there I got hooked on building Angelfire pages (which was how I learned HTML and CSS) and customizing my LiveJournal. I met a lot of other teenagers online who I really connected with, and eventually one of them hosted my personal website on her domain. I maintained a personal website all throughout high school and was doing some weird, experimental stuff with iframes, image mapping, and Photoshop GIF compression. Someday I'll resurrect these experiments and put them online somewhere. They were super weird and full of all of the lyrics from the emo bands I was obsessed with.
Meanwhile, I was lucky enough that my high school offered computer graphics classes, and I took three years of Photoshop, Illustrator, Premiere, Bryce, and Flash. At the time, I didn't really know what design was, but I did know that I loved computer graphics and making websites, and that "graphic design" was the closest major to my interests.
I studied Visual Communication Design at Virginia Tech, where I met some of my closest friends and learned all about design, mostly through the lens of print and advertising. I fully expected to work at some small print studio one day, even though I was still making websites for fun on the side. Toward the end of senior year, my friend Charlie suggested that I apply for a job at the digital agency he was working at since I knew how to make websites. I hadn't ever considered that I could have a career designing websites; it was always this thing that I had done for fun as a form of self-expression. I ended up taking the job and have been making websites professionally ever since.
From there, I moved to New York to work as a designer at Kickstarter. Two years later, I took a job at Etsy, which is where I've been for the past five years and counting.
What does a typical day look like?
Most days I get up around 6:30 and head to the gym, usually for a 30-minute personal training session. Personal training is something I started doing last year; working out regularly is really important to me and is how I relieve stress. It's great having a trainer because he pushes me and is someone to whom I'm held accountable (otherwise, I'd probably never go to the gym). I also love (and need) to have personal goals and hobbies outside of design.
After the gym, I'll head back home, shower, get ready for work, and eat breakfast with my husband. I take the subway to work every morning and am usually listening to music or a podcast (likely Still Processing or Reply All) on the way in.
Once I get to the Etsy office in Dumbo, I catch up on email and Slack messages. Our team will have standup, and I'll get started on whatever's on my plate for the day.
Most days, I'm prepping for or conducting research with Etsy buyers or sellers, prepping for an A/B experiment, or reflecting on any new information and learnings from research and figuring out where to go next. This year we've been accelerating our rate of research dramatically; designers and product managers are empowered to run research sessions and talk to our customers directly, which is new for us! I'm usually testing brand new ideas, doing usability testing, or getting feedback on our existing features with an Etsy buyer or seller every other week. Anything that we learn from qualitative research gets turned into a small production experiment to validate at scale, and I'll work with our engineers to scope, build, and QA the experiment. On days where we've already run research or we get experiment results back, the product manager and I are reflecting on what we've learned and decided whether our hypotheses were validated and how to proceed.
Beyond my regular projects, I'm often sharing work with the design team for feedback, giving critique to other designers, or trying really hard to not buy everything I see on Etsy dot com.
After work, I'm probably grabbing a drink with friends, cooking dinner with my husband (usually Thai, fish, or pizza), and/or watching a Shonda Rhimes show. And then I'm in bed by 10 pm.
What's your setup?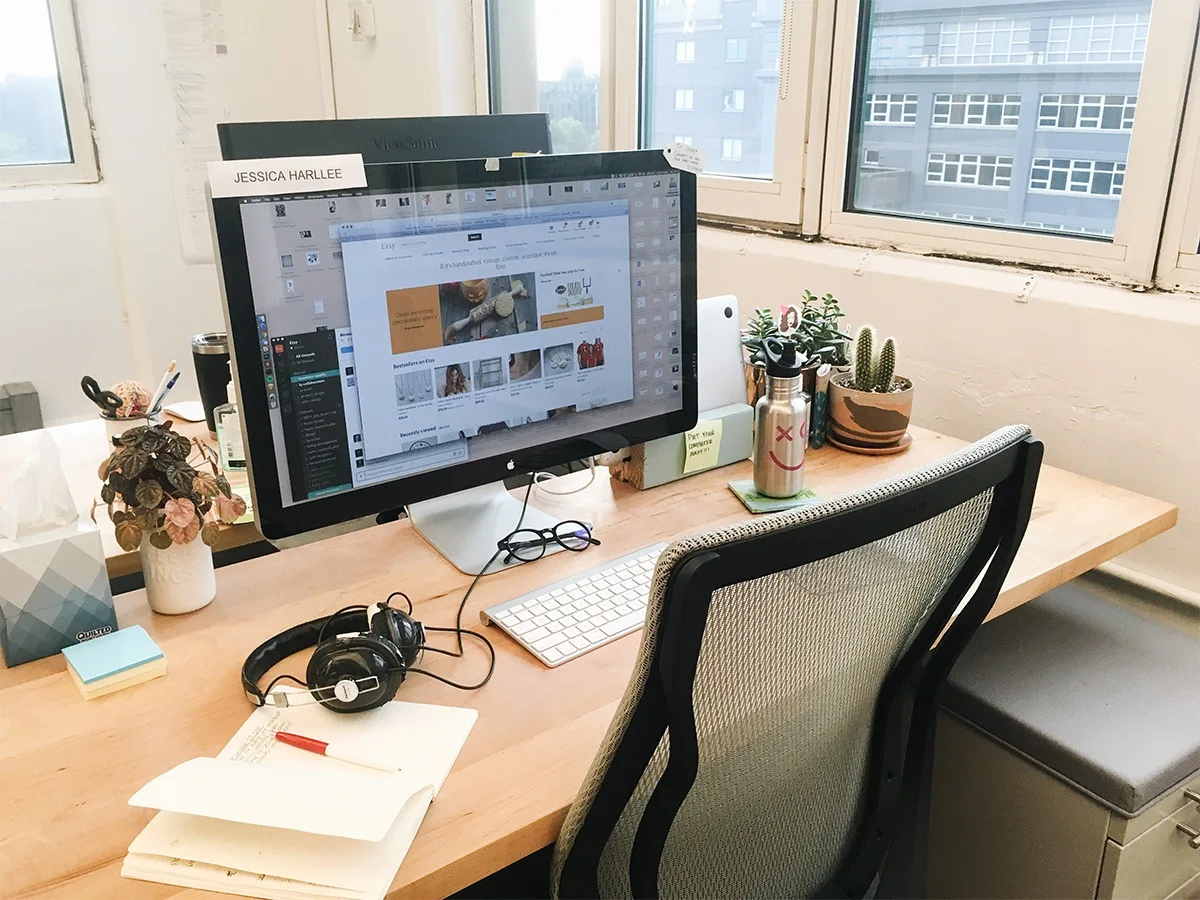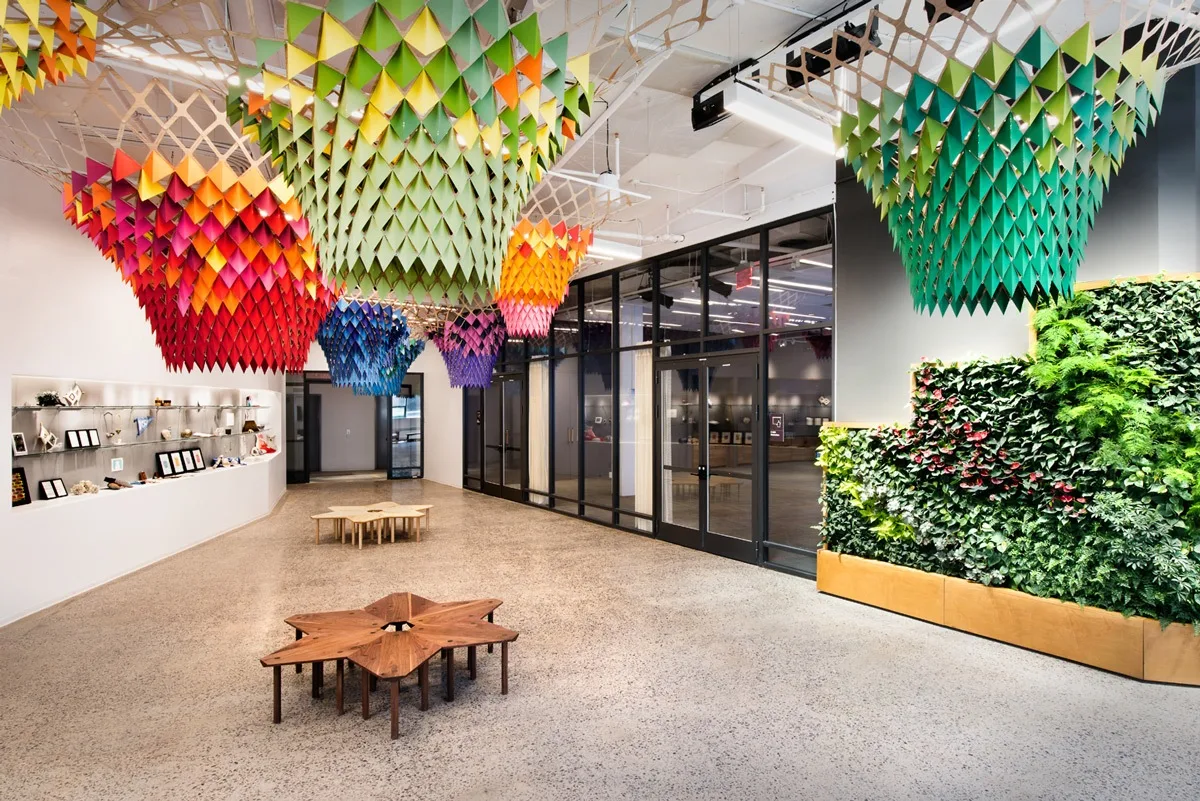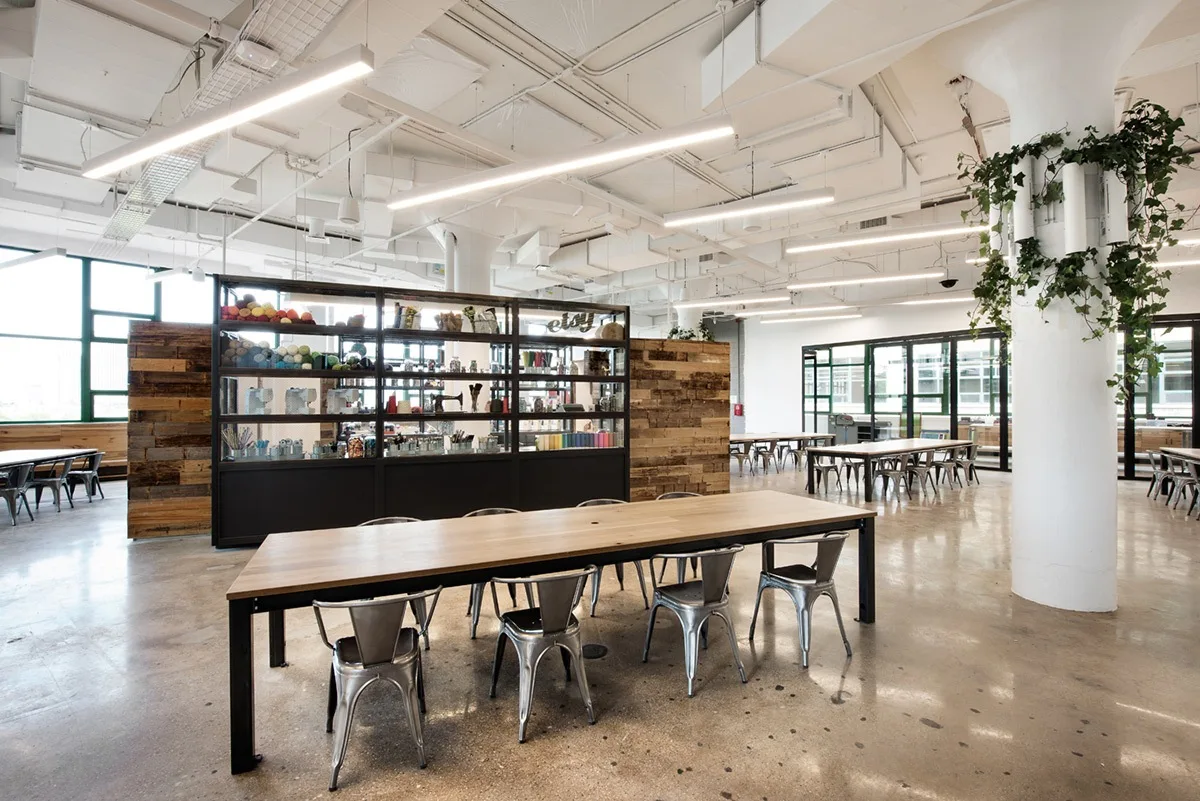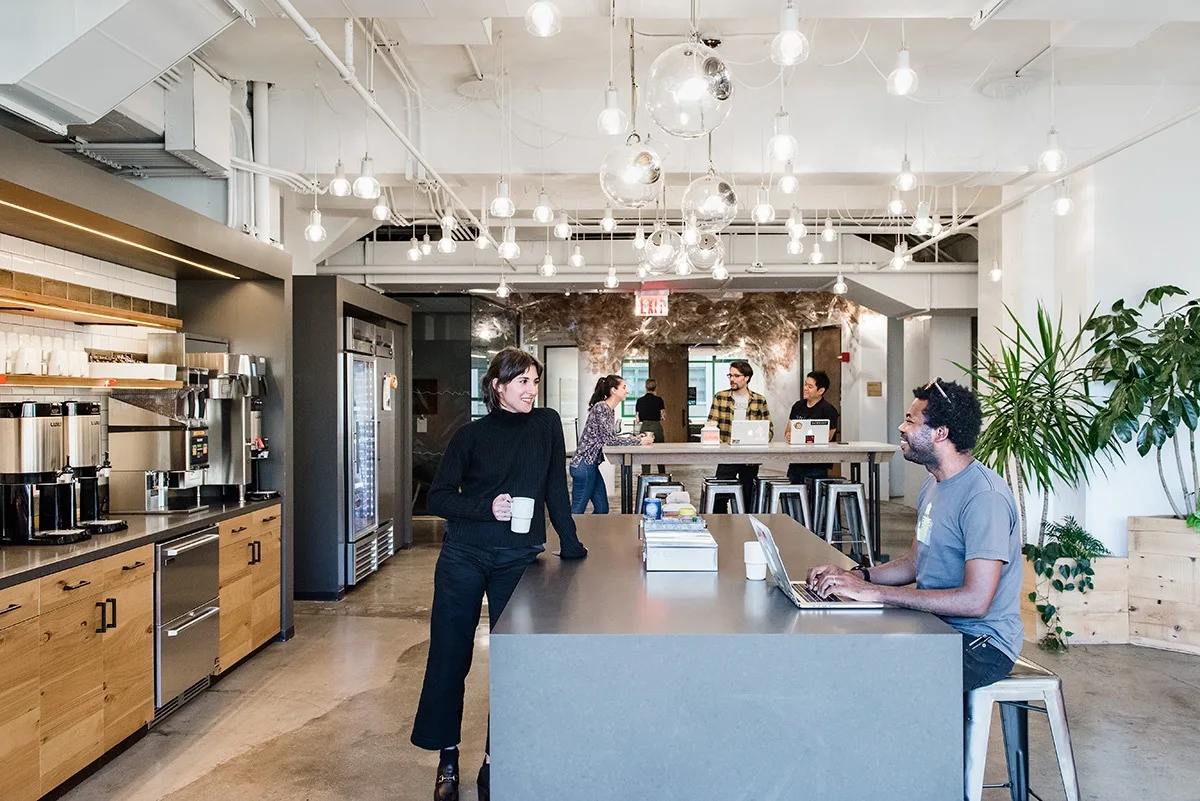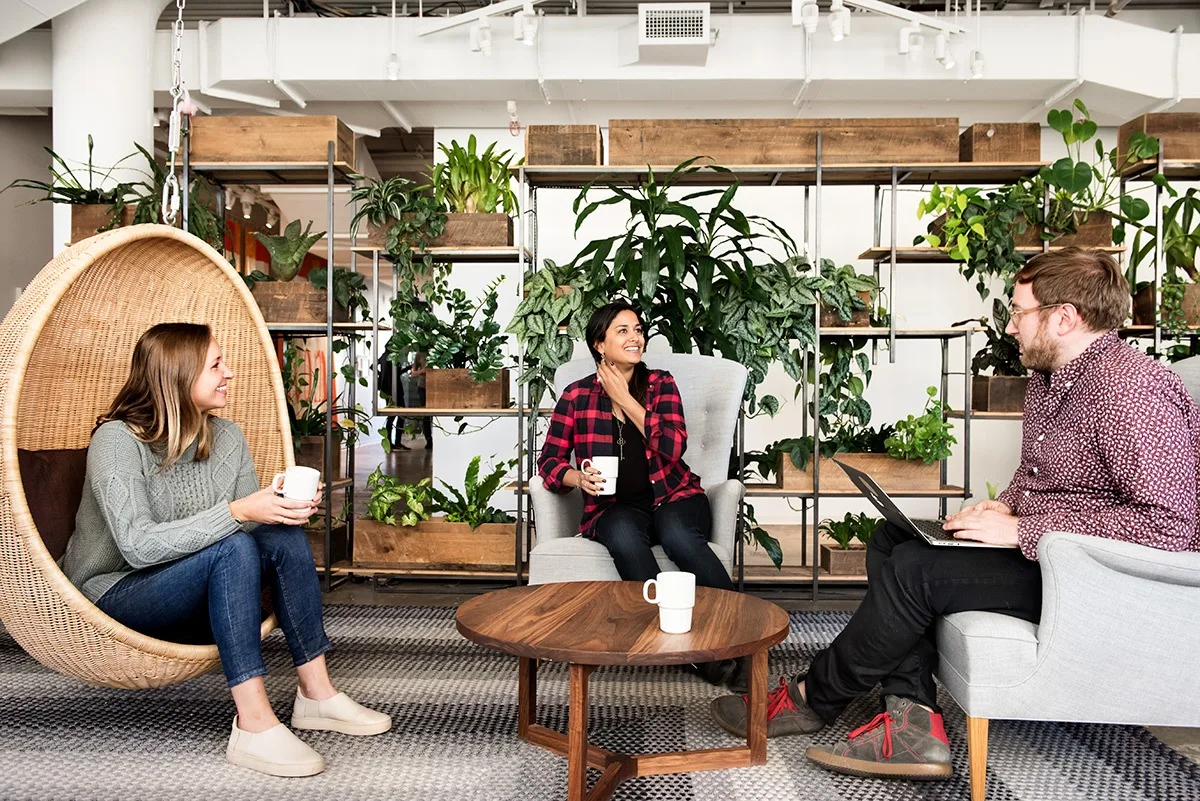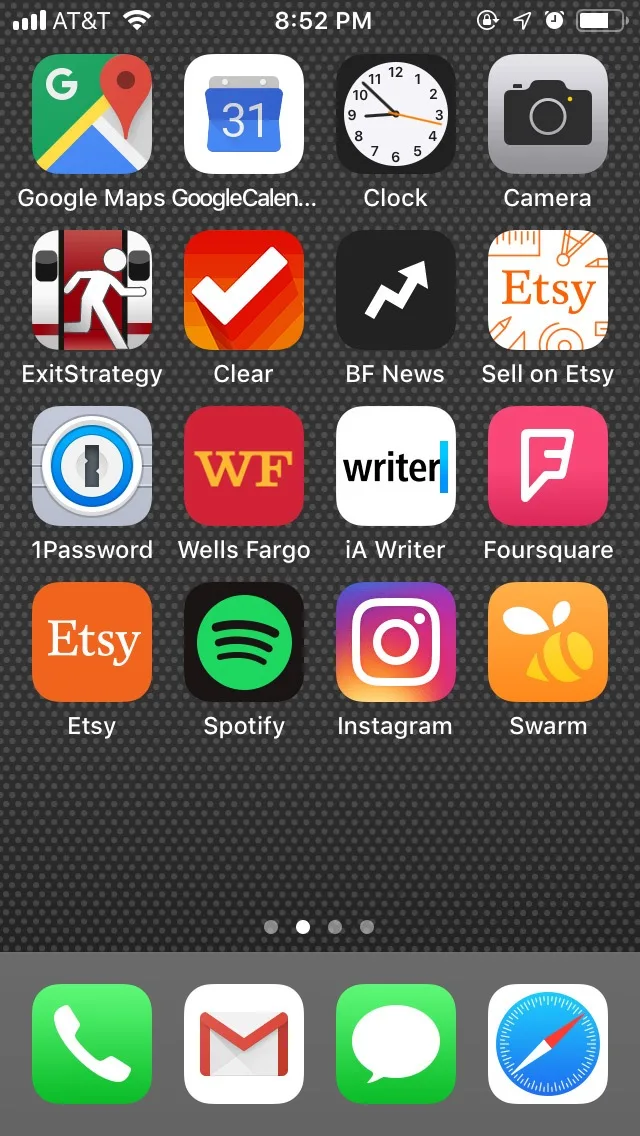 Where do you go to get inspired?
Over the years I've stopped turning to the internet as a source of inspiration and am usually most inspired when I'm not online. If I'm feeling stuck, burnt out, or can't work my way through a problem, I try and distract myself by getting exercise, wandering around New York City, reading, crafting, or traveling.
Reading books, whether they're related to design or not, really stretch my brain and can help me look at a problem in a totally different way. Currently, I'm reading Powerful: Building a Culture of Freedom and Responsibility by Patty McCord and I just finished Inspired: How To Create Products Customers Love by Marty Cagan and Radical Candor: Be a Kick-Ass Boss Without Losing Your Humanity by Kim Scott.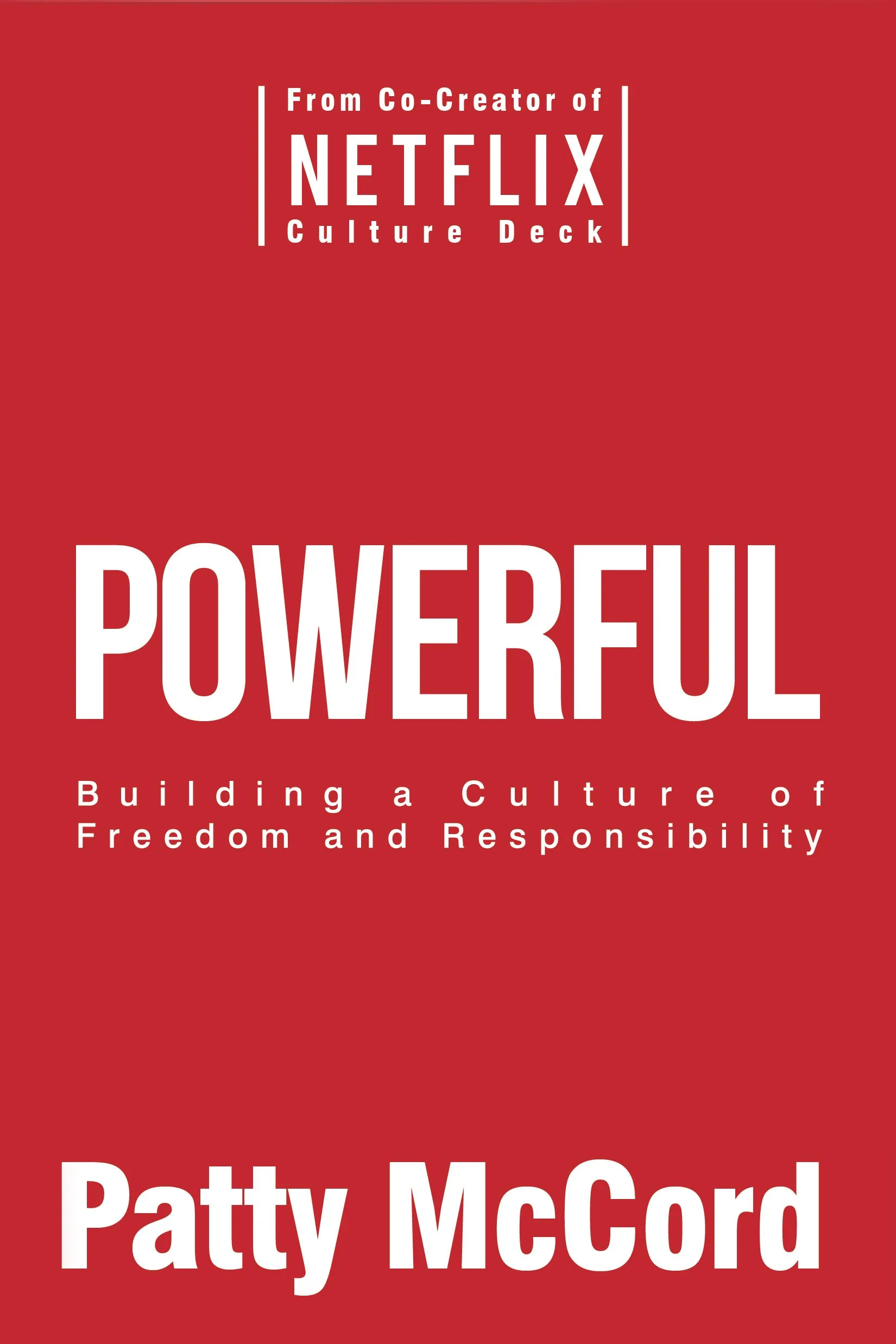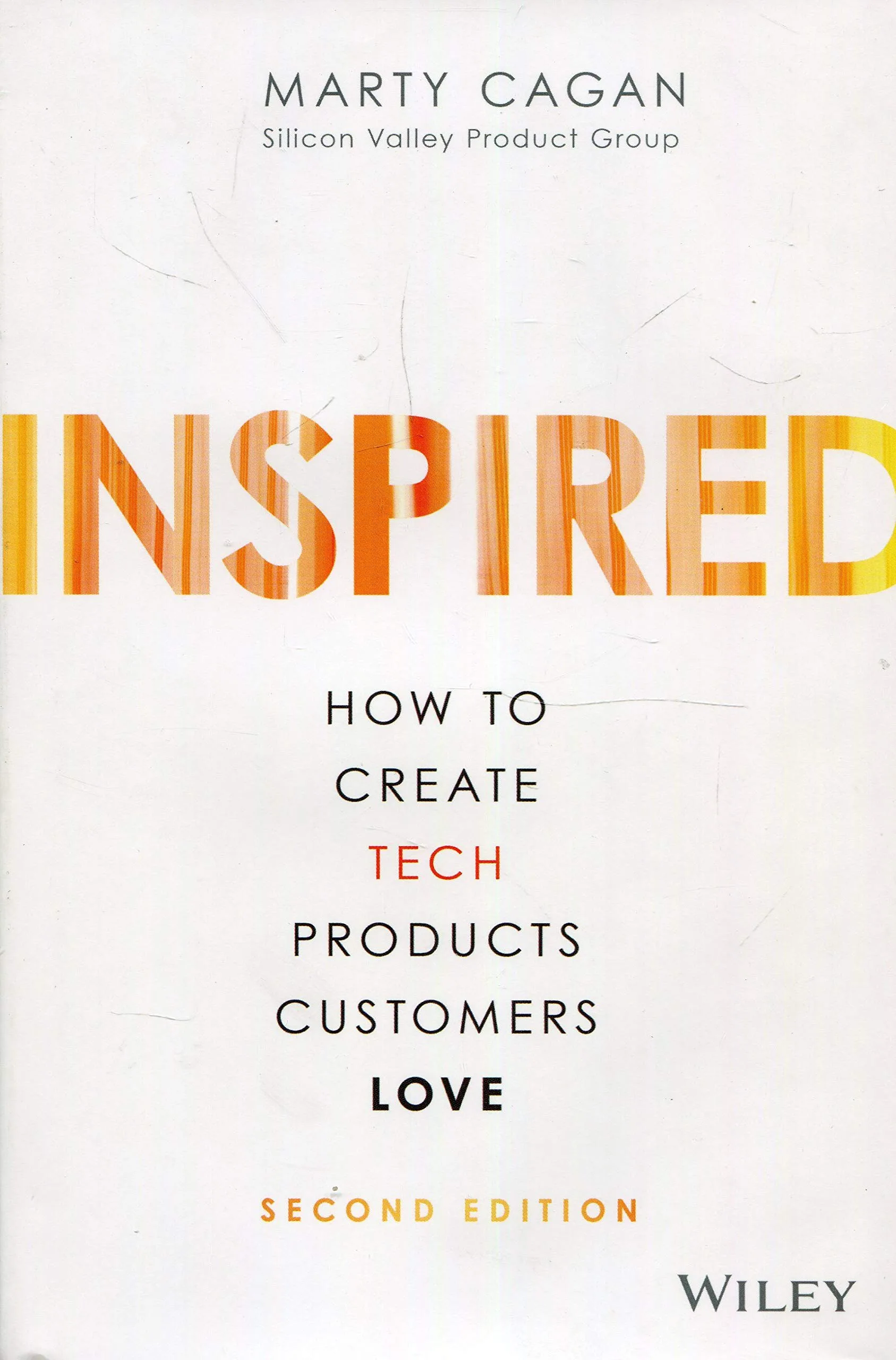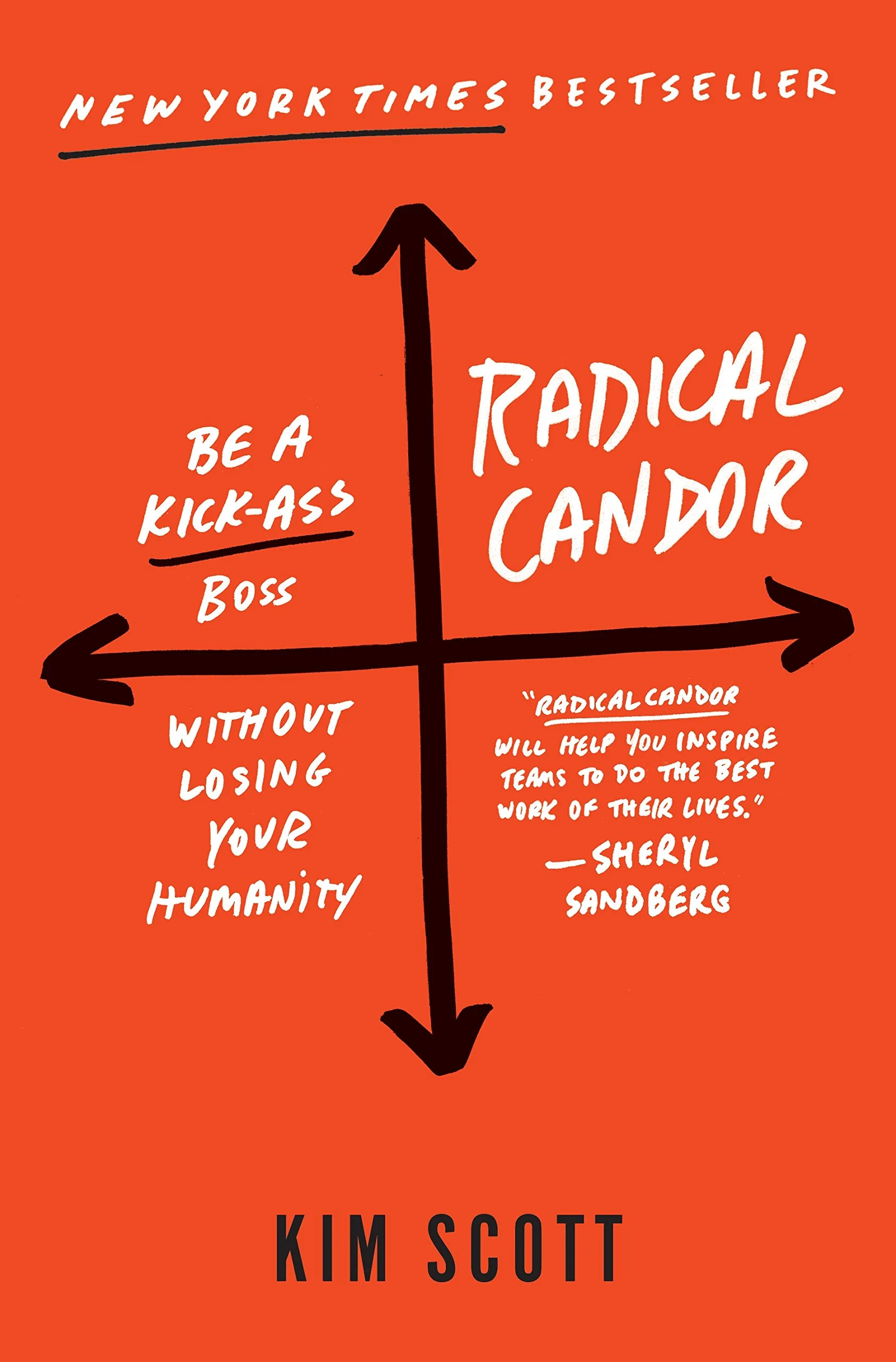 If I need a break from the screen or from design and I want to make something with my hands, I turn to embroidery, weaving, or other fiber arts. They're very meditative.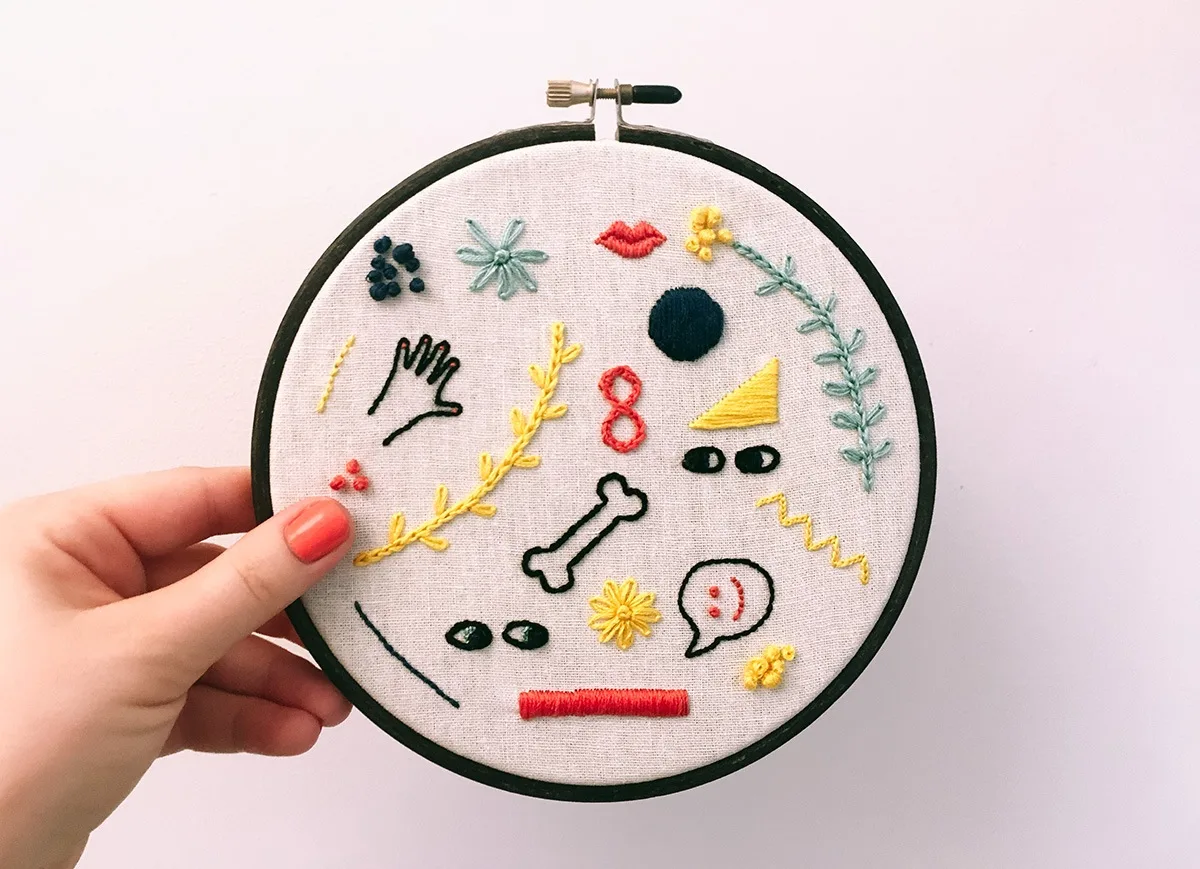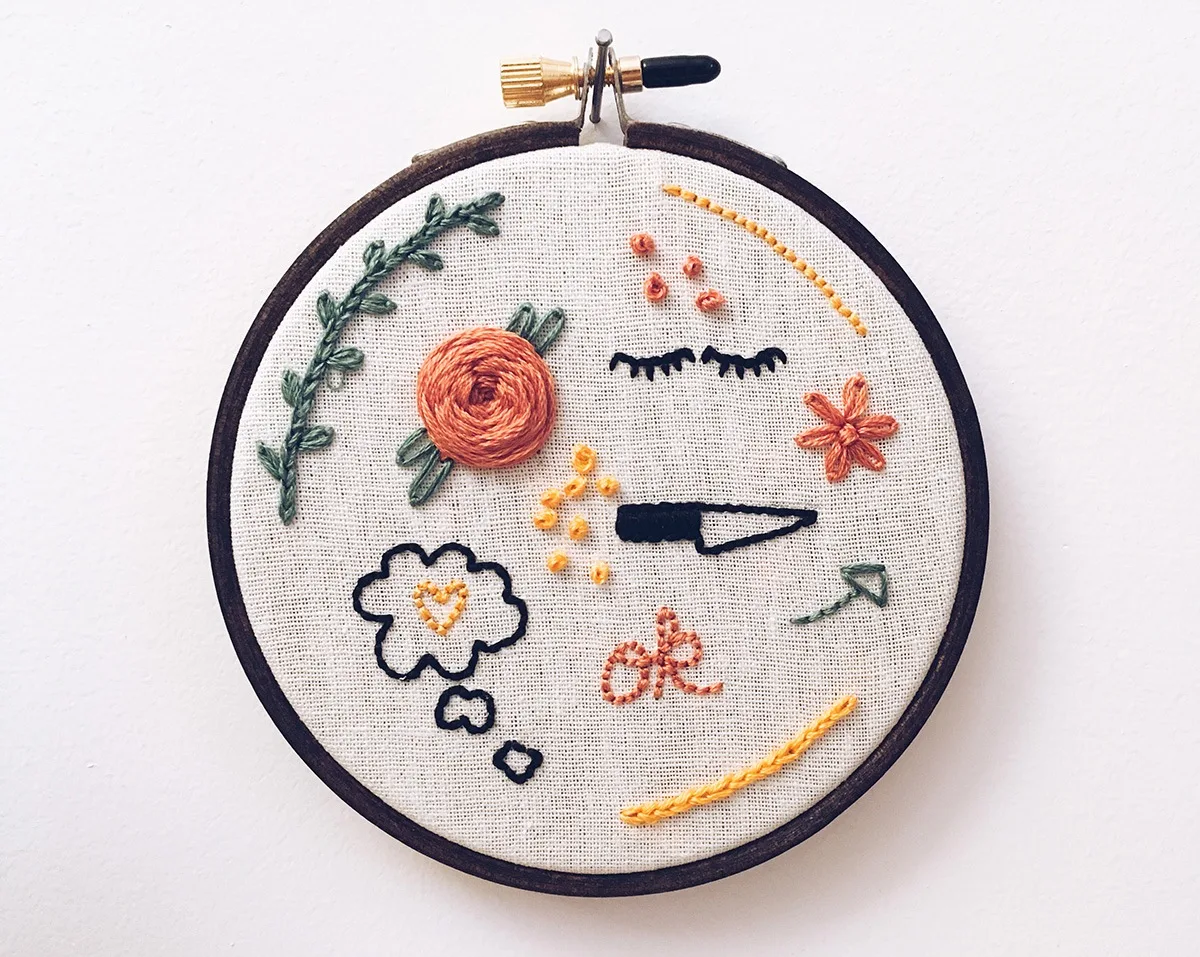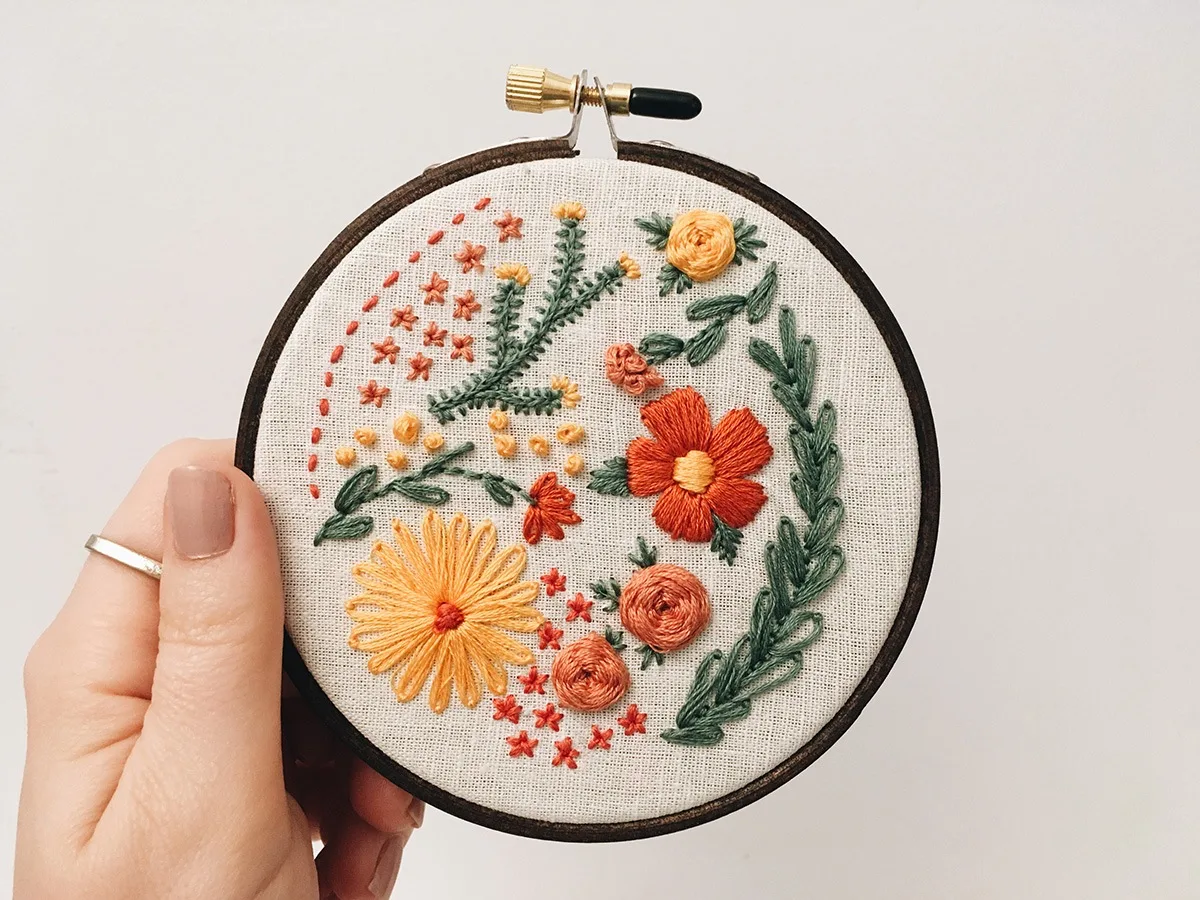 Traveling helps me feel curious and creative; I take more pictures and feel spontaneous in a way that I'm normally not. I almost always feel refreshed after I travel. Taking time off is so important!!
What product have you recently seen that made you think this is great design?
I sincerely love Slack's status feature. It reminds me so much of AOL Instant Messenger back in the day.
In high school, I used to put the most emo lyrics in my AIM away message, like Taking Back Sunday or Saves the Day. I spent way too much time finding the perfect lyric to express whatever intense emotion I was feeling. AIM statuses were a beautiful and weird form of self-expression.
Obviously, there's a ton of practical value in a feature like statuses on Slack. I use it to signal when I'm on vacation or working from home, or if I'm unavailable for whatever reason. But I've also used statuses to make some really, really bad jokes, and it brings me a lot of joy.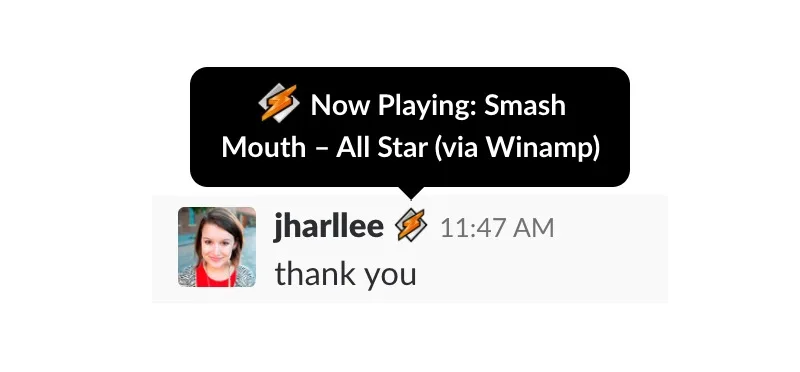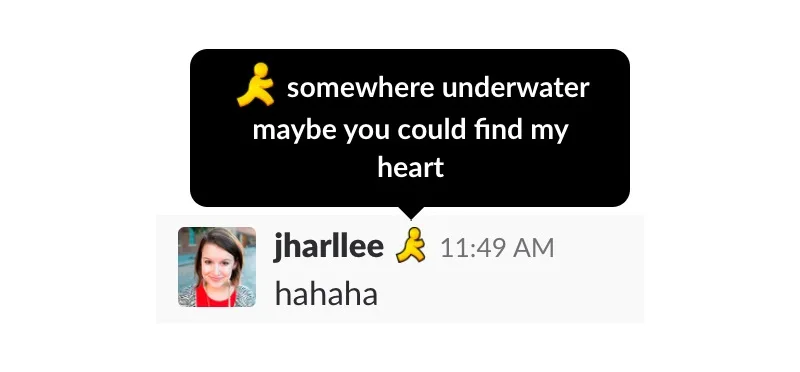 What pieces of work are you most proud of?
I'm proud of a lot of my work, especially since I've focused on building platforms that support independent artists for the past 7 years of my career. But, if I'm being honest, I also look back on things I've made, even a year ago, and feel like my perspective of what constitutes good work has evolved a lot. I've been thinking a lot about the process, and what kind of process leads to good work.
Right now, I'm really proud of projects where two things happen: we validate our assumptions with customers early on, and we have a measurable impact on our buyers and sellers.
In the past, we might have jumped right into usability testing without first interrogating the value of the idea itself. We've been using low fidelity testing as a way to validate assumptions and get feedback on the value of a feature. It helps us gain confidence in something before we build it. The materials might be as simple as a paper prototype, or a printed provocation of an idea.
Recently we were exploring ways that we could help our sellers add structured data to their listings; it's a very time-consuming process to add this information, and we had a few ideas for how we could make it easier. We created provocations and printed them out on paper, used them to have a conversation with sellers, and had sellers dot-vote on the most valuable ideas.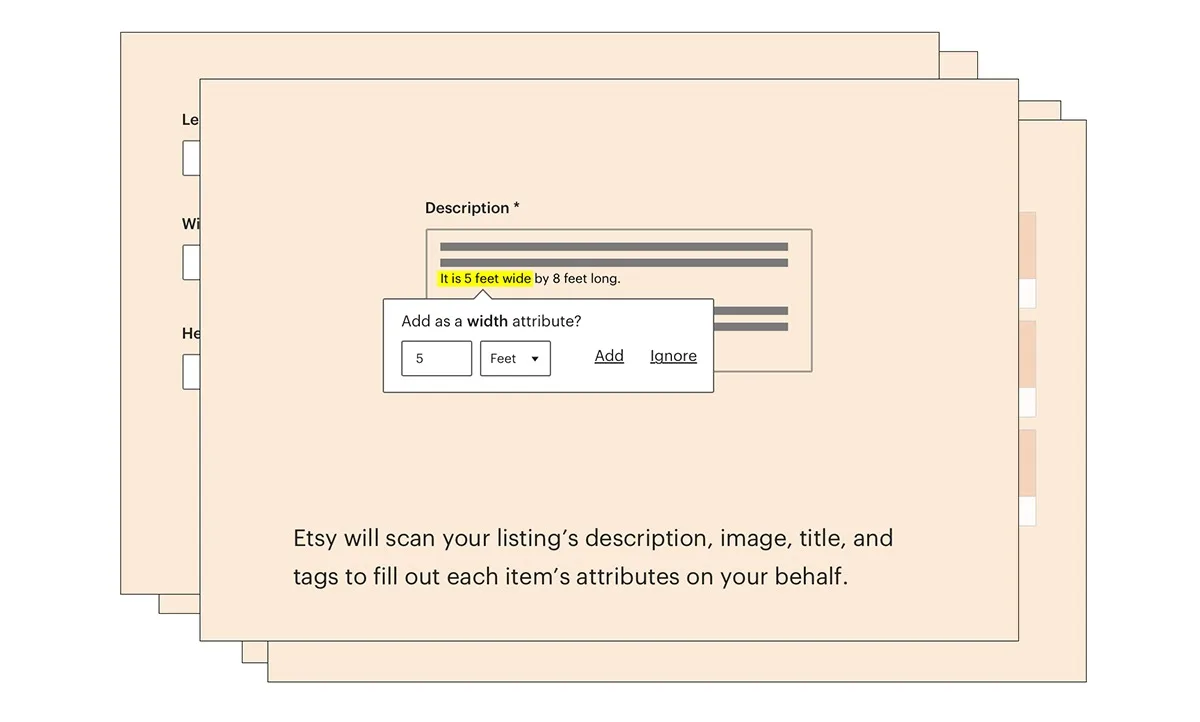 Sellers told us in research that they really liked the idea of Etsy trying to intelligently fill this information in for them since it would save them a lot of time. So we ran an A/B experiment in which we showed sellers a module asking them to confirm the listing's length, width, or height, based on the description the seller wrote. We were really excited to see that it led to a notable increase in structured data coverage.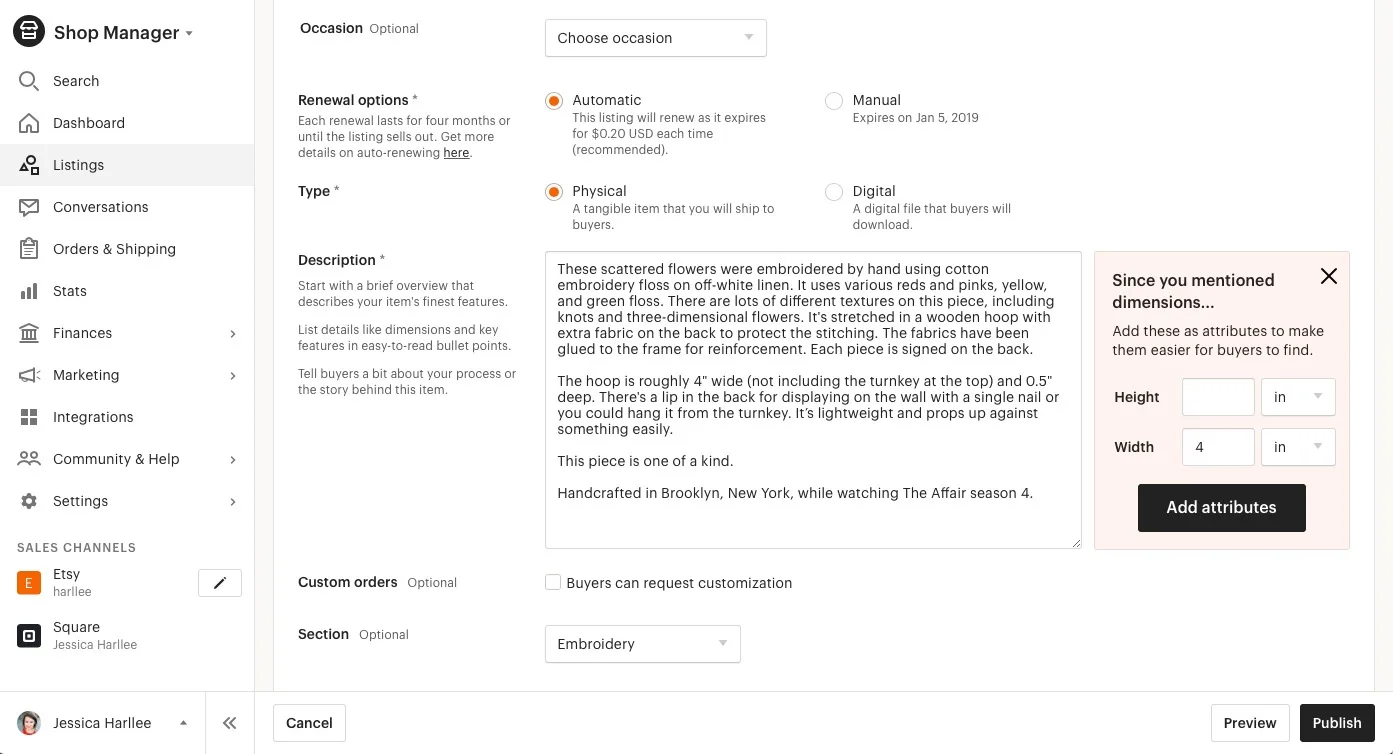 These small, targeted tests gave us a ton of insight around seller adoption of structured data, and everything came together in a matter of weeks. Everything we learned will be incredibly useful as we invest more in structured data on Etsy.
What design challenges do you face at your company?
Etsy is a fascinating place to work because it's not a typical e-commerce company, it's a two-sided marketplace. We don't own the inventory; our sellers are in charge of creating, listing, and fulfilling items. This means that when we're building features, we have to consider things like how sellers will adopt the feature, or how the feature will work for the most unique items on our platform. These kinds of challenges are why I've been at Etsy for nearly 5 years. There are so many interesting problems to solve.
What music do you listen to whilst designing?
Any advice for ambitious designers?
You only have so much energy; figure out where it's best spent. Keep it real. Talk to your customers. Stay curious. Not all advice is good advice; listen to your needs.
Anything you want to promote or plug?
Here is my personal website, which has my work and my writing. I post sporadically on Twitter and Instagram. You can find (and buy!) my embroidery and other fiber work on my Etsy shop.
Thanks Mike Edmonds for my headshot! Go hire Mike.