What led you into design?
I was always very interested in both music and visual arts, whether it was through listening, going to music shows or playing instruments. Or if it was through drawing and painting during my free time that I believe have a key influence in my life and to the path that I chose to take.
With this said, there are a couple of things that led me into design. Drawing, and music is one of them, and there was also online gaming. Back in the day I used to play a couple of online games that lived entirely in the browser and in online chats. I started making my way in the "design verse" by creating forum signatures and profile pictures using a very early copy of Photoshop. Having access to a computer at an early age also led to me spending quite a while in it and being visually stimulated by Winamp skins, Kid Pix, Macromedia Flash, or MS Fine Arts.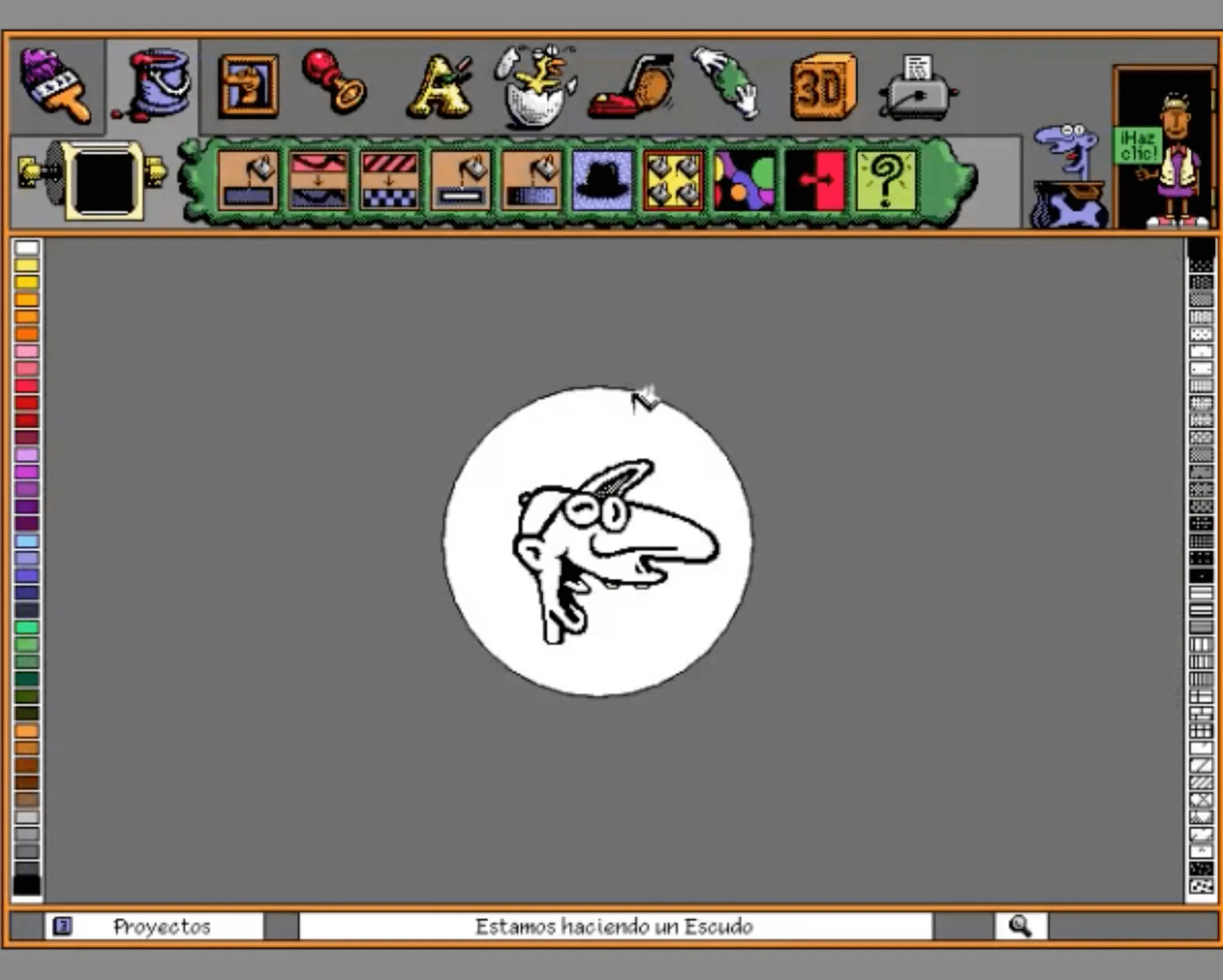 Soon after that, I started making my first dollars and loot for these. After spending countless hours in design tools like Macromedia Flash, Adobe Photoshop 7 (I think?) and Dreamweaver, it just clicked in me that I did not want to be a chemical engineer – so random, I know right? I wanted to be a designer.
What does a typical day look like?
I consider myself someone that embraces routine. It's my daily ritual, and I am totally OK with that. I usually wake up around 8:30-9:00am. If by that time I am not awake, my dog Honey will wake me up. Either licking, nudging me with her little paw, squeaking or staring, in the cutest way.
Before working fully remote and while living in Argentina, I would commute every day. We moved around three times and times varied from 15 minutes, to sometimes 1 hour. Going downtown in Buenos Aires is a true adventure, but as much time as it took me, it did feel like the right transition to get my head connected and set up to work. Currently, that is walking downstairs, from the room to the office and I need this sort of transition, and walking my dog seems to do it for me at the moment. I also like getting caught up with news, chats, and other notifications before jumping into work.
My day continues by checking-in where needed, assisting other people in my team, and working on different projects with a cross-functional team.
I like to keep Mondays clear of meetings, and take them as a "Focus Day" where I can prep for the week, but I can also be 100% focused on building in Webflow or designing in Figma. Also, every other Friday we have 10% Project days, where we dedicate time to learn, build something cool in Webflow, illustrate, or work on something that is not related to your current tasks / projects, and take our heads off work.
After work, you might find me playing video games with my friends, building things in Webflow, or going down the rabbit hole on online visual inspiration sites, or spending time with my wife and pup.
What's your workstation setup?
A little under three years after moving to the Washington DC area, my wife and I bought a house. I started building my home office with books that I wanted to have the time and energy to read at some point, posters and paintings from illustrators from all around the world, and some selected items like skateboards and guitars over the wall. Kind of like my dream home office.
However, 6 months later my wife got a job in Miami, and we had to relocate down South. I've been slowly (but surely) building up my space and cramping my desk with some hand-picked items. I can't complain about the beautiful I view I have every time I look to my backyard and see my dog chilling and enjoying the Miami heat.
Where do you go to get inspired?
I believe everything in life inspires you. Your upbringing, the music you listened to, your culture, your style, where you live, etc. If I had to point to a couple of places where I go specifically to look for visual references and visual inspiration, then I could divide these in two categories, the online, and the offline.
Online — Design social media feeds
Websites like Dribbble, Pinterest (I can't believe how much quality material lives on Pinterest), Instagram, Awwwards, ReallyGoodEmails and Are.na, just as an example, are excellent places that come in handy when looking for visual inspiration. I'd also love to give a shoutout to Seth Lunsford, the person behind Precious. He has kept his Tumblr updated for several years, constantly uploading a curated selection of visual inspiration.
Offline — Books and editorial design
I love the result of the intersection of editorial and web. There is a lot about editorial design, grids, balance, hierarchy and other design foundations that can be applied to web, in my opinion, achieving beautiful and interesting layouts and compositions. Two magazines that come to mind as beautiful (and super fresh) creative direction are Broccoli and Little White Lies.
Another magazine that I really think is worth mentioning and definitely deserves its own shoutout is TYPE01. Instagram's algorithm was kind enough to introduce this amazing magazine to my life. I immediately fell in love with and became a subscriber. Great source of inspiration and beautiful samples of unconventional design.
Finally, and being completely candid: Many times inspiration strikes when I least expect it. There are more times that I can count, where I've been all tucked-in bed, ready to go to sleep and I am just building blocks and layouts in my head.
What product have you recently seen that made you think this is great design?
I think lately I've started to appreciate more great design in areas or industries where there wouldn't traditionally be. I think one of the great examples of this is Zoox, autonomous cars that provide movility-as-a-service. There is something about not only their product —which looks amazing by the way— but their whole brand across different mediums and channels looks really consistent, modern and great overall.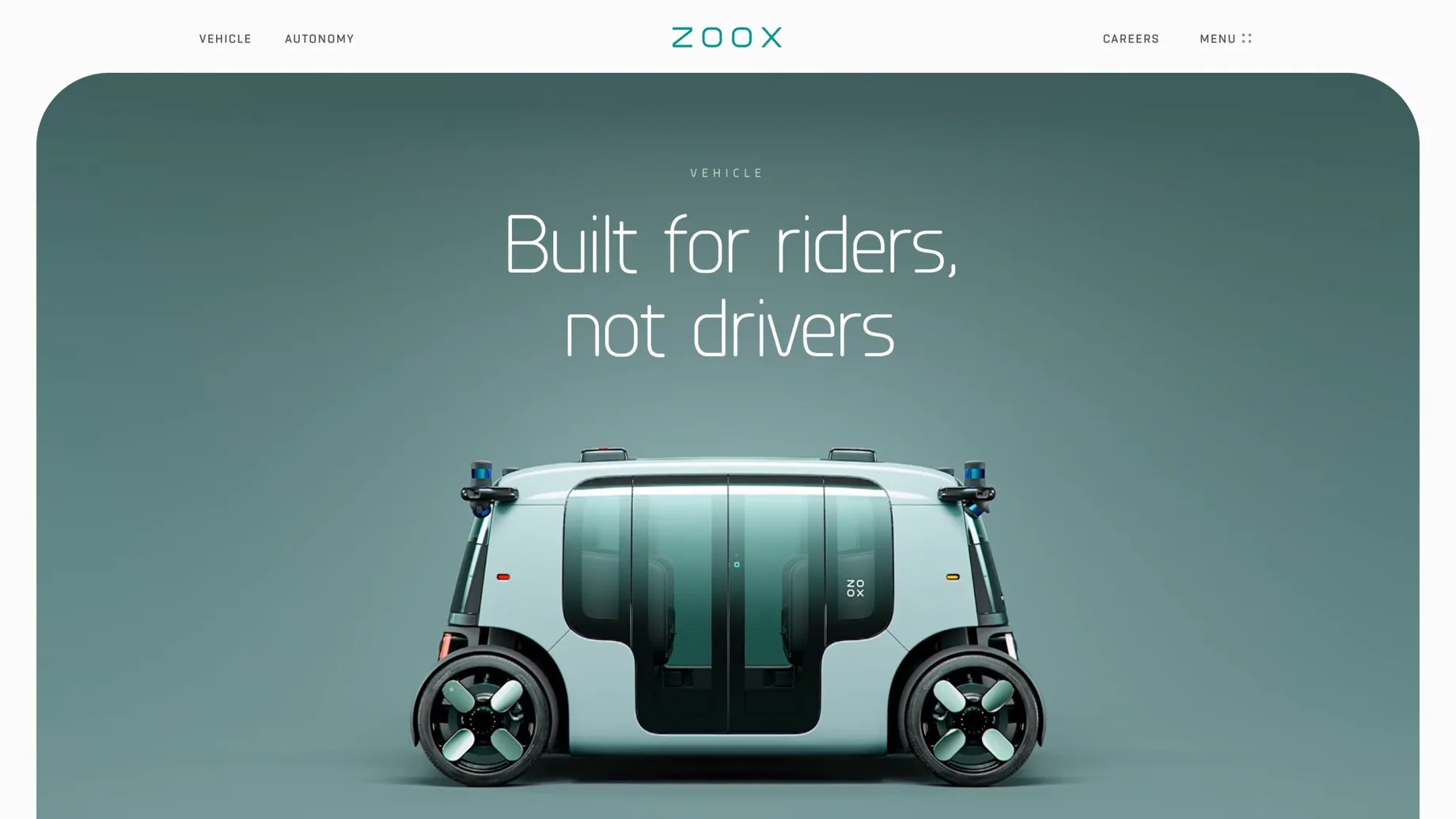 Another example where I've seen great design is in the Opal camera. I am yet to try the product which is currently being shipped to me, but I think they are breaking the paradigm of what a webcam and a webcam's brand should look like, and going outside the box, in a really beautiful way if you ask me. Needless to say, I believe their website and design is really solid and consistent throughout different platforms.
A last product I wanted to highlight, where I've seen a lot of innovation lately when it comes to design, is credit cards. It's great to see brands like Petal and Point creating industry-leading designs. To me, it seems like the dribbblization of credit card design is here to stay, and I am into it.
What pieces of work are you most proud of?
There are some web projects that I really like and am really proud of, like the Webflow Experts page, the latest Webflow Enterprise page, and Webflow's Customer Stories page. All these websites have been designed in Figma, and built in Webflow by me with the help and feedback from the wonderful Brand team.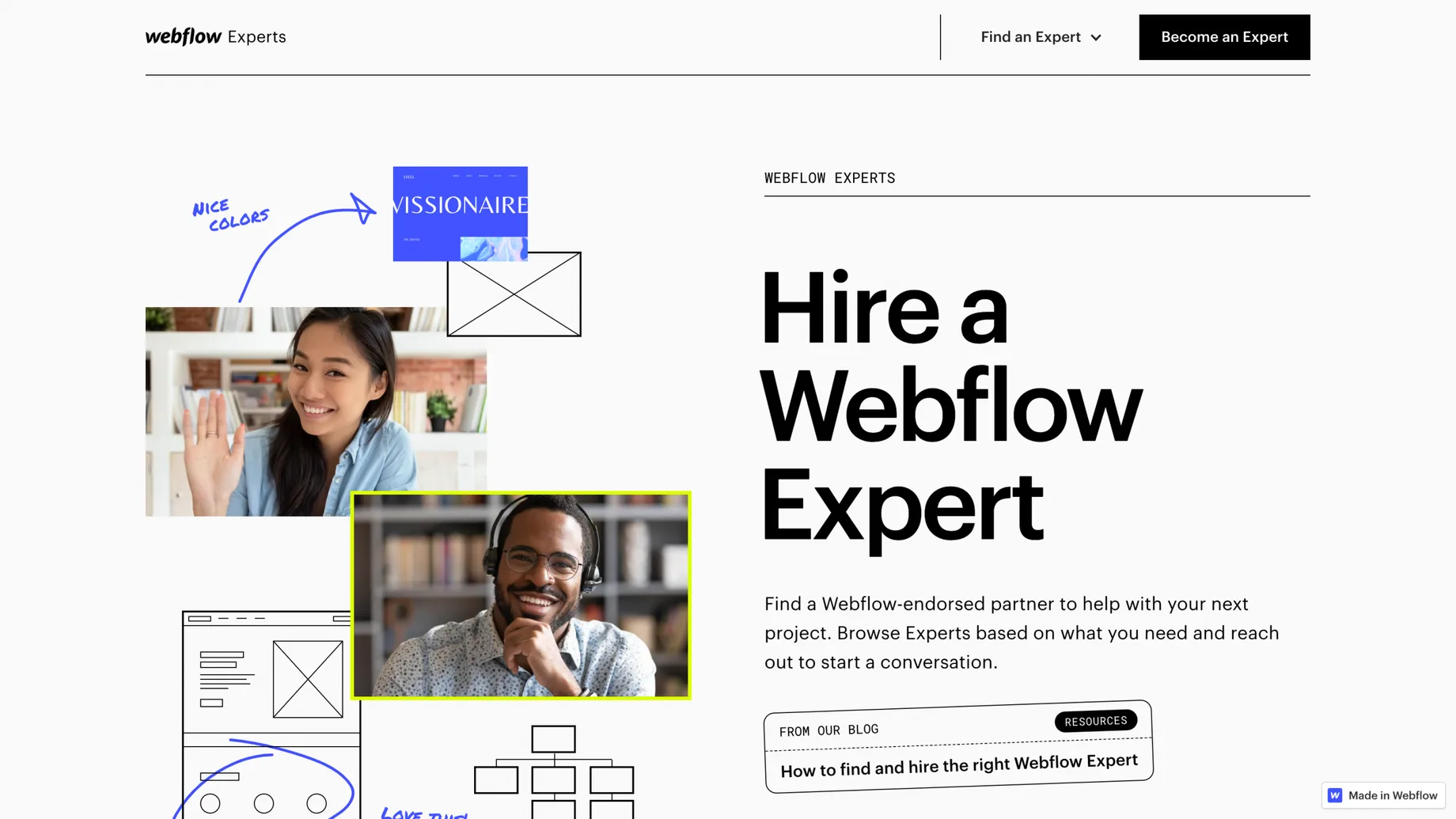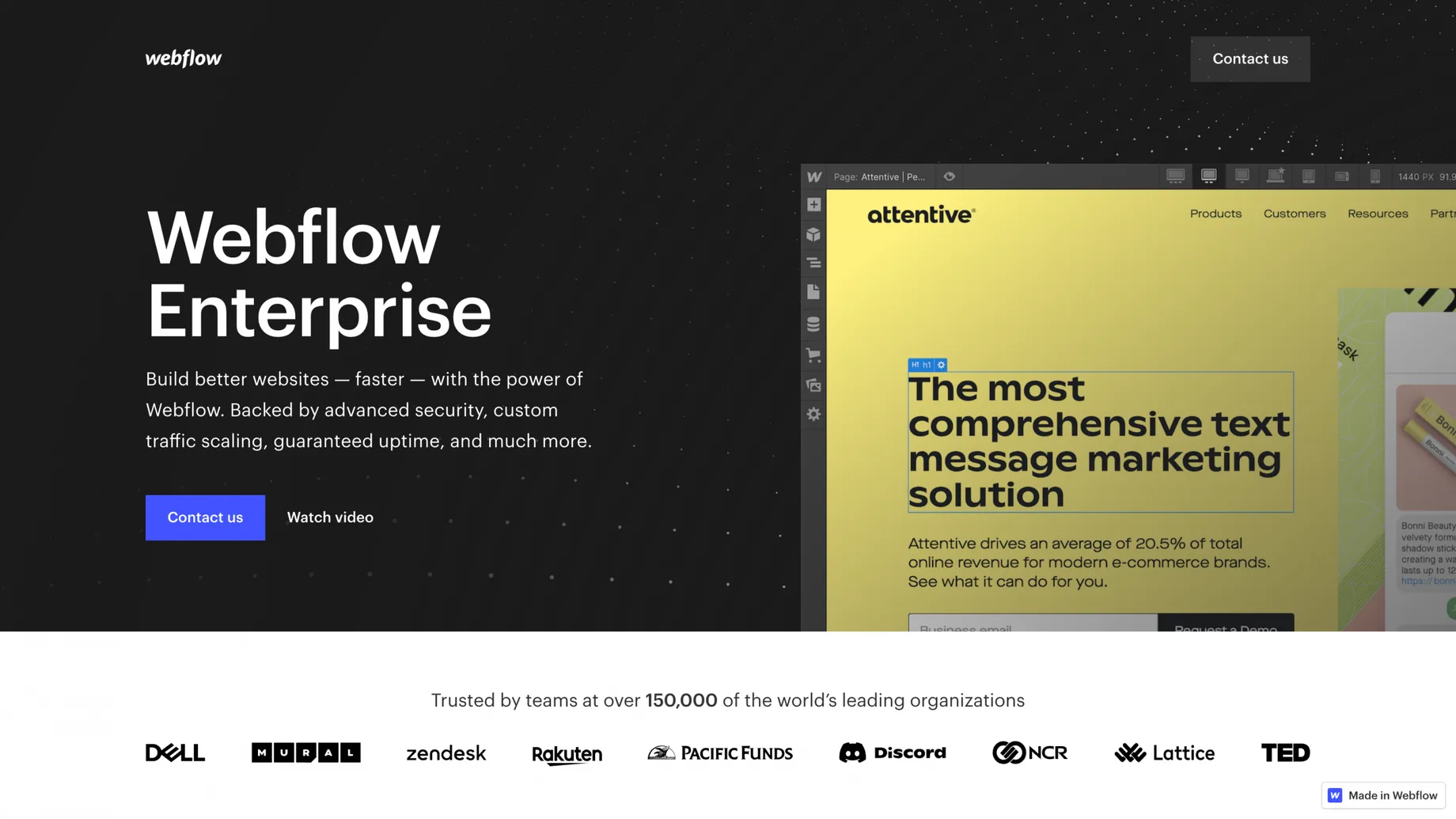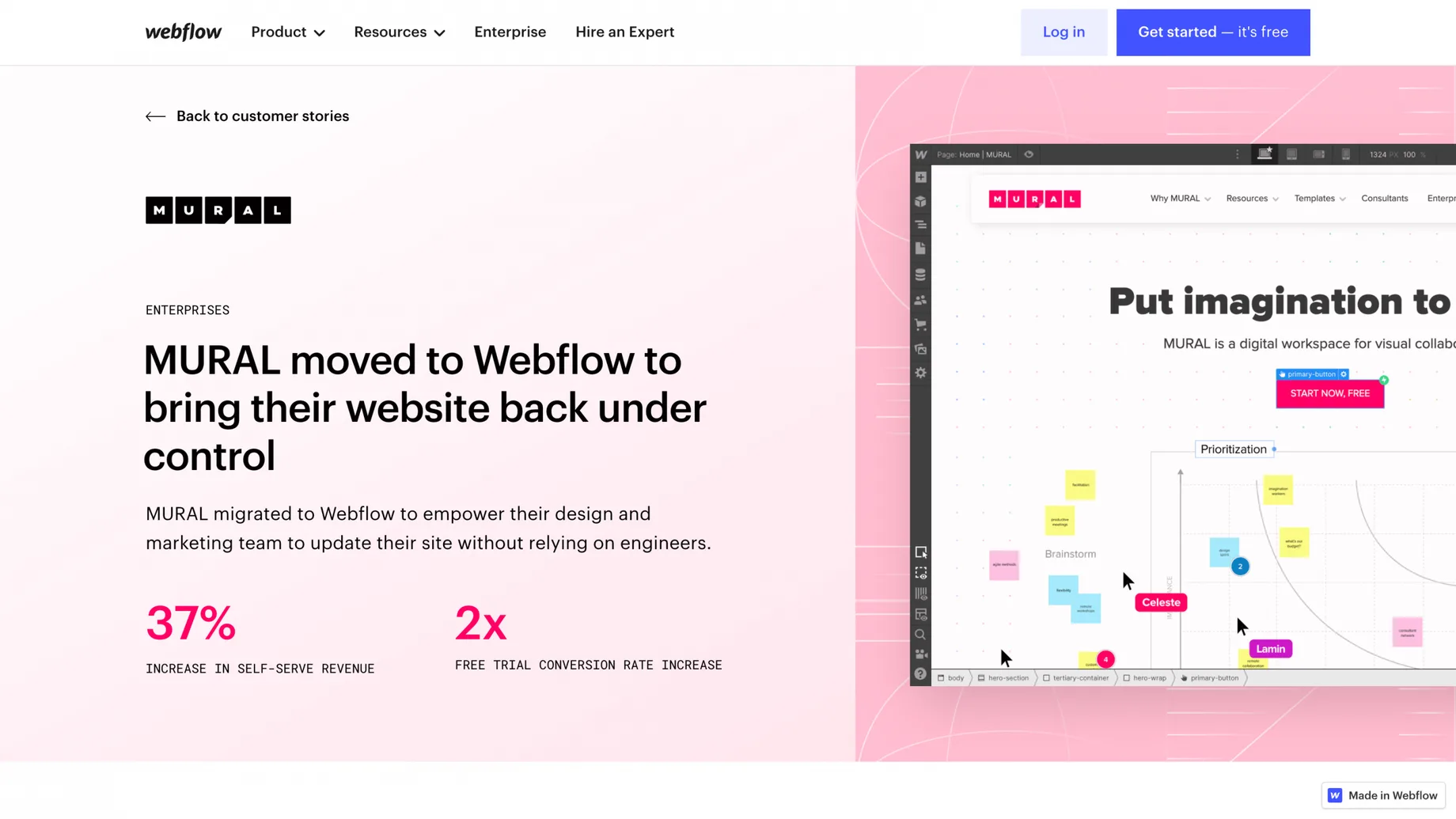 I am also very proud of the layouts I've (most times) designed and built in Webflow that are available to clone, play and learn. A lot of what I know has been experimenting and pushing editorial layouts and seeing how they can be built in Webflow, and how would designs look on smaller devices. As mentioned before, all projects are available to duplicate for free in my Webflow profile.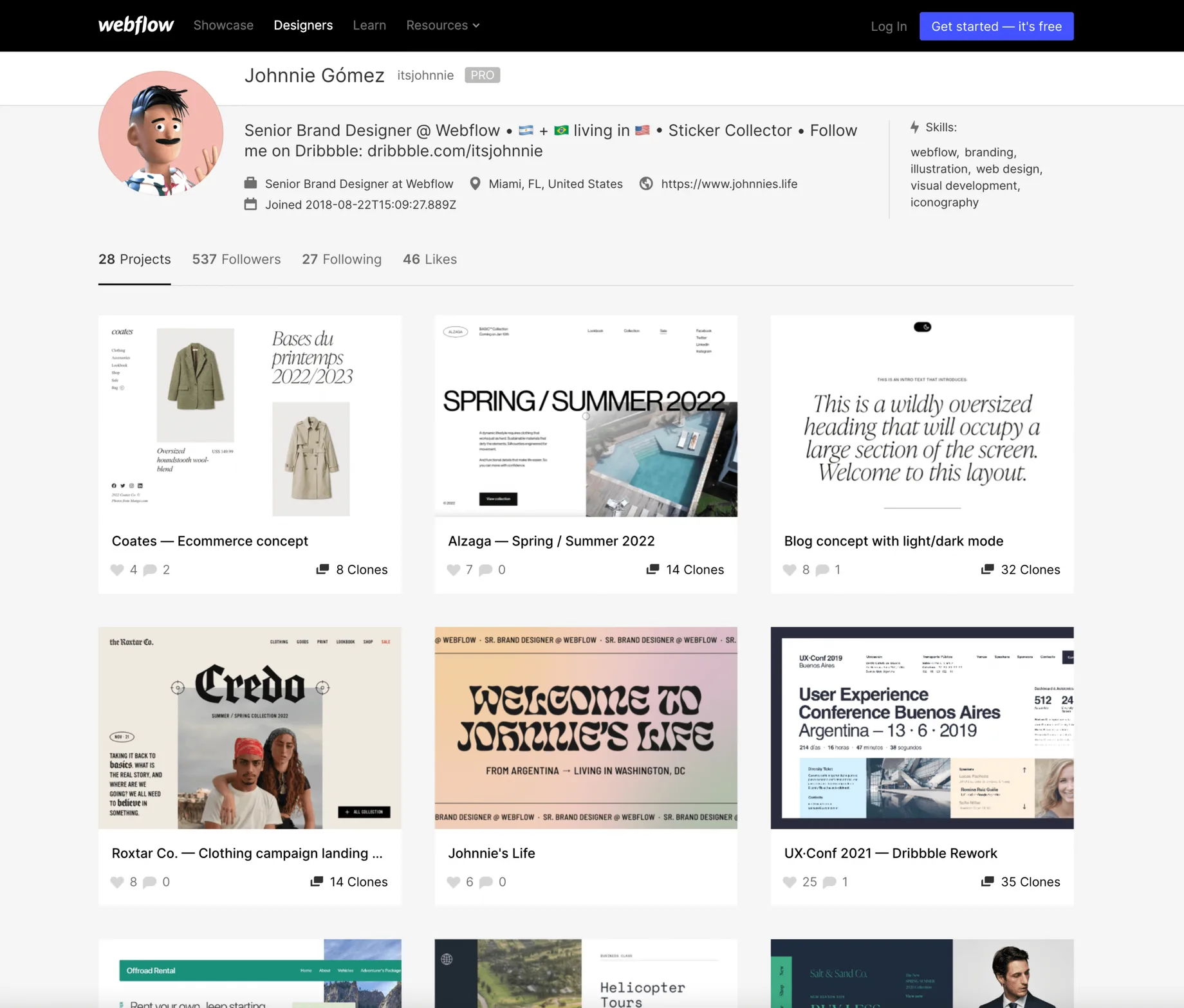 What design challenges do you face at your company?
Webflow's Brand team has been growing a lot during this last year, and growth stress tests processes, documentation, and projects. As we grow, there is a need to assess our processes and start thinking of systems and scalability. What works for a team of 2 might not work for a team of 6, and the same thing for a team of 10. Size impacts management count, project distribution, amount of documentation, and systematization. Also, as our team grows, so does the whole company, so the challenge is how can we support our cross-functional partners, while maintaining a brand standard.
There is also something very interesting (and challenging) about designing for designers. The bar might be higher, but the message and tone is different. We know that our customer values good design, is more demanding when it comes to what's expected, and looks up to Webflow as a source of inspiration.
With this being said, these two points are fun challenges to have, and I am personally excited to tackle and address.
What music do you listen to whilst designing?
Any advice for ambitious designers?
I wouldn't necessarily call them advices, but there are a couple of tips, or things I've learnt throughout my career either by self-discovery, or things I've picked up from other designers on social media, or by going to conferences and events and having great conversations with other people. Perhaps people reading this can relate to any of these the way I did when I heard/read them for the first time:
Treat others like they want to be treated
Some days are for thriving, some days are for surviving
We're greater than avatars
Rejoice at the success of others
Work is just work
Sharing is caring
Empathy is necessary
Struggle is growth
Learn from mistakes, for they are bound to happen
Take care of y'alls mentals
Travelling opens your head
Anything you want to promote or plug?
I know I am biased, but at the same time, I am lucky enough to work at a company whose product I use almost on a daily basis and that I thoroughly enjoy. So, If you haven't tried Webflow, I please encourage you to do so. Countless times, I've seen people changing their lives around by learning a tool that teaches them how to code, with the power of no-code. It truly changed my life, and it would be silly of me to not share it with y'all. There is a learning curve but you can check the Webflow University to begin, and then you can dive in the Webflow Designer and have fun. If anything happens, you're just a Cmd+Z away from where you were before.

Feel free to reach out to me, or connect with me via Twitter, LinkedIn, Dribbble or Webflow. I am always looking forward to meeting new people.