What led you into design?
Like many designers, I stumbled into it as I pursued the things I was drawn to.
First, I wanted to become an animator. I took two years of animation training in high school (and even worked as an animator in a small tv studio) but I soon discovered that animation was the opposite of what I enjoyed. I enjoyed telling stories, being funny and drawing. I found that animation was highly meticulous, repetitive (24 drawings to get 1 second of animation!), and frankly I was pretty bad at it. In animation class, we had access to the computer lab where I played around with Photoshop and I loved it.
When it came time to choose where I wanted to study, I wasn't confident in what I wanted to pursue. So I drew a Venn diagram. In the first circle, I put "things I am good at" (a very sparse circle). In the second, "things I like to do". In the last, I put "Things that pay well". Animators were not paid well. After I was done, right there in the middle was a "UI Designer". It involved being creative as well as analytical, involving visual design, research, and problem-solving. So I pursued it and haven't looked back. I am so blessed to have a job that I enjoy so much that also allows me to make a living.
What does a typical day look like?
I wake up early and drop off my wife at work at 5:30am. She is a nurse and has to be in early which is good because it makes me start my day early. After dropping her off, I'm back home where I get ready for the day, eat breakfast (Persian cheese and bread with Persian tea, it's the best!) and read. Then I hop on my bike head over to Intuit in Mountain View. We start most days with a peer review where we someone shares what they are working on and asks for feedback on specific areas.
I'm in meetings/design reviews from when I arrive in the morning until noon, and I catch up on design news in between. For lunch, I'm either meeting up with other designers or go full introvert mode and find a quiet corner of our deck to eat alone. After another meeting or two, I end the day with some heads down, headphones on, designing time. At the end of the workday, I always seem to end up chatting about design with my desk neighbors and finish up my work around 5:30-6pm.
Then I bike back home, clean up, and take the car to pick up my wife. We'll eat dinner together and then I might work a side project like the podcast. Then I usually have a call with our development team in India. Finally, I'm in bed around 11pm and asleep by 11:01.
What's your setup?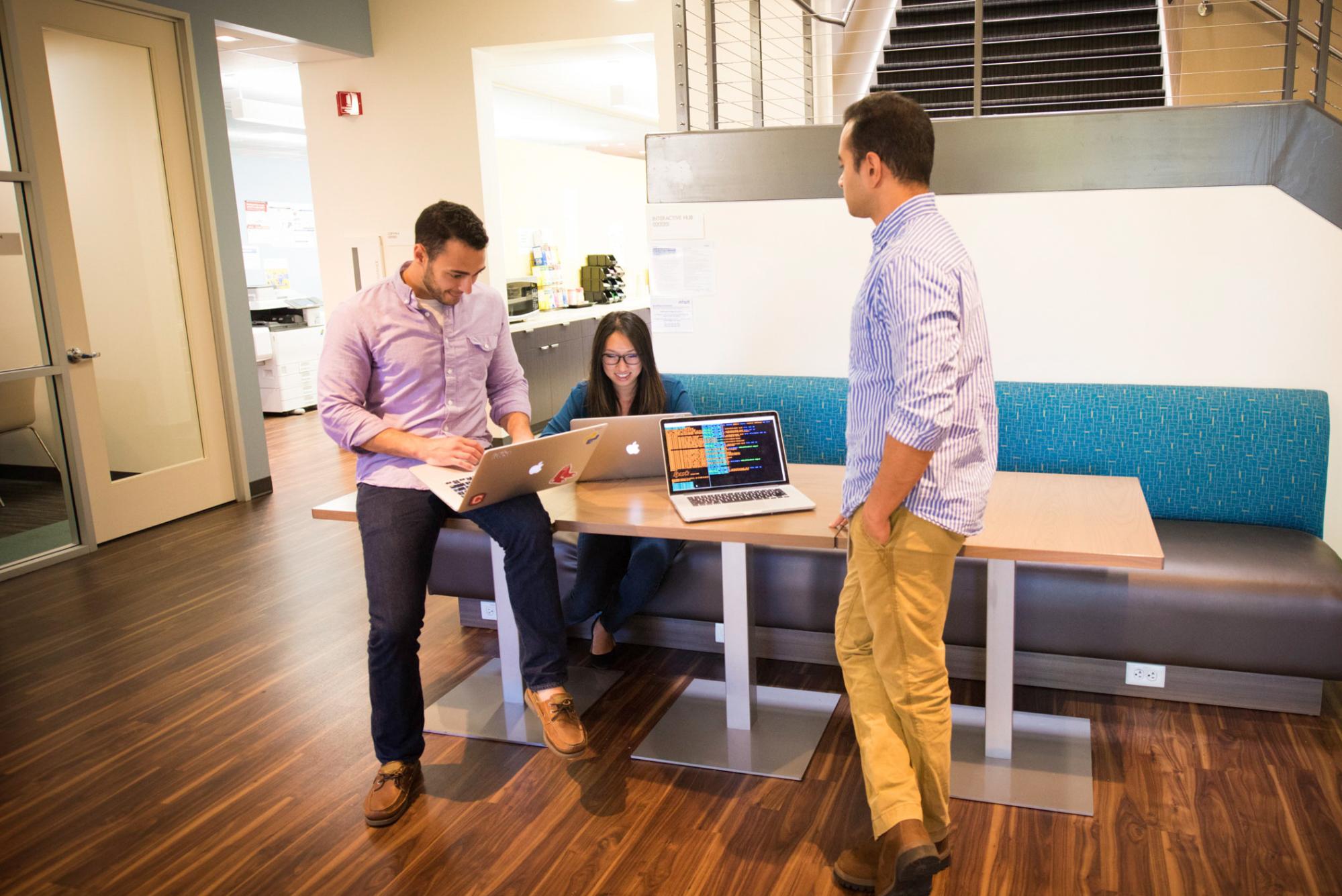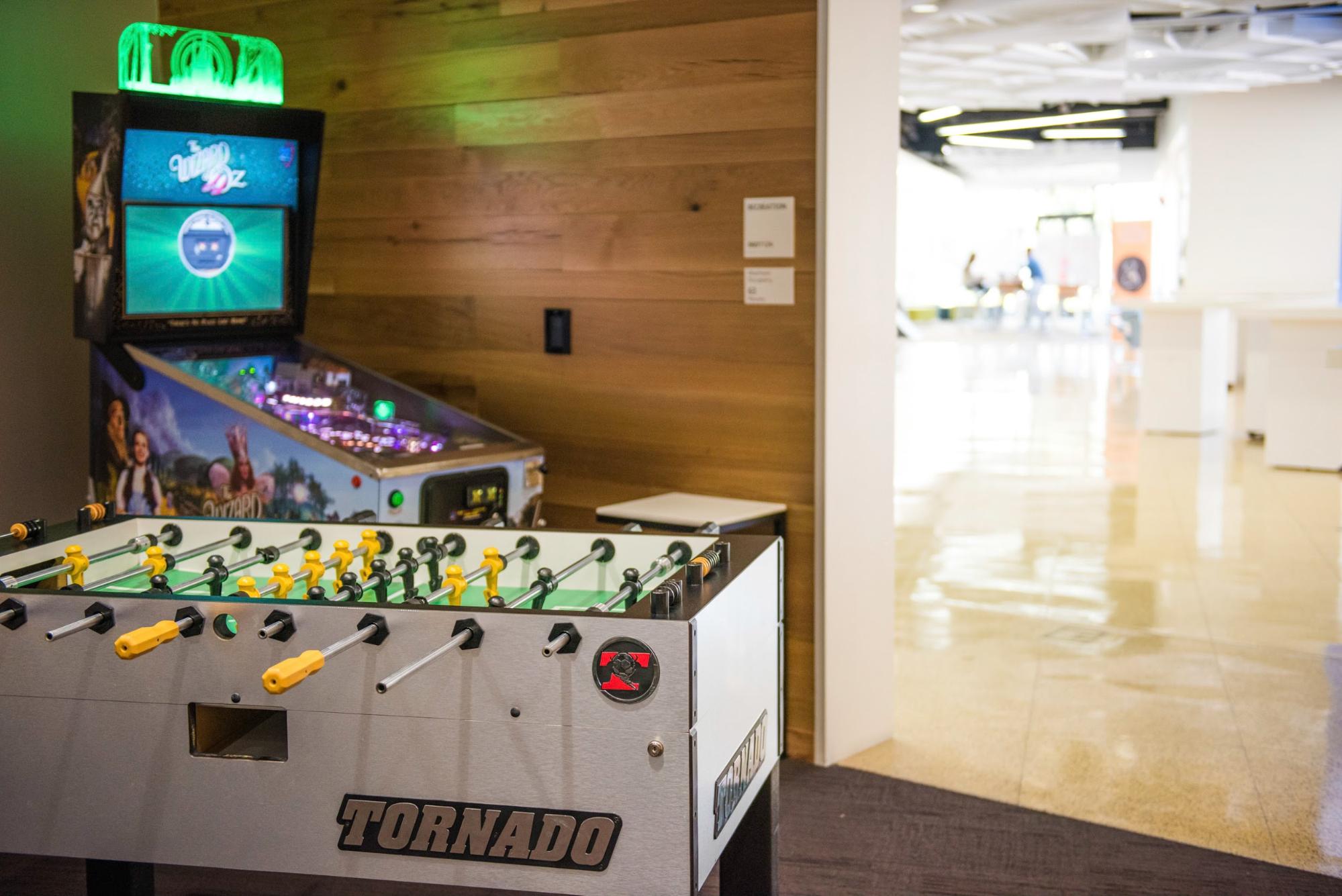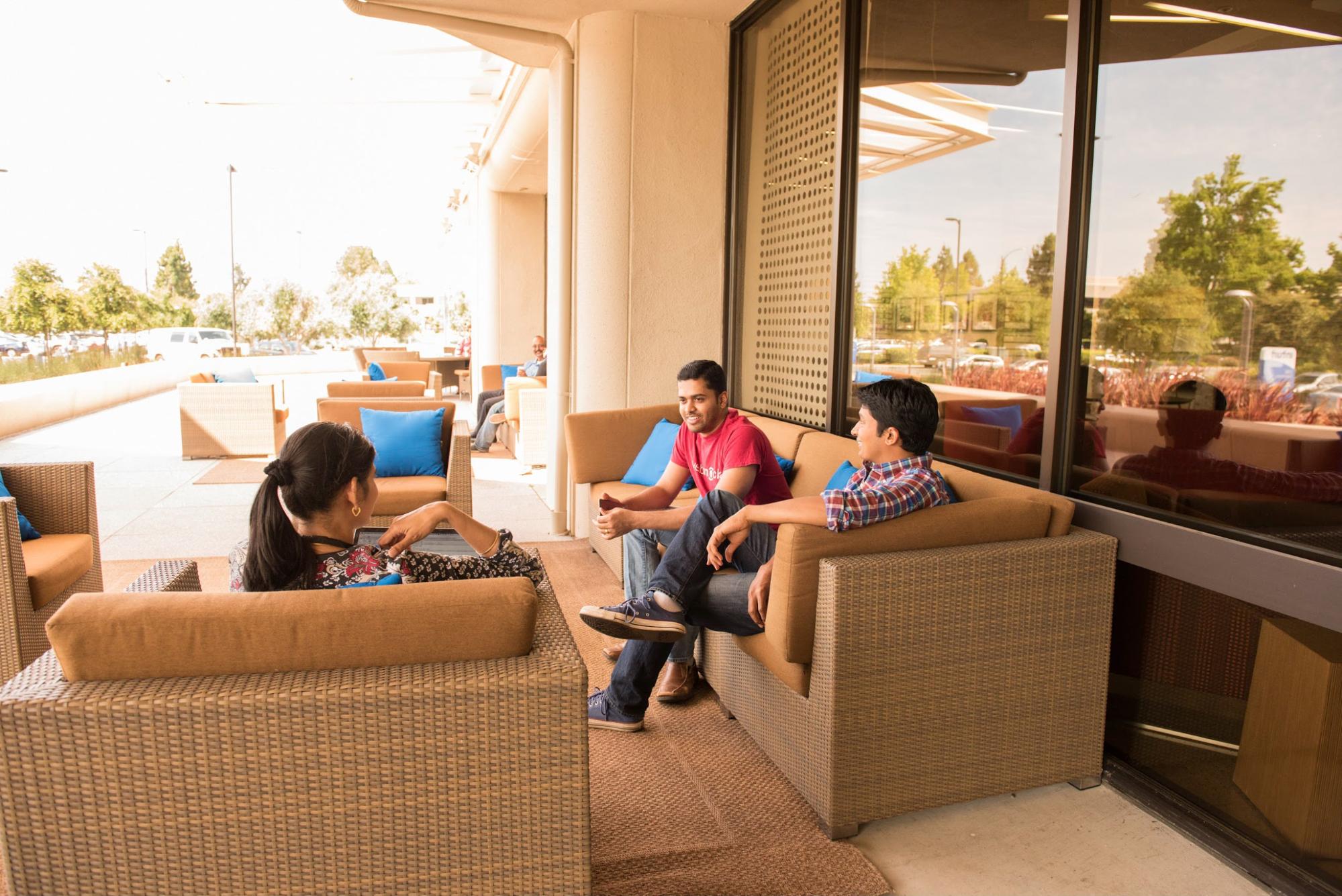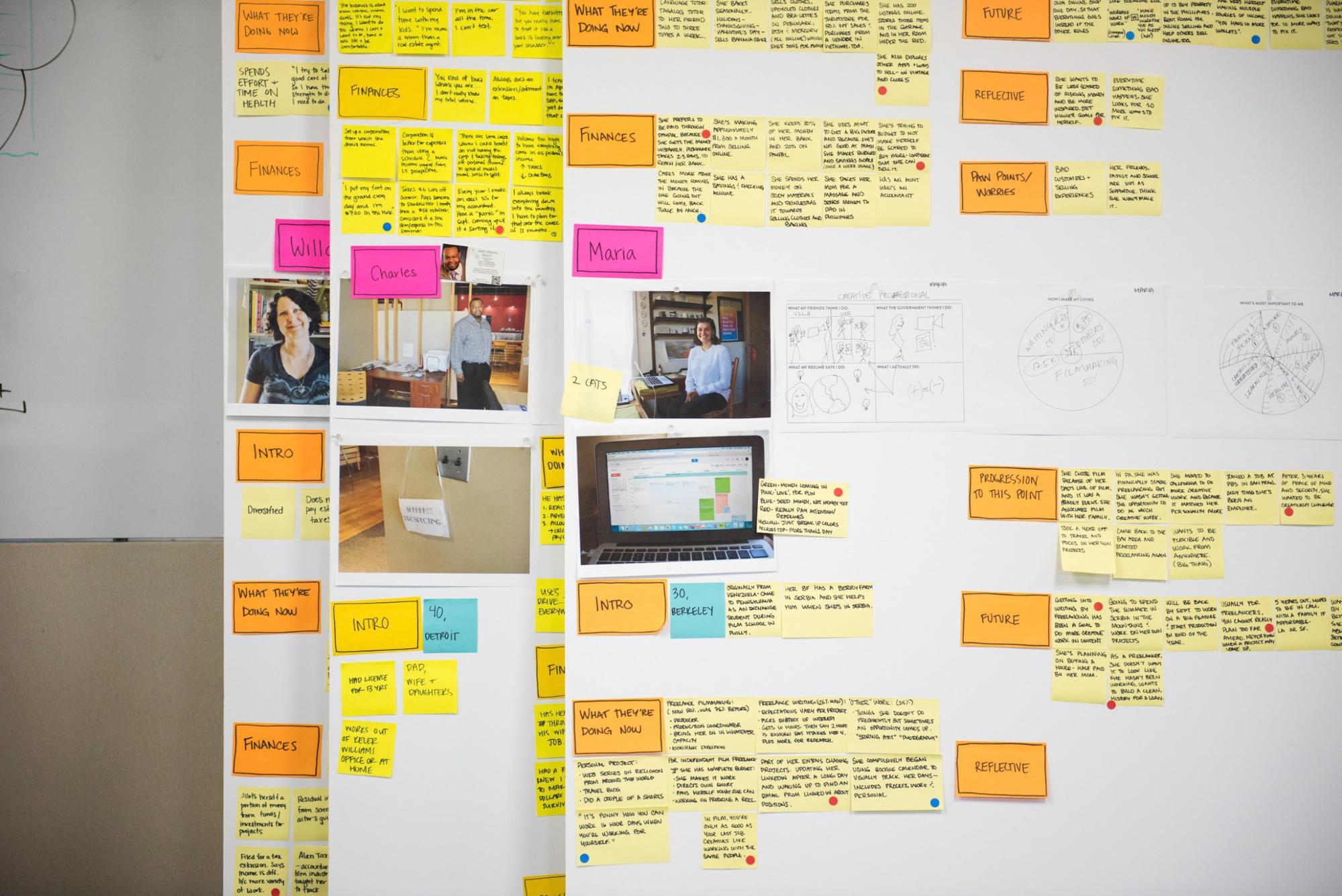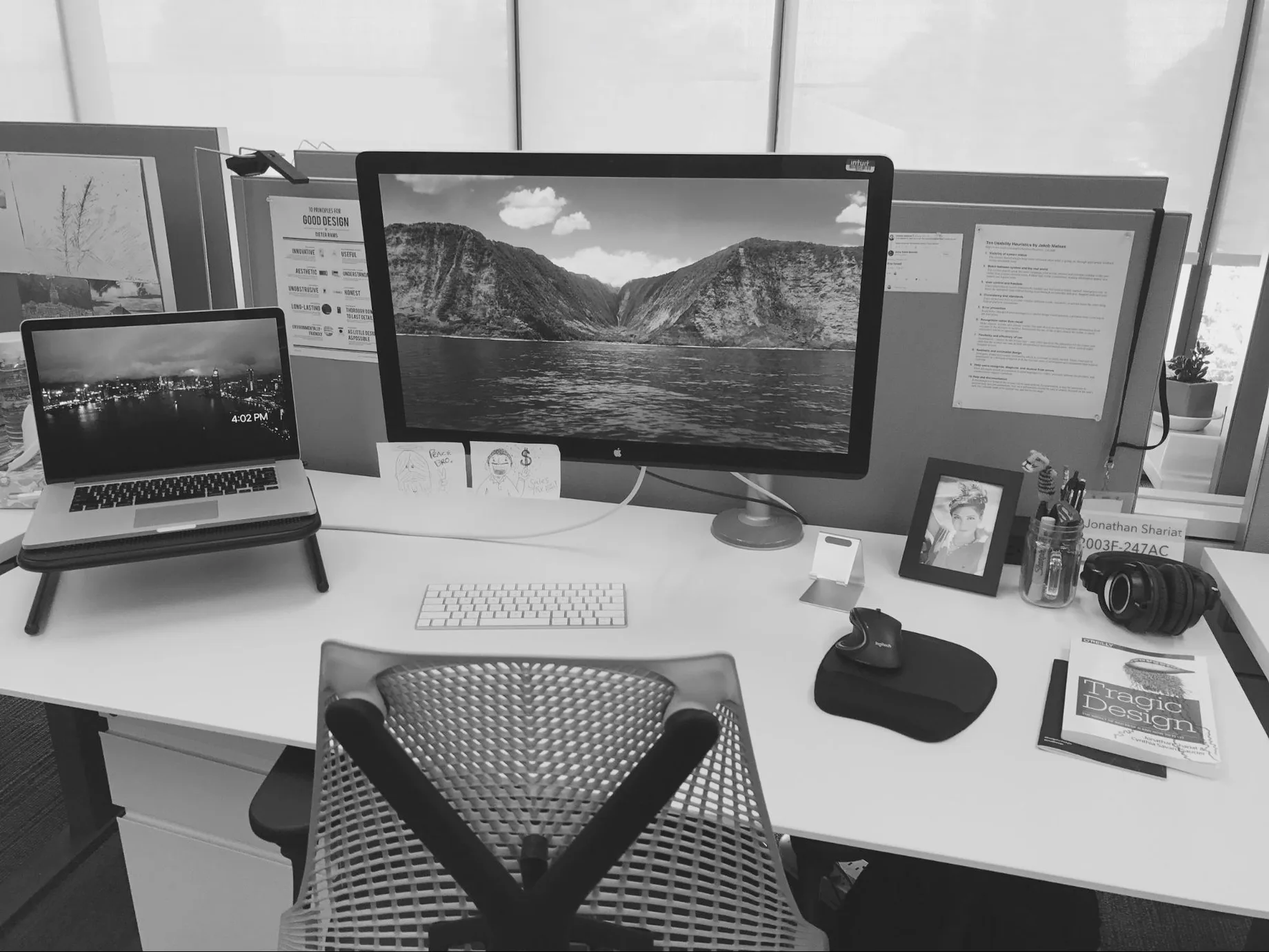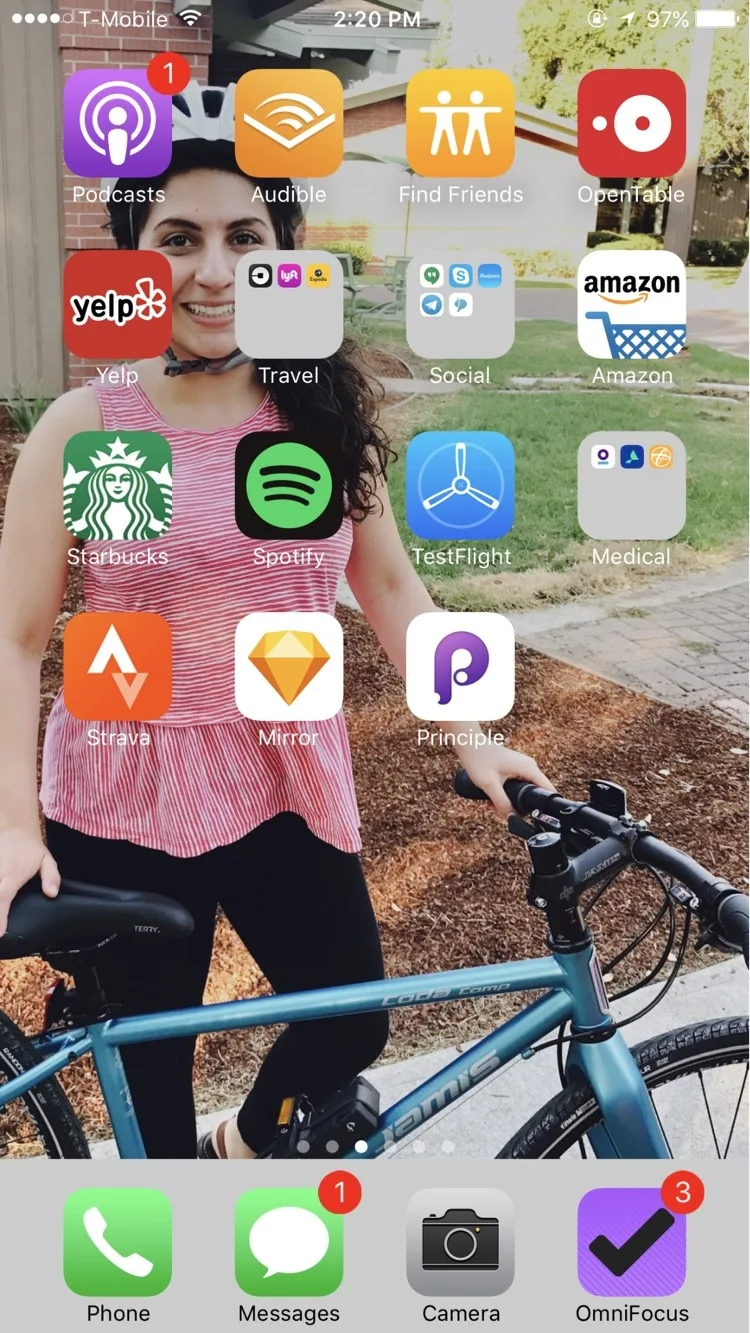 Where do you go to get inspired?
News - Reading what other designers are learning and seeing their work is my main source of inspiration.
Designer News
Hacker News
Little Big Details
Twitter
I also love reading/listening these sites specifically.
InterfaceLovers ;)
Baymard Institute
The Design Team by Pablo Stanley
Late Nights with Trav and Los
Dan Petty's Youtube channel
Offline:
Computer History Museum
Biking to work
The super smart people I work with @ Intuit
What product have you recently seen that made you think this is great design?
As someone interested in how design and tech can come together to help protect people from harm, I've been following Cat Noone's app Iris very closely. It informs your contacts when you end up in a hospital and acts as a "digital health card" to quickly give hospital staff your important health information. It is really well thought out including muting when you're just visiting, proper contrast for color-blind users, and helpful information sent to contacts via text.
It is a great example of design for good and god design.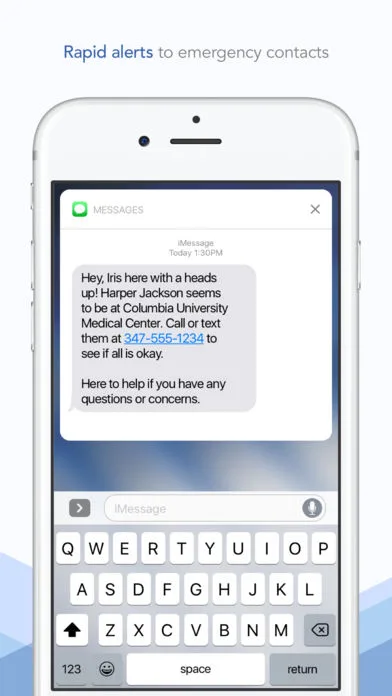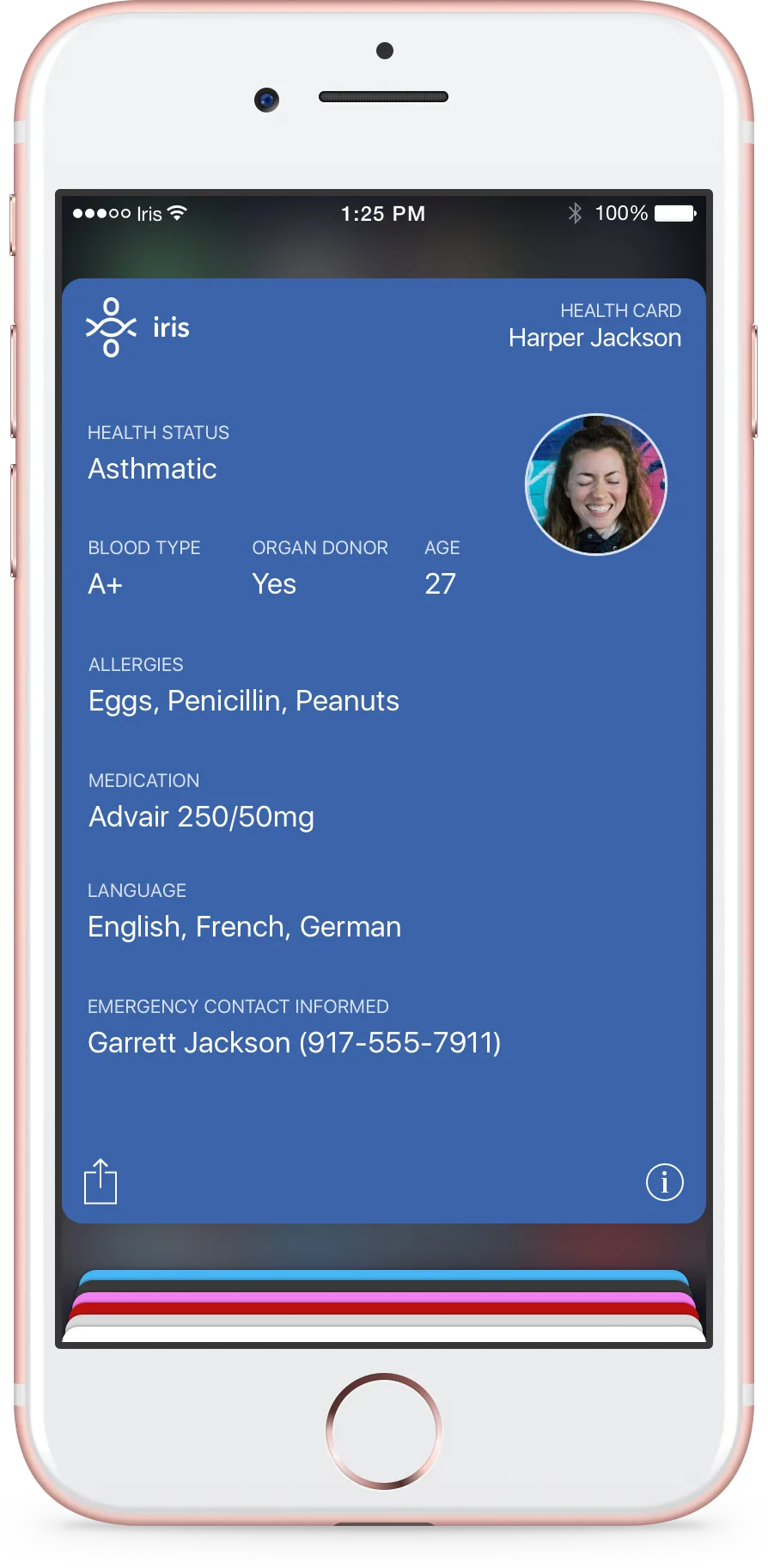 What pieces of work are you most proud of?
The Tragic Design book. It has been such a rewarding and humbling experience being able to have an impact on people's lives. My co-author Cynthia and I have heard great feedback from designers, engineers, managers, doctors, nurses, government workers, and others from all around the world. I'm proud of it because of the impact it had but also because it was really difficult. It took two years, long hours writing and editing into the night, but in the end, hearing it inspired someone to make a difference or speak up at their company makes it all worth it.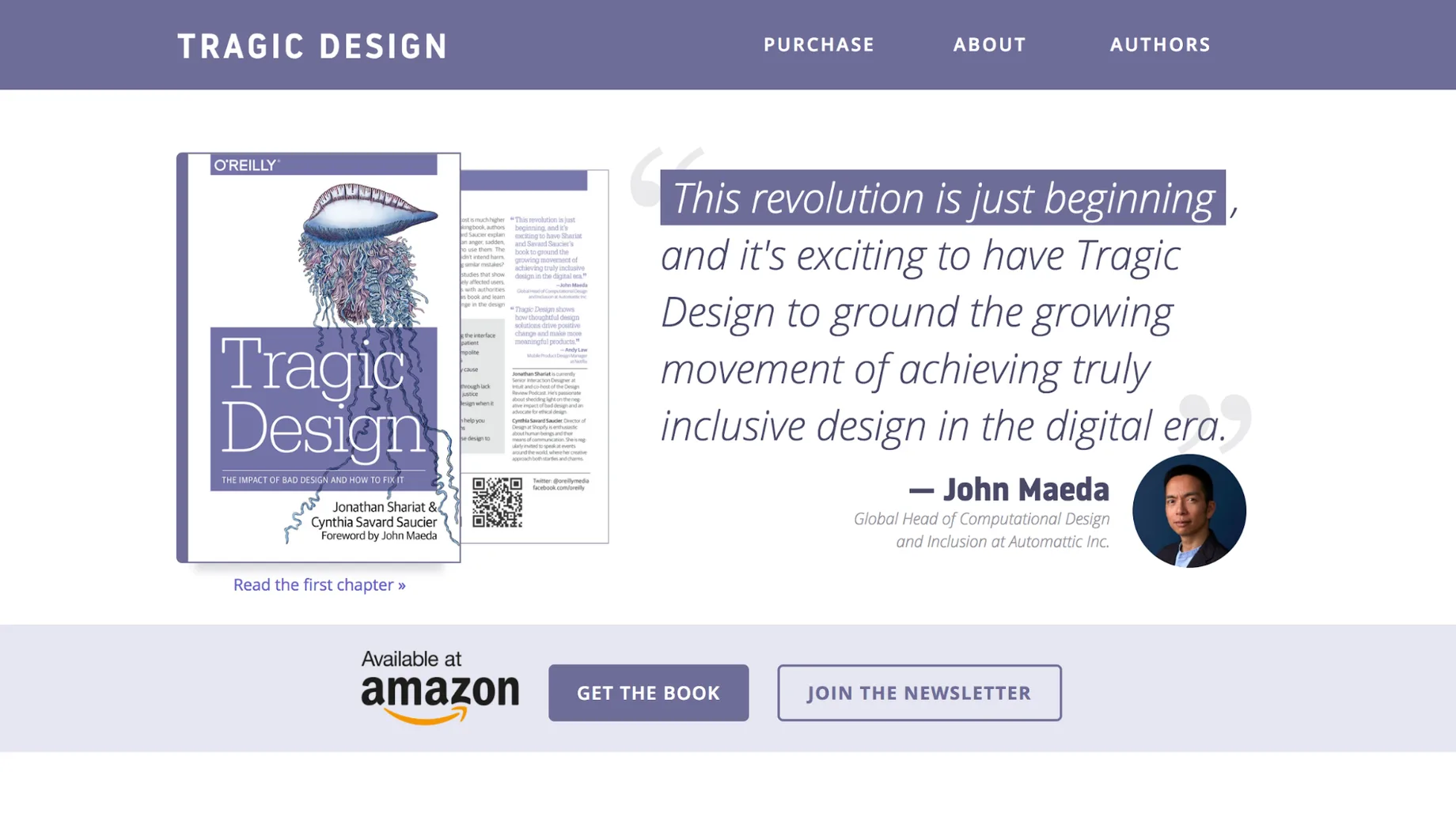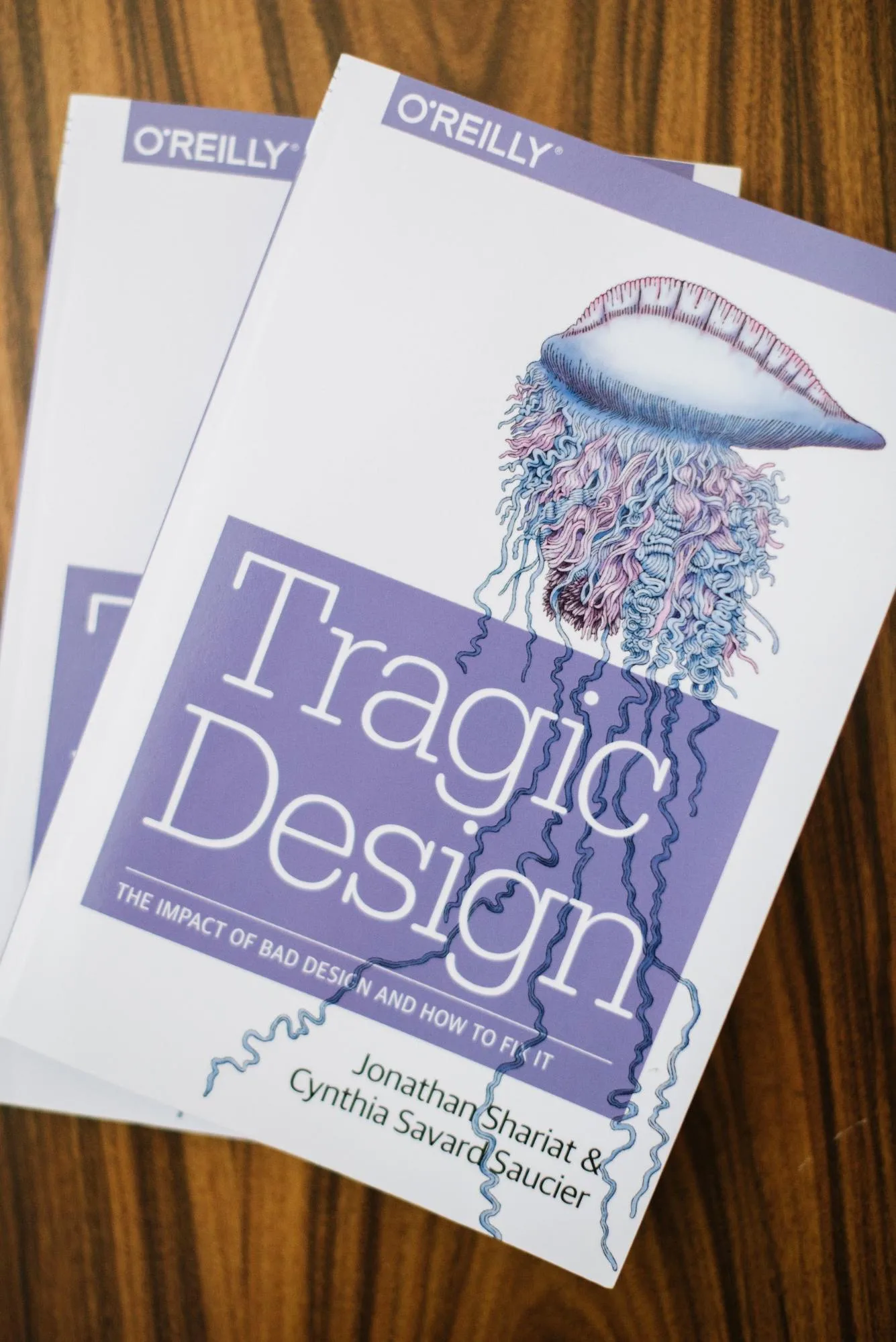 What design challenges do you face at your company?
Intuit is an awesome place to work as a designer because they value design. From the CEO and the leadership, down to the team you work with. It's of course not perfect, but there is always an avenue to get things done and advocate for the right thing. The biggest challenge I face at Intuit working on Sales Tax for small businesses is finding ways to simplify the complexity that comes with tens of thousands of confusing tax laws in the United States.
It takes balance and so often times when I have what I think is a good solution to a user problem when we try to implement it another problem pops out the other side. It can be a myriad of things: legal doesn't approve, it works for some use cases but not others, it's not 100% accurate for 100% of users, and the list goes on. I have to say I do enjoy the challenge though because they are solvable and these are all problems small business are having to deal with on their own and I get to help them.
What music do you listen to whilst designing?
Any advice for ambitious designers?
Be difficult.
We often give in to lesser design solutions, lower our quality, even implement Dark-patterns because we are told to by our manager or client. We think: "This is the person who is paying me, I should do what they want." While it might seem that way, the opposite is actually true. This person hired you for your designer expertise. It's your job to speak up, to say no when necessary, and provide valid reasons why you think so. Make your voice heard, be difficult, don't let others steer your design work in a bad direction. What comes from your work is your responsibility. Make sure it's as good as it can be and that it is ethical, treating your users with respect.
Keep a work journal.
Have a place where you periodically write notes and save screenshots of what you are working on. You may not be looking for a job at the moment but you need to set yourself up for success in the future. Make sure to journal your process, take photos of wireframes, who was on the team, goals, metrics, and of course the final mocks. Set a reminder on your calendar every Friday morning or whenever you know you'll have a quiet moment at your desk.
Practice.
You can read all the articles you want, heart Dribble shots to your heart's content, watch how-to videos, attend events, read the Steve Jobs Biography, and even get a great mentor. But you'll never truly move forward without practice. You don't need a job/client to practice either. You can practice understanding the problem, understanding users, designing solutions, testing solutions, mocking up the UI, testing prototypes with users, and iterating again, all on your own. Do design. Do it for fun, do it for a job you're interviewing for, do it for a non-profit. Just starting doing it and keep doing it. Putting what you learn into practice is the only way to improve as a designer.
Helping designers grow is a big passion of mine. If you have any questions, please feel free to reach out to me on twitter: @DesignUXUI.
Anything you want to promote or plug?
We wrote Tragic Design because we want people who make products to think about the impact of their work. Design ethics is a very important topic to understand so that you can use design to make the world a better place and avoid making it worse. As designers, we have a unique opportunity to use our skills and our position in making the products the word uses, to improve the world we live in. Please check out the book at www.TragicDesign.com.
I love to teach what I learn. It helps me think deeper and retain things better. That's why I enjoy doing The Design Review Podcast with my co-host Chris Liu. We wanted to create a meaty design podcast with no chit-chat and a sprinkling of humor. If that's your thing, check us out: www.DesignReviewPodcast.com. Check out our most popular episode on "How to plan your design career."