What led you into design?
While I've always been drawn to art and design (no pun intended~), on a deeper level, I've always been fascinated by how people think and piecing puzzles together. Whether that's through a compelling mystery novel, watching Unsolved Mysteries at much too young an age, or solving for the dreaded Water Temple in Ocarina of Time – I love fitting the pieces together and the satisfaction that comes from seeing the bigger picture.
So it might not come as a surprise that I ended up graduating with degrees in Design and Psychology. And following that, my early career working in branding led me to a better appreciation of holistic, platform-agnostic designs that would serve me well when I inevitably pivoted into product.
What does a typical day look like?
By 7am my cat Willow has likely woken me up and declared that it's time for breakfast, so we'll mosey into the kitchen where she'll eat and I'll finish my coffee while doing a crossword or scrolling through Twitter.
Our team is fully distributed, but a good portion of my coworkers are on the West Coast, so I typically take advantage of the lack of early AM Slack notifications to do some heads-down work and plan out the rest of my day. After lunch, the meetings and async comms commence.
I recently moved into Chicago proper, so during my non-work hours, I've been playing tourist and exploring my neighborhood and some of the museums I've missed over the years. It's been scary to go at it alone, but freeing at the same time. If I'm too tired to explore, you can also catch me inside curled up with a good book or trying to find that last Korok seed from Breath of the Wild.
What's your workstation setup?
Where do you go to get inspired?
One of my goals this year was to start a "Surprise Journal" where I could document everything that contradicted my expectations: whether that was user data, scientific or psychological studies, historical facts, tidbits about my friends, or just general trivia I picked up from the (embarrassing) number of hours spent watching random video essays on YouTube. I wanted to get into the habit of questioning my assumptions and recovering the joy of discovering something new.
What product have you recently seen that made you think this is great design?
Turns out I share Alton Brown's philosophical aversion to unitasker tools (word of warning: don't click unless you want the phrase "a beautiful succulent tube of egg" to haunt you forever) and will always stan multi-use, space-saving and/or tiny-house-inspired furniture solutions. Most recently, I've been drawn to a lot of the minimal-but-effective products from Yamazaki Home.
What pieces of work are you most proud of?
In my previous role, while I learned a lot about how tech could help folks struggling with substance use disorders, it cemented for me that the driving force behind long-lasting change was ultimately the people caring for them and the personal relationships they developed. I was happy to let the product take a back seat to what I considered the more impactful work and build features that not only benefitted our members, but the care team as well.
One of these was a (deceptively) simple calendar feature that we believed would help empower our care team and improve their workflow, while also providing the on-demand care that our members had come to expect.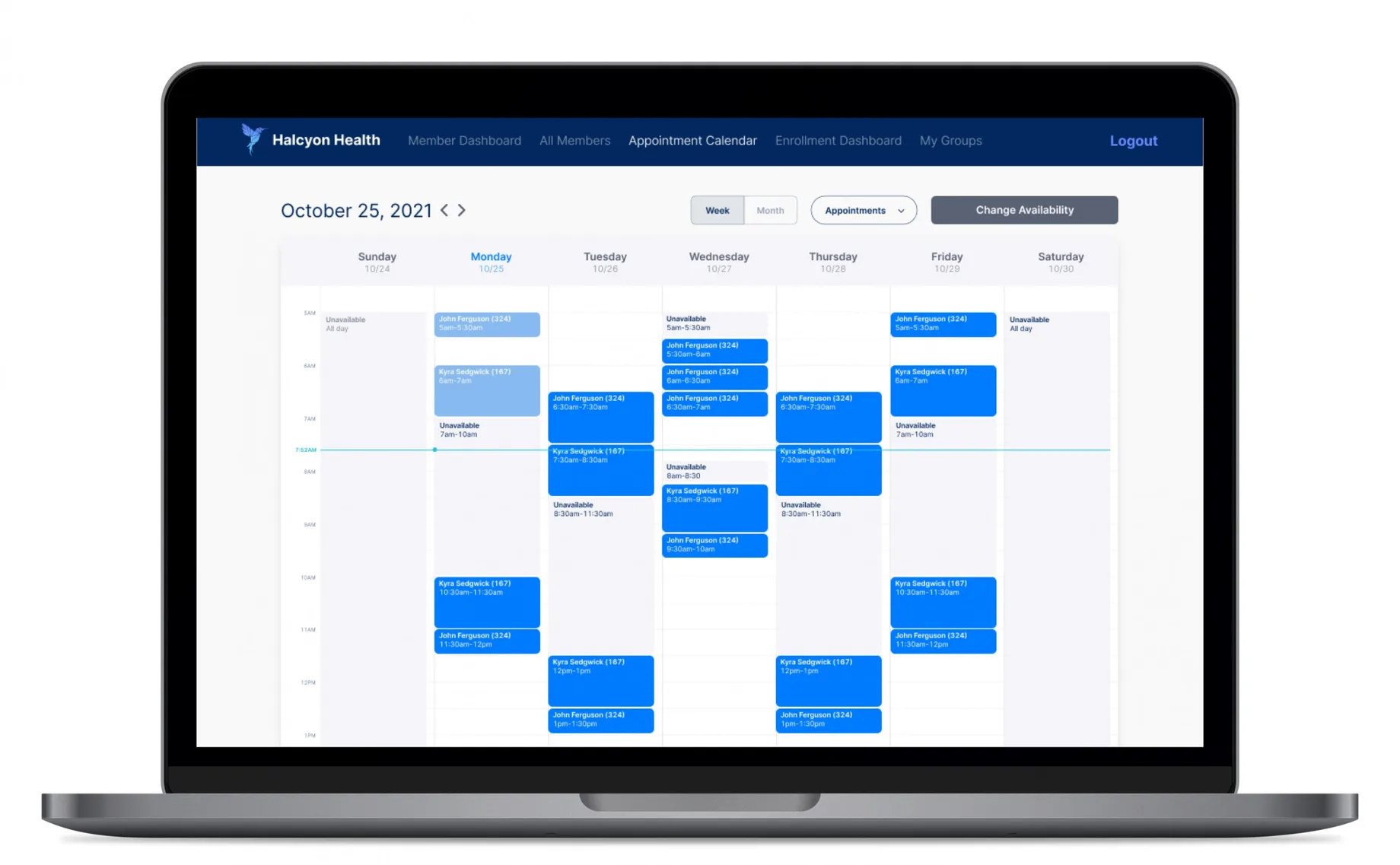 The TLDR is that the calendar worked a little too well. With greater control over their schedules, the care team was able to block off larger sections of their calendar but this resulted in limited rescheduling options for our members. Digging deeper, we interviewed the care team and discovered that part of this overreaction stemmed from their effort to protect themselves from burnout; they worried that the unlimited freedom members had would result in back-to-back appointments.
Given that, we reworked the rescheduling flow and hard-baked a 30m buffer for our care team (meaning if someone on the care team had an appointment until 3pm, the next available slot a member would see would be at 3:30pm). This provided the flexibility our members were looking for, while also empowering and protecting our care team and their time.
What design challenges do you face at your company?
We have a lot of great ideas we're excited to pass along to our users, but they require that we continue to find ways to optimize our small team for its greatest impact – all the while making sure none of us take on too much work on our own. Thankfully, while Superhuman has grown over the last few years, we're still lean enough to continue to experiment with different processes, pod structures, and even design systems to improve our workflow and cross-team collaboration.
What music do you listen to whilst designing?
Any advice for ambitious designers?
Whether it's people or projects: stay curious. Assumptions are easy, but it's a special kind of skill that allows you to be challenged by new information and pivot when you've been proven wrong (which will happen more often than we'd like to admit!)
Anything you want to promote or plug?
During my tenure in the substance use health space, I found myself compelled by studies demonstrating that eliminating barriers to housing and housing-first approaches (as opposed to treatment-first) significantly decrease homelessness and increase housing stability and recovery metrics overall.
Feeding People Through Plants is a Chicago nonprofit started by Andy Robledo to help feed and house folks in Chicago struggling with homelessness. This year, Andy has been stepping up where the city officials have not, and made it his mission to provide winterized tents to homeless neighbors to help combat the bitter Chicago winter while they wait for more stable housing.