What led you into design?
My journey was straightforward. I was surrounded by the arts as a child. I drew a lot of the time, using it to tell stories, conceptualize ideas, and build universes. Alternately, I had a growing interest in logical thinking and technology. We often played enigma and chess games in my family. I started my craft with plastic arts (painting, pottery…) and shifted to digital. I learned the tools early on, and by 12, I was playing with Photoshop and Illustrator. I found magic the power to erase and iterate seamlessly in the digital world. The tools were constantly evolving, and that triggered my eagerness to learn. Then I discovered philosophy...and read a lot of it. As an empathetic person, I wanted to do something useful to make people happier. So I studied design and got a Master's degree in Interaction Design from Gobelins in Paris. I was admiring digital designers at the time, and that led me to become one as well! The digital design field was the perfect combination of everything I was interested in. Of course, it has been a lot of work and sleepless nights, but looking back at how far I've come, I couldn't be happier where I landed.
What does a typical day look like?
My days vary. I adapt my schedule with the location of the people I'm working with. Usually, that's somewhere between California and New York. If I have the time, I'll grab a croissant (I'm French) and a tea before diving right into the computer. I warm up each day by looking for inspiration or rating new websites as a judge for Awwwards and CSS Design Awards. I also always have a to-do list of both personal and work items written in my notebook.
After about 30 minutes or so, I'll switch over to my professional projects. I mainly work on teams with full-time projects, making the daily work a lot more straightforward. Depending on the project, we'll usually have a quick group check-in early on in the day to get us on track and review the designs. I love to have a few solid hours of design time before lunch which might be around 2:00 or 3:00 PM. Bread and Brie (still French). Some days I have a client/stakeholder presentation, and some others, synchronization with the development team. After that, I will continue designing, iterating, conceptualizing, and prototyping. Most of my current work occurs in Figma, but I'll prototype more complex animations with After Effects. These tools really help the team to be aligned.
If I have some time left at the end of the day, I like to do yoga, self-defense classes, or (e)meet with friends. Finding joy in hobbies helps me to start fresh the next day!
What's your workstation setup?
Where do you go to get inspired?
I use Dribbble, Pinterest, Behance on a daily basis. I read magazines and blogs about art and design like Typewolf, Muzli, It's Nice That, Visual Journal, LoversMagazine... and I love Quartz At Work for management insights.
I think you can find inspiration everywhere. The more diverse your inspiration sources are, the more creative your work will be. Inspiration might come in the form of movies, museums, video-games, books or well-curated shops. On the weekend, I find inspiration from being close to nature. I observe how plants grow and move and I am always surprised by how these systems and elements function together. When possible, I love to travel and visit museums in different cities. I particularly love modern art because of how the concept behind the visuals can bring deep meaning to a piece.
What product have you recently seen that made you think this is great design?
I know it's not new, and it seems crazy...but I had never seen a lemon/lime squeezer before coming to North America. It appears to be in every household here. It's simple, you can direct the juice, no seeds, and it doesn't consume energy. I like to put the limes upside down so they make a funny shape after you squeeze them.
More into the digital product world, I am amazed by the evolution of Figma. I've been using it for more than 3 years now, and it's only evolved in a good way. Recently, they just released the interactive component (beta) and to help designers build better prototypes! Some have already made some fun animations and interactions with it. I can't wait to see what designers will create with it. It's also great to be in the same document at the same time. At a glance, you can see where your team is at. I've been delighted that most of my projects have switched to Figma in the last year or so.
What pieces of work are you most proud of?
It's hard to choose, I have enjoyed working on several different projects! Either it's creating a universe or solving a complex design problem.
One is Google Santa Tracker. I had the opportunity to impact several different parts of the project. I love to be able to use my diverse skill-set of 3D & 2D illustration, interactive design, and animation. In addition, designing a project from the ground up to launch is satisfying. I took an active role in the brand guidelines, the concept workshop, the website design, and 2D & 3D game creation. It was an extensive project that needed versatile designers. It was amazing collaborating with talented co-workers and making some great friends during the project. Santa Tracker was used by kids worldwide and was featured in Time magazine.
Another project I am very proud of was creating the new website for Le Monde. Le Monde is a historic newspaper, and they needed a new online experience. We created a digital experience that looked modern and felt consistent with the editorial content. I was grateful to build and design features for this product used by 2 million users daily. I worked with a great team. The Chief Editor, Designers, UX Researchers, and Data Analysts partnered to create an efficient design. Ultimately we helped users and the company by creating a better and more appealing experience. The year following the website launch, Le Monde gained more than 20% digital subscriptions. I was delighted that we made it accessible. We tested it with the help of users with disabilities (screen readers, braille keyboards, and extra zoomed pages, for example). I keep looking back on this experience, which continues to shape my work.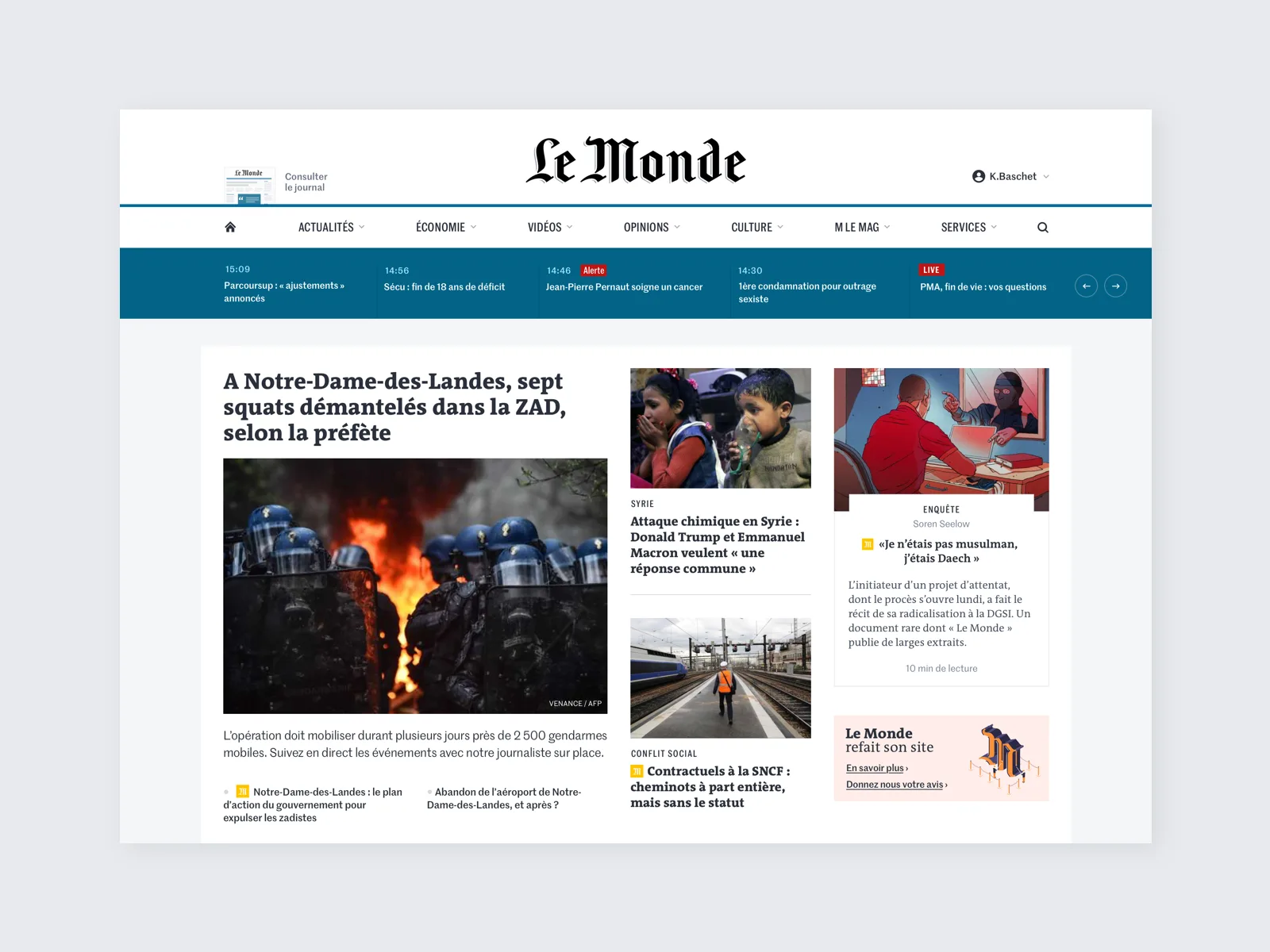 What design challenges do you face at your company?
I love diving in and adapting quickly to a new project, process, and team. The challenge is that I have to be highly adaptive as an independent designer, fit in an ever-changing environment, and be efficient. It's exciting to learn or create a workflow that will allow the project to be on the right track. Besides, it's inspiring to learn a new subject, meet new people and share knowledge in return.
On the other side, as an independent designer, it's difficult to say no to projects. Jobs often come in at the same time, and it's challenging to juggle them. Since I am curious and interested in many things, sometimes I want to do all of them! But for now, I can't increase the number of hours in a day. Speaking of time, it's hard to allocate time for passion projects. I need to prioritize what sounds the most interesting to me (and makes me move forward in my career).
What music do you listen to whilst designing?
Any advice for ambitious designers?
Some things I learned along the way :
- Presentations count. Don't expect people to understand and adopt your ideas if you don't present them well. They rarely sell themselves. No matter how good the design is, it can be a missed opportunity if it's not presented correctly. Explain your ideas and designs, so they have a better chance to be loved by creative directors, clients, and stakeholders. A quick prototype can be a great way to demonstrate an idea as well.
- Iterate, iterate, exchange, iterate... until you find the solution. Iterate a lot to get your craft at the level of your ideas. You need to try it, test it, and think about the alternatives to improve the design. Be open to change. A designer deals with a lot of feedback (from the team, the users, or the clients). Try to have a genuine and thoughtful approach to this feedback. Don't take it personally but advocate for the logical solution while working to protect the integrity of the design/system.
- Last but not least: Have fun!
Anything you want to promote or plug?
I'm always working on my Dribbble posting. Find me here at https://dribbble.com/KimB. It's been a great tool for me to connect with other designers and companies.
Additionally, two great friends of mine created Lady Bug, a curation of illustrations about women in STEM. It's a beautiful project and a good way to dive into tech history while discovering illustrators. https://www.instagram.com/ladybug_project/ Check it out!