What led you into design?
I started drawing at the age of 6, as I fell in love with Cartoon Network shows such as The Dexter Lab, The Powerpuff Girls and Samurai Jack. I used to spend hours at school drawing animals, cartoon characters and pretty much everything going through my mind.
However, I was not planning on doing this for a living until I was 24.
At first, my goal was to become a creative director, which I still am, but meeting and collaborating with a well known Italian illustrator along the way helped me understand who I wanted to become and how to apply my vision to the illustration business as well . Until then, I had developed my style by looking up to illustrators and creators such as Gorillaz's Jamie Hewlett, Satoshi Kon, Robert Valley, and Brazilian street artists, such as Senna and Eco, whose works I saw when I studied there.
Since the very beginning, I used Photoshop for sketching, and Illustrator for finishing up the design, since I particularly love the strong and bold vector lines, and the powerful colour palettes, that help my drawings to be more impactful.
What does a typical day look like?
I tend to avoid routine like crazy, since it is not good for my mental health, but most of the time I wake up around 8.30, I clean around a little, thinking about what I have to do, I eat something, and I basically listen to music the whole time, since it's what gets me in the drawing mood pretty much every time.
Then I sit on my desk and I start sketching something, if I already have it all in mind, or I just send around some promo emails, and collab proposals to projects I like. This usually happens when I am feeling lazy, or burned out. I also have a sketching book always close, which I use to fast-block visual ideas without having to open Photoshop every single time.
When I am not working or drawing, I usually go for a run or do some sports, since I believe sports and a healthy lifestyle are key when it comes to being a creator, as a way to clear one's mind and ease stress.
What's your workstation setup?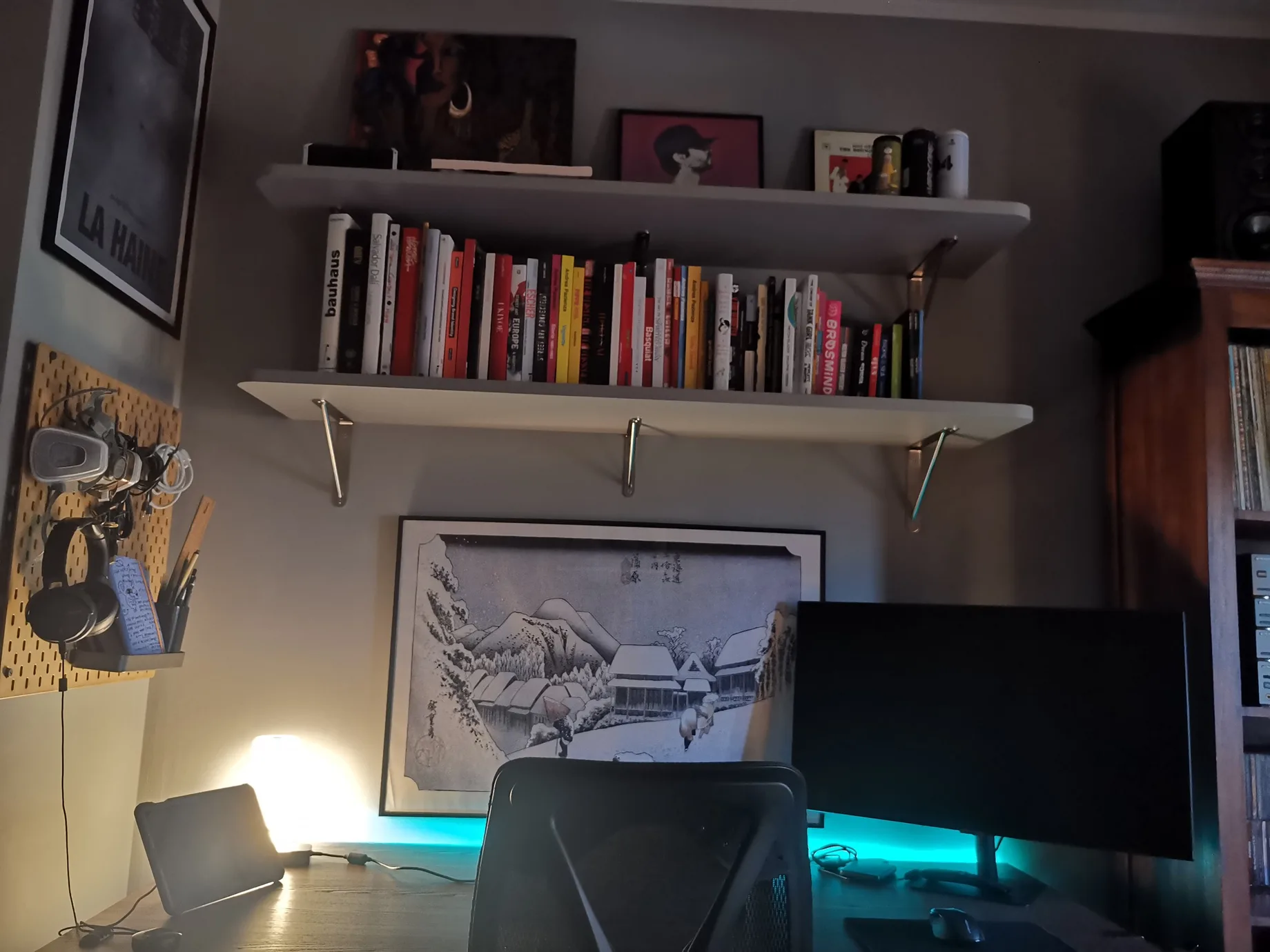 This is where I work on a daily basis when I am not out working on other stuff. I keep all my books close at hand in case I need to come up with new ideas. The smart monitor also helps me see things bigger for more detailed works, as the tablet is usually for visual references.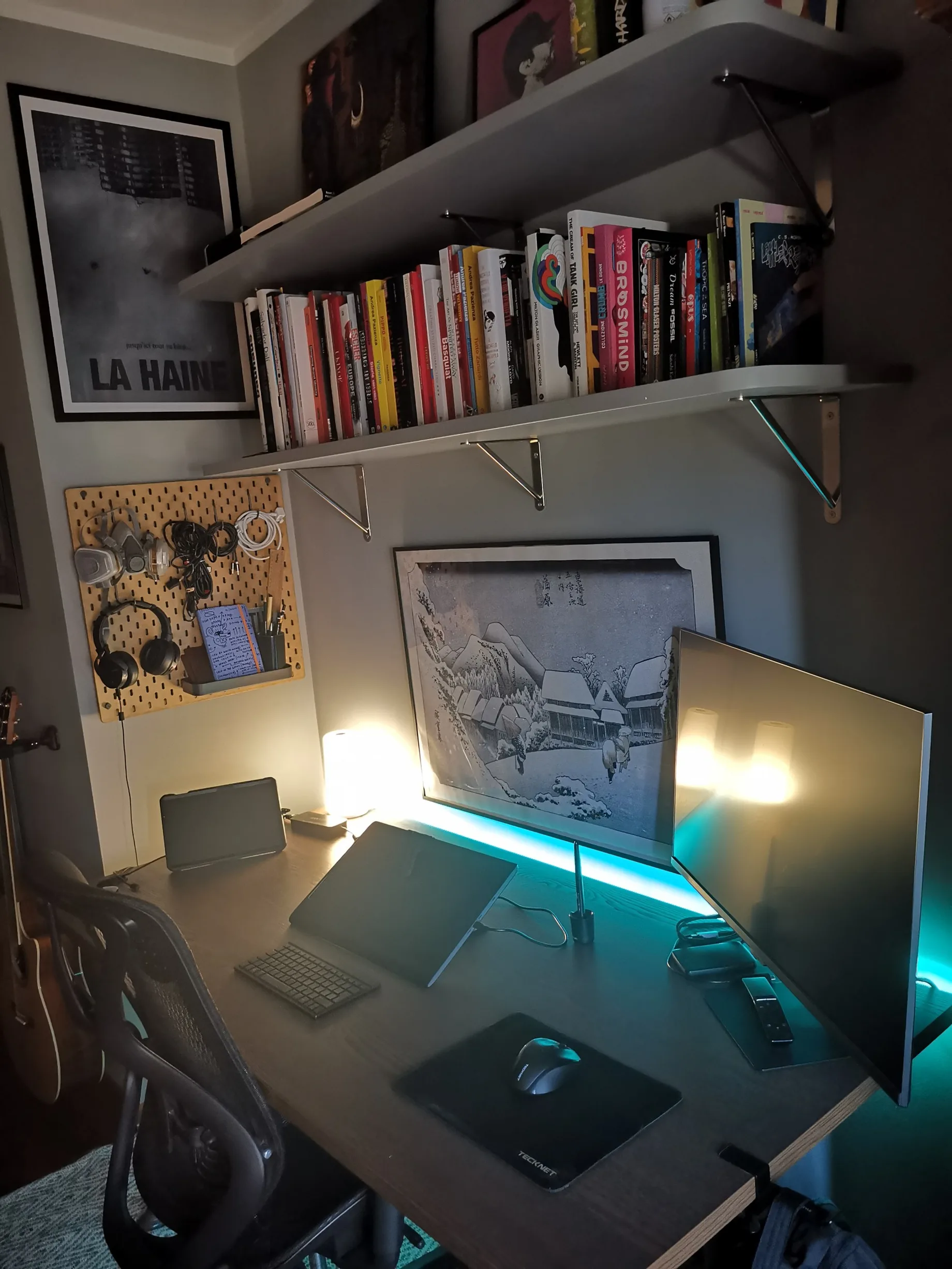 Where do you go to get inspired?
Listening to music, especially Hip Hop, Jazz and Soul, is usually what I do to get inspired, but watching a cartoon, or a TV show is also a good source for ideas.
I also have a lot of books of creator and illustrators I like (which I use as references when I am short of ideas) such as Milton Glaser, Brosmind, Wolinski, Andrea Pazienza and many more.
What product have you recently seen that made you think this is great design?
This piece by artist and animator Robert Valley. I love dynamic drawings, and he is great at them, especially when it comes to crowds and groups of people doing things. It kind of inspires me to design something like this in the future.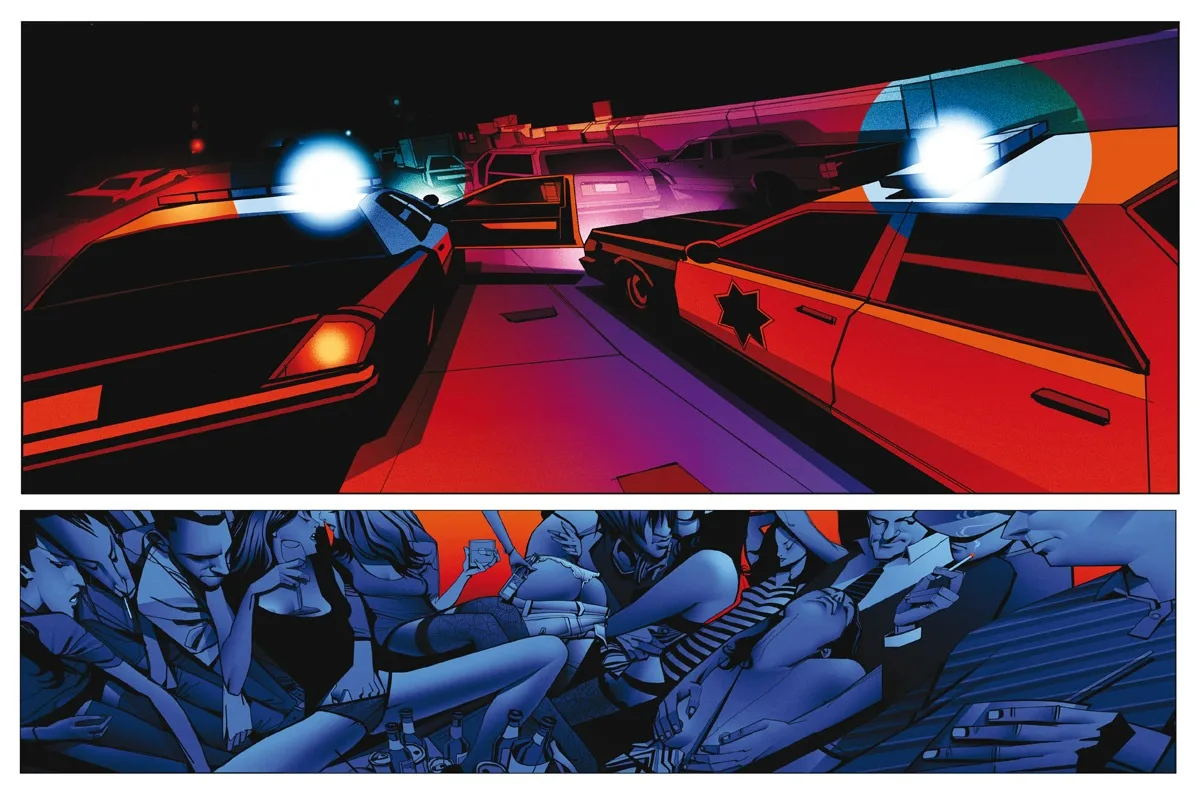 What pieces of work are you most proud of?
This huge composition I designed some time ago, not only because it took me forever to finish, but also because I am satisfied with the way I made the elements interact with each other in a small space.
What design challenges do you face at your company?
Being a freelance creator, I can tell it is always hard to go out there and always have to look for other jobs and collaborations, which can be exciting at first but also challenging and tiring after a while.
It is a very competitive business and there are many good designers out there, and it is always hard to come up with competitive ideas and solutions. It is key to be able to go through ups and downs, since one month you are covered in requests, the other one you are working only on personal projects, always remembering that you are doing what you like the most.
What music do you listen to whilst designing?
Any advice for ambitious designers?
I don't really feel entitled to give any kind of advice, but if there is something I have learned so far is that it is very easy to get discouraged by looking at more established professionals, especially in these social media oriented time we are living in and for how easy it is to compare ourselves to others.
All I can say is that it is very important to work hard, only focusing on our own path and health, and keep ourselves as occupied as possible, with many different projects, since it is the only way we can grow up and become better at our jobs over our careers.
Anything you want to promote or plug?
Yes! Please follow me on Instagram to stay updated about my work, about what I do and if you want to have a chat, you know where to find me.