What led you into design?
My background is actually in creative writing – I was on track to pursue an MFA in poetry and instead moved across the world and got married (a story for another time). After many years of working in marketing, sales, and high-tech, I realized that I wanted to get back to focusing on the craft of writing. That's when I began working in the design world, using language as a tool side-by-side with visuals. 
When Emunah and I formed Nihilo, we had a very clear goal: engage customers at every touchpoint using every tool at our disposal. Most of the time, that means we use both design and language to their utmost, allowing the two mediums to serve one another synchronically. Sometimes that means bringing in a motion designer, 3D renderer, or audio designer – we really want to take advantage of all the possibilities. 
I still write poetry and engage with the literary world. It helps me in my work tremendously, but it's not my main focus, and I'm actually really happy about that.
What does a typical day look like?
The mornings are really hectic in our house with three small kids around. Once they are out the door, I get to work pretty much immediately. I personally prefer to do big chunks of creative work first thing in the morning when my mind is most fresh, and then fill in with meetings, administrative tasks, and whatever else afterwards. Because we live in Israel and work internationally, we'll often do calls in the evening after our kids are asleep. 
To be honest, though, whatever projects we're working on at any given time occupy my mind day and night. It sounds stressful, but I enjoy it – it gives me a creative focus when engaging in the mundane work of running a household. Life's hectic, but there's a nice rhythm to it.
Where do you go to get inspired?
I really get inspired by concepts in literature, culture, art, philosophy, and nature. I love looking for patterns and figuring out how to distil those patterns into simple ideas. I also love to listen to people talk – to hear what they say and how they say it.
What product have you recently seen that made you think this is great design?
I love handmade rugs. My husband picked up this rug on his travels in the far east, and I made him carry it on a plane along with our six bags and two kids several years back. I still marvel at the symmetry and the incredible design tradition stitched into it. Excuse the dust.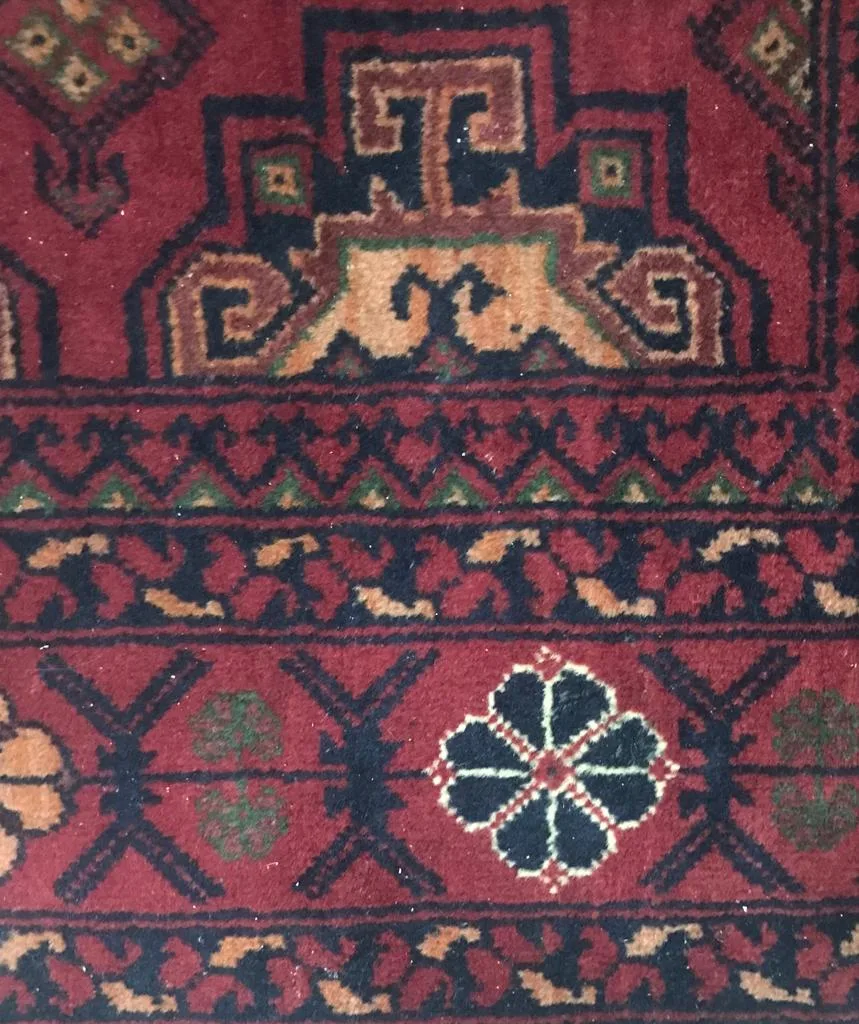 What pieces of work are you most proud of?
Recently, we worked with Decibel Health, a national provider of at-home dialysis and kidney care. From the get-go, both ourselves and the client aligned on a desire to cut through the generic, overly positive messaging of the healthcare – and specifically the dialysis – industries. Dialysis is not fun, it's difficult, and it's painful--we're coming right out and saying it.
Through a strong combination of visual and verbal brand design, we strove to weave together a tapestry that tells a true and complex story; one that's at once incredibly personal and universally relatable. In many thanks to a very brave client, this resulted in a brand identity that is somewhat shocking, highly distinctive, and incredibly relatable.
What design challenges do you face at your company?
One challenge is articulating our visual/verbal design approach in a way that clients can understand the value. It's true that not every client needs this approach, and it takes consistent effort to put ourselves out there in a way that will naturally attract the clients we can serve best. 
I have to also admit that being two outwardly Orthodox women is a challenge. There's not a strong design culture in our communities, and people are not used to seeing world-class work coming from an agency led by two outwardly religious women. I think there's an assumption that people from our world mostly stay inside our world. That may be true for some, but it certainly isn't for us. We hope that the work speaks enough for itself that the right partners will come. For the most part, they do, and it's wonderful, but I'd be lying if I didn't say it was a struggle.
What music do you listen to whilst designing?
Any advice for ambitious designers?
Don't limit your path to what you've seen before. I made this mistake in the beginning, thinking I needed to focus on "tech writing" or "conversion copywriting," all of which I hated. Once I started to focus on my craft and how I could elevate it, I began to carve out a path for myself. My advice is to design a career trajectory that helps you maximize your craft. And there are no rules. You can do whatever you want as long as you do it very well, and it's serving a real need.
Anything you want to promote or plug?
We recently started a new creative newsletter inside a Google doc. It's basically a series of short conversations about design, branding, and life. Check it out here.