What led you into design?
When you're bad with numbers and even worse at remembering things the career paths you're encouraged to go down narrow significantly. At 13 you start hearing the adults around you throw the term "creative type" around. I remember being amazed by the way something like a book cover or a computer game poster could make me feel. My heart was set on learning to harness this mysterious power, and I was convinced at the time that my inherent "creativity" would fuel my mastery.
I graduated with a BA in Visual Communications in 2009 and spent the following 10 years dabbling in identity design, illustration and even in entrepreneurship, founding Father Coffee in Johannesburg, as well brand consultancy The Bread. Over those years I found the need to come up with something "new" and "creative" exhausting. I felt uneasy adding all these "new" things to the world—more logos, flyers, and 600gsm business cards—all to help someone exploit another little gap in the market. Contributing to the heap of businesses screeching for attention was clashing with some part of my value system I hadn't fully uncovered yet. I love a strong brand and I enjoyed lending my skills to small business owners but I felt tired. Tired because I still held onto the belief that I was practising "creativity" and my designs were meant to be like deep sea fish that I'd wrangled to the surface for the world to see for the first time—all fresh and glistening and unique. I had no idea a small shift into digital would change all of that for me.

Jump forward a few years and I have finally accepted that I'm not creative at all, I just really enjoy moving things around until they feel nice and work well. Doing that with a particular audience and goal in mind makes me feel like I can call myself a designer. Stumbling my way into digital product design felt revelatory. I've been obsessed with technology and the internet since I built my first PC at age 13, and helping people interact with technology in a way that supports their intentions and respects their autonomy just feels like the right fit for me. I'm ok with never making anything truly new.

Digital design in the VC-milking era comes with its own affronts to my value system but I feel better equipped to handle them. As AI gallops towards making my kind (designers or humans?) redundant I do wonder if it's finally time I figure out how to monetise my cat.
What does a typical day look like?
I wake up naturally around 5:30 am but spend about 30 mins in bed reading and hanging out with my cat. Then it's gym or straight into Figma and emails for 3 hours. I'm at my most productive early in the morning before I get distracted by the world.

I usually go for a 3-4km coffee/audiobook walk around 10 am and then do another 1-2 hours of focused work. After lunch, I am basically useless to the world and I kinda just run errands or nap until I know I can focus again. I end the work day with Yoga or another long walk.

By 6 pm I'm prepping dinner then playing League Of Legends with a bunch of friends from back home or watching Youtube. Comatose by 10:30 pm. Rinse and repeat.
What's your workstation setup?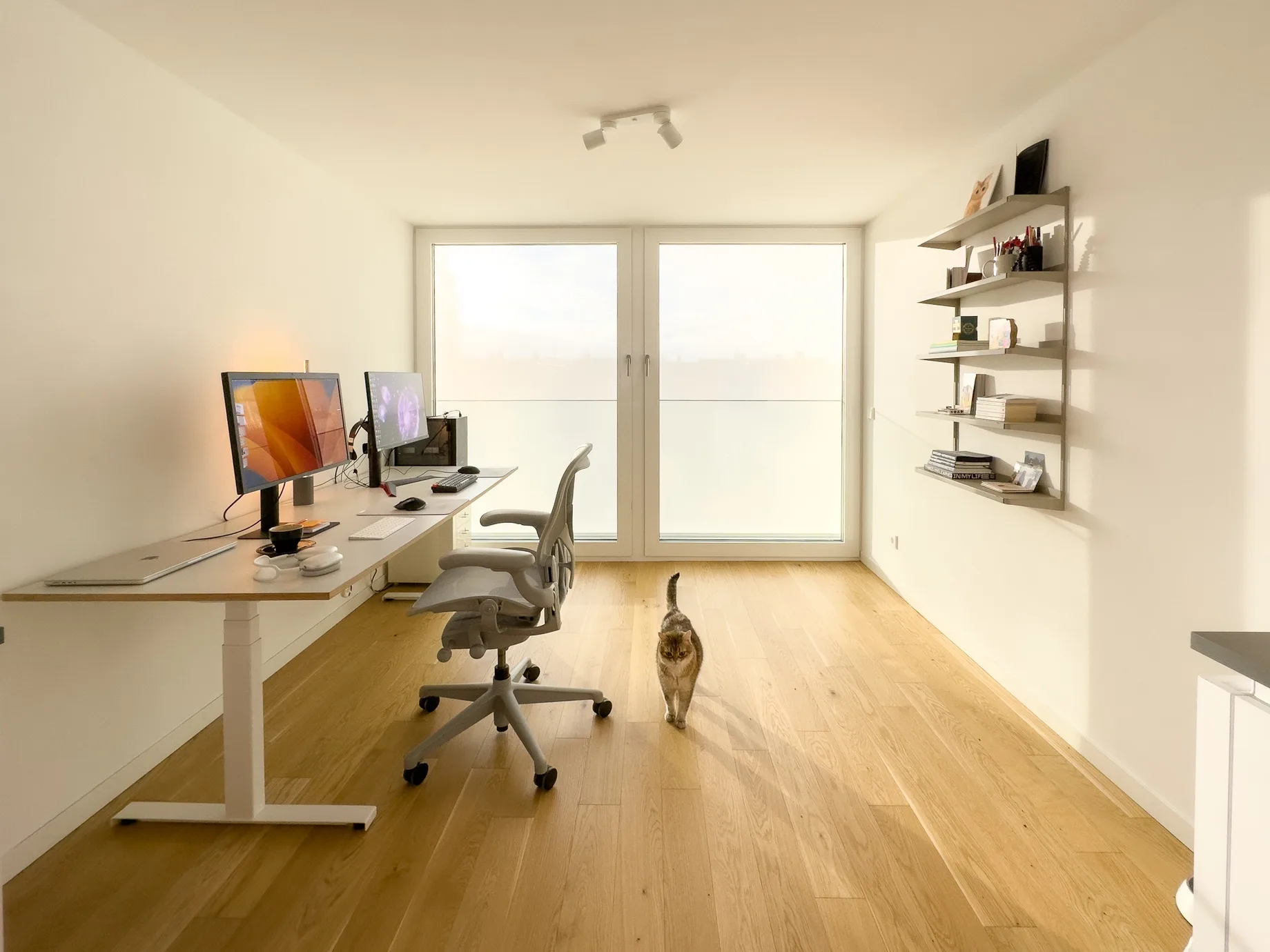 Adjustable desk, British Shorthair, Herman Miller Aeron, MBP 16" M1 Max, LG 5k Ultrafine, AMD-based gaming rig. The Philips Hue desk lamp has been a fantastic addition and helps light my Zoom calls in the dark Berlin winter.
Where do you go to get inspired?
I find inspiration in solitude. I know it's very Thoreau and it's mildly embarrassing but I spend so much time on my own (by choice, I swear) and it's the time I feel the safest and most capable. I can be reading for hours, cleaning my apartment, or on a hike and I just feel no pressure or worry. This ignites a really nice part of my brain that can solve problems and wander through thoughts, all in the background. Over the years I've learned how to harness this state by just making space for it and not hoping for any specific outcome.

Aside from that, I feel really energised mentally when I'm reading or when I'm tinkering (either by trying to learn code, fixing hardware, or tidying my fridge). I'm not above endlessly scrolling through the work of other designers and feeling both inspired and incompetent. I swear by the benefits of 10km runs, lazy sauna sessions, very long walks, and most of all THE INTERNET.

Growing up pre-internet, then logging on for the first time with the rest of humanity was an awakening. I had access to community, information, and inspiration without the over-stimulation that comes with being out in the noisy world. It's the portal I always needed, linking me to everything out there while allowing me to keep my hand safely on the exposure dial, something I can't do IRL. This hyper-connectedness will be the death of us all but for a brief moment at the dawn of the internet, it made me very, very happy.

Oh and lastly, I find inspiration in the immense effort Berliners put into littering.
What product have you recently seen that made you think this is great design?
It's not recent but I bought this thing at MoMa about 7 years ago and it is so perfect. 23 tools in one. I use it a few times a week.
What pieces of work are you most proud of?
I was on a kayak a few weeks ago and my iPhone took these beautiful shots from inside my waterproof pouch. I'm very proud of them.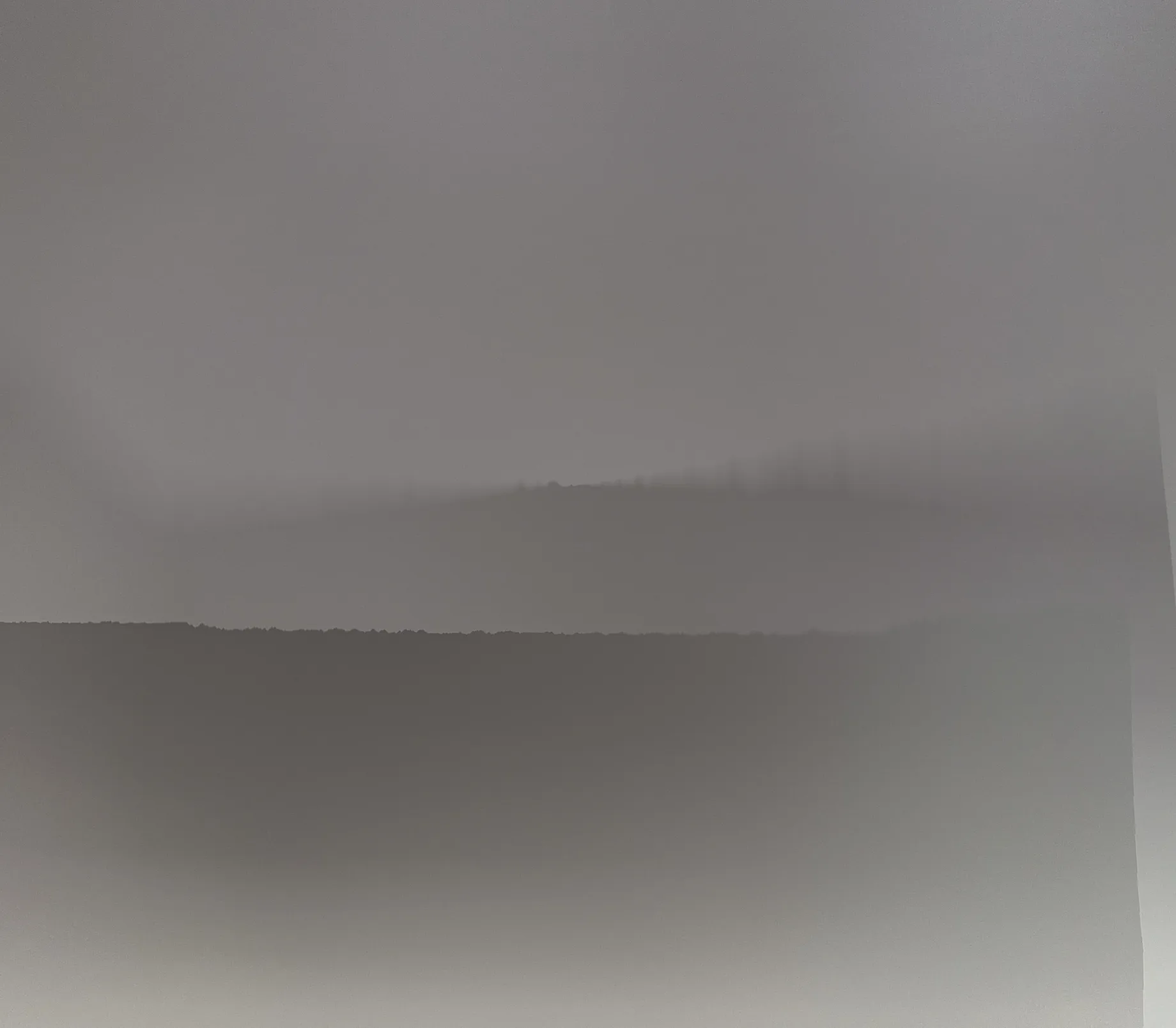 What design challenges do you face at your company?
The age-old battle between the features users need and want, and "features" intent on wringing every last penny or crumb of attention out of users. I know it sounds a little dramatic, and I know we all gotta capitalism, but fighting for a bit of balance is so important. Designers, PMs, and engineers can support each other in pushing technology into a more humane space while still meeting the needs of our business overlords.
What music do you listen to whilst designing?
Any advice for ambitious designers?
Pair that ambition with humility and time*. There's so much to learn and you've just gotta produce a shit-ton of work. So much of it is going to be bad but with humility and time, it will become less bad, and then mediocre, and then sufficient, and then slowly you'll find your groove. I'm kinda hovering around sufficient but I like it here—insecure enough to learn, but competent enough to pay my bills and support my family. As soon as I feel like I'm good at my job I get anxious because I know there's a life lesson around the corner waiting to smack me in the gut.

I've seen a lot of my peers progress much faster than me and it was disheartening at first, but I'm constantly trying to avoid making design my life, and you can too! It's a job that I love, not my identity. If I can make it to my grave without ever having a LinkedIn and without ever tweeting my opinion about a logo re-design I'll die happy. It's possible to be a great designer and push the industry into a more diverse and humane space while still maintaining some distance.

I'm not sure if any of that counts as solid advice so here's a fantastic quote but I can't remember who said it: "Where you see competition, try to find community".

*Keep in mind that this advice is from someone whose parents could afford to send them to design college and who was allowed to live at home for a few months after graduating to get on their feet. While my journey has been challenging, I never had systems of injustice stacked against me.

Anything you want to promote or plug?
If you've made it this far I'd love to connect via Instagram or Goodreads or League of Legends. Find me there.