What led you into design?
Design and I happened absolutely unexpectedly for me in 2011. While finishing my bachelor's degree in finance I was faced with a dilemma of what to do next. I didn't see myself as a financial manager or a bank employee so I was pretty open to new opportunities. The goal was to find something I could make for a living and be somehow interested in. Luckily for me, in the meantime before the final exams, I was introduced to web design and freelancing by my husband (boyfriend at that time). He is sort of a guy who is good at seeing long term opportunities. One day he came to me saying this:
"Hey, I have an idea! I know you're good at making presentations for our English classes and you have good taste in all sorts of visual things. Why wouldn't you try yourself at this new field called web design? Don't worry I'll help you along the way I already have a basic understanding of how websites work. What you say?"
… and I said "Yes"
This is how I got married to design 😂
It was a summer that changed my life drastically. From a student renting an apartment with other gals — to renting own apartment as a freelancer ditching master's degree in finance at the university. From an old dining table, uncomfortable chair, and a more painful Lenovo laptop that seemed to run any task for ages to powerful for those days PS with a much bigger display.
I remember how I was thrilled both by fear of a new field and by opportunities it'd been granting me at that moment. It promised me to earn my own money and define own path in life right away while learning design remotely via books and videos. In the end, the promise had been fulfilled. Here I am not a financial manager or an accountant (both would be terrible versions of me 😁) but a designer with eight years of experience behind my back looking forward to creating own products and services.
Even though my motivation had been down-to-earth at the beginning eventually it brought me to the highest highs of my creativity I could possibly imagine back then.
What does a typical day look like?
Working as a freelancer, there is plenty of room for maneuver. I like the flexibility of being able to adjust to circumstances and react to the needs of the current moment rather than be stuck in the frame in terms of my work routine. Every day is different. At this moment, my typical day looks like this: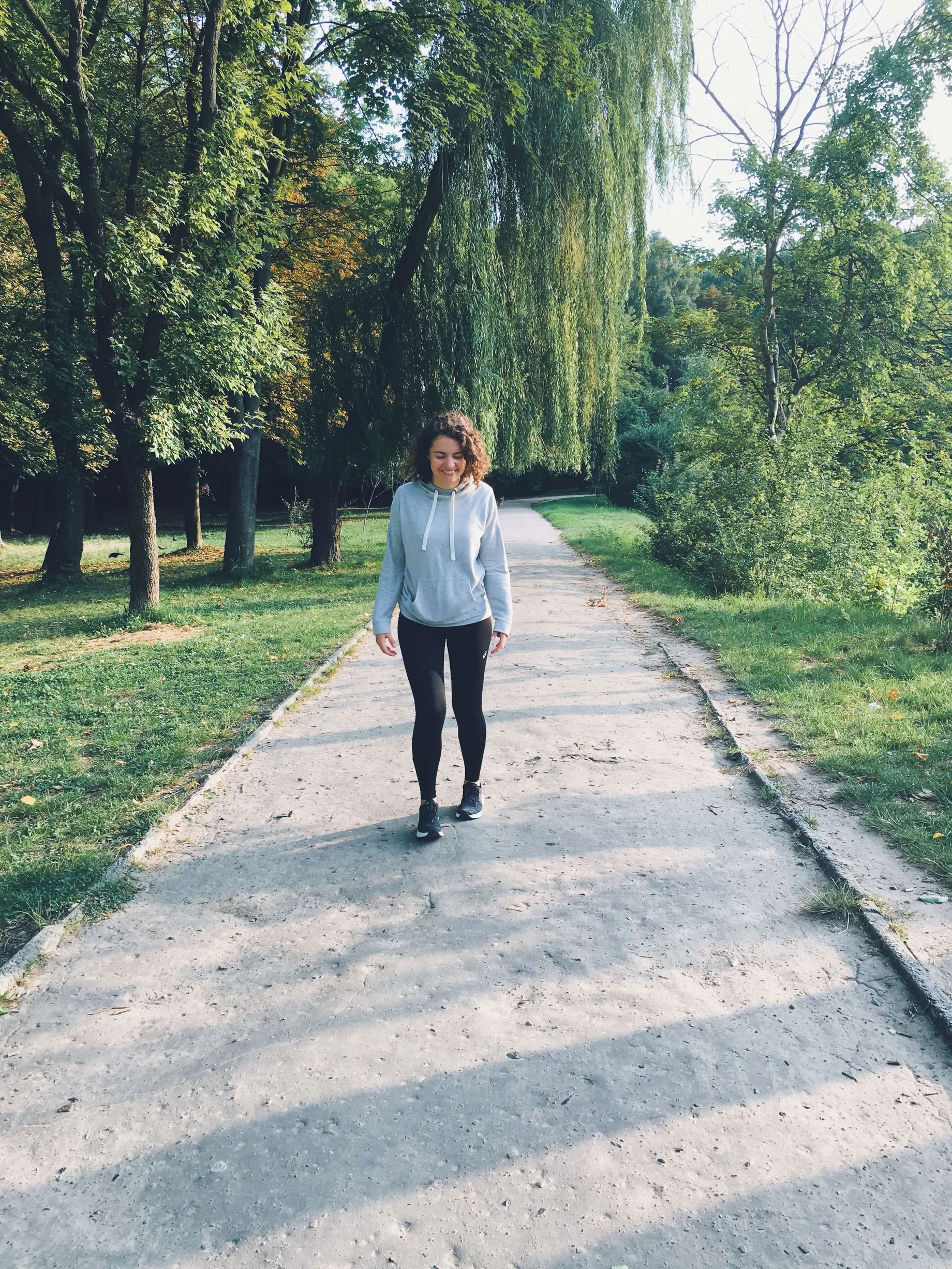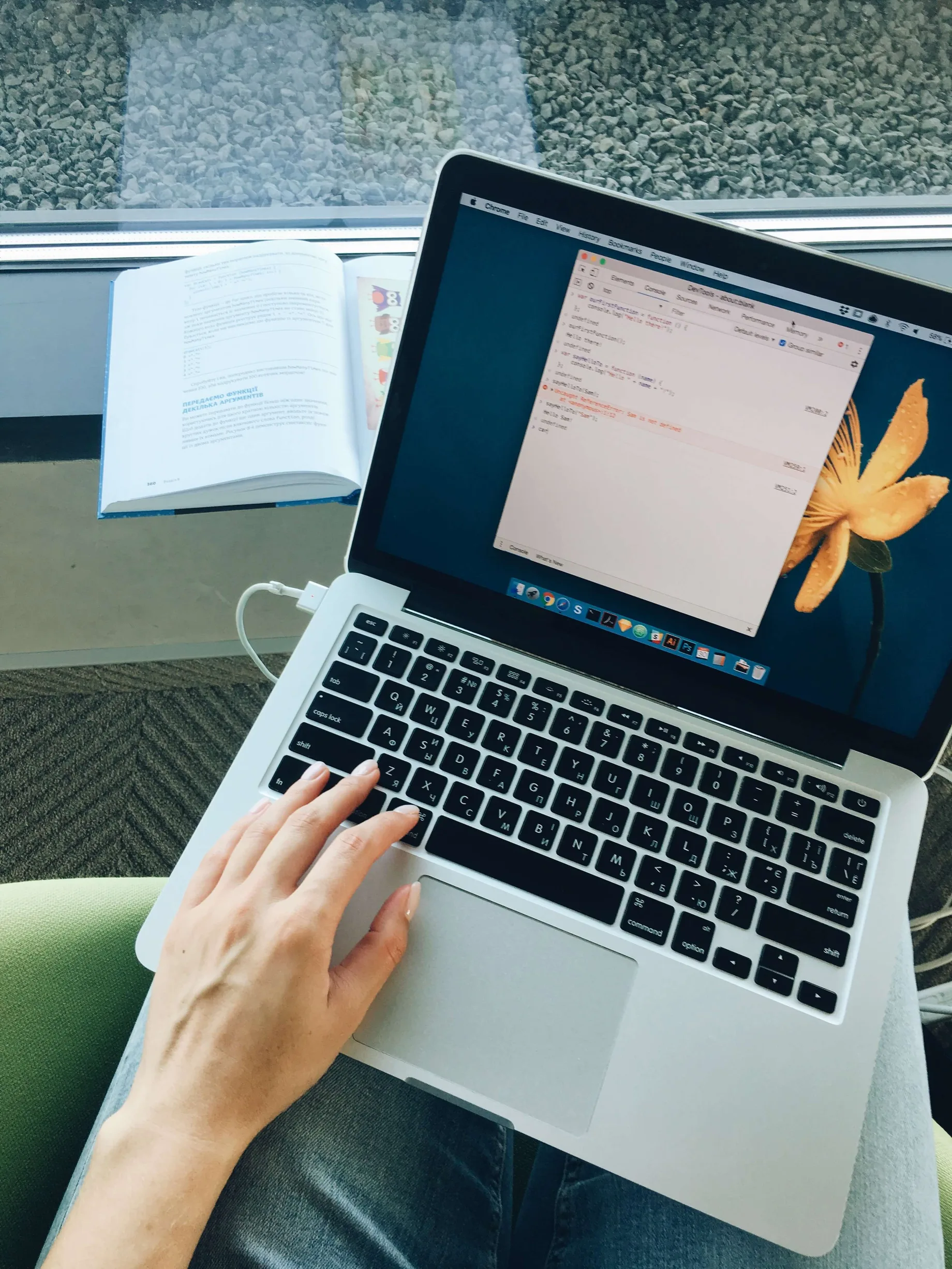 Get up as early as possible. Ideally, 6:30. If I can make it even earlier it would be perfect, if it happens later it's ok, I still try to be awake before 8:00 since I love mornings, they are the best. It's the most productive time for me.
Go to the park for a run or for a walk depending on my condition.
Learn something new. For example, right now I'm focused on improving my programming skills with JS, Node JS, and Flutter. Also, as a hobby, I'm learning a new language, this time human 😀 It's German.
At this point, I got to my state of flow and can switch to the work part. It's somewhere around 10:00. Till noon I answer emails and try to execute the most complicated tasks to avoid any procrastination.
The second part of the day is not as defined as the morning. I leave space to be more flexible depending on my ongoing projects or priorities. For instance, I may work at an intense pace on the client project until the late-night or being loose and read a book, take some photos or outline my future plans.
Recently I've decided to spend my evenings attending more events and socializing more in real life, not only online 🙂
What's your setup?
My main working machines are iMac 27' and Macbook Pro 15'. One is for more notorious work like design and illustration, another is for minor tasks which can be performed particularly anywhere. Also, I found that writing is more productive on my laptop. As well as coding can be quite comfortable on Macbook rather than on a bigger workstation.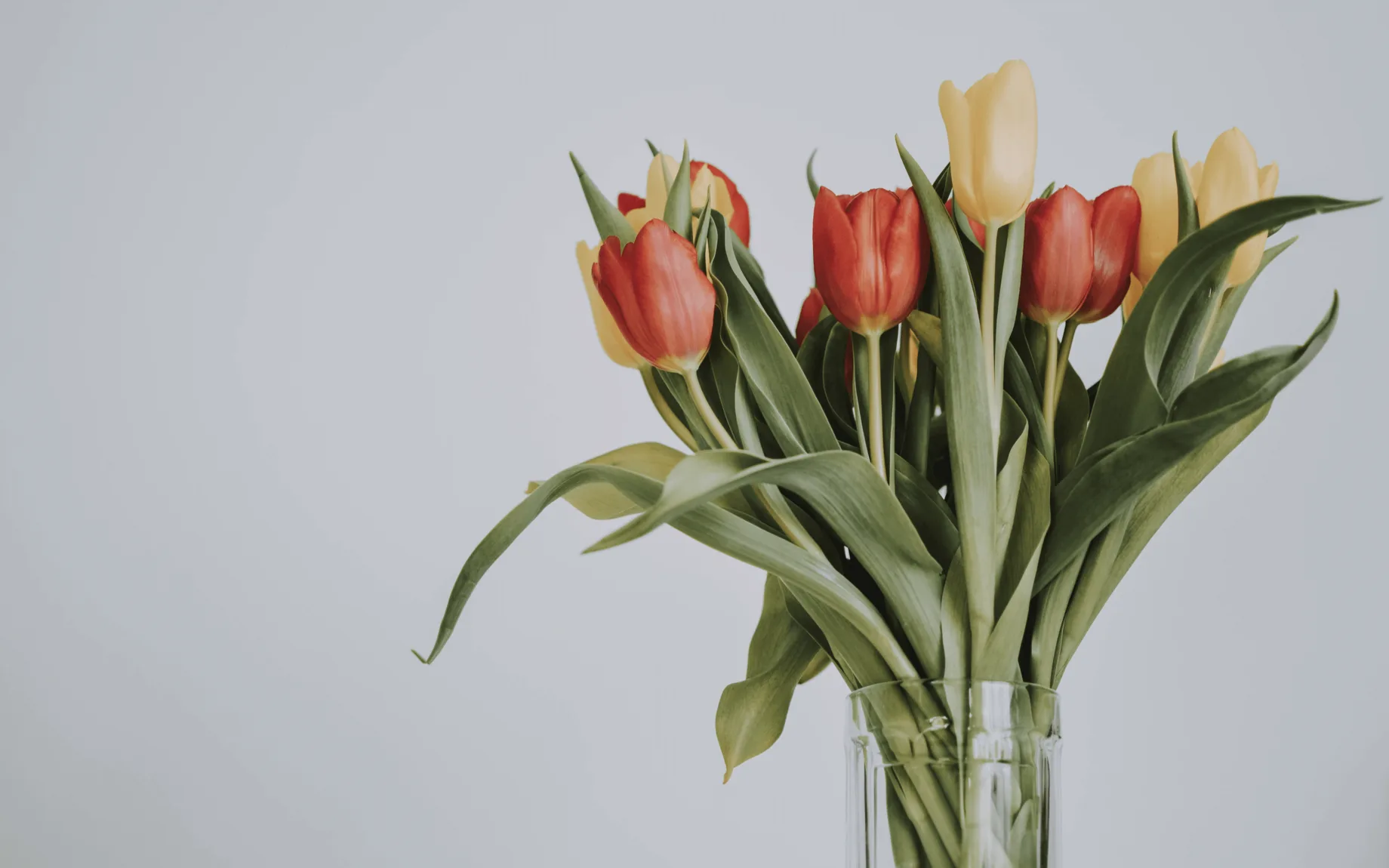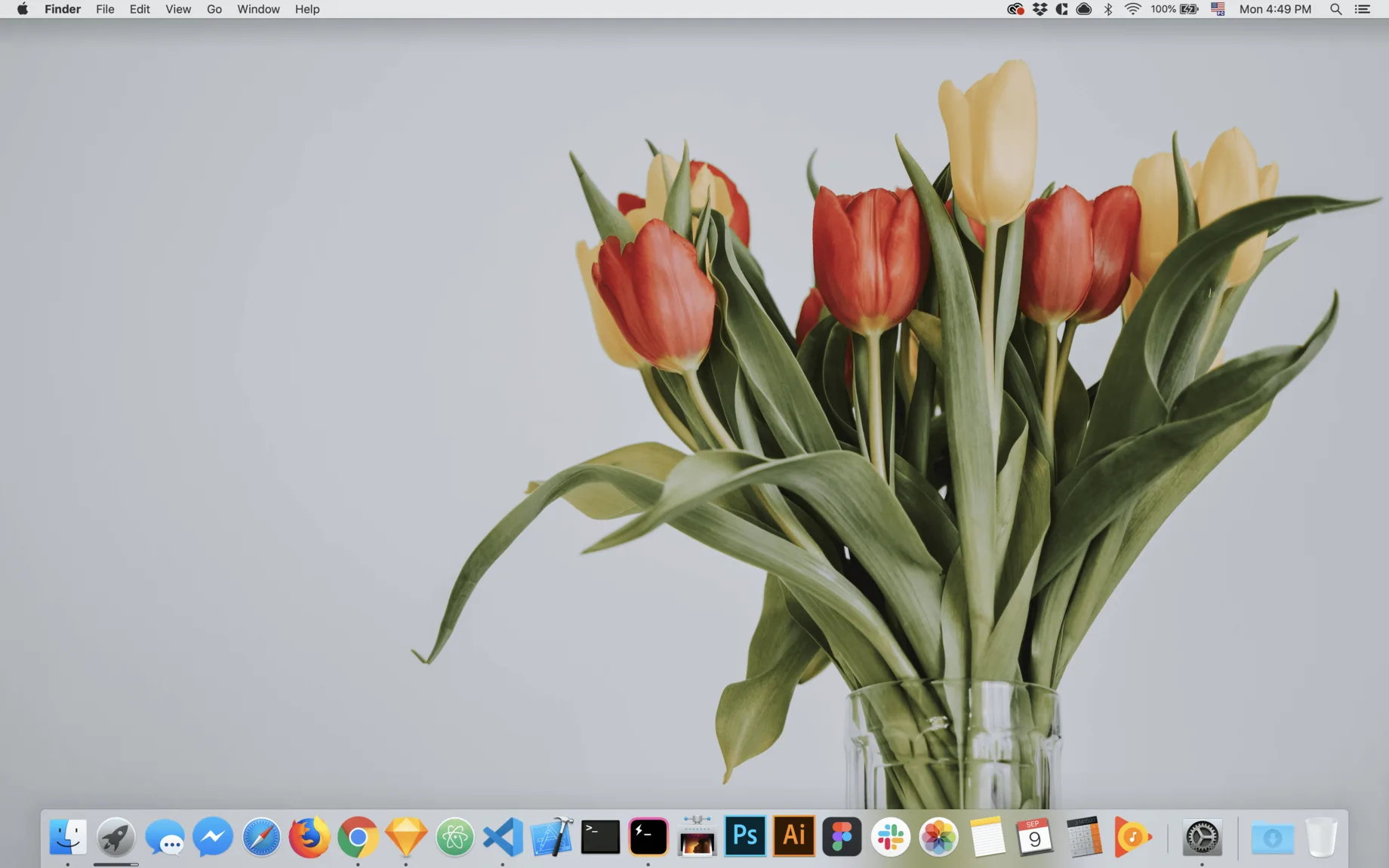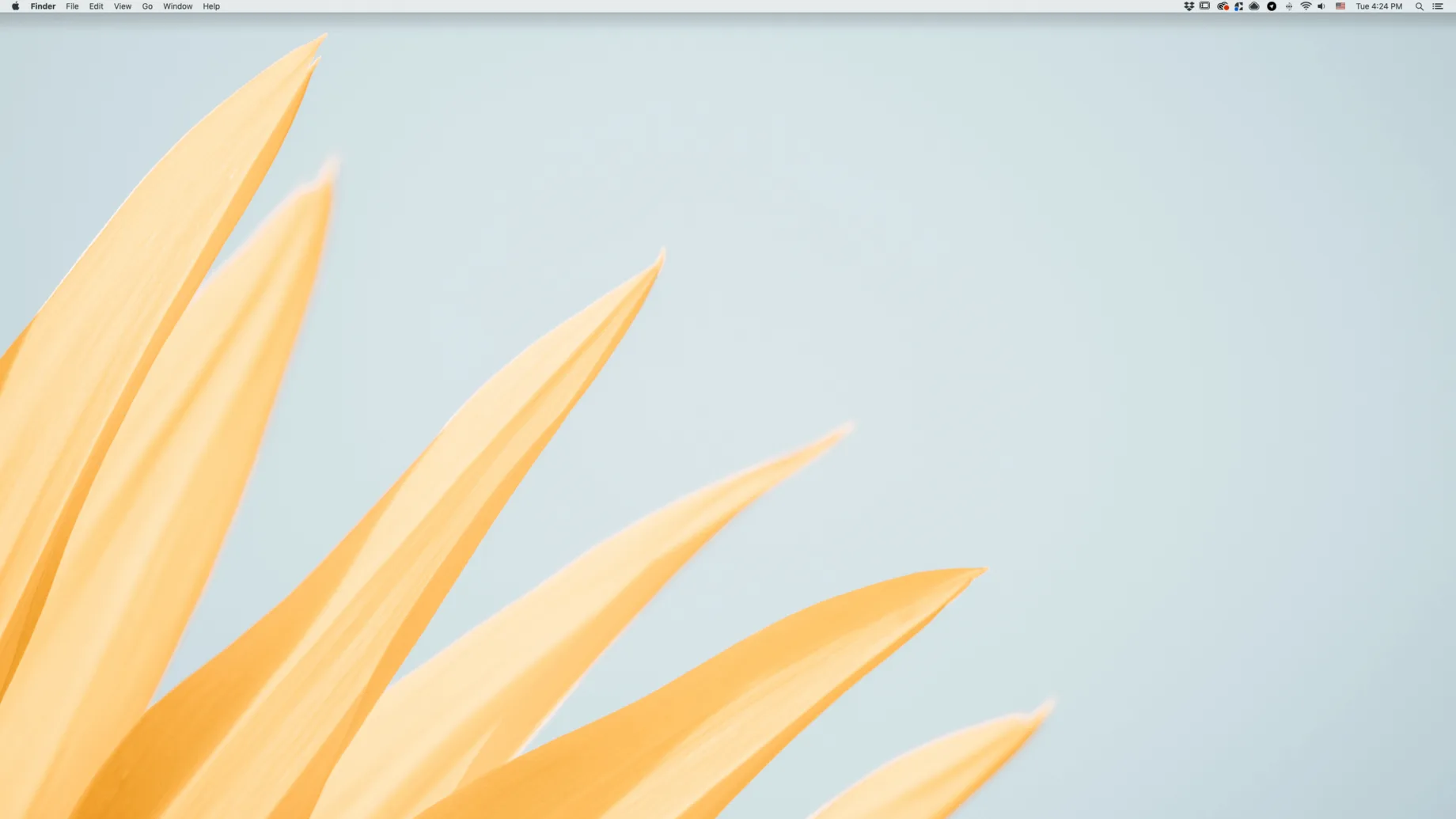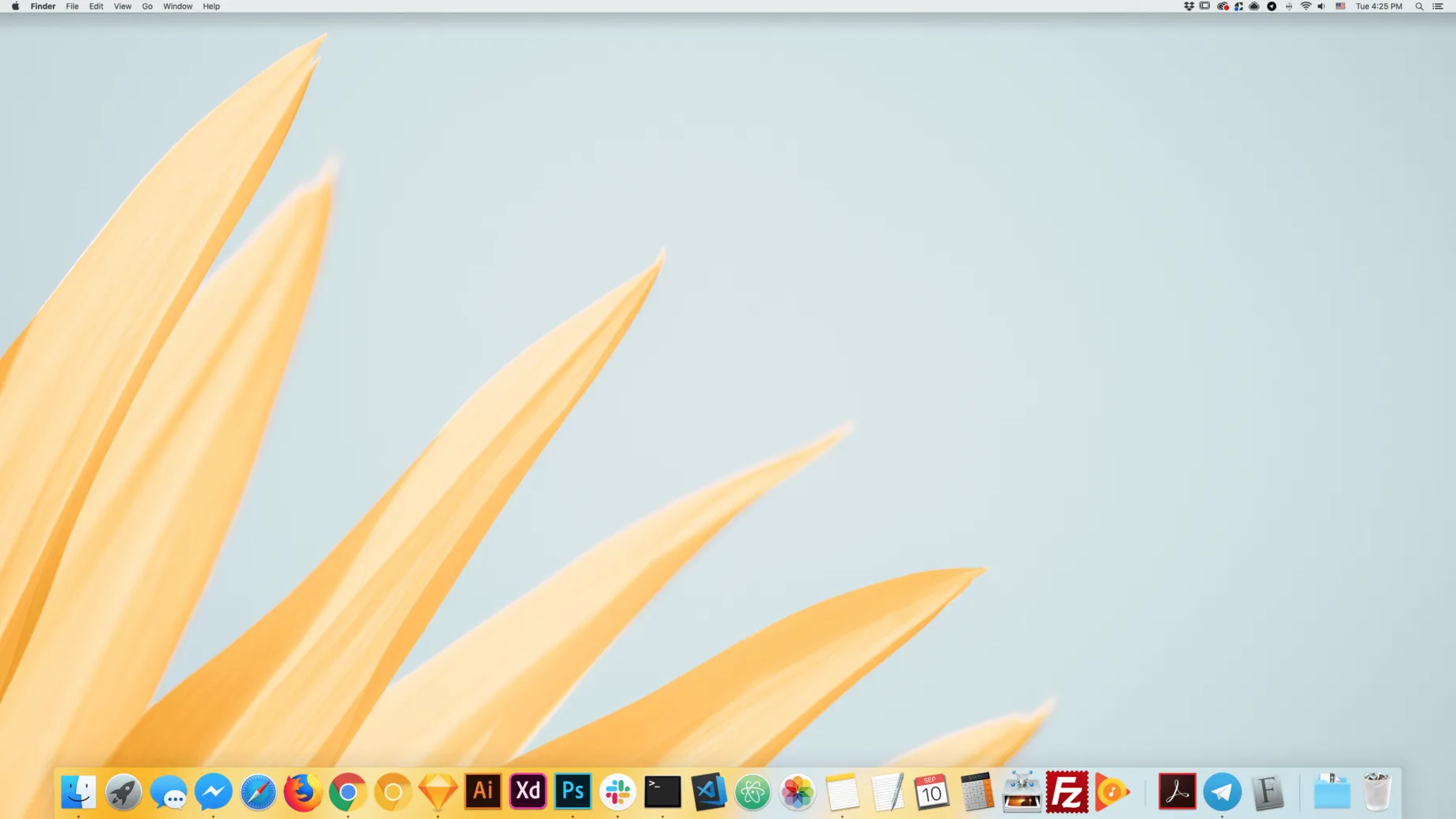 On the left, here's my default home screen both for MacBook (top) and iMac (bottom). I'm hiding dock for both devices. Having a menu bar also minimized on laptop helps save extra real estate as well as get into a state of flow easier when the clock is out of sight.
Mobile setup is also quite minimal. I prefer to reserve space for future photos rather than apps since lots of tasks can be performed in the browser or with the help of default apps.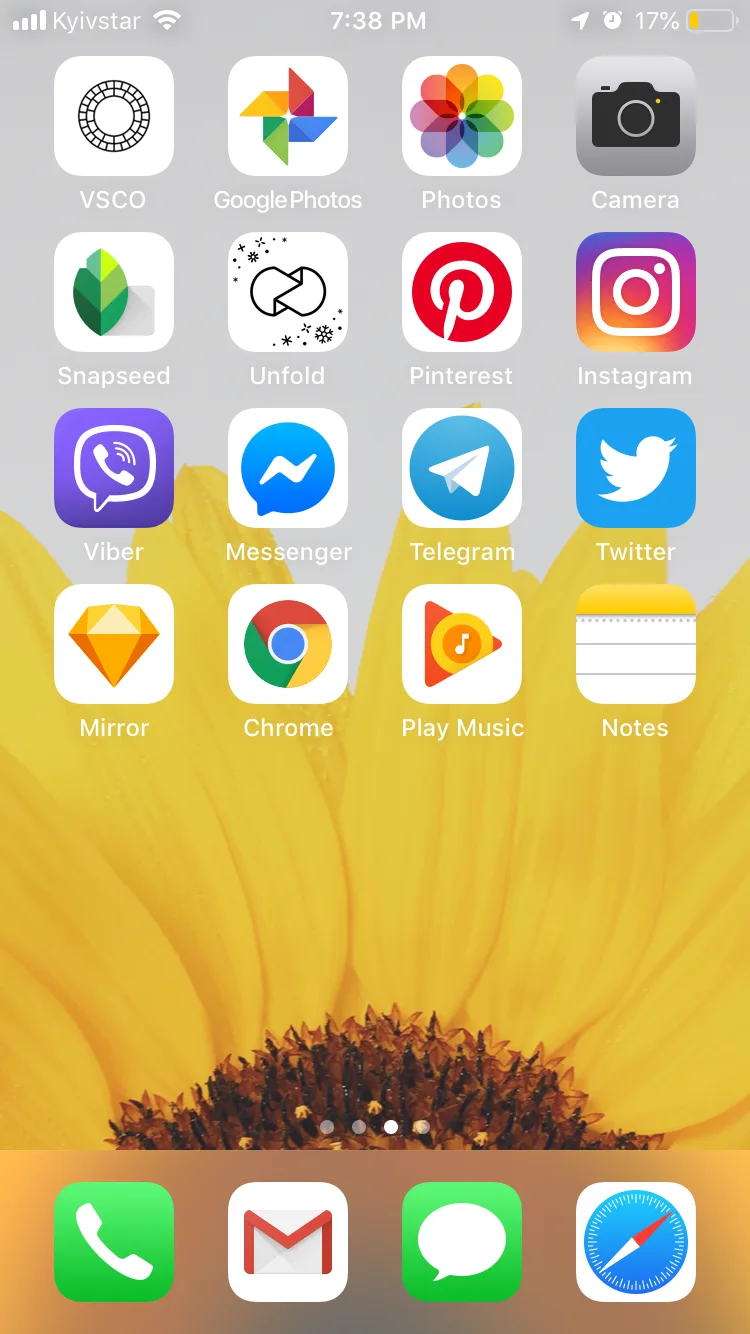 With the iMac, I also use a Wacom tablet — handy stuff for illustration and photo retouching work. You may also notice a touchpad along with the Apple keyboard. I'm using it for quite a long time, so the mouse feels odd for my hand now. One more essential of my work routine is headphone Sony WH-1000XM2. The sound is amazing. It never fails me with concentration. Putting them on, tuning fav playlist, and nothing would distract me 😌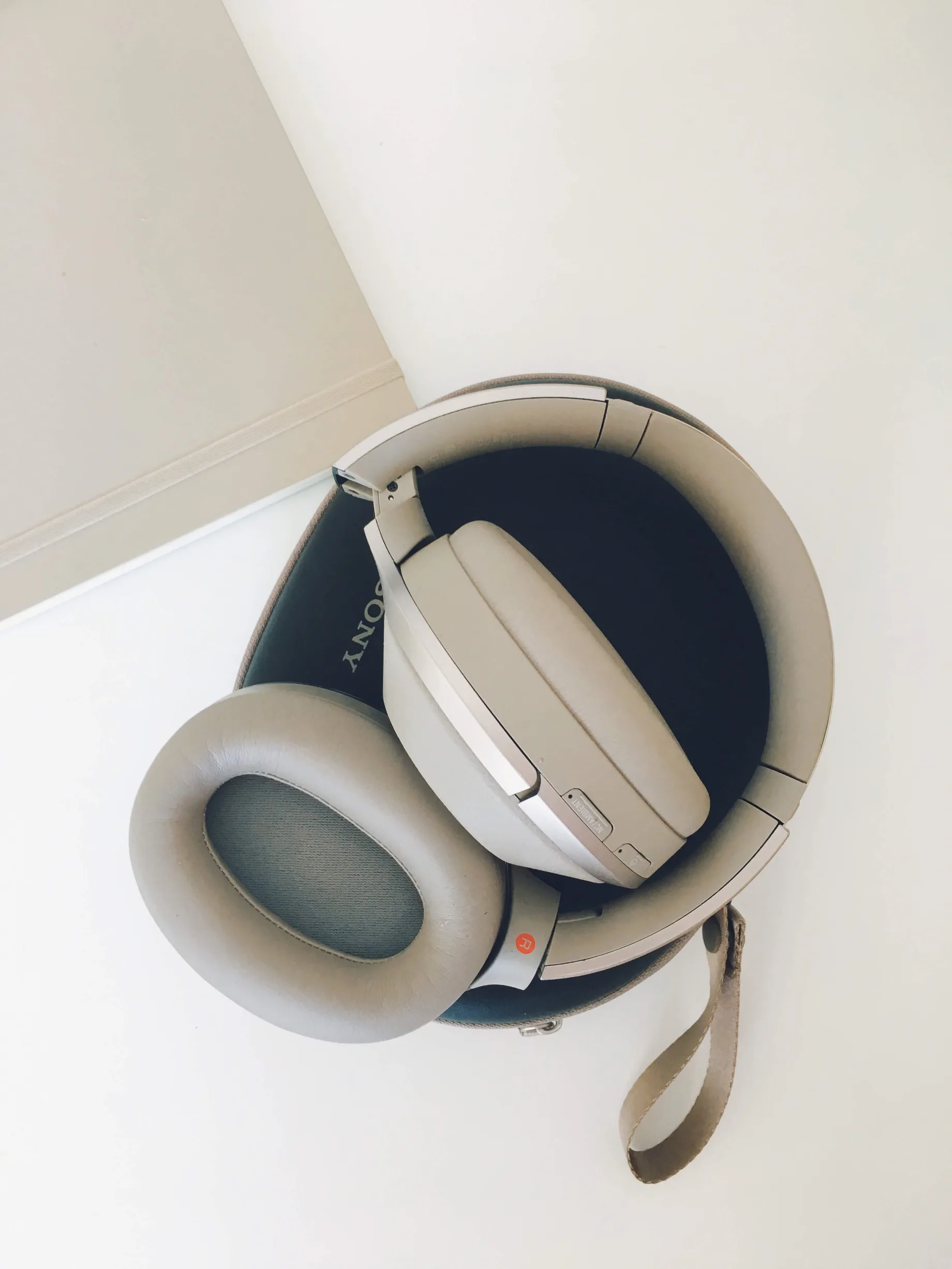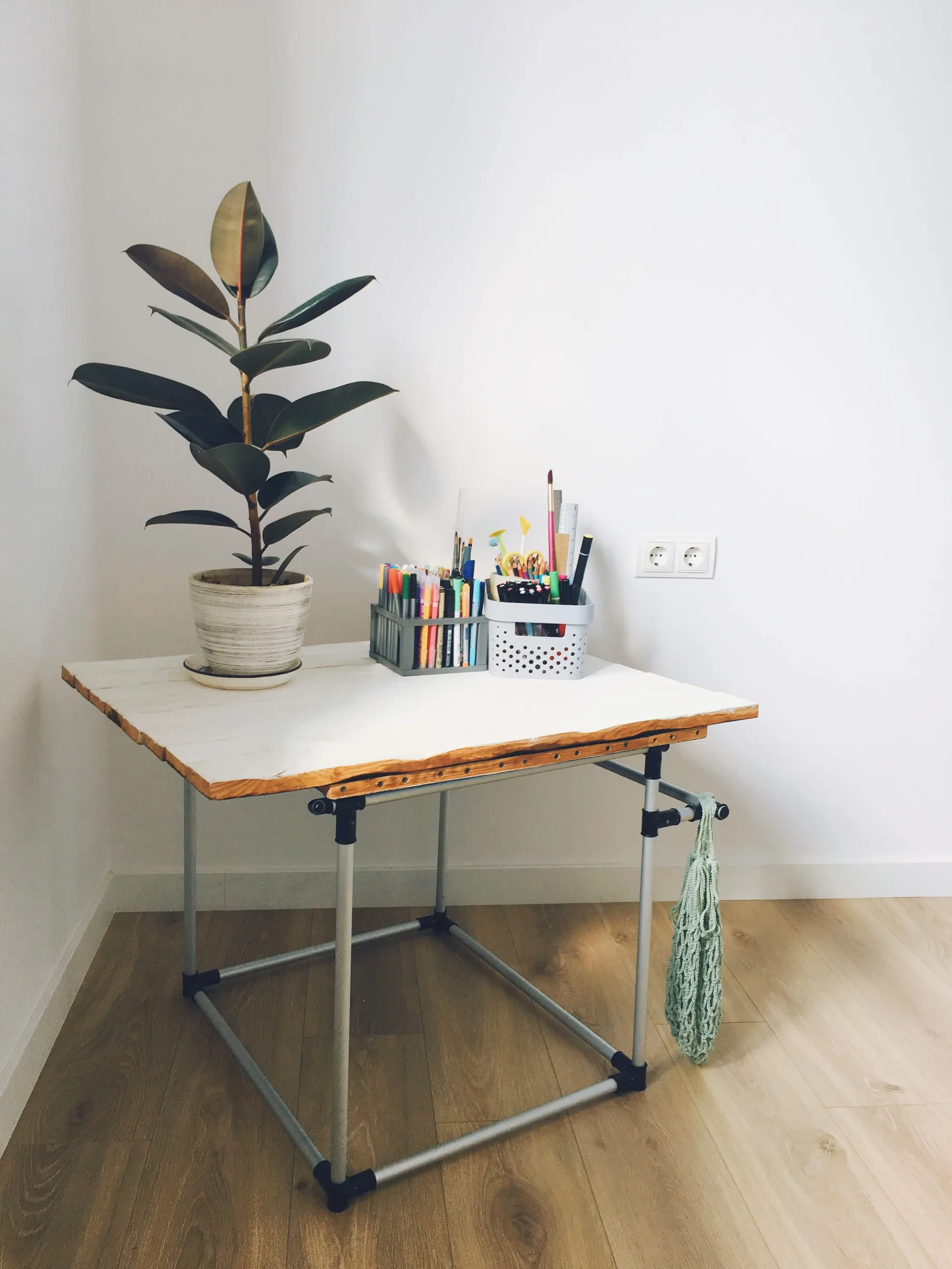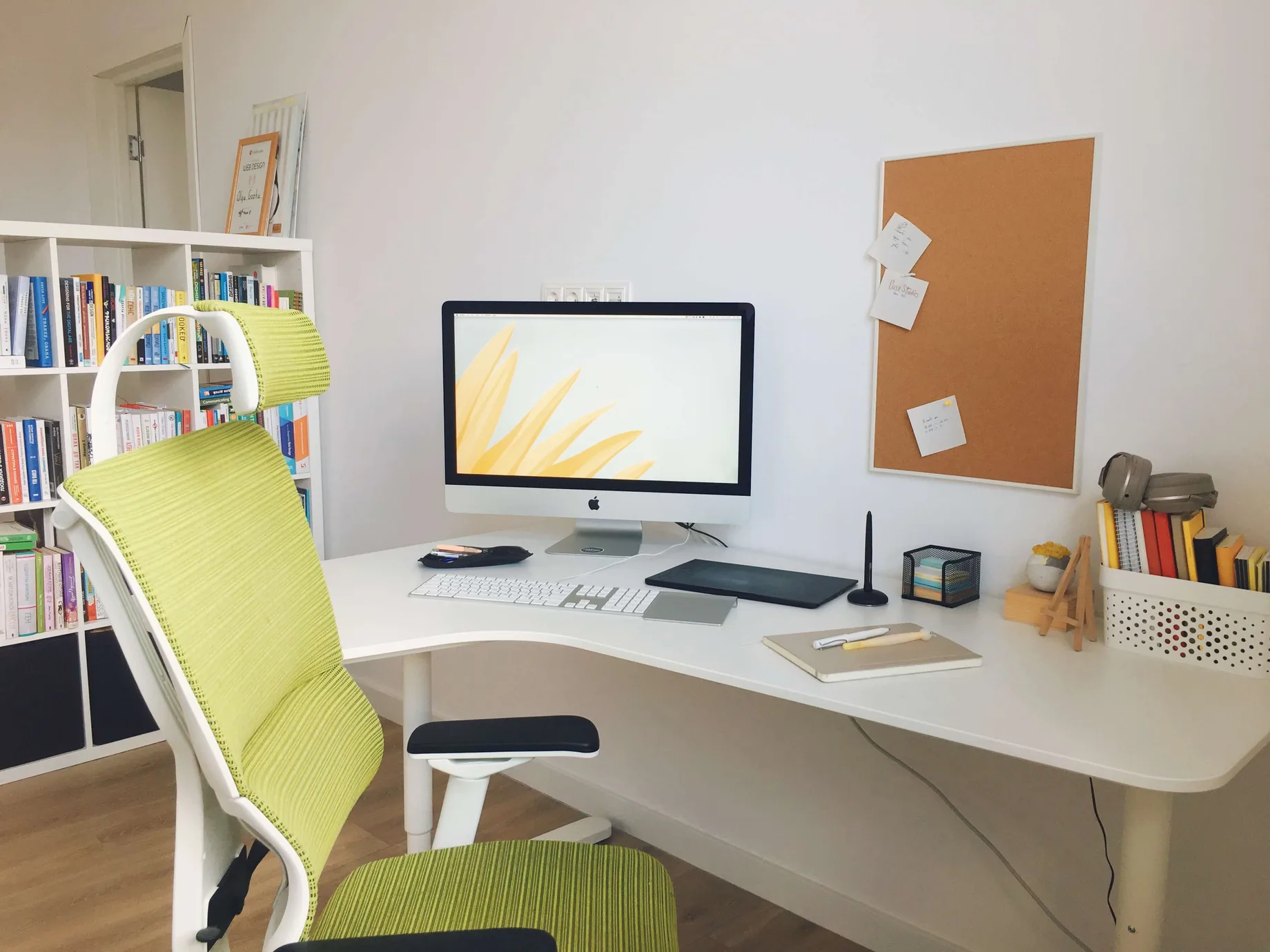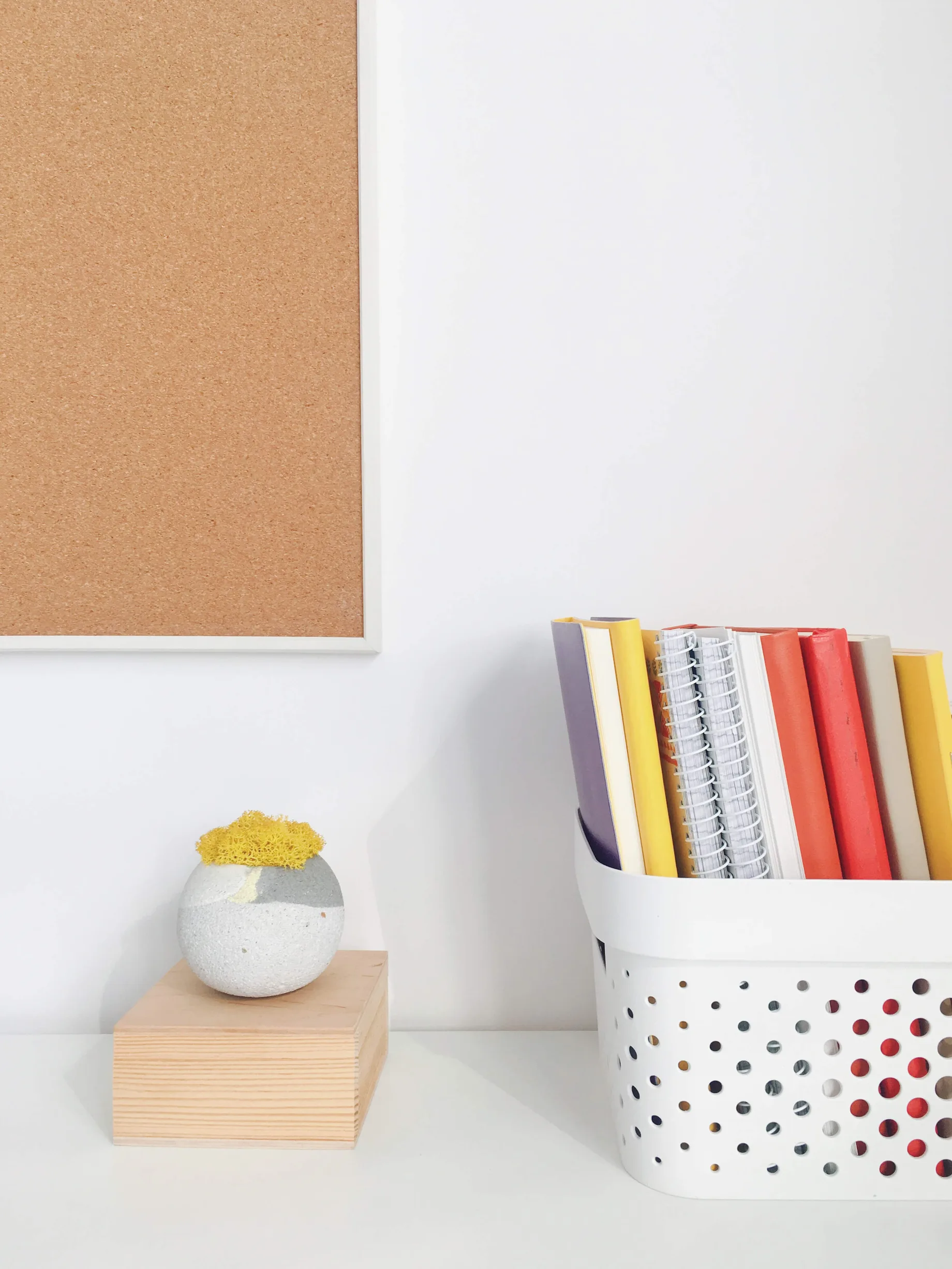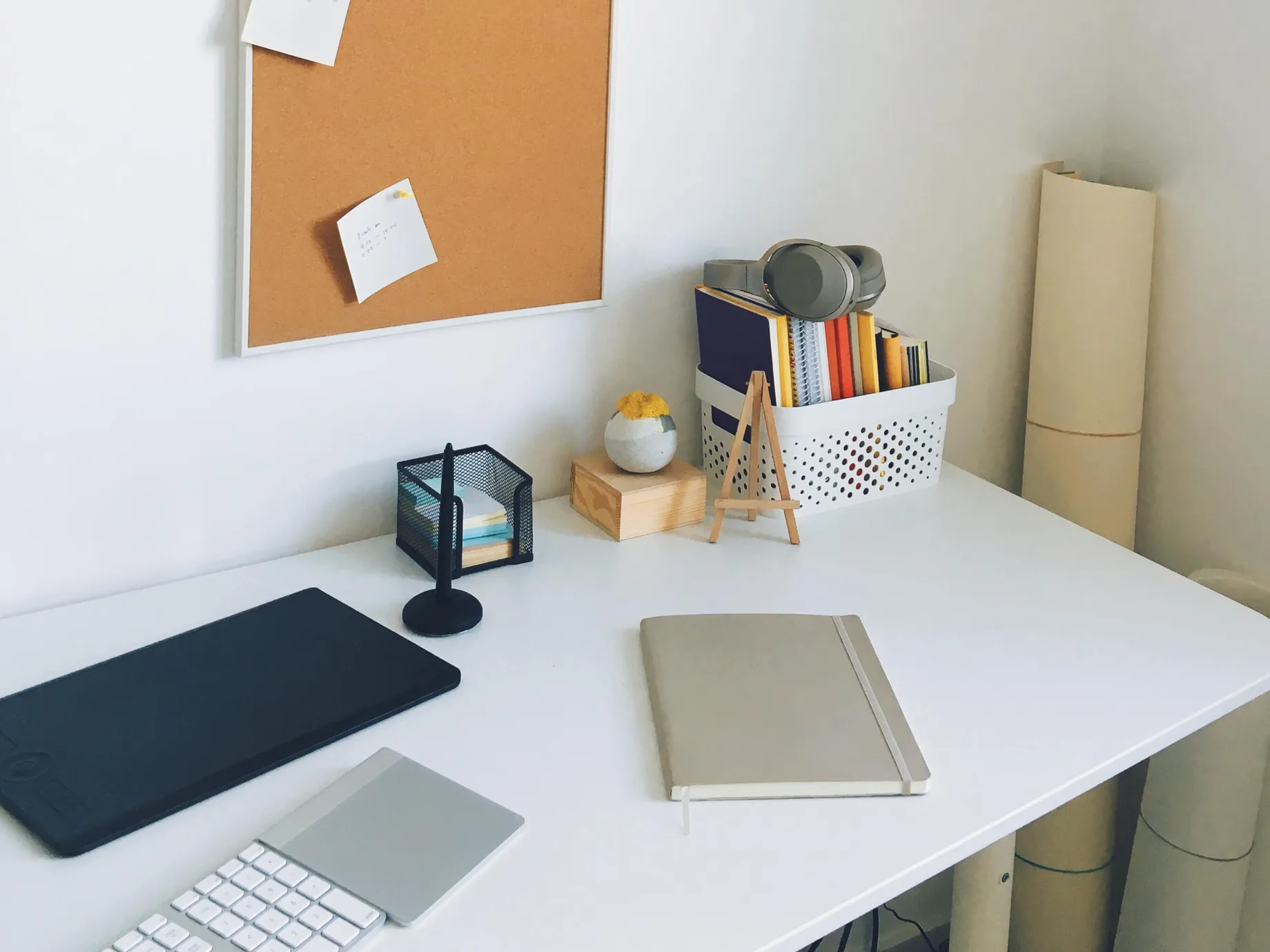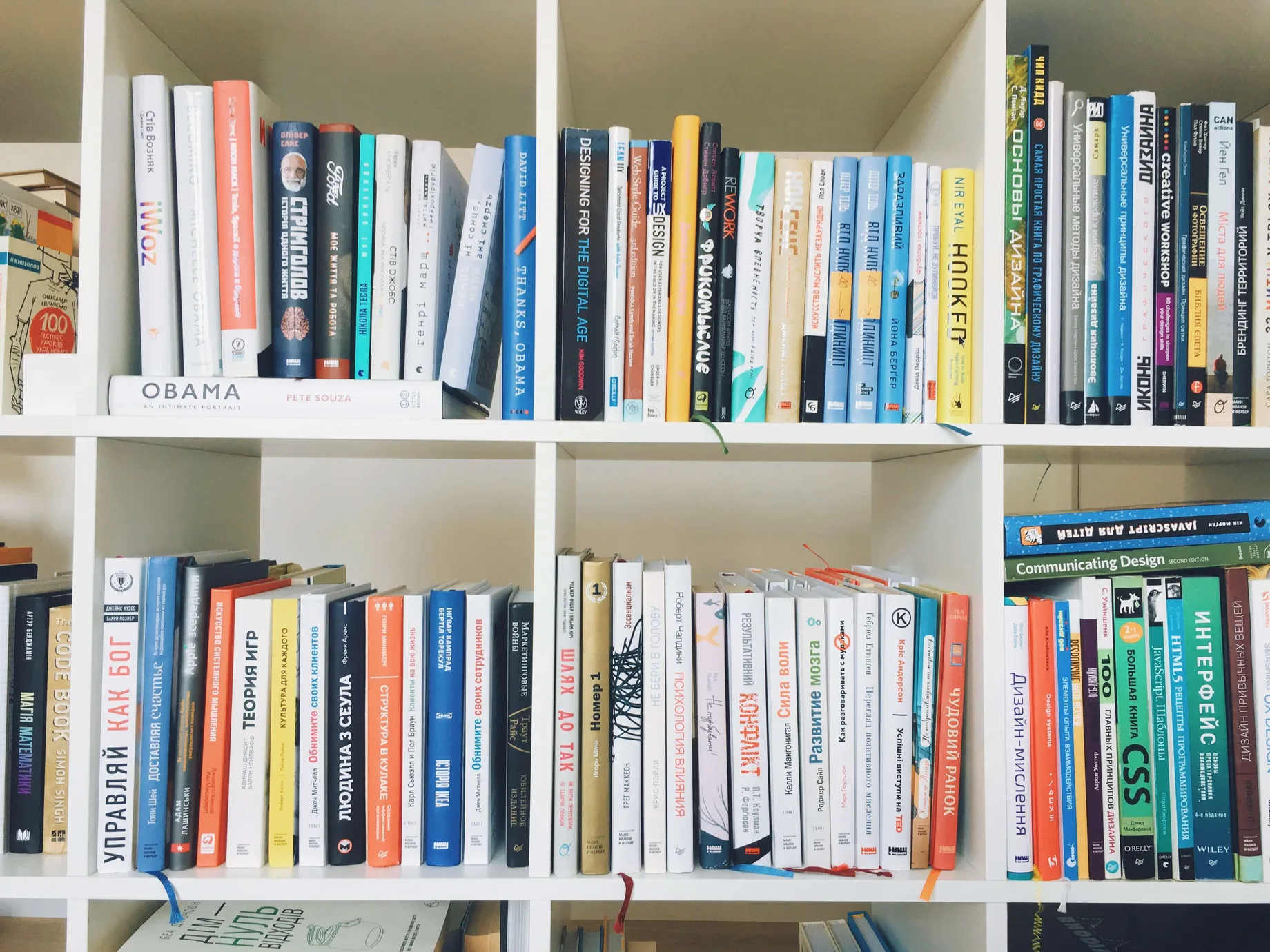 As a special mention, I should add the Chrome browser. Love lots of features and how continuously they improve their design. Syncing between all my devices is awesome, no need to worry about passwords and search history is available as well as currently open tabs. But the most you get from its dev tools and extensions. Currently, my fav is Momentum. It really helps in focusing on one task and boost productivity. Another one is Grammarly, a real saver for modern text communicative world ☺️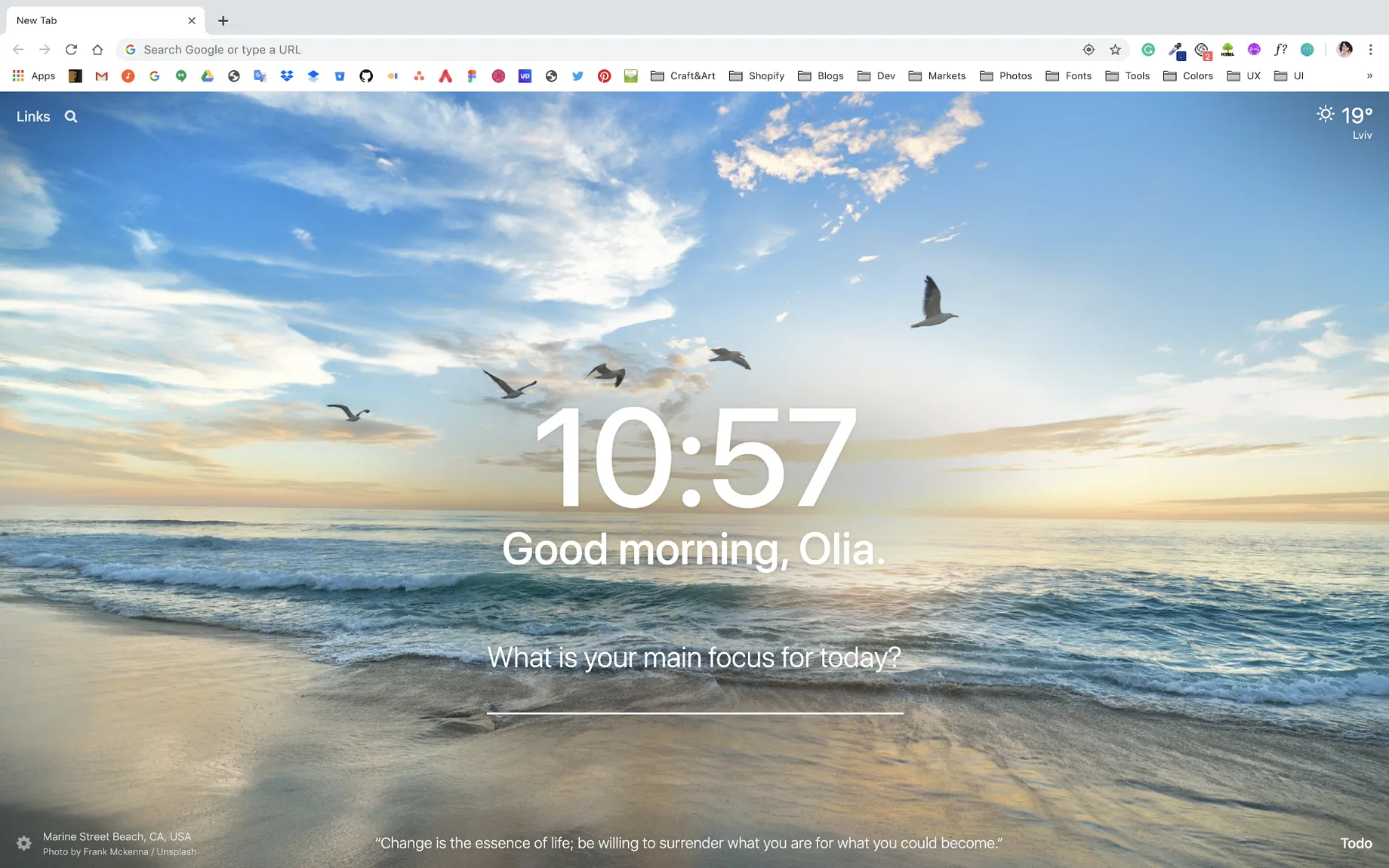 So, these days, I use Chrome (includes searching, learning, communicating, working), Visual Code Studio, Hyper, and Sketch as my essential tool kit.
Where do you go to get inspired?
I don't have a particular place or online resource to get inspired. Absolutely, anything can trigger insights inside my head and lead to the solution of the long-going problem. I guess it's because of being a good observer. Walking along the streets, visiting new places, reading a book or watching a movie, all of this can be a push for an "aha" moment.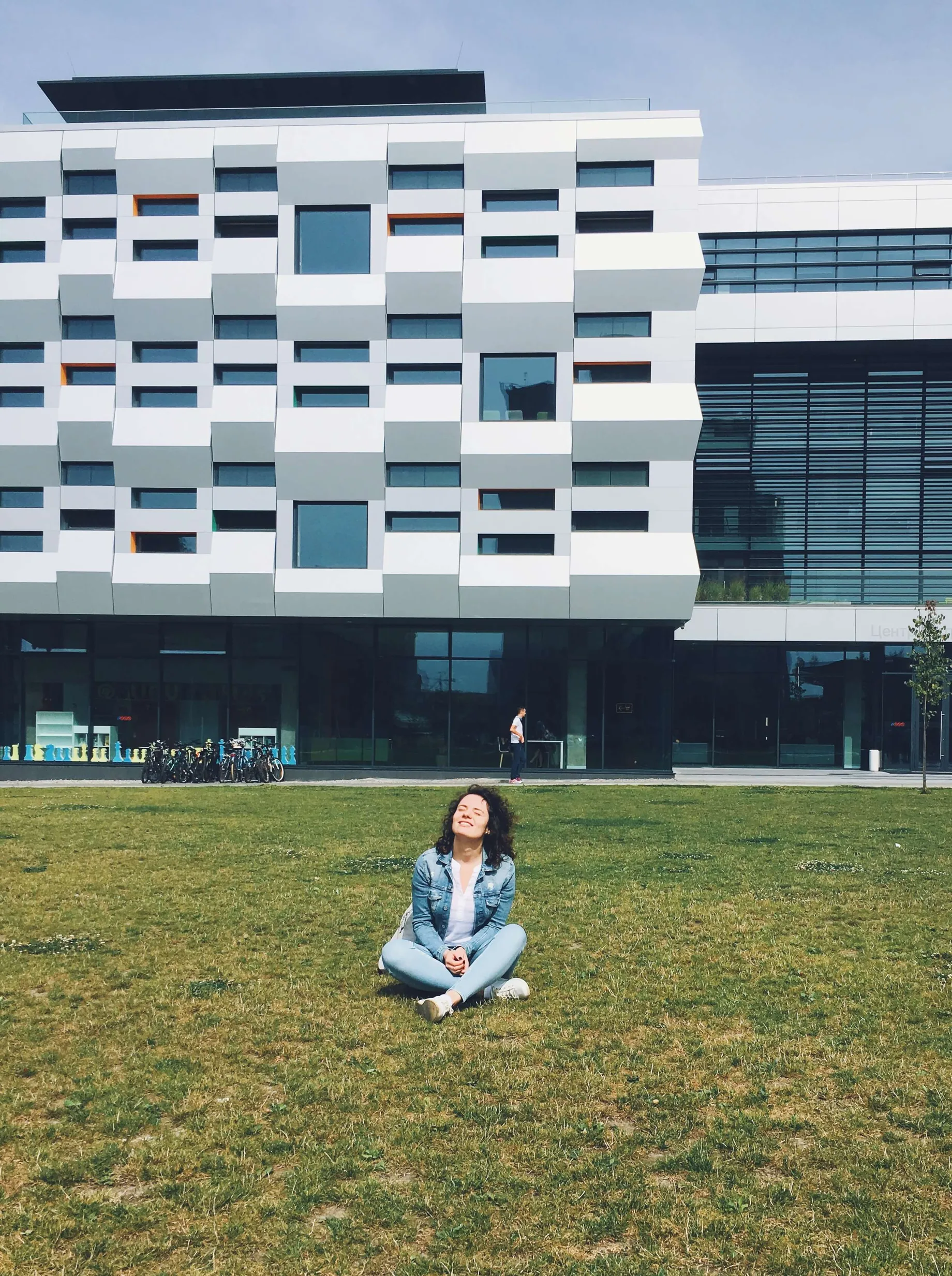 However, when I'm in the struggle and need a hint on visuals I deliberately go to Dribbble for color combos, illustration examples, etc. Also, I find lots of stuff on Instagram. I follow many illustrators, craft people, typography designers, interior designers and so on over there. Another online source is Unsplash with tons of so atmospheric photos, so when you need a good dose of good visuals this photo site is worth visiting.
However, I don't prefer to be stuck in the boundaries of the design craft. So I am interested in all other industries like psychology, economics, politics, tech, architecture, medicine, etc. I perceive design rather as a tool, not a field, so it could be applied to any of the industries listed above.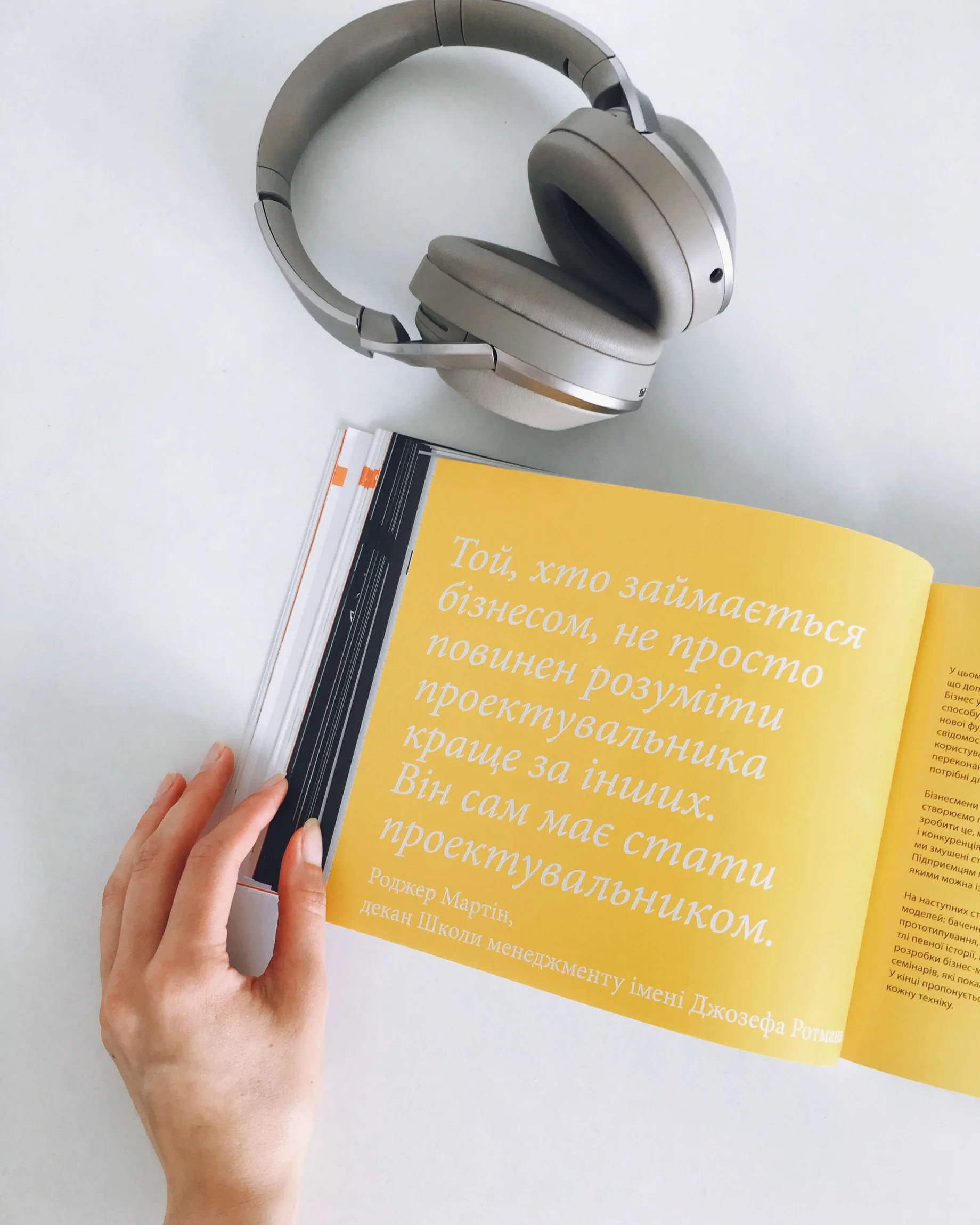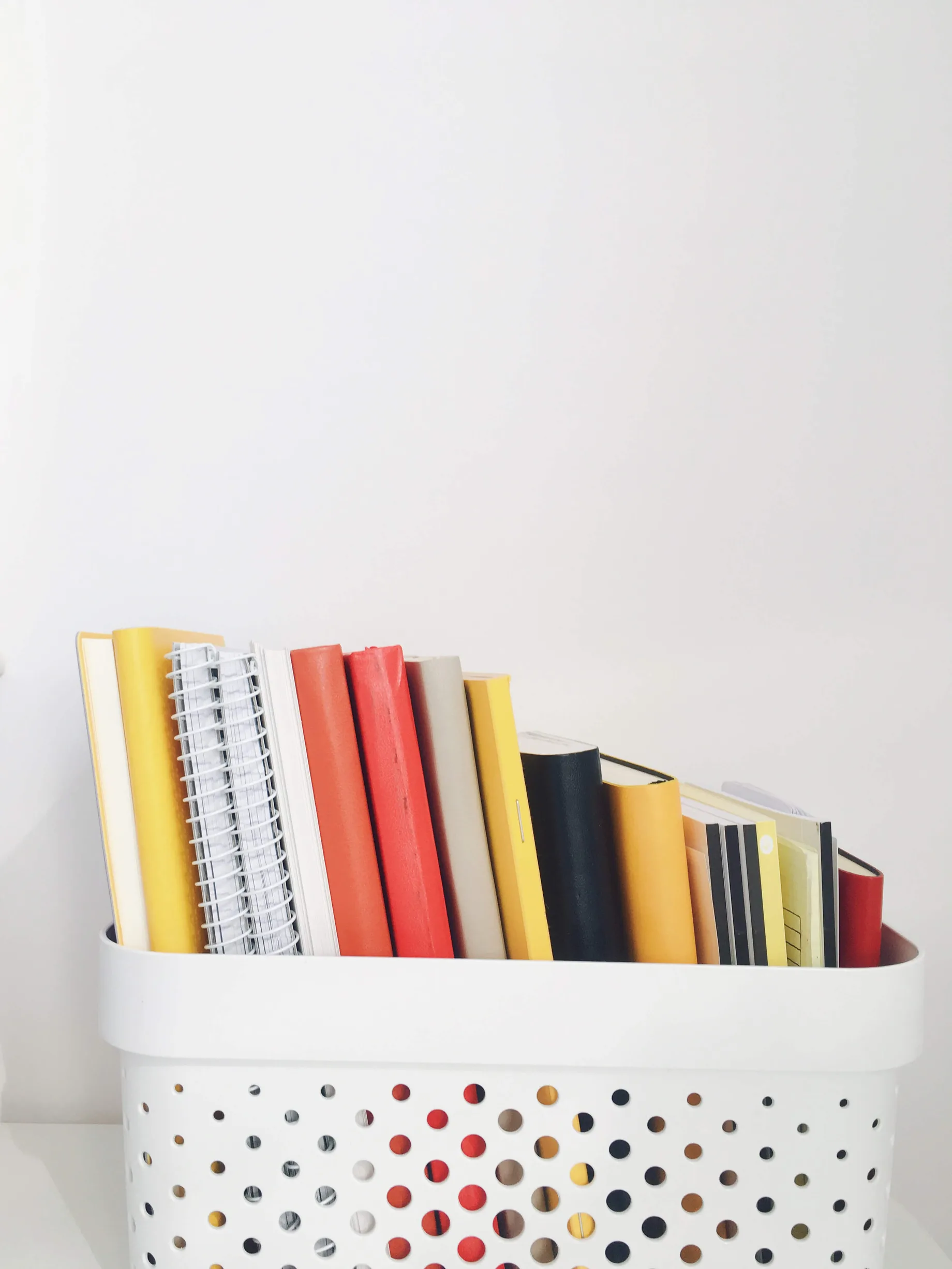 What product have you recently seen that made you think this is great design?
The most recent product that caught my eye has been Toggl. Not the product itself, I haven't signed up for it, but rather its landing page. It has lots of tiny details that provide clues or evokes this aww reaction. For example, have a look at the sign-up link in the top right corner or the animated clock in the bottom right corner. Both of them are tiny pieces that tell us that developers and designers care about the thing they are creating. For me, this is the best metric to measure good product — caring leads to thoughtful and consistent outcomes both in form and in function. I also can't avoid mentioning the delightful animations and illustrations. They really make the product presentation quite unique.
I am a real fan of delightful and joyful products. So the one that made me think, "Oh, this is awesome!" is Omceramic. Its pottery has so many positive vibes. Just look at the patterns and textures. For me, it's rethinking the kitchenware. It could be unique and special rather than typical and boring.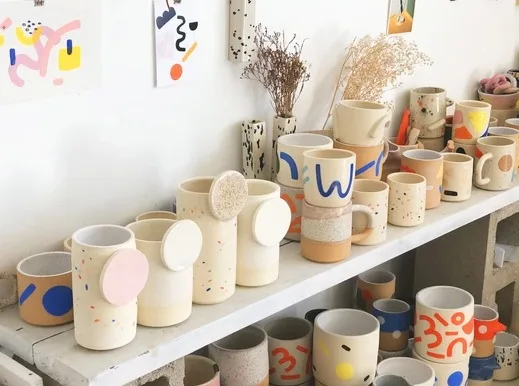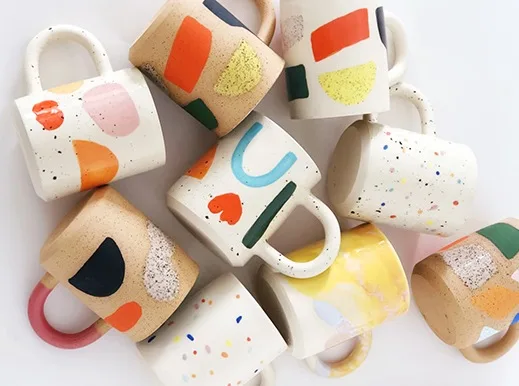 What pieces of work are you most proud of?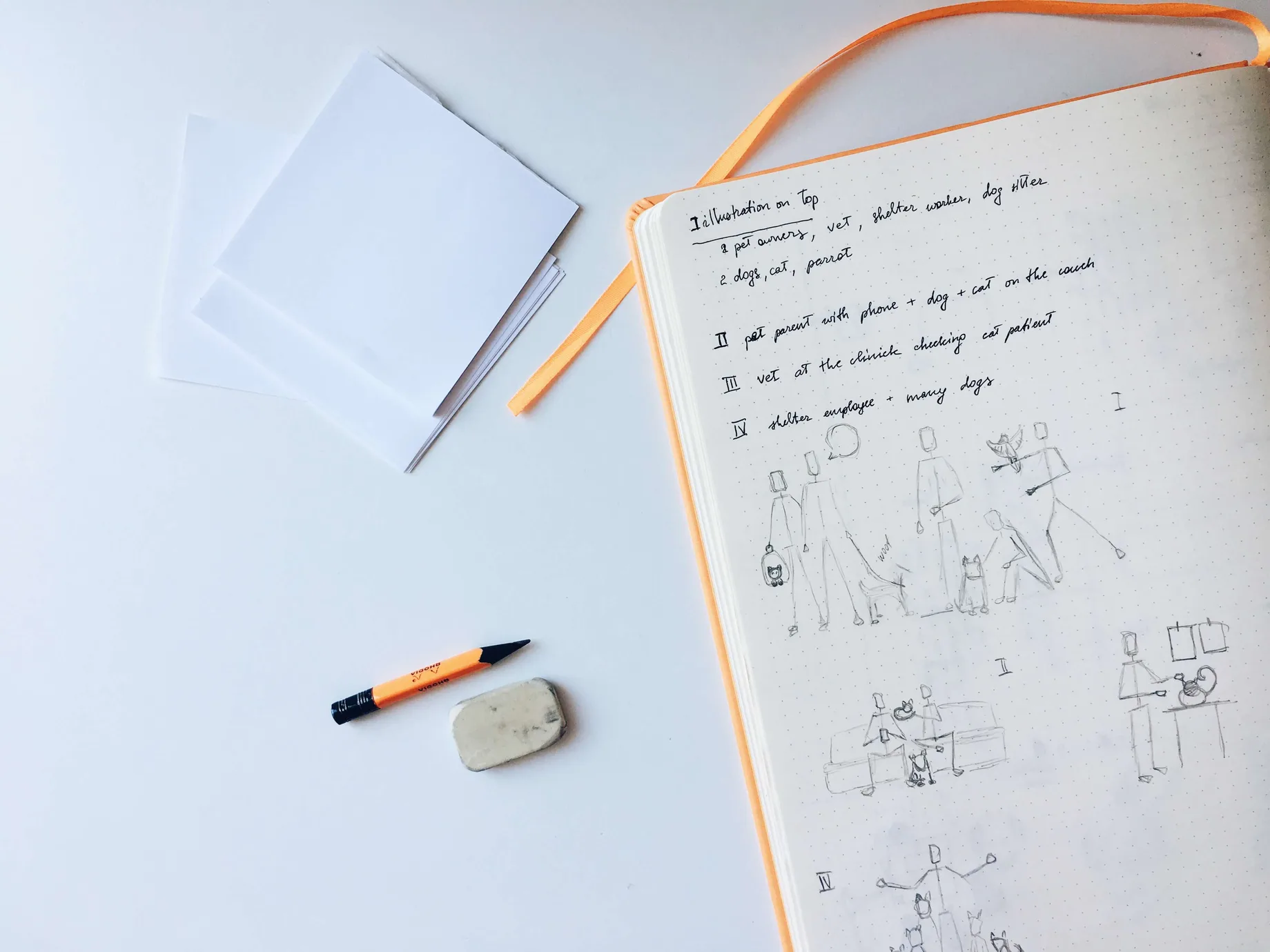 At first, I thought that the work I would be proud of is yet to come. But, giving it another thought I came up with a conclusion that every time I take on something that is out of my comfort zone, something that makes me struggle, brings me to the results I'm proud of because those efforts make me better.
So eventually this interview is something I'm proud of because talking about myself isn't something I'm good at or comfortable with. Also creating my own webpage by myself with the help of own knowledge of HTML/CSS which were new to me is also something I'm proud of.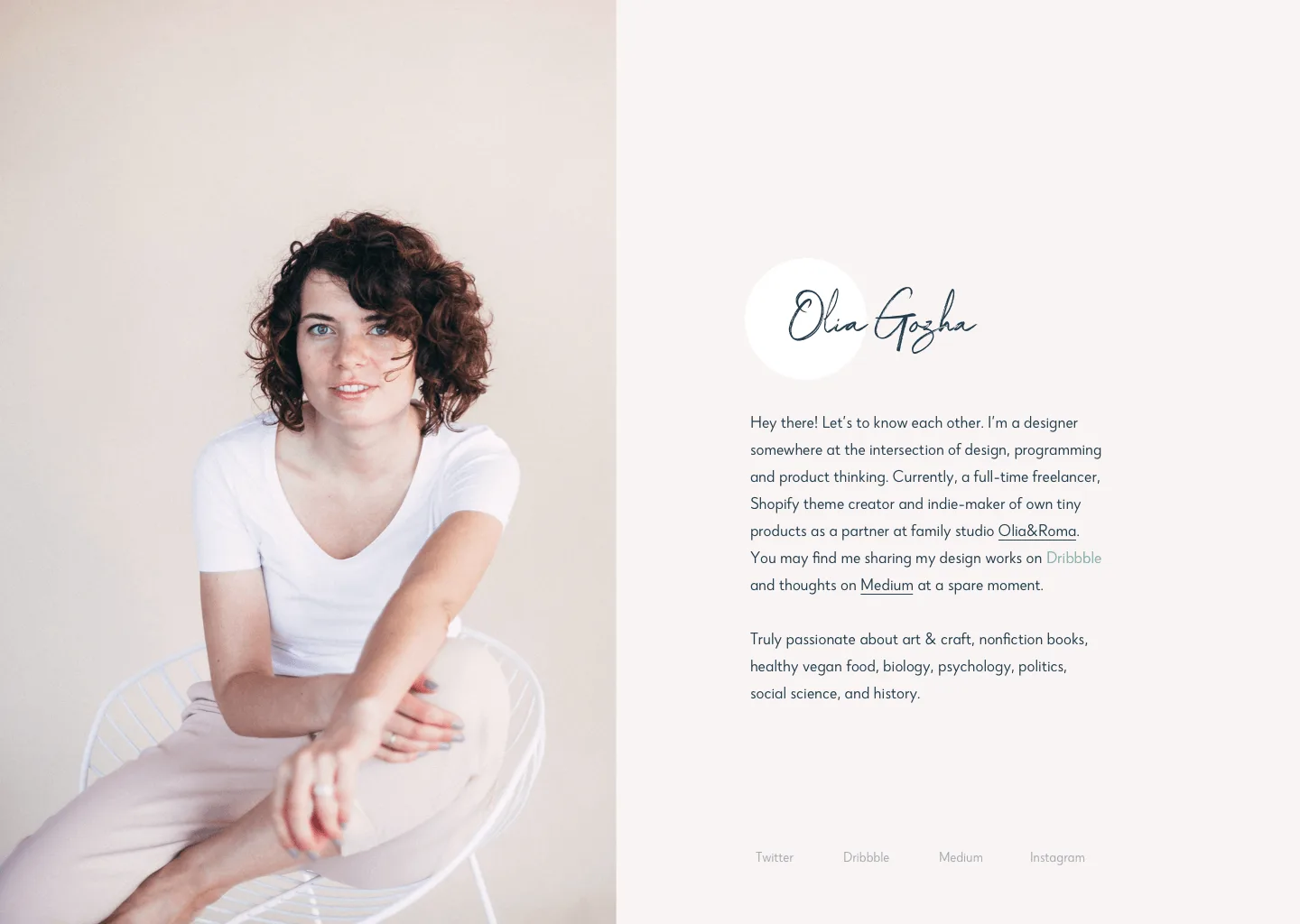 Shopify theme that we made in 2015 as a part of a small boutique studio. We learned so much back then about development, about marketing, and about the customers. I'm also proud of the Theme Builder which was created for this Shopify theme. It was something new and quite promising. I regret quitting that project though.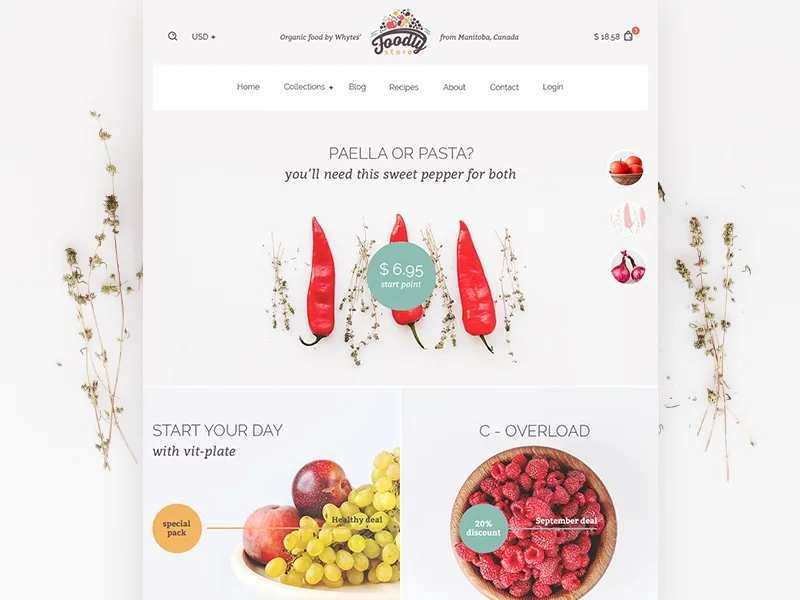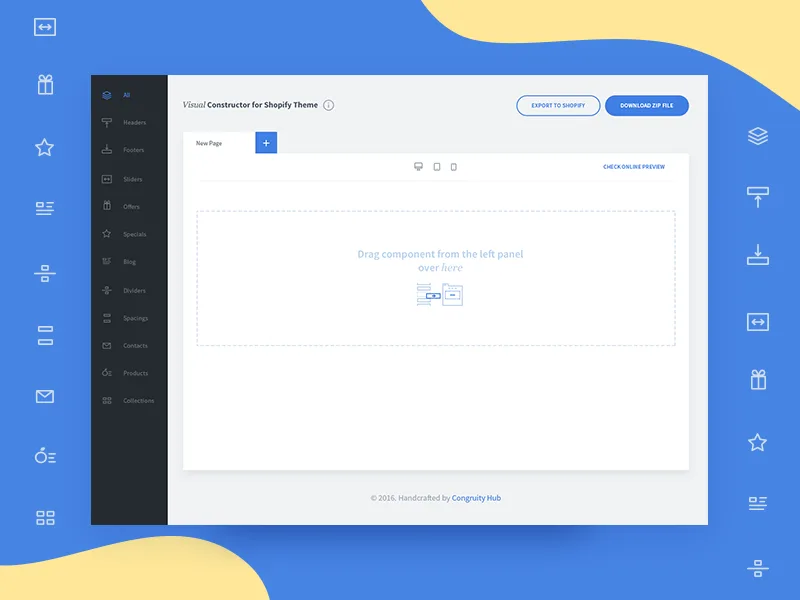 I'm proud of Gartenjournal, a blog for gardeners. It is my success in building long-term relationships with a client since our cooperation has started in 2016 and still viable. Since then I have made a redesign of its old version, redesign my old version to its old version 😀 and front-end development for the current redesign.
Speaking of which, I'm sincerely proud of the frontend-development I made this year. Completed four different projects — front site + dashboard for a pet community, blog about household renovations, startup front site and blog about gardening.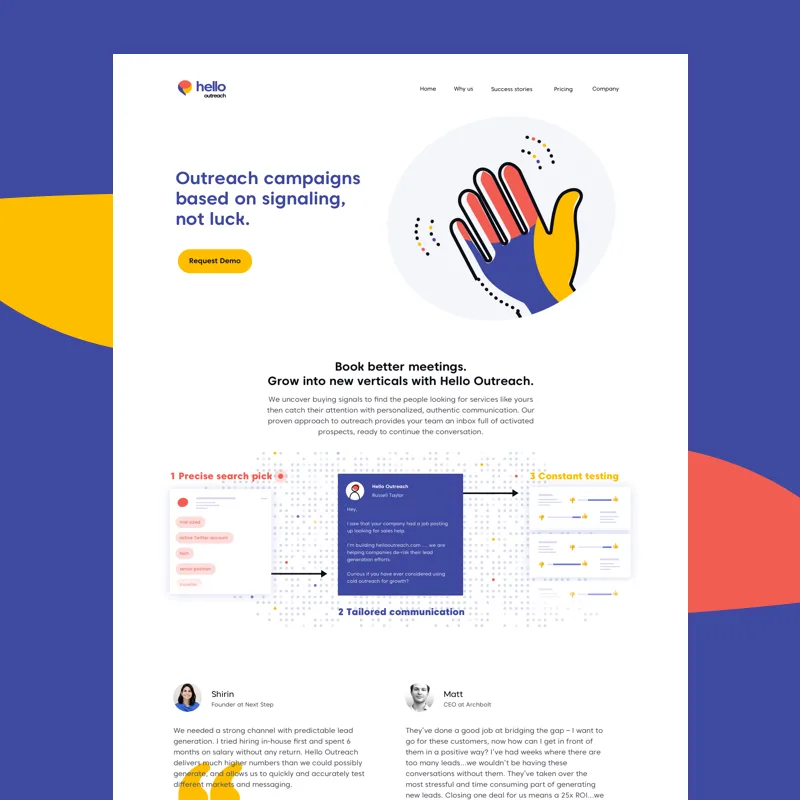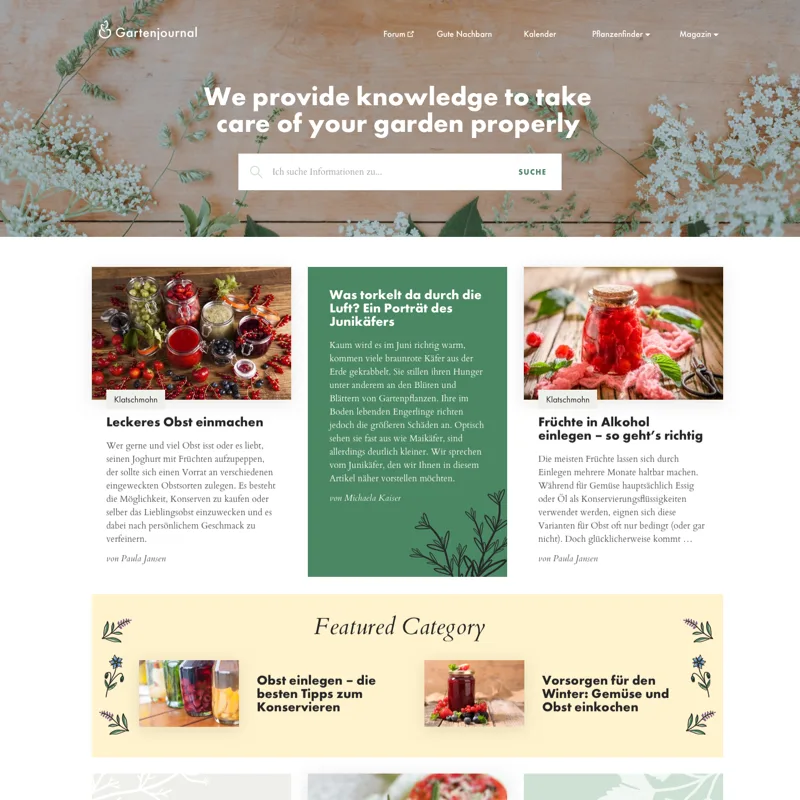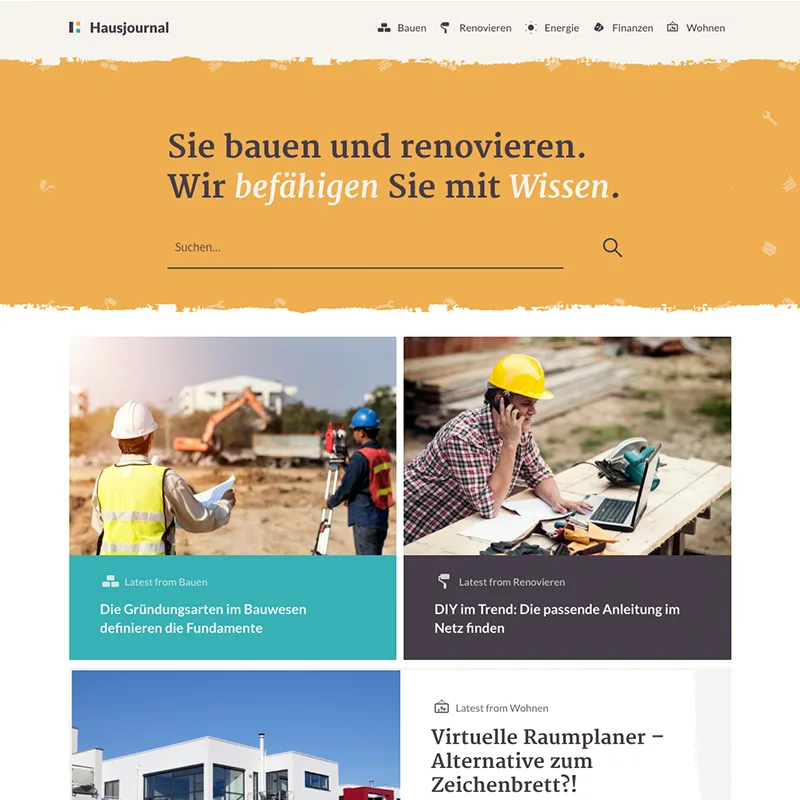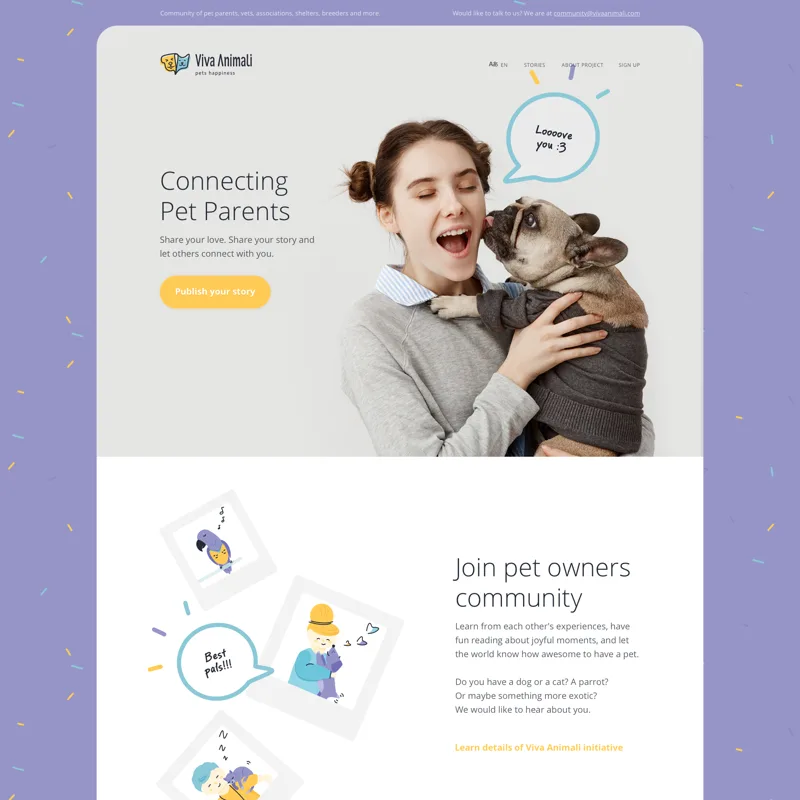 This is a really good question to reflect on the past journey. It helps me realize that things worth being proud of for me are those who lead to some sort of the end-product and closure. I never felt truly satisfied with my designs because I still thought of them as blueprints and honestly too abstract things. But everything has changed with me learning programming. I anticipate that plenty of products to be excited about and proud of are coming because they're gonna work. It's an incredible feeling when you make something really work, especially function as you intended it to.
What design challenges do you face at your company?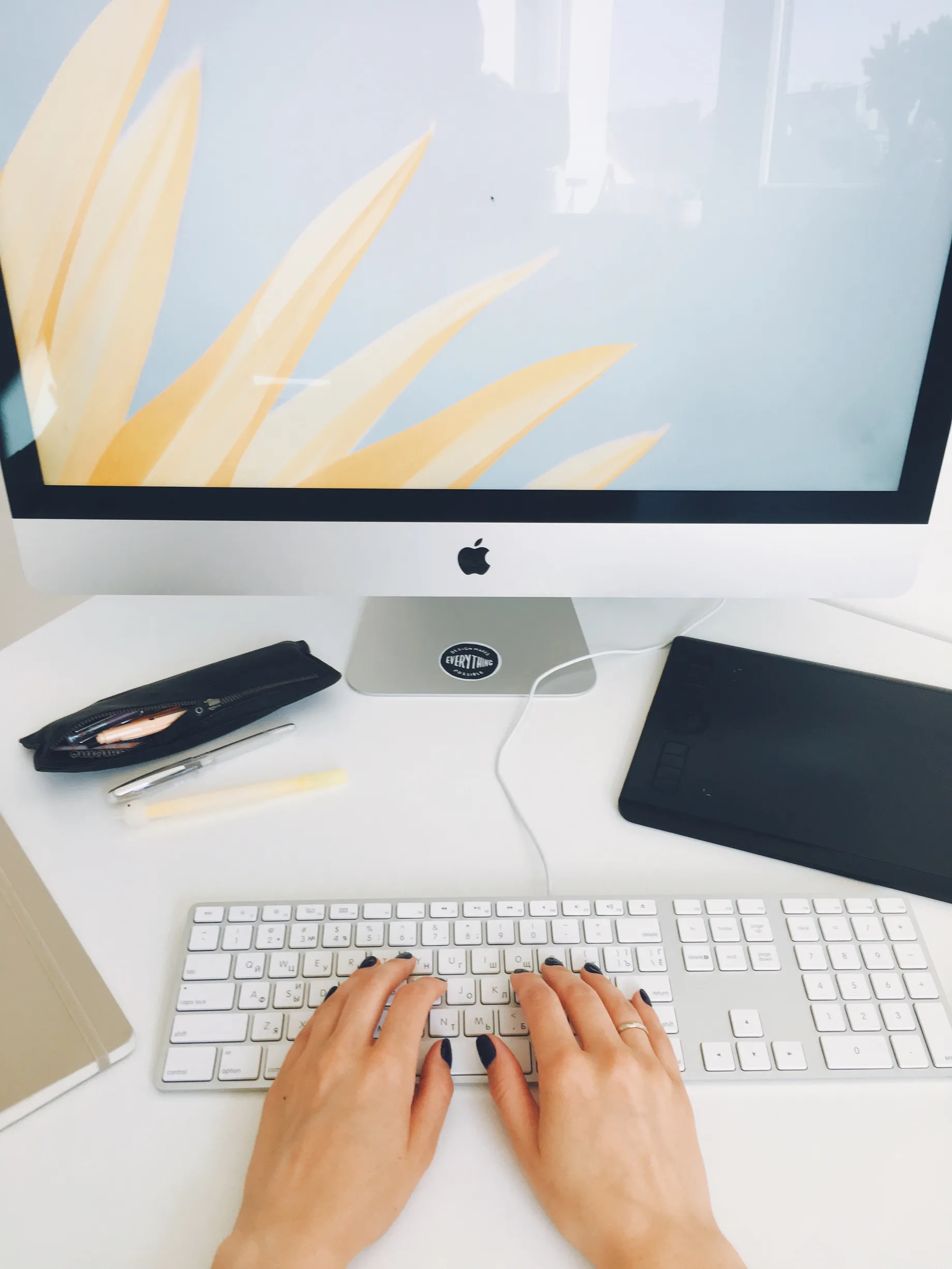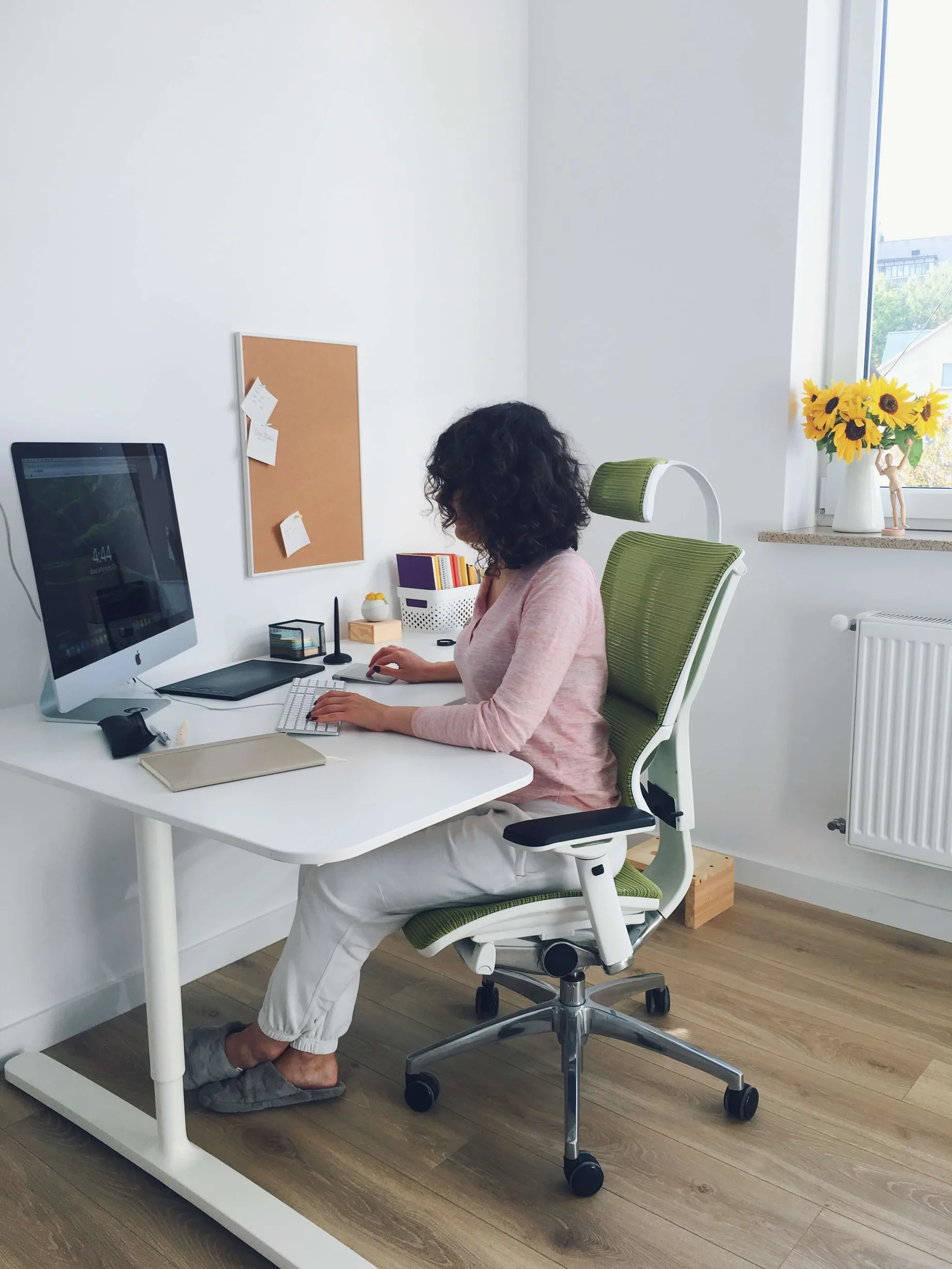 My current challenge is growth. I'm not sure if it is a design-related or rather business-related challenge but still, it occupies a lot of my brain activity. I'm pondering a lot about where to head off next, what leap my career should take in the near future. All this frustration is caused by the possibilities available out there and me wanting to create tons of stuff 😁.
For example, create themes would be great there is room for special editorial creativity because working on a theme one needs to consider content and imagery. I love product photography, btw. So here's my temptation for this one. On the other hand, making own products is super exciting. I have ideas for a few niche digital services and I really want to make them see life.
You see? The struggle is real here 😄
But time is limited, resources are limited. I need to set priorities to move on with my life adventure rather than be stuck on the current spot.
What music do you listen to whilst designing?
Any advice for ambitious designers?
Keep going. No matter what happens, get up and make your next move. When one is ambitious, the long path awaits ahead. This road is not all candy-sugar. It's gonna be filled with up-and-downs along the way. So my advice — if you aim for big goals, every time when there is an obstacle or struggle don't give up, make a move. Even if it's a tiny one, it still counts as move forward. And you will be there one day. If you want to be a great illustrator — practice a lot, practice your skills every day, experiment with tools and techniques. If you want to be a great product designer — learn psychology, learn how businesses work, etc. and apply that knowledge to your projects. More meaningful efforts you make more significant the result will be.
Anything you want to promote or plug?
Say hello on Twitter or Instagram, and feel free to reach out with any questions and if you're interested in becoming a freelancer. I'll be more than happy to provide you with any advice to smoothen the transition from employment to independence. Meanwhile, check out my article reflecting on my freelance journey "How 7 years of being a freelance designer shaped my life"
If any of you are interested in expanding your tool kit with some cool programming pa's, I'd recommend you a wonderful resource to learn code — App Brewery with Angela Yu. There are great video courses and the tutor is a nice human being who inspires you to learn and be positive about what you are doing.
See ya!