What led you into design?
I have always been a creative kid for as long as I can remember. I grew up in a small village in the Netherlands where creativity was far to be found. The few people around who inspired me were my uncle and brother who used to draw a lot, especially cartoon characters. I liked this so much that I also started drawing at a young age.
In high school, my textbooks were full of drawings of random things. For me, this was much more fun than most of the classes I took. I knew exactly what I wanted at a young age so the choice of my next education was quite easy.
I started at a design school in Rotterdam. This was also the first year that this study was available in the Netherlands. It gave me a solid base to start with, but I learned most things in my free time. I spent countless hours trying to get better and loved discovering new things. I looked at other great designers and started designing my first websites in Photoshop.
My passion for visual design was born. Now after many years, I work for awesome clients and enjoy having my own business.
What does a typical day look like?
I usually get up at around 8 o'clock in the morning. My typical routine starts with a good cup of coffee and a healthy breakfast. I exercise, read my email or listen to some podcasts to get ready for the day.
As a freelancer, my day actually always looks different. It very much depends on the projects that are going on at the time. I try to do most of my creative work in the morning because that's when I still have enough focus. My daily meetings are often spread throughout the day since I don't like being in meetings all the time.
In the evening I try to relax as much as possible. Have a nice dinner, take a walk outside or watch a good movie. Sometimes a good idea comes to mind so then I grab my laptop or sketchbook and write this down for the next morning.
What's your workstation setup?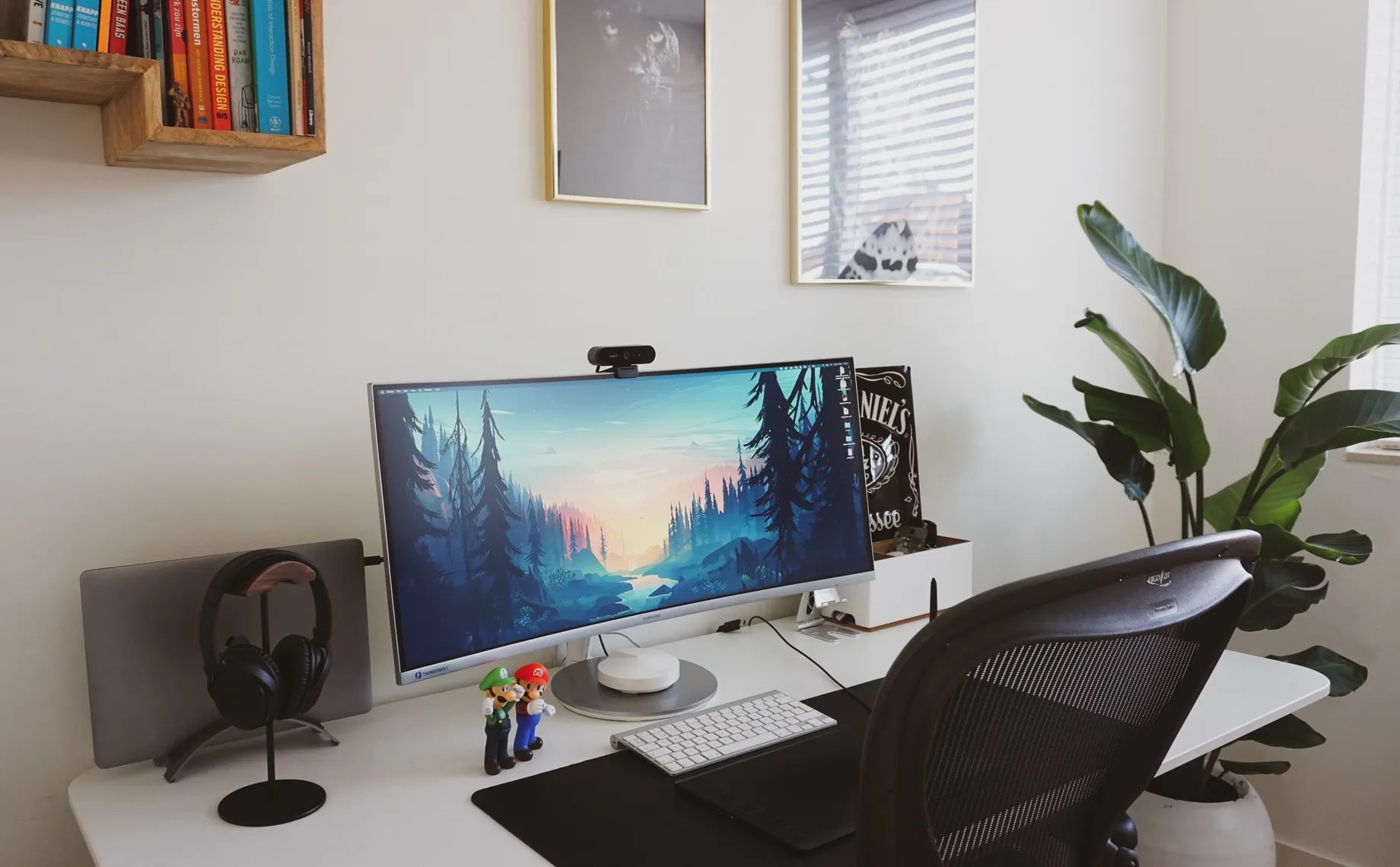 Where do you go to get inspired?
Maybe some people will recognize it, but I always wear some kind of designer glasses. This gives me a lot of inspiration but is also quite exhausting at times. I get most of my inspiration from things like a walk with my girlfriend, a workout, or just doing something different outside of work. Websites like Behance, Creative Market, or Dribbble also work great. Searching for inspiring typography, branding, or web design usually gives me a lot of creativity for any new idea or project.
What product have you recently seen that made you think this is great design?
I really like the electric bikes from Cowboy. The design and aesthetics are beautiful, and so is the website. I love how they use 3D as part of their website. Maybe it's also because my interest in 3D has grown a lot lately. I recently started a design course learning Cinema 4D myself to expand my services and interest.
What pieces of work are you most proud of?
I am proud of several projects, but if I had to name one I would say, Philips Hue. I designed many concepts for both the global website and the app that is used by millions of people. That feels very special!
What design challenges do you face at your company?
Finding balance. I am someone who quickly says yes and is eager to help people with my expertise. This is not always possible if you want to deliver quality. I've certainly learned from this and now found the perfect balance. For me, pleasure and energy are much more important than high work pressure.
What music do you listen to whilst designing?
Any advice for ambitious designers?
Practice, practice, practice. Also, watch and learn from other designers who inspire you. It is not bad to copy things and use this to become better yourself. Try to recreate what you see and experiment as much as possible. Everything has already been done, the trick is to do it better.
Anything you want to promote or plug?
Just me:) You can follow me on LinkedIn, Dribbble, and Behance. If you want to collaborate you can always send me an email.