What led you into design?
I spent most of my childhood in a small town in West Bengal, India. Since school days, I was into a lot of things like sports, sketching, DIY stuff, etc. I loved tinkering & building things. When in high school, I got into programming & I managed to convince my parents to buy me a desktop computer. Back then, I got fascinated with skins & themes and managed to build some of my own custom ones.
Things started changing when I chose to pursue a major in Physics for my graduation, in 2012. I had a little bit of experience in design tools, and this made me work on some college event posters/banners. I discovered Behance and explored the segment of Graphic Design (logos & packaging designs mostly). I decided to put some of my practice works online and luckily it attracted some freelance clients. In 2014, I explored computational programming & iOT stuff like Arduino, Raspberry Pi. Exploring these realms brought me into the world of design, as a means to solve problems for users, and also as a career option.
My interest in design grew and I decided to drop out of college and deep-dive into the world of Product Design. For almost a year, I was at home, exploring the world of design, doing a lot of freelance and self-initiated projects for my portfolio. This phase gave me all the understanding & confidence needed to become a designer. I realised how my skills/knowledge can help shape things around us in a better way. In 2016, I decided to join Headout, where I worked as a Product Designer for a year before joining my current company, Flipkart.
What does a typical day look like?
I am not a morning person. I usually sleep late and wake up around 9:00 - 10:00 am. Sometimes, I manage to find myself some time to exercise. I surf the web a bit while having my breakfast. Around 12:30 - 1:00 pm, I reach the office where most of my time is spent in meetings. I maintain a daily to-do list and organise my calendar accordingly to complete tasks for the day. A significant time in office is spent brainstorming with fellow designers, which helps in the design process & culture.
After office hours, around 7:30 pm, I usually go to play football or table tennis. Post that, I have my dinner and devote time on myself. I read books, work on some self-initiated projects, or maybe even sketch sometimes. Weekends are spent hanging out with friends, movies, updating my social media profiles, etc. Currently, I am trying my best to go to bed early and gain some more time early in the day.
What's your workstation setup?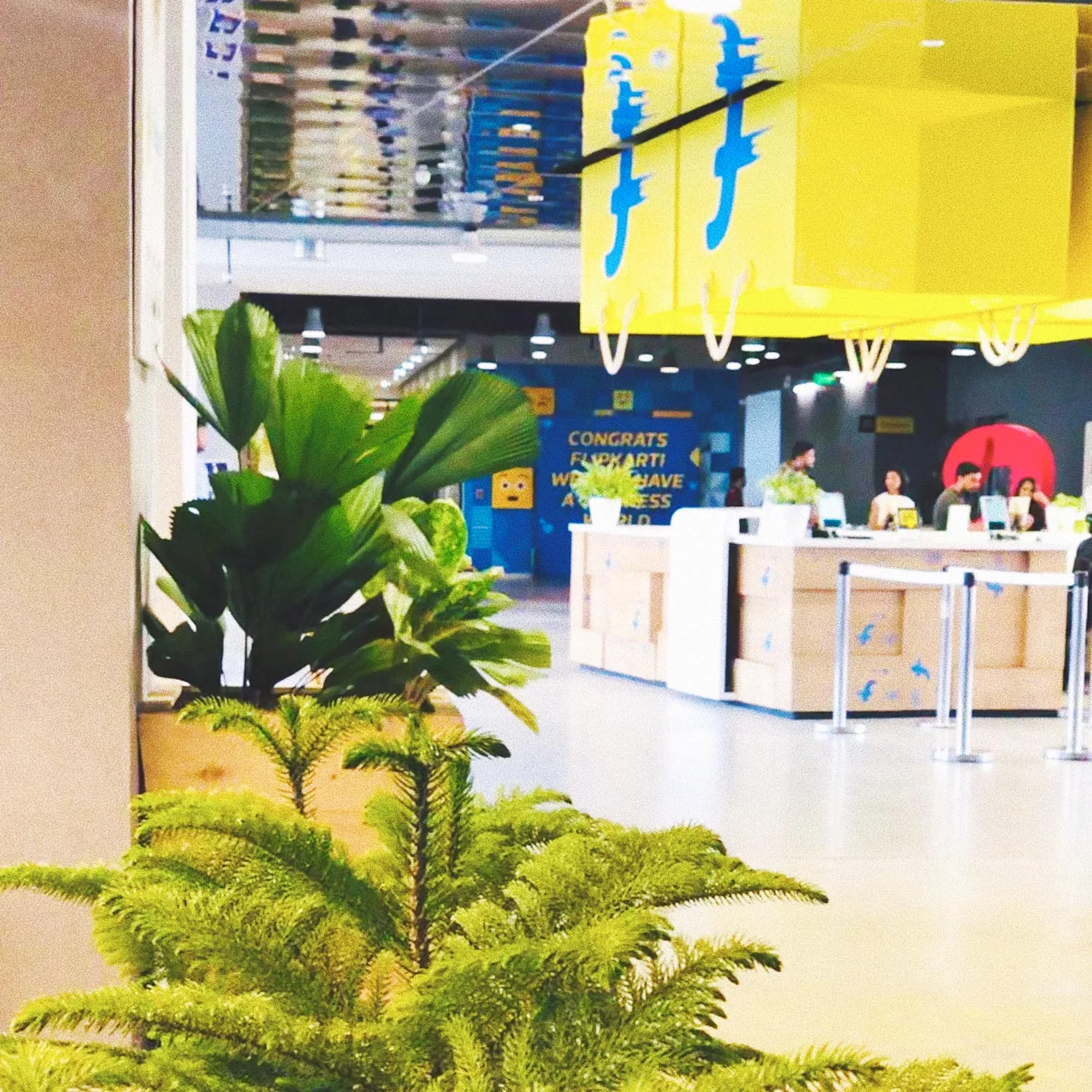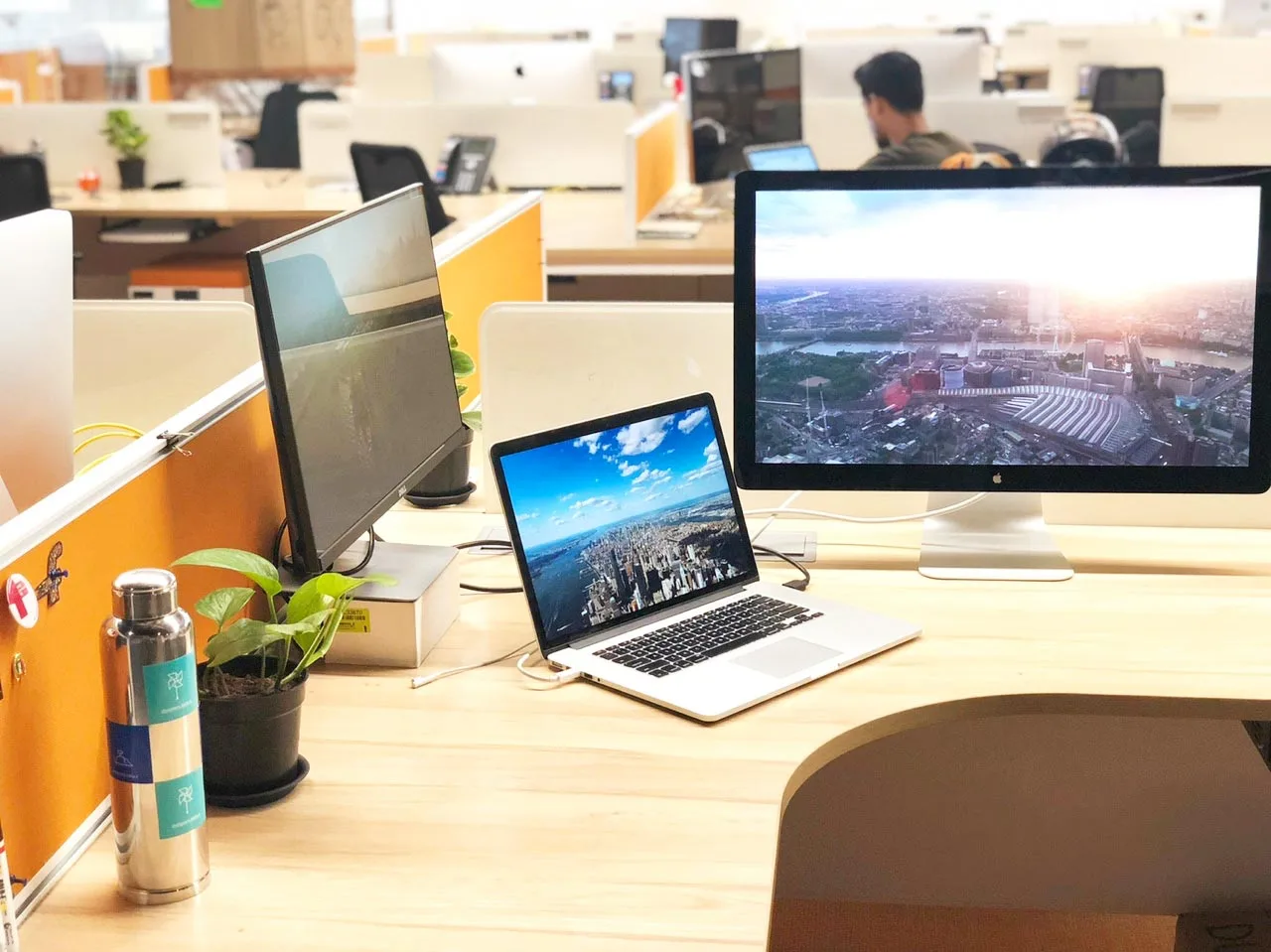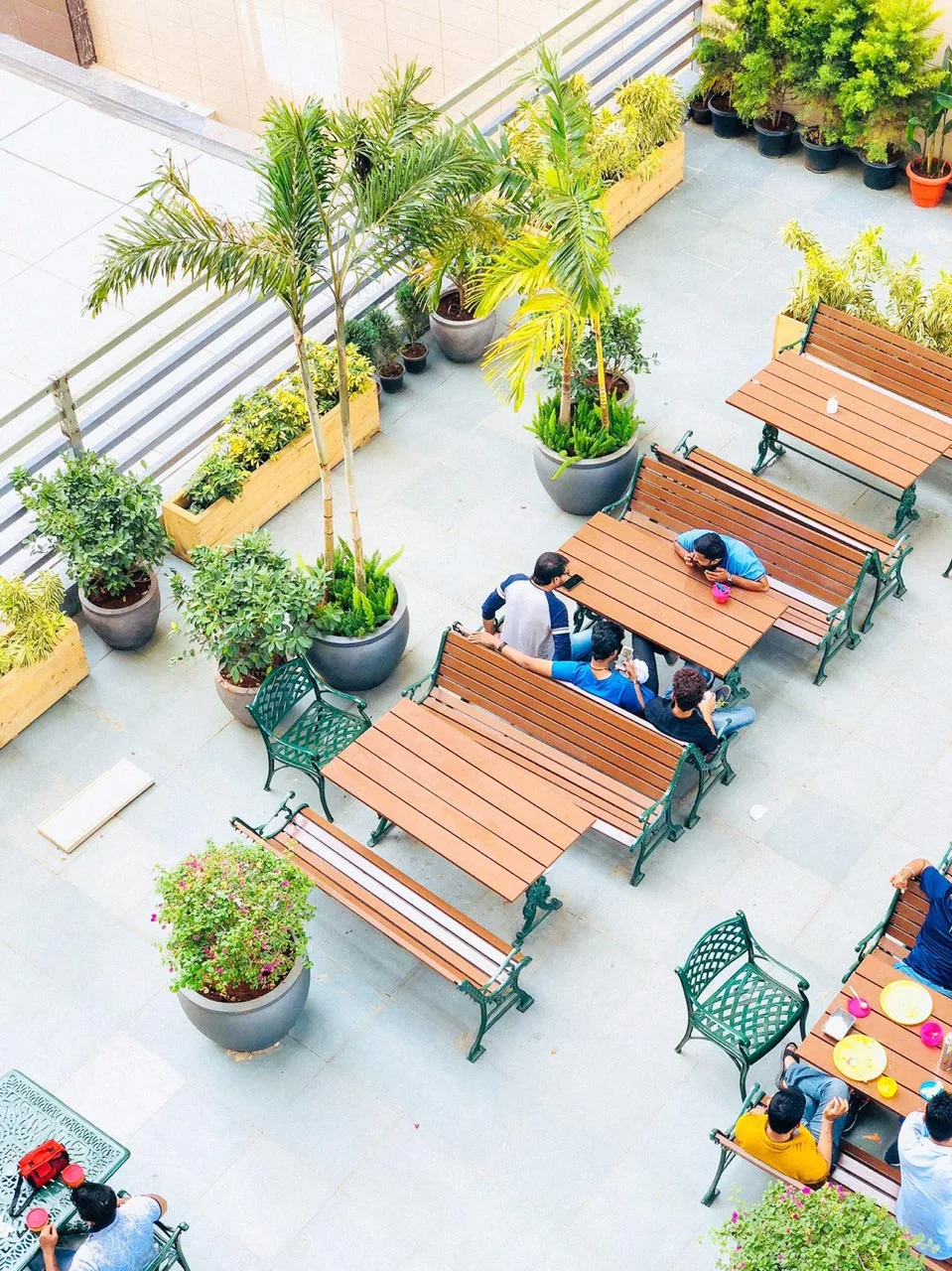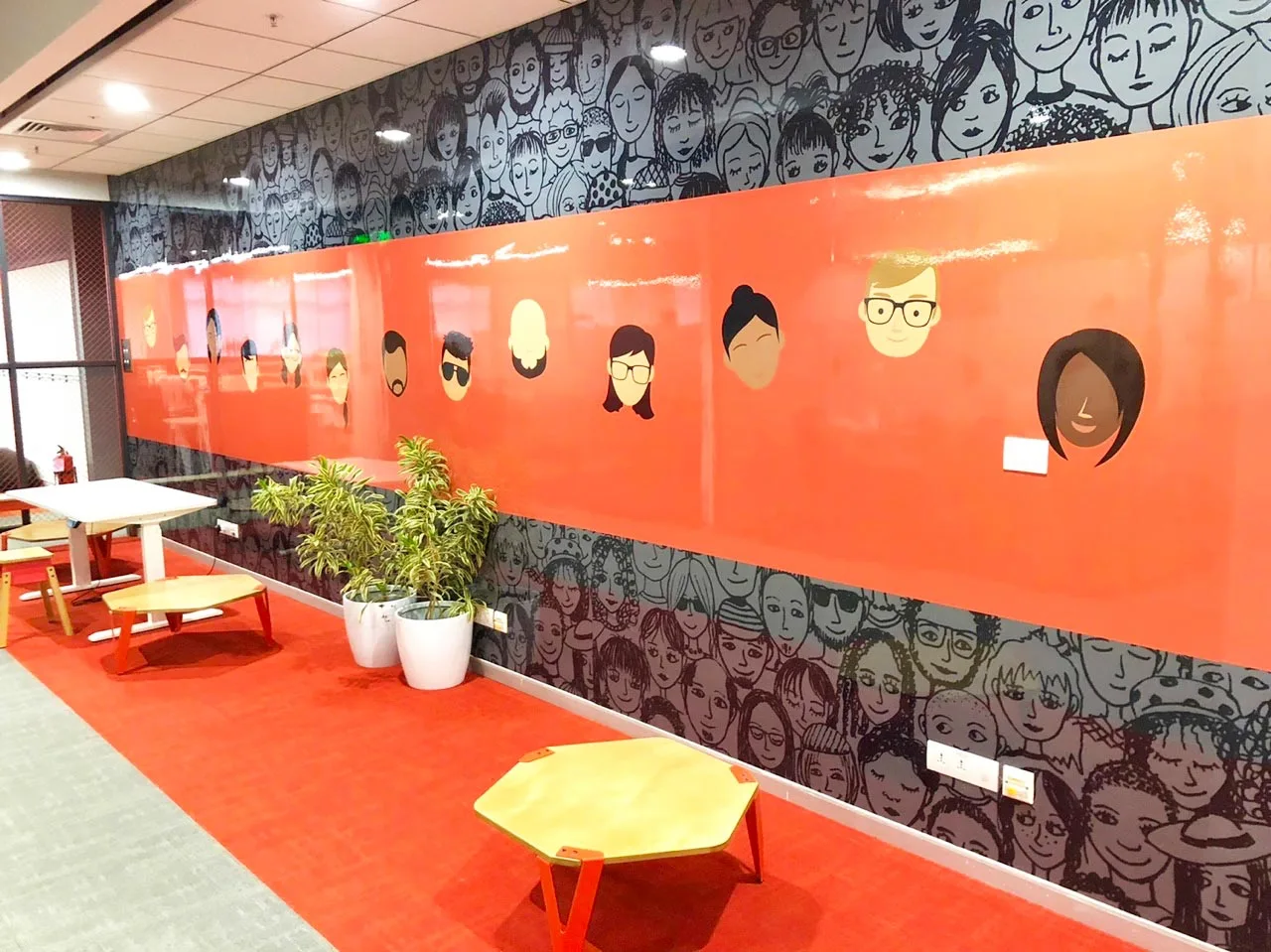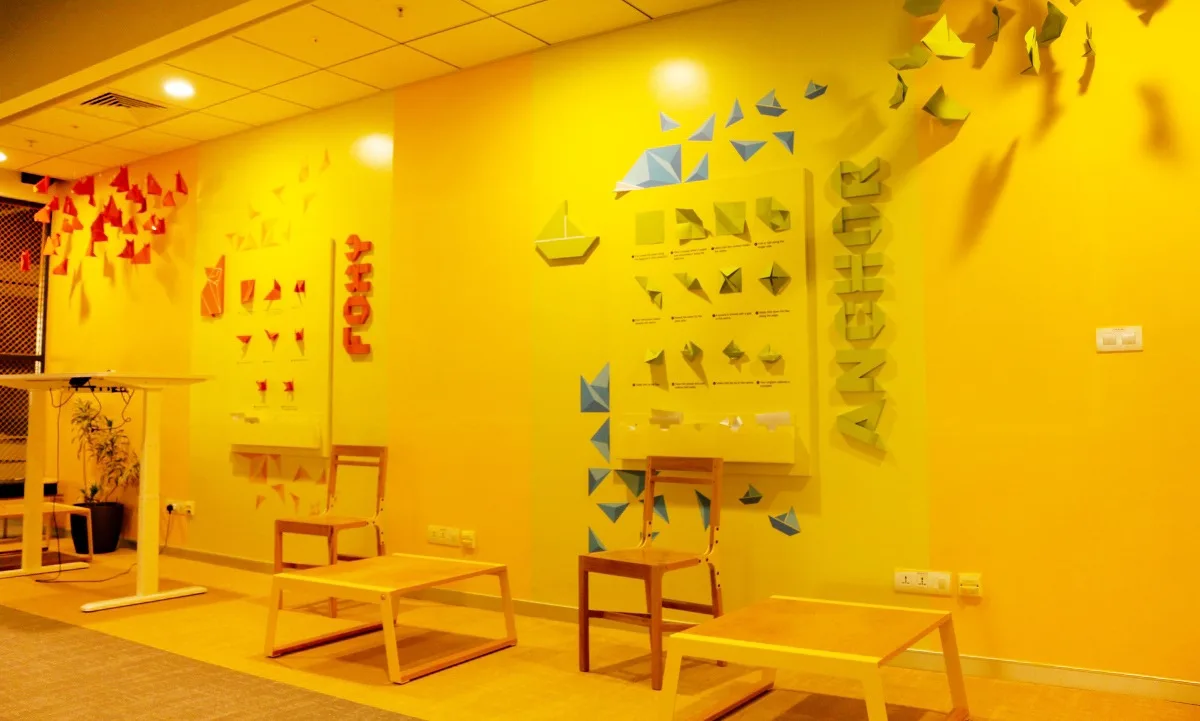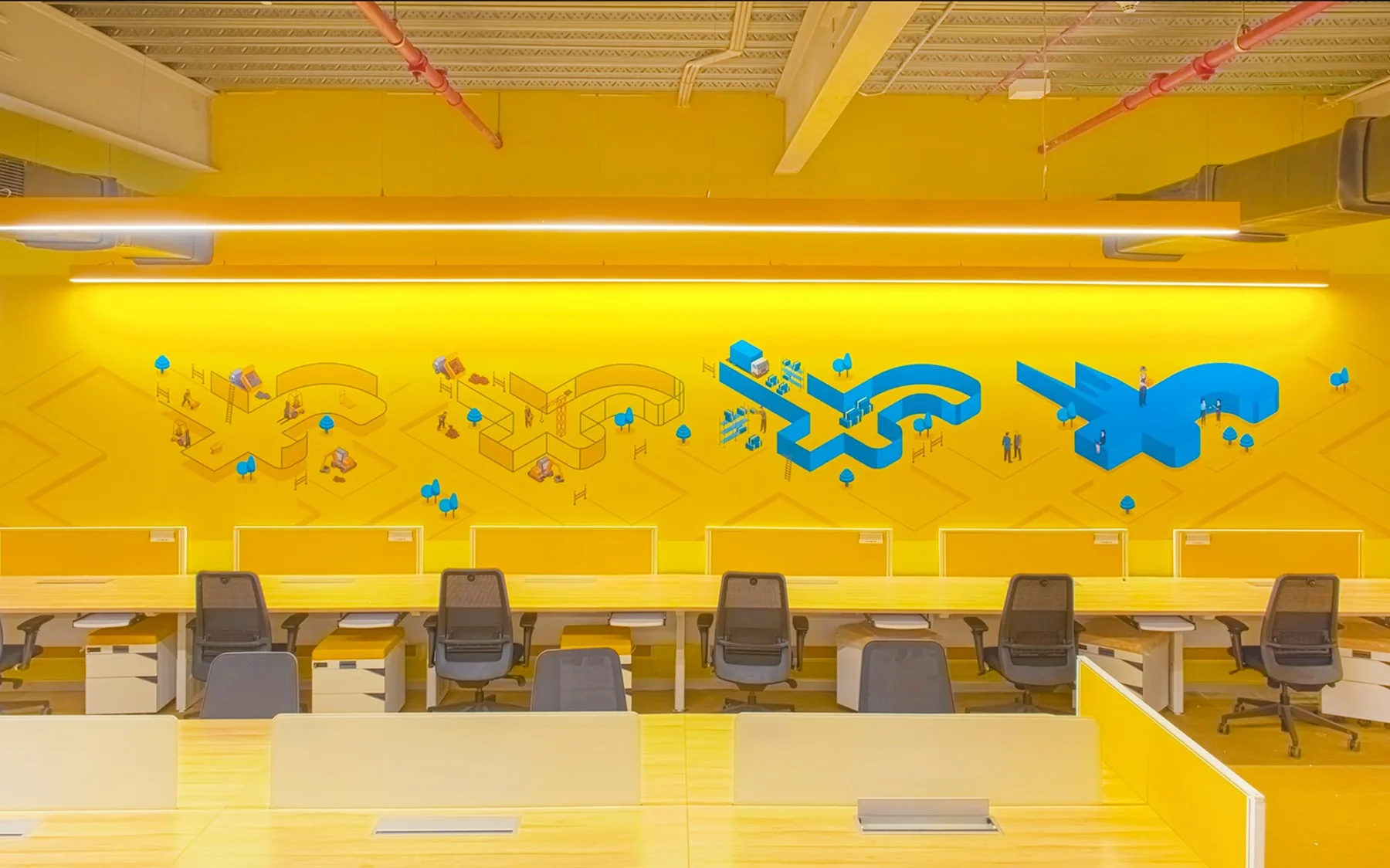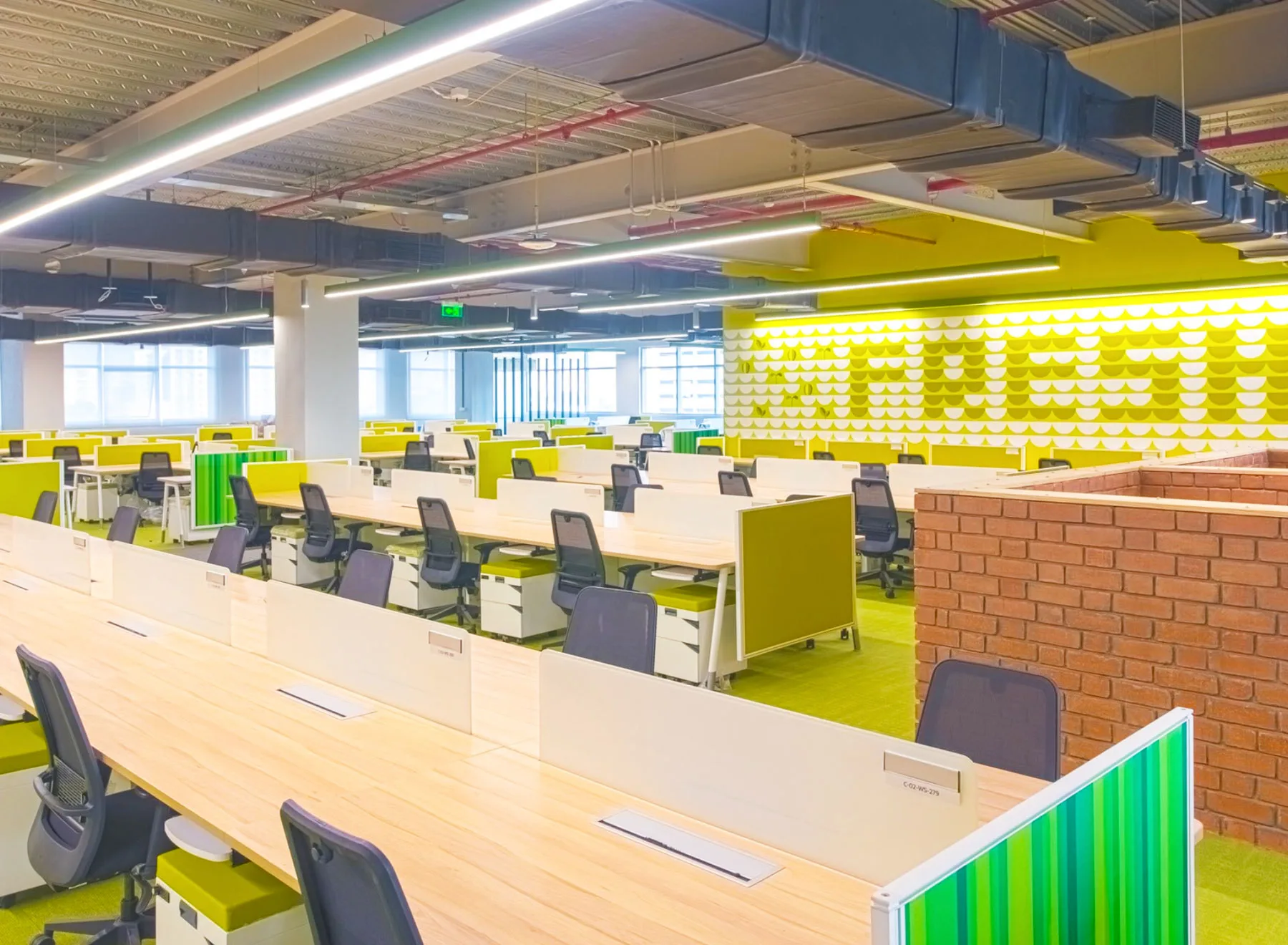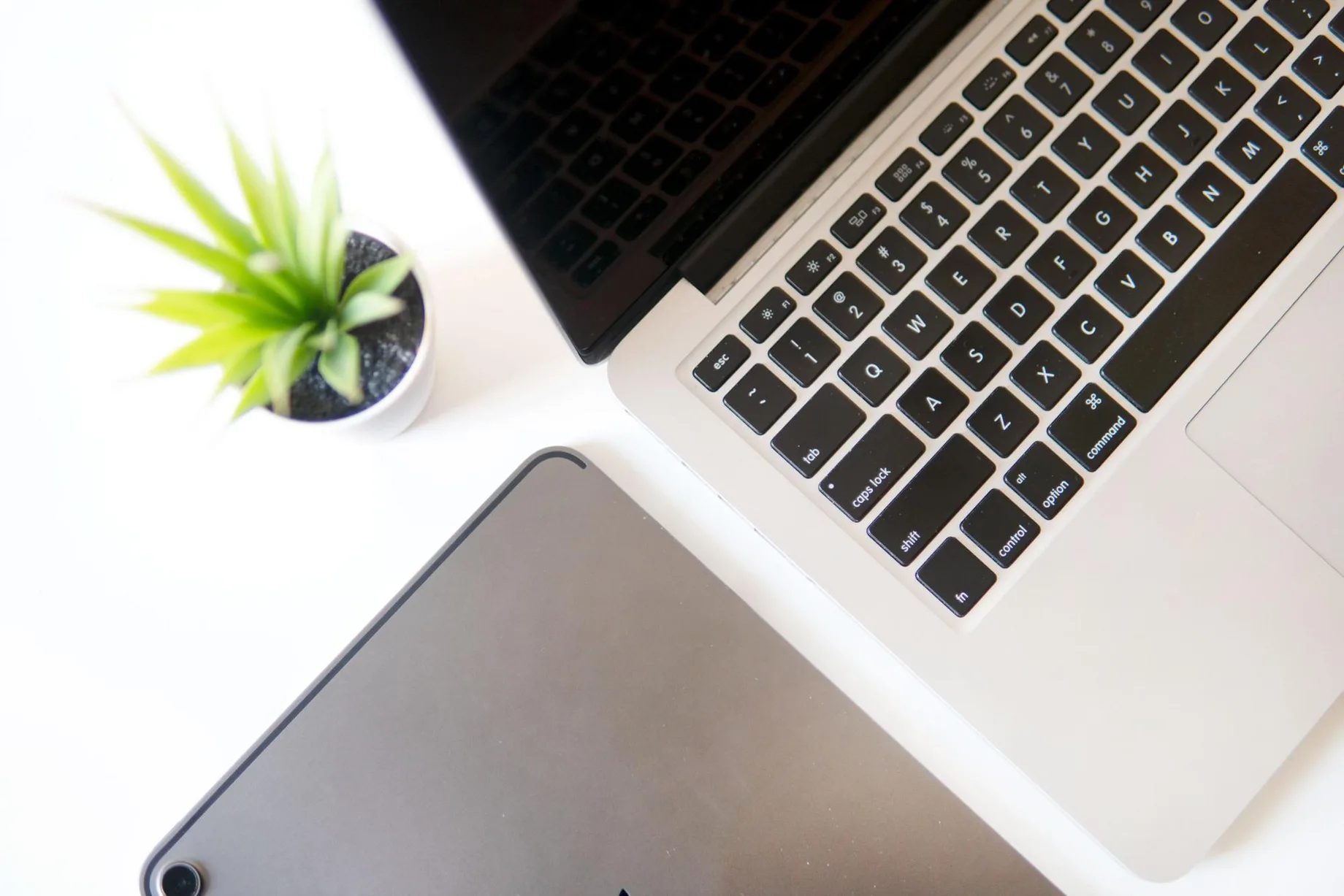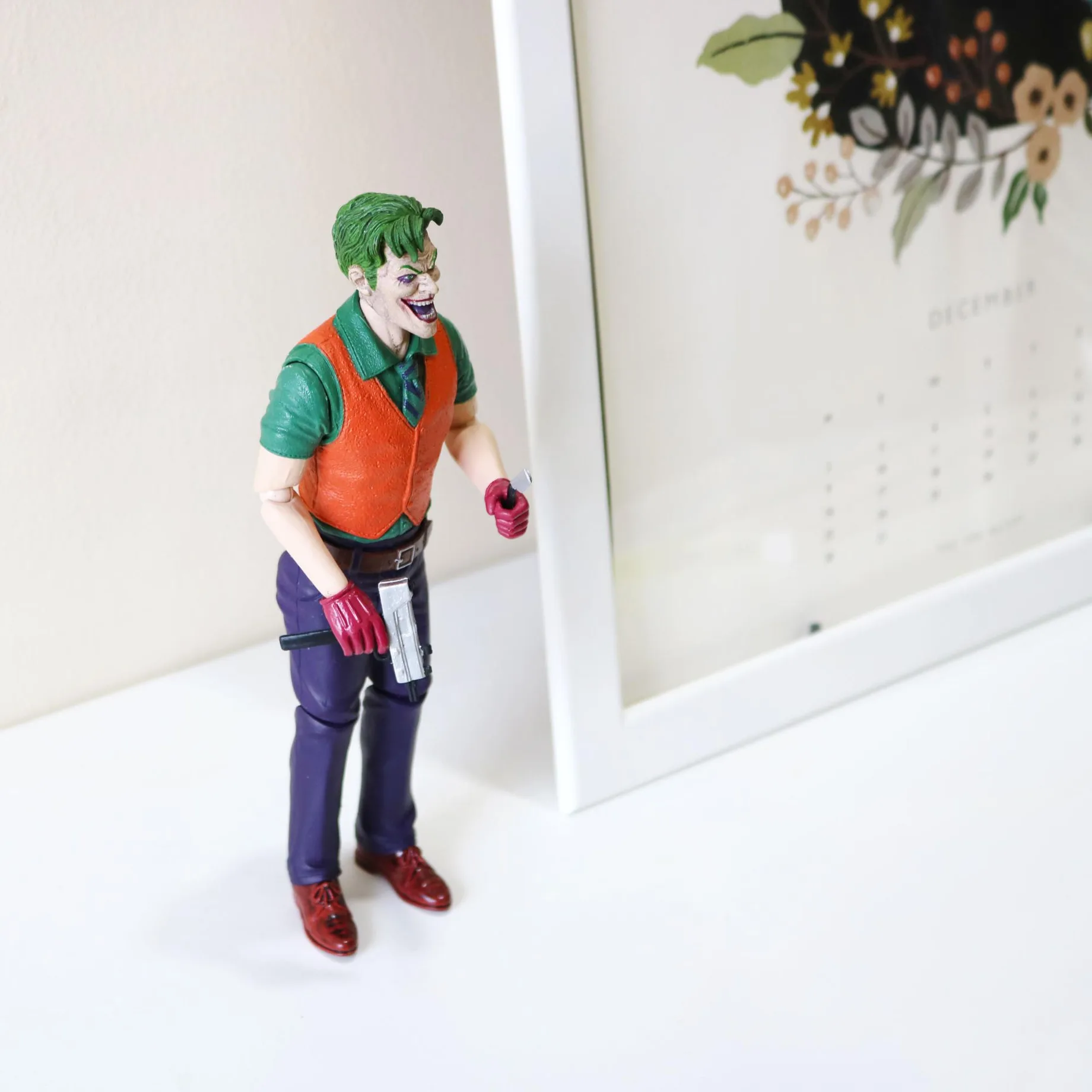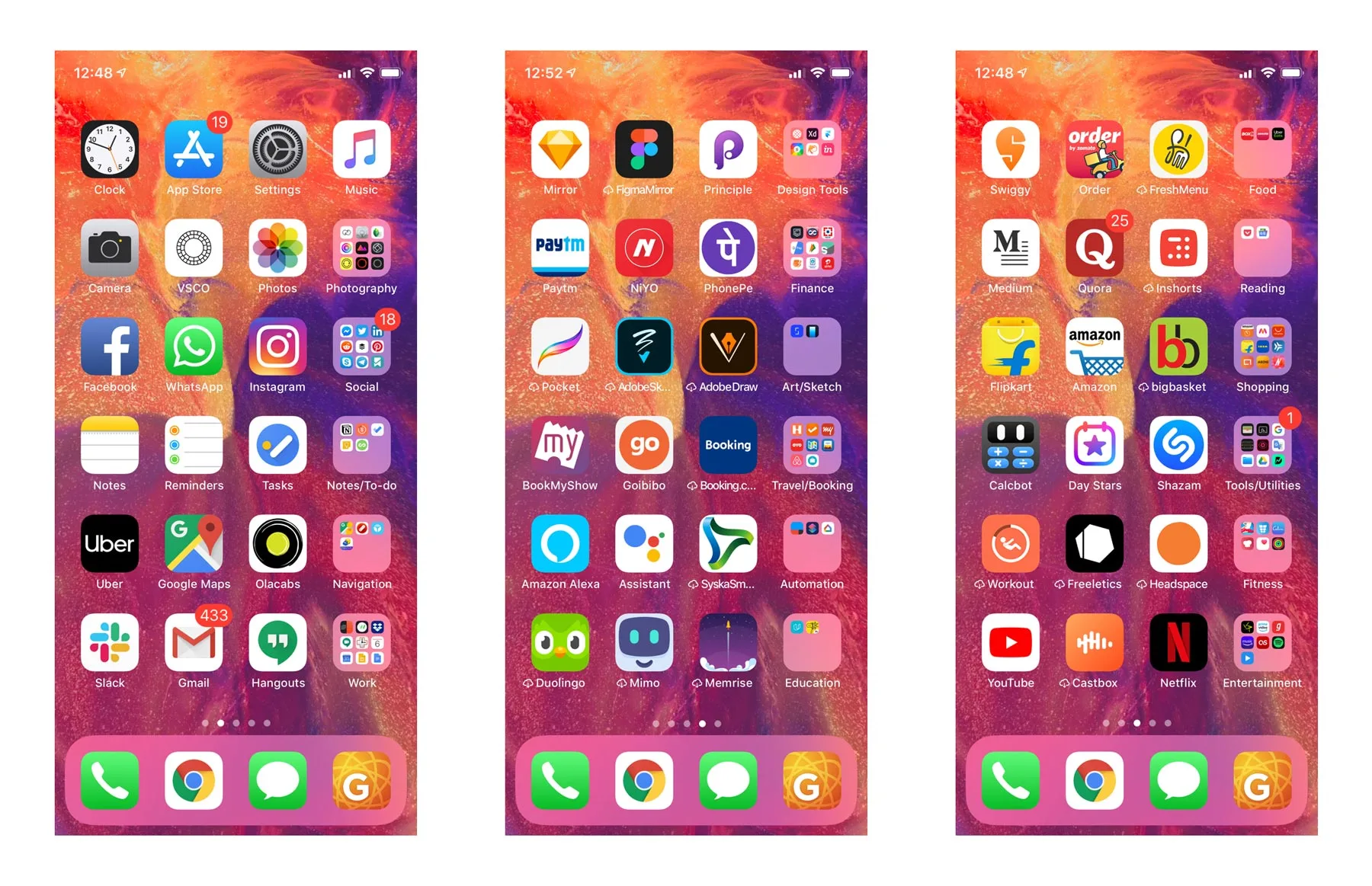 Where do you go to get inspired?
I usually surf a lot of websites. I have a huge set of web bookmarks and I am a big fan of Muzli, where I have customised my channels according to my preferences. For those who haven't heard of Muzli, it is a new-tab Chrome extension that delivers relevant design/tech stories and inspiration. When I feel saturated by the internet, I start sketching or read some books.
Also, I travel frequently and I love how each place has its own way of approaching design. I collect a lot of pamphlets/postcards from each place I visit and click photos of road signs, traffic systems, airport way-finders, ATM interfaces, door locks, etc. I believe we can get the greatest inspirations when we start noticing how these little things around us make our life easier.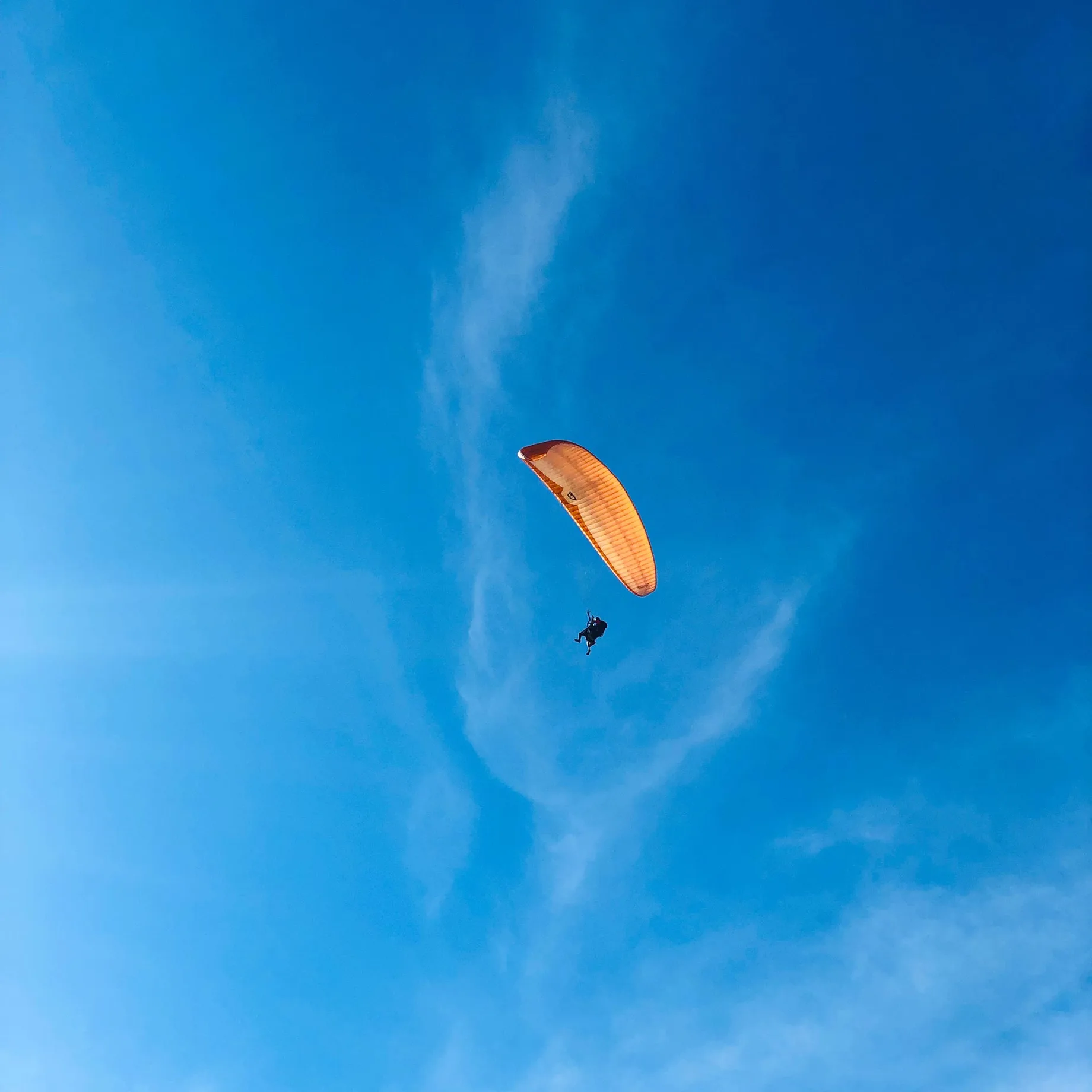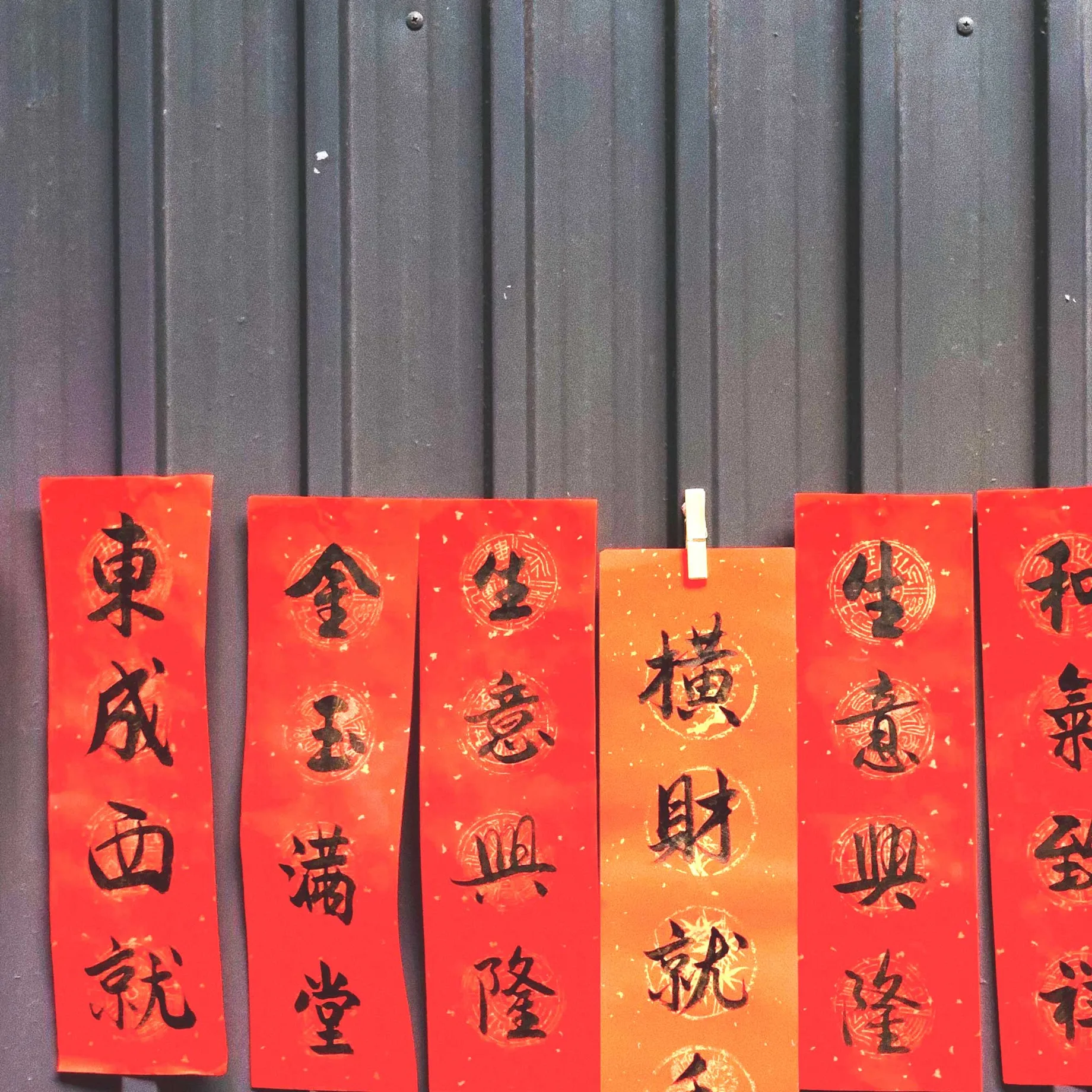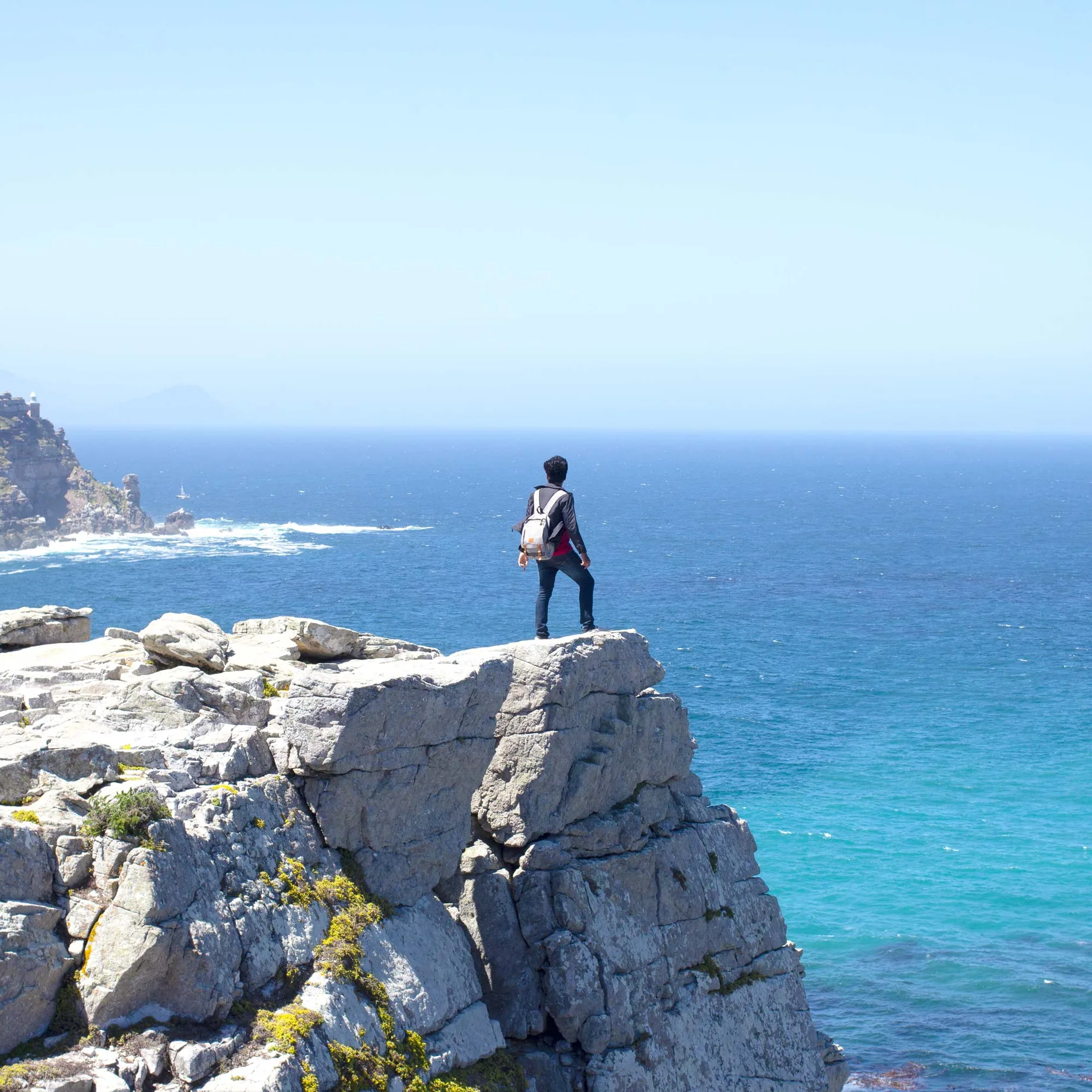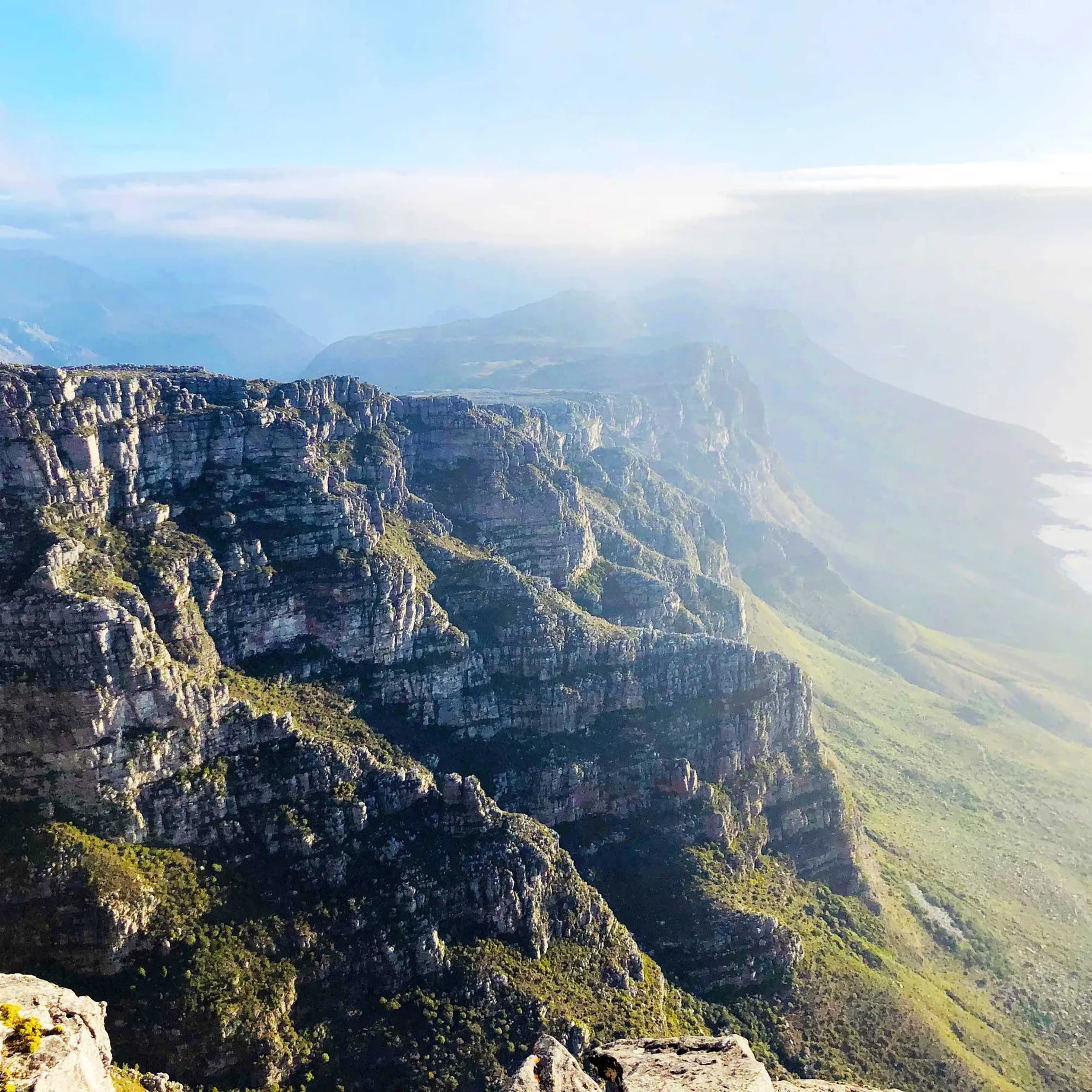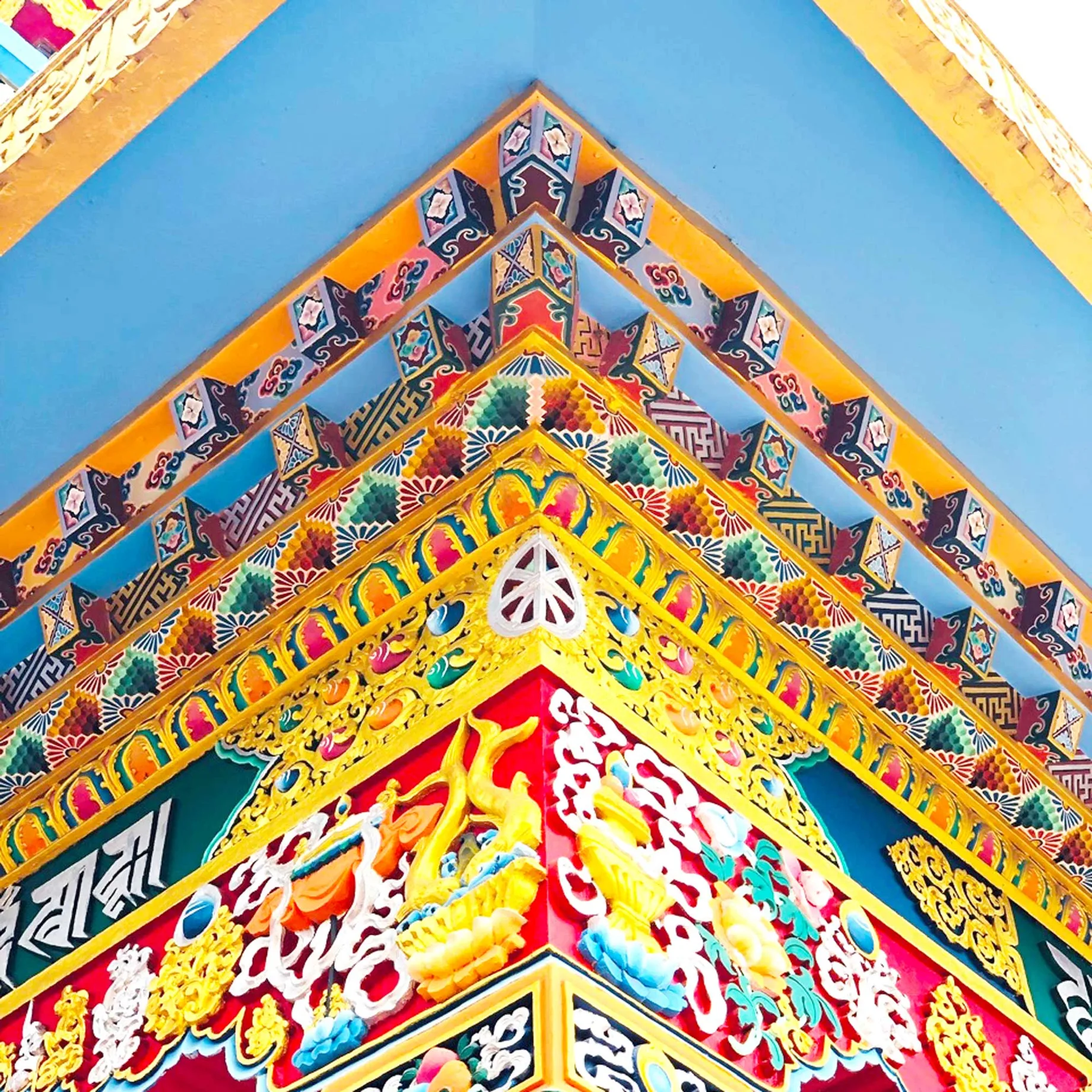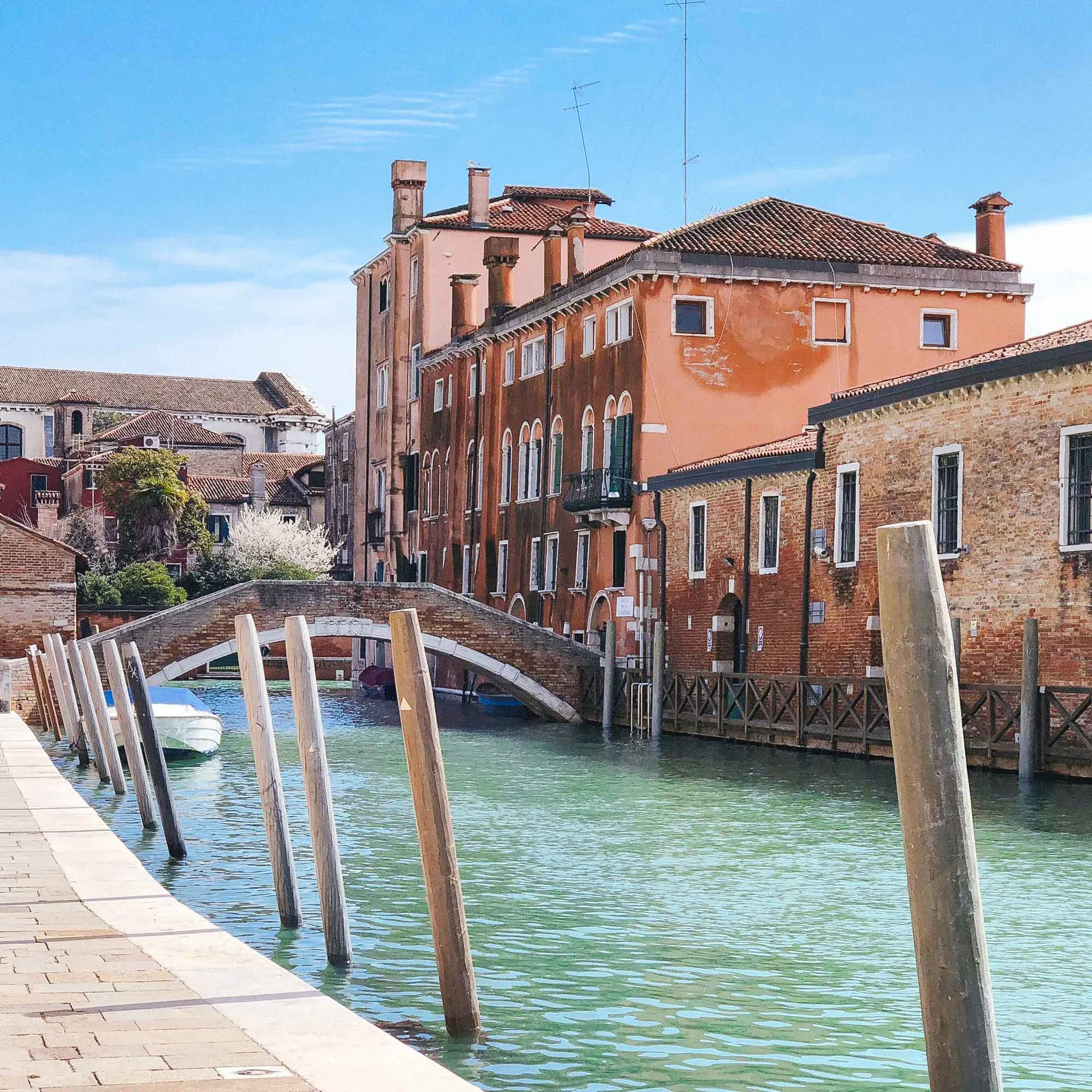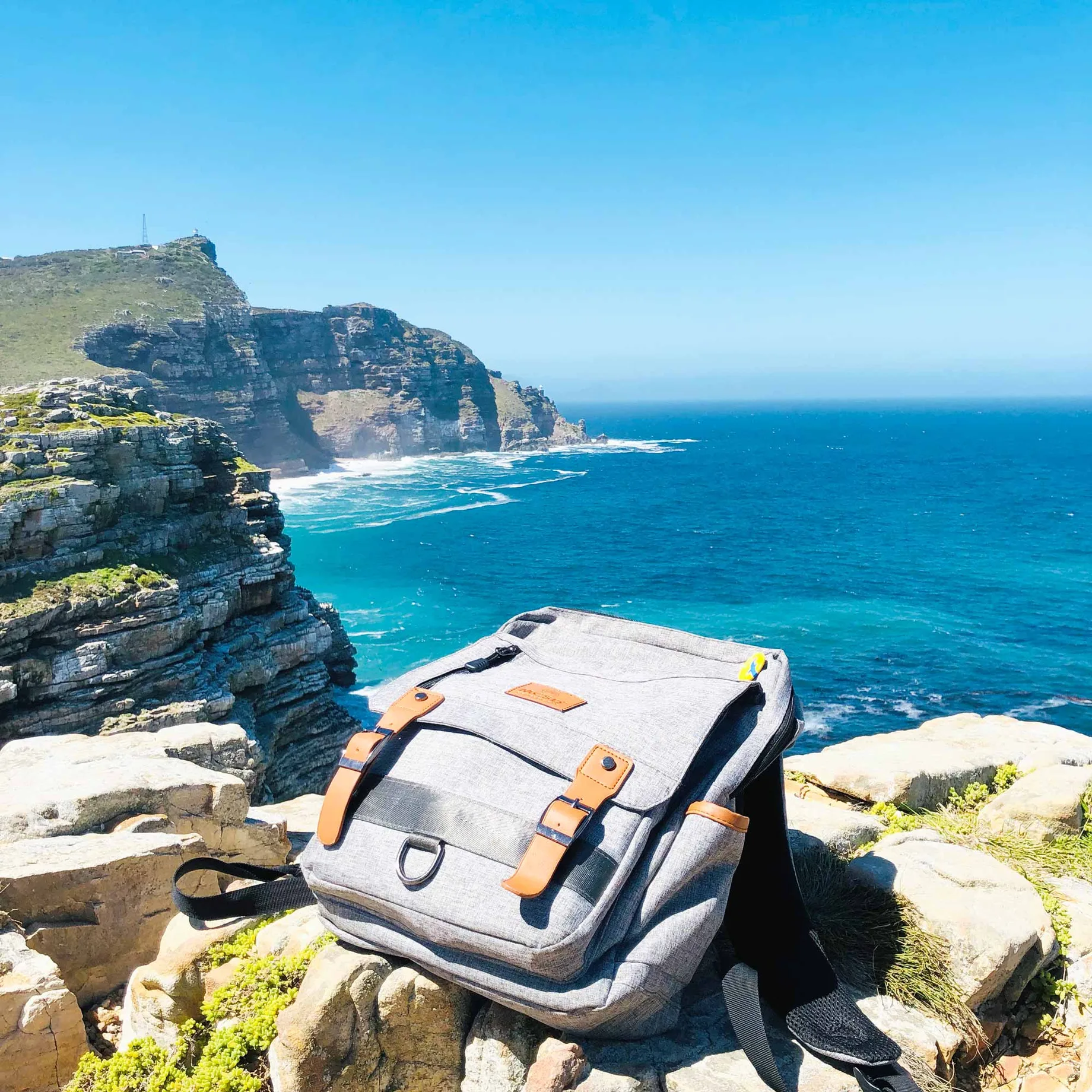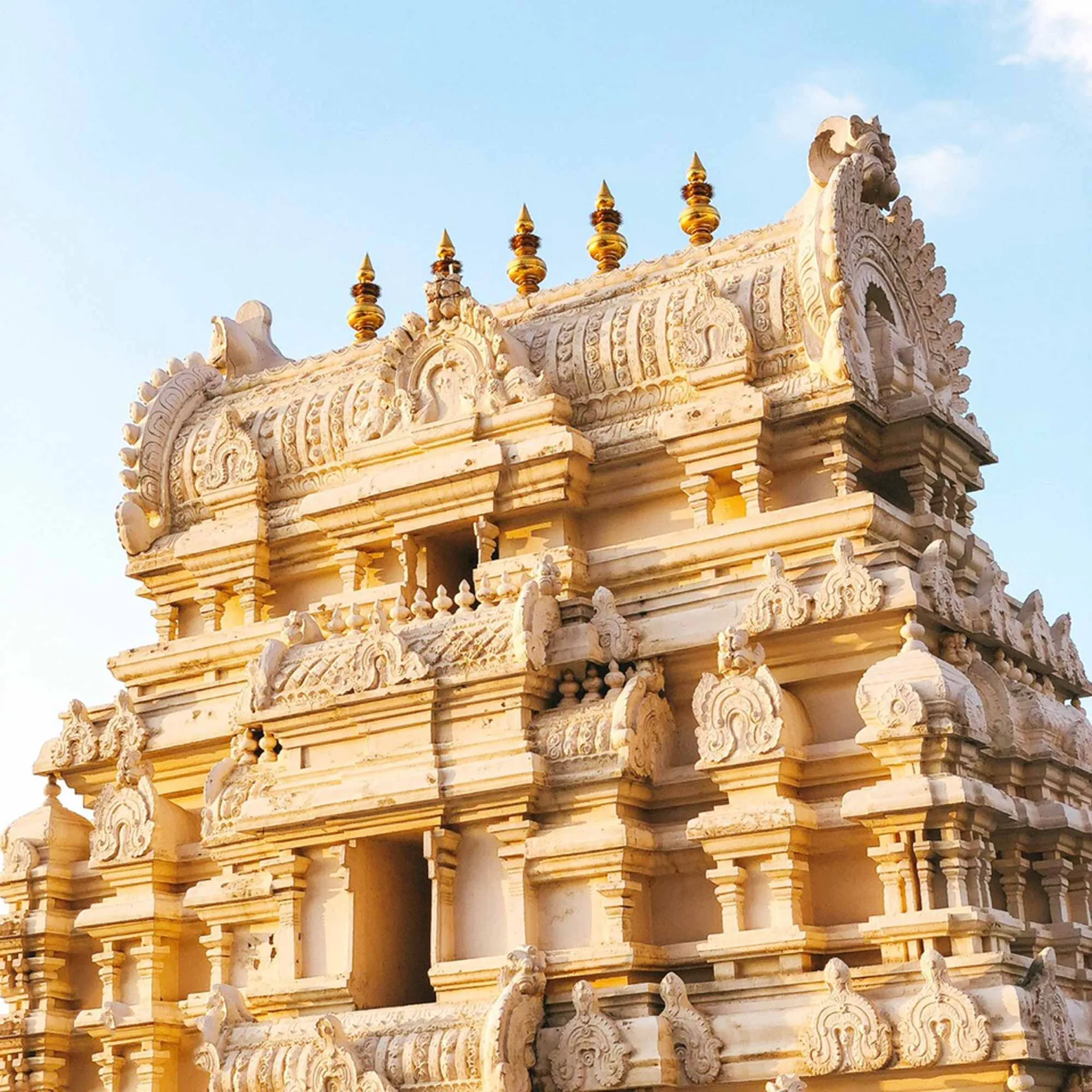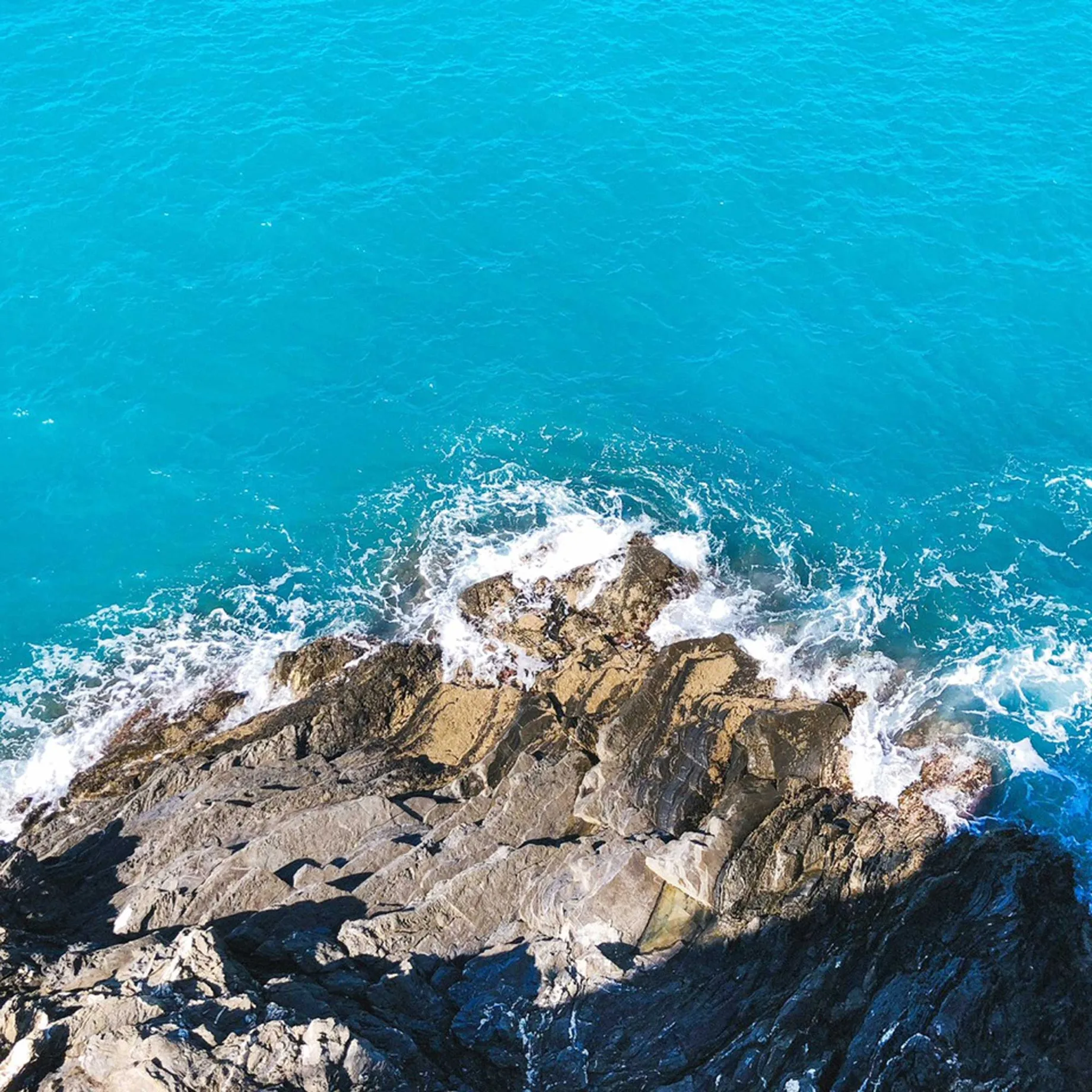 What product have you recently seen that made you think this is great design?
I absolutely love Notion. I would like to also mention some more products I came across recently, that are very good examples of great design.
a. Notion - I have been using Notion since their first release, and I simply love the way the tool has evolved over the years. I use Notion for all kinds of notes/tasks, drafts, travel planning, weekly agenda, etc. They have done an amazing job of simplifying the complex idea of documentation management by providing the users with basic building blocks, which can be combined in any way to create a custom workspace. I don't think a workspace productivity app could be any simpler. And, Notion is a treat to the eyes!
b. Apple iPad Pro & Pencil - Good design seems obvious, and that's what Apple did by enabling the magnetic attachment of the Pencil with the iPad. It is so dumb and simple that it feels like why wasn't this done before. Even the tap sensors of the Pencil, to switch to a different tool, was a great idea.
c. Rotato (previously Design Camera) - Making animated screen mockups has always been a huge task for digital designers. It always takes time and requires a good tool knowledge to create one. Morten Just built an app to create animated mockups, which is as easy as Google Doc to use.
d. Unfold - Stories are the new interface pattern to communicate in this digital era. Unfold, with their app took the art of storytelling to a different level. The app gives you access to a set of templates with the most basic level of customisation options. The experience is very intuitive, allowing the user to use their own creativity to design their own templates and create beautiful stories.
e. Twenty (by Mirjam de Bruijn) - This was a graduation project by Mirjam de Bruijn I recently came across. Since most of our liquid cosmetics and household products contain about 80% water and adds up to the transport/logistics, she designed a sustainable way to utilise the remaining usable 20% in her project - Twenty. It is a set of dissolvable capsule-form products, which can be prepared using water from the consumer's home in a reusable bottle as when required. Such a simple and beautiful solution, that helps us maintain a more sustainable environment.
What pieces of work are you most proud of?
I was really fortunate to build Headout's entire Desktop Booking experience. Prior to this, users could book experiences only from Headout's mobile platform. After the desktop experience launched, our maximum user base had shifted from mobile to desktop, which was definitely a big win for us. This was one of the first big projects I worked on, and I have always been proud of the work. Attached are some snaps.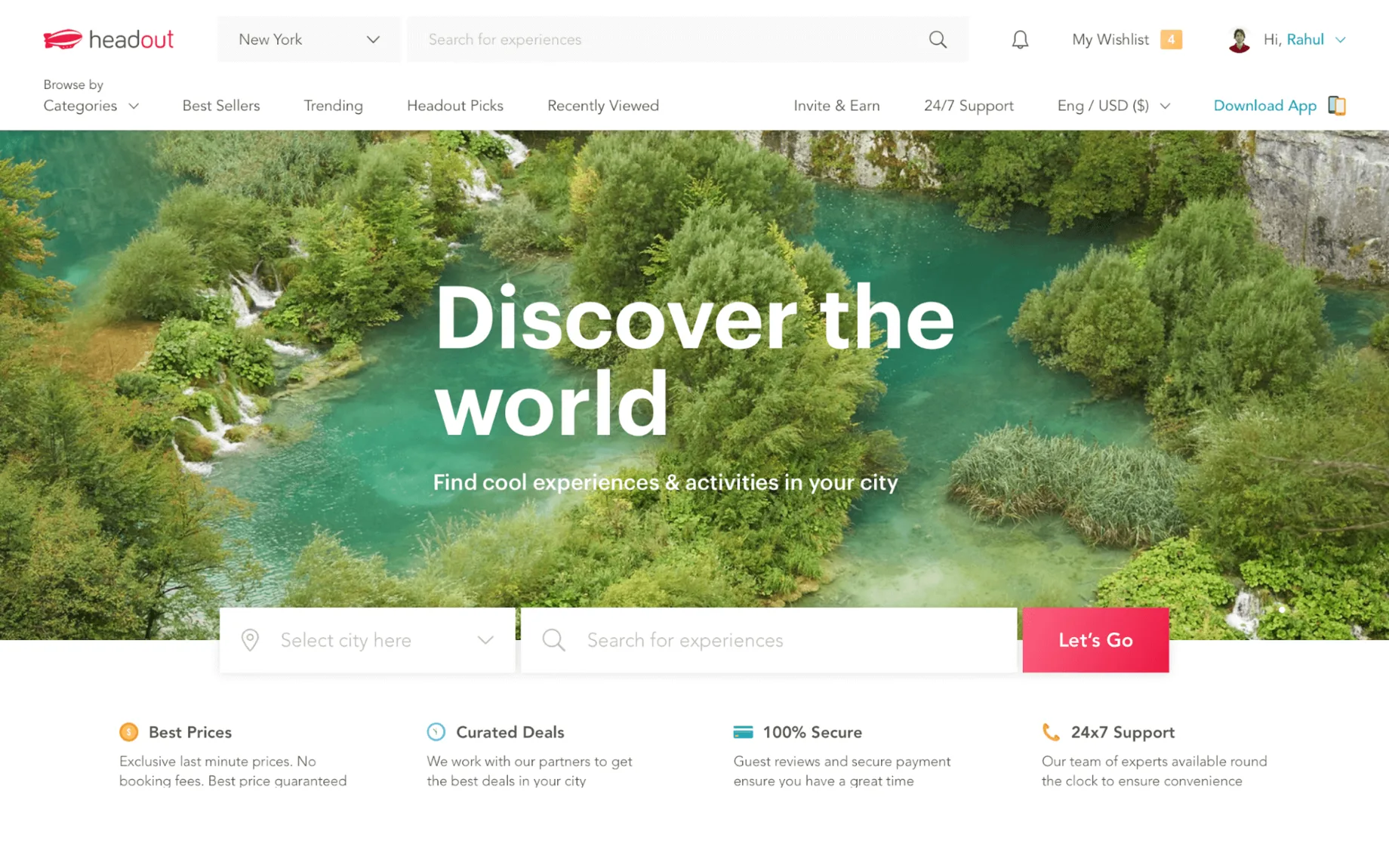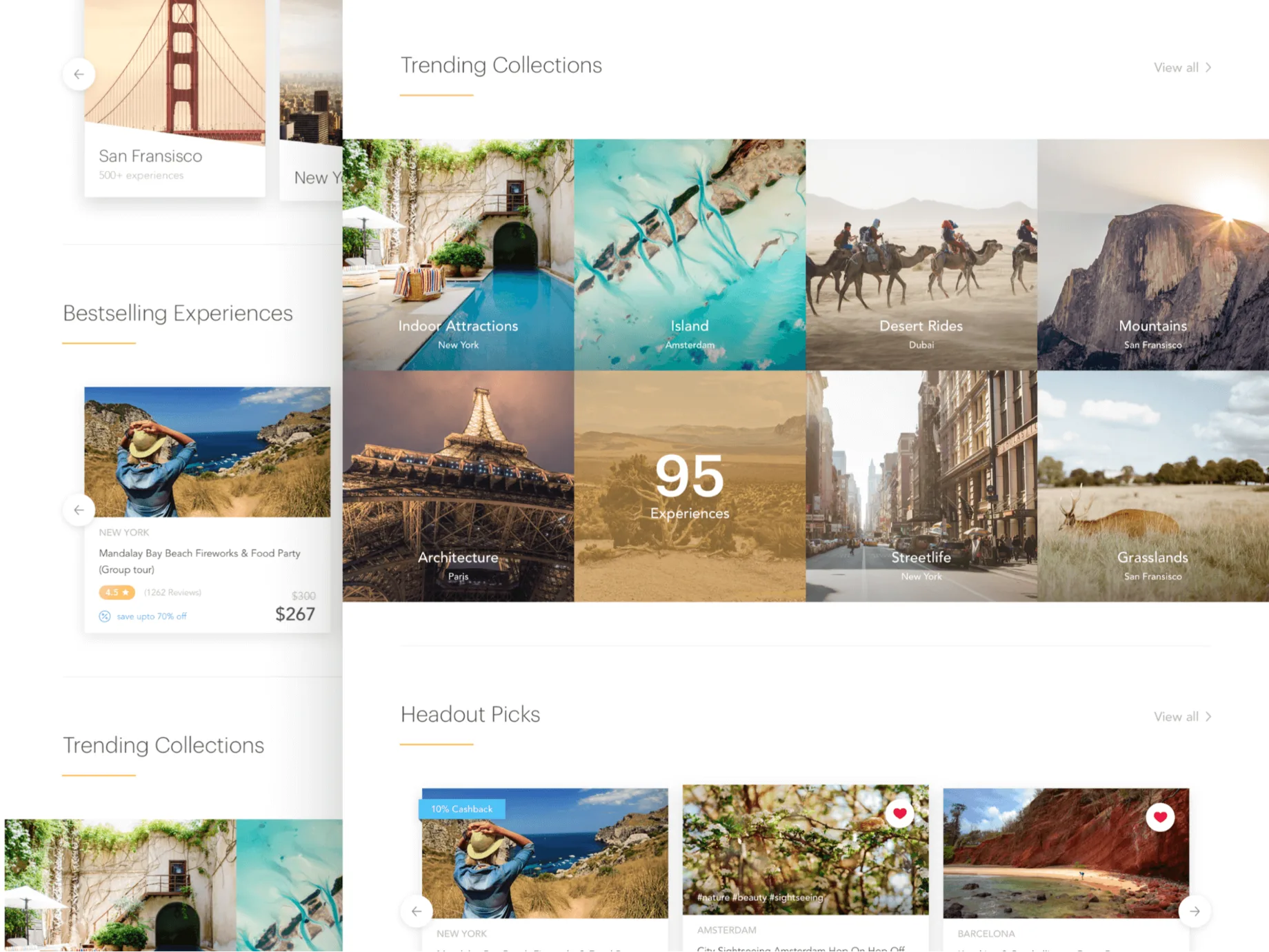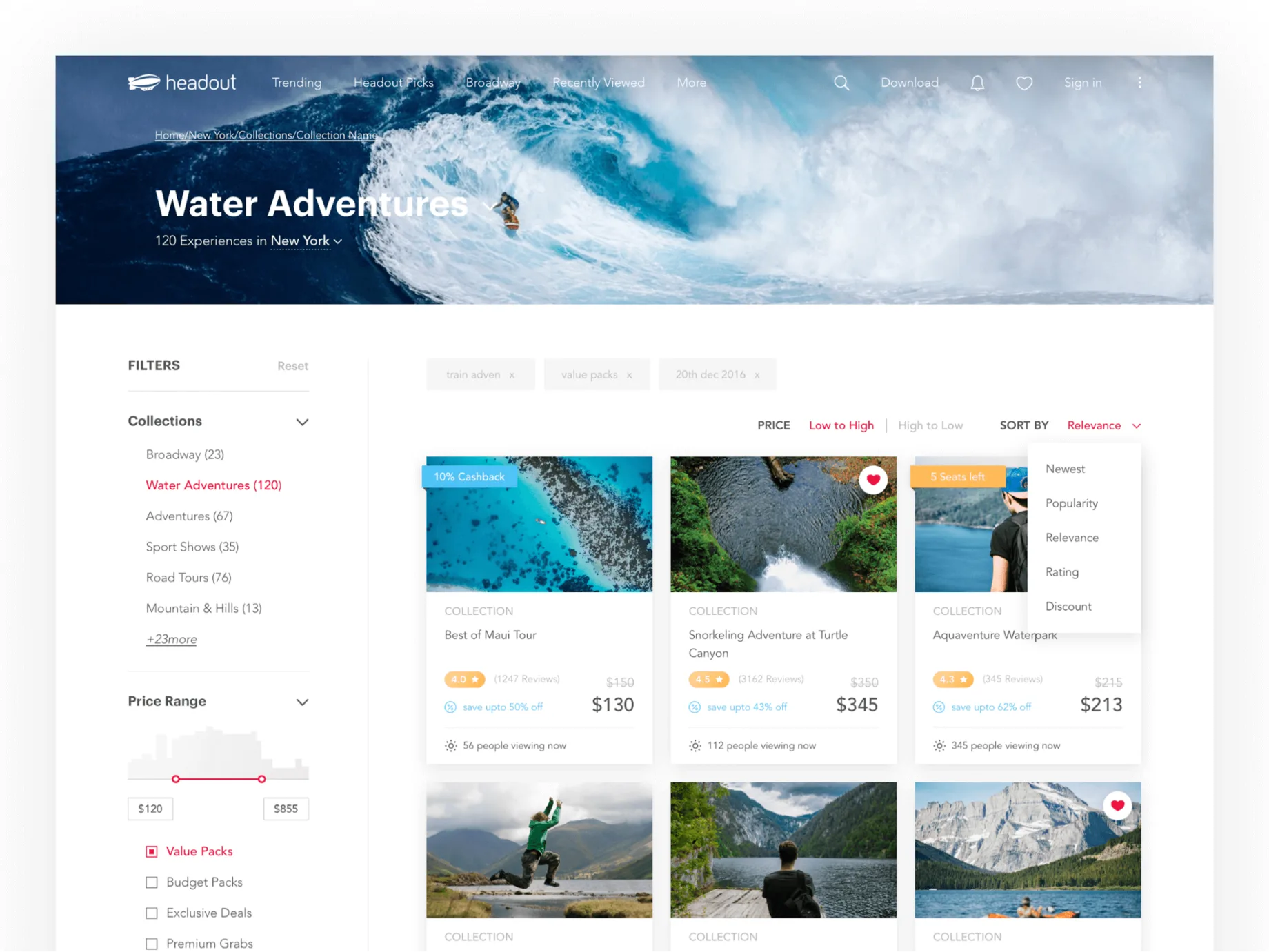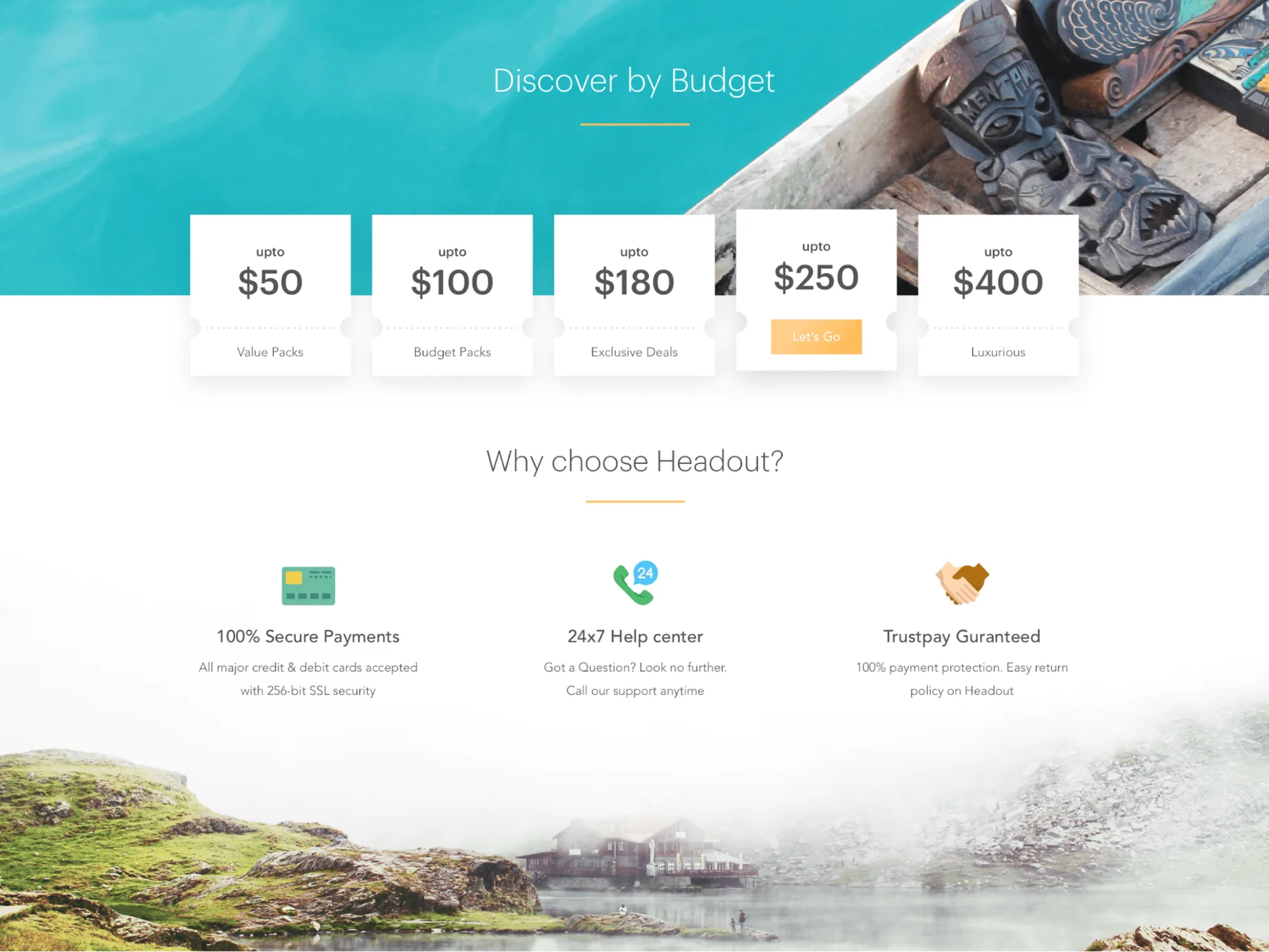 Last year, I led the Flipkart's Lifestyle & Fashion Category revamp, which went live early this year. The design revamp showed positive results in the user experience and a huge impact on the overall fashion business. The revamp included engagement, discovery & navigation improvements alongside improving the overall aesthetics of the experience. This in turn led to addition of new elements and UI patterns in our Design Language System for cross-category scaling. Attached are some screens from the revamp which is currently impacting millions of customers in India, in helping them shop fashion online.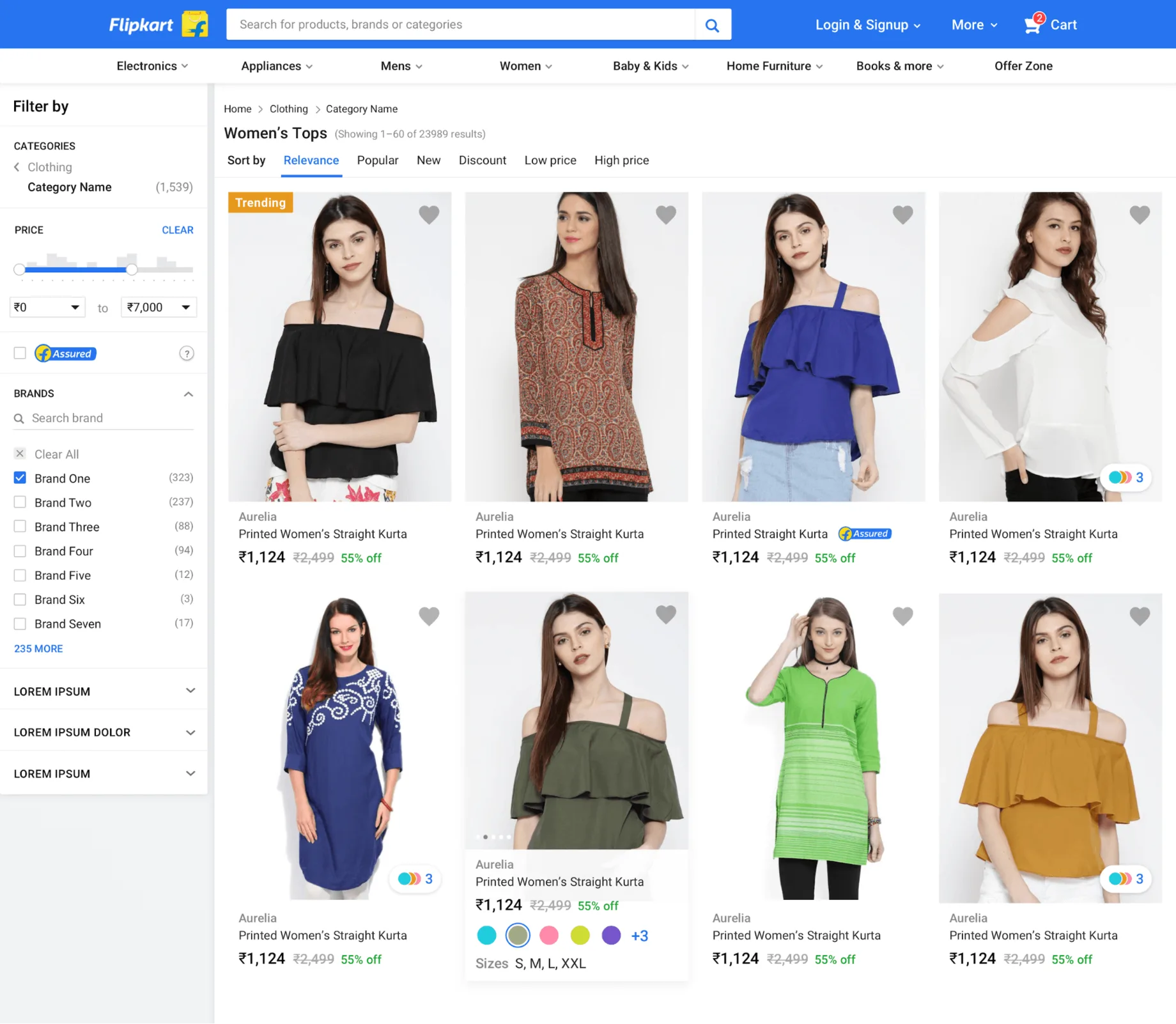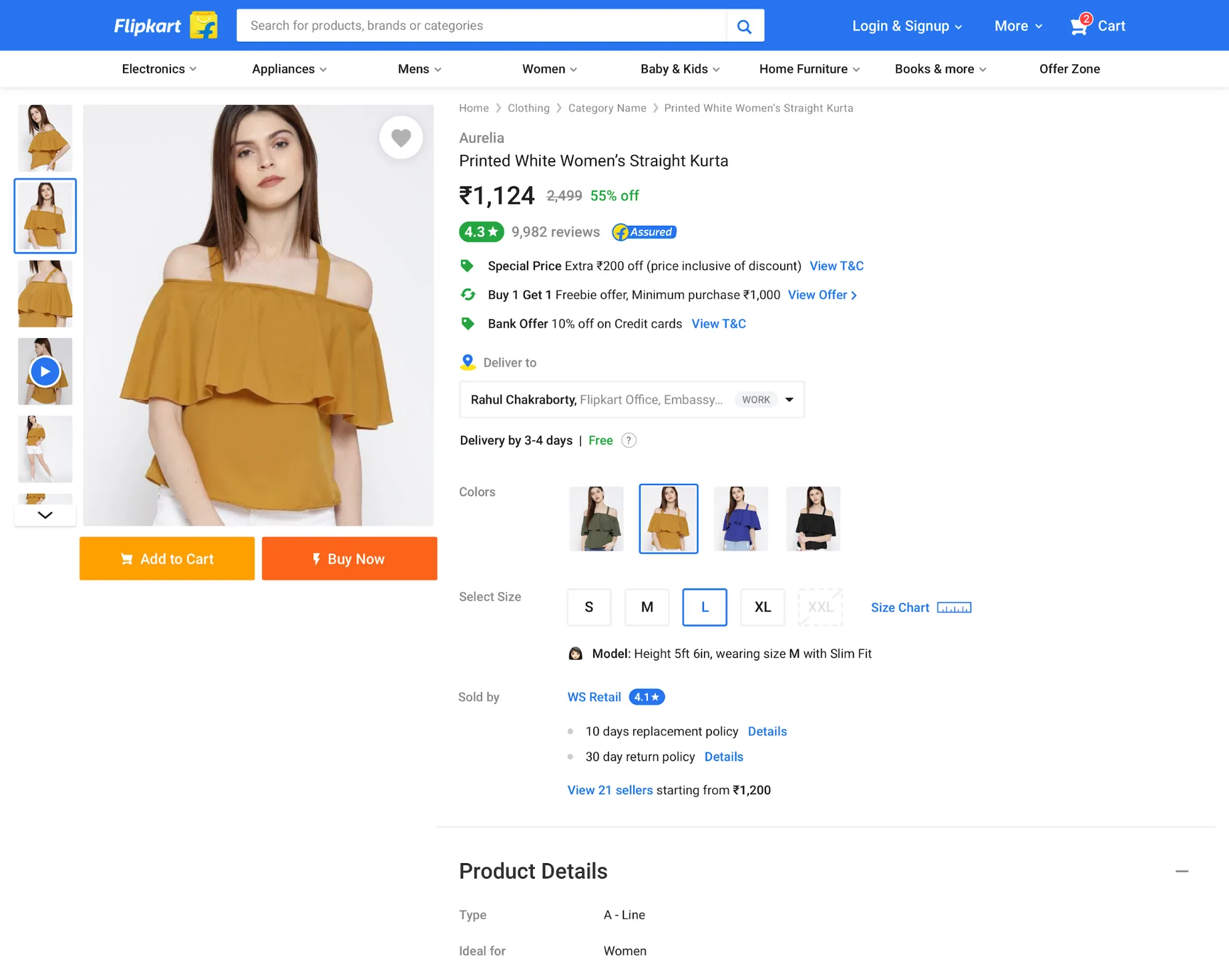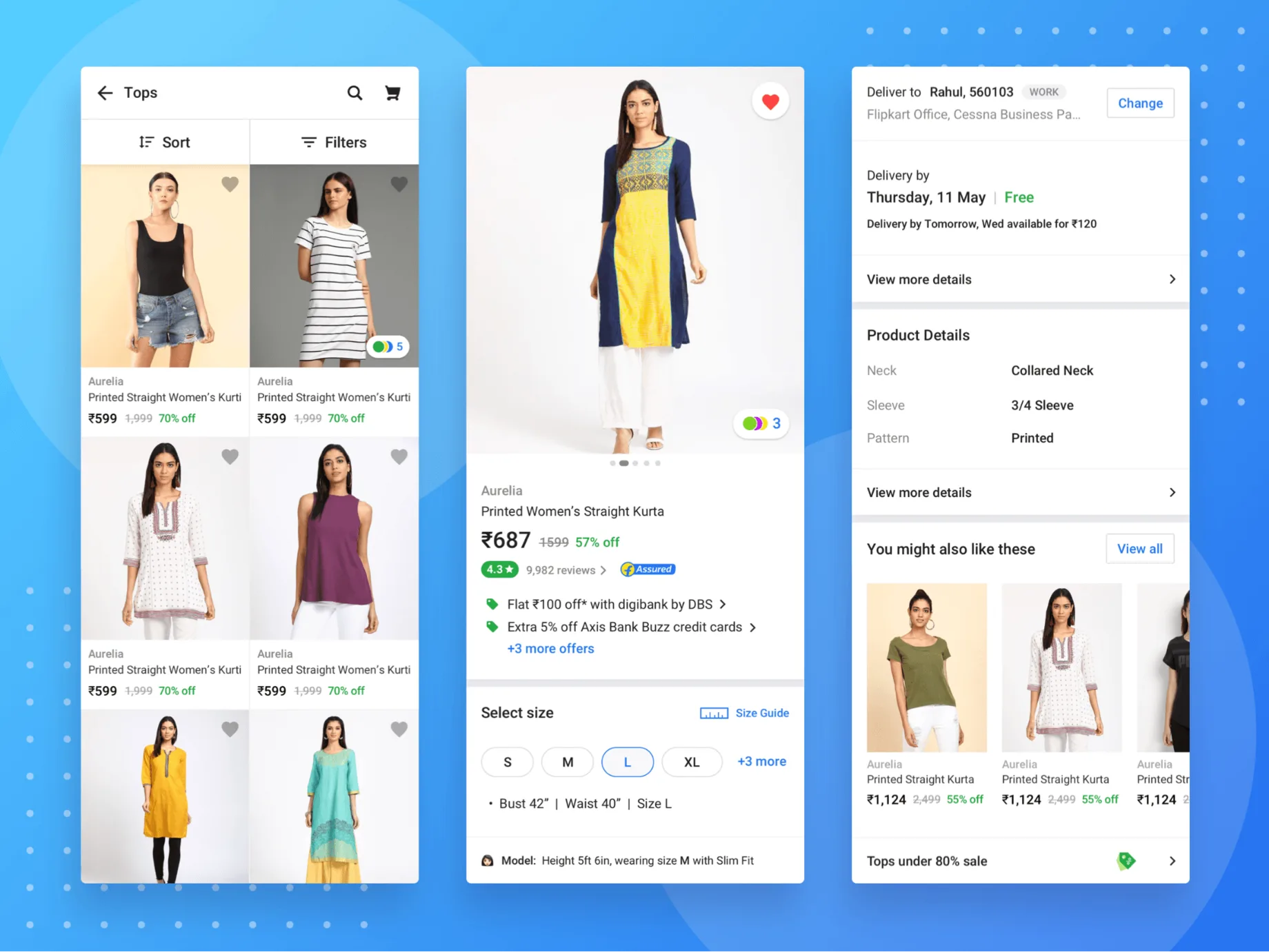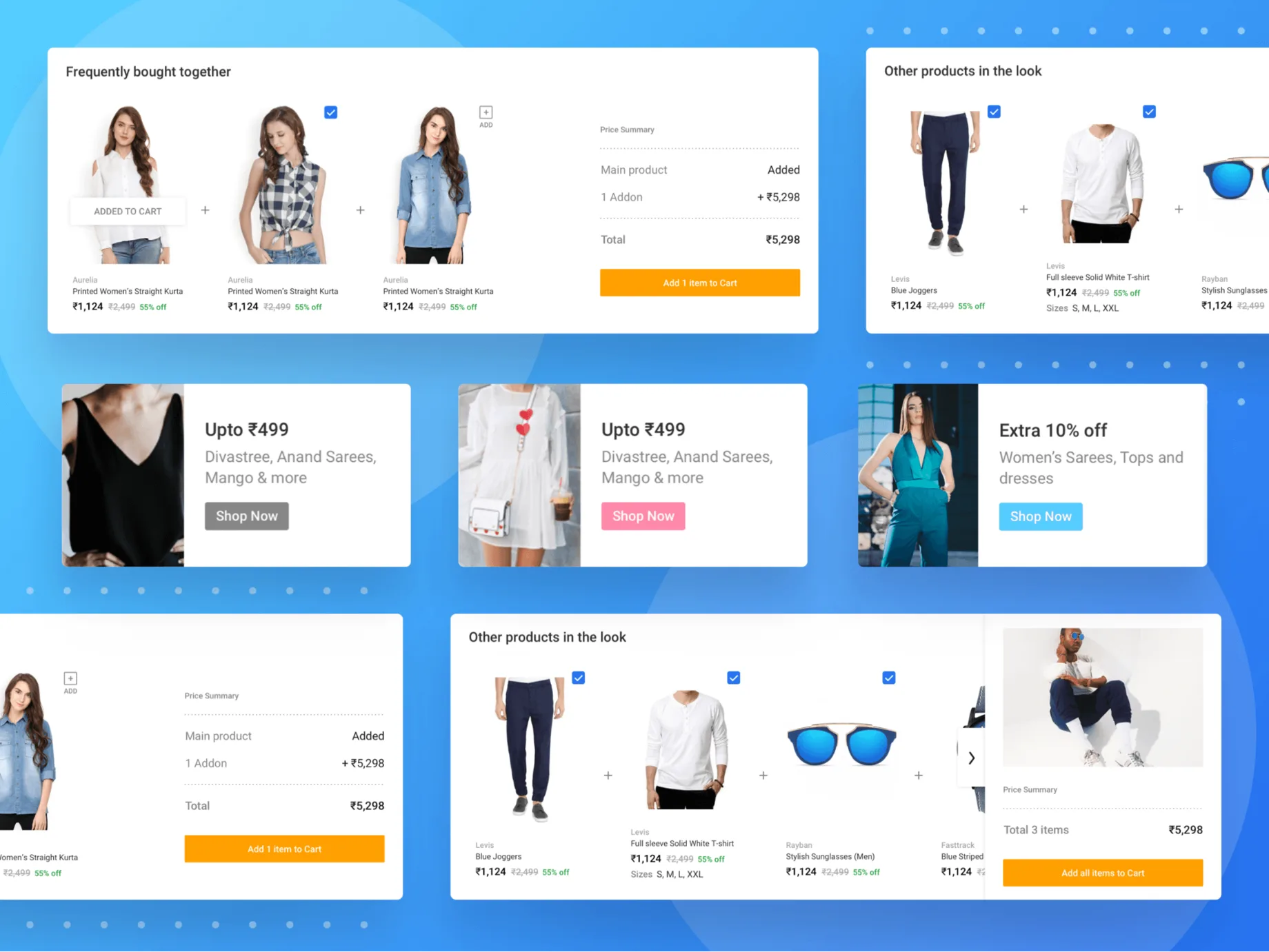 What design challenges do you face at your company?
Being part of a big organisation, our design decisions pass through a lot of teams (non-design team) and the biggest challenge is to maintain empathy and understand each team's viewpoint. Explaining the non-design teams, the value of user experience is a difficult thing. Every team has their own mental models of describing the product and approaching a particular problem in the product.
This is in-fact an interesting constraint that I learnt to tackle while being part of Flipkart. It gave me good insights into how different teams work/operate, and the immense amount of effort that goes into building a product that affects the lives of millions of customers.
What music do you listen to whilst designing?
Any advice for ambitious designers?
I would like to mention three major areas where I personally went wrong when I started my journey as a designer. I think these would be a great set of advice for any ambitious designer out there reading this article.
a. Learn the art of selling your decisions - Designers must dedicate a significant amount of time to learn the art of selling a design decision. It is very important to be able to comprehend each of your design decisions and solutions, especially to non-design stakeholders. There are times when a solution just feels right, but you must be able to explain or back it up with proper reasoning.
b. Make your internal network stronger - This was a beautiful piece of early advice I got from my colleague, Adit Gupta. Make sure you build a strong relationship with the people you work with every day. Hangout with the developers or other cross-functional teams, which can help you get to know their side of work; how they perceive the product. This will help you become a better designer in the long run, and a good network of people to fall back on when anything goes wrong.
c. Understand what good design is - Designers often get carried away with unnecessary elements contributing to the design. Most designers think good design in terms of delivering a good user experience (and interface), but what they also need to understand is, "good design drives good business". The solution you delivered, must scale to support the current business framework without compromising on the user experience.
Anything you want to promote or plug?
Yes. I would like to promote two of my fellow designers, working hard to give out as much as possible to the design community.
Dalpat along with his small wonderful team built Iconscout, India's first digital resource marketplace. It is powered by a community of passionate creative artists, to offer ready-to-use high-quality design resources like Icons, Illustrations, and Stock photos. Iconscout was recently backed by the Adobe Fund for Design. 👏
Darshan created Product Disrupt, a side project dedicated to all the curious folks who want to learn design. He collated all his favourite resources and made Product Disrupt for those disruptive minds. He actively contributes to the Product Disrupt Blog, where he writes about design and product. Product Disrupt was also nominated for the Golden Kitty Awards 2017 by Product Hunt. 🎉
Next, if you are interested to learn about how we are shaping the online shopping experience for the next billion users, follow our medium blog here.
Lastly, I tweet design and tech-related stuff regularly, and my work-in-progress on Dribbble. You can find the other side of me on Instagram and Unsplash.
Here are the links: