What led you into design?
No family or friends had a creative profession, but my father loved computers. I remember driving to computer part dealers during my childhood for sometimes more than two hours, and we'd build our perfect PC on the weekend. We didn't know exactly what we were doing and, e.g. tried to set jumpers with a trial-and-error method rather than an actual system. My sense of beauty derives from my Mum. She has a remarkable furniture taste and consistently brightened our home with fresh flowers and vibrant colors.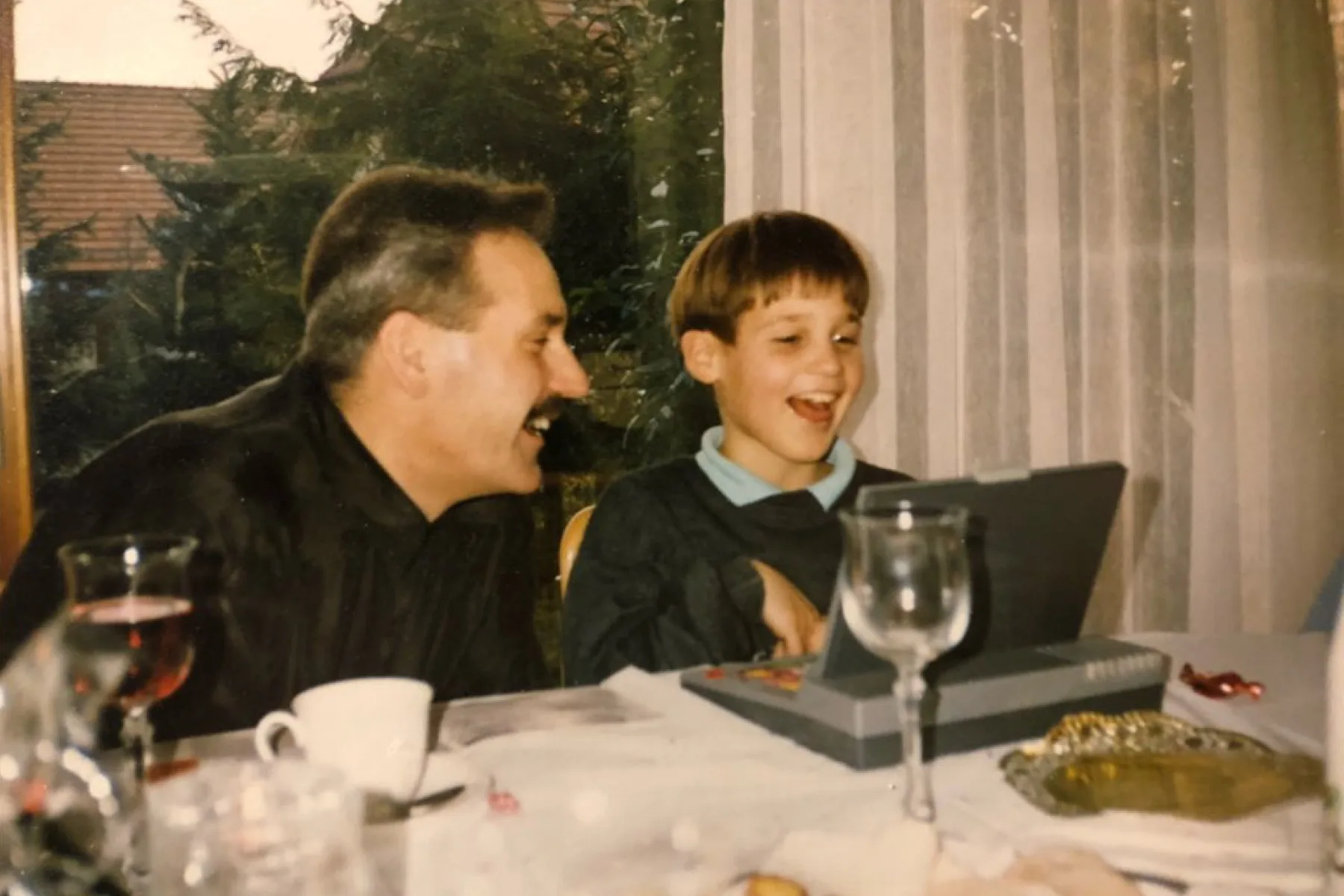 My first design love was Photoshop. As a teenager, I created CD covers, event invitations, and birthday cards for friends and family. I wasn't thinking about design and its meaning too much back then. I was never good at drawing or painting by hand, but suddenly I could visually express myself with the PC; it felt magical.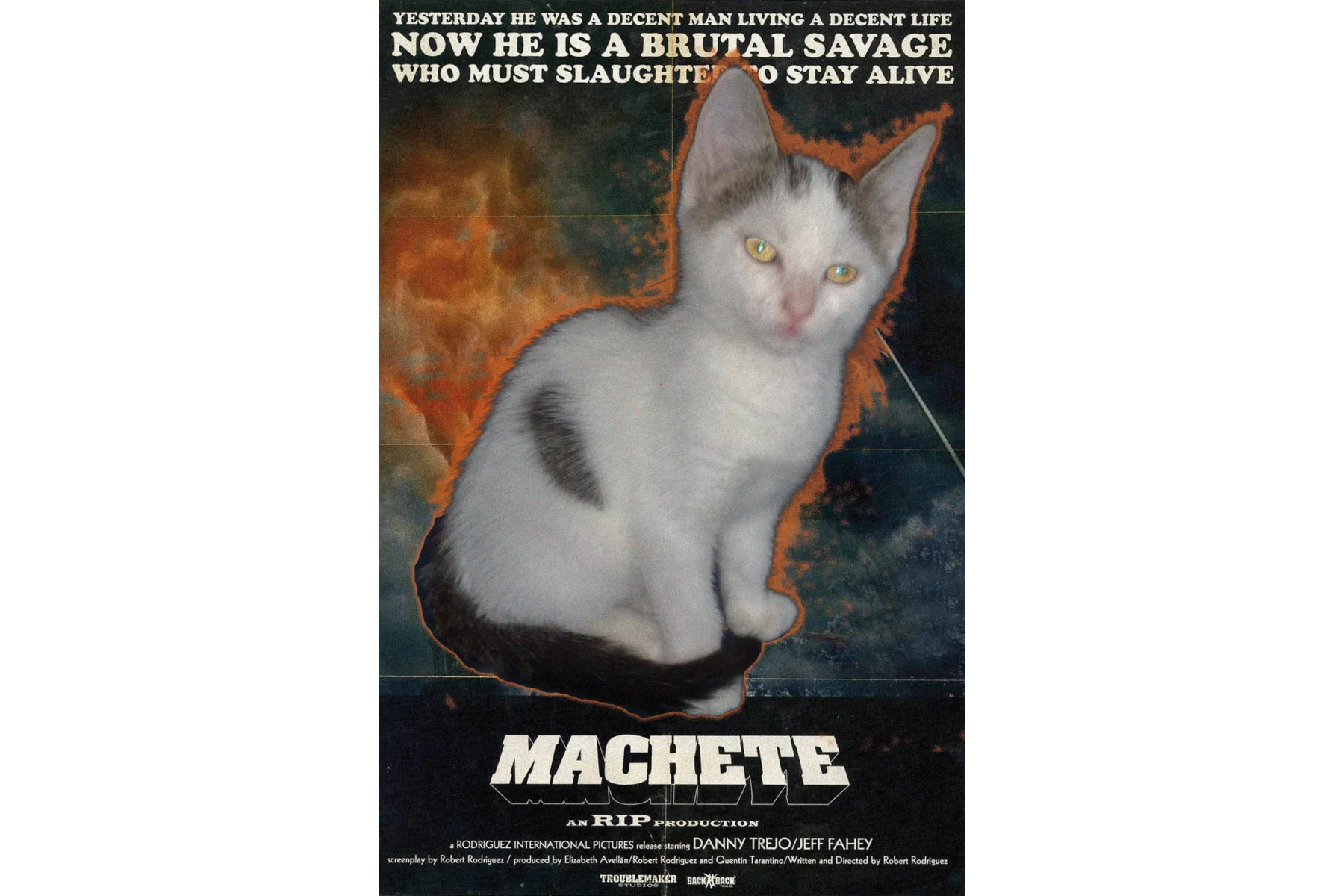 Years later, I took a scenic detour through California and briefly studied business information technology afterwards. I dropped out but fell head-over-heels with one of the classes: HTML and CSS.
That's why I pivoted to studying multimedia arts at Middlesex University. I honed my art skills with Photoshop and Illustrator under inspiring mentors like Stephan Walter, who worked for Stefan Sagmeister in New York. This new adventure took me deeper into web coding, ultimately shaping my creative journey. My enthusiasm for design intensified through Tina Roth Eisenberg's musings on her Swiss Miss blog and attending talks at CreativeMornings.
Much of my love for the web and user interface design derived from iA's early publications: Web Design is 95% Typography, The Interface of a Cheeseburger, or Web Trend Map. It was a rabbit hole; I discovered the world of UI design through these articles. I designed and coded various web projects and wanted to work at iA. I had to apply several times, and the dream came true in 2014.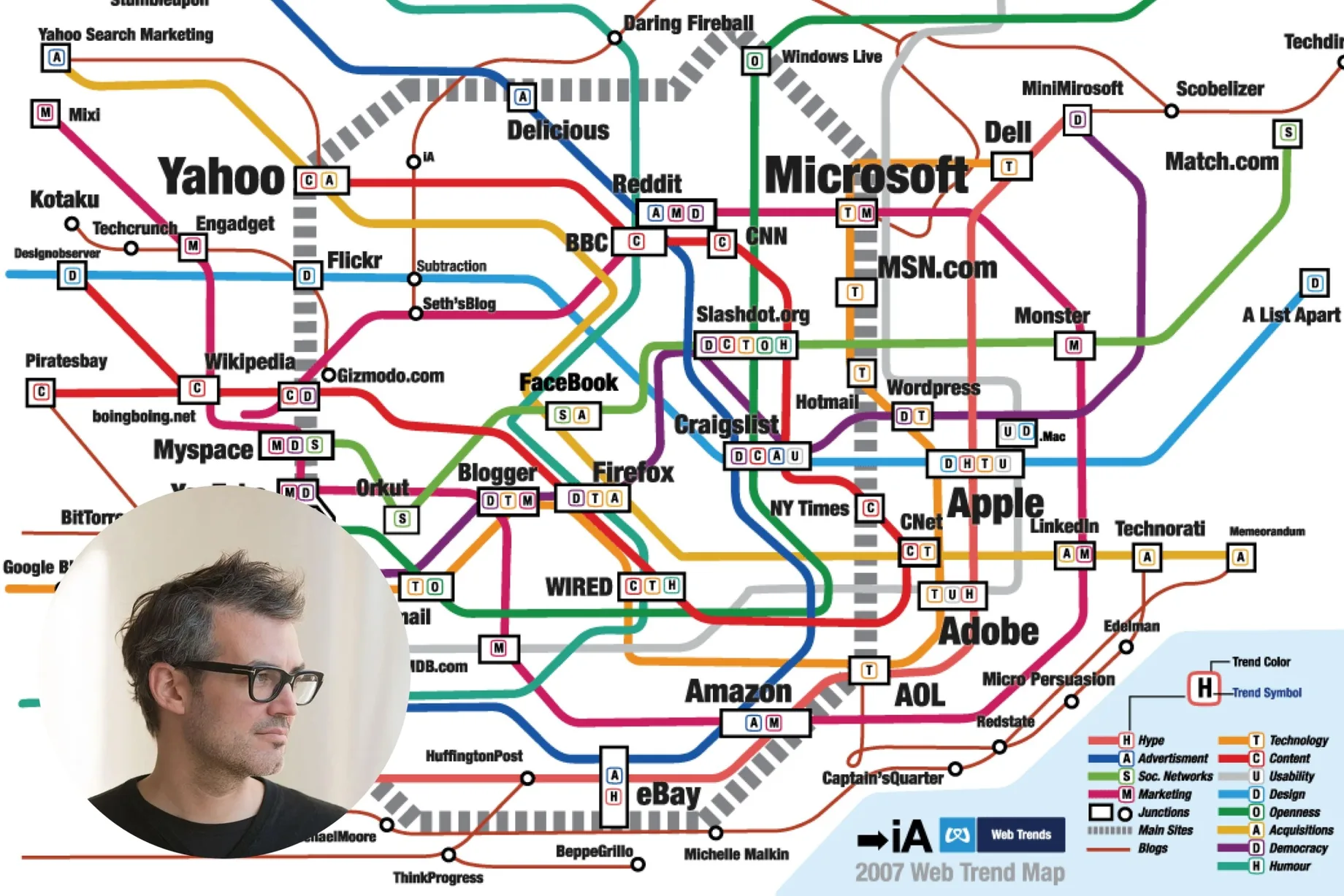 The time at iA was formative. I learned from the best, including Oliver Reichenstein and Adrian Zumbrunnen. I started understanding what it means to be a designer in this industry. I used to code a lot but transitioned increasingly to the visual side of design. What interests me most these days is finding ways to ideate, visualize, and prototype. So rather than learning ephemeral tools, I develop my creative thought processes.
What does a typical day look like?
I know this article is supposed to be about design, but I have to be honest here, my superhero skill is sleeping. I get up late, at 8 am, after eight hours of sleep. I firmly believe that sleep is the essence of staying young forever. It has the benefit of allowing me to focus better during the daytime.
First thing in the morning, I make an oat cappuccino. I'm aware that drinking speciality coffee is the ultimate stereotype for a designer, but I'm fully embracing it. I tried about 30 different types of oat milk, but you should only consider Oatly Barista.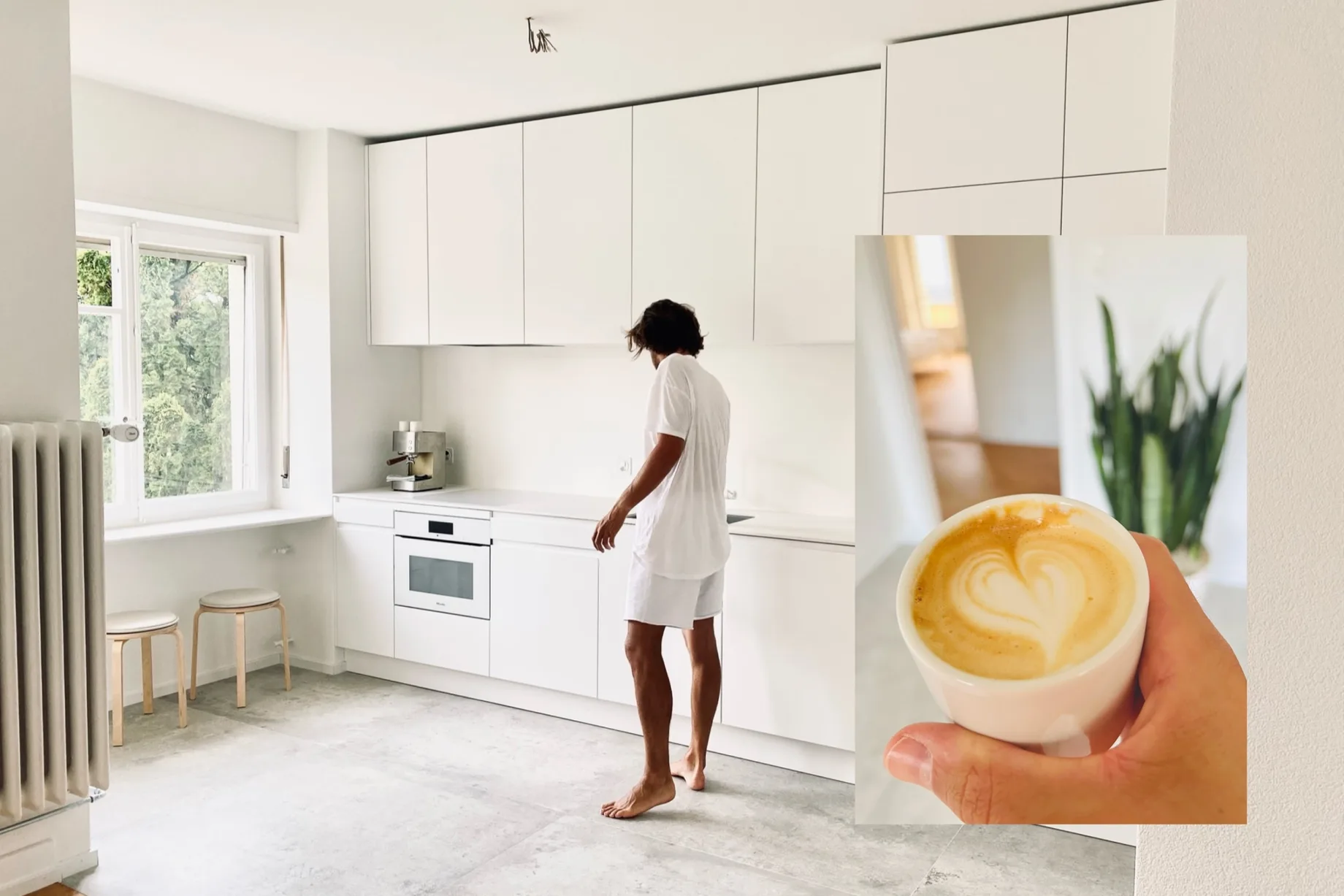 I start my laptop with the second cup of coffee. Mornings are sacred to me, and it's essential to set the focus for the day before opening emails or checking Slack. Time for a certain day (and life) is limited; awareness and realistic goals are important (check out my related talk). For over ten years, I have used Cultured Code's Things to organize my day.
Working remotely in the EU timezone for a US-based organization has its perks, and I get to enjoy quiet mornings. It's the time of day to put thought into things. When lunchtime rolls around, I switch gears and hit the slopes for a snowboarding session in Arosa.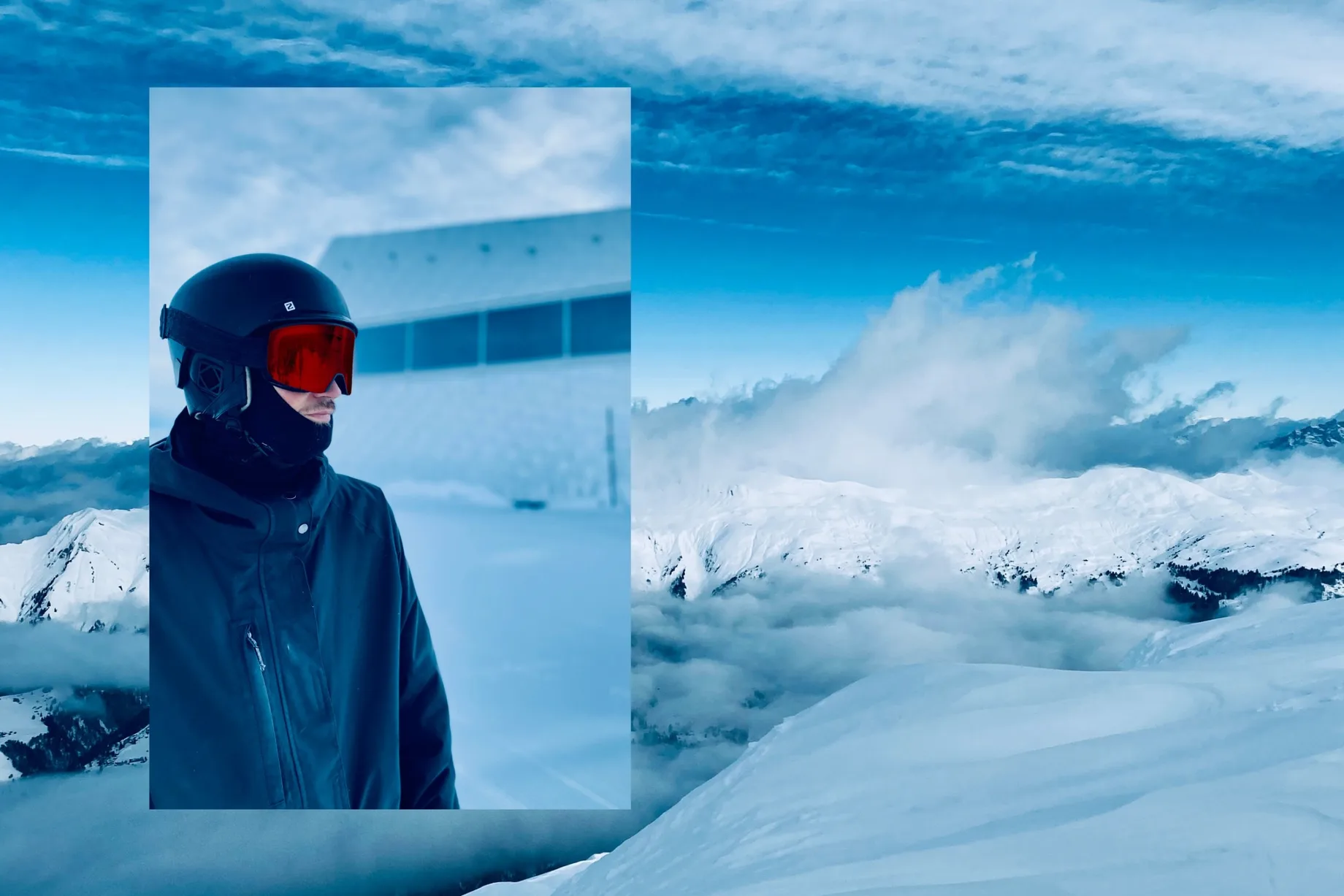 Come summer, I head out for an open water swim in the Aare. Once a year, I move to a different place for two months, as I have complete freedom from where I work on this beautiful planet. This brought me to Tokyo, Nosara, Biarritz, and Corralejo, where I enjoyed surf breaks in the last three. I consider myself lucky to live like that.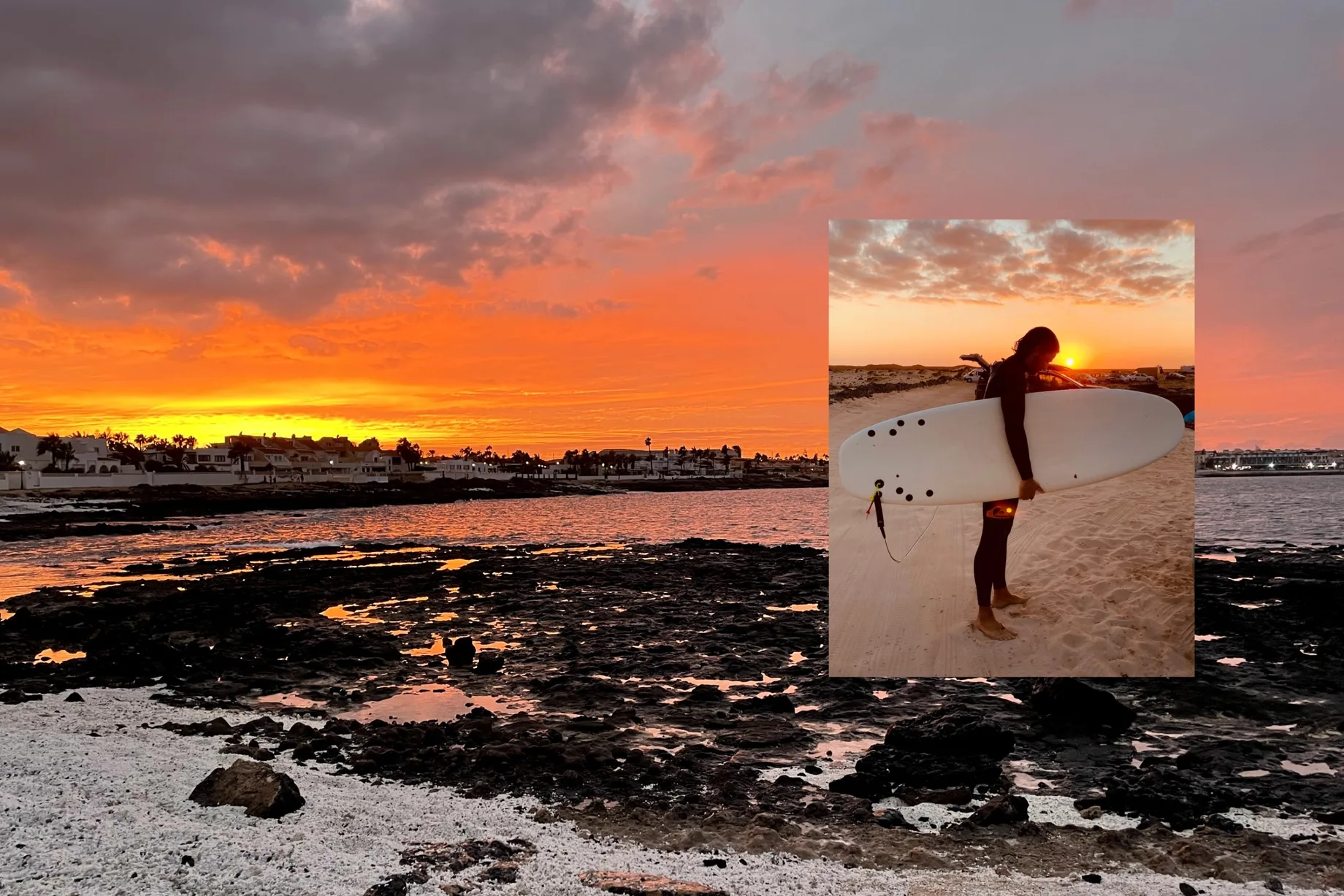 However, the less exciting part is that my day consists of a few hours of video calls in the afternoon. After these calls, I go for a walk, pour myself a glass of red wine, and call it a day.
What's your workstation setup?
I enjoy working in a minimalistic and distraction-free environment, allowing me to focus more effectively. Surrounding myself with carefully chosen items elevates my mood and enhances productivity. Recently, I was fortunate enough to design a physical space tailored to my preferences.
These days, I sit on the "Spaghetti" chair by Schaffner and work at a table from Baettig. Both pieces of furniture are Swiss design classics and were initially made for the outdoors, so they're sturdy.
My workstation is basic. Not long ago, I switched to a bigger MacBook 16" and love the extra screen estate. It's just better for designing in tools like Figma. I don't use an external monitor, fancy mouse, or mechanical keyboard.
I design everything on the built-in trackpad; it feels like the most direct manipulation when designing. Since I'm switching workplaces a lot, I constrain myself to use the laptop to have more flexibility from where I work. However, one thing I love is using this mountable standing desk for video call marathons.
On the software side of things, I use a pretty particular setup. Besides the obvious (Figma), here are some of my frequently used tools; hit me up if you'd like to get the complete picture:
Where do you go to get inspired?
What I'd call "unpolished minimalism" inspires me the most. Anything minimal and where beauty lives in the unfinished or raw. I get inspired by brutal, surprising, unique, or weird artifacts across art disciplines. One can sense that they are not random but carefully crafted ideas.
I observed that artists use emotional, philosophical, visual, or geographical constraints in their projects to maximize creativity. In my opinion, that's when the best work happens. It's like breaking the working grid of minimalism and showing true colors. I find it way more suited to how humans are, or nature is: far from perfection but never ceasing to amaze or provoke emotions.
When I think of "unpolished minimalism", strong creative visions of these sources come to mind:
I can't draw inspiration from things that are too polished. Even though I design with form follows function in mind and love to use clean interfaces, they aren't my source of inspiration.
Lastly, I get inspired by personal heroes, like coworkers, friends, or family. People don't have to work in a creative field to spark new ideas. Inspiration happens in a conversation. I was never the type that hides away for weeks in the basement and comes up with a genius plan afterward. If at all, too much me-time makes me feel depressed. The execution, on the other hand, is different. Brenda Laurel is right when she says: "a design isn't finished until someone is using it". Monk mode and time constraints help me ship things.
What product have you recently seen that made you think this is great design?
The Zuriga coffee machine and mill epitomize elegance, combining sleek design with functionality. Its minimalist aesthetic and intuitive interface makes it a pleasure to use, while the compact form factor ensures it fits seamlessly into any kitchen. It is inspiring to me because it embodies both beauty and practicality, making everyone a home barista and the daily ritual of brewing coffee an experience.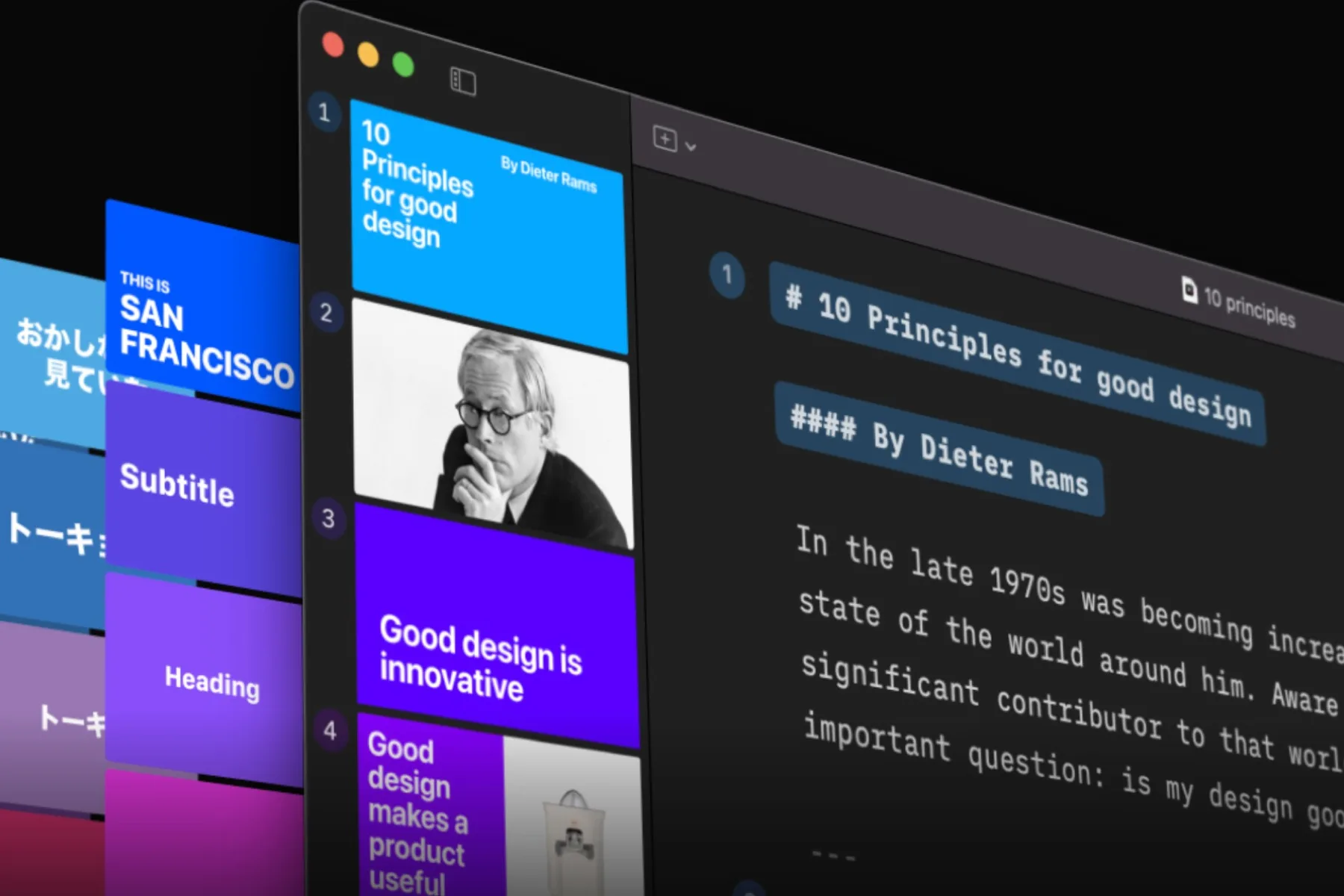 iA Presenter is a presentation app focusing on content, stripping away unnecessary distractions to deliver a clean and effective presentation experience. Its intuitive interface, intelligent layout options, and focus on legibility make it easy for people to create visually appealing presentations. iA Presenter is inspiring because it encourages people to prioritize substance. I was skeptical until I used it for a talk, which went great.
What pieces of work are you most proud of?
I take pride in working for a good cause and use design skills to create a positive impact. Through developing inclusive and engaging experiences, I foster a supportive community of Wikipedia readers, editors, and donors who contribute to making knowledge accessible to everyone. This work allows me to combine my creative talents with driving meaningful change, contributing to a broader cause and better world.
Redesign of the Wikipedia app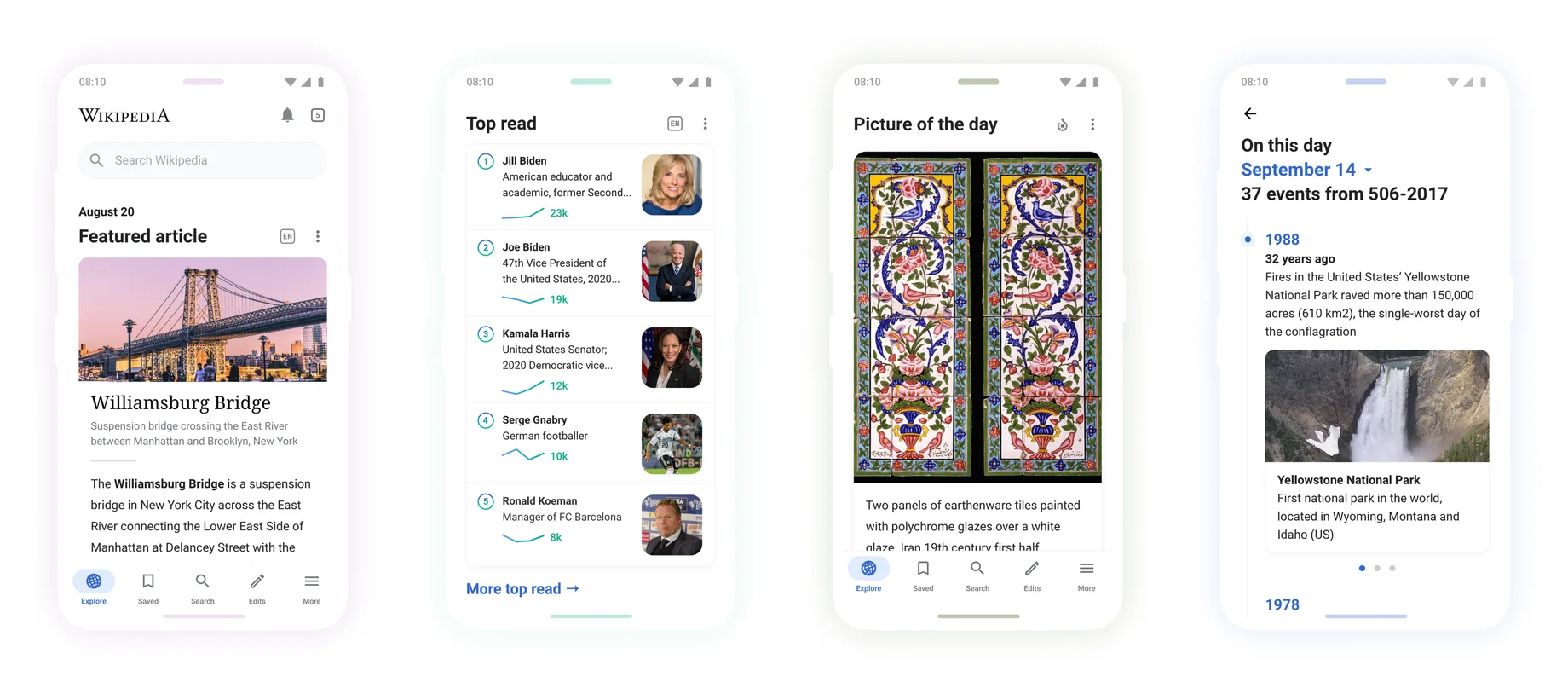 I led the design for Wikipedia on Android for four years. It has been rewarding to craft an accessible and visually pleasing experience for Wikipedia. It included rethinking how people explore content by featuring most-read articles, pictures of the day from Wikimedia Commons, or checking out events that happened on this day years back. It included significant improvements to search and pioneered displaying results across multiple Wikipedia language versions. You'll see some of the visuals and projects above and below.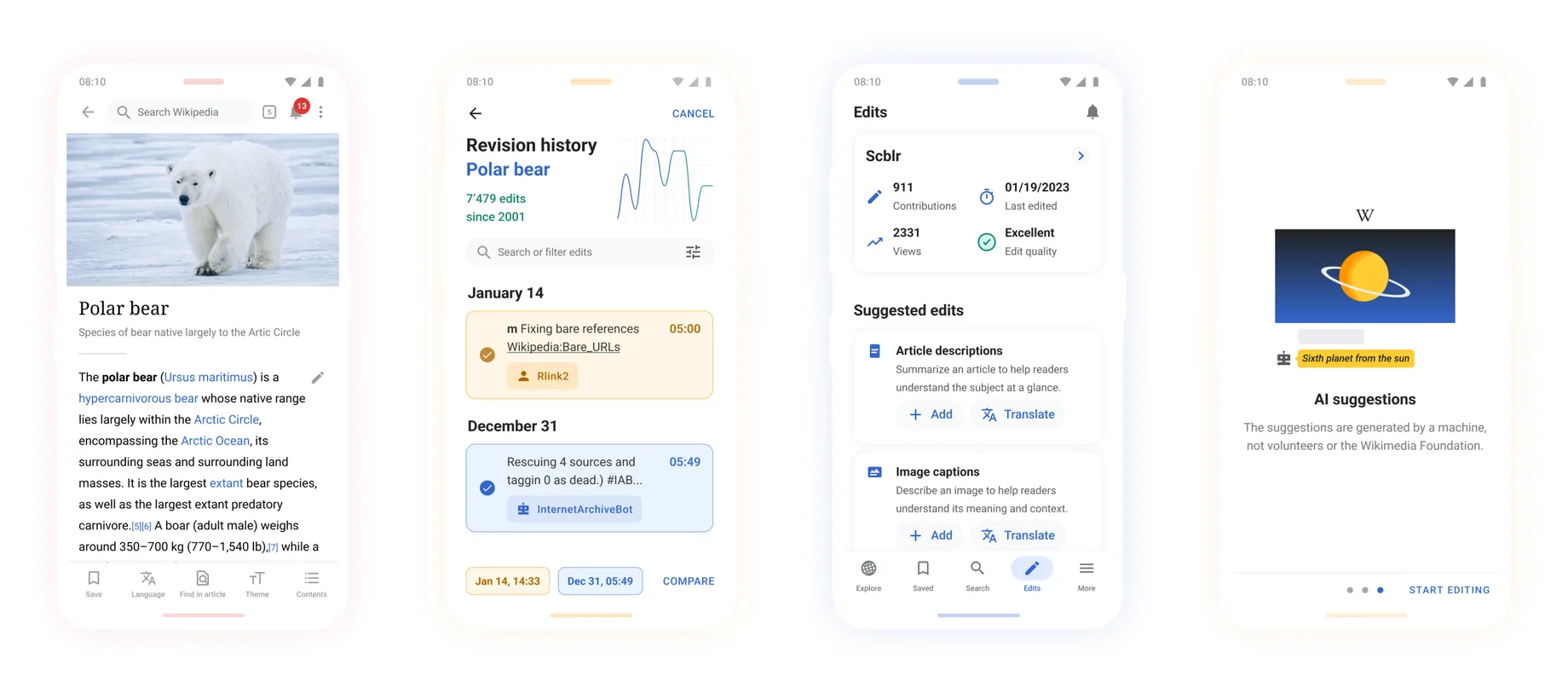 By making tools to discuss improvements to articles or compare article revisions, we cultivate transparency and make life easier for editors, who are the heart and soul of Wikipedia. The third screen above features micro contributions. They aim to lower the barrier to contributing by introducing an alternative to long-form editing. The most recent project is AI-enhanced suggestions to summarize Wikipedia articles, a collaboration with the EPFL Data Science Lab in Switzerland. Now, I'm designing more for Wikipedia on iOS, so stay tuned, Apple enthusiasts out there.
Designing inclusively
We aim to increase content diversity across 14 projects and 300+ languages at the Wikimedia Foundation. Our focus on knowledge equity leads us to prioritize inclusive product development. By involving historically underrepresented communities, such as women, non-binary, or visually impaired users from various linguistic and geographical backgrounds, we move closer to making Wikipedia truly represent the sum of all knowledge.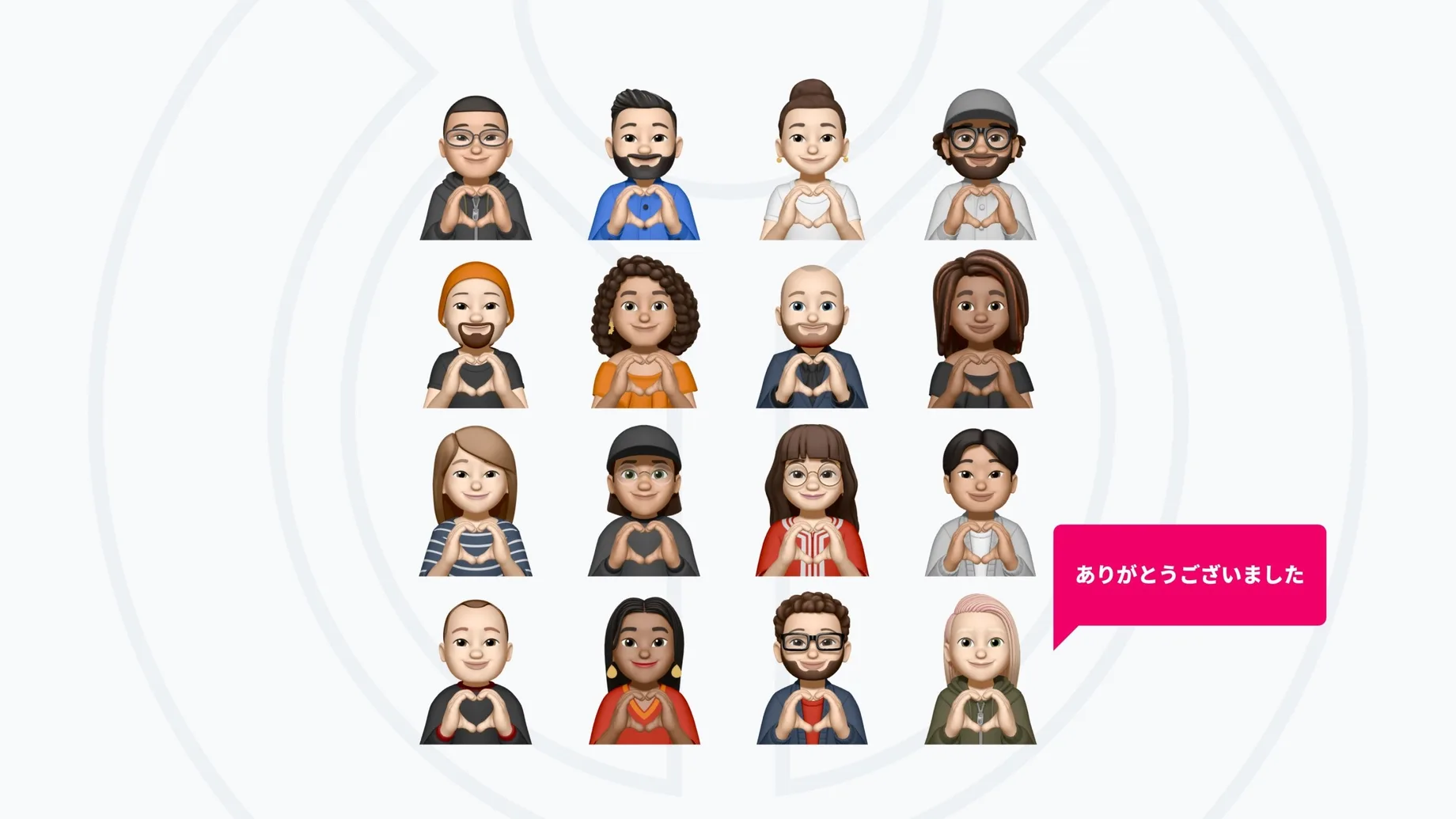 In German, the popular idiom Eierlegende Wollmilchsau depicts a creature with features from chickens, sheep, cows, and pigs, each providing a unique quality. The phrase encapsulates what I'm trying to achieve as a designer at Wikipedia: an unachievable and perfect outcome of a product for diverse user needs – all the benefits, no drawbacks.
We learned that designing and testing products with people, rather than for them, addresses their needs, while customization fosters inclusivity for diverse groups. Read more in my article on inclusion.
Designing systems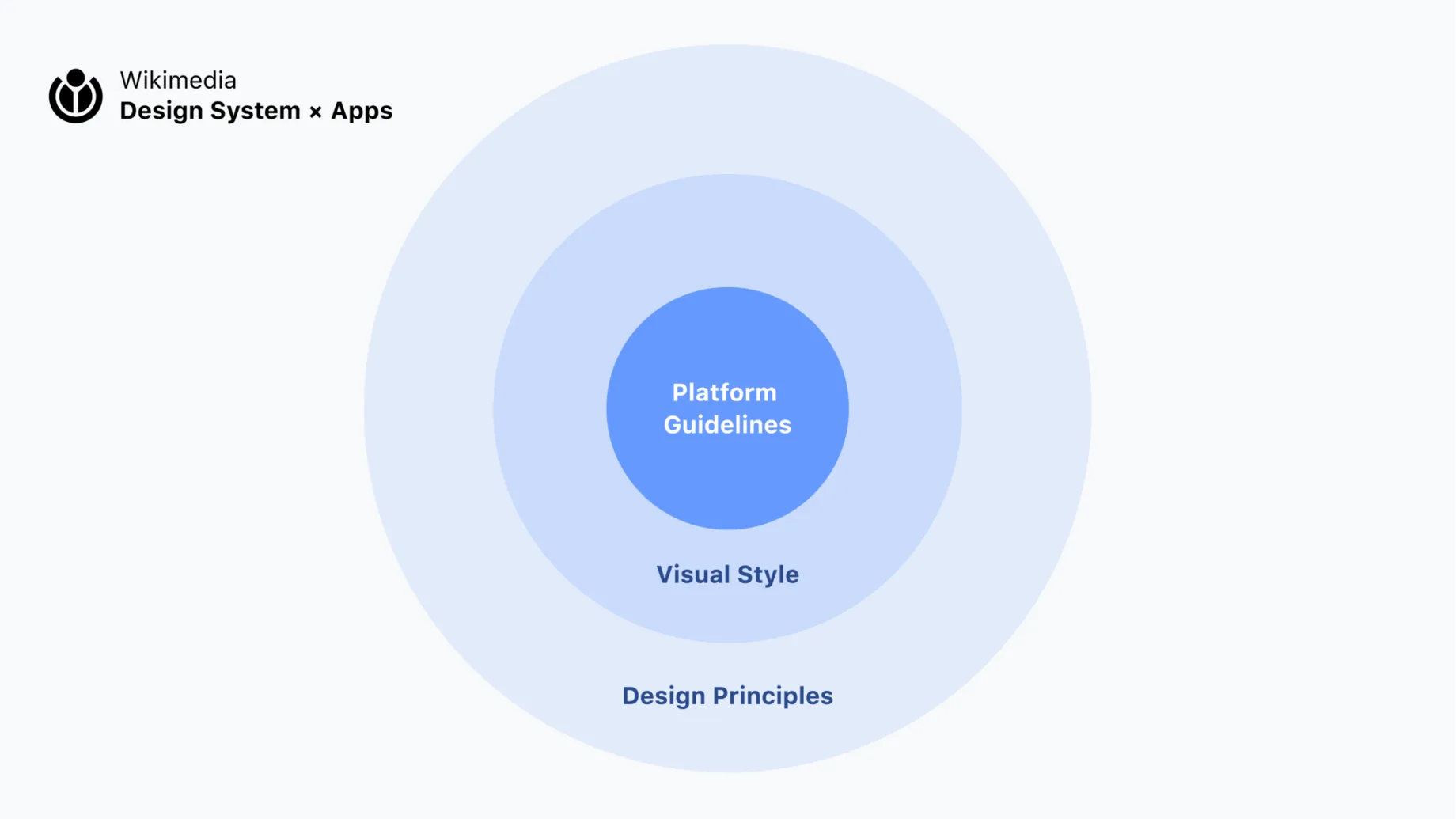 In the ongoing journey of crafting app systems, I've established philosophical guidelines for iOS and Android. Apps enhance Wikipedia's desktop experience and are crucial to making its technologies future-proof. Since some regions have a poor internet connection, we make data-friendly products and simplify complex features with a mobile-first approach.
Currently, we're working on translating these ideas into consistent, accessible, and reusable components while developing a system to govern their usage. We intend to maintain flexibility in the system, ensuring it doesn't hinder innovation. You can learn more in my article about Wikipedia apps.
What design challenges do you face at your company?
These are Wikipedia's future design challenges, in my opinion:
Becoming essential web infrastructure: Leveraging Wikipedia's trustworthiness and credibility on platforms where people are, e.g. building and designing integrations for short video platforms or browsers, to establish Wikipedia as an indispensable part of the web and related products.
Accessibility and inclusion: Designing for customization and diverse needs makes Wikipedia usable for more people.
Editor decline: Designing features that encourage participation, simplify editing, and support new contributors.
New technologies: Designing for emerging platforms like virtual reality, augmented reality, and voice interfaces to maintain relevance.
Vandalism patrolling and moderation: Design and streamlining patrol and moderation processes, potentially leveraging AI technologies for efficiency.
Misinformation and credibility: Designing visual orientation to help users differentiate between reliable/unreliable or human/machine-generated content.
Collaboration and engagement: Enhancing features that facilitate community involvement and constructive discussions.
User privacy and security: Prioritizing privacy and data security through design elements.
Consistency: Ensuring a seamless user experience across languages, regions, and platforms.
We must continuously innovate and adapt to challenges to keep Wikipedia trusted and valuable globally.
What music do you listen to whilst designing?
Any advice for ambitious designers?
Embrace the cycle to try, fail and experiment. Stay persistent, it's an integral part of the process, and good design takes time. Seek inspiration outside the industry to push product design to the next wave. Articles on this topic that resonated were Chuánqí Sun's The vanishing designer, Alex Murrell's The Age of Average and Tobias Van Schneider's Where are our design heroes.
Share your ideas early on and engage in constructive conversations with those you admire and trust, as their feedback is priceless and keeps you motivated. Instead of obsessing over followers, prioritize what ignites your passion: your craft, message, or vision. Making decisions and moving forward in life is better than remaining stagnant. The same applies to design: do your research but don't overthink, start doing and enjoy.
Anything you want to promote or plug?
In this unforgiving and brutal world, choose to love.
Check out my Instagram or LinkedIn. Support free knowledge by downloading the Wikipedia app for iOS or Android and immerse yourself in the endless pursuit of learning.