What led you into design?
I loved art and design classes at school but never really had a passion for drawing or painting. Things only clicked for me when I discovered animation and motion design. I loved that I could digitally or procedurally create anything. Between college and university, I began collaborating with my brothers, who were big into making music and film. We had a lot of fun making music videos for bands in our hometown's music scene.
When we started creating moving images for a local music festival, I began to lean more into graphic design and combine it with what I had learned so far in motion. The range of people I looked up to in the creative and design industry grew exponentially.
At the end of my first year at university, I realised it was a mistake to choose a Bachelor of Science degree in Video and Animation. I had to spend time in technical classes – even a maths class! – and I knew I needed to shift to a Bachelor of Arts. I moved to Graphic Design with Interactive Media in my second year, which allowed me to explore a broader range of things I was interested in, from motion and graphic design to web design.
After university, I started an internship which led to a junior role at a design agency. I then moved to London and worked for another design agency before going in-house and starting at DeepMind five years ago.
What does a typical day look like?
DeepMind is a hybrid working company with some days at the office and others from wherever we work best. I'm still trying to get my day-to-day back to pre-pandemic life, but the days of going to a packed gym in rush hour before the office are gone forever at this point, and to be honest, I'm not mad about it.
All of us in the team are multi-disciplinary designers, so we all work on a broad set of projects internally and in collaboration with studios and agencies. 
Currently, I'm splitting my time between a couple of medium to long-term projects. As a snapshot: we have a partnership with our friends at MultiAdaptor on how we could make our brand toolkit more usable for everyone at DeepMind, along with the external partners that use our brand. I'm also building some visuals and animations that will be used for our booths at upcoming research conferences.
I'm a big believer in focus time and do my best work in the mornings, so I block out my calendar till around 2pm every day for heads-down time. My afternoons are more flexible, so that's when I tend to have meetings like 1:1s, project meetings, and design reviews.
What's your workstation setup?
Where do you go to get inspired?
I try to find inspiration everywhere. Perhaps working in AI has meant I now see almost everything in the world as an input or pattern. I also love taking photos. Finding the composition or magic in a mundane scene always keeps me creatively motivated.
We've built a pretty good library of design books for the studio, a bunch of which I have at home too. I'm a big geek for brand guideline books — I find it super satisfying seeing all the detail around an identity laid out.
I've been using Savee to keep all the design-specific inspiration I like together.
What pieces of work are you most proud of?
A couple of projects I'm proud of include 'Visualising AI' and the DeepMind typefaces we released in 2019.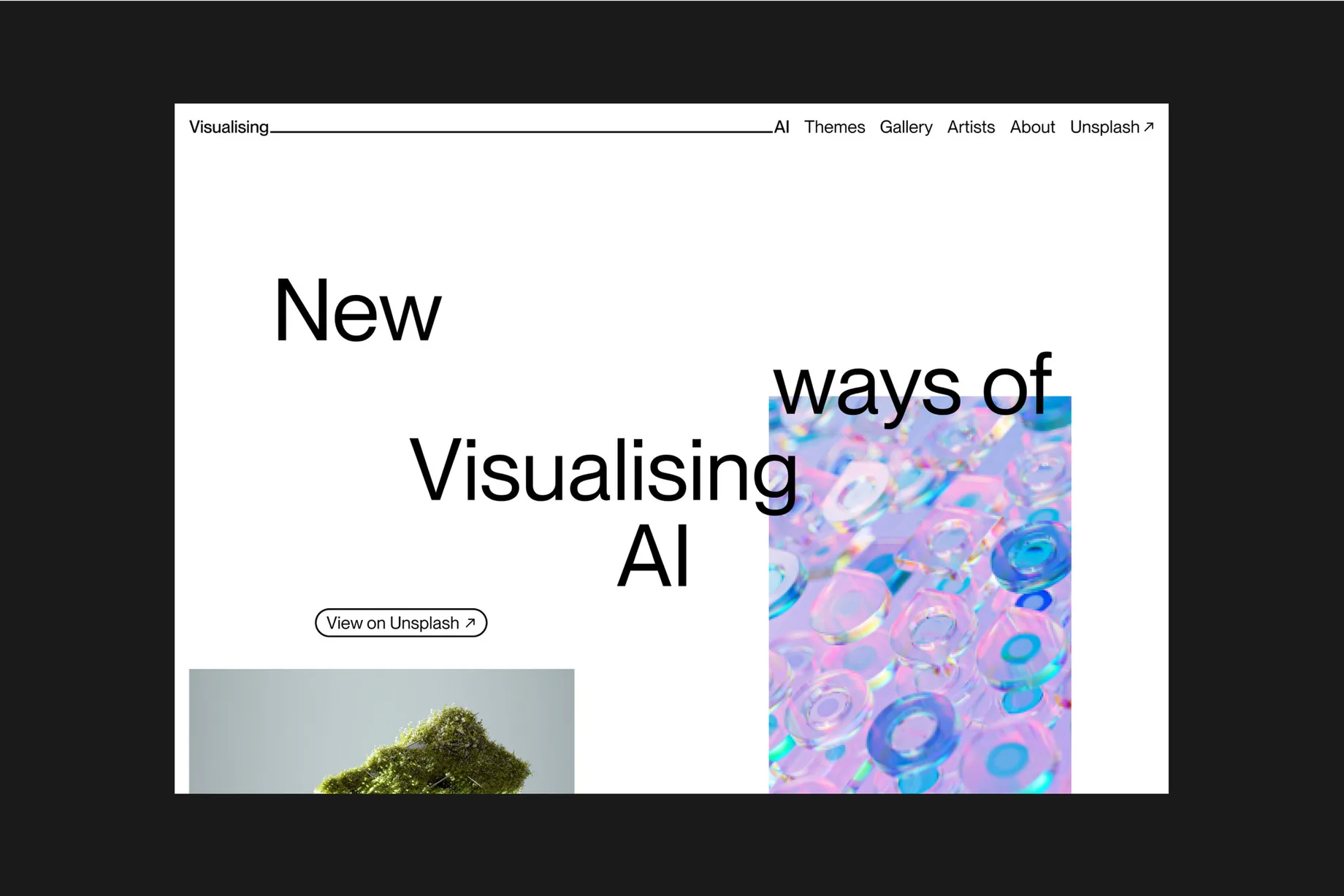 Visualising AI was the brainchild of fellow DeepMind designer Gaby Pearl. Having been at DeepMind a while, we always struggled to source imagery of AI and technical research concepts. What's out there tends to be dark, with glowing blue lines and robotic-looking brains inspired by Hollywood films of the 80s and 90s. To provide an alternative, we worked with a selection of visual artists, designers and illustrators to tackle subjects such as how agents or algorithms learn, different applications of AI, and the safety and ethics of AI development and deployment.
Left: Accountability by Champ Panupong Techawongthawon. Right: Digital Biology by Khyati Trehan
Each artist we worked with got to spend time with an AI researcher to deep dive into a subject area, from which they could interpret and present their theme in whatever way they wanted. This gave us a growing library of diverse imagery that aims to change AI's historically corny visual language.
To make the images ubiquitously available, we partnered with Unsplash on the distribution. Within a few months, our visuals have been viewed over 25 million times and downloaded over 200,000 times. We're excited about where we can take the project next: new mediums, new formats, and maybe even physical experiences.
Another dream project was collaborating with Colophon and MultiAdaptor on creating our custom brand typefaces, DM Serif and DM Sans. We wanted a type family that leaned into the timelessness of editorial prose, matched with a modern, friendly, and accessible sans.
A year later, we followed up with a monospace – DM Mono – which played to our brand's more technical research and engineering aspect.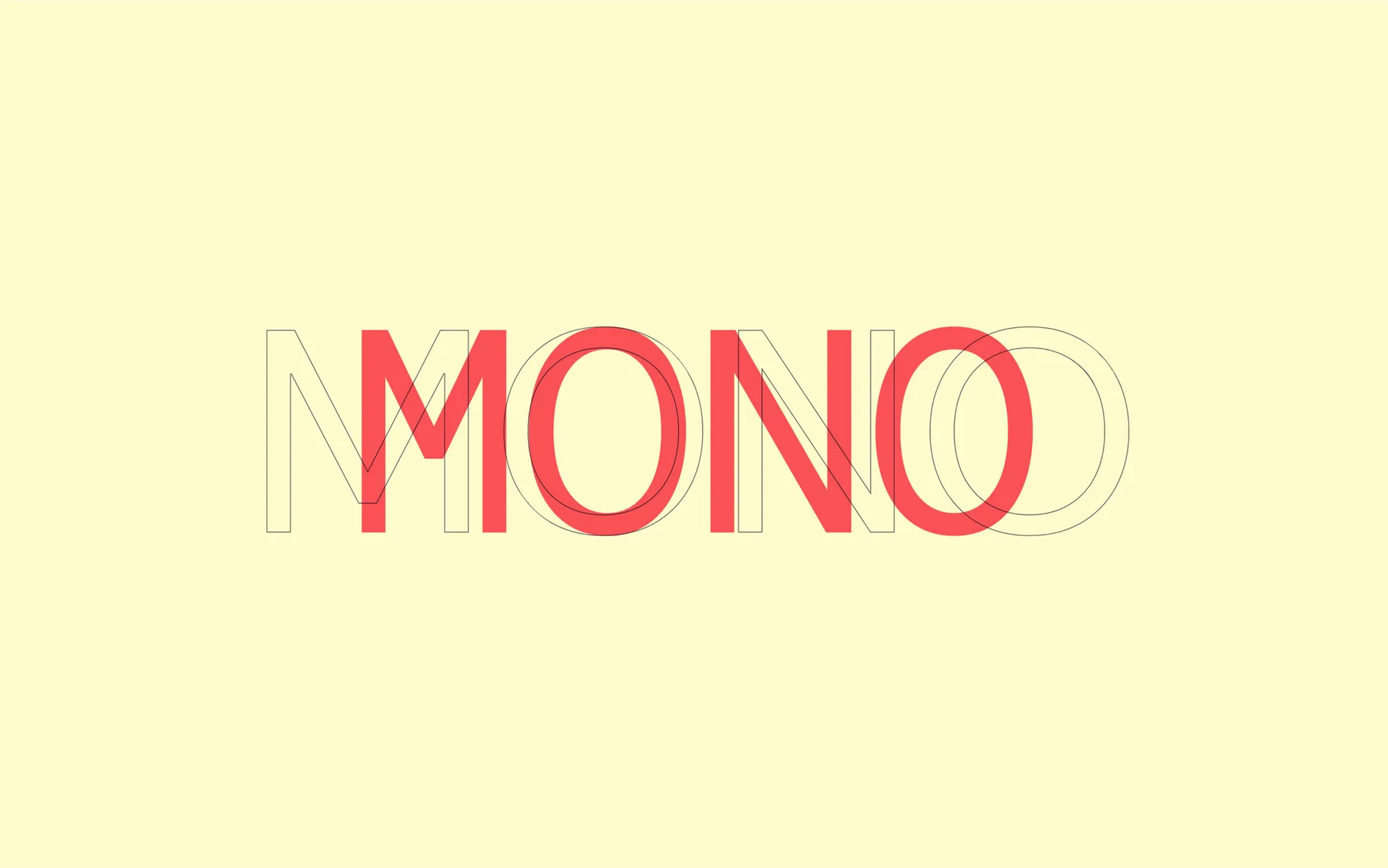 Continuing our theme of open sourcing, we released the fonts on Google Fonts, which has seen them get used worldwide and in many different ways. I can now identify DM Sans out in the world in a split second.
What design challenges do you face at your company?
Our most significant challenge goes hand-in-hand with what inspired Visualising AI: how we represent abstract AI concepts for less-technical audiences. I don't feel like we nail it every time, but our approach continually evolves.
It's precisely these kinds of challenges that keep working at DeepMind fresh. The breakthroughs get more impactful every year; each technical advance in AI comes with figuring out how we present it to the world.
What music do you listen to whilst designing?
Any advice for ambitious designers?
Trust your intuition. If you feel like something isn't working, don't be afraid to make a change or shift your direction entirely.
Never stop developing your craft and learning. Whenever you jump into a new challenge or revisit a skill you haven't used in years, you can feel discouraged by the gap between your ability and the vision in your head. My advice is to persevere and keep improving until you're as good as the designers or the work you're inspired by.
Anything you want to promote or plug?
We recently started sharing more of the work the DeepMind design team creates on Instagram and Behance. You can also find out more about Visualising AI on Instagram and our website and download the open source images on Unsplash.