What led you into design?
A deadline. School enrollment was about to end so I registered with the only school that was vaguely aligned with my interests. I ended up in a two year graphic design course with a very outdated curriculum, and it was the foundation of my relationship with design.
I grew up drawing a lot, but once a computer entered my life around the age 8, I spent a lot of time customizing every aspect of my experience with it. This included the boot up screen, custom made app icons, UI skins, to weirdly cryptic yet efficient folder structures to organize my files.
Customization led to curiosity, and curiosity led to design. I quickly learned that each product decision was conceived and created by regular people like you and me.
What does a typical day look like?
It starts with a cup of coffee and looks very similar to whatever I outlined the night before.
I've been working remotely for most of my career, and nowadays, I feel the most comfortable and productive while working alone, in silence, thinking about a particular problem or challenge.
I believe that there is a unique type of creative flow that one can access if one embraces deep work and tries to avoid being interrupted.
Working remotely also forces you to improve your communication, to be clear with your words and direct with your intentions. Multiple daily check-ins and collaboration sessions with my team while respecting their time and attention is usually part of my daily schedule.
What's your workstation setup?
I have tried a lot of different types of setups and I've always end up coming back to my 13" Macbook. I can do everything I need from it and it gives me the flexibility to travel and work from anywhere. When I'm home and need a big screen, I plug the macbook to a 24 inch 4K monitor on my standing desk.
I also enjoy using an iPad with a pencil, the split screen feature allows you to multitask in a way that is very productive and to cross-reference ideas without breaking the flow of your work.
Where do you go to get inspired?
I no longer find myself chasing the need to be inspired. Earlier in my career, I always started the day by checking multiple sites, seeing what was popular or new that day. Nowadays, I just let things and ideas to find me instead.
As long as I'm learning new things everyday and keeping my information bubble in check, inspiration is not much as a problem, discipline and consistency is.
What product have you recently seen that made you think this is great design?
Definitely not a new product, but I love a proper Philips Hue (or any similar lighting system). It's one of the few pieces of technology that I use every day that I believe has a good impact on my mood.
Another product would be the Airpods. It truly feels like an extension of your body once you forget you have them on. As a platform, always-on audio has a lot of potential and I can't wait to see how it will evolve.
What pieces of work are you most proud of?
Weirdly enough, I will have to choose my first design personal project.
AKA was a digital magazine I created in 2009 that featured artists, illustrators, writers and photographers from my home country Uruguay. I was the editor, designer, and most of the time the main writer. At that time, there was little to no space online for the consumption of local talent. Luckily, it was embraced by the creative community and we were able to produce seven issues during 2 years, we also organized a few live events and parties, it was fun.
It taught me the value of using side-projects as a way to learn new tools and skills. It pushed me to learn new design tools and practice soft-skills like communication and teamwork.
10 years later, you can still find all the issues online here.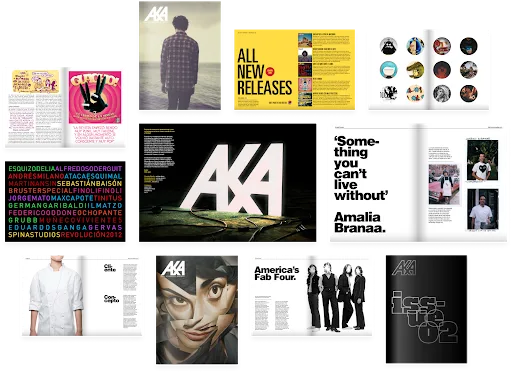 What design challenges do you face at your company?
When you work as a sole designer at a company, there is no need to delegate or communicate with other designers, but once you are part of a bigger team delegation and collaboration becomes a challenge, especially when working remotely.
Right now, the biggest challenge is learning to delegate effectively and empower my design team, embracing cross-team collaboration, and breaking the silos that a remote culture creates for each team member.
What music do you listen to whilst designing?
Any advice for ambitious designers?
It's ok to not know.
Ask questions.
If you like something, know why you like it.
Develop good taste, it's timeless.
Start small
You don't have to change the world.
Help your neighbor.
Just start.
Do it often.
Anything you want to promote or plug?