What led you into design?
My ambiguity and uncertainty. I originally thought I wanted to be an artist, so I applied to mostly art schools. Then, I realized that actually I wasn't sure if I could commit 4 years of my life just doing art. So, I decided to go to a multi-disciplinary school as a design major. It was the closest thing to art but gave me options to try other things if I didn't like it. During Freshmen year, I discovered that I really love print graphic design, so I continued my major as Communication Design. I soon learned web design and motion graphics during this time, and naturally discovered digital design.
My ambiguity and uncertainty is still what helps me evolve even now though. I started my career as a product designer, then I realized I wasn't so sure if I wanted to be a product designer anymore. So, I started to explore visual design more, and really enjoyed it for a while. Now, I'm back to being a product designer, but maybe I'll switch up my entire career to be a professional cat sitter. I don't know, who knows!
What does a typical day look like?
I was never really a routined person to begin with, especially in the mornings because I'm simply not a morning person. Before COVID, I used to just wake up, rush to shower, then rush to catch the train to barely make it to the office by 10. But when COVID started, I had to force myself to have a routine, because I started to lose the separation of work and life. So, it took a while, but I've finally gotten down my daily routine for the not-so-new WFH life!
I wake up around 8ish, stay in bed until 8:30, thinking about random things or checking my phone. At 8:30, I quickly wash up and try to go for a run. I say try because I'll just end up sitting on patio, drink coffee, and water my plants. If I do make good choices and actually go for a run, then I take a shower, make coffee, and start my workday.
I've become more energetic in the morning these days, probably thanks to my daily walks/runs. So I'll try to get most of my executional work throughout the morning. Then, I try to make lunch right before my train of meetings that usually happens at 12:30. Sometimes, I'll really be in the zone and miss the lunch break, so I end up eating around 3pm.
Then in the afternoon, I just wrap things up, touch base with the team, and sign off around 6pm. After the workday, I try to meet up with friends or make dinner. Some days, I'll do both and make dinner with my friends!
What's your workstation setup?
I mostly spend my time at my desk when I really need to be in the zone to design. When I need a change of scenary, I lounge on my sofa mostly for calls.
My digital set up is pretty simple. I always use Slack, Figma, and about a million Chrome tabs. Normally, I have Figma on full screen, but when I'm in meetings, I have a smaller chrome window on the side so that I can see my team. Or, sometimes I have Twitter open for "research."
And if you're looking at my phone, yes, I have 2,423 unread emails.
Where do you go to get inspired?
I think this really depends on what I need to be inspired for. For my personal projects like my portfolio, I really take it from anywhere. It can come from an obvious place like a cool museum exhibition, a cool website or a cool app, but it can also come from my daily life, like walking down the street, looking at nature, or just dozing off. When I come across something that inspires me, I just take a photo of it, hoping that I'll one day use it on one of my projects. Actually, my portfolio was inspired by these billboards and posters I spotted on my Japan trip!
For work projects, I also look at these places, but it's been really helpful to look at the research insights done by our research team at Twitter. It's been fascinating to read through these resources because it helps me to see things from a new perspective. When I try to look for my own inspiration, I'm obviously going to be drawn to things that I'm used to noticing, but when you look at the research findings, you really discover things that you would never even think to look at.
What product have you recently seen that made you think this is great design?
I've been really into interior design these days, and I really LOVE Vitsoe's 606 Shelving system. It's so simple, but it's simply so well-designed. It sets a good base for different kinds of usage, like a set of book shelves, a work area, or a media console, and its simplicity really lets people to be flexible in how they'd like to decorate it. The best part is that you can always start small, and grow out the system if you want to in the future. I actually just received mine after waiting 3 months, and honestly it was so worth it! It's the shelving system that you see in my work set-up :)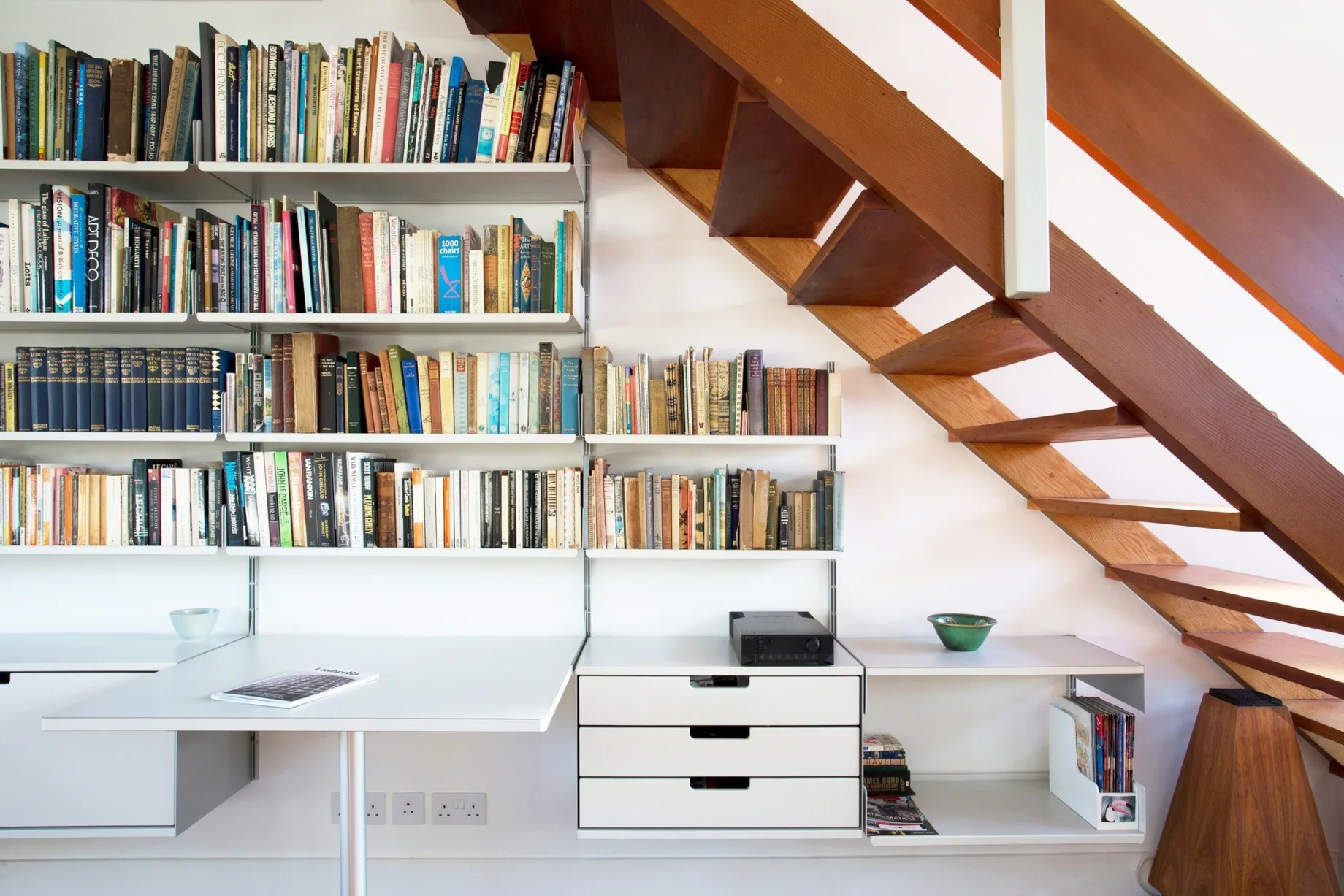 What pieces of work are you most proud of?
This is such a tough question for me, because I always find things that I could improve after I finish the project. Hopefully, I can be proud of the next one I make!
If I absolutely had to choose, I would say my personal website for now. There are so many things I don't love about it now, but I'm proud of it because it was a playground for me to try things that wouldn't really be feasible for my professional work. I had so much fun making it, and it was honestly a challenge to push myself to actually launch it. Feel free to check it out at jeongsteph.design and draw me a mustache!
What design challenges do you face at your company?
To be honest, I'm still pretty new at Twitter to have a point of view yet. However, I've been thinking about how I can be more mindful and responsible as a designer working for a social media platform especially after seeing what happened during the last election and current pandemic. With the virtual world becoming such a big part of our lives, I think designers that work for social media like myself need to constantly think about how we can create a healthy environment for people to connect.
What music do you listen to whilst designing?
Any advice for ambitious designers?
Don't worry about the things you can't control.
This is my first and the most important lesson I learned. Sometimes, there are things that are simply out of your control. It's important to chill out and realize that nothing really matters that much in the end.
With the things you can control, give it everything you've got.
Working with different clients, I've learned that one thing that can change the success of the project is when you bring more than what's asked. Use that worrier energy to think about what more you can bring to the table.
Anything you want to promote or plug?
If you wanna see the trail of my thoughts, follow me at @jeongsteph on Twitter! FYI, my account is for dumb tweets only.