What led you into design?
I never had a very clear goal growing up in a town hard to spot on the map of India, I was very underexposed to the possibilities the world had to offer. After senior secondary, without any guidance available, I went for a graduation course in advertising & graphic design. Unfortunately, after completing my under-grad and spending a year working in ad agencies, I learnt I was not thriving in that space!
I slowly transitioned into a graphic design role to pay my bills, worked as a graphic designer for three years, and on the side, earned a second graduation degree in Psychology. Through the course textbooks, I became aware of the relationship between behavioural science and design and its combined power that can be used to change the world around us for good. This new knowledge appealed to me and I immediately felt this is something I would love to explore further to improve lives of those around me.
I went on to pursue a masters in Game Design, but I continued to look for opportunities for cross-pollination of ideas between design and other disciplines. The possibilities are endless when it comes to expanding the pool of methodologies to craft a meaningful experience and that's what keeps me interested in my work. I now work in a convergent space between design and engineering and each day brings an interesting challenge to my plate. I love what I do.
What does a typical day look like?
Usually I'm up by 7 am. Coffee doesn't have any affect on me, so I need a really strong ginger tea to kick start my day. I am especially particular about the tea leaf and the preparation. My workdays start as early as 7:30 am on most days. This means by around 2:30 pm I'm usually done with my day and like going to the lovely trail that's in my neighborhood for a short hike or just laze curled on my papasan chair with a good book.
That said, each day looks very different for me, so I'd talk a little about what my usual week looks like. I update the list of my weekly priorities every Monday morning so I'm clear about where I need to spend my time. I've designed my week to only take meetings on Mondays and Tuesdays as meeting other team members provides me with energy and inspiration that lasts through the week and this way I also get 3 distraction free days I could spend doing deep design work. Besides working on design proposals and researches for my own area in the product, I dedicate 4-6 hours every week reviewing other design proposals and code changes and also put some time aside for my growth and development.
I love spending the evening preparing for dinner and watching a movie. Cooking is indeed a therapy for me.
What's your workstation setup?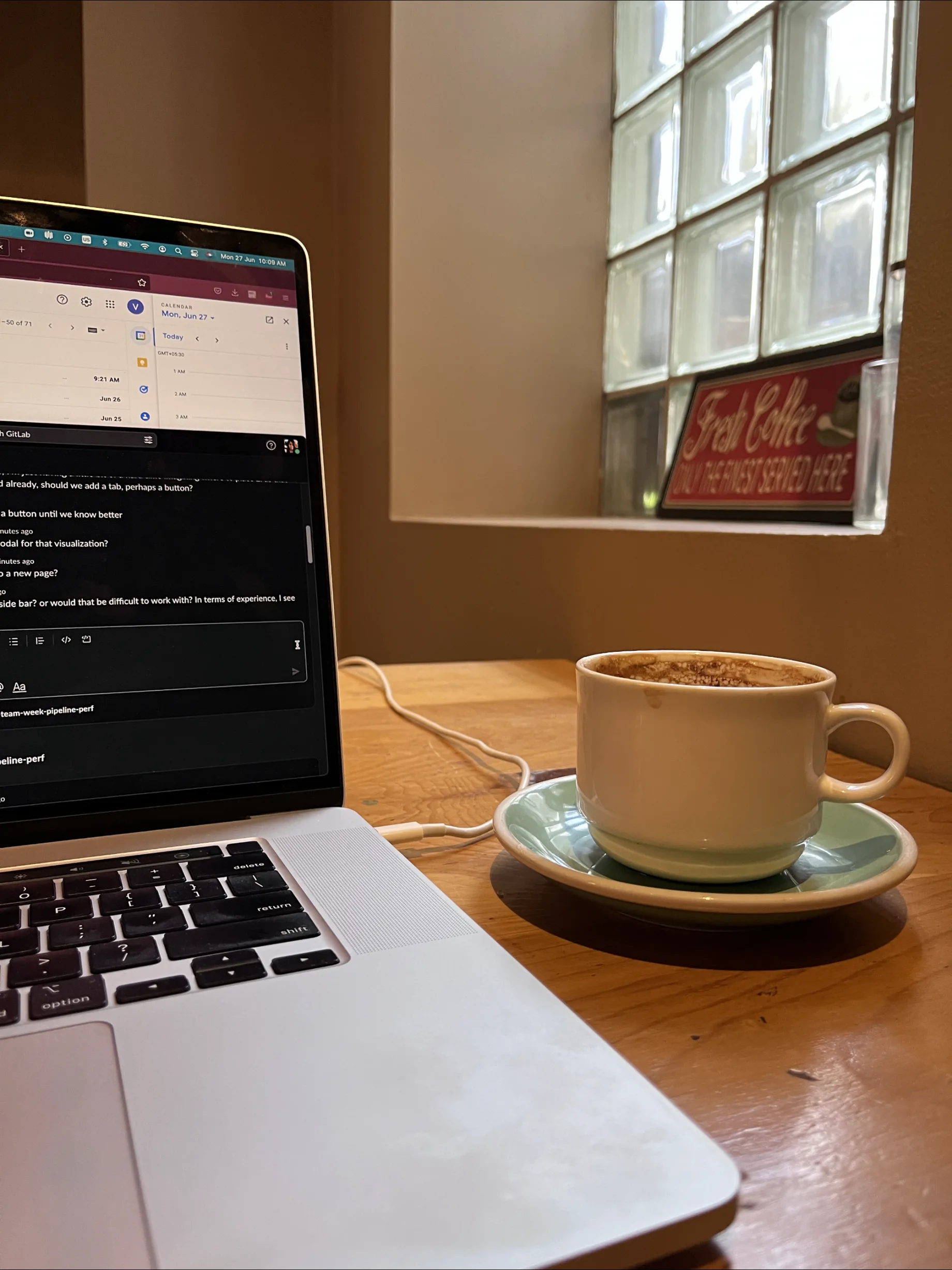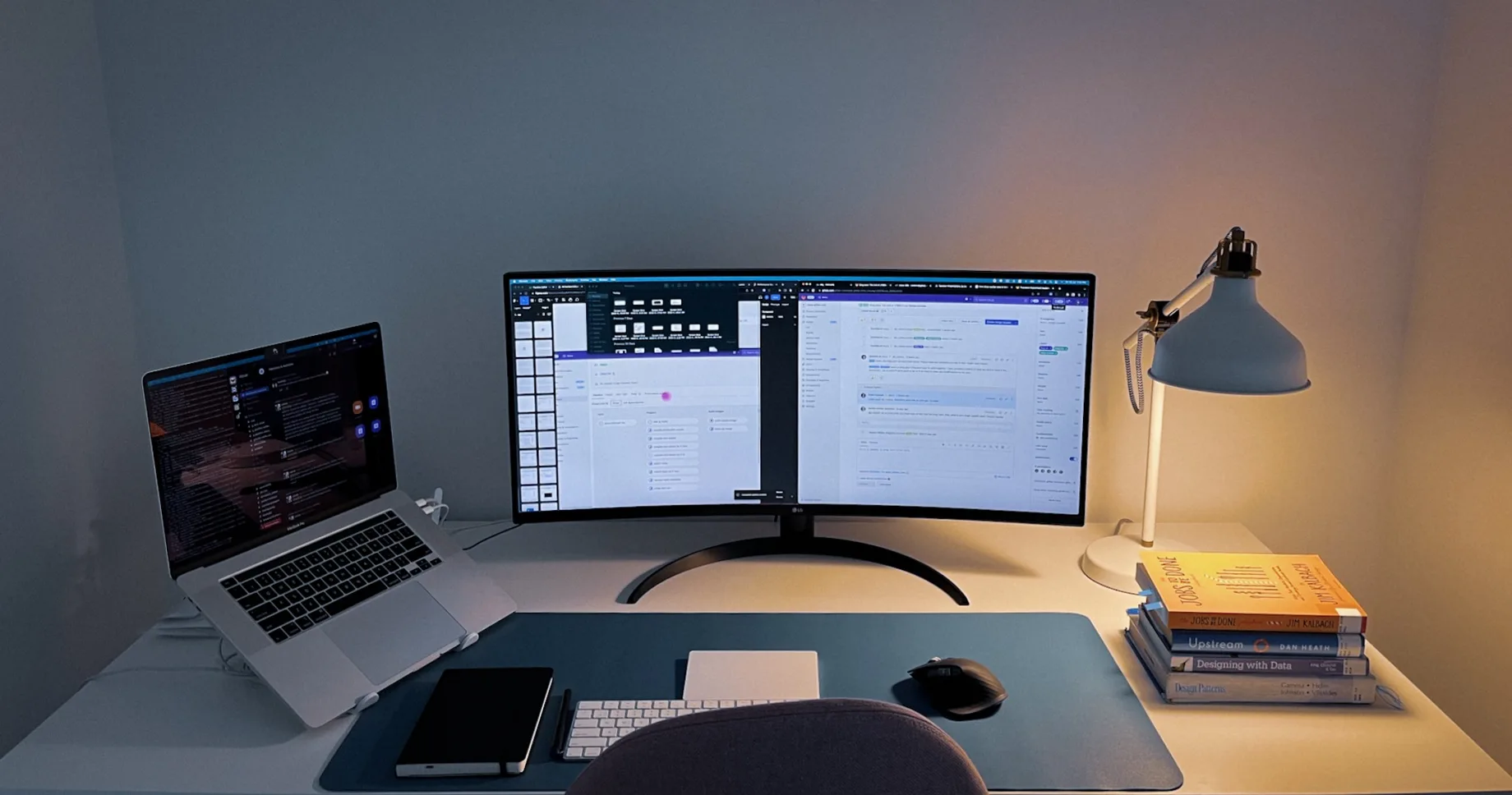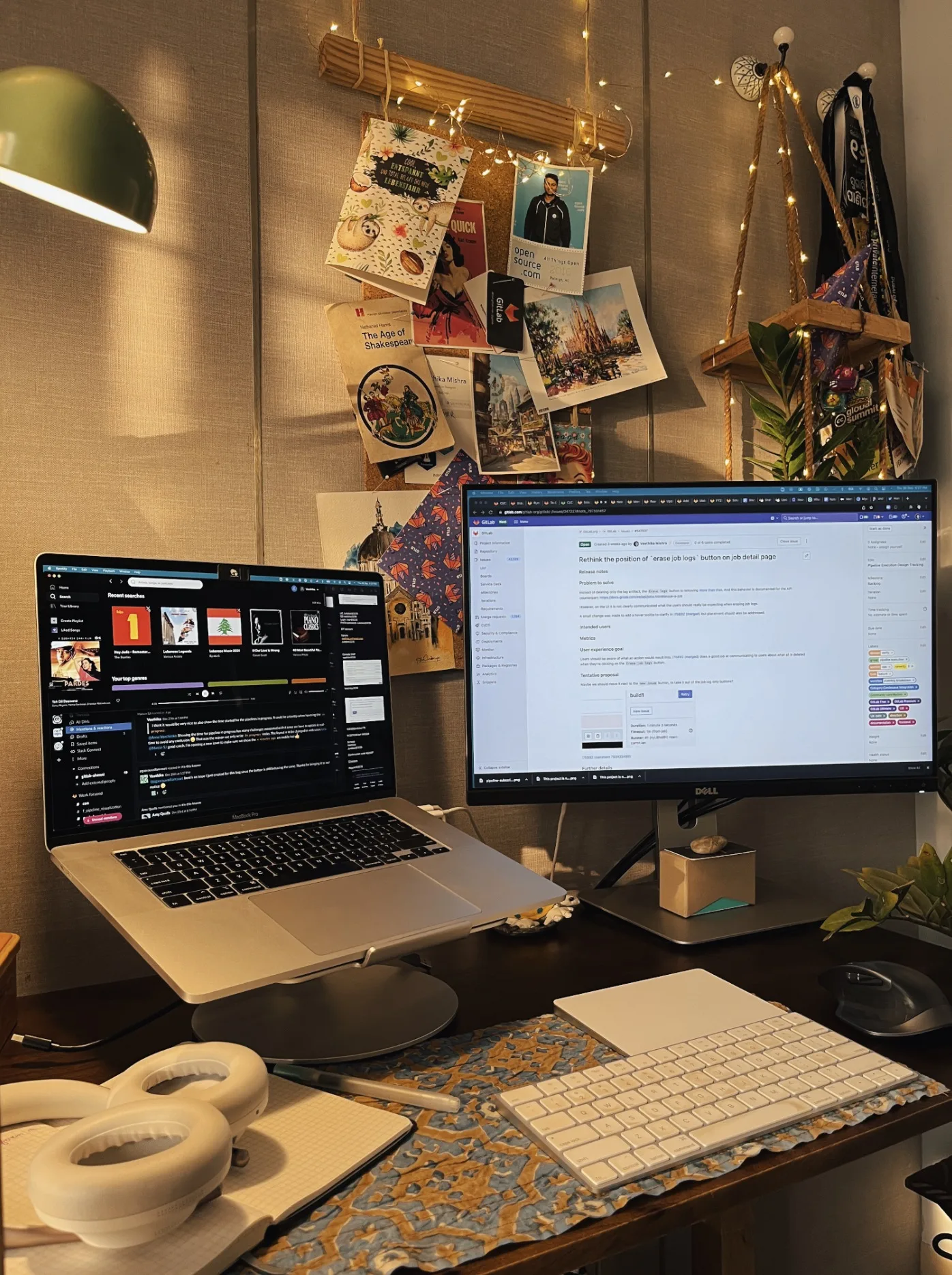 Rush for the web game box art
Where do you go to get inspired?
I love to travel and live at places that are very different from where I come from in terms of societal structure, public spaces, religious practices, languages and the overall geography. My travels are usually full of eye opening experiences that make me a more considerate person, therefore a better designer. My remote job makes it possible for me to move around more frequently and I take every chance I get to explore places and meet people to widen my perspective.
My everyday primary source of inspiration is the design team at GitLab. I work with a very talented group of designers and each person brings an exclusive expertise to the table. Engaging in discussions with them around design practices and philosophy provides me with my daily dose of inspiration.
What product have you recently seen that made you think this is great design?
As an advocate for open design practices and being a designer myself, I cannot help but appreciate the work the Penpot team is doing in creating an open source design and prototyping platform, transparently, in collaboration with the community. Besides using the available features on the platform, contributing to it is an equal delight.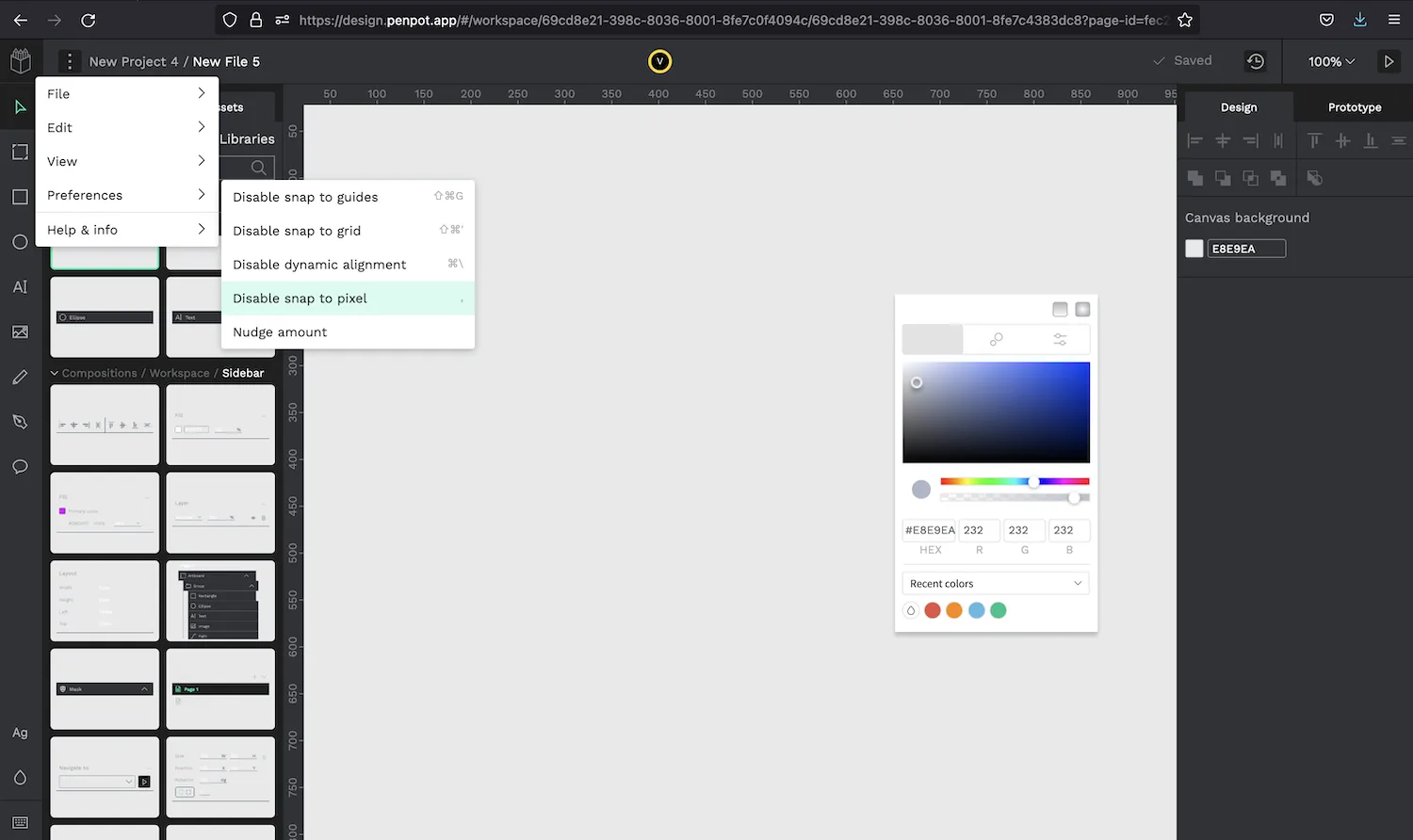 I also pay extra attention to other products in the DevOps industry that provide exceptionally good developer experience, and one that tops my list at present is Gitpod. Developers spend about 10% of their time on an average to maintain the development environment they're working with and to manage dependencies for their projects. And this is on top of their core job responsibilities. This is where Gitpod brings in a lot of value. They allow users(developers) to spin up a remote development server and start coding right away. Their user-centric approach and well researched problem spaces is what makes me appreciate their efforts even more.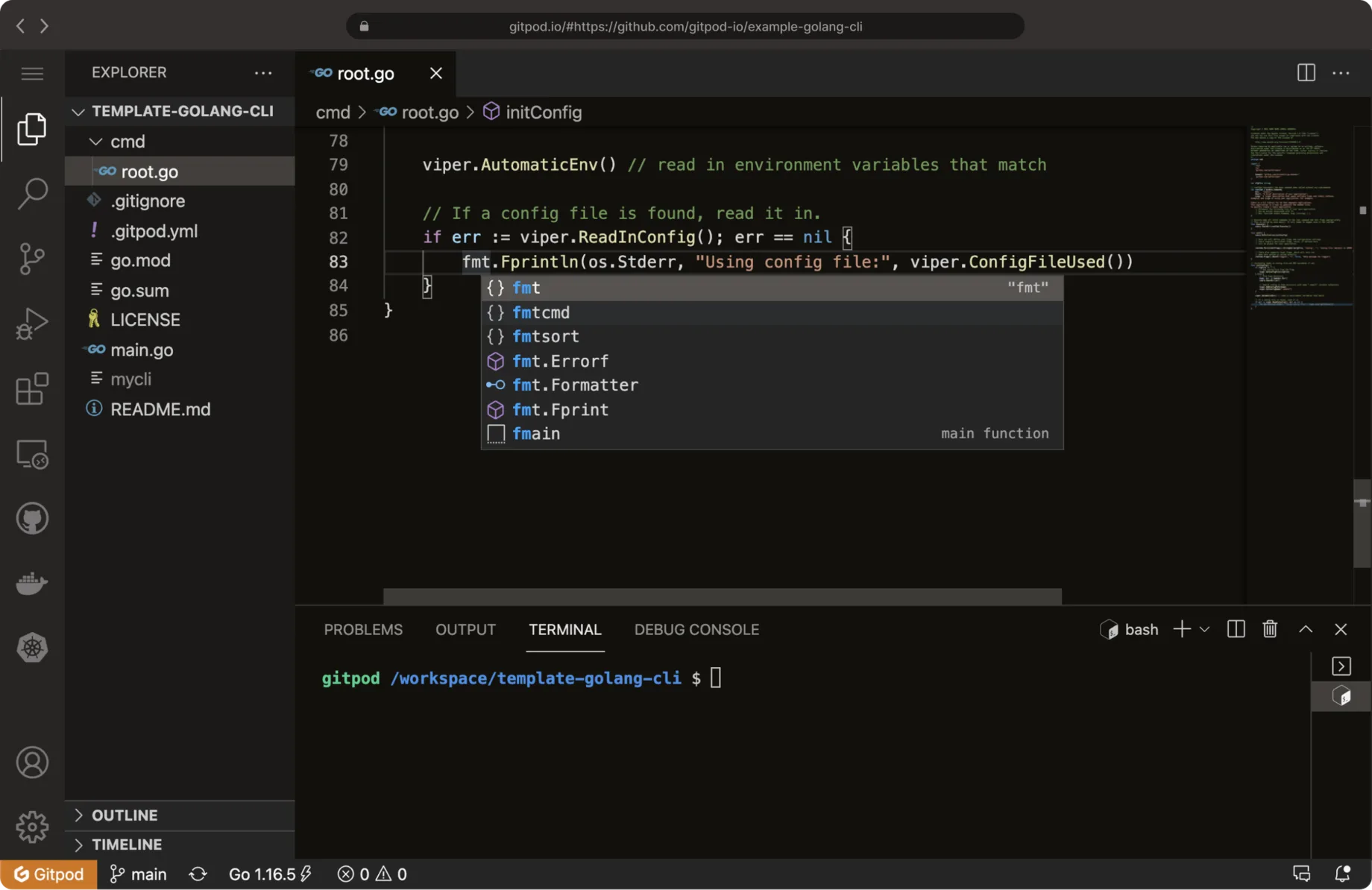 What pieces of work are you most proud of?
For my graduation project, I created a game to emphasise on the exchanges and by-products in the process of colonization. Coming from a former british colony, the subject was personal to me. I developed the game from scratch, without having any experience in the field. The initial feedback was brutal but I was happy with the overall outcome and it was later selected to be exhibited at the Global Grad Show during Dubai Design Week in 2016 and also nominated by the Index project for an award.
In 2019 I worked on a graph view for a highly technical product, OpenShift, that allowed developers to perform super complex operation using simple visual interactions on the graph. The project won my team a Core77 community choice award.
During the pandemic, I collaborated with two of my close friends(Michael and Parvati) to work on a game design project related to a time critical topic. We created a game Rush for the web . This game throws light on the nuanced decisions that makes a creator lose control over the content they generate. This pushes content creators to shift focus from what they want to create to what the algorithm wants them to create. A version of the game is available to play on tabletopia.
At GitLab, I get to work everyday on very challenging items. My area within the toolchain is Continuous Integration pipelines which is a key piece in the software development workflow and allows users to build and deploy their applications hassle free. I continue to look for opportunity to simplify the workflow so developers can spend more time being creative with their code, rather than fussing about deploying the code.
What design challenges do you face at your company?
I think every design team faces the same set of challenge irrespective of which industry they cater to. At GitLab we have tried to maintain our startup ethos even after being publically listed in late 2021. We make a release every month, and it takes a good amount of effort, orchestration and capacity management skills for the designers onboard to align with the cadence and plan iterations.
Another challenge that I feel is unique to GitLab is to incorporate the voice of the community in our everyday work. We achieve this to a large extent by keeping our communication simple and our approach open and transparent. The issues we work on are public and open for participation for community members and anyone else who is interested.
Apart from these, we face the regular challenges that any fast scaling organisation would, that is operating in a competitive and fast-evolving technology space.
What music do you listen to whilst designing?
Any advice for ambitious designers?
Focus on making a life outside work, spend time with your freinds and family, travel as much as you can and never shy away from asking stupid question.
Anything you want to promote or plug?
My twitter account: https://twitter.com/veethikaa